The prolific Danish designer speaks to Vogue Scandinavia about his remarkable history in a candid discourse
One of Henrik Vibskov's friends once dubbed him the "King of Chaos." The cheeky moniker came after an especially bonkers fashion show for the designer's eponymous brand at a historic building in his native Copenhagen. Midway through his AW20 presentation, which featured performers lying in bathtubs mostly naked, the fire alarm went off. "Someone smoked some weed somewhere," Vibskov tells me, over a video call. "People thought it was part of the music until at some point they were like, f***, we have to leave."
Everyone left the building, including the half-naked performers, but since the fire brigade had blocked the only exit road, no one could go anywhere. Eventually, everyone filed back in and they restarted the show, set to a mix by electronic musician Jon Hopkins, courtesy of Vibskov's own Spotify. "The show became even better than planned."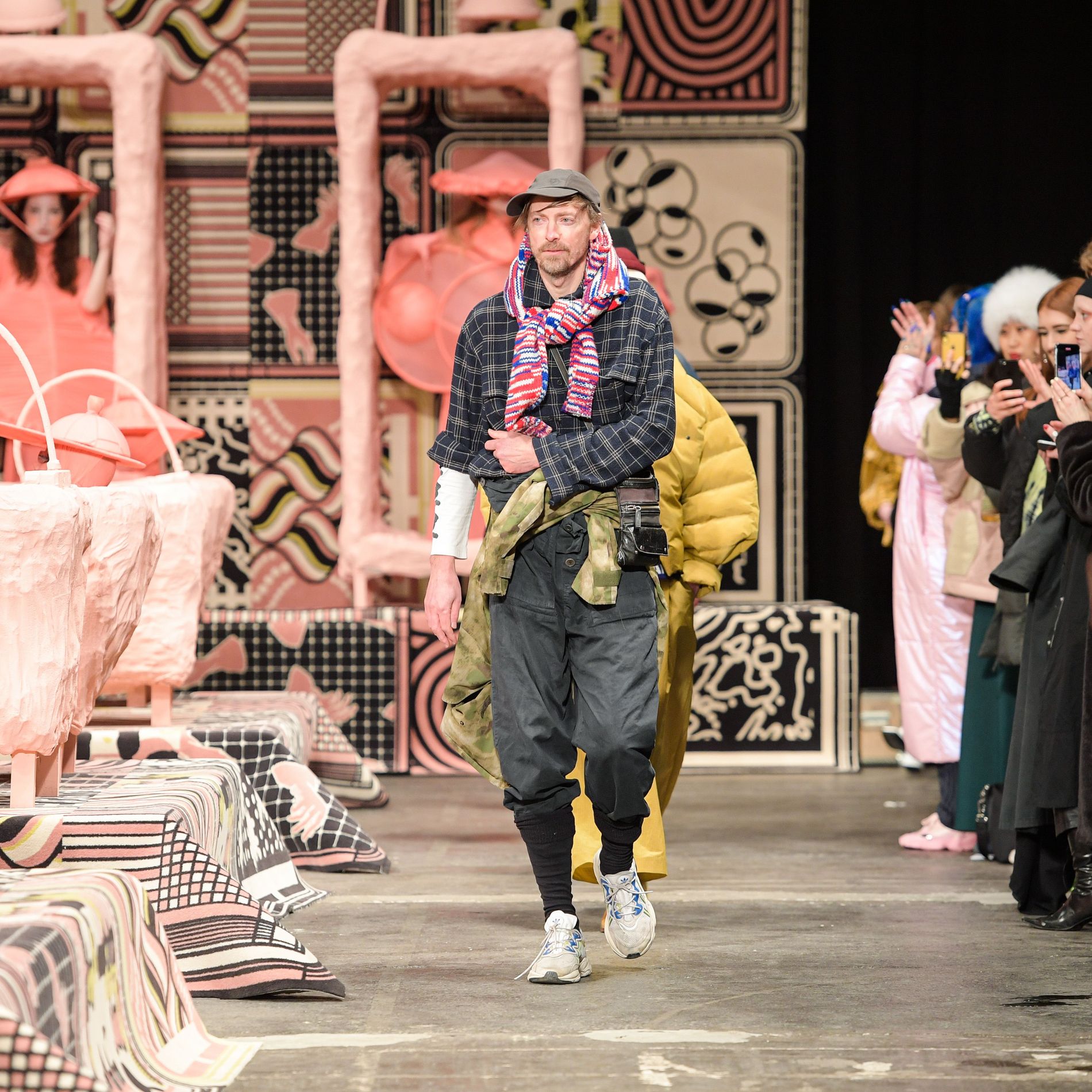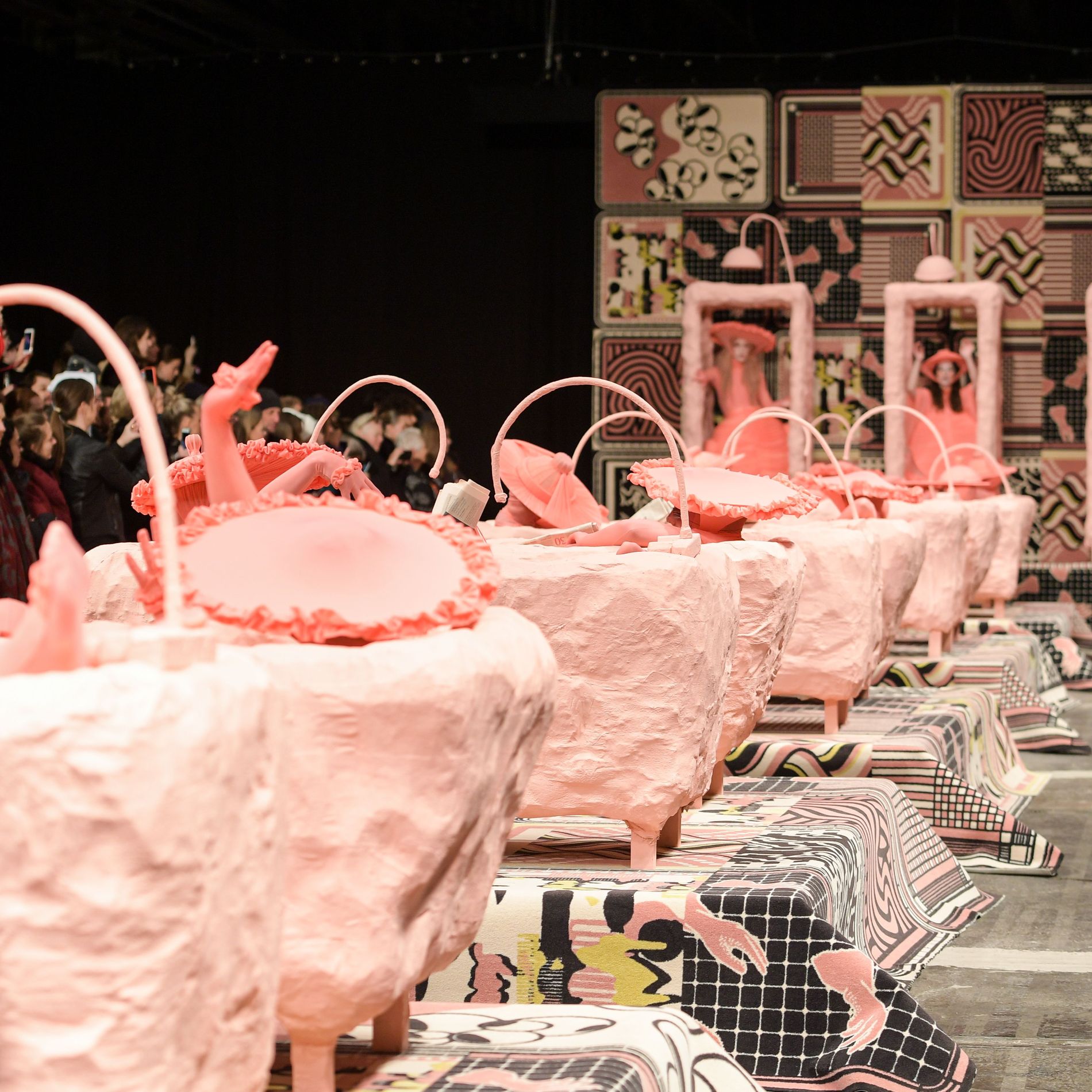 For Vibskov, a designer who welcomes chaos, the era of lockdowns and isolation has been "super weird." "There have been periods where I've just been here, on my own, playing drums," he says, gesturing around his Copenhagen atelier. It is an expansive space, filled with natural light. A massive tree stands directly behind him. "It's the first time in many years that it has been very quiet. Instead of constantly having this dialogue, it was just a monologue. Just me, hello," he waves. "Big studio, no one here." His scruffy face is backlit. At 48, Vibskov looks as effortlessly cool as he did when he graduated from Central Saint Martins in 2001.
Though the brand bears his name, Henrik Vibskov is hardly a solitary venture. In normal times, the studio is bustling with his crew of misfit creatives, "Team Vibs," working together to realise his latest project, be it an extraordinary set for an opera, costumes for a ballet or his latest collection.
He took the time to reflect, something that doesn't come naturally to Vibskov. The walk down memory lane culminated in an extraordinary series of books, documenting his work from 1997-2020. He holds them up in our video chat so I can take a look; three massive volumes filled with moodboards, photographs, sketches and musings. At the project's core are the many, many, many collections— the vibrant patterns and unusual silhouettes that made Vibskov simultaneously a commercial success and a cult figure among musicians and artists worldwide.
"It puts things in perspective," he says. "Looking into all types of projects done all over the world, sometimes with an extreme, fast pace. I got a little scared of myself. I'm getting older… Can I do that again?"
It's hard to imagine Vibskov doing anything else. This Thursday, the designer returns to his regularly scheduled programming with his first large scale live fashion show since lockdown. It's is a followup to his SS22 Paris show earlier this summer (Vibskov regularly does presentations in both Paris and Copenhagen) entitled "The Sun Will Sine on The Assembly Line." Constructed from 93% organic and recycled materials, the show was an optimistic symphony of patchwork, stripes and plaids.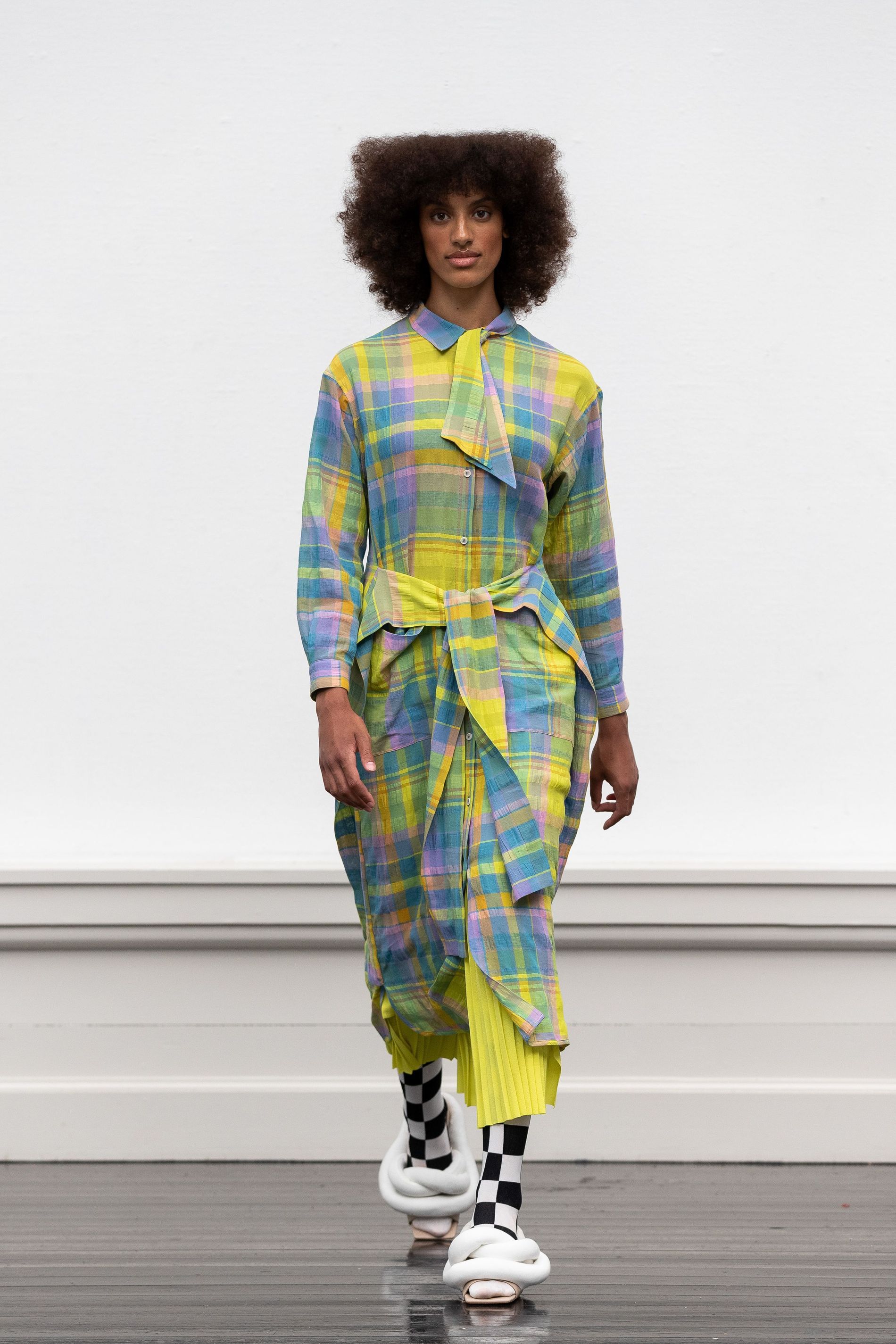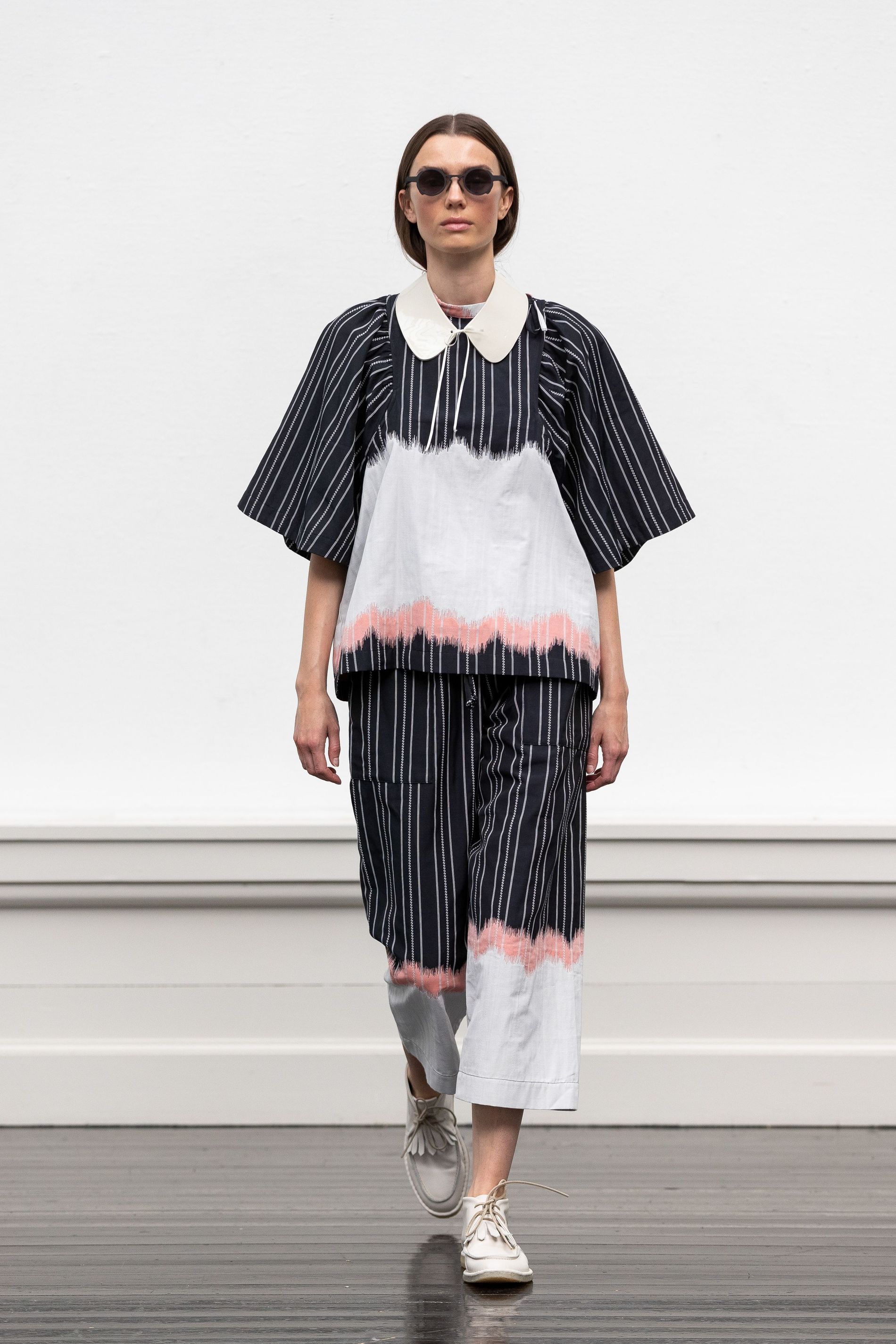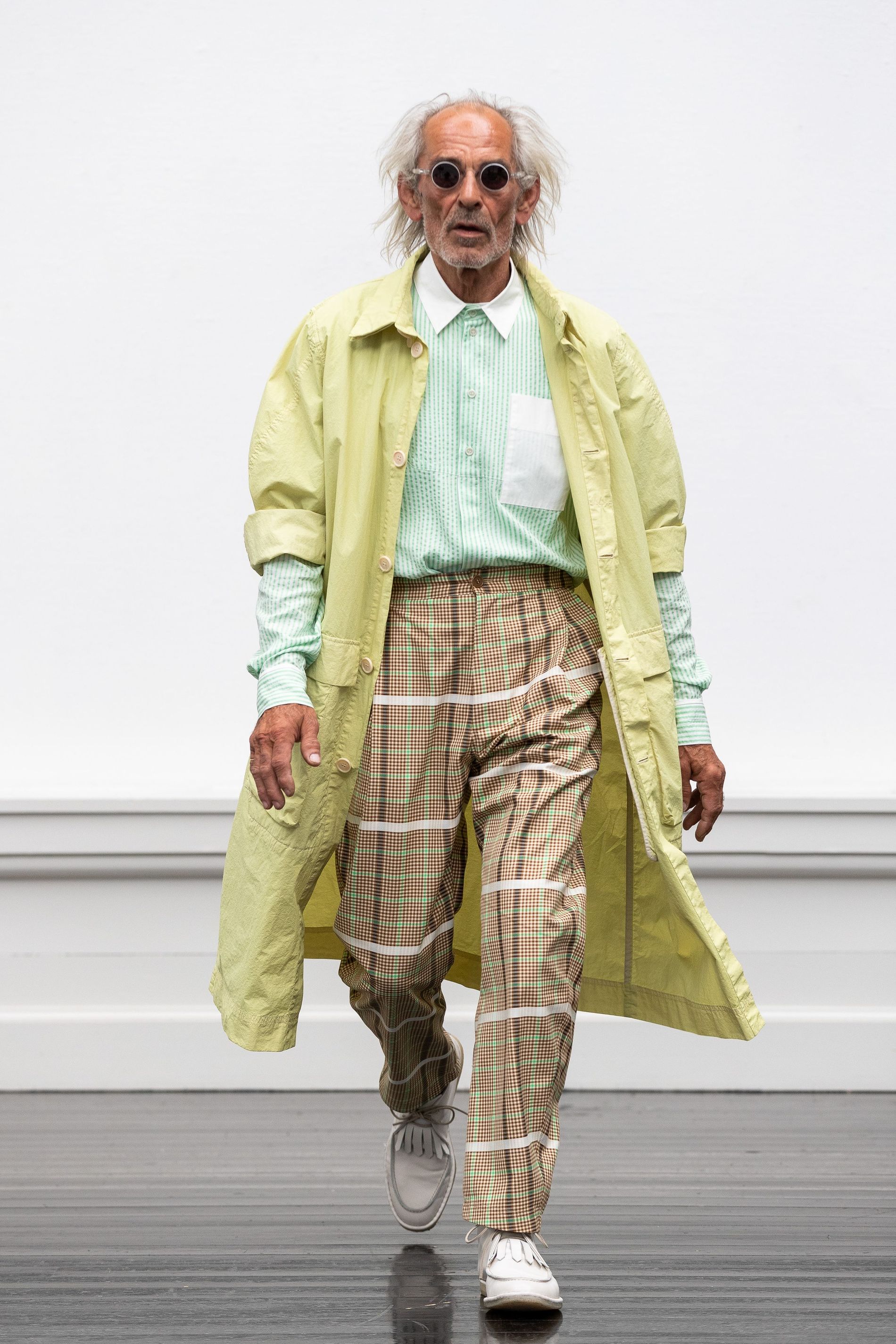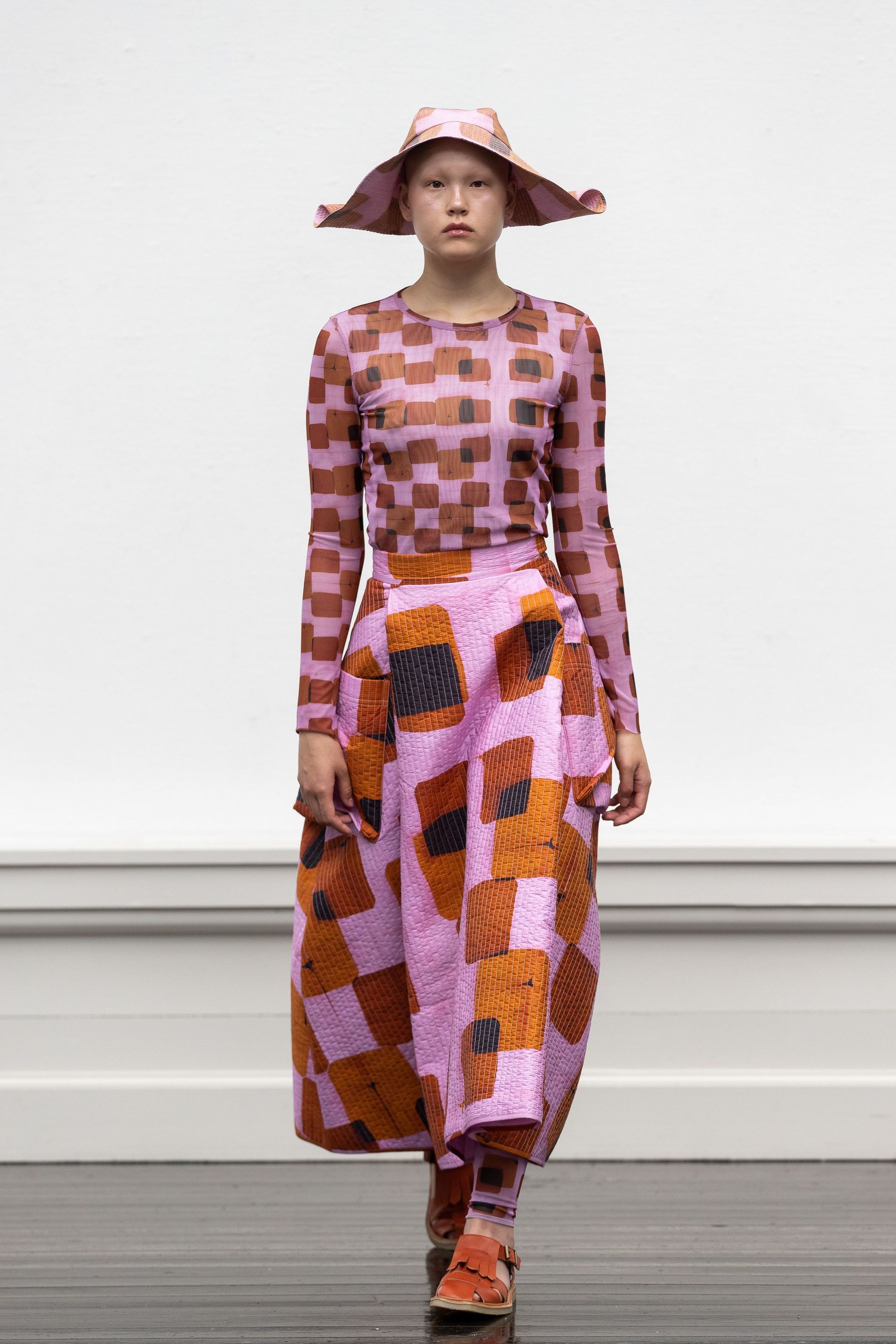 Despite his prolific output and Central Saint Martins pedigree, Vibskov found himself in fashion almost by accident. At 17, he moved from the Danish countryside to the country's second largest city, Aarhus, to study engineering. "There were so many things happening and the houses were five levels and the young people and the music and the parties," he says. "I couldn't really concentrate."
So, he dropped out and spent the next little while "hanging out and playing music" (Vibskov has played drums in various bands since he was a teenager). Eventually he wound up at a Danish foundation school, "You live and study there — music, design, poetry, whatever". The architecture program was full and he was too shy for theatre, so he wound up taking design. At the behest of one teacher, he later applied to the Danish Design School, but things didn't go exactly as planned.
"I was doing some pretty weird stuff," he admits. In order for his application to stand out among the thousand-plus applications they receive each season, Vibskov encased his portfolio in a double layered plastic filled with cucumbers, floating in cucumber juice. "When they got the portfolios, they put them on top of each other, so there was lots of pressure," he says. "They called me from the design school and said, 'Hello, are you Henrik Vibskov?' And I'm like, 'Yes!' And they're like, 'Can you come out here, now, and clean up the cucumber juice and cucumbers in the office?' My portfolio exploded and got juice all over the other portfolios. It was a really bad beginning."
Funny enough how fragile you are, then with just a little bit of clapping, you do better
Henrik Vibskov
A year after the cucumber incident, Vibskov met a girl he was, "trying to impress." "She said she was applying to Central Saint Martins," he says. "And I said, 'So am I.'"
He got in, of course (the girl who inspired his application would get in the following year, in case you were wondering). For a fairly shy fellow from the Danish countryside, the English-speaking, competitive world of CSM wasn't always pleasant — "For the first three years, I didn't really like it" — but his final project, a very Vibskov-esque blown-up suit, set the rest of his career in motion. "Everyone was very impressed, and clapping, and then I got a little bit more self-comfy," he says. "Funny enough how fragile you are, then with just a little bit of clapping, you do better."
For someone who makes bombastic clothes, plays drums in several bands and surrounds himself with people, Vibskov is notably introverted. And for someone whose work is so wildly confident, he is notably self-conscious. If he sees someone wearing his designs, he "tries to run away." If someone praises a collection, his response is, "Eh, it was alright." "I'm probably a bit of a pessimist," he says. "It's something I'm working on."
It's quite Danish, really, for someone who has filled three volumes of hardcover books with celebrated work to be so outrageously humble. At first glance, that's about all that's Danish about his practice — the clothes themselves are loud and unusual, a far cry from Scandinavian minimalism or the more recent influx of Danish romanticism.
Henrik Vibskov
3 Book Cassette
All three of Henrik Vibskov's books packaged in a sleek black and white cassette
Still, he can't help but be shaped by the country he calls home. "I've grown up with a more socialistic society and the school system, the design and architecture history — of course this has formed me somehow," he says. "I have a very conservative frame, aesthetically. So I may have a lot of chaos going on, but there is a very strict frame around it. Maybe it's also a bit inspired by the light — there's a little darkness."
He cannot help but add, "I don't know. It's always difficult to describe yourself."