Helmstedt's latest collection creates a playful utopian universe that women can share with their little ones
For its autumn/winter 2022 collection titled 'Moon', Copenhagen-based Helmstedt is transporting us to a dreamy universe where the brand's signature artistic approach to fashion manifests in quirky, vibrant pieces. Impacted by the magic of motherhood, founder and creative director Emilie Helmstedt names her year-old daughter Blå as her primary source of inspiration. 'Moon' is also the brand's first collection introducing garments for small children.
Taking cues from the tales she reads to her daughter at night, Helmstedt has been particularly influenced by the acclaimed Danish author H.C Andersen. As Blå swiftly drifts off, Helmstedt pictures how the stories unfold in her daughter's mind. "It's a story about becoming one with the moon, but when the dusk turns to dawn, everything will be gone. So it's kind of like a story about a dream that you only have for a glimpse, but we try to bring it into these garments so you can wear this dream forever," explains Helmstedt.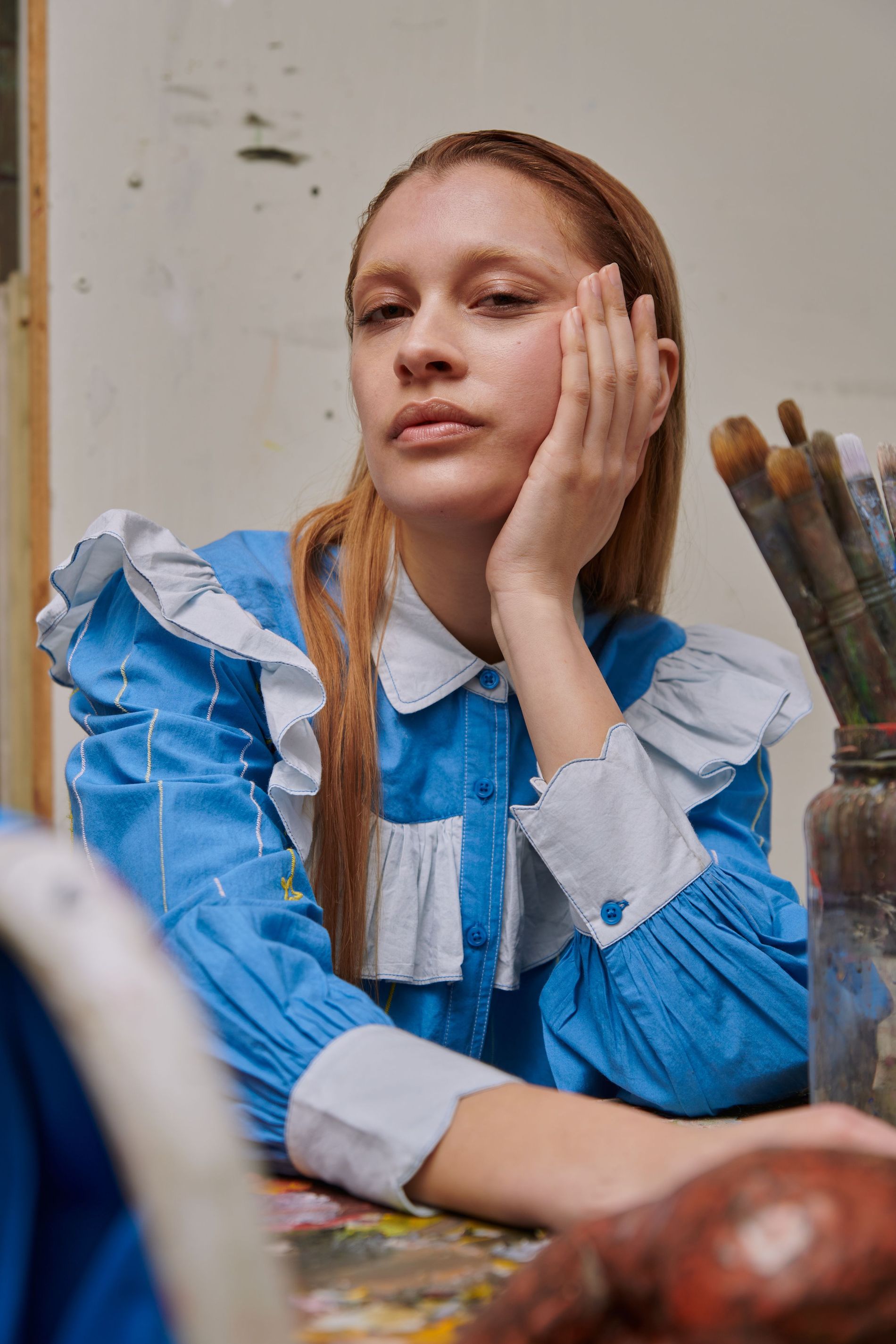 Photo: Kavian Borhani
Envisioning how the brain looks while one is dreaming fascinates Helmstedt, and it's what the designer has mimicked in her colourful, eccentric prints appearing on relaxed knit sets and dresses. "I just Googled brains, like really many brains and looked up medical books," Helmstedt tells Vogue Scandinavia. When a clear vision of the print was achieved, it was drawn and hand-painted to life. The final version was then digitalised and placed into woven fabrics. This season, Helmstedt has also used the crochet technique for the first time.
Flowy and delicate pastel-coloured pure silk dresses and organic cotton pyjama sets reflect the world of dreams onto daywear, while duvet-like recycled puffer coats and padded jumpsuits indeed feel like laying on the clouds. When designing the small children's clothes included in the collection, Helmstedt wanted to create pieces that match with the rest of the garments. "We wanted to do the same DNA, womenswear in kids sizes," explains Helmstedt.
For Helmstedt, working while being a mum has only brought positive things. "It's like you really get a completely new brain, being more focused. You need to see things from above, because you cannot be in all of the processes."