Turns out water can be more than just liquid, quite the opposite — it can be hard. Discover here what actually is hard water, how it's affecting our hair and what we can do to treat it
In collaboration with L'Oréal Professionnel
Have you ever felt your hair stingy, rough or kinda tacky right even after you shower? That lifeless-ness that is practically unreasonable as you just washed and carefully conditioned your locks? Well, I have — and after some deep investigation I found out that the responsible behind it was who I least expected. Turns out that the dull appearance and feel of my hair had nothing to do with the products or treatments I was doing rather than with the water I was showering, the hard water I was showering with.
Let's start by defining that hard water is a thing and it can be really damaging to our hair. Hard water is the technical term used to describe water that has high mineral and metal content. It's formed when water passes through deposits of limestone, chalk and other stones, as well as has contact with metals through piping or water supply structures. This heavily metal-charged water potentially could be the reason behind why our strands might not be achieving their best self.
Now, while I was getting highly concerned about the metal in my liquids, after more research I found out that there was a solution to the damage and impact hard water was having on my strands — a very convenient shampoo and mask that could counteract the negative effects of hard water on the hair. The heroes? L'Oréal Professionnel's Metal DX collection — but more on that later, let's first start by the basics and by the end of this article you'll find my personal experience with the dynamic duo and their fight against solid liquids.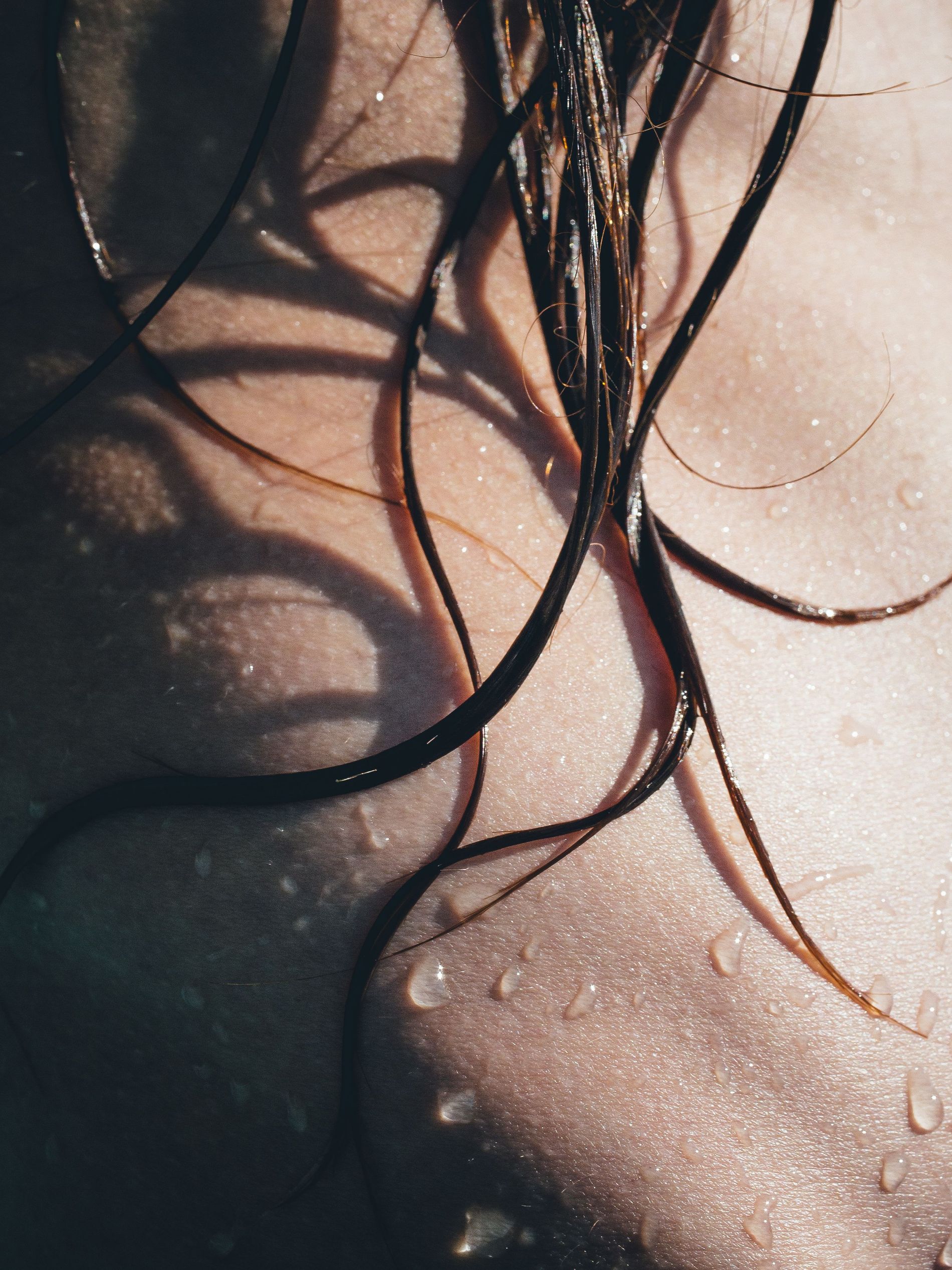 While shampoos and conditioners are washed off the hair, water is the one component that stays on it until after dried — and even when styled, any residue existing in the water sediments onto the strands. Photo: Getty
What is hard water?
According to a study in the US National Library of Medicine, hard water is usually defined as water that contains a high concentration of minerals. However, hardness can also be caused by divalent or multivalent cationic dissolved metals — some of these being copper, aluminium, barium, etc. "High levels of these minerals and metals imply a high ion count that in turn gives for a high level or hardness," explains Michael Barcefer, owner and founder of Michael & Frisörerna, a Swedish salon that has been taking care of Stockholms' hair for over 20 years, and L'Oréal Professionnel ambassador.
How does hard water affect my hair?
High levels of these compounds in your tap water can cause issues when it comes to the health of your hair. "Coloured hair is the one that takes the most damage as the colour fades out faster and the buildup will leave the hair feeling dull or rough after a couple of washes. Natural hair will feel rough and get tangly even when the hair condition or quality isn't poor or bad," Barcefer describes, "high levels of copper can affect your coloration and turn your hair green or orange." Something you would want to avoid, right?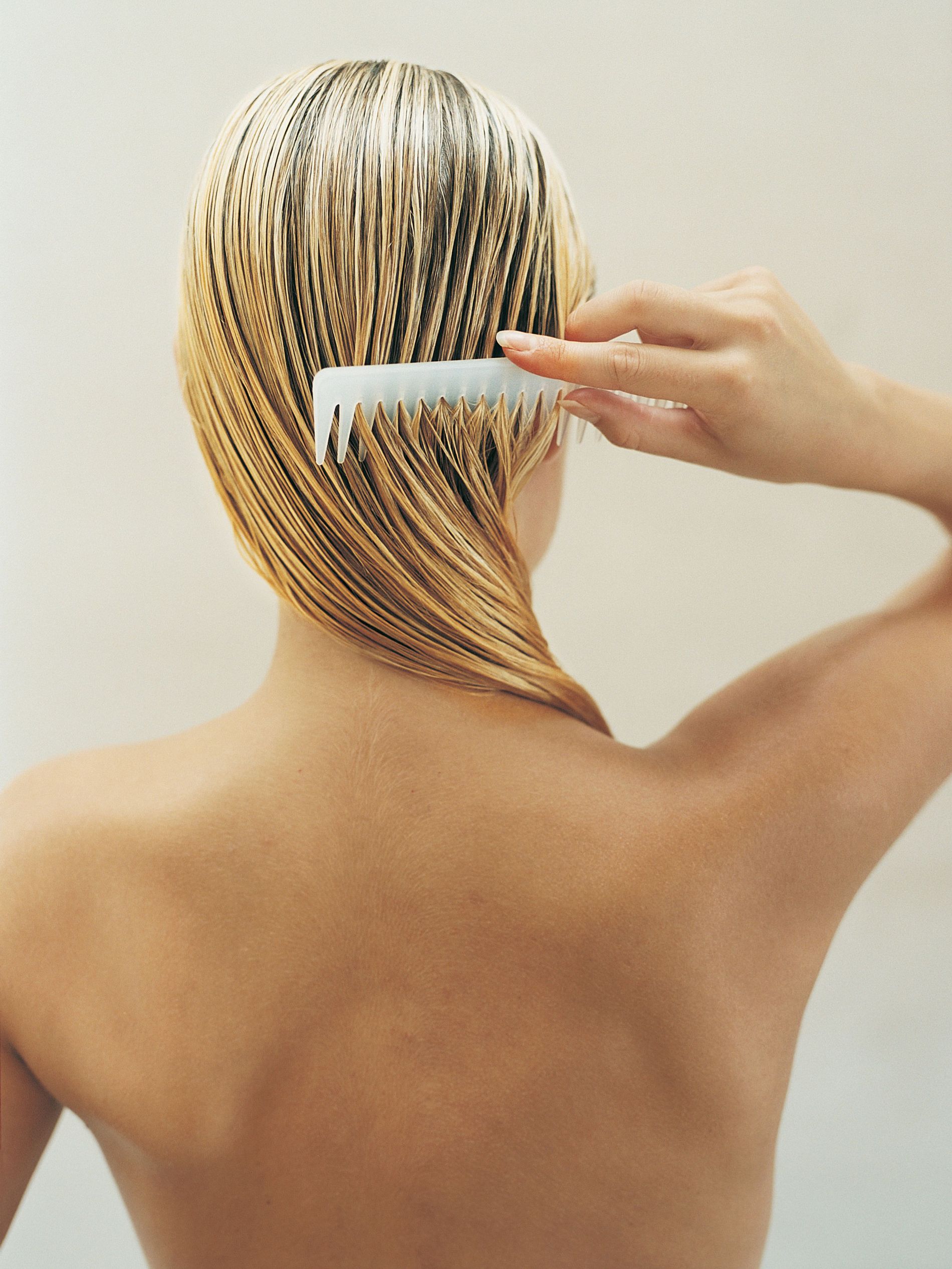 Affection in the color and tone of bleached and dyed hair is the most common issue associated with copper in water. Photo: Getty
How to know if I have hard water?
Now, before panicking, let's take a step back and start by asking the defying question, do I have hard water? Well, again, only science can tell. There are at-home tests that one can science it's way through or sometimes you can even Google your location, city or county to find out if it has been deemed (or doomed) as a hard-water-location. Unsurprisingly, Barcefer also has some practical tips to self-diagnosing our homes as hard-water-infected. "You'll notice that your shampoo or soap foams less than it should, also your coffee could taste weird or take longer to brew," he says with a smile. Others even recommend keeping an eye out for when your bath or shower dries, if there is a white residue, congratulations, you've got hard water.
How to deal with hard water?
Besides the terrifying reality that the reason behind your non-lasting blonde, your rough strands or even your itchy skin could be your water, all hope is not lost when it comes to battling this liquid menace. While installing purifiers or even moving (or fleeing) sound like tempting options, sometimes we need a more immediate, effective solution — cue L'Oréal Professionnel's Metal DX collection. "Metal DX neutralises the metals and minerals from your hair, especially the color-changing copper, and shields your hair from the 'attacks' of minerals so they can't 'bite' your strands or proteins," details Barcefer.
Especially when bleaching or colouring the hair, we're subject to changes in the result due to the metals our hair has contact with, with Metal DX we can protect and condition the hair to be better prepared to hold against potential changes in colour. "My best recommendation is to incorporate Metal DX as your main hair-care routine. The first thing is to go to the salon and get a deep neutralising treatment, after this, it's a matter of maintaining the results with the shampoo and mask from Metal DX," explains Barcefer. Another — quite obvious at this point — recommendation is to minimise the times you wash your hair. Keeping it to a maximum of two to three times a week, the key is to avoid rinsing it in water as you would be adding more metals to it if you do so. "I recommend most people to use the Metal DX collection to heal their hair, I always say — metals weigh your hair down but the Metal DX frees your hair," adds Barcefer — and with a sale like that, who wouldn't want to try it?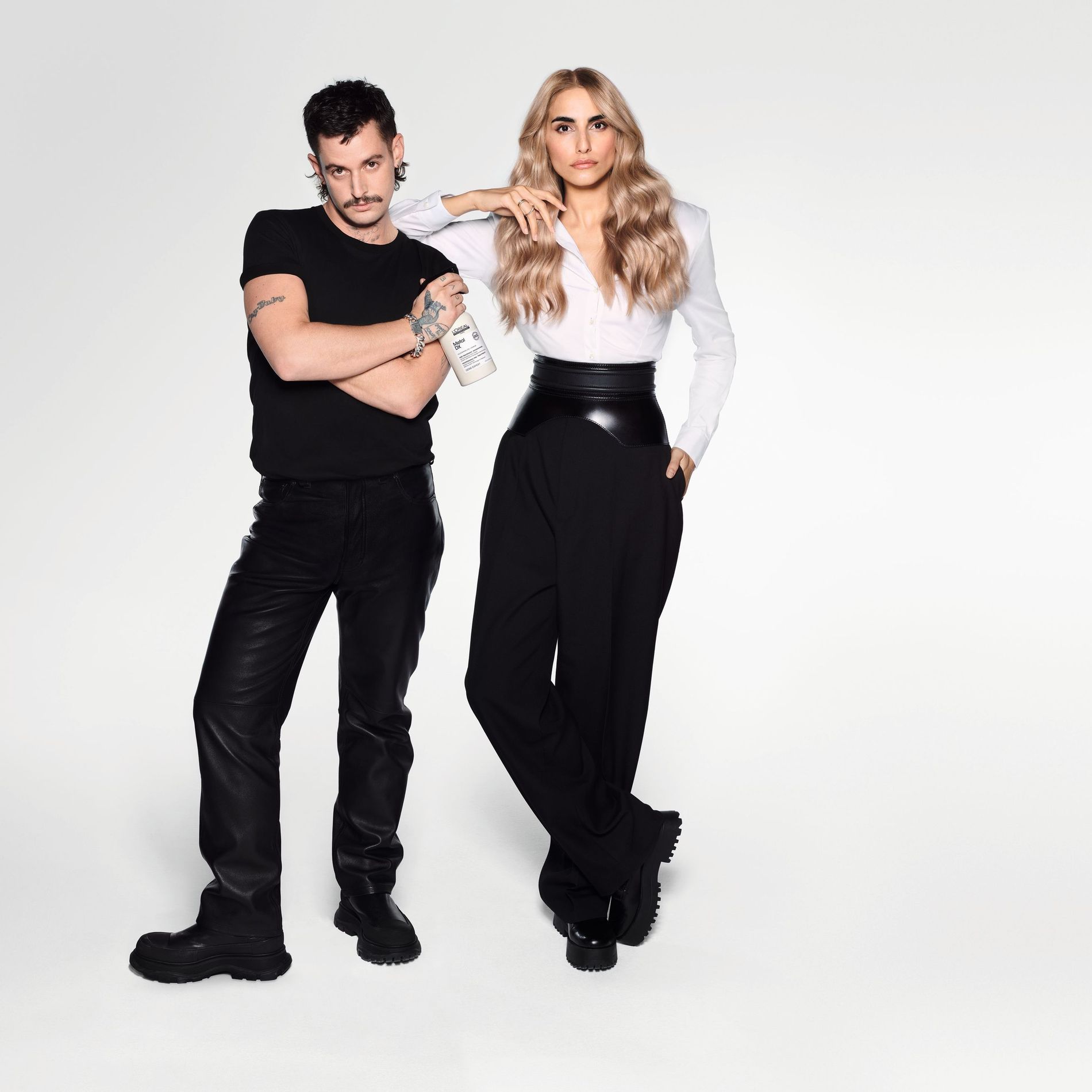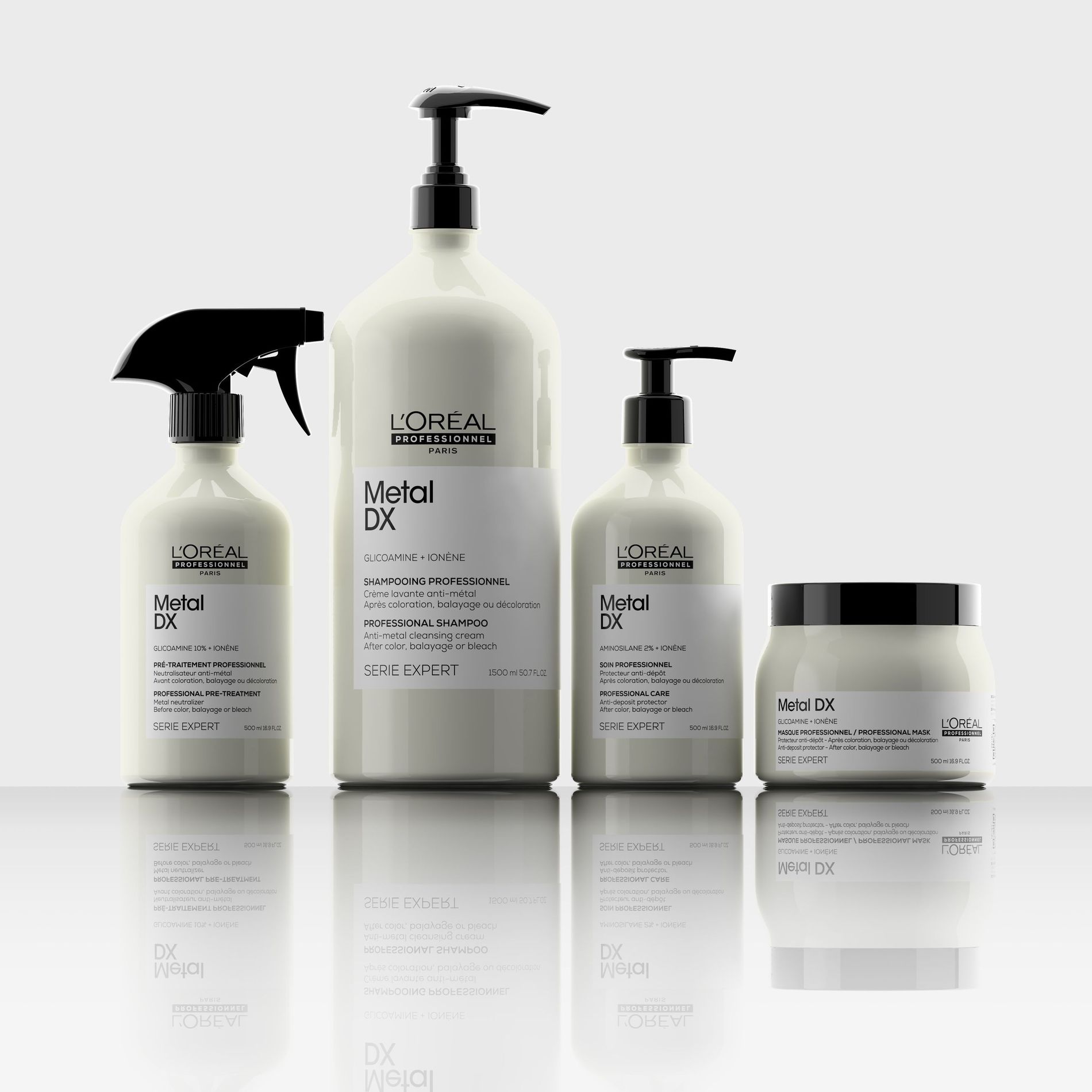 Onto my experience with hard water I must start by confessing that first, my hair has been through a lot these past years, and second, sometimes I don't shower at home, so I'm subject to multiple different types of waters and let me tell you — it matters. And just as a side note before anyone out there starts making assumptions, the 'other places' I shower at are the gym, sports class and the sauna, no other action whatsoever in my life, end of side note now. Back to the water.
I first started dealing with hard water when I started showering after exercising at the gym. In an effort to maximize time efficiency I'd decided to shower there and go on with my day yet this plan quickly became derailed when I couldn't pinpoint why my hair was so frizzy, rough and dull even when I applied good products and aftercare when leaving the shower. After a couple of months of this (and attributing the terrible texture to not being able to blowdry my hair at the gym) someone mentioned hard water to me and all the symptoms clicked — cue L'Oréal Professionnel's Metal DX. While at first I was hesitant on how effective one shampoo could be, I was pleasantly surprised and rightfully corrected after the first wash. Starting off with it's lovely lemon-ish smell, the shampoo was a joy to apply and especially lather.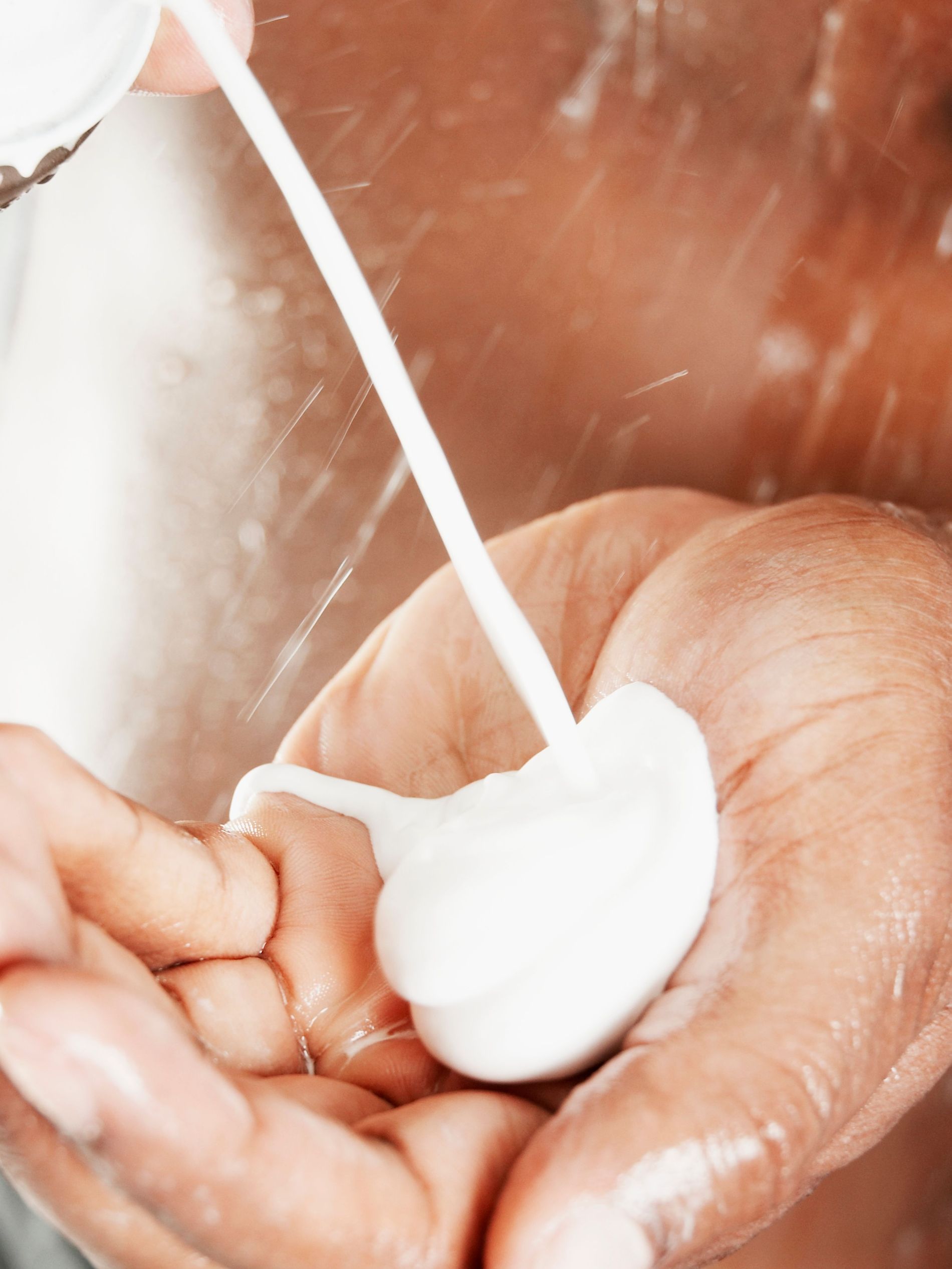 The best treatment against metals in the water — that doesn't include moving or installing a water filtering system, consists in a combination of products that not only cleans but also neutralises metals and protects hair fibres. Photo: Getty
A good shampoo lathers, no one can tell me the contrary — and this one delivers. Even better, when rinsing it off it doesn't feel like your hair has been stripped or is 'squeaky clean' (something that isn't good for the hair but unfortunately common with some deep cleansing shampoos). With Metal DX it felt soft, clean and somehow lighter? After that, the mask was like a thick melted butter. It glazes over the hair and coats it without feeling heavy or sticky, just nourishing. After a couple of minutes (because even at the gym and sauna I take my good time showering) it rinsed off my hair to an airy, breezy feeling of both cleanliness and softness. Continued with my traditional hair care routine and after a couple of hours my hair, which hadn't been blow dried, felt much softer and less frizzier, something that in my book is a definite win.
This being my first couple experiences with the product I was really pleased with it's performance and now has become a staple in my exercise bag. While it's not a solution to the plumping issues that some buildings might experience, it's a personal insurance that I can shower anywhere and still my hair won't fall to damage. And who knows? Maybe even in the future I'll have more uses for it than just the gym and sauna — fingers crossed and hair protected.
Metal DX is a collection part of L'Oréal Professionnel that includes a salon treatment, a shampoo and a protector mask, it can be purchased at certified salons or through professional hair-care retailers. You can find your closest L'Oréal Professionnel salon here.