For 160 years, Stockmann has been the place for fashion-savvy Finns to find their next wardrobe treasure. Now, Vogue Scandinavia's shoe expert Sandra Hagelstam inspires our spring/summer occasion wear by styling the latest drops at the department store
In collaboration with Stockmann
"It was always about meeting under the clock," Sandra Hagelstam says, explaining how every fashion fiend in Finland knows this iconic meeting point in front of the historic Helsinki department store, Stockmann. "We would spend a whole day in the store – from shopping to eating, studying to getting our make-up done for the evening."
Founded in 1862, Stockmann has solidified its place in the Finnish fashion fabric. Helsinki's fashion destination has both seen and uplifted iconic local designers such as Marimekko and brought international powerhouses like Marni and Alberta Ferretti to Finnish soil throughout its illustrious 160-year history. "A lot of Finnish brands are specific and designed for timeless wear, so it really helps to see them displayed alongside international designers," Hagelstam says. "Stockmann also does great pop-up segments and exclusives – like shoe designer Minna Parikka's recent comeback collection."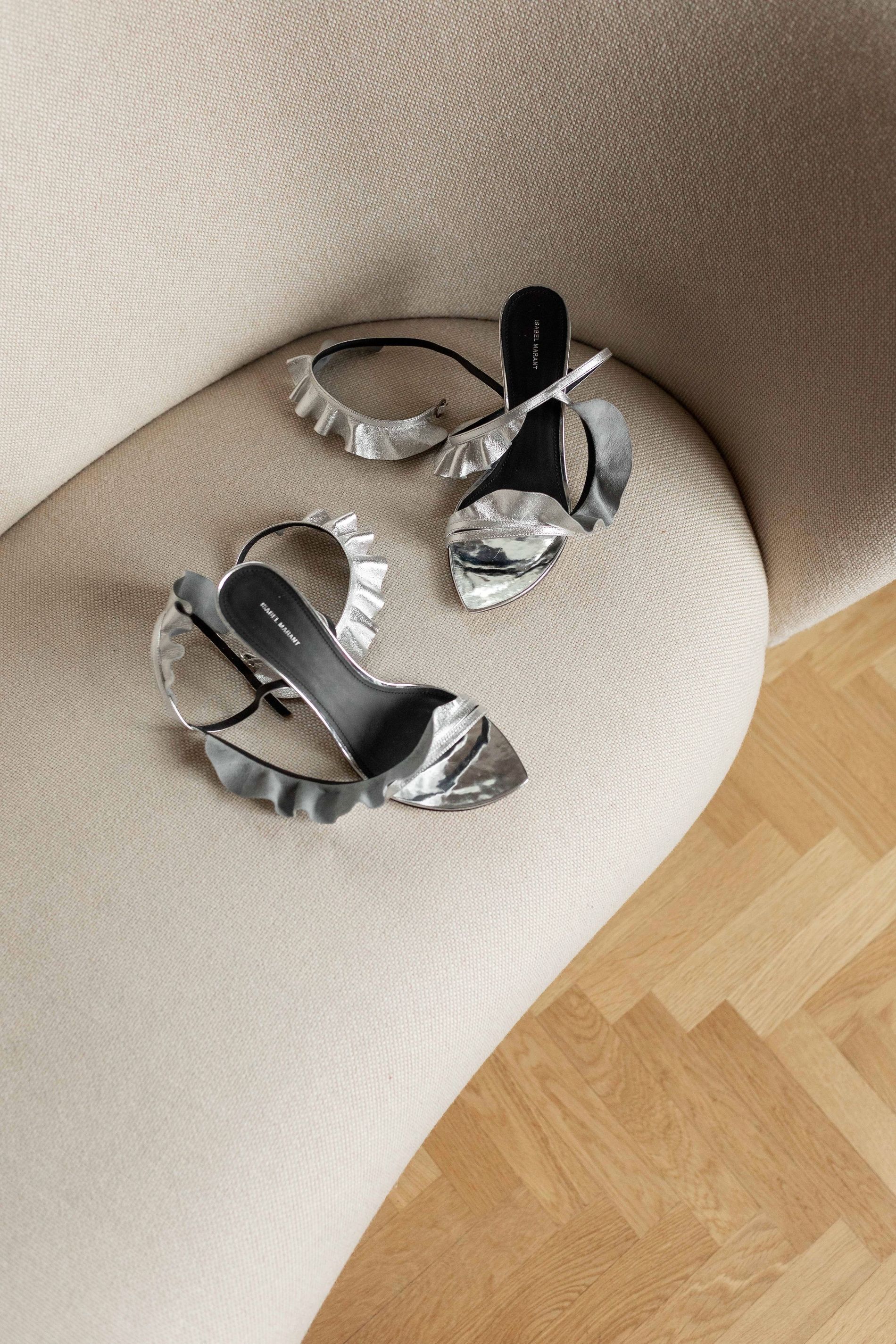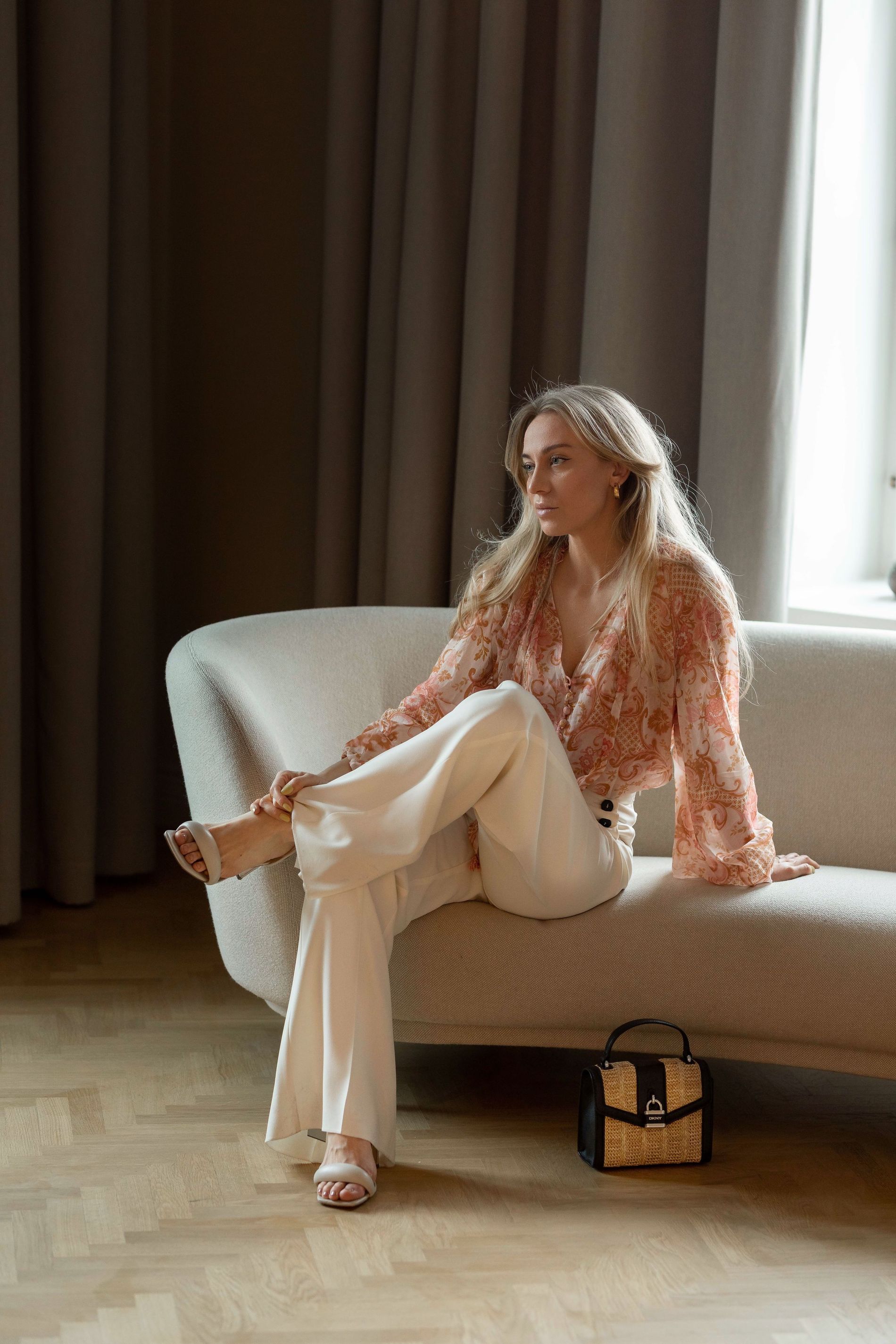 Left: Silver sandals, Isabel Marant, only available at Stockmann Helsinki.
Right: Sandra Hagelstam wears blouse, €695, Zimmermann. Trousers, €159, Marella. Sandals, €89,99, Steve Madden. Wicker bag, DKNY, available at Stockmann Helsinki, coming soon to stockmann.com. Gold hoop earrings, €91, and gold ring, €83, both Pernille Corydon.
For Hagelstam, the department store played a prominent role in her developing relationship with fashion. "I remember discovering Longchamp bags at Stockmann in my early teens and I started collecting them," she says. "Later on, I discovered brands like Acne Studios, Filippa K and Tiger of Sweden and loved the selection."
Today, Hagelstam still finds inspiration for her seasonal wardrobe in the selection at Stockmann. Handpicking styles from the many brands carried at the department store, Vogue Scandinavia's expert preps for summer occasion wear with floral maxi dresses fit for warm-weather weddings and playful tailoring to sport when attending the season's many parties. "I love dressing for the occasion or destination and usually prefer to be overdressed rather than underdressed," she says.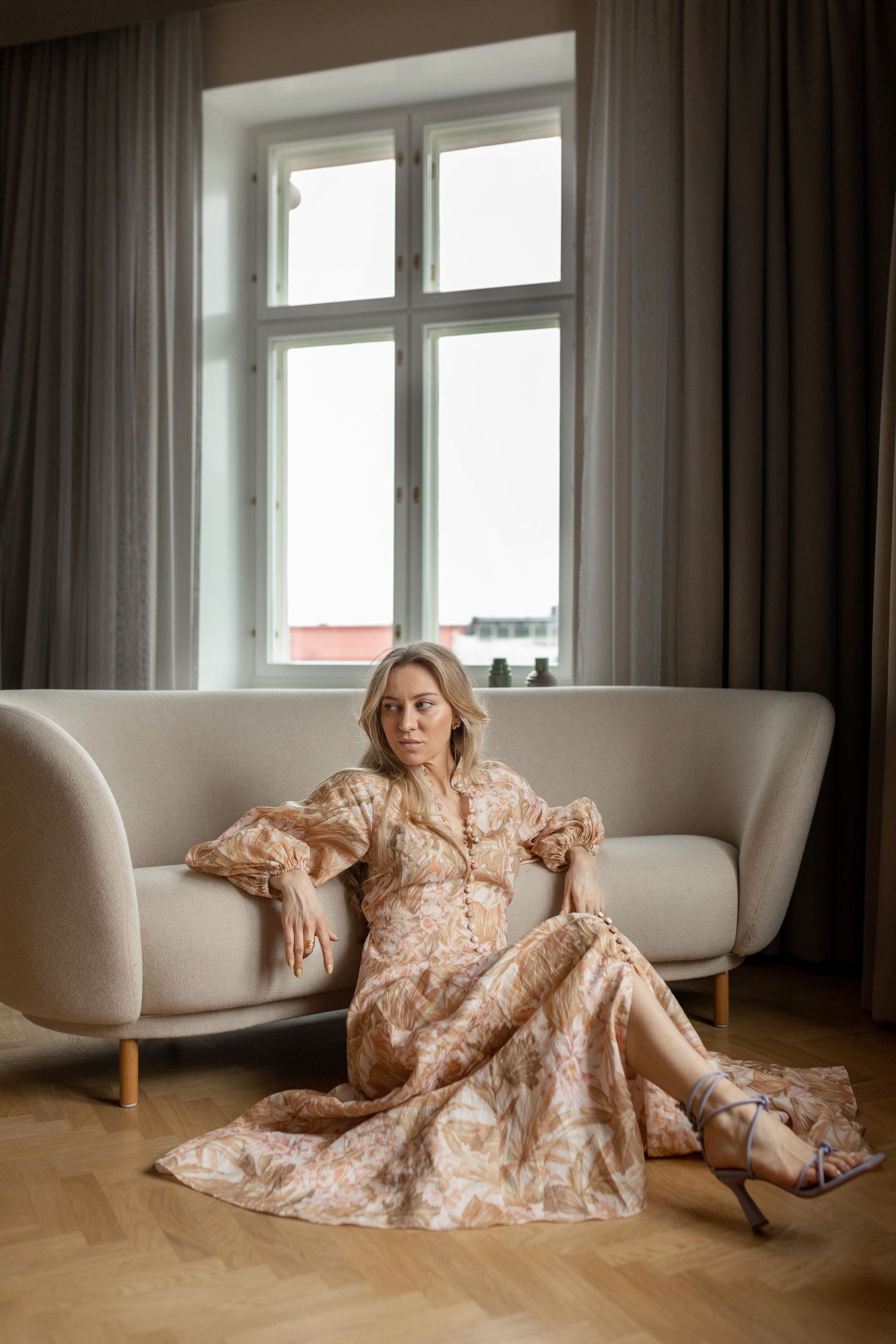 Photo: Angelina Ilmast
When browsing for new additions to the wardrobe, Hagelstam says that if you can think of at least three occasions and three ways of wearing the item, it will most likely be worth the investment. "Think of your lifestyle and upcoming events or holidays," she advises. "A dress always makes an impact while separates are easier to style. It is also important to feel like you want to wear the piece right away, don't buy items that you might have use for later. Chances are you'll find something better when the occasion comes along."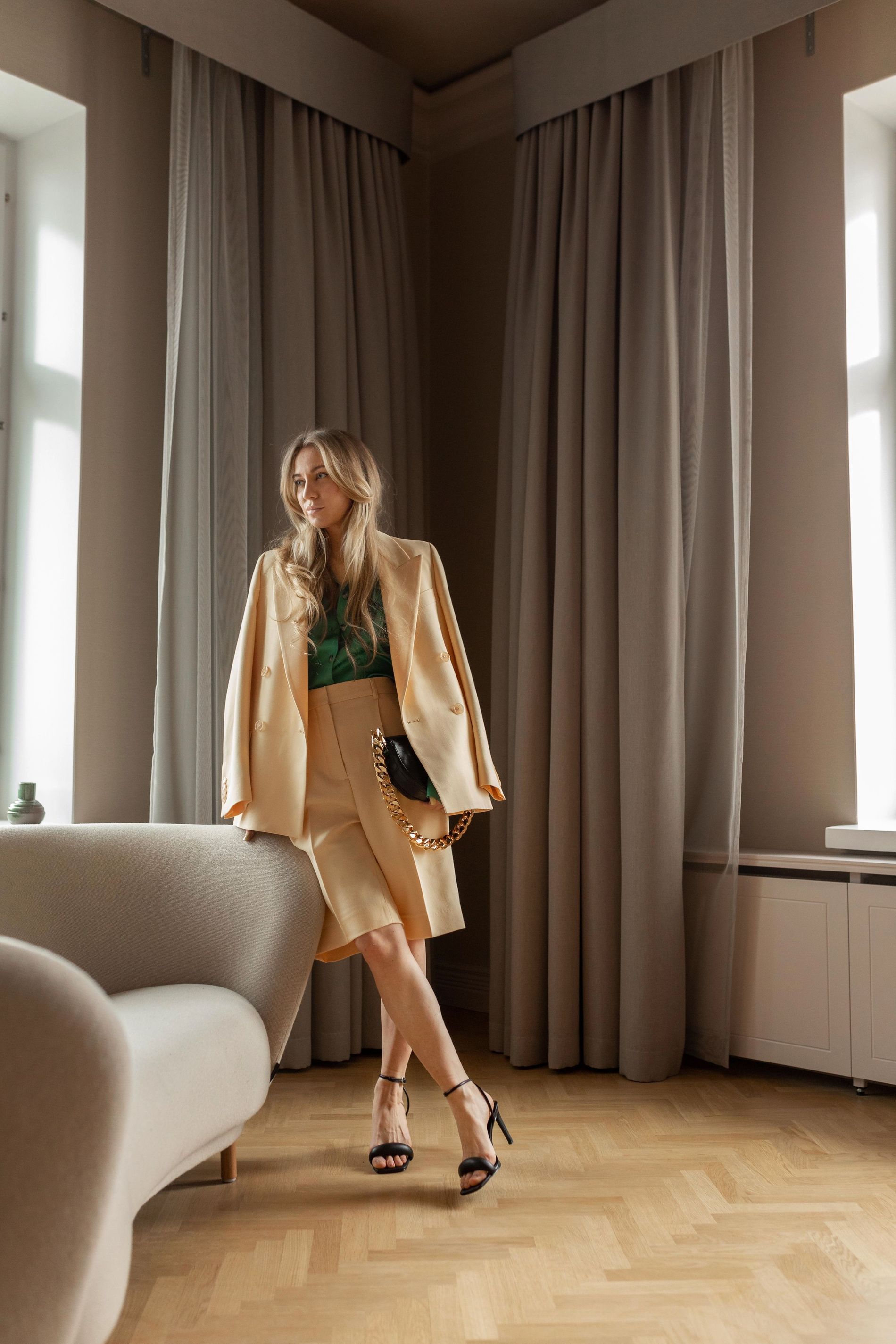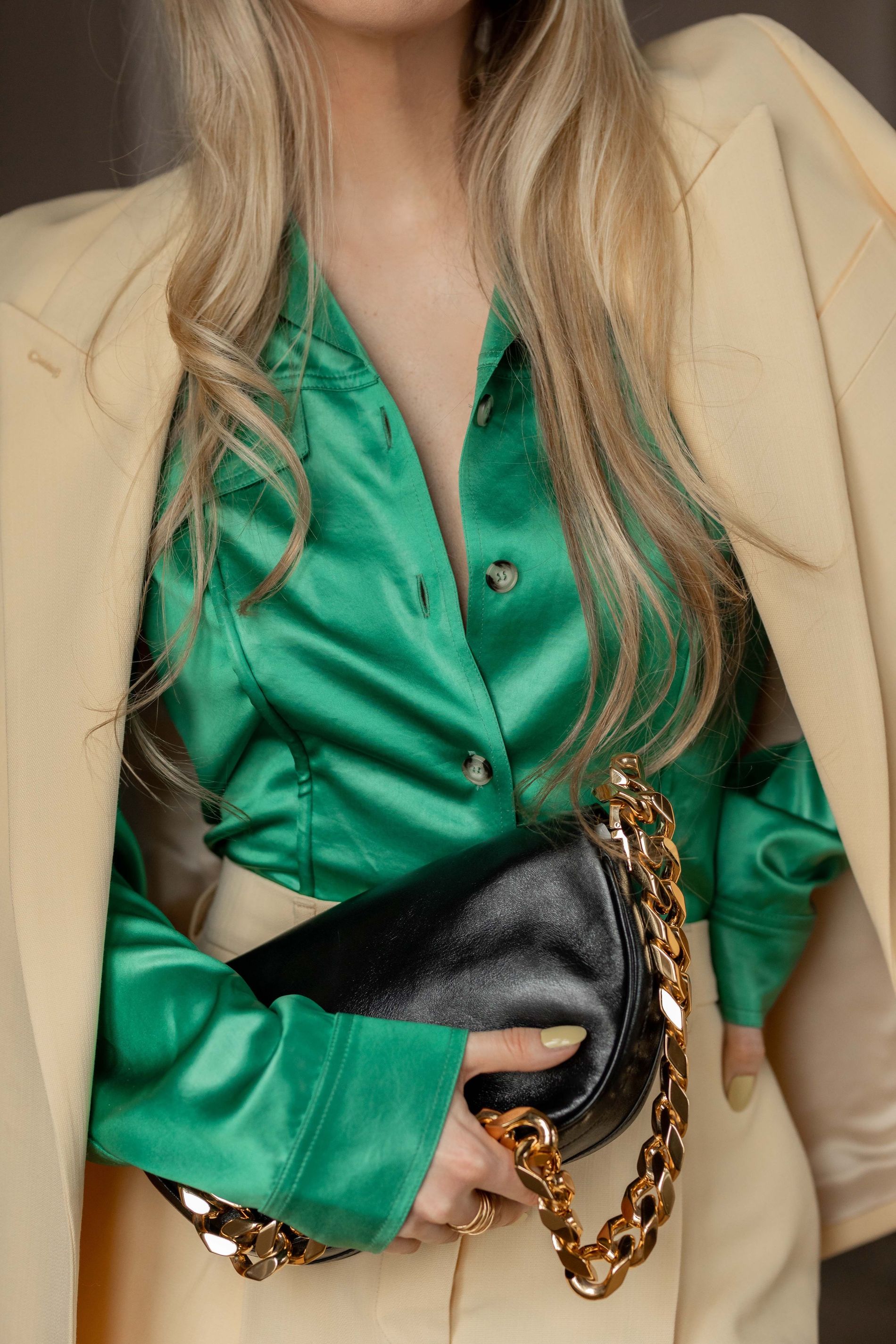 Sandra Hagelstam wears blazer, €630, and tailored shorts, €300, both by Acne Studios. Shirt, €445, by Nanushka. Black chain bag by Burberry, only available at Stockmann Helsinki, and sandals, €89,99, by Steve Madden.
One of the key investments for spring/summer dressing is a bold statement blouse to suit your style, Hagelstam says, whether an airy floral top or bright coloured silk button-down. "These are what get the most wear in my closet every Summer," she says. "They are easy to dress up or down, so I usually invest a little extra in these pieces."
Leaning into the spring/summer trends, Hagelstam steps away from her usual black-on-black attire for the coming season. "Colour combinations are a big trend for the summer and something everyone can create their version of," she says. "Try mixing clashing colours like different pastels or yellow with green."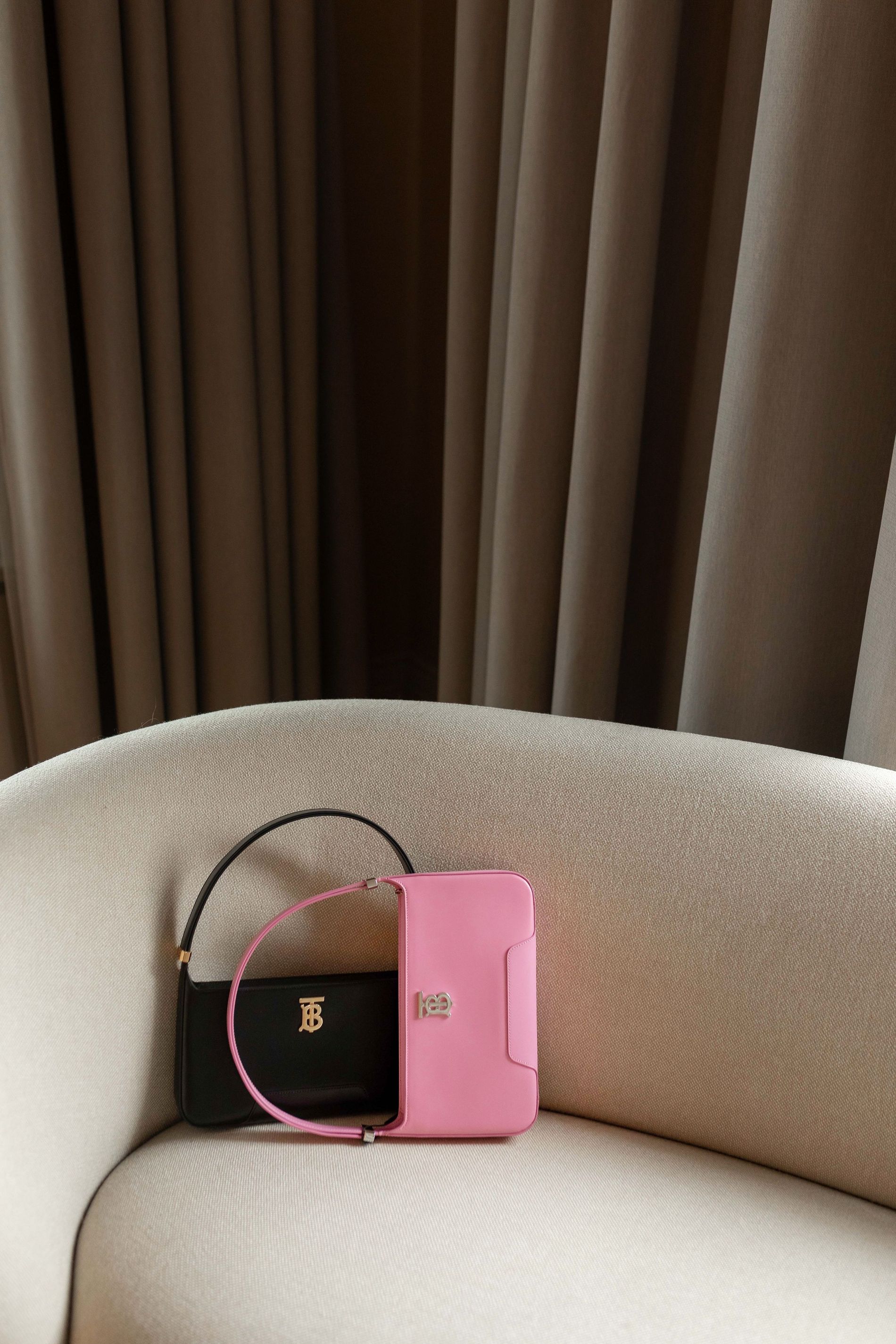 Photo: Angelina Ilmast
Pink and black bag by Burberry, only available at Stockmann Helsinki.
Hagelstam knows the importance of the right accessories to finalise a look. "They determine the occasion," she explains. "A maxi dress can pass as a gown in heels and be appropriate for daytime wear in flat sandals. Think about what you will be doing – will you be sitting down for dinner or dancing? – and dress for the occasion." As for bags, she is all about the top-handle. "They are my go to for event dressing and can really change the feel of the whole outfit. A wicker bag is perfect for summer, holiday and warmer weather wear, while a leather bag feels more city or evening appropriate."
According to Hagelstam, however, looking your best is about more than just dressing up. "A look can affect your mood and whole persona," she points out. "And after two years of wearing mostly sweatpants, I am longing for feminine dresses, heels and feel-good fashion."
---
Vogue Scandinavia's favourite pieces...