Speaking to founder and designer Elin Alemdar, Vogue Scandinavia takes an exclusive sneak peek of Stylein's 20th-anniversary collection
Stylein's 20th-anniversary capsule collection hangs neatly in the brand's Stockholm based showroom. A wall of creamy whites, soft blacks, and muted browns.
Elin Alemdar, founder and designer of the Swedish brand, lets her hand run along the garments – 26 in total. "We wanted to make it the best it could be. So we've reinvigorated some Stylein classics in new fabrics." Her hand stops at the long black coat on display. "Like this, this silhouette is an updated version of a smoking jacket we created when we started. It is so significant to who we are. It really sets the tone," she says. 

Singing Stylein's high praises is unnecessary. There's no need to spin a beautiful web of words about the brand's lasting impression on Sweden's sartorial aesthetic. Alemdar's timeless designs have undoubtedly been consequential to how the world perceives the region's minimalist expression. The brand's emphasis on material, fit and comfort rather than short-lived trends is a consensus shared among the similarly minded Swedish crop of designers that emerged around the same time as Alemdar.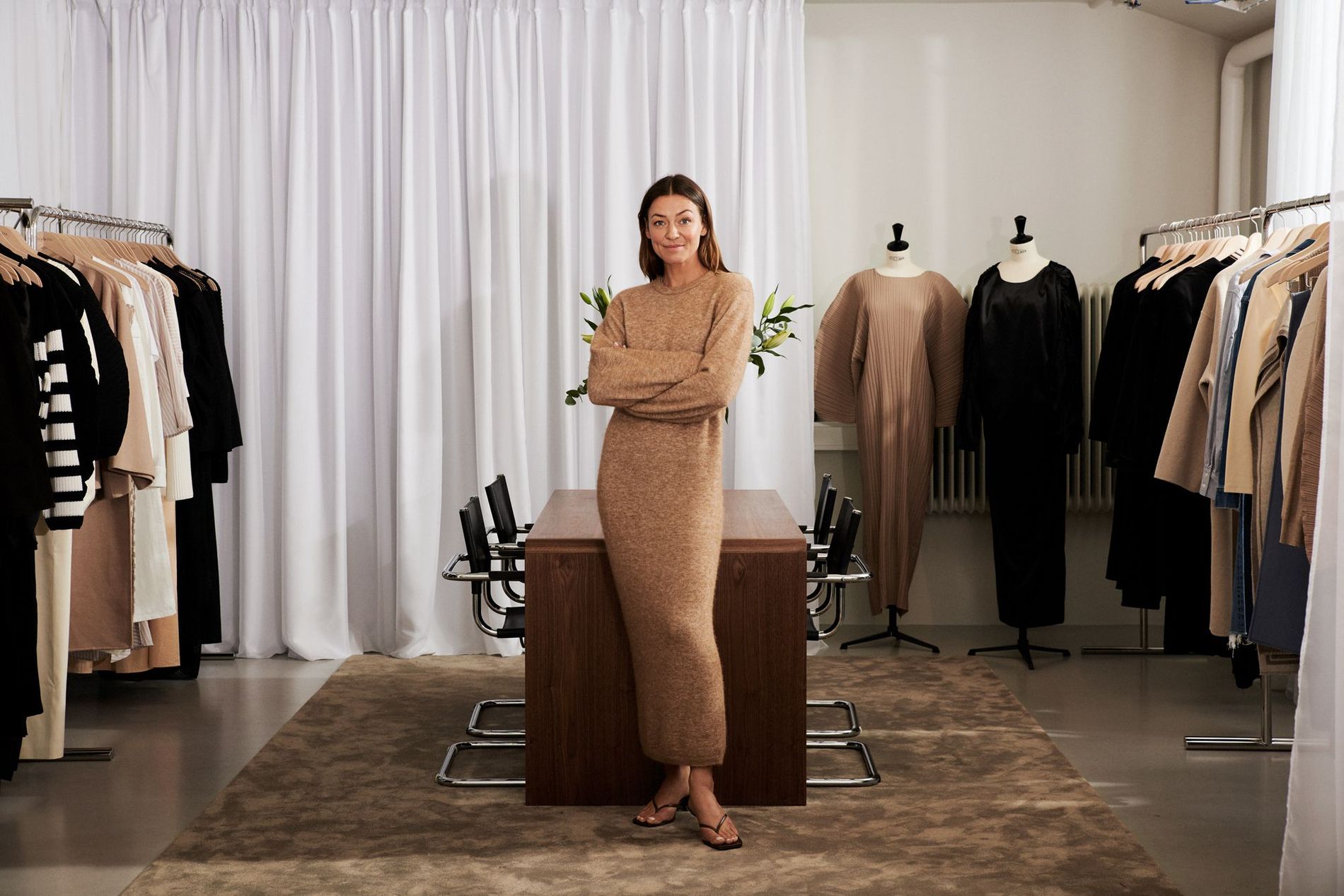 Designer and founder Elin Alemdar in the Stylein atelier. Photo: Stylein
As Alemdar takes another sip from her coffee and sits down – Stylein's anniversary collection of quiet yet impactful designs displayed behind her – she smiles. The designer founded Stylein in 2001. When she began, however, she had no intentions of creating a brand. "20 years ago, I had absolutely no plan," she says. "I'd just quit gymnastics and had gone to New York to study English."
For Alemdar, 'The Big Apple' presented new opportunities to explore her passions after a very controlled childhood. "I think I was a little bit rebellious at the time. My life had been dictated by multiple hours of practice a day, but in New York, I had the liberty to be alone and anonymous." Working part-time in a bar, for the first time in her life, no one was telling her what to do next. "It was like I had the world at my feet," she says.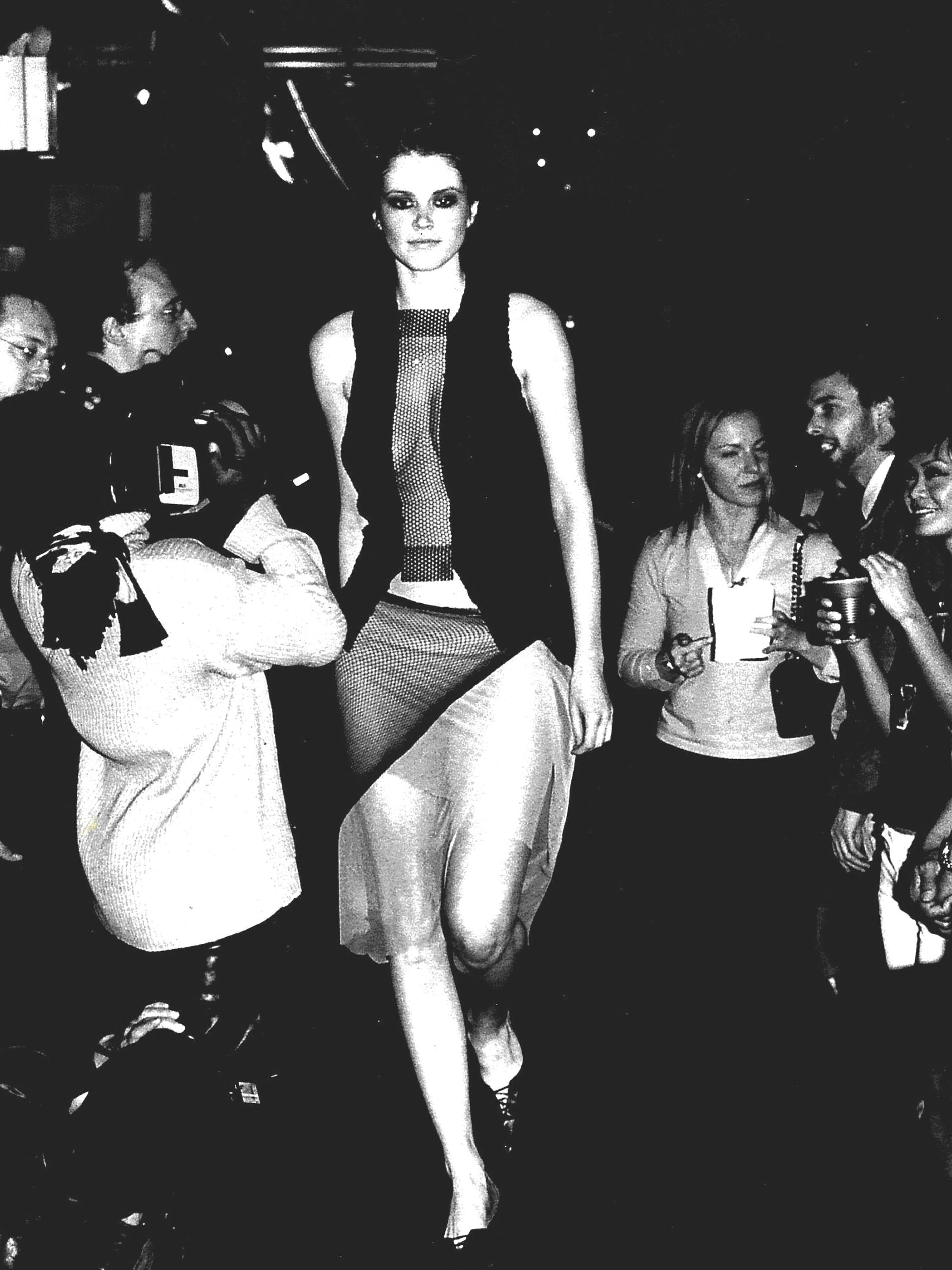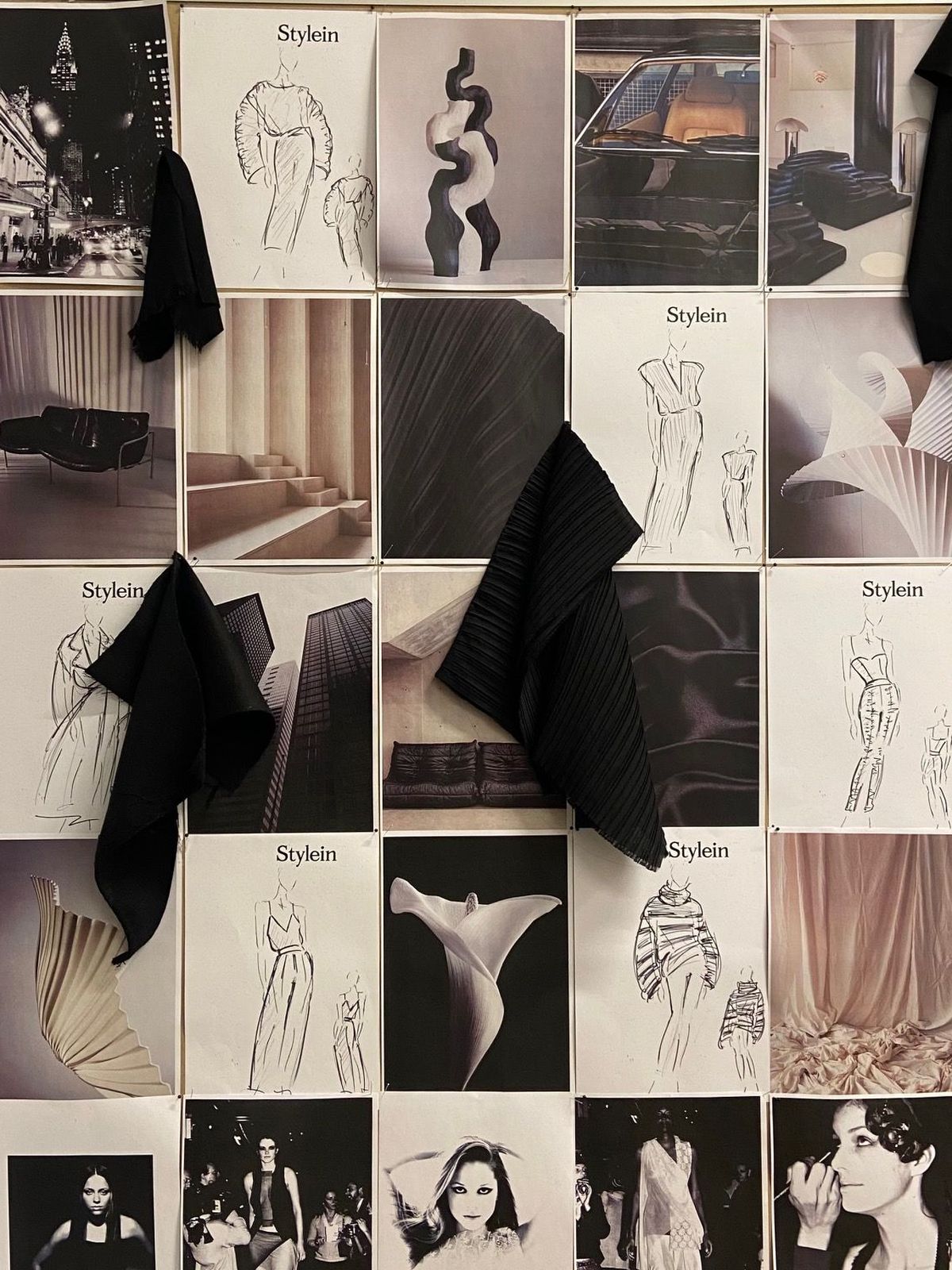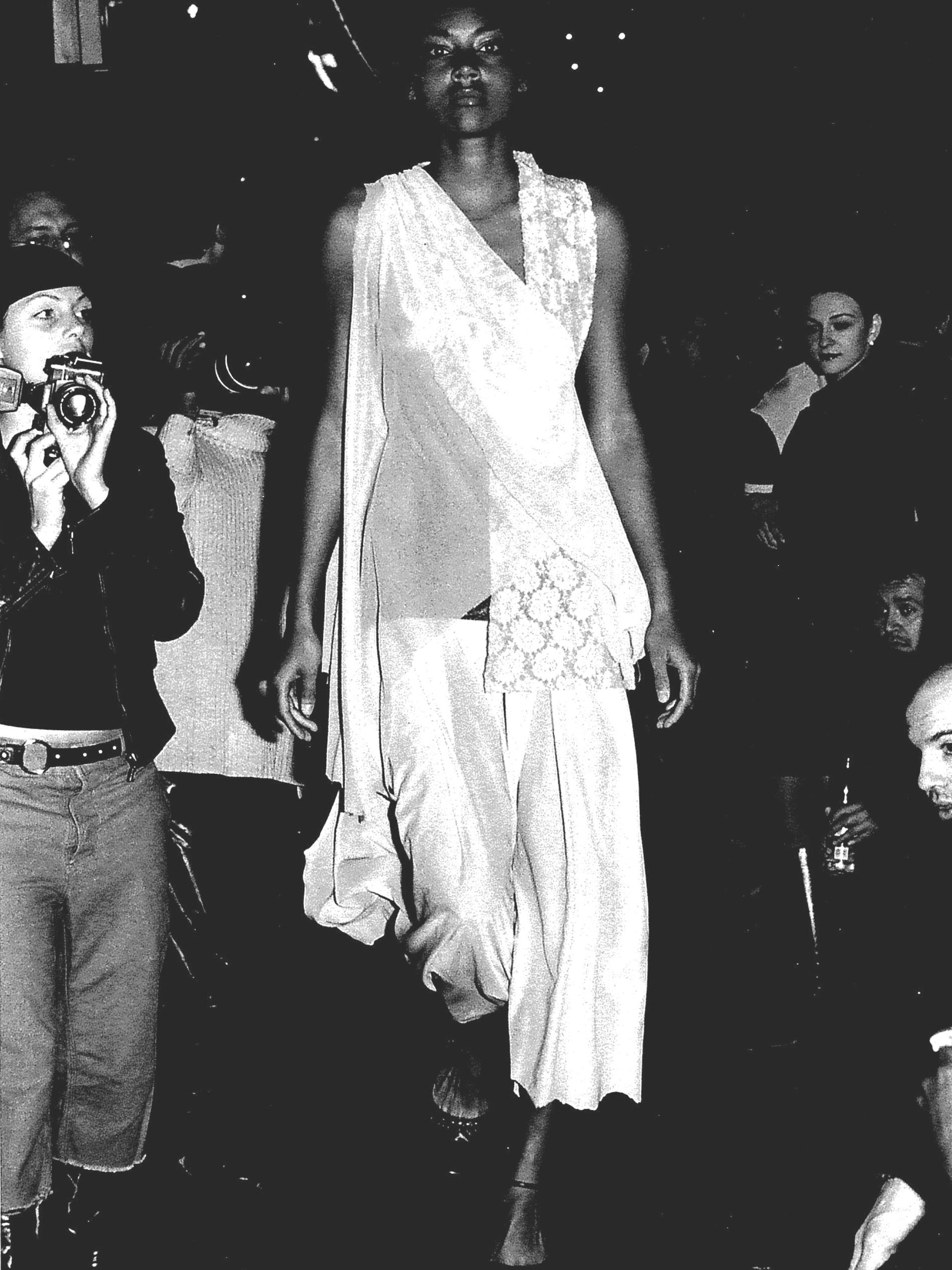 Even though she left gymnastics behind, she has always been attracted to the importance the sport puts on self-expression. "It's something I brought with me when I began designing. As a gymnast, you're always trying to push a narrative or an expression, and for me, designers do the same thing," she says. "You take a long coat and cinch it in the waist to create a certain silhouette, all to tell a story." 
When she began drafting designs on her first collection, she tells me, she had no sewing machine nor any sewing skills to speak of. "What I had was a need to create. I was surrounded by all of this courage and drive and excitement." Working from the floor or the bed of her shared shoe-box apartment, Alemdar would draw while doing the splits, leaning on her elbows with pen in hand – A position that the former pro athlete felt most comfortable in. "I just bought a dress-form and started draping. One day I went out to the various fashion districts around New York and started browsing for hours, one fabric store after the other." Only a couple of months later, Stylein showcased their inaugural collection.
The collection looked disparately different to Stylein's current clean lines. Pinned and tucked in sheer tulle and mesh, the clothes fit into the club-kid aesthetic of the early aughts. "I don't think there was a single straight seam in that collection. It was all hand sewn, most likely with a glass of wine in hand," she laughs. Set in a New York nightclub, models walked down the runway with onlookers crowding the podium. "It's interesting; looking back on that first collection, it is as if a different person created it. So much has changed since." 
Although Alemdar's mode of designing for her Stylein muse and universe wouldn't be cemented until later, she tells me that – retrospectively – the club scene was where the Stylein woman wanted to be at the time. "She wanted to be noticed, to stick out, but still be beautiful." Today, the Stylein muse is much more muted, but certain aspects of Alemdar's design remain the same. "Eight years ago, when I was getting married, we put together the dress in the atelier. It was beautiful, in lace, but I decided to leave some of the hems raw," she says. "I still find imperfection interesting."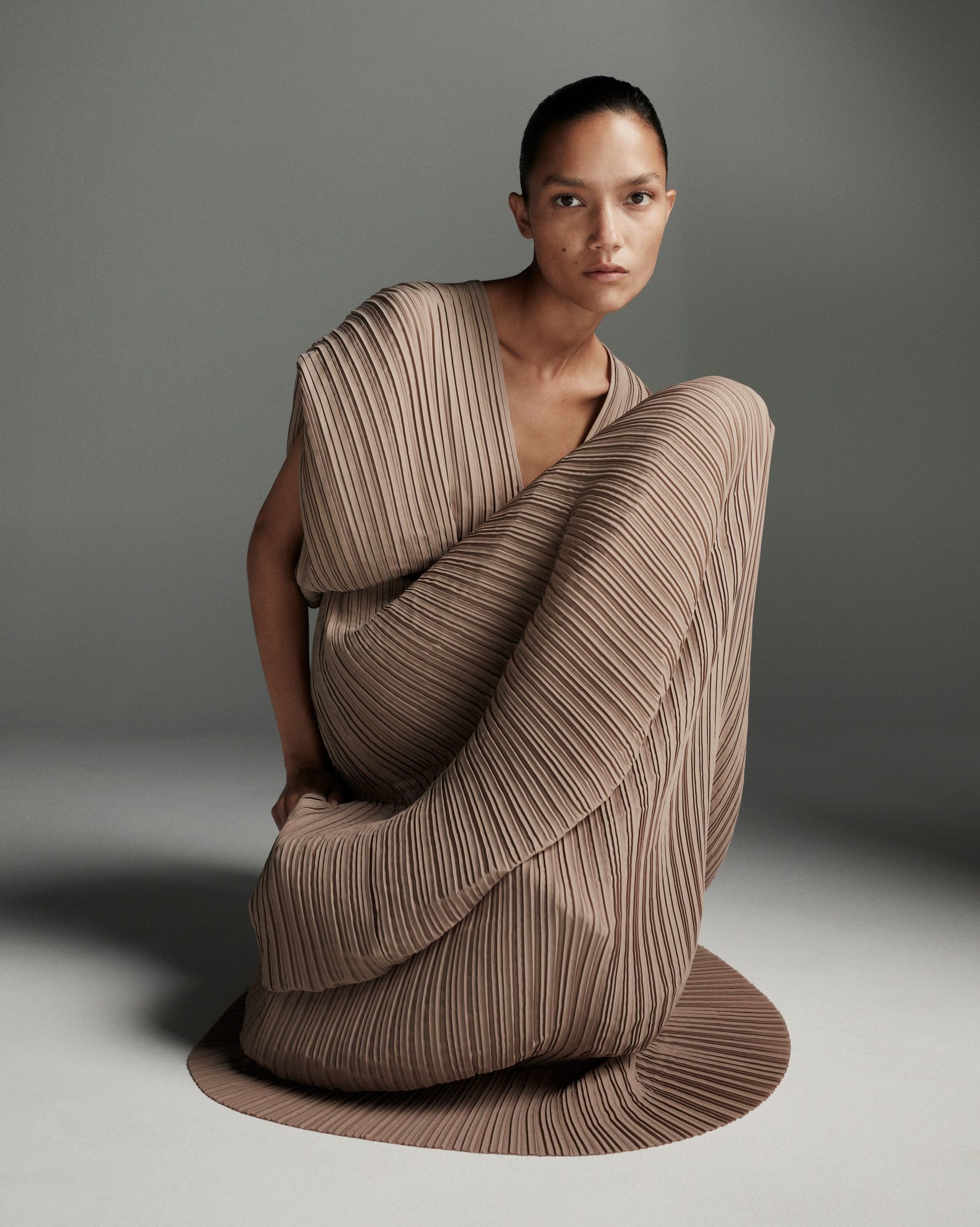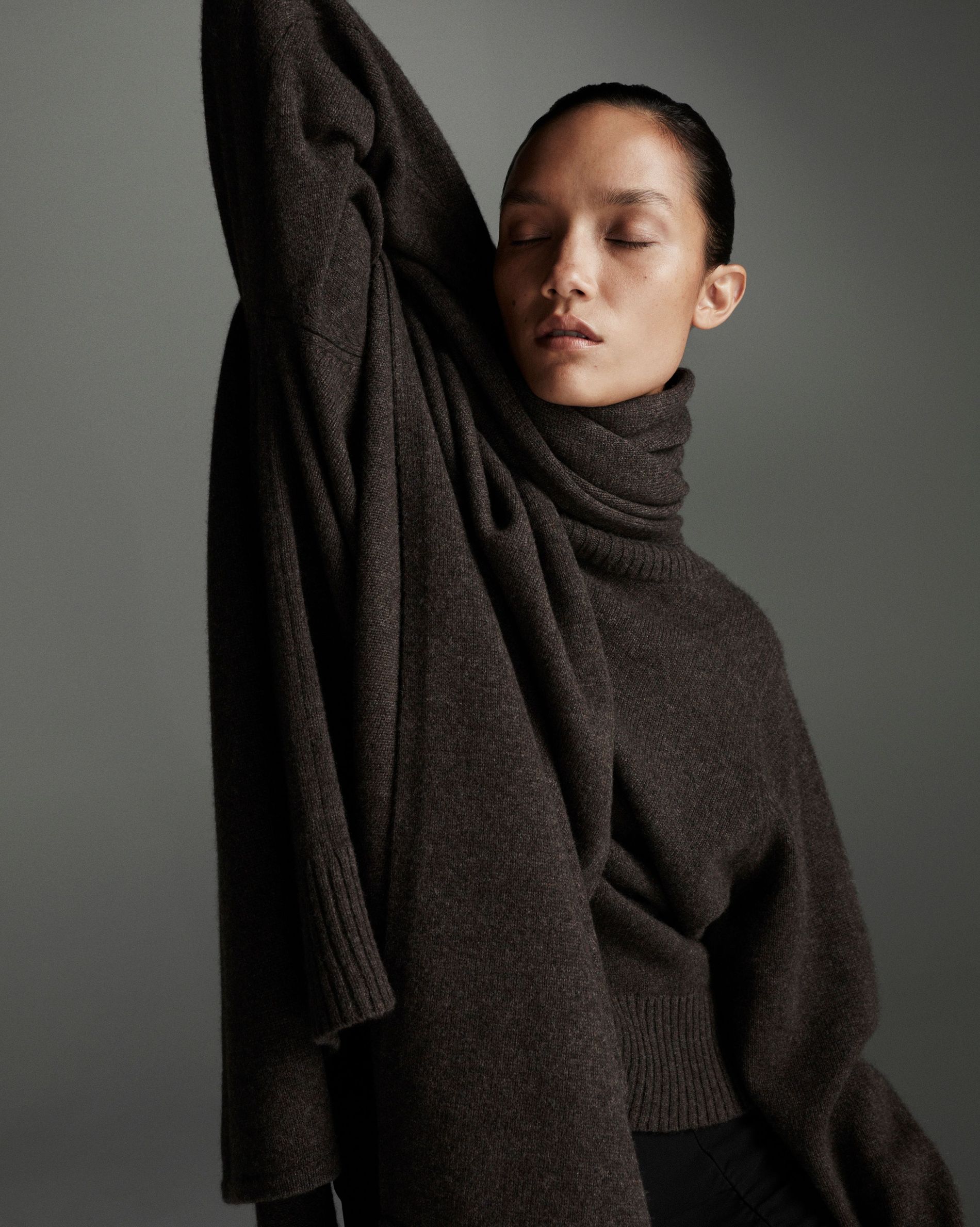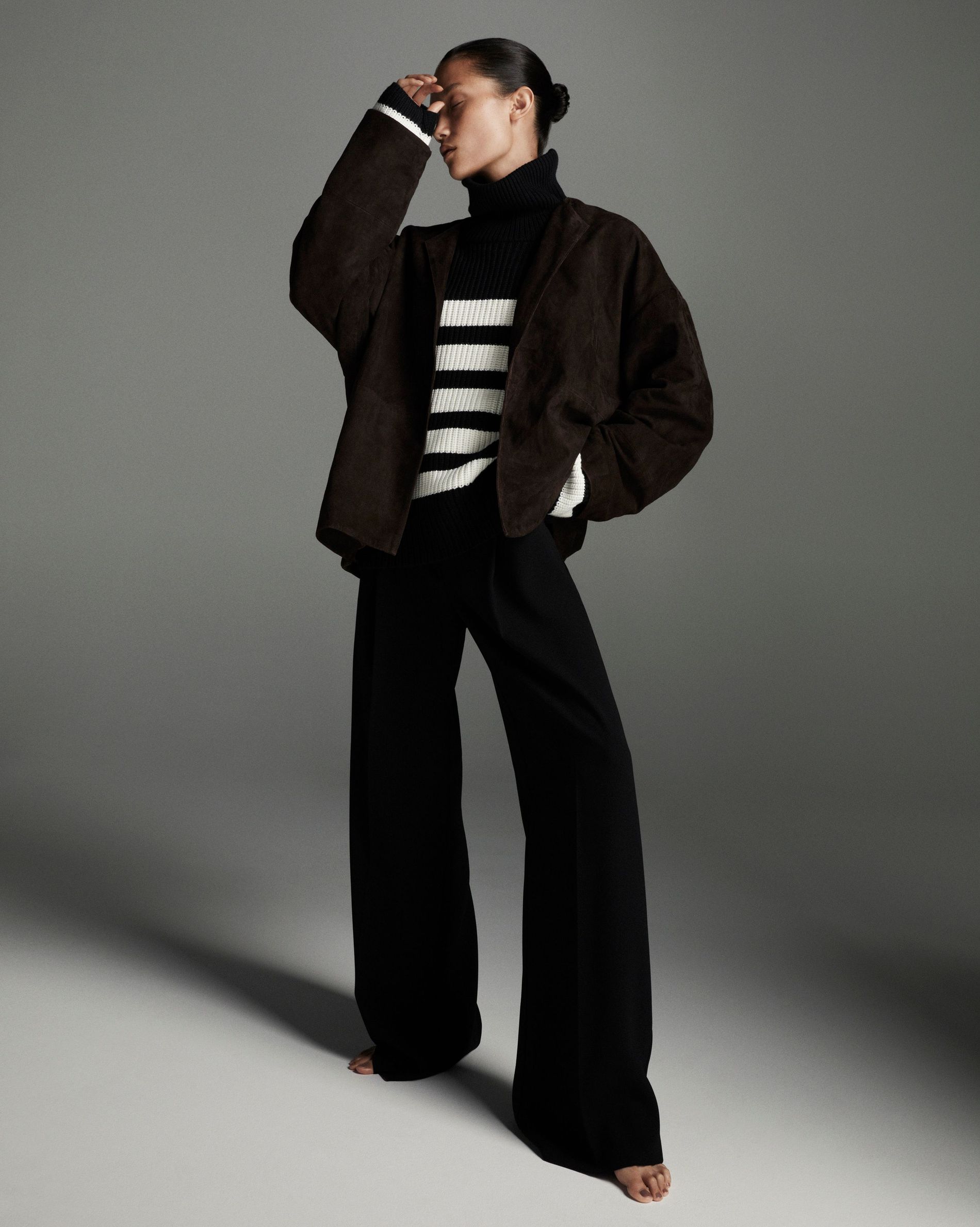 The collection covers an entire capsule wardrobe, with a limited selection of the very best silhouettes and styles the brand has to offer. "Instead of doing variations on one garment, we decided that we need to be really distinct in our designs. As a result, there is only one iconic coat, one iconic slip-dress, and one iconic knit," Alemdar tells me. "In my mind, this would collection would be all that the Stylein muse needs." It's also part of the brand's approach to sustainability. "I hope it encourages our customers to be selective in what they purchase." 
Season-less staples are, after all, what the brand is best known for. Garments that survive year after year because they exist outside of the trend-driven cycle. "We work a lot with our material choices and streamlining our manufacturing and distribution processes," Aldemar says. "We're fortunate to have our atelier here, meaning we can send an actual prototype to our manufacturers rather than a pattern or sketch. It means there are not as many shipping samples back and forth." But at the end of the day, the atelier allows for play. "That's my favourite part, how we're able to experiment because we do all of our toiles in house.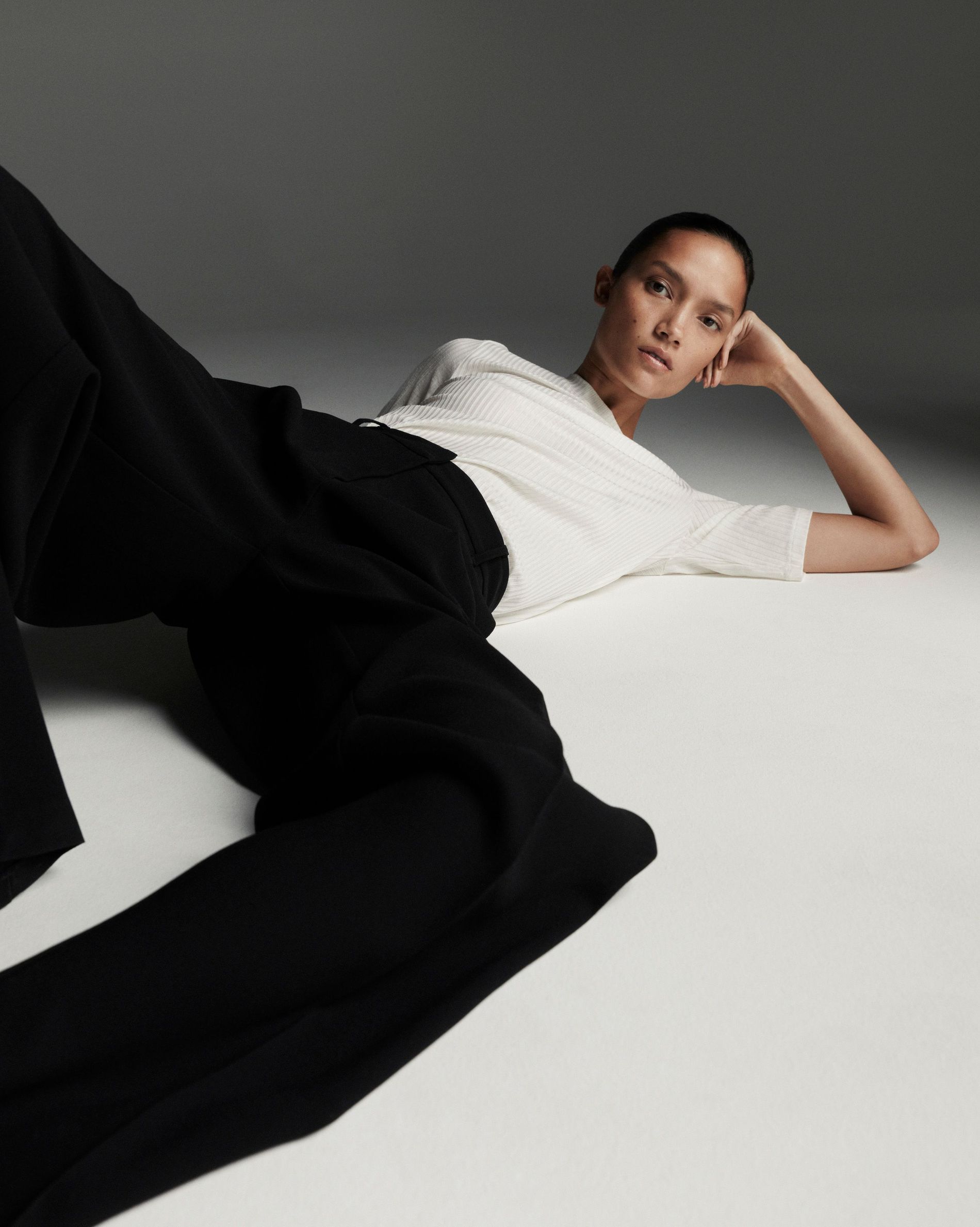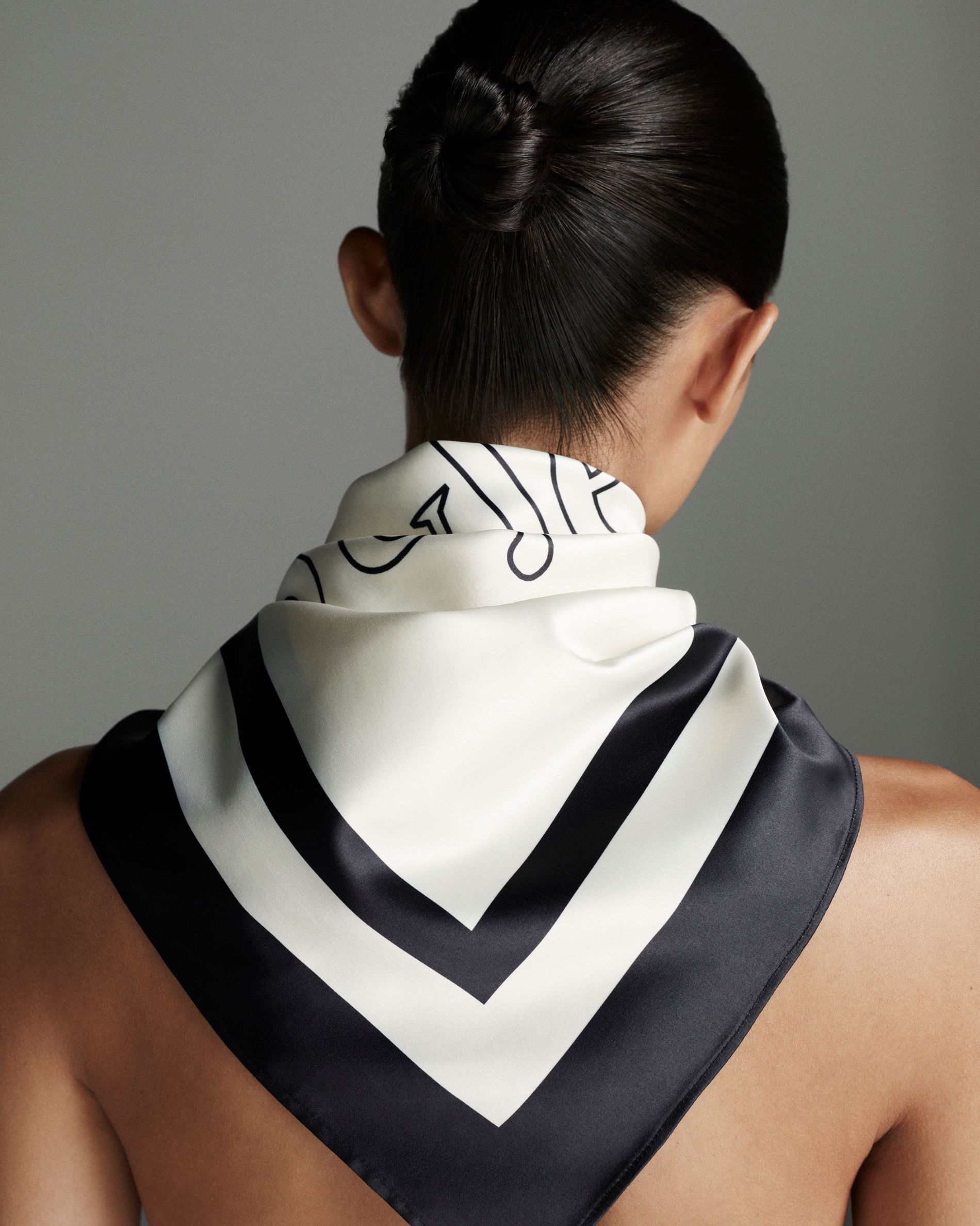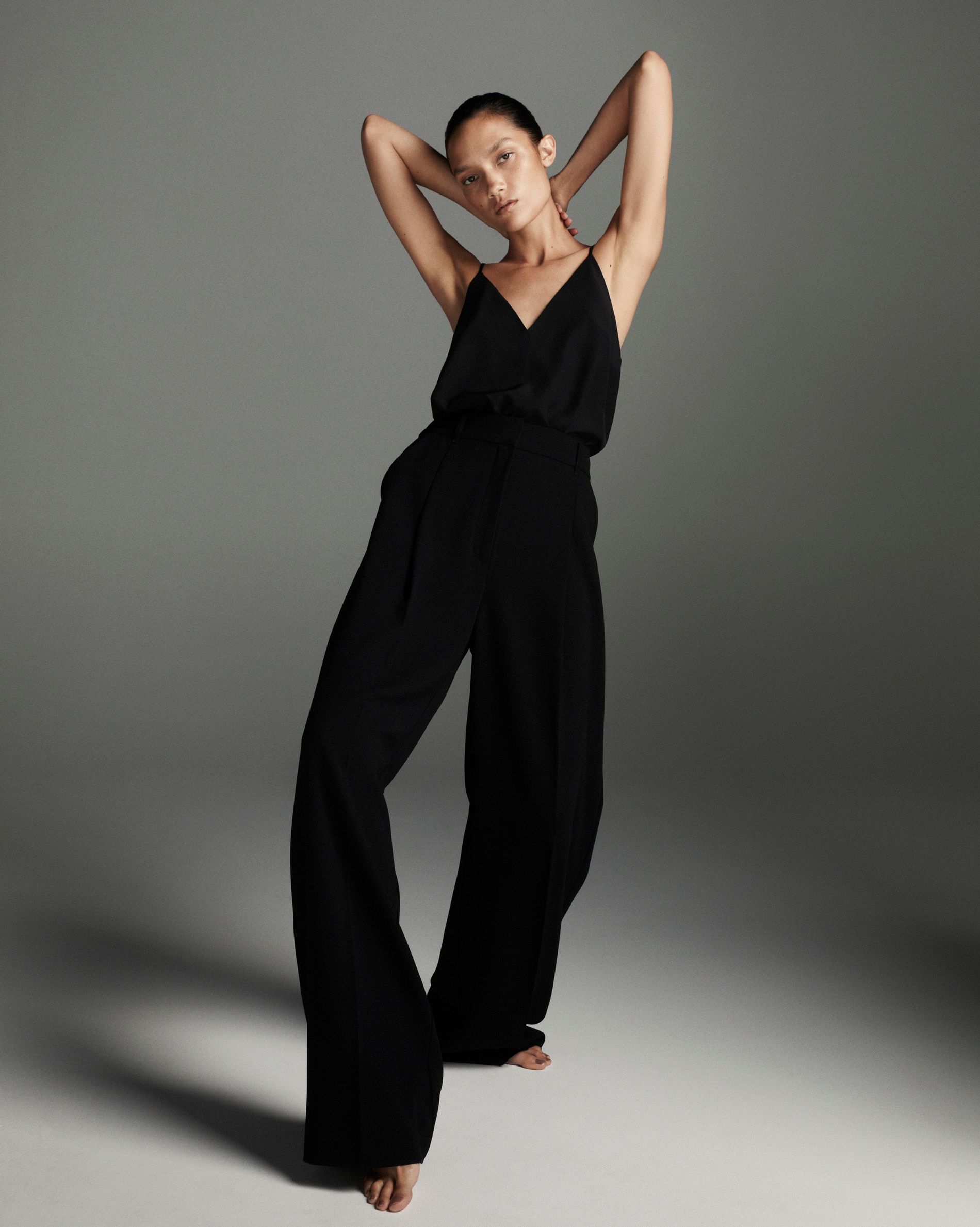 Circling back to the former point of Stylein's signature Scandinavian aesthetic, Alemdar feels confident and comfortable in the brand's cemented designs. "I think this confidence in what we do is something that has come with age. There's no need to reinvent the wheel, and that feels very encouraging and reassuring," she says. "We know the Stylein woman. We know what she wants." She goes on, "More and more I experience that we work with reinvigorating styles in new colour-ways and materials. It's a curation process of the Stylein woman's existing wardrobe." 
From Stylein's humble beginnings of a one-woman team – hustling to present the brand's first collection in a New York nightclub – to a full scale operation of 12, the brand has come a long way.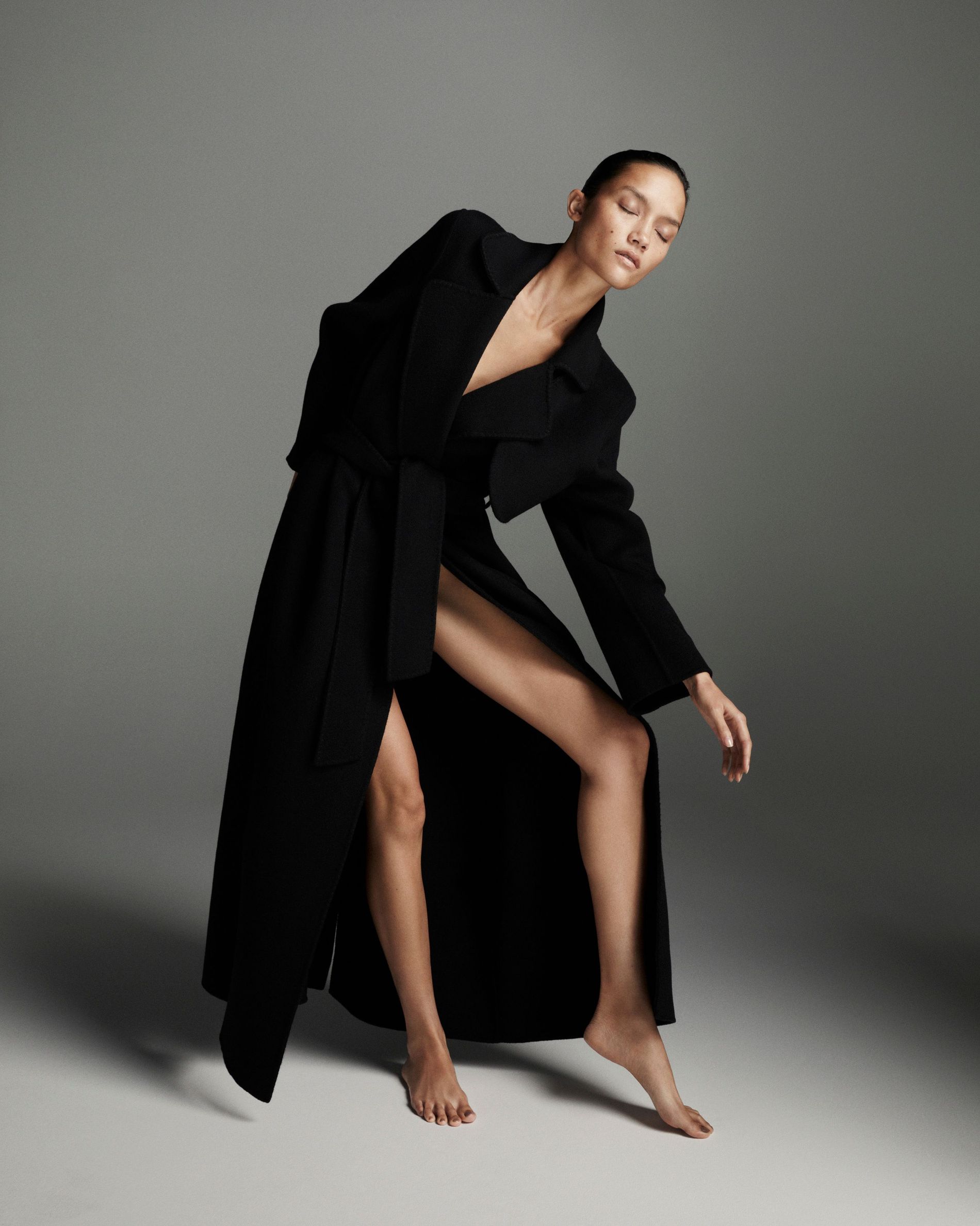 The updated smoking jacket is an iconic signature from the brand, this updated version carried over in the capsule collection.
There's one word that comes to mind which best describes Aldemar's and Stylein's decades-long design journey: consistency. The anniversary collection incorporates and reinvigorates styles first seen years ago – an action that, for some brands, will make the result feel dated– yet for Stylein, it comes across as a natural continuation and progression. The brown knits, ruched leggings, and silky slips read quintessentially Stylein. Enduring yet sartorially satisfying, it is a curated capsule wardrobe that will keep for another 20 years. 
Shop the entire collection on stylein.com from the 28th of October.
Photography by: Georgia Devey Smith
Videography by: Pascal Emmera
Stylist: Linn Hägglund