Bored of hitched hemlines? This hippie classic is given a sleek Scandi makeover this season
While '00s-tinged mini hemlines have been creeping higher and higher for the last couple of seasons, floor-skimming skirts are now returning with a vengeance, with many interpretations of the hippie icon seen across the fashion capitals.
From cinched patch-work to billowing hemlines, the denim maxi was made for the spring/summer season. But in 2023, it becomes a perennial classic and a safe investments for seasons to come. Just consider Ganni; the Danish brand set the tone for the AW23 season sending out an ankle-grazing denim skirt as part of the "little bit more grown up, little bit more mature," collection, to quote creative director Ditte Reffstrup. The look was a red thread throughout Copenhagen, where the likes of Gestuz and TG Botanical joined the throngs of floor-skimming denim aficionados.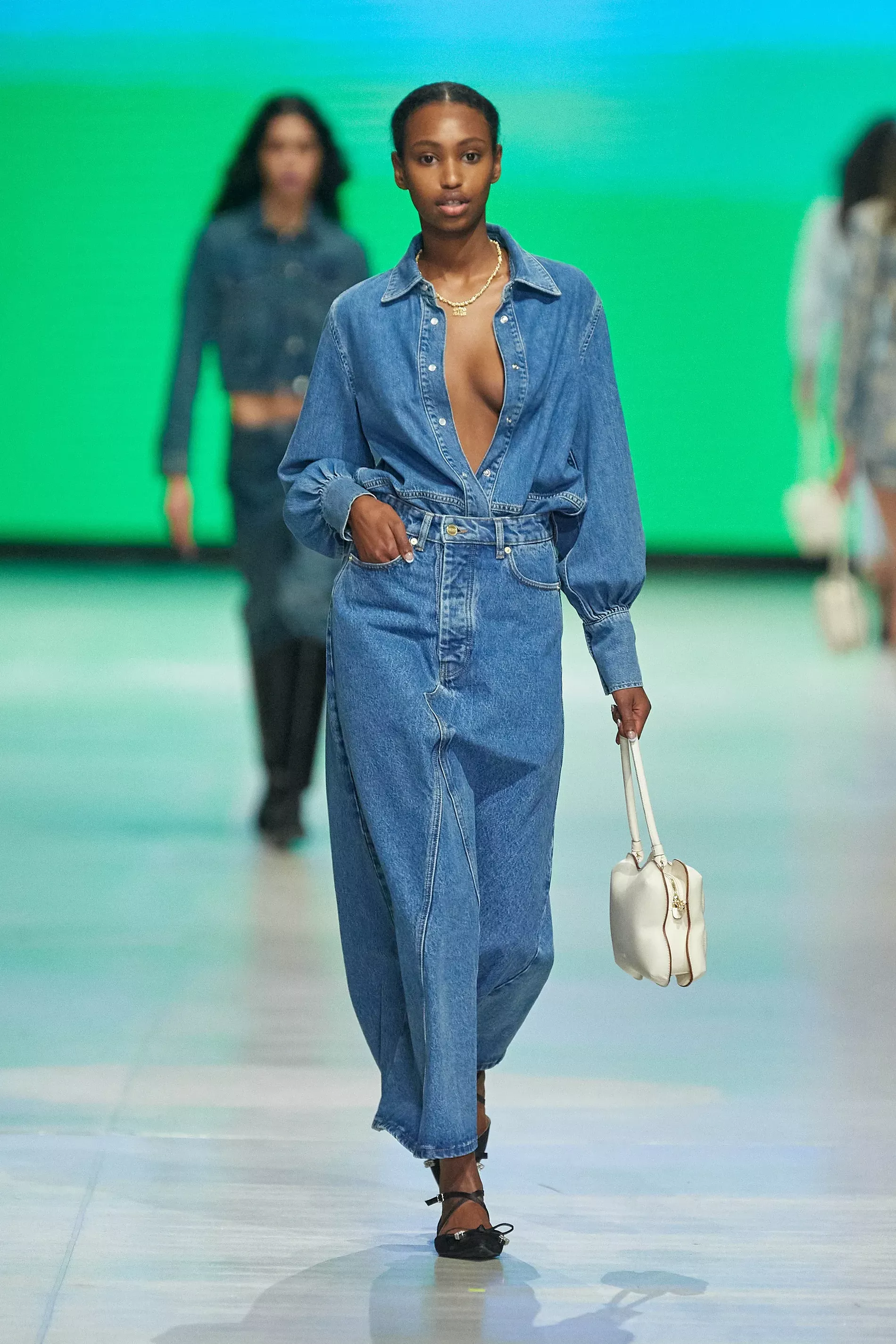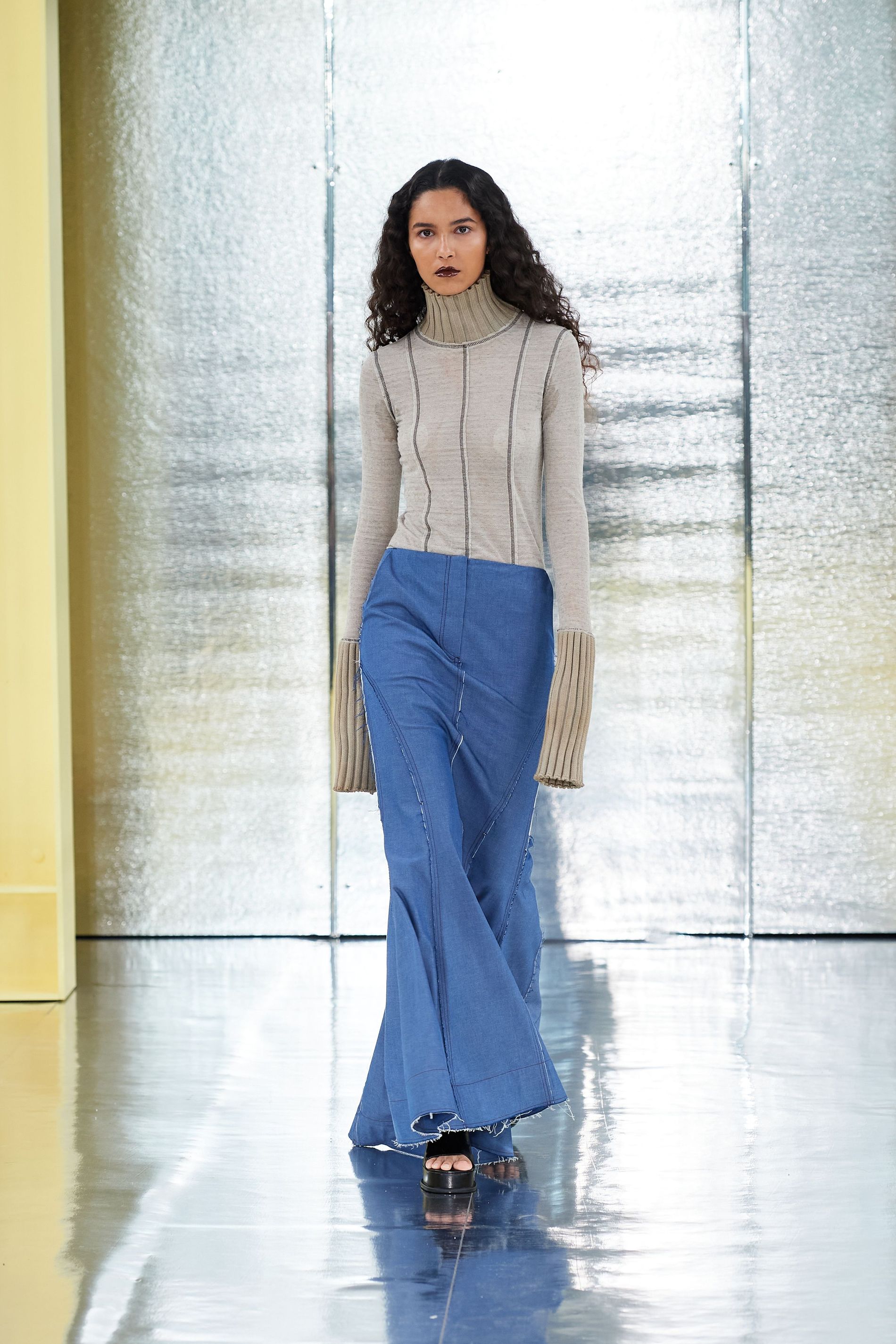 In Paris, Alessandra Rich's floor-length denim numbers boasted bedazzled pockets and distressed hems, while Zimmermann's iteration served the label's signature flounce and flair, complemented with a matching shirt and shearling jacket. A recurring detail across the multitude of denim maxis? Generous proportions and sweeping, asymmetrical seams – as exemplified by Victoria Beckham's flowing denim frills.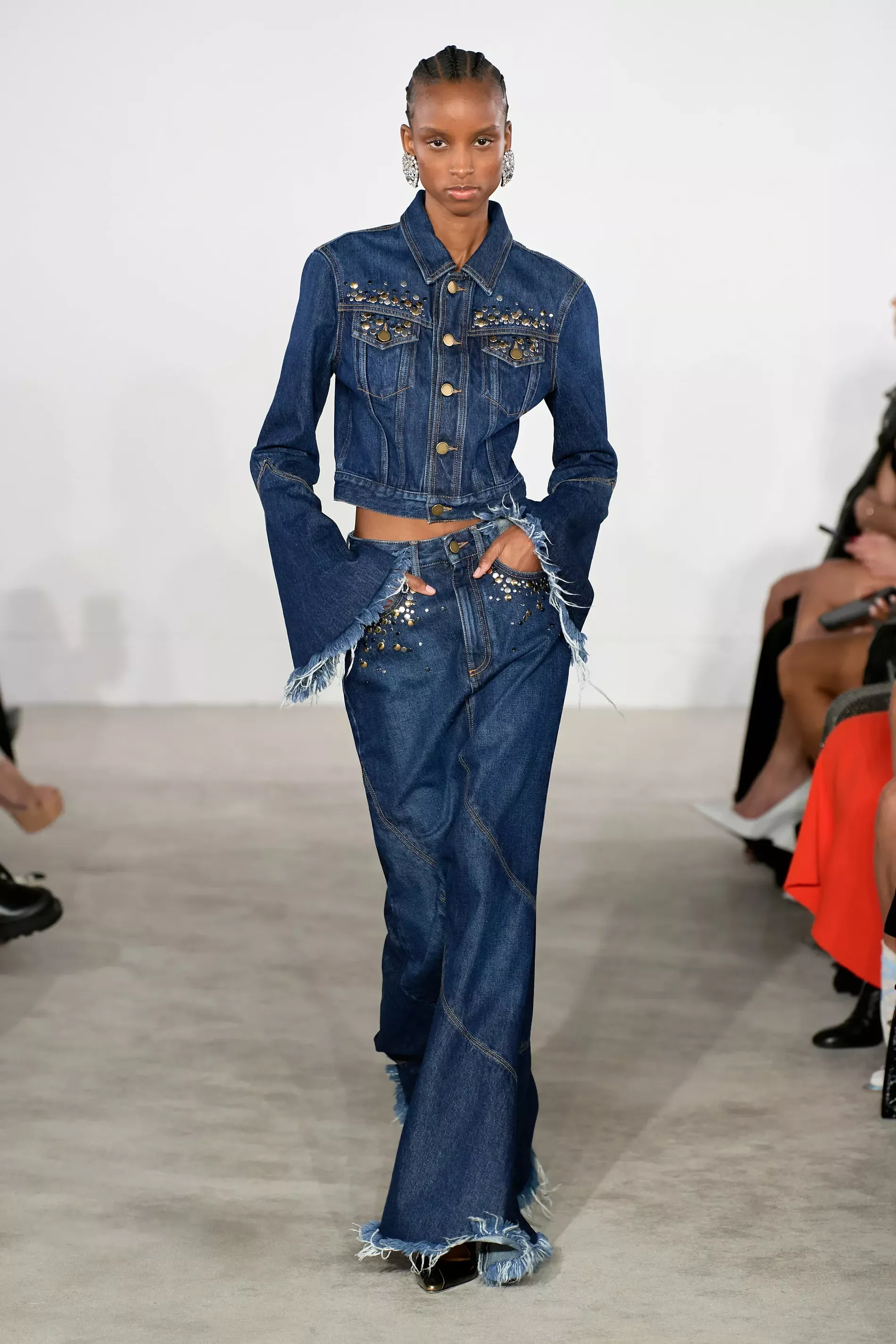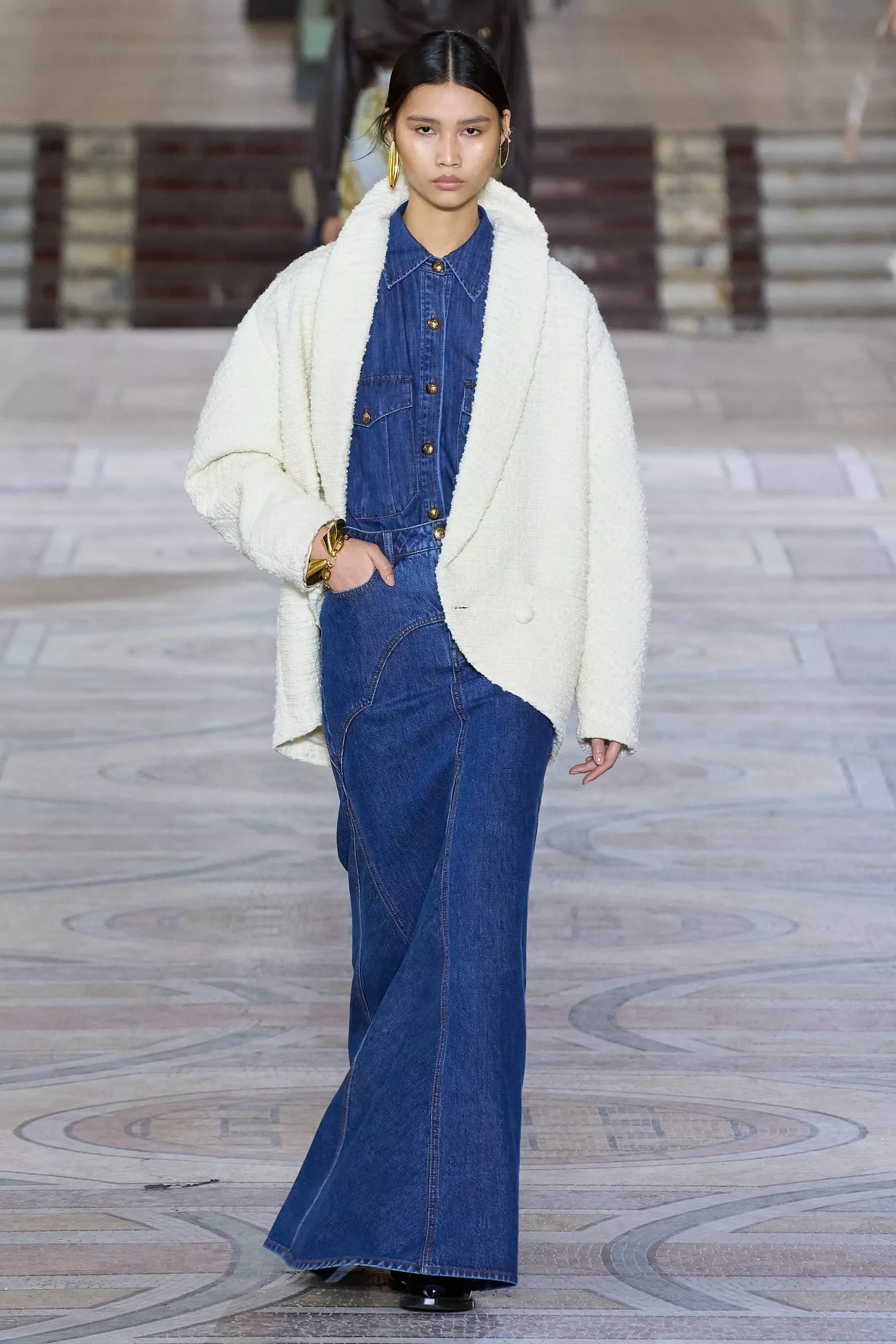 This humble blue jean skirt has a rich recent sartorial history. First introduced in the '70s, it was a way to recycle men's denim jeans – often patchworked and with an asymmetrical front seam due to the reworked crotch. The jean skirt proved to be a perfect fit for the free-spirited decade, with flower power followers adopting distressed denim skirts as part of their uniform.
When thinking of the denim skirt in a contemporary cultural context, it's difficult not to hark back to the noughties with Britney Spears sporting double denim on the red carpet. After all, the maxi version didn't truly come into its own until the turn of the millennium. It experienced a quick revival during the mid 2010s, when most modern supermodels made it part of their off-duty wardrobes – from Karlie Kloss to Kendall Jenner. While some of these looks have been deemed sartorial disasters (we're looking at you, Spears), the current coveted look is cut from a different cloth. A Nordic one, if you will.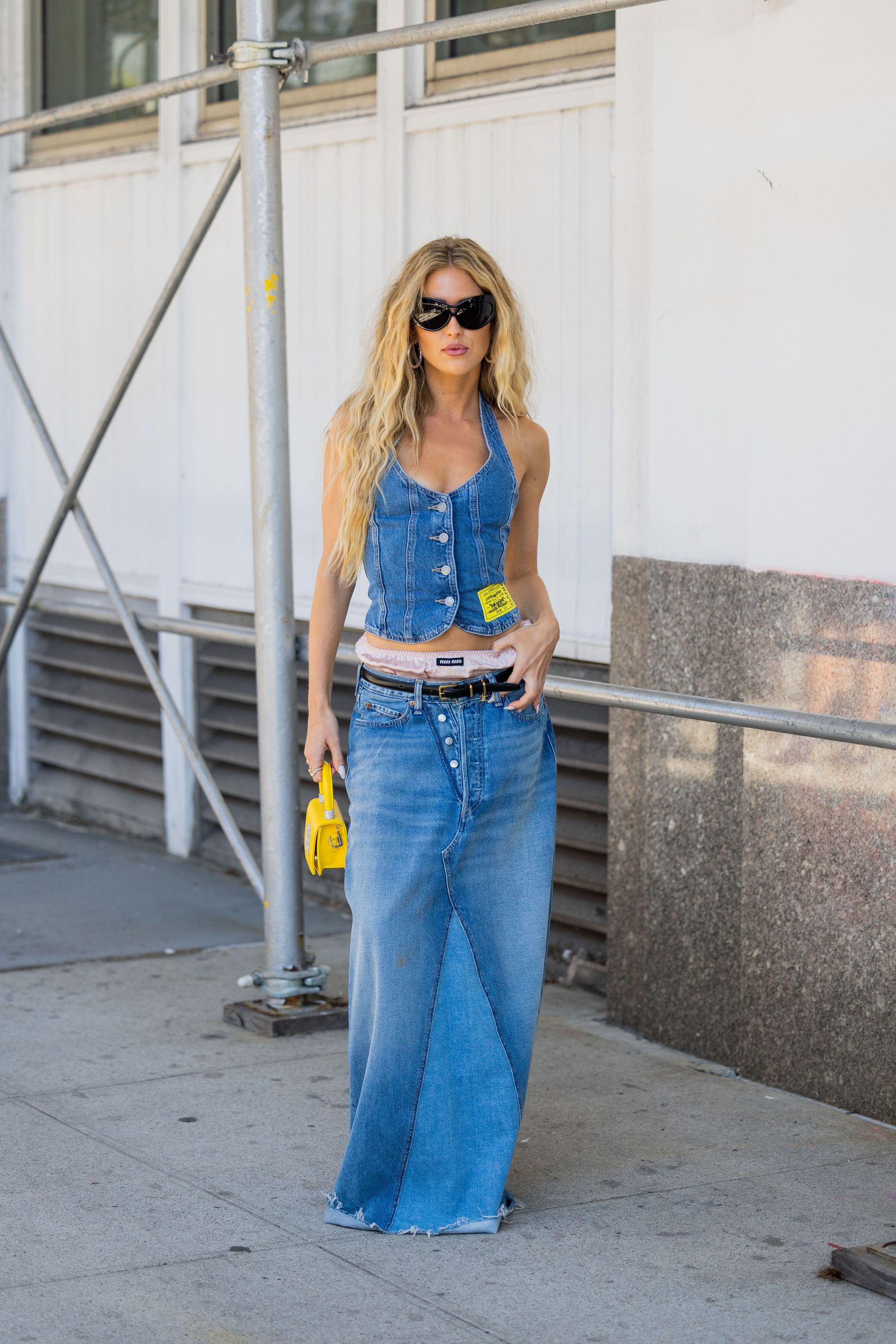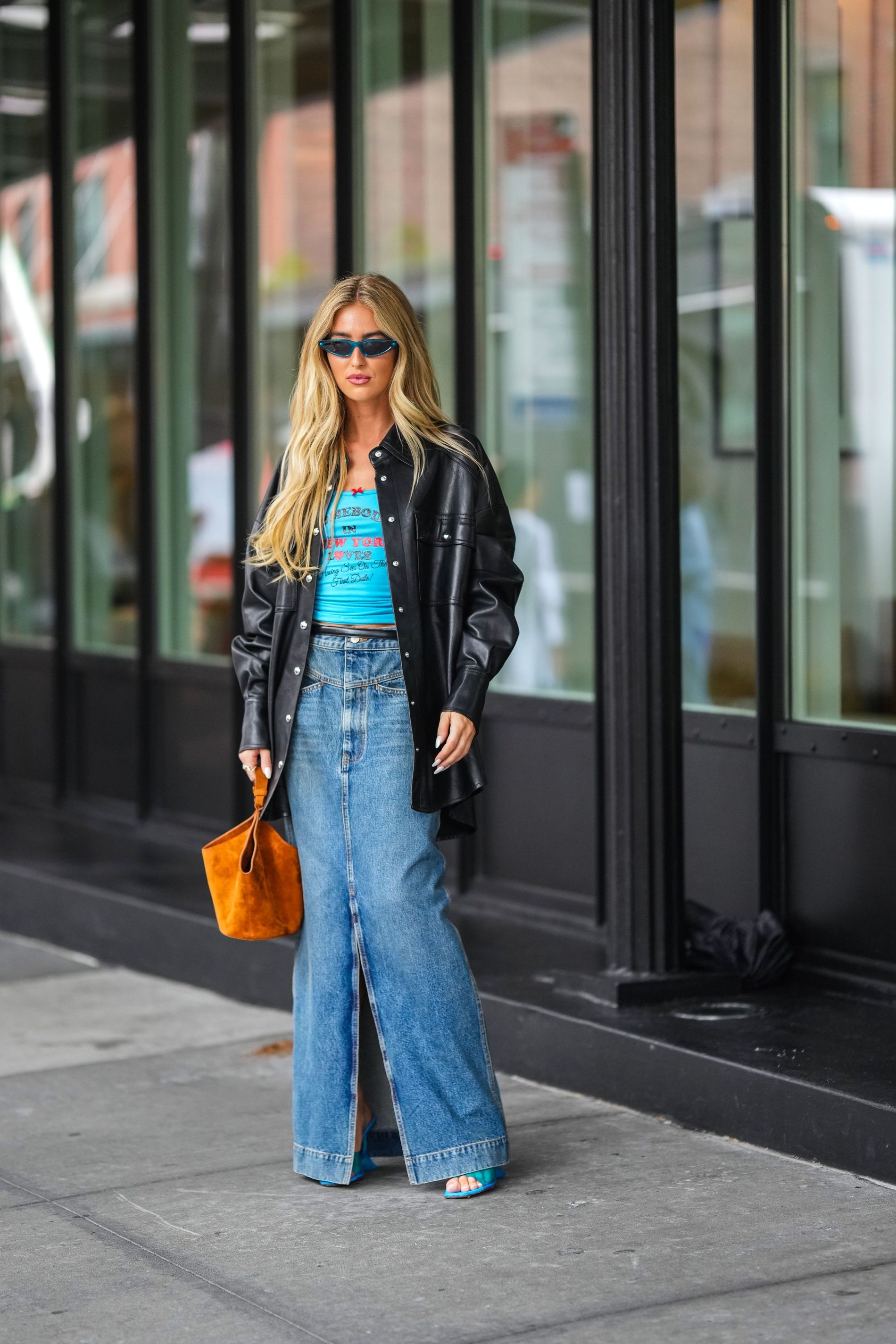 Just look at our region's most revered style icons. Emili Sindlev, often referred to as a Danish Carrie Bradshaw, wasrecently spotted among New York's brownstones in a pavement-sweeping denim skirt not once, but twice. We saw the Copenhagen cool girl also sporting an iteration from a recent Ganni x Levi's collection, pairing a matching denim set with satin Miu Miu knickers and a bright yellow handbag (a very Carrie move, if you ask this editor). Next, a split-centre denim skirt and blue perspex heels from the Danish content creator's Bettina Vermilion collaboration. This waa dressed down with a black leather jacket, a congac-coloured suede bag, and a tank top seemingly plucked from our '90s wardrobes.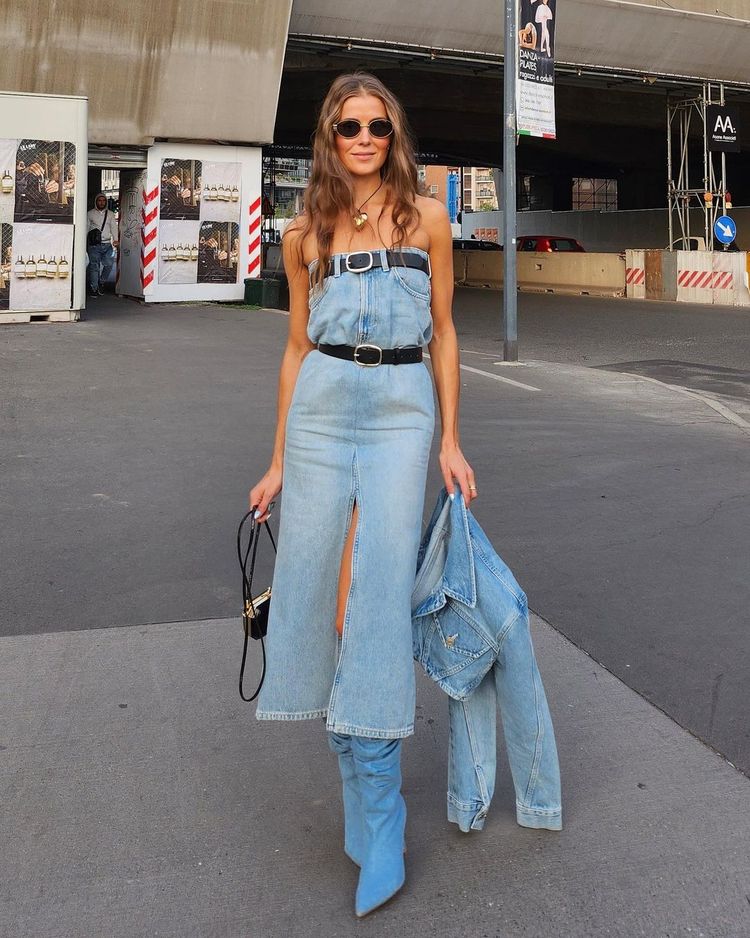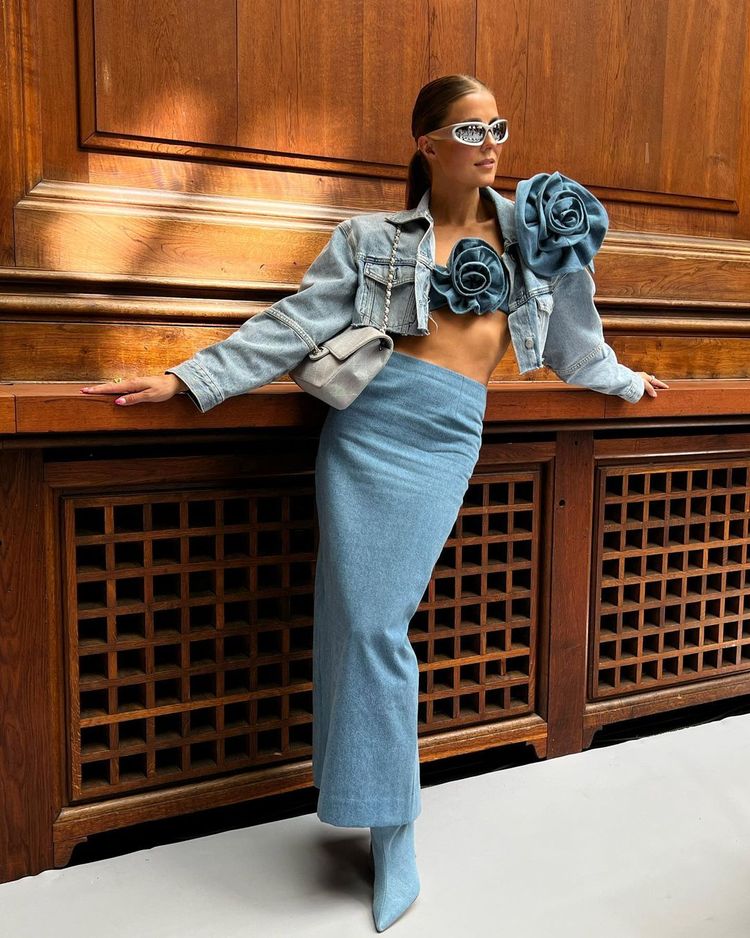 Norway's Nina Sandbech is another Scandinavian tastemaker who has been spotted in a long-line denim skirt on multiple occasions. Favouring a slim-fit pencil silhouette with a sultry slit in the back, this content creator took the DIY approach to her denim garb. Honouring the tradition of transforming men's jeans into denim skirts, she turned to needle and thread when crafting her Copenhagen Fashion Week looks – resulting in two outfits that we're keen to recreate ourselves.
Paris-based Sylvie Mus is yet another example of how Nordic creatives have claimed the denim maxi skirt. A firm favourite in this Finnish stylist's weekly wardrobe rotation, Mus usually pairs her version with strict tailoring and closet classics borrowed from menswear – from loafers to crisp cotton shirts. The result? Her demure maxi denim oozes sleek Scandinavian minimalism.
Pernille Teisbaek also offered ample apparel inspiration as she took to the streets of the Danish capital on a casual weekday. The sartorially savvy Dane dressed up her light-wash denim skirt with Balenciaga's black Cagole boots and a leather jacket, lending the look some edge. An ensemble we found just as appealing on Norwegian model Sara Flaaen, making the case for why this exact combination is the way to wear our jean skirts this season.