The on-the-brink Finnish designers set to shake up the fashion industry
Finland is the land of lakes, forests, sauna and Moomins. Us Finns are known to drink the most coffee in the whole world and to speak one of the hardest native languages. But when it comes to fashion, only a handful of brands — such as Marimekko, Samuji and Klaus Haapaniemi — have gathered and established worldwide success. Nonetheless, there is a new wave of young talent to look out for that is shaping the future of Finnish fashion.
Aalto University —named in the honour of the famous Finnish architect and designer Alvar Aalto — has attracted global attention for its Finnish fashion and design. According to the CEO World Magazine rankings, it is the fourth best fashion school in the world this year 2021. Their annual fashion show, 'Näytös', that takes place every spring, is an explosion of self-expression and individualism, breaking down traditional exceptions and norms in fashion.
I sat down with three talented designers; Joona Rautiainen, Marina Gavrilenko and Arttu Åfeldt from Aalto University to discuss about their work, inspirations and thoughts on gender fluidity.
Joona Rautiainen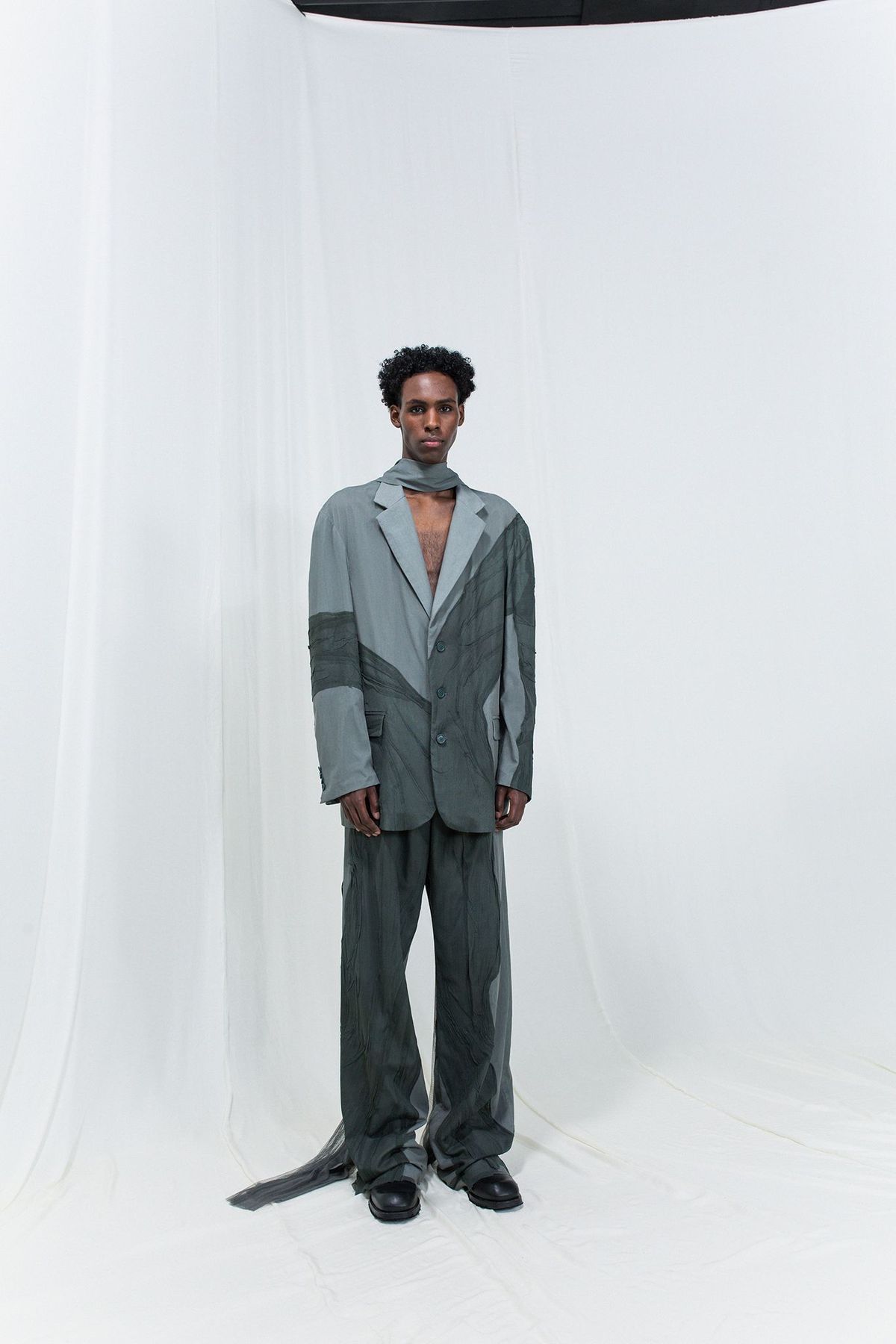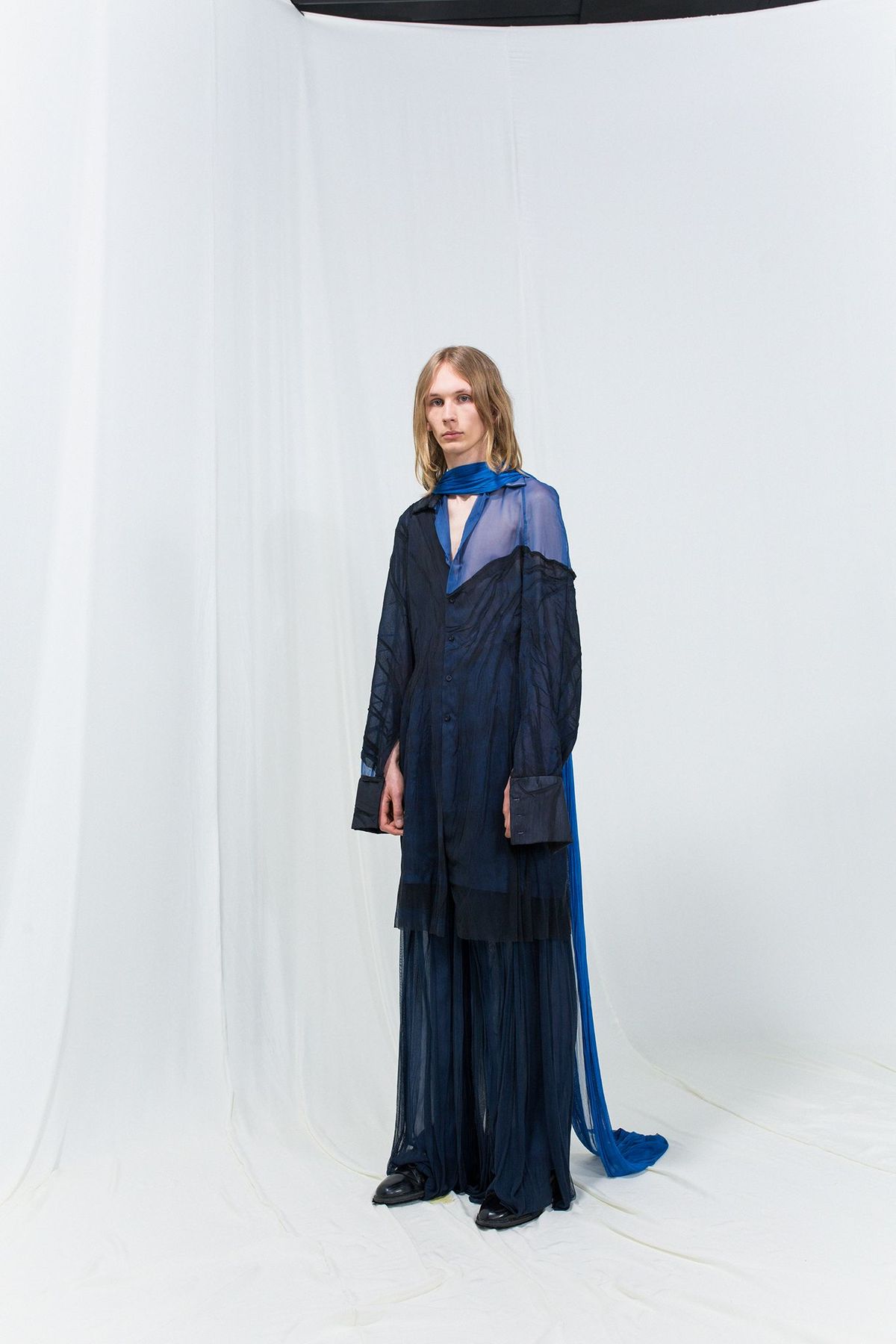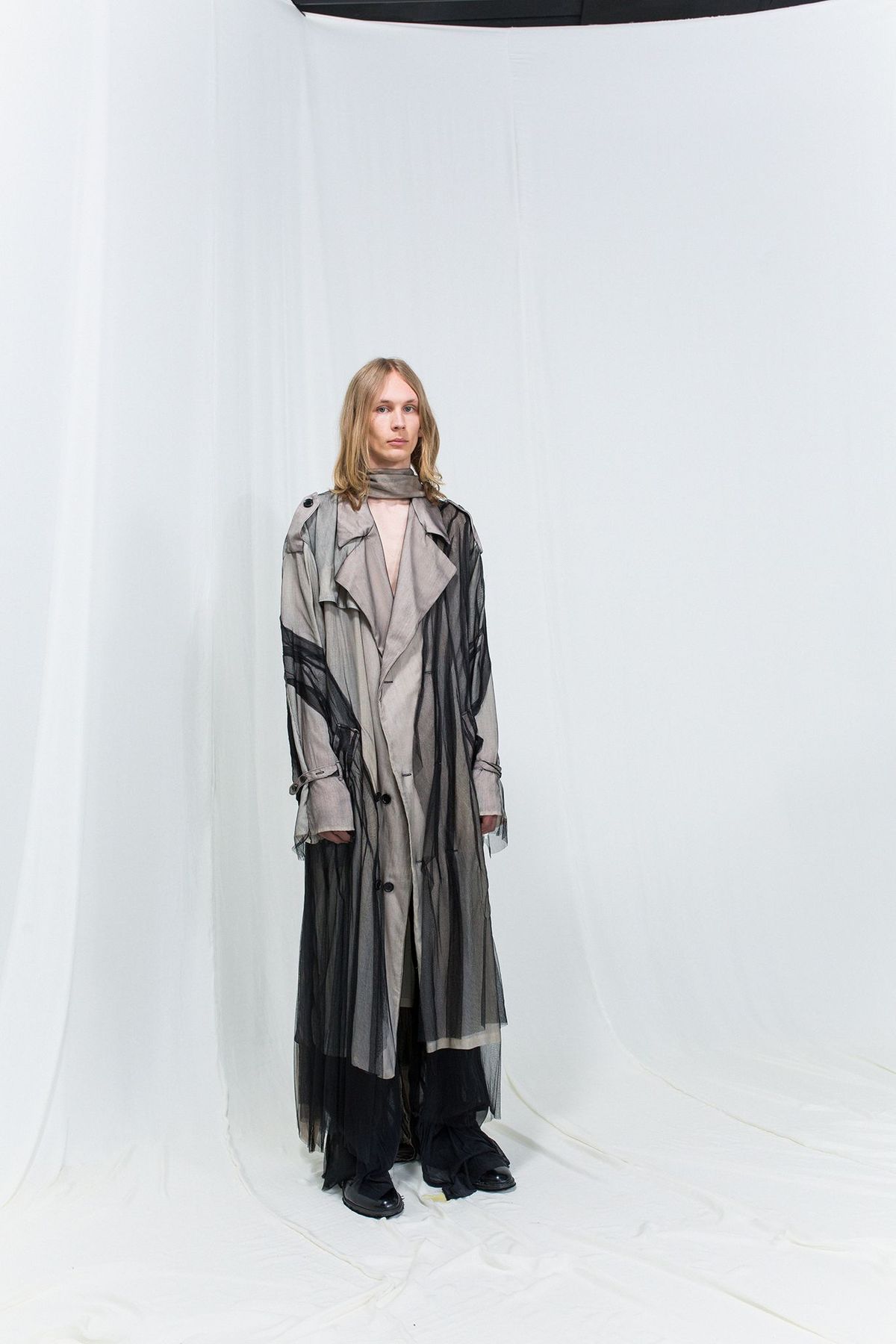 Joona Rautiainen challenged the exceptions of masculinity in his graduation collection by bending the idea of classic menswear pieces without breaking the idea of the garment itself. "A suit is a suit, but I wanted to challenge the idea of masculinity with material choices," he says. His collection includes long trench coats and reimagined suits made of sensitive materials and styled with long flowing scarfs, "a suit is a protective ensemble and especially on men it is often pictured as something hard and strong. I wanted to take that barrier away and show that real, soft and feminine side."
For him the collection is visually nostalgic and inspired by Giorgio Armani's campaign photos from the 1980s and 1990s along with the work of American photographer Herb Ritts. "The green shades of the black and white photos and all that effortlessness and hedonism attracted me and I wanted to create something classic and timeless in a new way."
Using up-cycled and recycled fabrics, mixed with good quality materials such as Finnish by-product reindeer leather, are core values for Joona Rautiainen. "For me, sustainability means using and creating clothes that really last the test of time. I like using unusual materials and what already exists." This being said, Rautiainen admits the challenges of being completely sustainable and strives to find new ways.
Marina Gavrilenko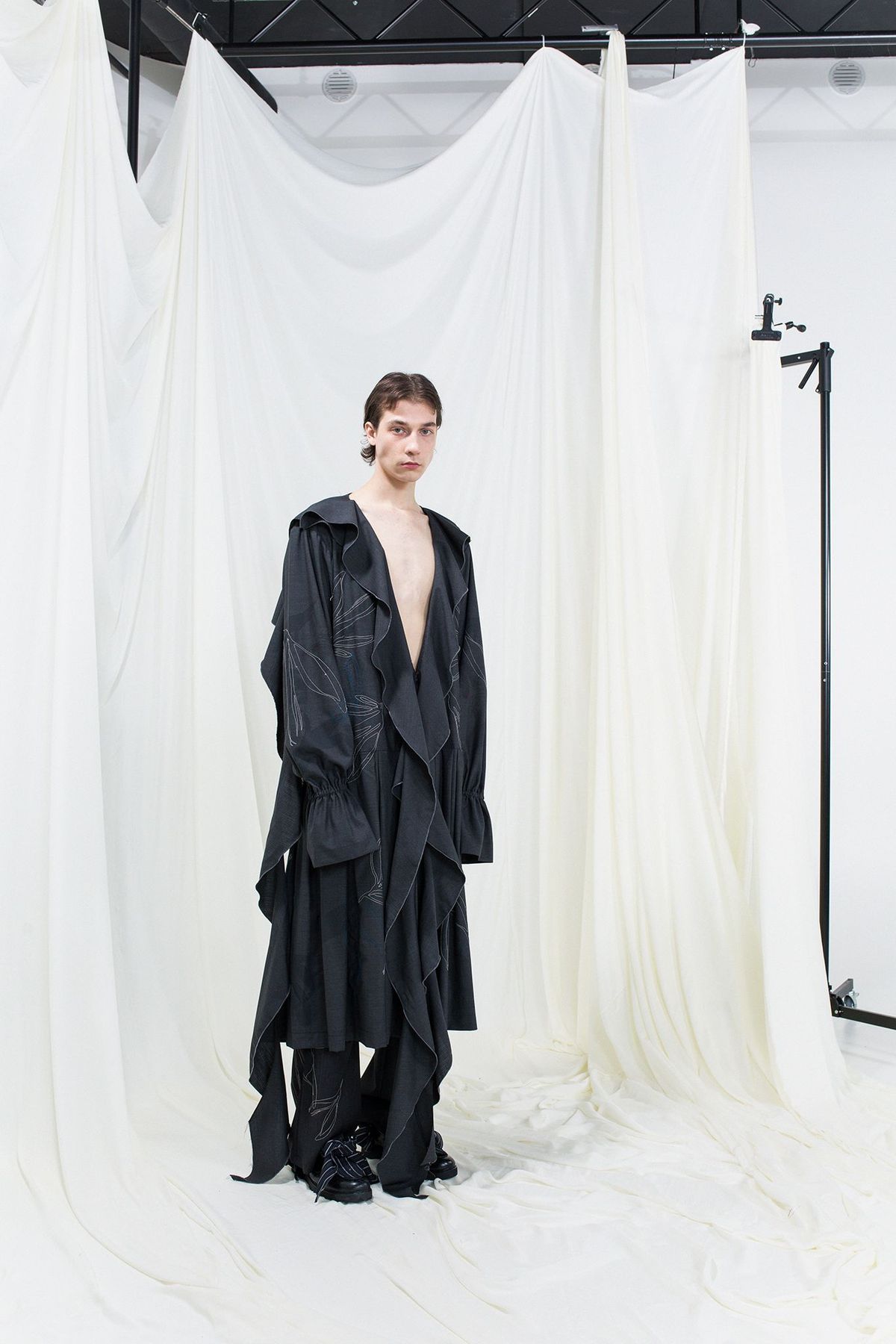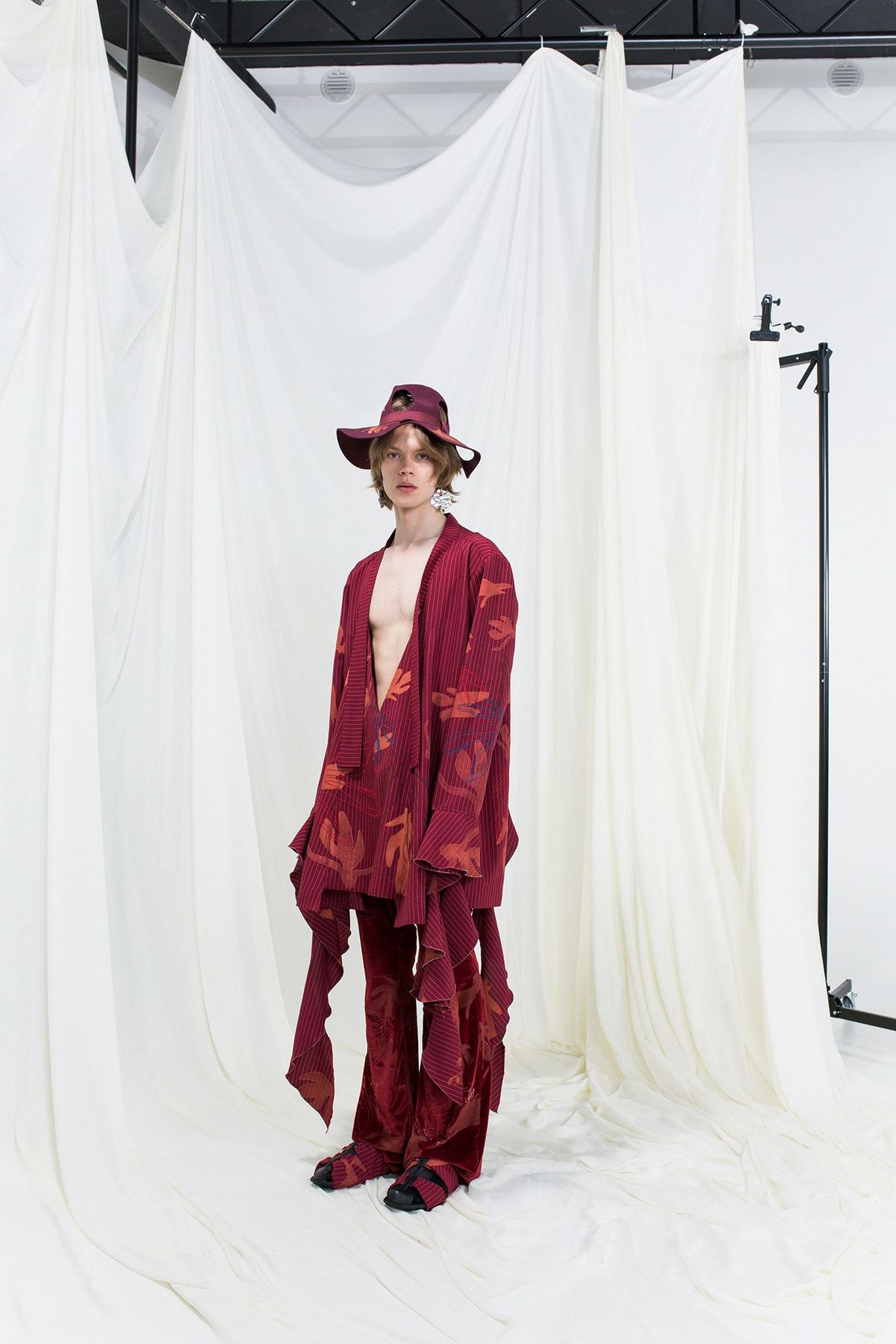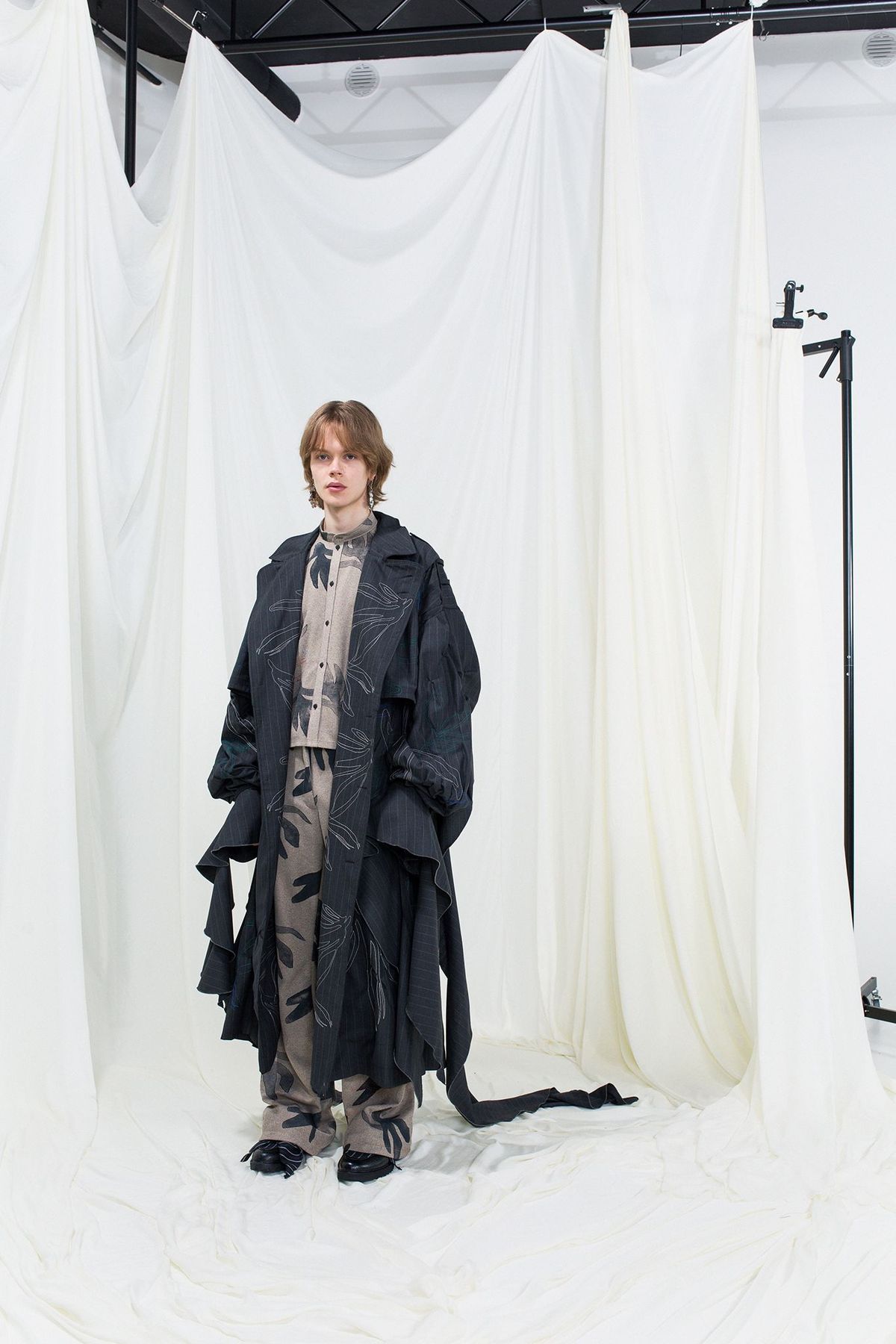 For Marina Gavrilenko, her collection 'Flamboyant Masculinity' is an escape from the traditional acceptance of the male wardrobe. When I asked her opinion on the need for specific men's and women's wear in modern society, she said that was her starting point of the collection. "Nowadays and in the past, many designers provided so many alternative versions of menswear and womenswear yet we still have that idea that men have to wear jeans, suits or something more traditional." Her collection, which addressed the sexual revolution of the 1960s and highlighted Mick Jagger's style, was a play around this. "He was a straight man and he was able to utilise many styles of menswear, womenswear, and more flamboyant pieces while still being sexy and still masculine, so why can't we just do the same?"
I also asked Marina Gavrilenko about gender-fluid fashion and why it is so close to her heart. She responded that it's something related to her roots ."I like questioning modern societal rules, not only in the garment but overall. Of course, because I'm doing fashion design but also because I'm from Russia where we have exaggerated this too much; like this system of being masculine, being feminine and then living by strict rules and I try instead to break these rules." Her flamboyant and storytelling collection includes ruffle shirts, flares, pinstripes, and florals as her manifest against societal norms and rules.
Arttu Åfeldt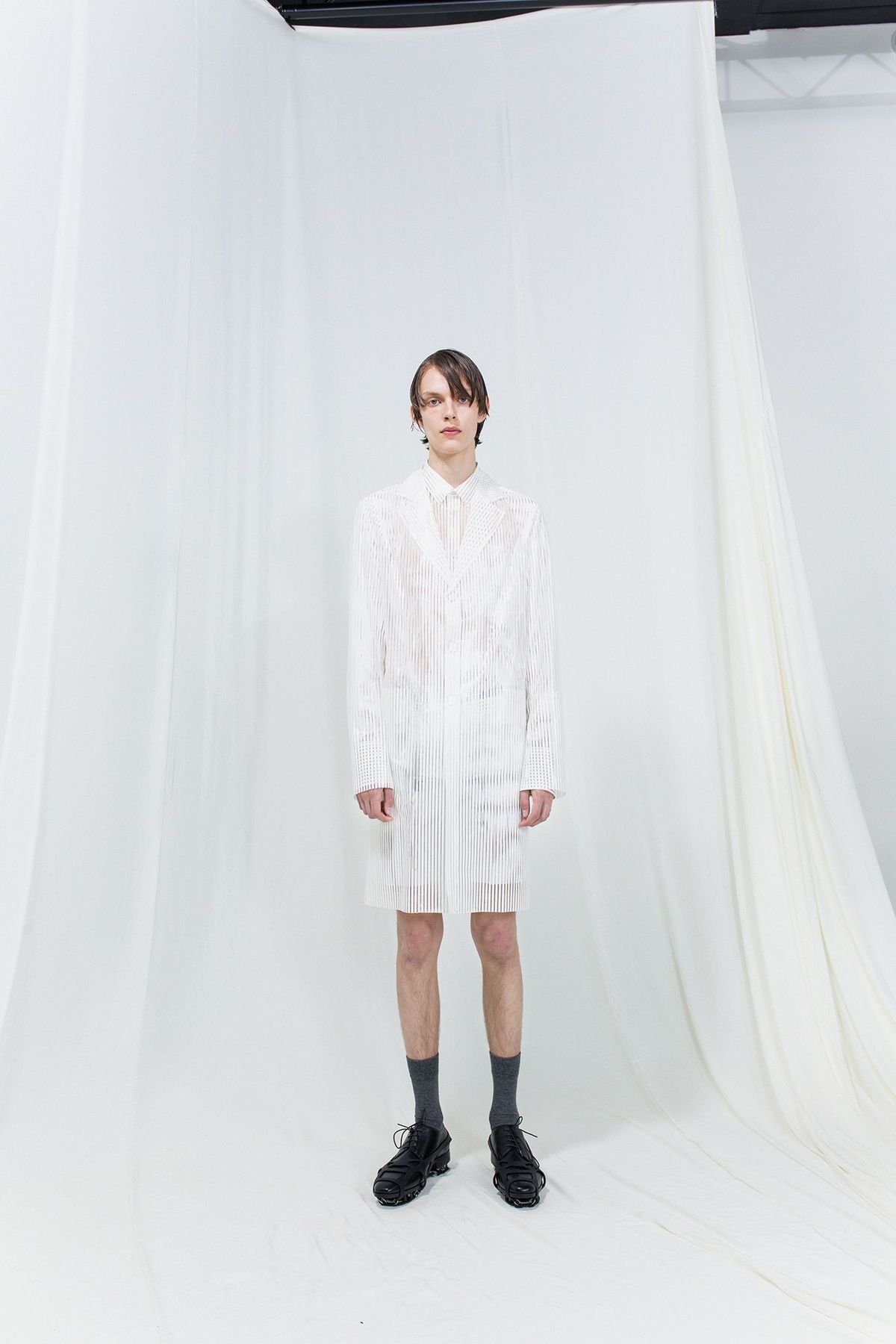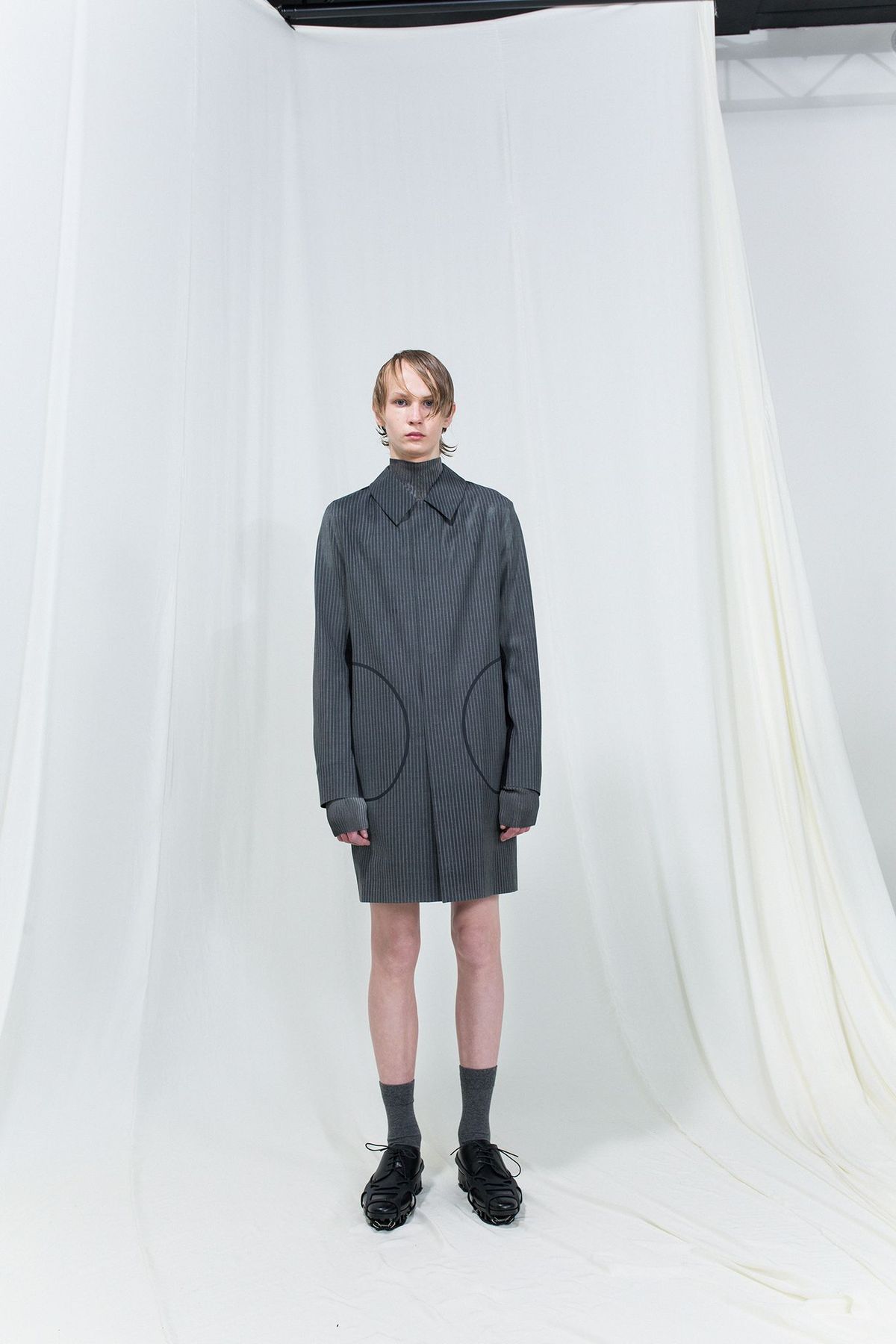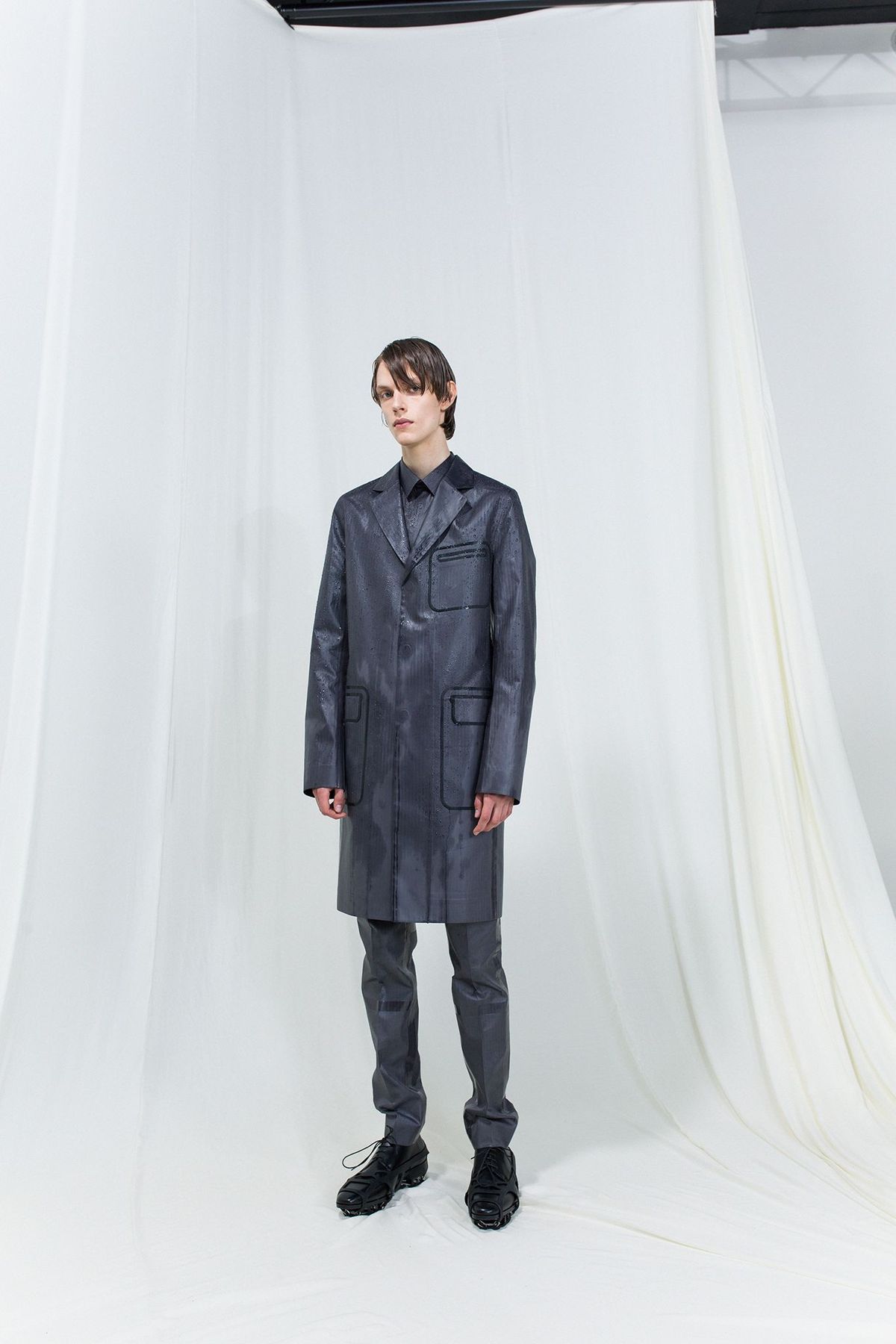 Summer was very busy for Arttu Åfeldt. He recently claimed personal success in Copenhagen in the Designer's Nest initiative where he won an internship at Bottega Veneta. He is also one of the finalists of this year's Hyères Festival and is currently working on his pieces for the competition. Arttu Åfeldt's BA collection was inspired by the video game world through the eyes of a young school boy who idolises the characters. "I personally play a lot of video games and, therefore, the topic is very personal to me. I have been really fascinated by how the outfits for the video game characters have been created without the need for garments to work in real life. Nevertheless, we can find countless details that would actually work and this took me to explore more of these functional solutions that I can find from video games but that I can also put into practice in my clothes."
Arttu Åfeldt's minimal, yet strong, looks dabble into a monochrome and metallic palette representing a more masculine side of fashion while still bending the idea of what is regular to see or be. This is further pushed by the unusual use of waterproof materials that change colour and texture when they get wet.
During the past years, gender norms in fashion have started to crack and we are getting rid of the idea of how men are supposed to dress. When I asked Arttu Åfeldt if he believes this change towards more allowing fashion will continue he said, "I do believe and I hope so. It has been really interesting to follow how men's fashion has started to develop and how it has gained more audience and interest, which is something you can also see on the streets. The classic model of menswear is at a turning point and it's very fascinating to follow where this is leading."
You can see Aalto University's annual fashion show Näytös 21 here.