Matilda Djerf has teamed up with Sofia Richie Grainge for one of this Christmas' most anticipated collaborations. While no official information has dropped yet, this is everything our Vogue Scandinavia sleuths have uncovered so far
This year, it seems to be a merry 'Djerfmas' to one and all as former Vogue Scandinavia digital cover star Matilda Djerf has teased an exciting upcoming collaboration for her brand Djerf Avenue. Always with a finger on the pulse, the collaboration sees the Swedish social media sweetheart team up with American media personality Sofia Richie Grainge whose wedding had us all swooning earlier in the year.
We first got note of the new collaboration when Djerf Avenue teased the upcoming drop over four posts. "I am SO excited," the founder commented under a video depicting herself carrying a large stack of wrapped white gifts with green ribbons. Her signature '70s waves bounce behind her as she approaches the white house, which looks plucked straight out of Montauk and would fit on any 'coastal grandma'-themed Pinterest board. Knocking on the door, Richie Grainge is revealed.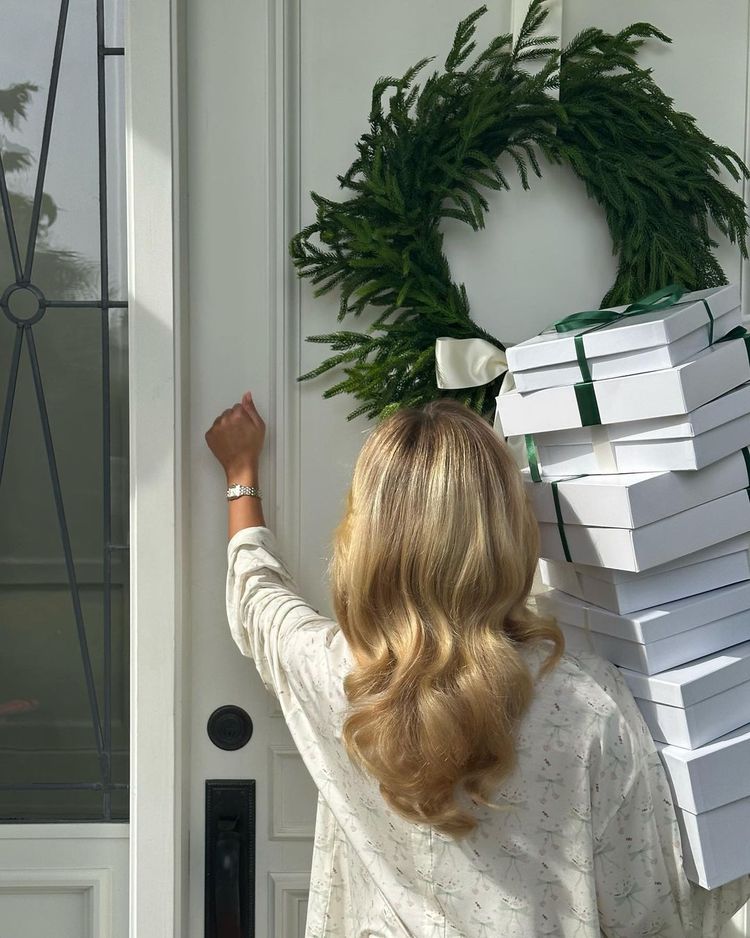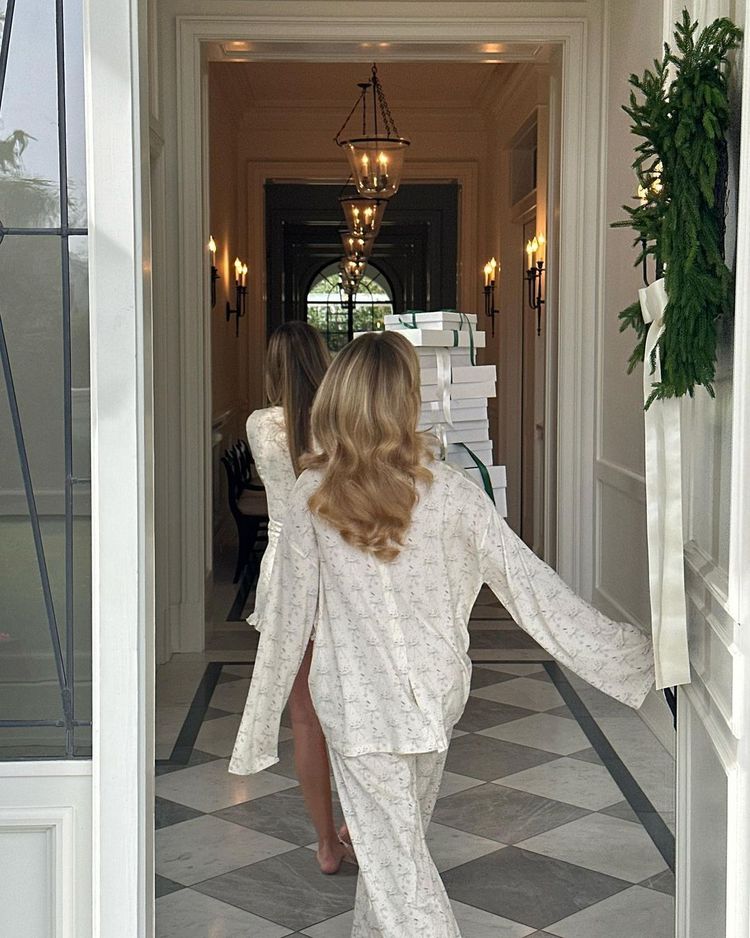 "The 'go slow' pyjamas are my Roman Empire," one fan commented on the first post, showing the wrapped presents on the stone stairs leading up to the house, while another wrote "Feeling like a very merry Djerfmas". Fellow Swedish Internet personality and entrepreneur Bianca Ingrosso came out in support, commenting "iconic" on the reveal post.
While the internet is all abuzz with excitement about the upcoming capsule, few details have been dropped about what to expect.
In the carousel post depicting Djerf approaching Richie Grainge's home, the two can be spotted wearing two of of the brand's covetable pyjama styles in a brand new print. The print – delicate bows surrounded by speckles on a buttery off-white background – is rendered in a loose-fit long sleeves top and trousers as worn by Djerf and in frill-trimmed shorts and a cropped cardigan as seen on Richie Grainge. The same pattern fabric could also be seen on a moodboard, posted before the reveal indicating that the pyjamas will be part of the upcoming collaboration.
Soft interior furnishings may not be the category that first comes to mind when thinking about Djerf Avenue, but the buzzy brand has a line-up of robes, duvet covers, and sot kitchen accessories. Delving deeper into the details seen in the carousel post featuring the mood board, the Djerf Avenue's muted green and blue gingham duvet features heavily, while other videos and images depict arrangements of white roses and Christmas trees adorned with green and white silk bows.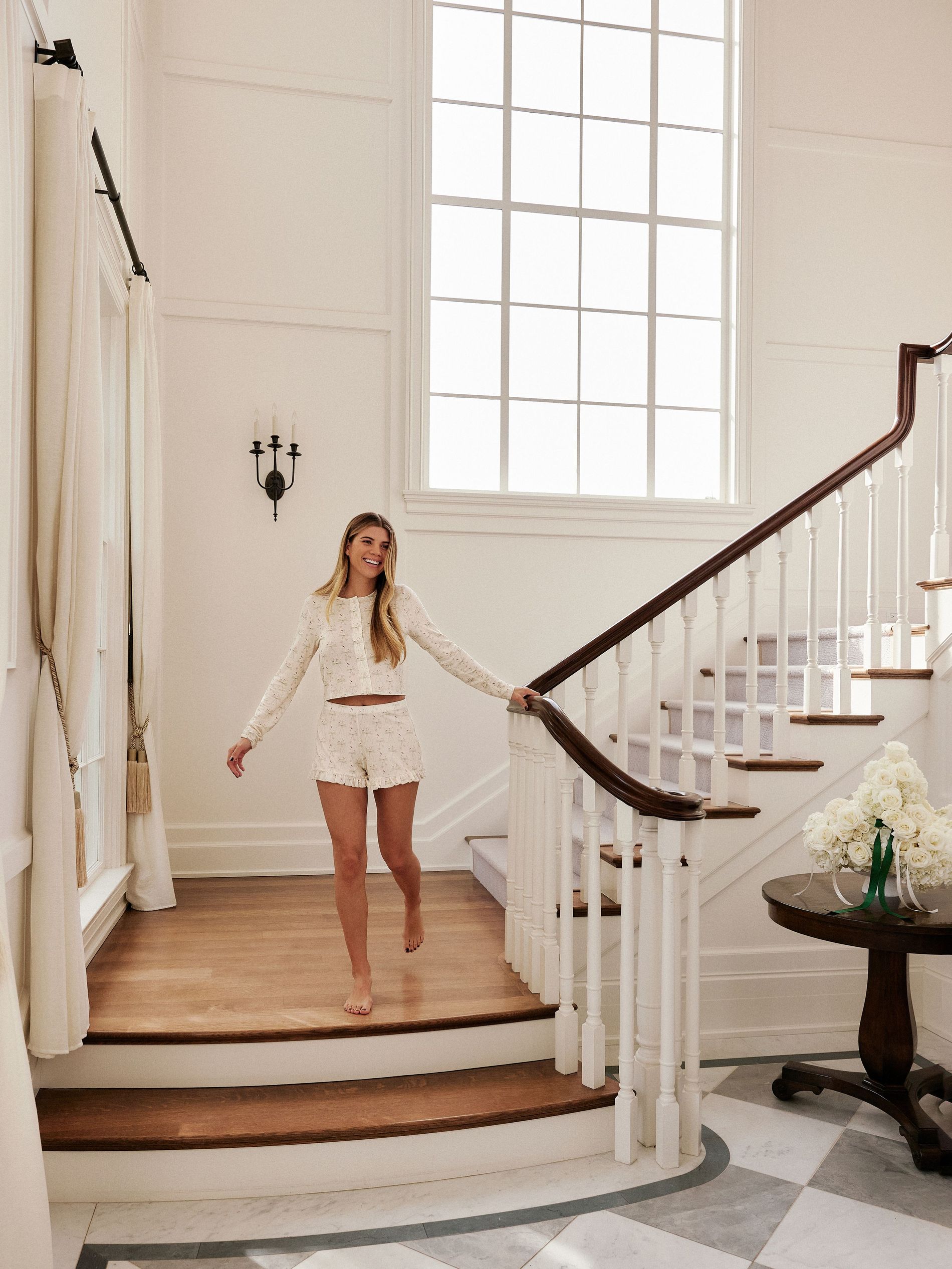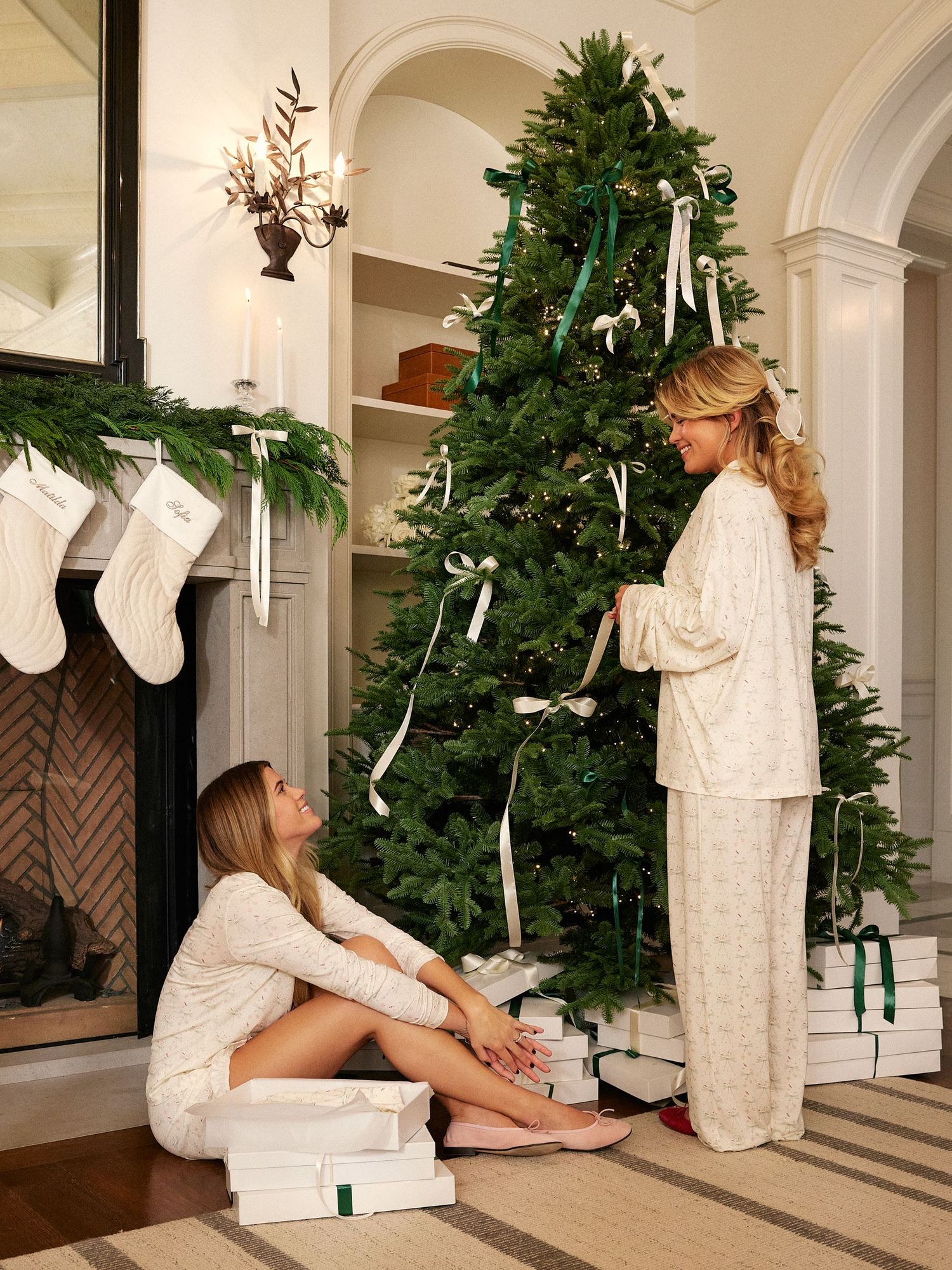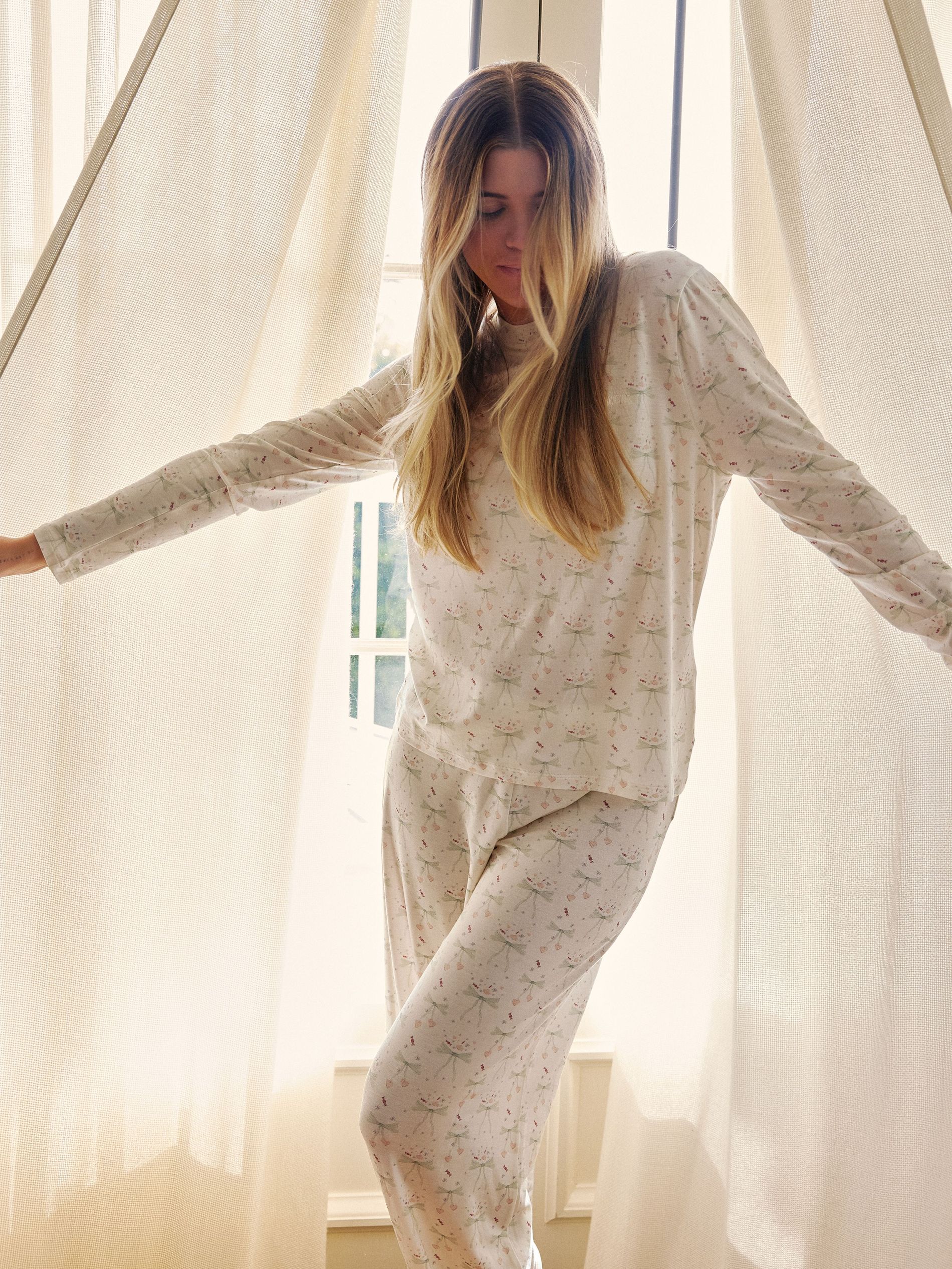 It is safe to say that Djerf Avenue – whose world wide appeal is particularly felt in the US – is gearing up for a sell-out drop. A drop that is now available to shop. Releasing official imagery and a line-up of six brand new styles in the bespoke Christmas print, Matilda Djerf, founder of Djerf Avenue shares that the brand is "so excited."
"This is the first collaboration Djerf Avenue has ever done with a profile and we are so happy that we are doing this together with Sofia," Djerf shares. "This has been in the works for some time and we are now bursting with excitement to see our beloved customers in the stunning new PJ styles."