Barbie is as Barbie does. With a wardrobe as iconic and pink-laden as the Mattel doll's, method-dressing has reached new heights
The actor and her stylist are taking thematic dressing to a whole new level with the styling choices for this tour, with Margot cosplaying as a real-life Barbie doll in slip-on mules, miniskirts, and lots and lots of pink.
Stylist Andrew Mukamal is taking inspiration from original Barbie dolls from the '50s, dressing the actor in looks that reference specific versions. From vintage Chanel tweed to custom Bottega Veneta pink co-ords, he has worked with major fashion houses to create Margot's Barbie-inspired dream wardrobe. The press tour has kicked off in Sydney, and there are already some key themes emerging. The hemlines are thigh-grazing, silhouettes are form-fitting, and Margot has become closely acquainted with white slip-on heels.
"Barbie really is interlinked with fashion, because how you play with her is by dressing her," costume designer for the film, Jacqueline Durran, previously told British Vogue. "Clothes are her form of expression."
Below, a rolling list of every specific Barbie reference in Margot Robbie's red-carpet wardrobe so far.
Margot channelled "solo in the spotlight" Barbie from 1960 for the LA premiere, wearing a black sequin strapless gown with a tulle hem by Schiaparelli with black Manolo Blahnik mules.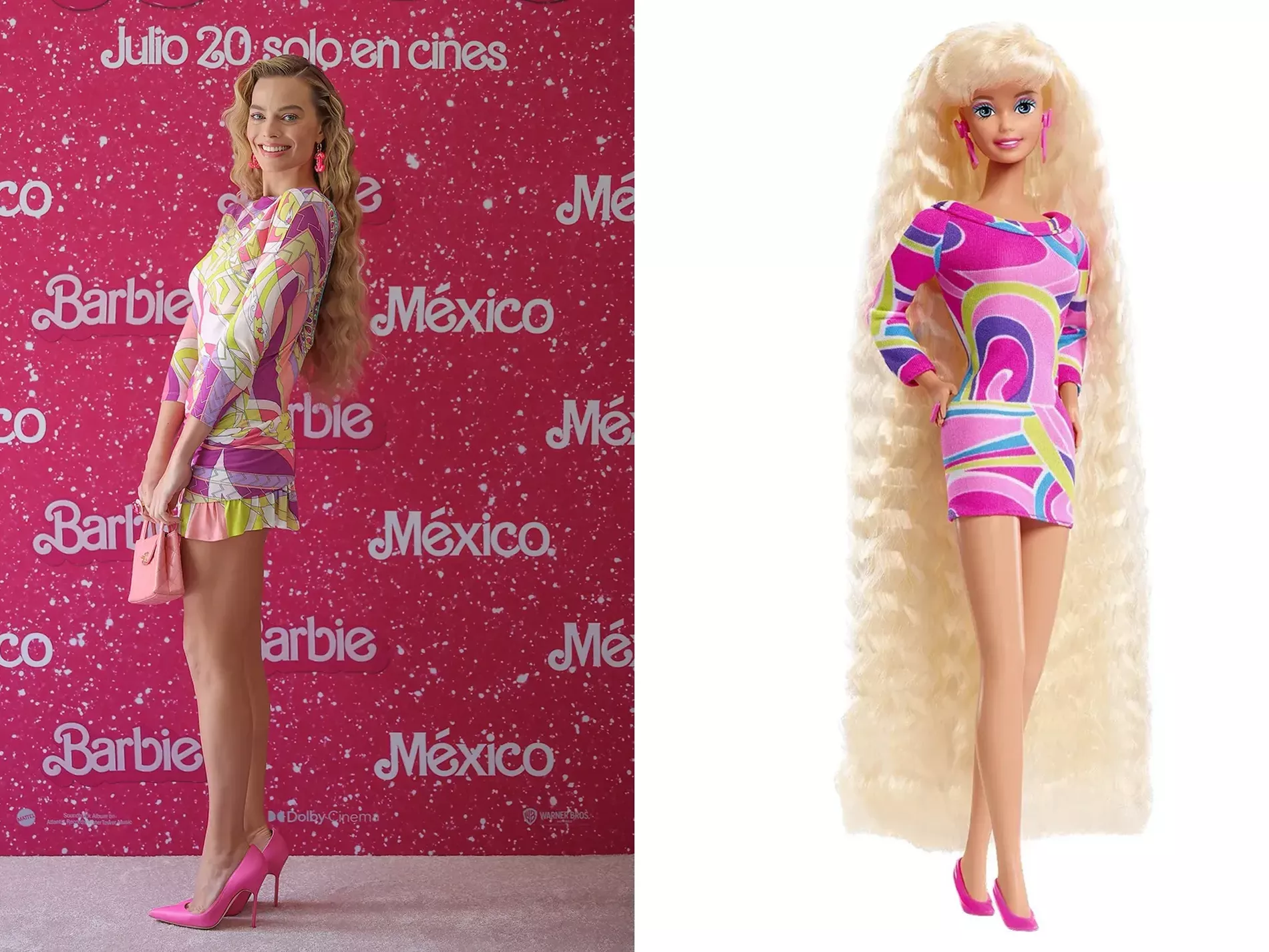 Margot Robbie dressed as "Totally Hair" Barbie from 1992, with crimped long hair, an Emilio Pucci printed minidress, bright pink court shoes and fluorescent pink Chanel logo earrings.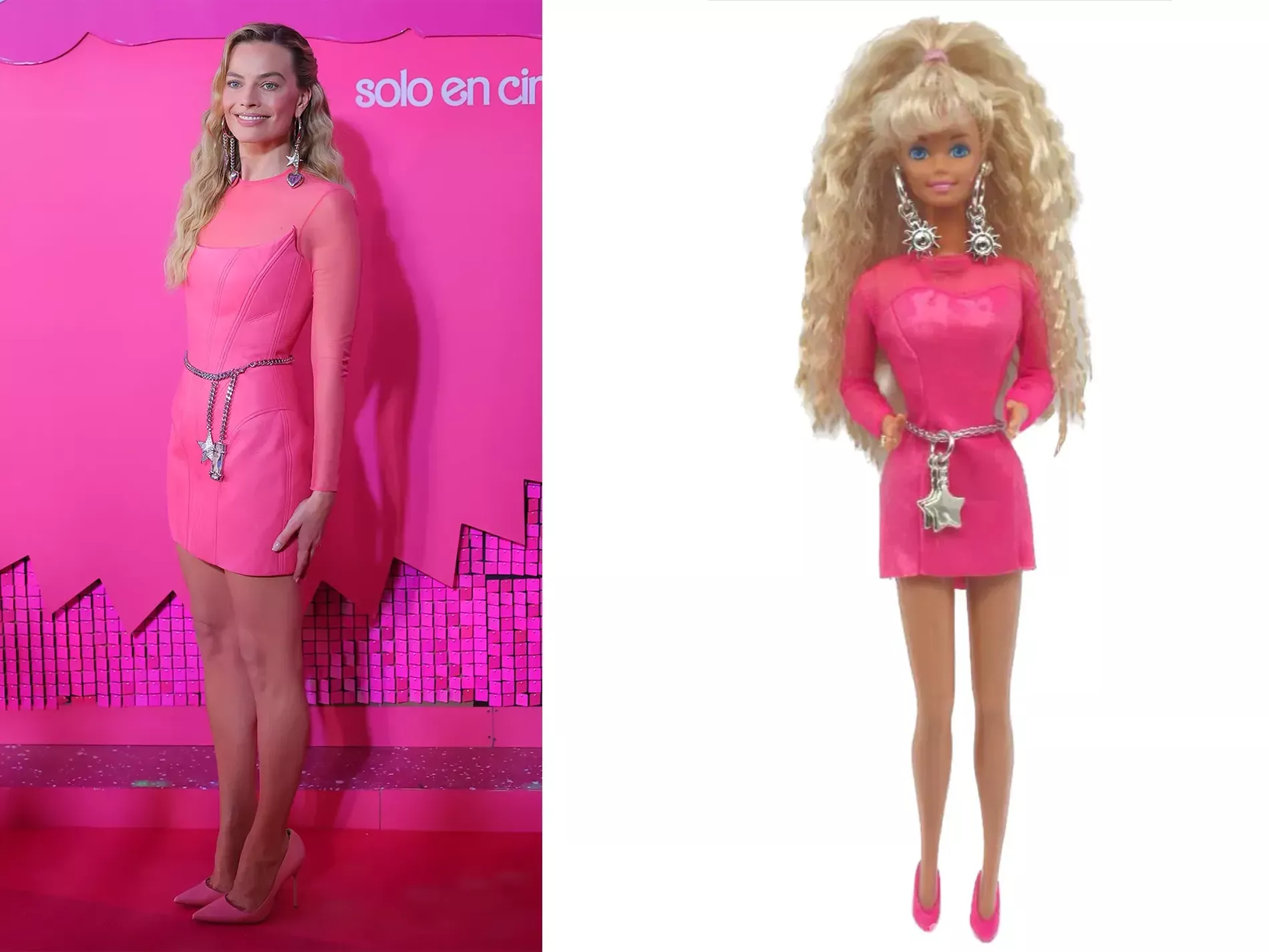 .
In Mexico City, Margot channelled a doll from 1992 wearing a pink minidress, chain belt and oversized silver earrings.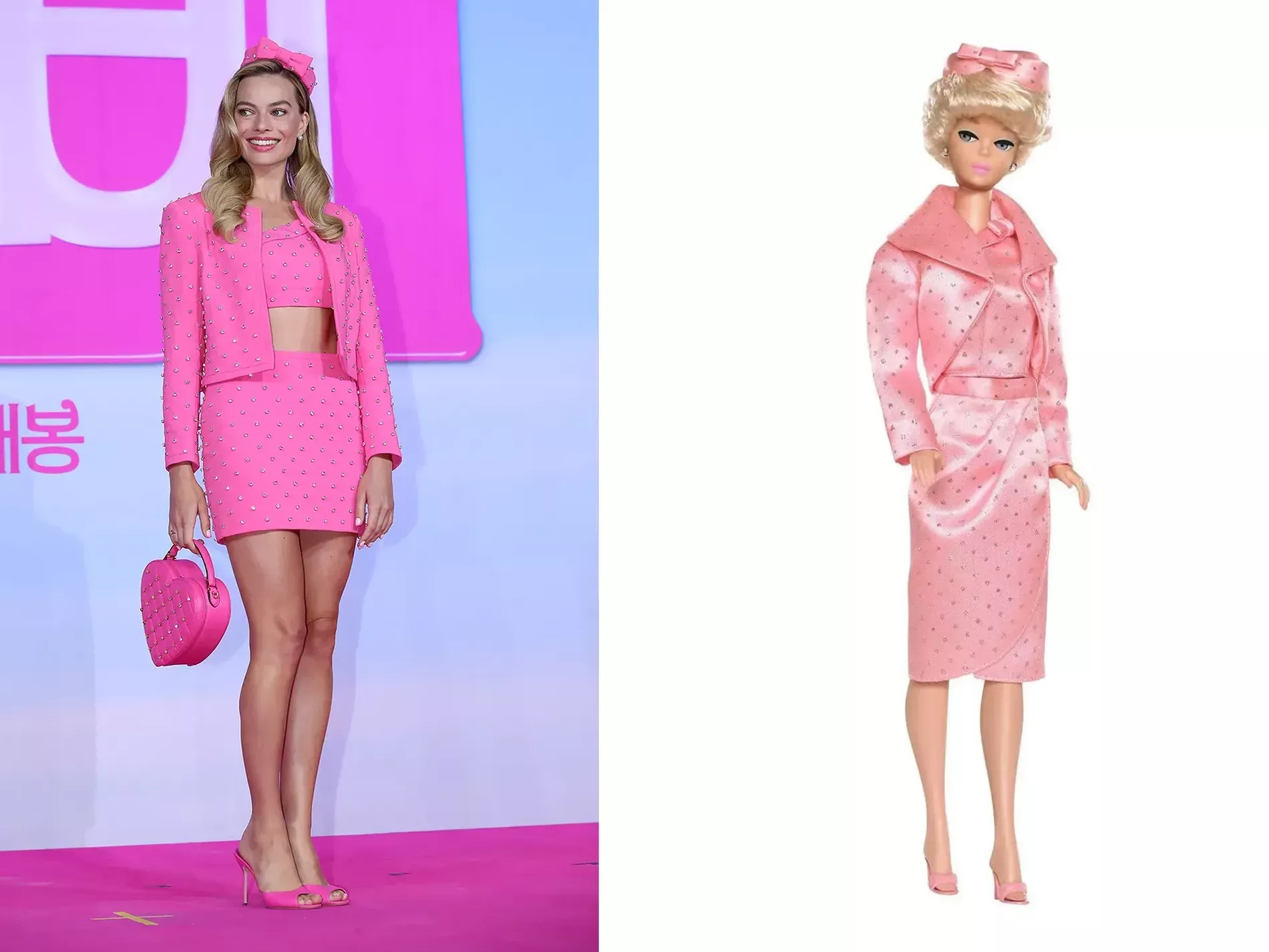 At a press conference in Seoul, Margot referenced the "sparkling pink" doll from 1964 in a pink skirt suit adorned with crystal studs by Moschino, with a heart-shaped quilted bag, pillbox hat with a bow and bright pink Manolo Blahniks.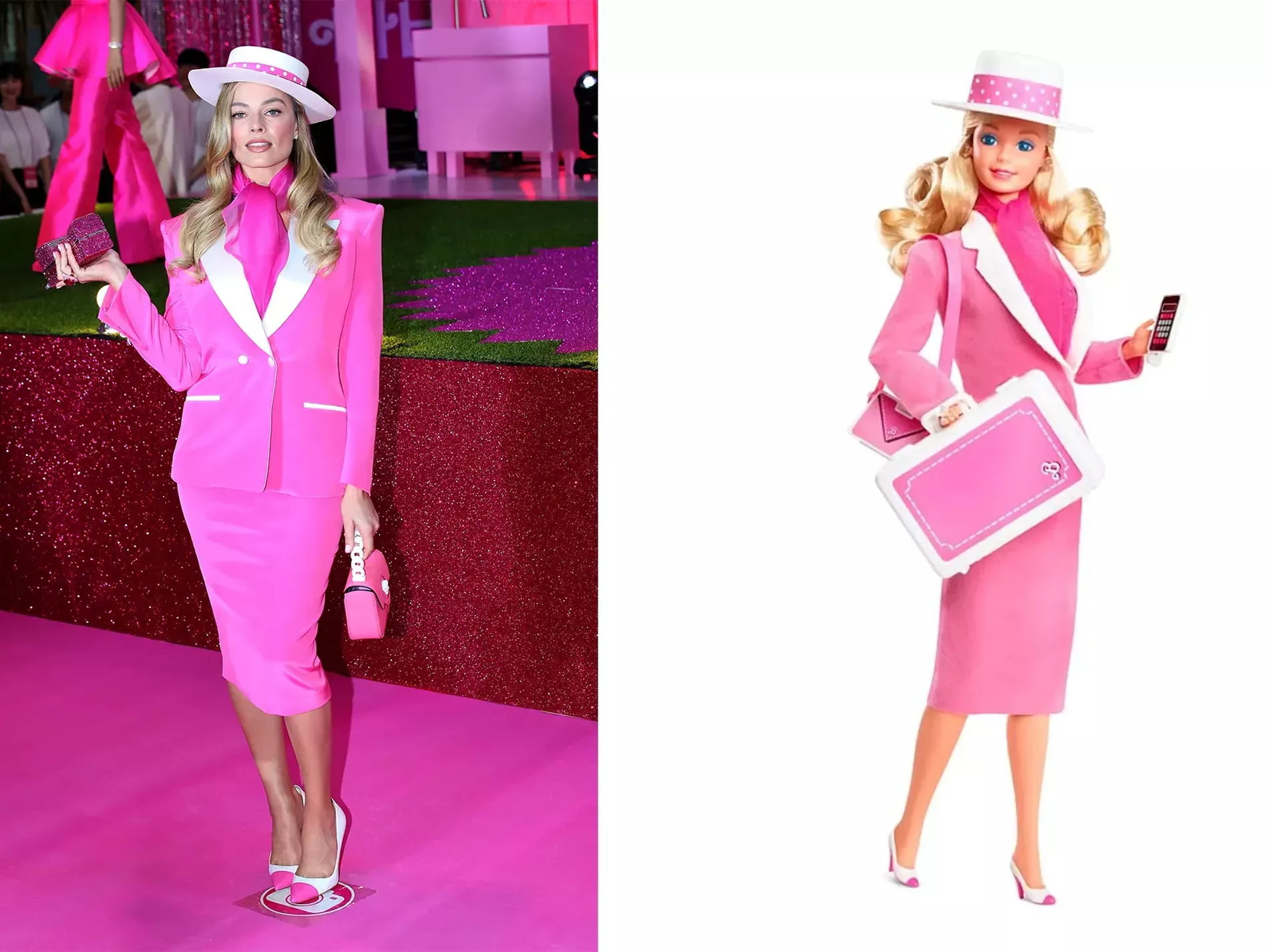 .
Margot dressed as the "day to night" doll from 1985, wearing a pink power suit which is a custom look by Versace, with a sparkling phone, a white fedora and Manolo Blahnik pumps.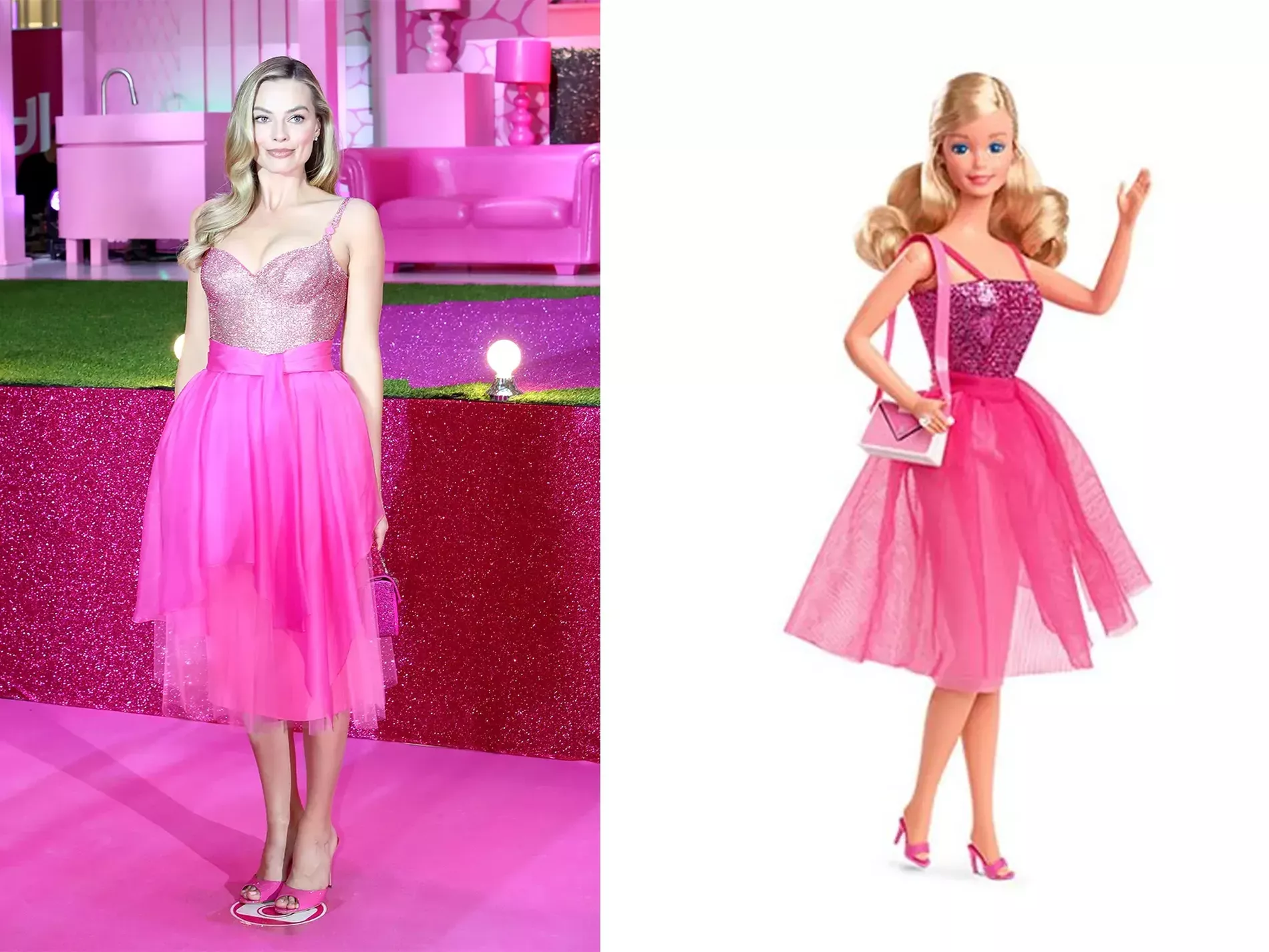 .
The 1985 "day to night" doll had a sparkly pink outfit change for evening, and Robbie and her stylist Andrew Mukamal referenced the original dress, working with Versace to create a crystal bodysuit and bright pink frothy skirt.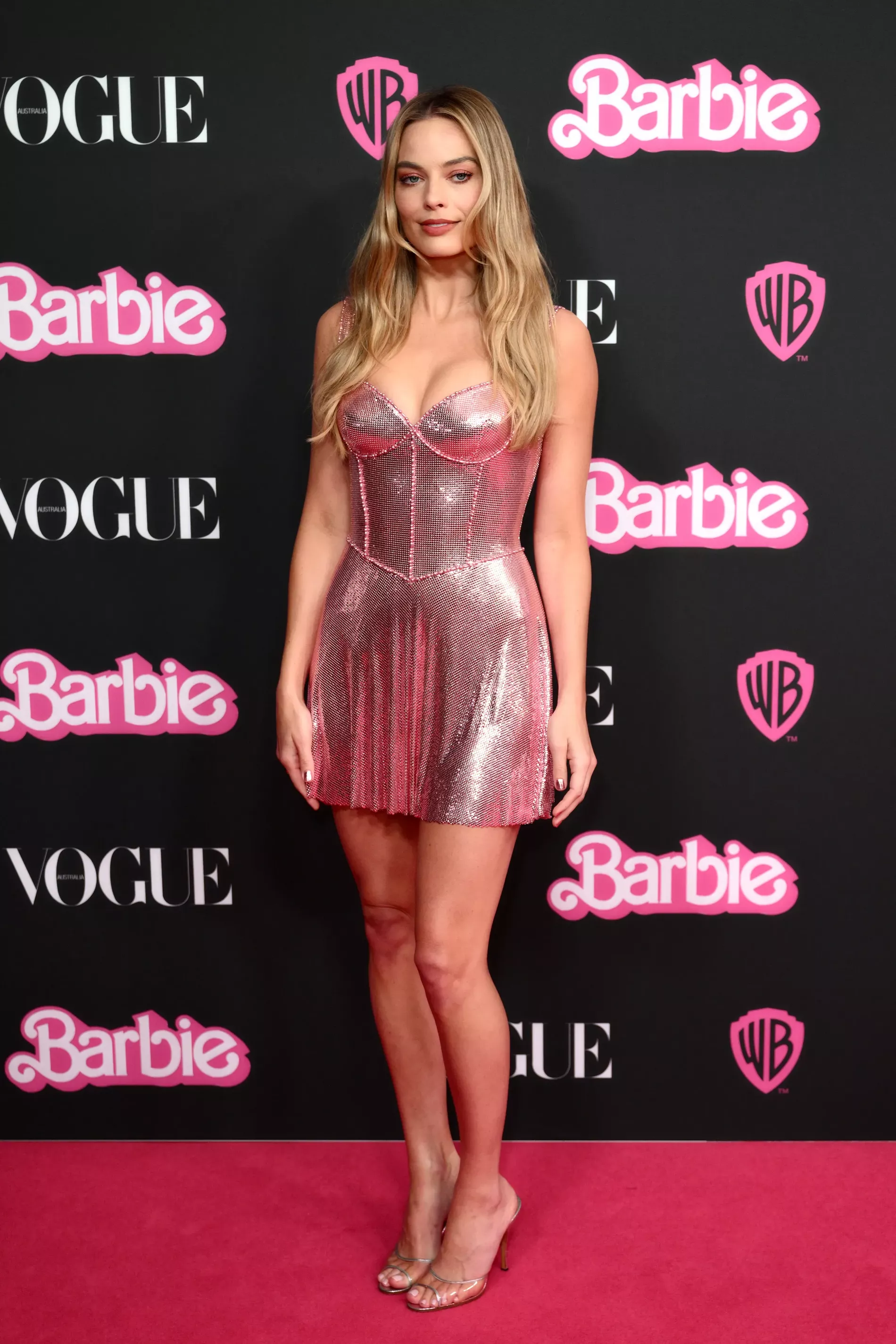 . Photo: James Gourley/Getty Images
At a Barbie event in Sydney, Robbie wore a pink sequin minidress with a corset bodice, which was a vintage Versace look from the autumn/winter 1994 collection, paired with Manolo Blahnik heels.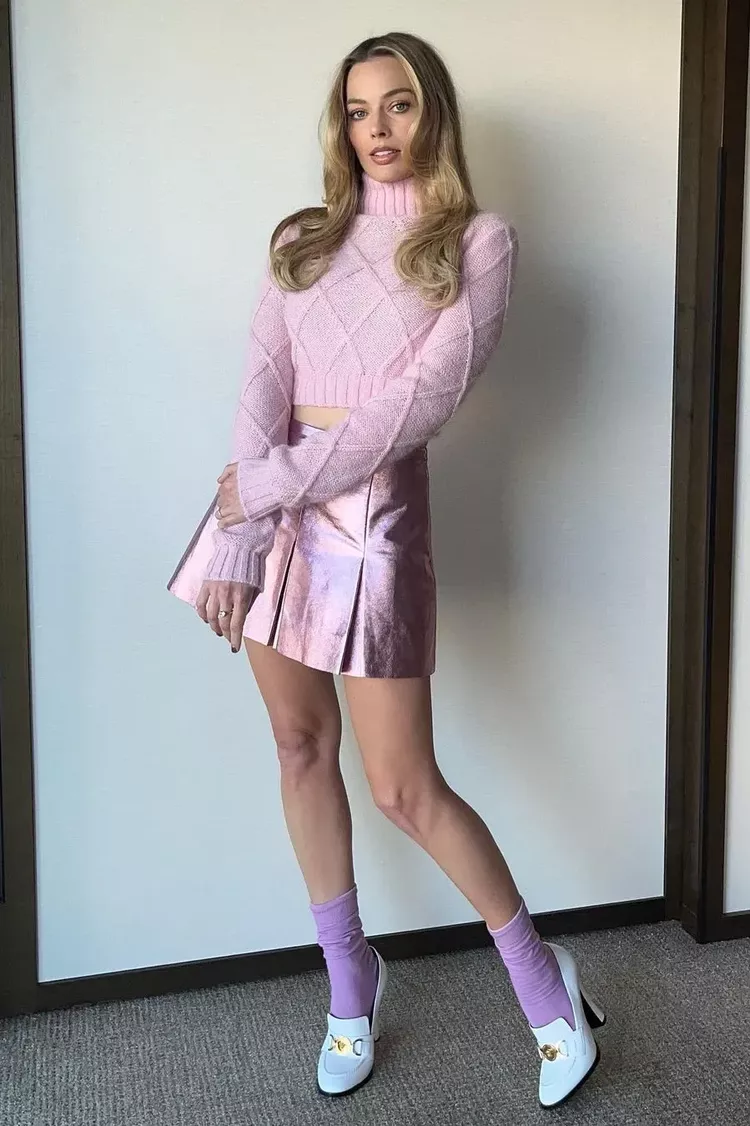 . Photo: Instagram/ @andrewmukamal
Margot had another vintage moment in autumn/ winter 1994 Versace, wearing a metallic mini skirt and pink cable knit jumper that Kate Moss originally wore on the runway.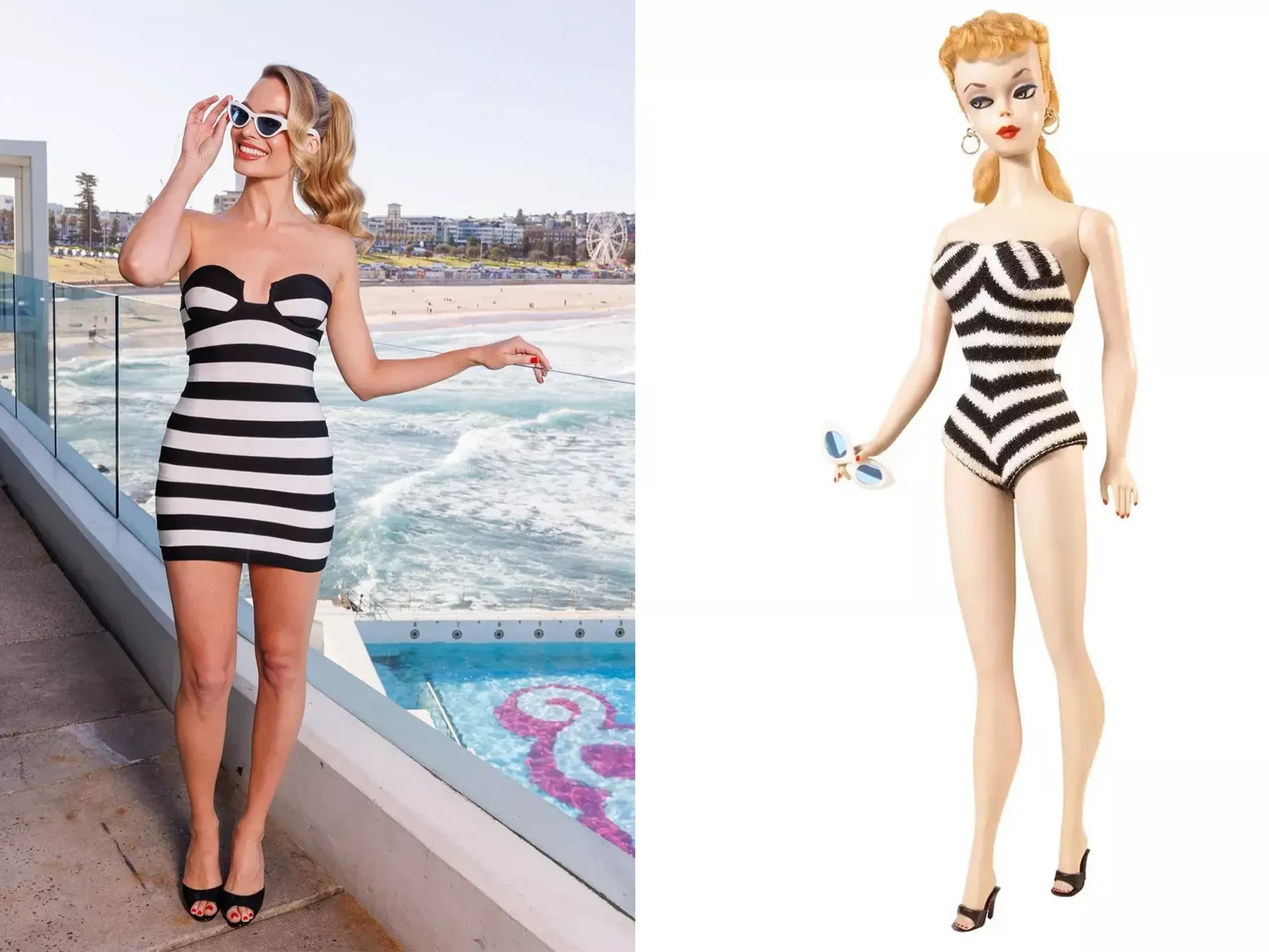 . Photo: @andrewmukamal
While promoting Barbie in Sydney, Robbie wore a striped bodycon minidress by Hervé Léger, which references an original Barbie doll from 1959. Her stylist Andrew Mukamal paid close attention to the details of this original doll, adding a similar pair of peep-toe heels by Manolo Blahnik. Margot also had her hair styled in the same high ponytail.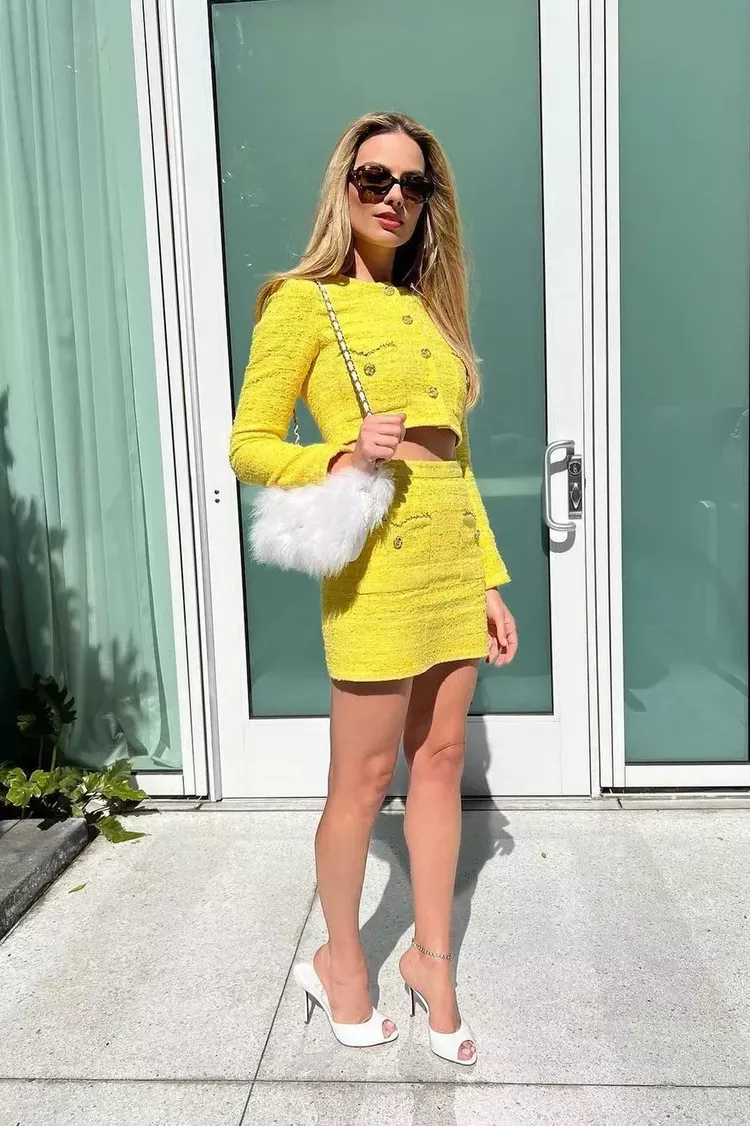 . Photo: @tombachik
Barbie, or Cher Horowitz? Here's Margot in a yellow tweed Chanel suit comprising a miniskirt and cropped jacket, with a fluffy white handbag and white mule sandals.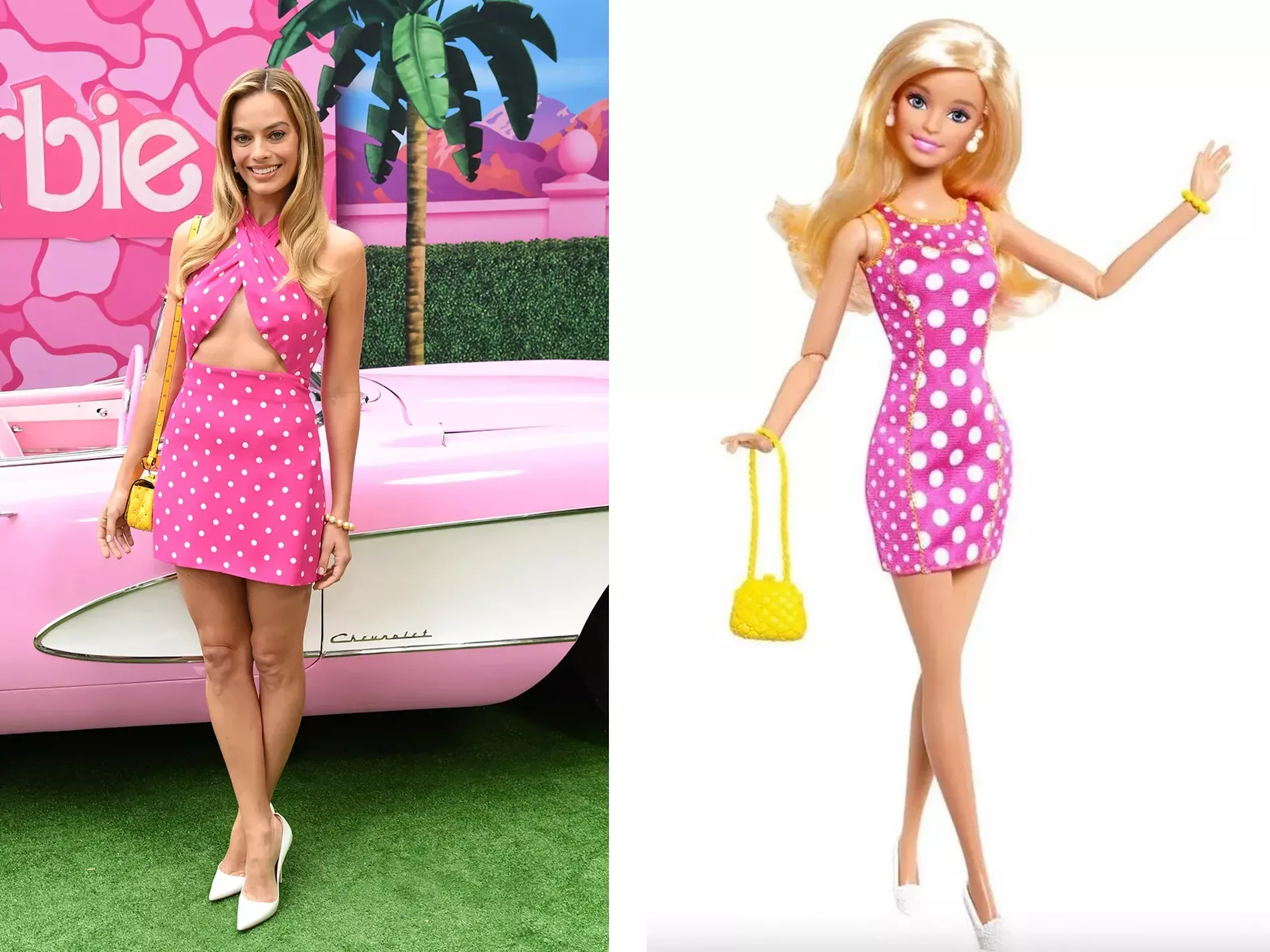 . Photo: British vogue
At a photo call in Hollywood, stylist Andrew Mukamal referenced another original doll outfit with a bright pink spotty mini dress by Valentino, a yellow handbag and white heels by Manolo Blahnik.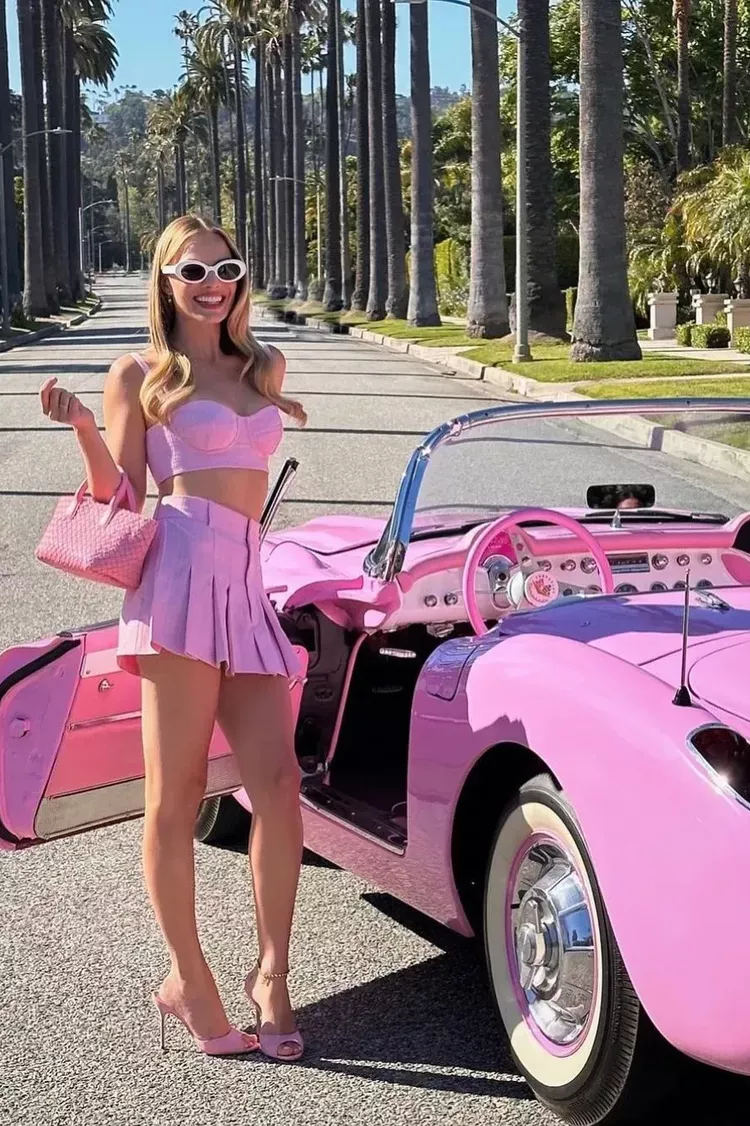 . Photo: @tombachik
Margot's pink Bottega Veneta skirt and crop top set was a custom creation made for the Barbie promotional tour. She paired it with a pink Bottega Veneta handbag, white sunglasses and mules by Manolo Blahnik.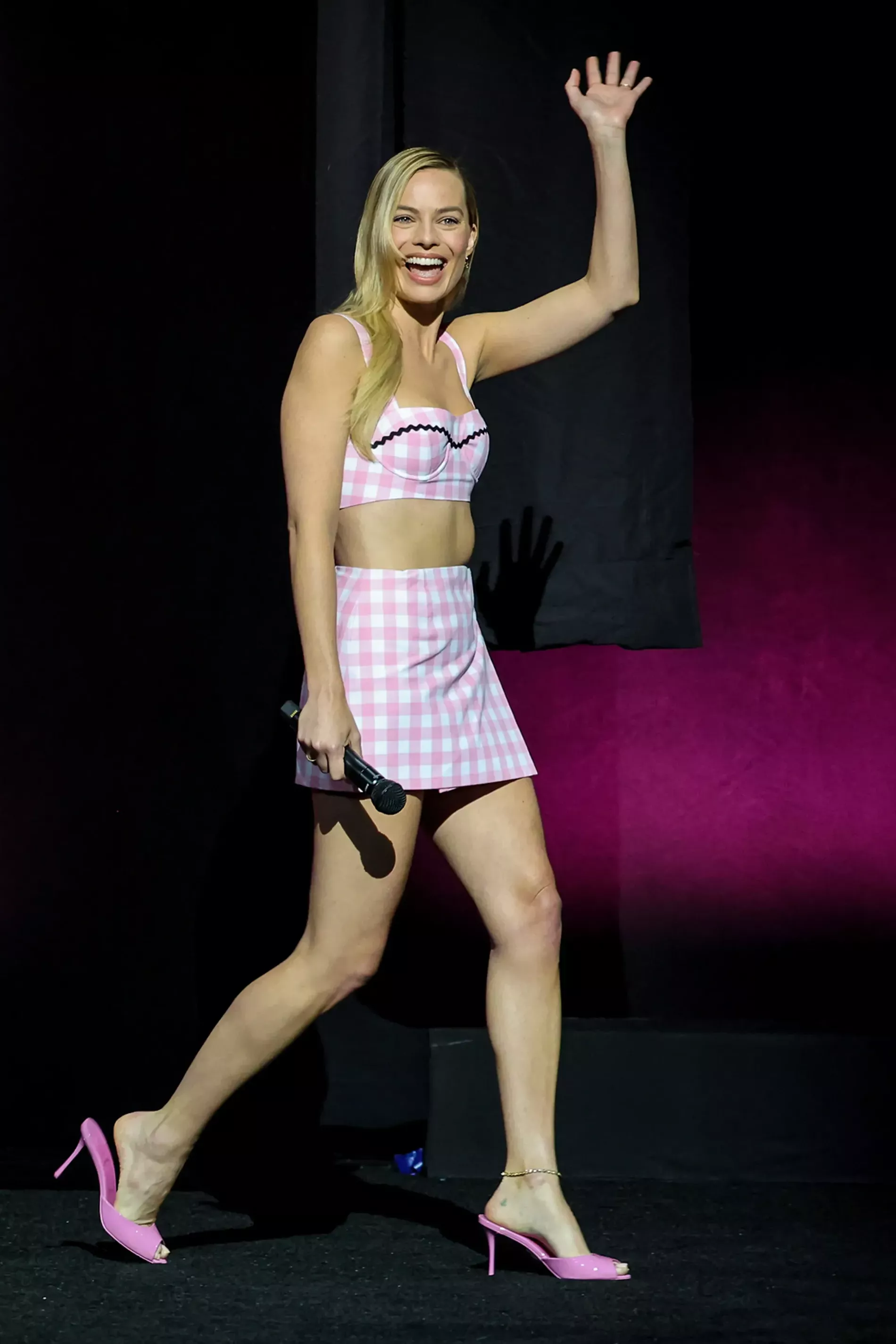 . Photo: Ethan Miller/Getty Images
Promoting the film at CinemaCon 2023, Robbie gave the first hint she was going to reference her on-screen character with her own wardrobe choices, wearing a pink gingham set by Prada with pink Louboutin mules.
Originally published on British Vogue.