Operating out of Finland, My Mom Said is mastering the art of making sustainability sexy with its cool-girl crochet
Last week style maven and supermodel Emily Ratajkowski was spotted dancing on social media in a cream-coloured crochet crop top by Finland based Ukrainian designer Katya Sevastianova. "I screamed and scared my friend who was sitting nearby," Sevastianova said of first seeing the post. The young designer explains how her immediate response to seeing the supermodel in her clothes was to just jump about and dance – all while the adrenaline kept her hands shaking for an hour later. "I am smiling thinking about it," she says. "It was crazy."
It was particularly serendipitous given it was EmRata who Sevastianova had originally had in mind when making the 'Alex' crochet top. "When I made the prototype I imagined Emily in it, but I was just dreaming," she says. Then a month ago, the young creative had the courage to approach the model's stylist, who promptly answered with interest. "I sent the package and started waiting, it sometimes can take months, you never know whether the stylist is going to use your clothing or not," she explains.
When I was a shy teenager and my mum would put on these extra outfits, I would ask her if she was sure and that people would look. My mum answered: 'If you do not like how I look, do not look'.
Katya Sevastianova
Katya Sevastianova's brand My Mom Said is part of a new wave of ecologically conscious designers coming out of the Nordics, finding international success among models offering an innovative and sexier approach to sustainability. Finding kinship with the likes of Danish upcycling brand Havre Studio (whose suits have been spotted on Kendall Jenner) and the beaded Y2K jewellery from By Alma Nielsen (frequently seen on Elsa Hosk), My Mom Said is a one-woman business.
Having moved to Finland during Covid, the budding designer had difficulties finding a job. Simultaneously, Sevastinova decided to break up with fast fashion and learn more about creating a sustainable wardrobe. "Breaking up with fast fashion can be hard, especially if you used to be obsessed with Zara like I was," she says. "I went from having all the choice to very limited choice of where I can buy clothes. I am lucky that thrifting in Finland is great, but it can be tricky, difficult and it definitely takes time."
Sevastianova also quickly came to realise that sustainable fashion tends to lean towards leisure, loungewear and basic clothing. "It was hard to find something extra, something interesting, something showy, something sexy." While sitting at home in lockdown with no job and no idea of what the future held, it seemed like a great idea to start her very own business catering to sexy sustainability. "I was researching sustainable and organic fabrics and I came across eco-friendly yarn and Ioved it." It was big and chunky, and luckily enough Sevastianova remembered how to crochet.
Sevastinova's mother in the 1990s.
The inspiration behind the brand can be found in the name. "My Mom Said was inspired by my mum," Sevastinova says. Working as a model in one of the firsts Kyiv model agencies, Sevastinova would see her my mum and her girlfriends rocking the craziest outfits in the early 2000s. "They could end up staying at home, but they all had their low-rise jeans with prints or Swarovski crystals, the riskiest Versace tops, big belts and tiny bags," Sevastinova reminisces. "They dressed for themselves."
And one piece of wisdom her mother shared came to define what the brand My Mom Said would later become. "When I was shy teenager and my mum would put on these extra outfit. I would ask her if she was sure and that people would look. My mum answered: 'If you do not like how I look, do not look'," Sevastinova explains. It is this fearlessness and unfaltering confidence that defines the My mom Said woman. The brand is for "women who love their body and women who are on their journey to love their body," as Sevastinova points out. "Honestly, My Mom Said women just want to have fun!"
As such, it was important for Sevastinova to make her clothing size-adjustable. "I design all my crochet tops so that you can move the straps through the loops and adjust the top for your body's perfect fit," she explains. "I know how hard sizing is for women for many different reasons, so I like to say that my crochet tops are not about size, but rather about a choice of how much coverage or exposure you prefer."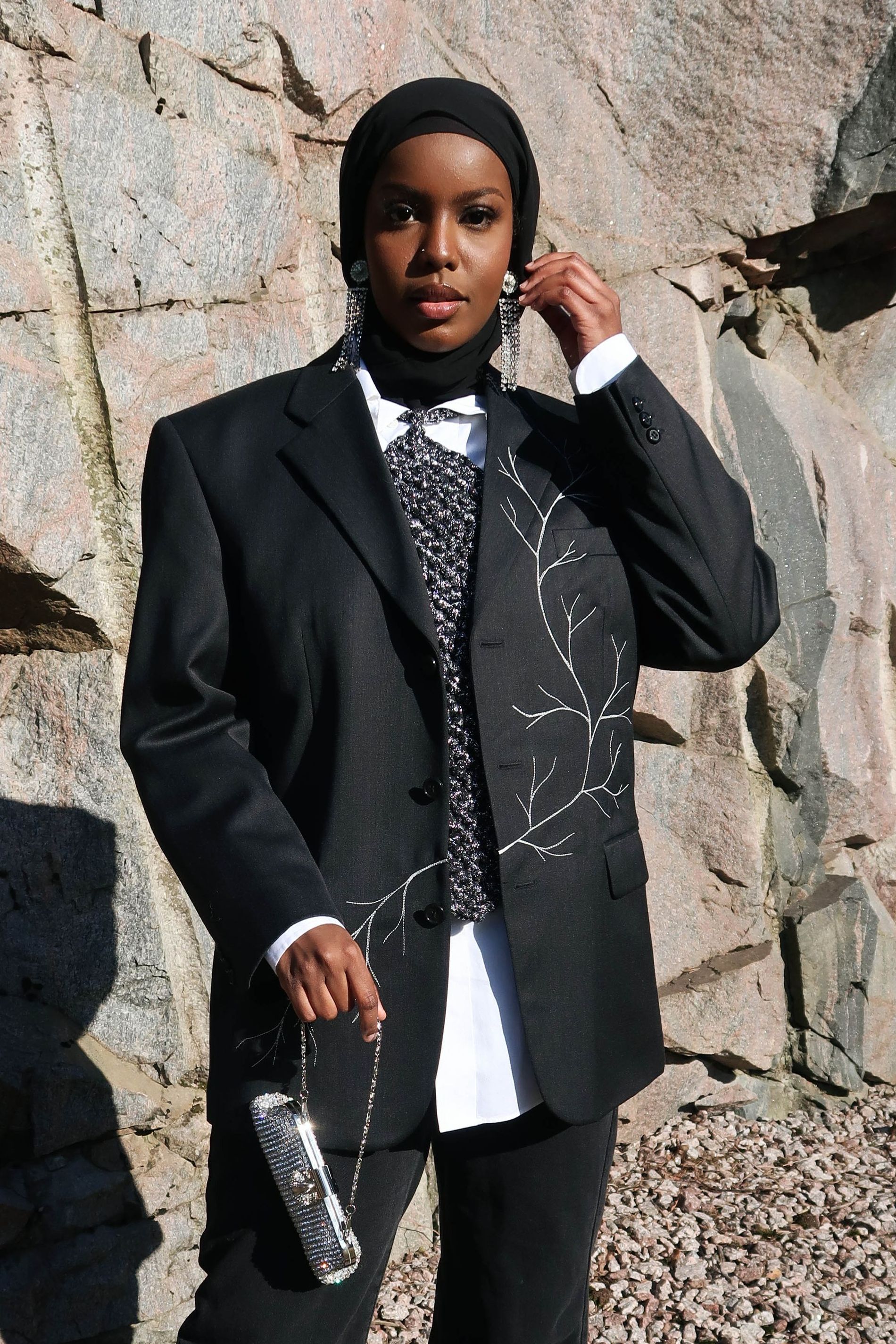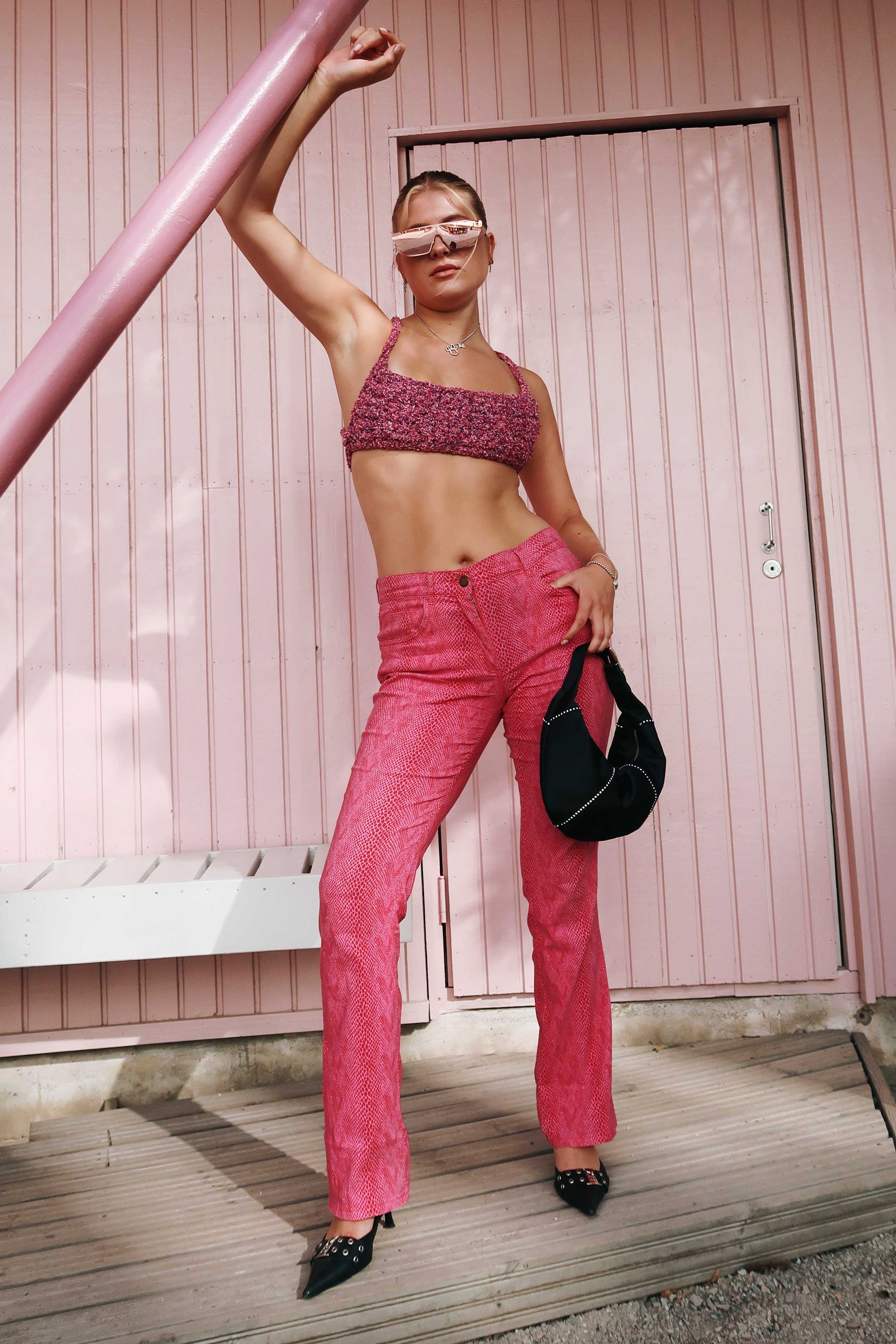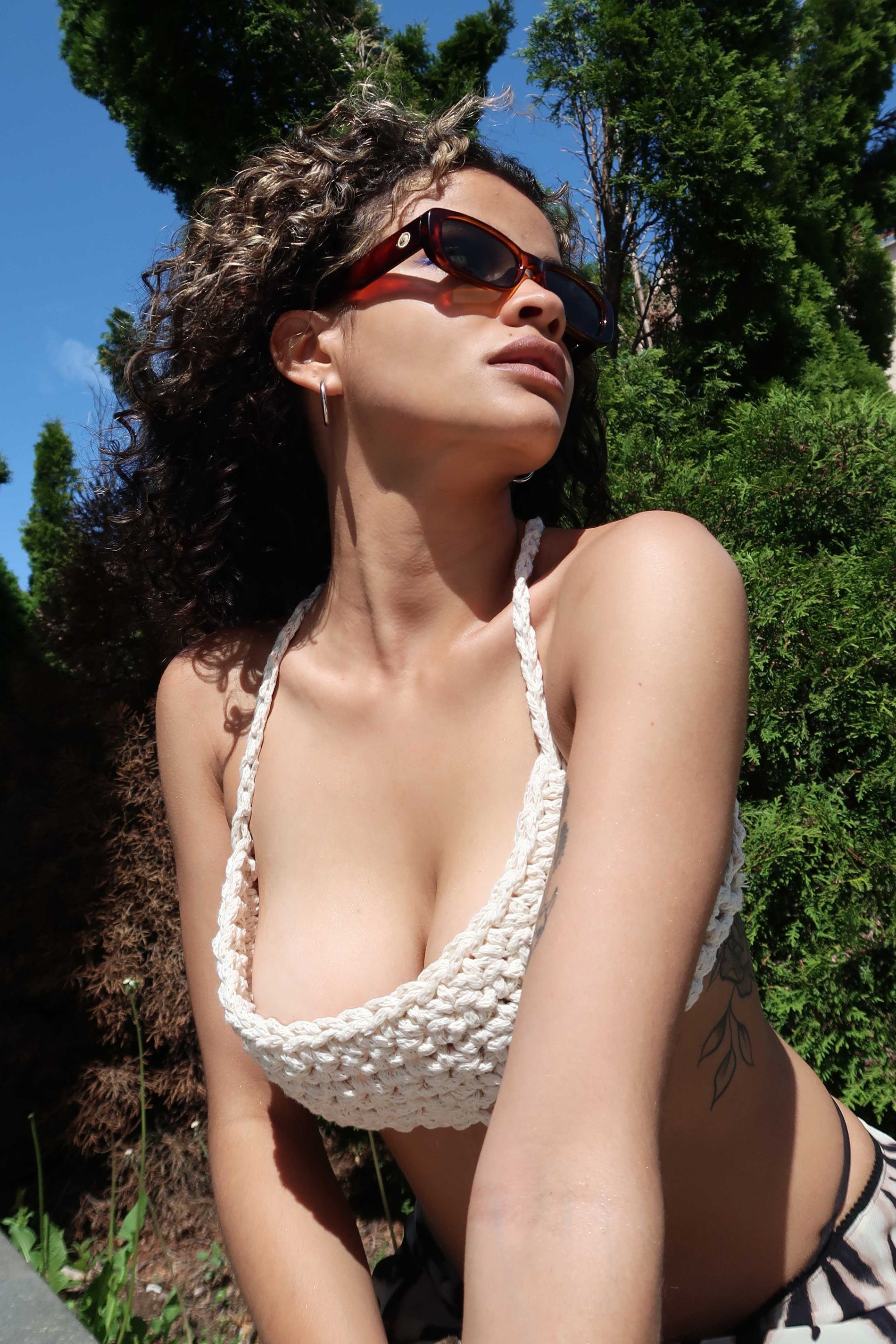 You definitely can look hot without making our planet hotter
Katya Sevastianova
And as green washing is raging within the fashion industry, it is important for Sevastinova to back up her sustainability claims. All My mom Said clothing are made out of dead stock, recycled and eco-friendly materials with a detailed description of each item and its composition on the website. "Some pieces are handmade by me and some pieces are made by amazing women in a woman-owned atelier in Tallinn," Sevastinova explains. "All the info about the atelier is also on my website."
All the orders are packaged in handmade dust bags, too, made from deadstock fabrics, and shipped in compostable mailers. There are no tags on the clothes, instead, all the info, including washing instructions are sent to your email. "This way there is less waste, no tags to irritate your skin, and if you forget how to wash your garment, the info will be always in your mail," Sevastinova says.
Looking towards the future, Sevastinova would love to see the likes of Bella Hadid and Dua Lipa in her clothing. However, for the young brand, seeing girls on the street rocking My Mom Said would be the biggest compliment. And, as the designer points out, it would probably cause at least as much jumping, screaming and dancing as seeing A-listers sport her wares.
And the one thing she hopes that people will take away from My Mom Said? "You definitely can look hot without making our planet hotter."