This must-try trend just got supermodel-approved. We tap local hair bow connoisseur and Norwegian influencer Jenny Cha to get the low-down on how to master the look
As of late, bows have been basically everywhere. Sweet, coquettish and playful: the renaissance for this accoutrement was unmissable during both the autumn/winter '23 and the spring/summer '24 seasons.
On the Scandinavian front during AW23, Acne Studios tied leather strands into bows around the scrunched handbags while Swedish couturier ArDaZei embellished with bows via waist-defining sashes. Subsequently, SS24 saw bows awash across international runways, the most notable being bow-detailed dresses at Balenciaga and bow fasted floor-length capes at Richard Queen. Meanwhile, the bow became the darling hair accessory to note at Dior, Chanel, Bora Aksu and Versace – to name a few.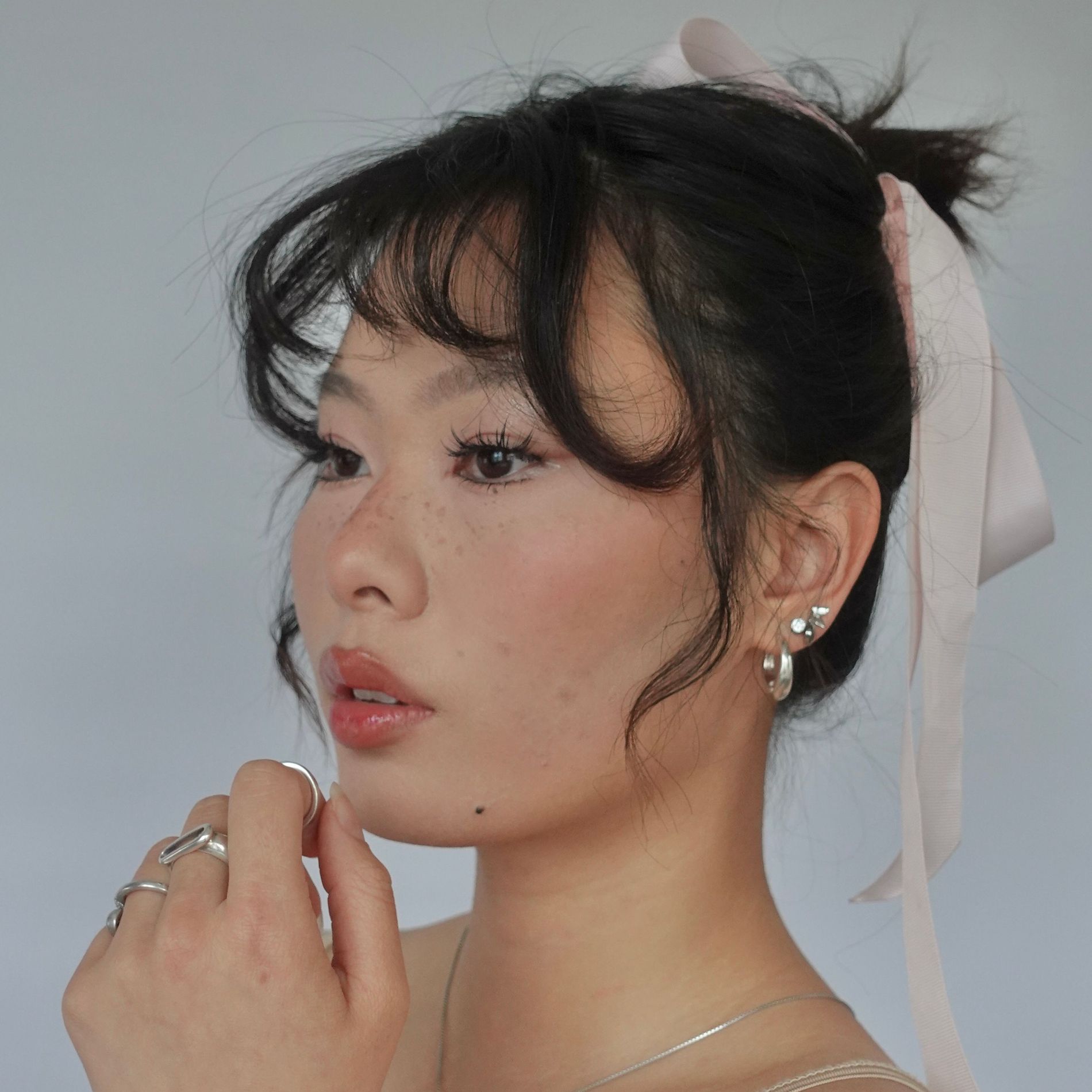 Norwegian influencer Jenny Cha, one of our home grown purveyors of hair bows. Photo: Jenny Cha (@chaserize)
That said, it is one thing seeing bows on the runways and another to sport it the streets. But there was ample inspiration to draw from street stylers, who showcased exactly how to masterfully incorporate simple silk ties to your look. One being Norwegian influencer and content creator Jenny Cha – a fastidious fan of the trend – whose intricate, perfectly over-the-top bow-embellished hair looks quickly went viral after being snapped at Copenhagen Fashion Week.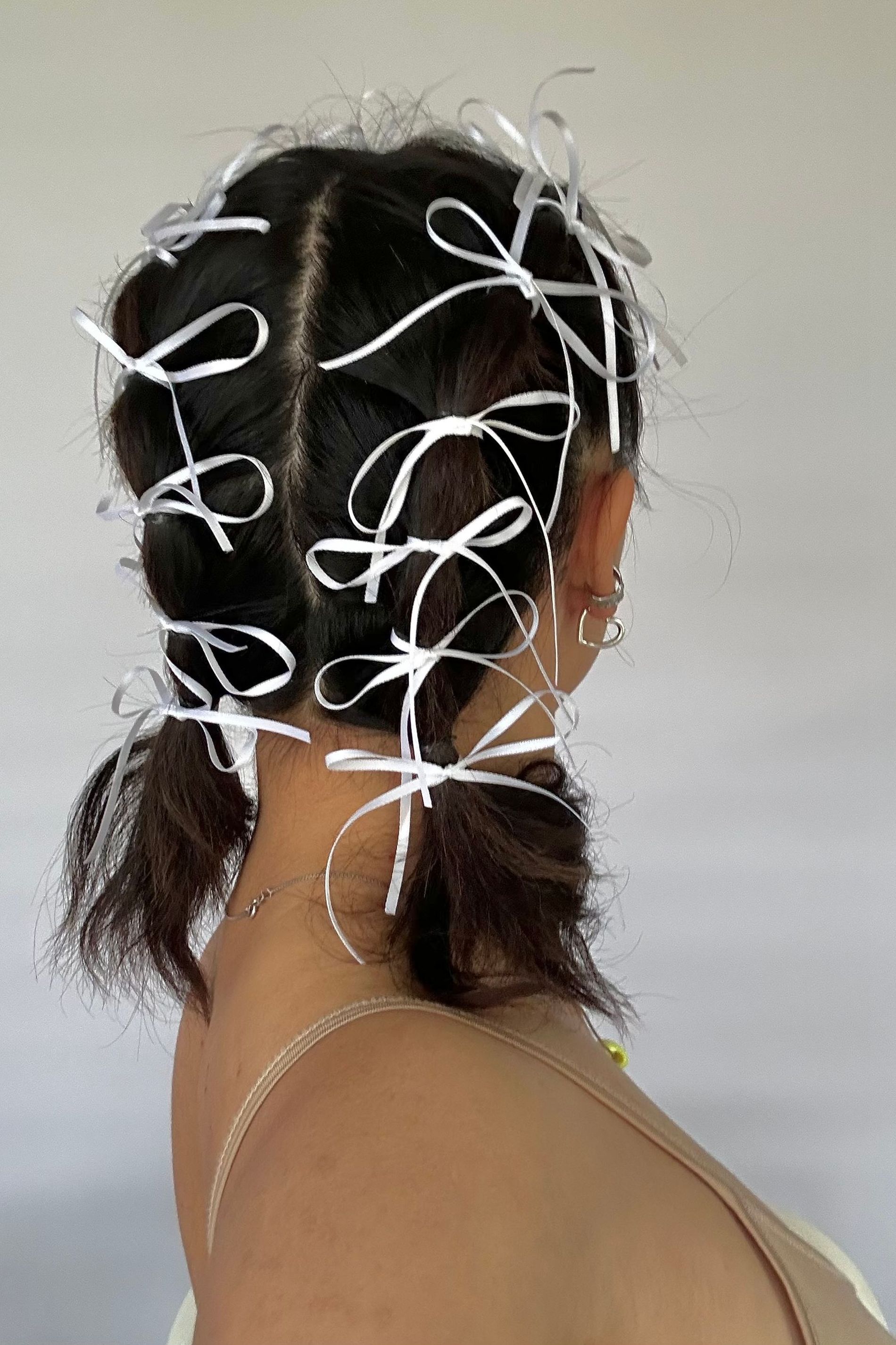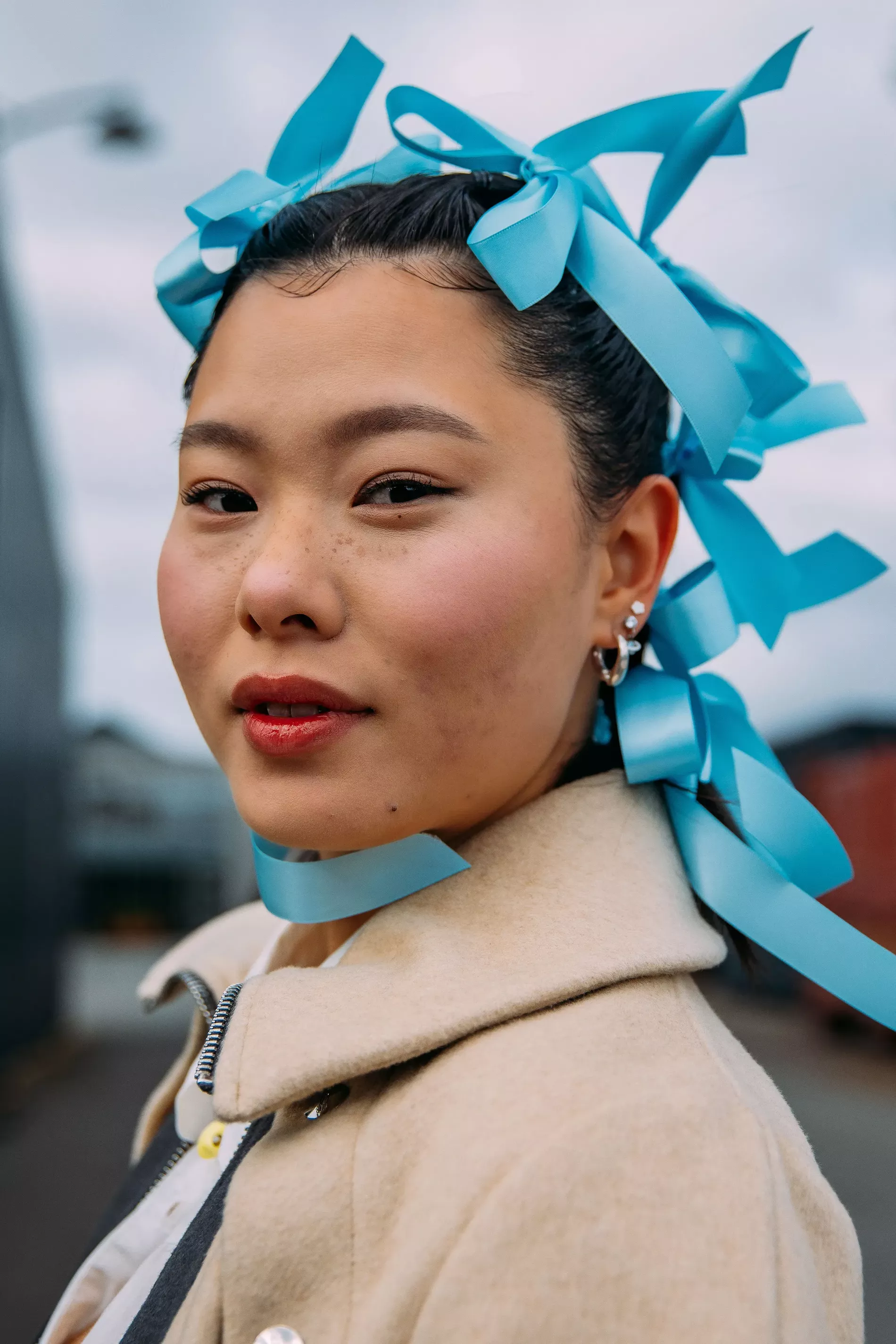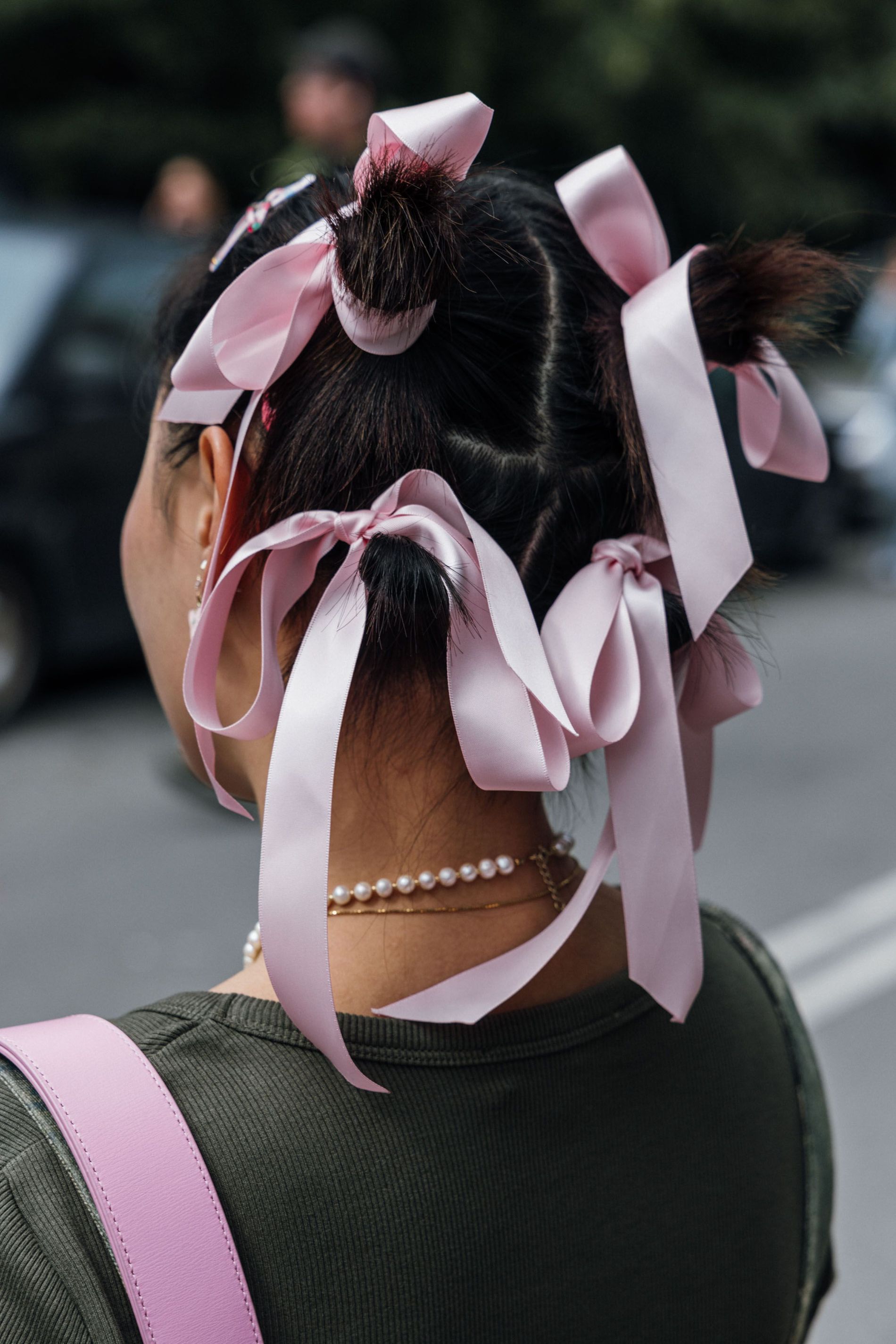 "If I'm going to travel way back, I remember starting in middle school by adding a bow to my single braid," Cha says when asked about the beginnings of her love affair with bows. "And then also wearing a huge yellow homemade bow on my head," she adds, noting how Japanese fashion influenced her style choices growing up in Oslo. The sudden resurgence of hair bows in Cha's life, however, comes courtesy of designer Sandy Liang – whose clothing and accessories range is riddled with sweet bows. "It played a huge part, and also seeing more and more people add bows to their looks too."
On Instagram, Cha offers ample bow inspiration, proving that the humble silk tie has endless possibilities. Her expert advice on mastering the trend? "For a short-haired girlie like me, my signature look for a while was four looped ponytails with ribbons on all of them," Cha shares. "It was easy and quick to do in the mornings, and I would use different colours to match my outfit."
Her second favourite look is a "whole arm workout" that she has only done twice: the multi-bow bubble braids. "I do two bubble braids and add a bow to each hair tie," she says. "I tried both big and small hair ties, and they gave off different vibes, which was fun to see." The final style that Cha encourages more people to try is 'corset hair', which, for example, Christian Siriano presented on his SS24 runway. "I first did it for Oslo Runway and then at New York Fashion Week," says Cha. "It's essentially the same as the second one, but my hair is in one ponytail at the end, and then I'm using one long ribbon to lace up my hair like a shoelace, tying it off in a bow at the end."
The final stamp of approval on the staying power of hair bows? Elsa Hosk. The Swedish supermodel and former *Vogue Scandinavia *cover star recently posted her own version of the hair bow trend to Instagram. In the photo, Hosk has pulled her trendy bob into a half-up-half-down 'do tied off with a pale pink silk tie. Better yet, the impossibly stylish model proposes the perfect way to style this otherwise girly accessory, juxtaposing the feminine hair tie with edgier gold earrings and a distressed leather coat.
When prompted about why more people should try their hands at hair bows, Cha notes that it is "such a cute trend that everyone can do." "It is so easy and affordable," she says. "And there are so many variations," she points out, noting that adding a few bows here or there elevates any look. "On my lazy days, I literally just add a single bow to my ponytail, and I look more put together and cute."