We explore all of the Swedish supermodel (and former Vogue Scandinavia cover star's) envy-inducing outfits, snapped on the streets of New York this season
Elsa Hosk is a veritable street-style veteran, a title she defended yet again with her New York looks. Skipping between shows across Manhattan, the Swedish supermodel balanced her quintessentially Nordic taste with the many brands clamouring to dress her. The result? Hosk became a living, breathing style manual that encapsulates how we all aspire to dress in this very moment.
Hosk possesses a remarkable talent for transforming any outfit into an editorial masterpiece. Consider, for instance, the heavenly, floor-length dress she wore that seemed to float ethereally along the pavement as she stepped out of Khaite's fashion show. Then there was the edgy, Western-inspired ensemble she debuted at Ralph Lauren – complete with a leather vest, bolo tie, and an oversized buckle, it was a modern homage to frontier fashion.
Still need more evidence of Hosk's dominance of New York street style? Scroll down to discover the model's seven most show-stopping looks this seasons: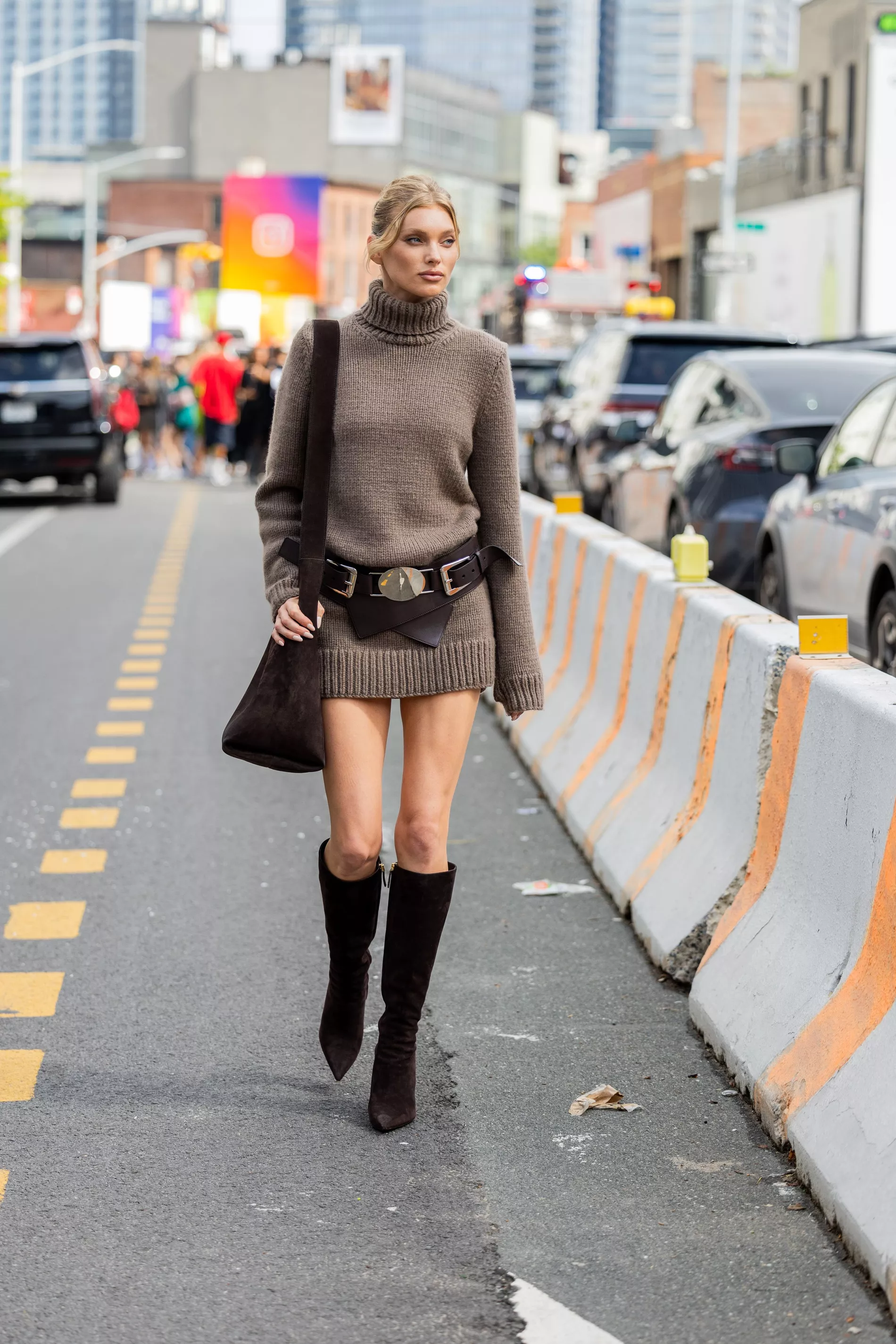 Photo: Getty
A knit mini dress at Michael Kors
Embracing the no-trouser trend, Elsa Hosk put her own chocolate brown spin to the look while attending Michael Kors. Wearing the American brand's autumn/winter '23 collection top-to-toe, the model opted for the cashmere Kaia dress, an extra wide leather belt and the brand's soft, suede tote bag.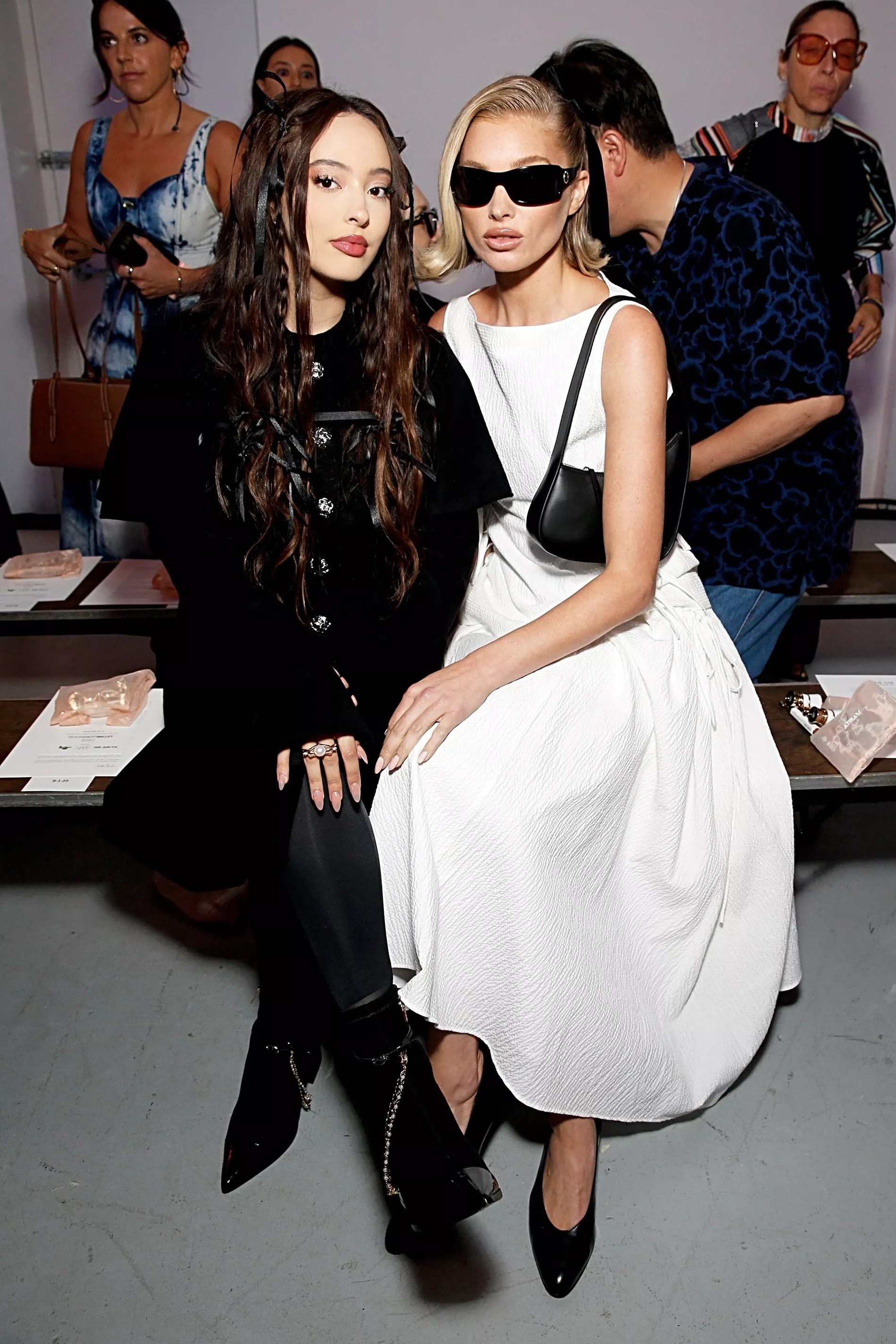 Photo: Getty
Paired-back minimalism at Adeam
Elsa Hosk carried Adeam's ballet-inspired theme onto the front row, sporting a simple white top fastened with dainty bows along the side and a matching billowing skirt. The black bow fastened in her impossibly chic blonde bob brought the look together, paired with pointed black ballet flats and a black half moon bag by The Row.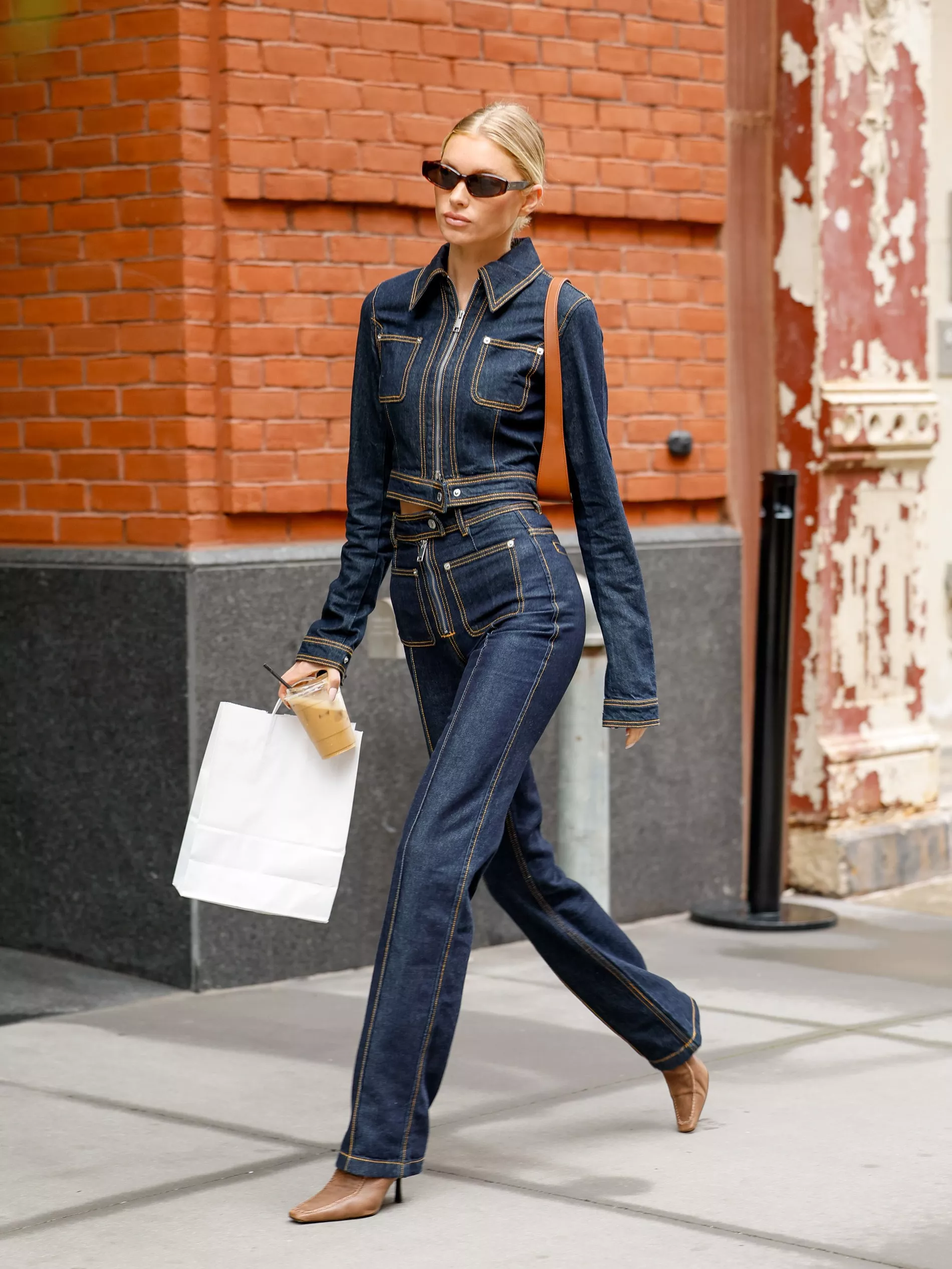 A Canadian tuxedo for a caffeine top-up
Anyone who has attended fashion week knows the essential nature of a caffeine top-up – and there's no need to drop the sartorial standards when on the hunt for your next cup of Joe. Wearing a matching Helsa denim set, Hosk accessories her on-the-go look with rectangular tortoise sunglasses by Celine, The Row's 'Half Moon' shoulder bag and 'Romy' leather ankle boots.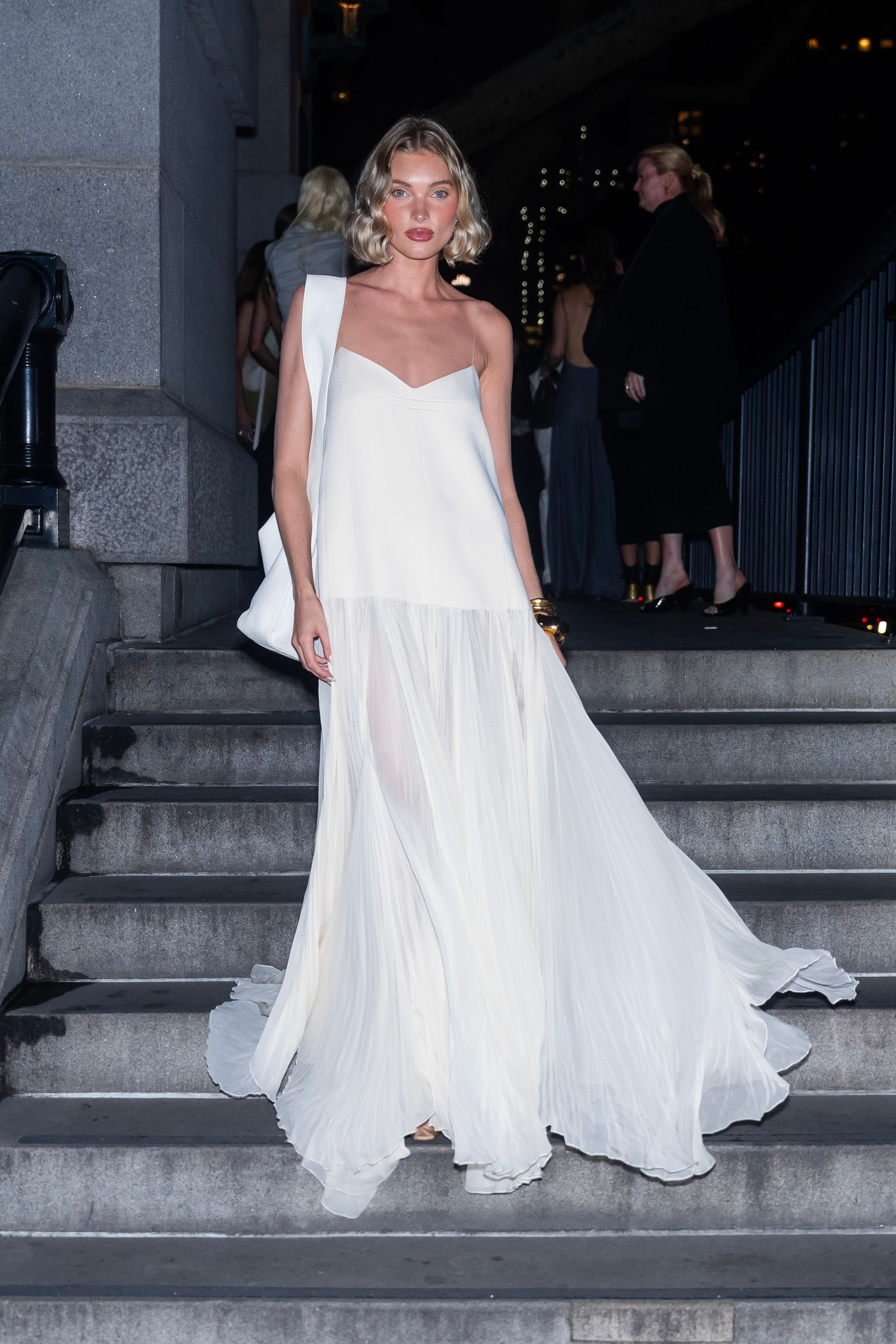 An ethereal sheet dress at Khaite
Joking that she "did her makeup, and the humidity did her hair", Elsa Hosk looked radiant attending Khaite's evening show. Wearing an ethereal pleated maxi dress, the model leaned into the Grecian goddess vibe with gilded jewellery: two statement cuffs and shell-shaped clip-on earrings. Saint Laurent's mesh heels with gold chain details and Khaite's emblematic Elena tote bag finished the look.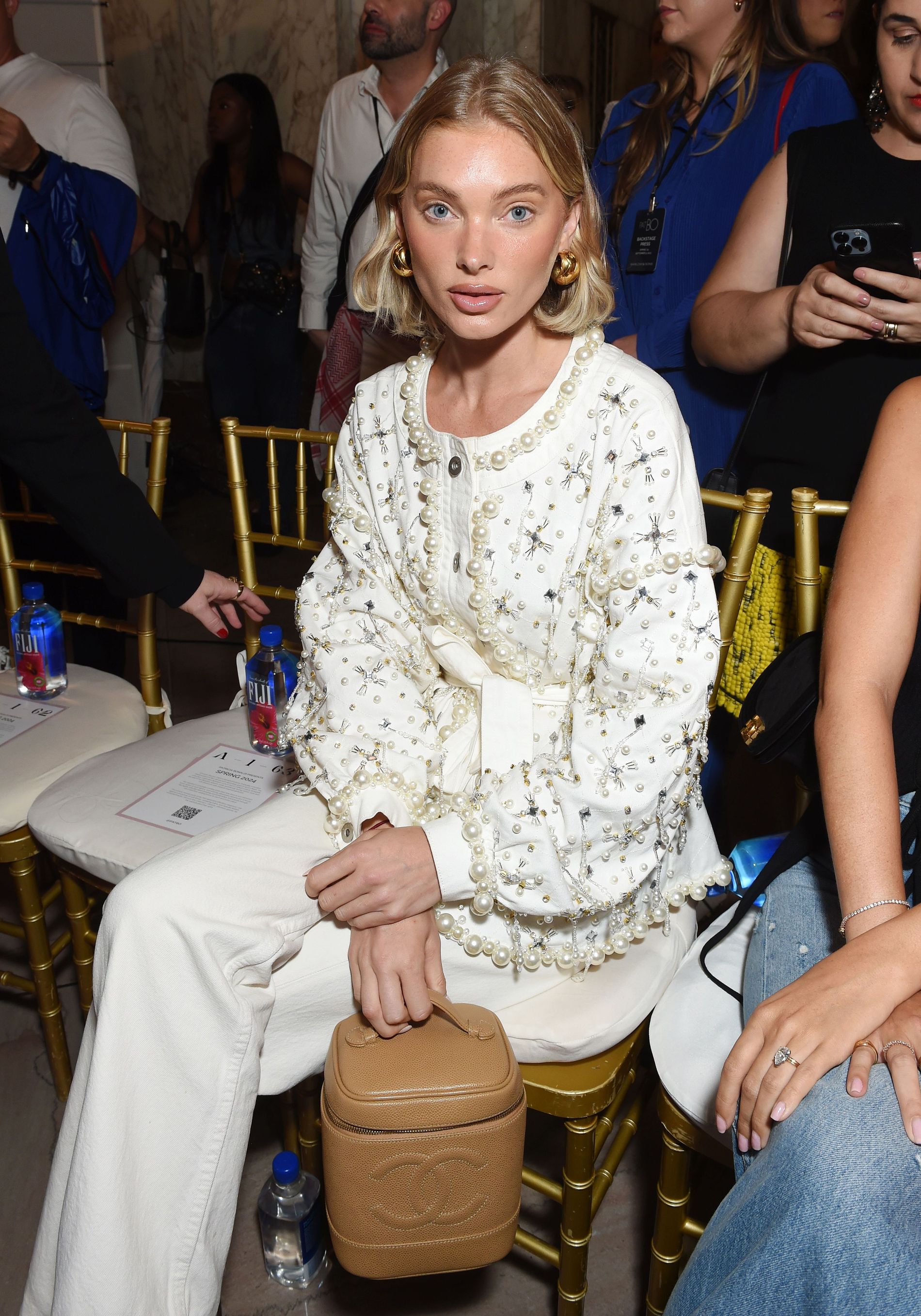 An embellished jacket at PatBo
Hosk braved the rain in Manhattan to attend PatBo's spring/summer '24 fashion show sporting designer Patricia Bonaldi's newest shoe: a pair of sharp pointed-toe mules, featuring smooth nude uppers with black capped toes and accented by thin side bows. The shoes grounded the embellished white denim look – in hand-embroidered pearls, crystals and gleaming silver beads. A look that also showed on the PatBo runway.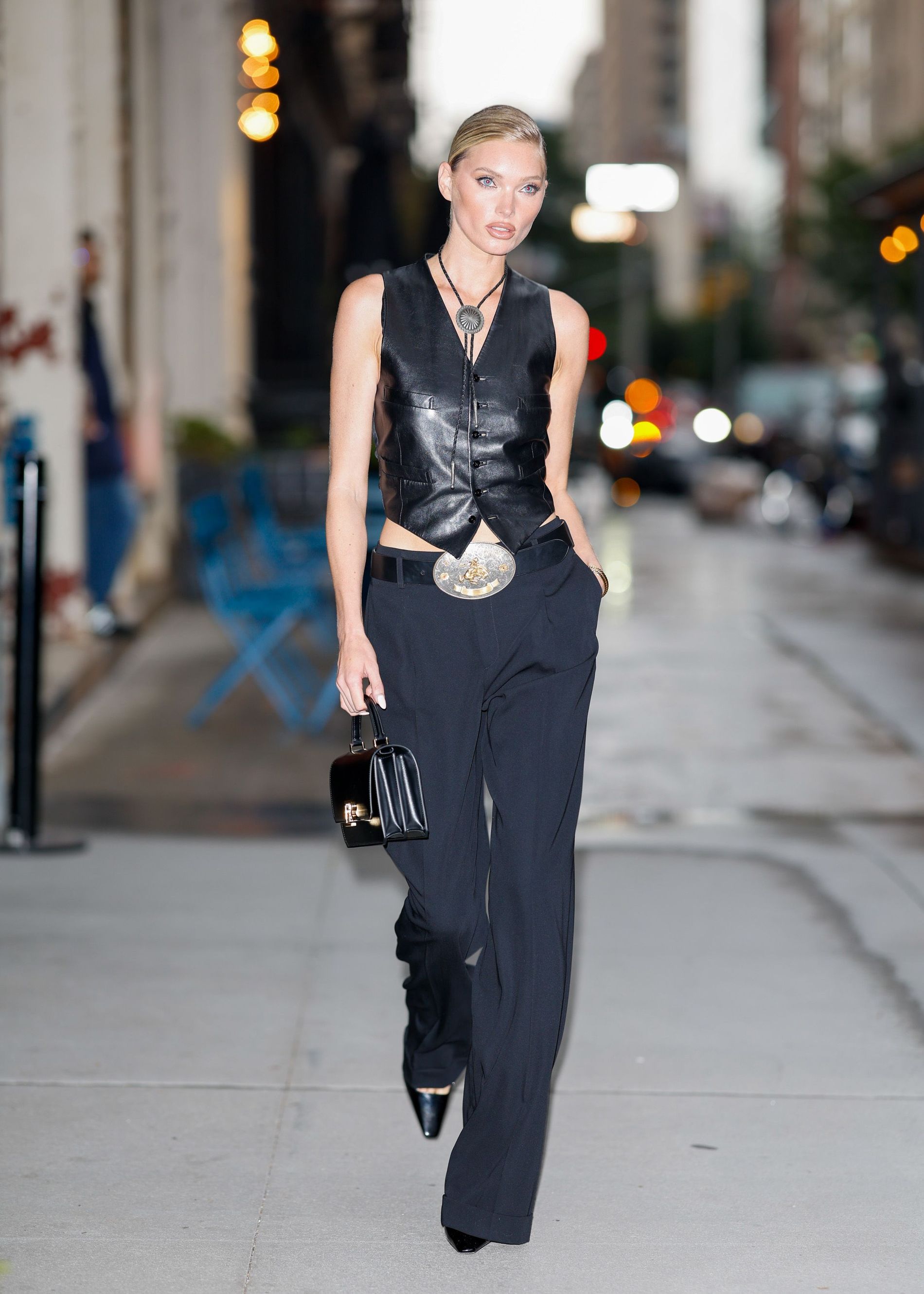 Americana accessories to Ralph Lauren
Of course, Hosk dressed head-to-toe in Ralph Lauren for the show – sporting pieces that were present on the runway. Leaning into the brand's elevated Western vibes, the supermodel opted for the 'Roland' leather vest, wide leg wool trousers from the spring/summer '24 collection. She paired the set with a 'Rodeo Buckle' wide belt from Vachetta leather, a braided leather Bolo tie and the 888 Box Calfskin Top Handle bag.
Photo: @hoskelsa
All red to celebrate the start of NYFW
Invited to light up the Empire State Building to celebrate the start of New York Fashion Week, Hosk opted for a dress of her own design. Sporting Helsa Studio's slinky sarong dress in an on-trend cherry tone. Made from stretch jersey, the body conscious silhouette paired beautifully with the straight-cut wine red twill trench coat and the black Blade slingback pumps from Saint Laurent.