Years after 'grid girls' were abolished from the track, the hot topic at the Italian Formula One™ Grand Prix – hosted by Peroni Nastro Azzurro 0.0% – was getting women back on the grid. But this time, in cars. Star driver Jessica Hawkins shares her take
Preparing to speak with Aston Martin Aramco Cognizant Formula One™ Team ambassador Jessica Hawkins, a lauded racing star and professional stunt driver, I thought I could hazard some guesses at what her scariest career moments to date may have looked like. The response that I was not prepared for? Riding a lawn mower.
It was the ride that landed Hawkins with a Guinness World Record, as she tore a mower from 0 to 100mph in just 6.29 seconds and with a top speed of 150mph. The record-breaking moment in 2020 followed a series of calls from a touring car team that Hawkins had dreamed of driving with since she was young. Anticipation grew as she signed several NDAs, expecting to receive an invitation for a test drive to join the prized team. Instead, "the team boss, he was like, 'we want you to be the driver of our lawn mower'," she recounts, laughing. "It was really good fun, but probably to this day, one of the scariest things I've ever driven. I didn't have to cut grass at the time of doing that top speed, though," she assures me.
It's one of many unexpected twists and turns along Hawkins' impressive journey in racing and motorsports. We're in Monza for the Formula One™ Italian Grand Prix, and I first spot her amid the buzzing crowd in Peroni Nastro Azzurro 0.0%'s track-side hub, soundtracked by the podium classics and the exhilarating punctuation of engines flying by. Dressed head-to-toe in her teal Aston Martin get-up, topped with a matching bucket hat, Hawkins emanates a no-nonsense confidence, despite her small stature.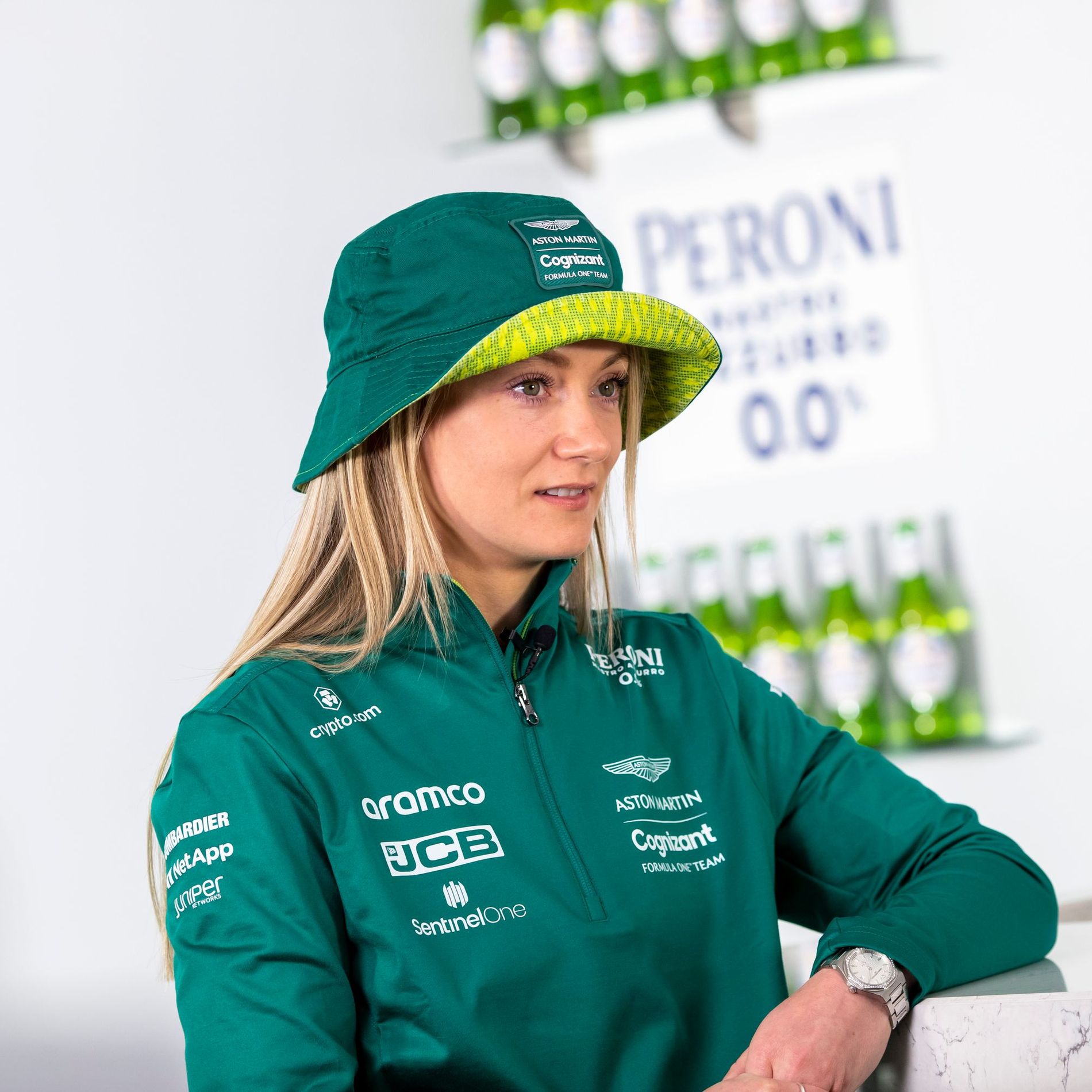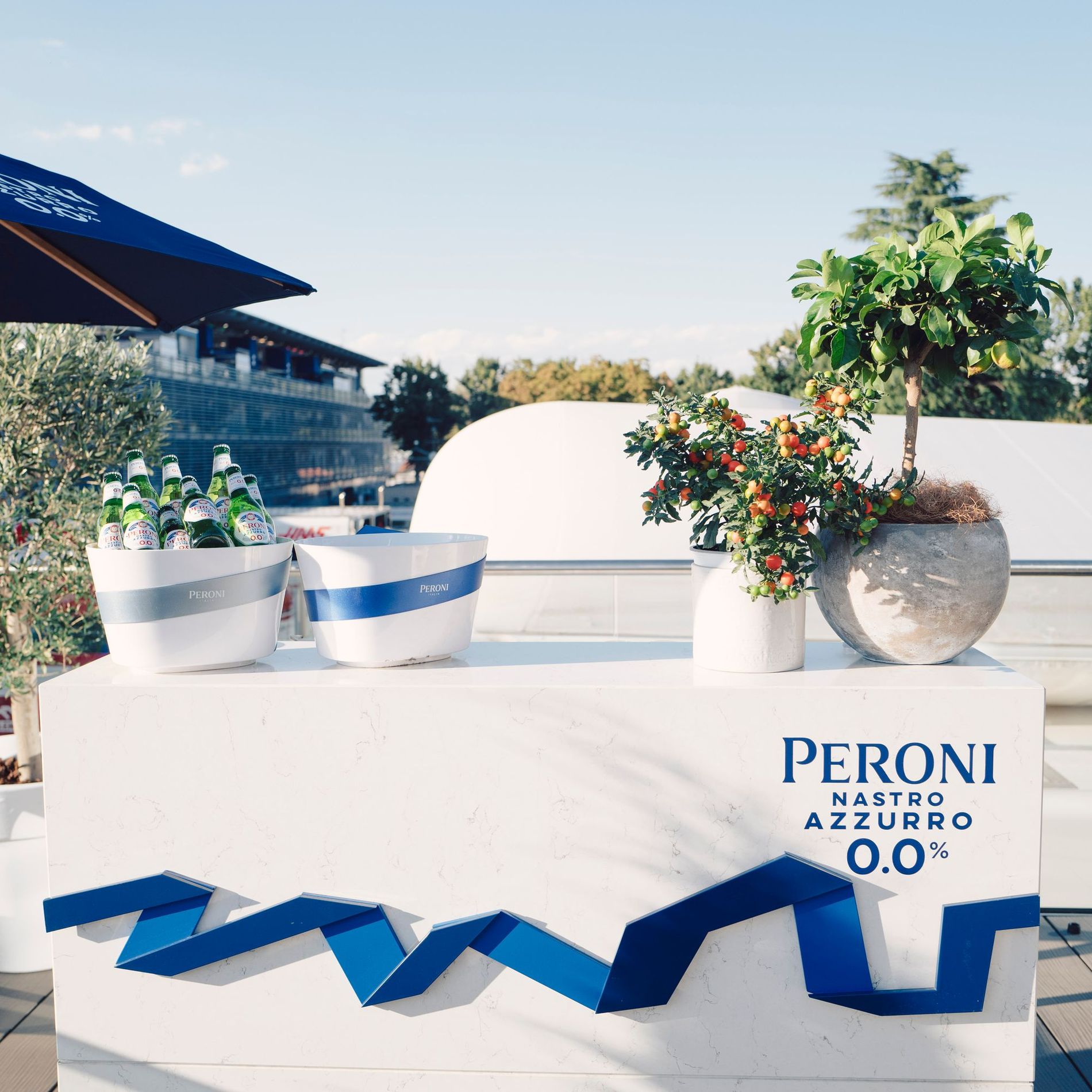 Motorsports was not something that Hawkins ever expected to make a living from. Fanatical about sports as a child, and "not ever really particularly academic," she spied a go-kart track one day and pleaded with her father to go. "I must have just worn him down in the end," she recalls. "He let me have a go, and we went back, and back, and back, then we won the championship in the first year. I didn't know where it would go but I progressed to the next level, and the next level. Now, here I am 20 years later, still racing and trying to make a career out of it."
Karts eventually led to cars, but it hasn't been the straightforward path that you would hear about from Hawkins' male counterparts, with one of the biggest challenges being funding. "I've always struggled for funding the whole way through. When I was a teenager, it became really unaffordable and even with such a great CV, it was tough to bring on sponsors because back then, it was still a thing that women weren't seen. For them, it was like, 'it doesn't matter because you won't make it anyway'.
"Things are changing now, but I was a little too early for that process." It's frustrating to hear about this kind of blatant inequality, but Hawkins is matter-of-fact about it. With the lack of funding limiting her to racing as little as once every six months at some points, she was resourceful. A friend tagged her in a Facebook post seeking 'a female with good car control'. She applied for what turned out to be a stunt driving position, and breezed through the interviews, landing an audition – and learning that she needed to be able to drift and donut. "I had never done any of that in my life!" she exclaims. But pragmatic as ever, Hawkins took herself to Ireland to the one spot she could learn the day before the audition, and taught herself the rest. She landed the job with Fast & Furious Live and in Hawkins' words, "it snowballed from there," as she went "from movie to movie to movie", with her natural aptitude for stunt and precision skills securing body double parts in the biggest Hollywood blockbusters.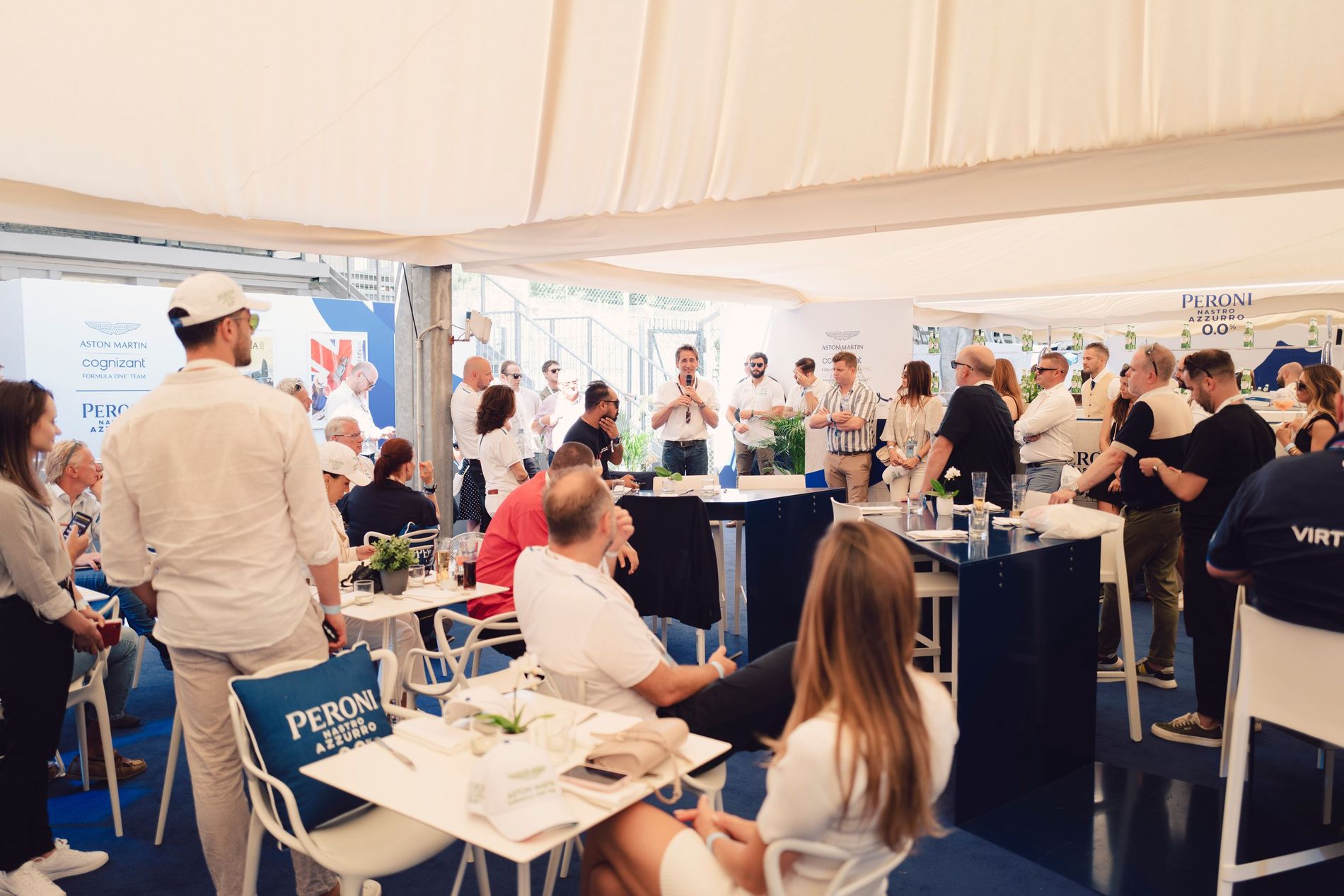 Stunt work was taking up 100% of her time, but Hawkins' second chance at racing came in the form of W Series, an all-female single-seater racing championship, that is – crucially – free to enter. She describes W Series as a "huge driving force behind the push for women in motorsport," but still laments the gender divide existing at all. "If you didn't know what W Series was, from the outside, you wouldn't know if it was men or women driving. You just wouldn't know." In another setback, women still drive cars that are designed for the male anatomy, as the costs for W Series to create a female-centric design would be "astronomical, almost impossible."
The rise in female interest in racing – both driving and spectating – is unquestionable. Whether due to the growth of the W Series championship, Netflix hit series Drive to Survive, or a general cultural shift, it's high time for the sport to evolve further.
At one point of the championship in Monza , Hawkins takes a microphone alongside fellow driver and Aston Martin team member Nico Hülkenberg in the House of Peroni enclosure. A pointed question arises for her from a member of the crowd: "When will we see women on the grid?" In response, Hawkins speaks eloquently about the current state of play and her own experiences, finishing with a point on representation and how she hopes visibility could encourage other women to exceed in the sport. "If you can see it, you can be it," she says, earnestly and somehow without any sense of cliché.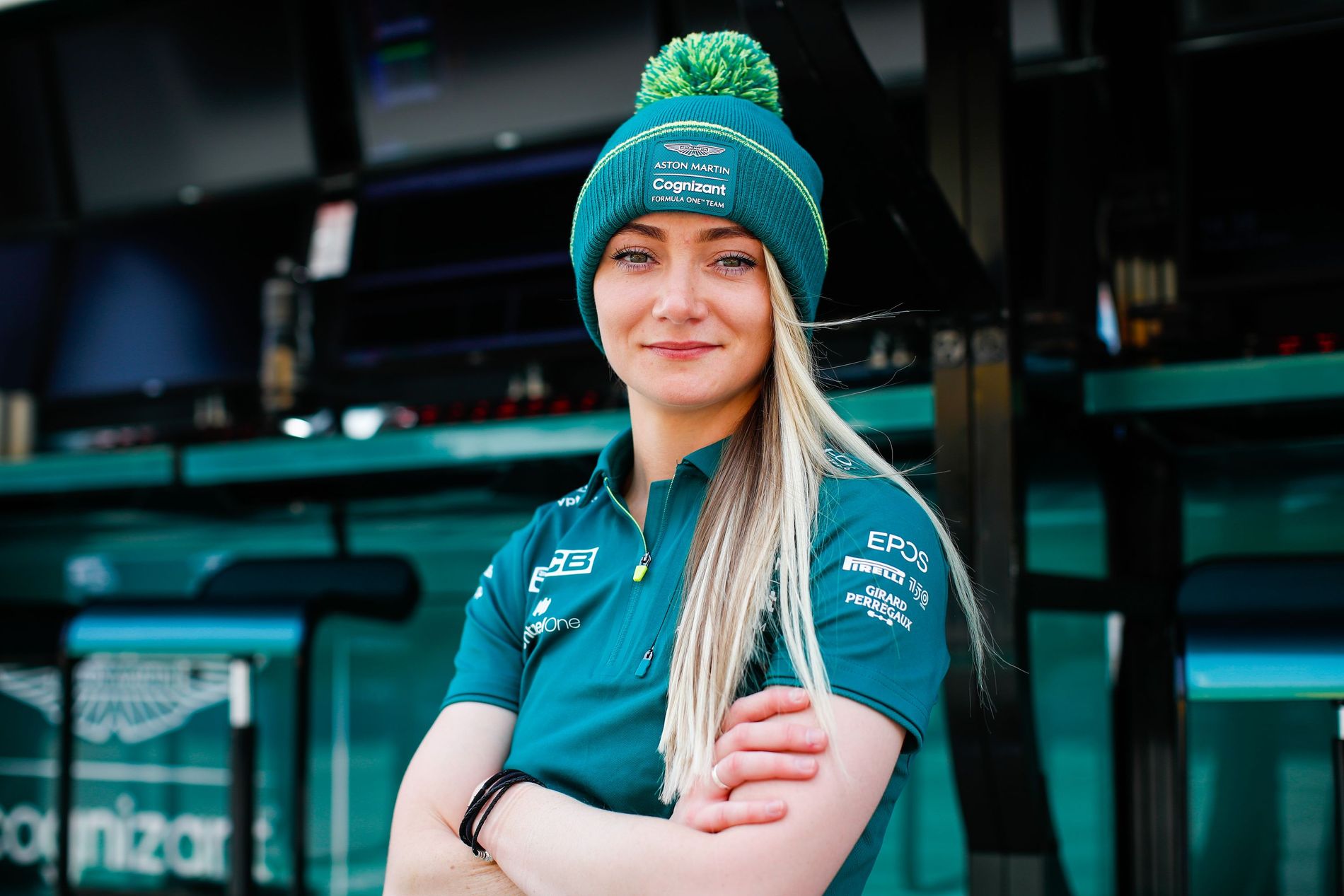 It's taken persistence and determination for Hawkins to get to where she is today as an Aston Martin ambassador and W Series driver, but looking back she says "I would not change anything."
"Even when things haven't gone the right way," she continues, "I've learned from it. It was frustrating not having the budget but it's probably made me the driver that I am today – having to learn quickly and adapt to the car I'm driving as I didn't have more time with it. I wouldn't change a thing."
The message that Hawkins' would send to her younger self is something all women in motorsport, and any male-dominated industry, may need to hear: "'Just keep trying.'"