The Bangkok-born, Brooklyn-based artist gives us an inside look at his new exhibition at Moderna Museet.
Korakrit Arunanondchai's exhibition at Stockholm's Moderna Museet is an immersive experience that tackles the audacious subject matter of life and death. It is also, in one room, anyway, pleasingly cozy. The artist, who splits his time between Bangkok and Brooklyn, has filled the space with massive bleach-splattered denim pillows, which the viewer is invited to sprawl out upon.
Entitled "From Dying to Living", the exhibition centres around two video works, "Songs for Dying" and "Songs for Living", the latter of which is enjoyed from the comfort of the pillows. "It's basically anchored between babies and old people. The show is very much the space between being born and dying," Arunanondchai says. "You're born as a baby, people need to take care of you, you like soft things." He describes the other things babies like; finger painting, songs with power chords. And then, he tells me, eventually, you grow old and revert back to being taken care of and liking soft things. "The soft sculptures put the audience back in that stage," he says.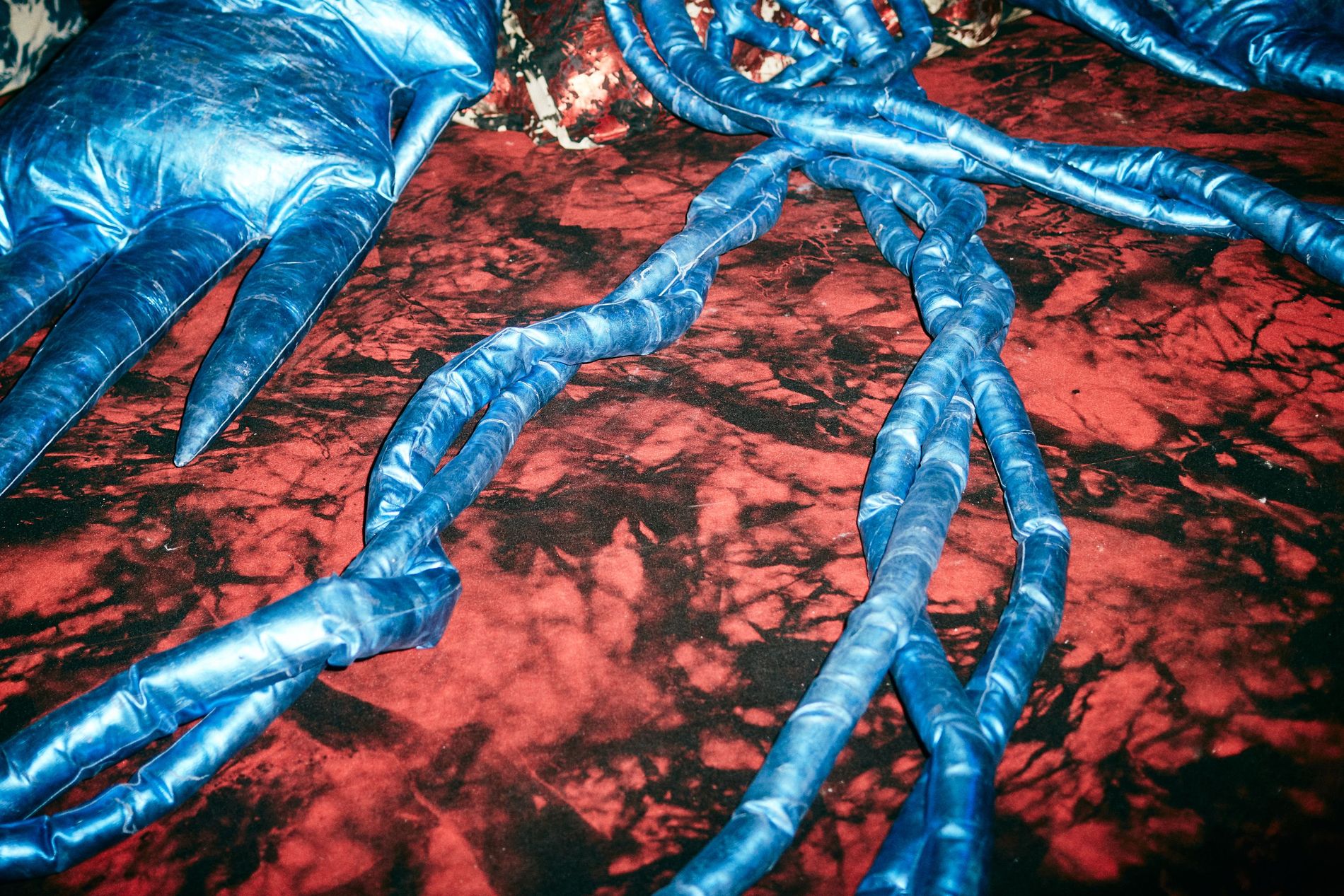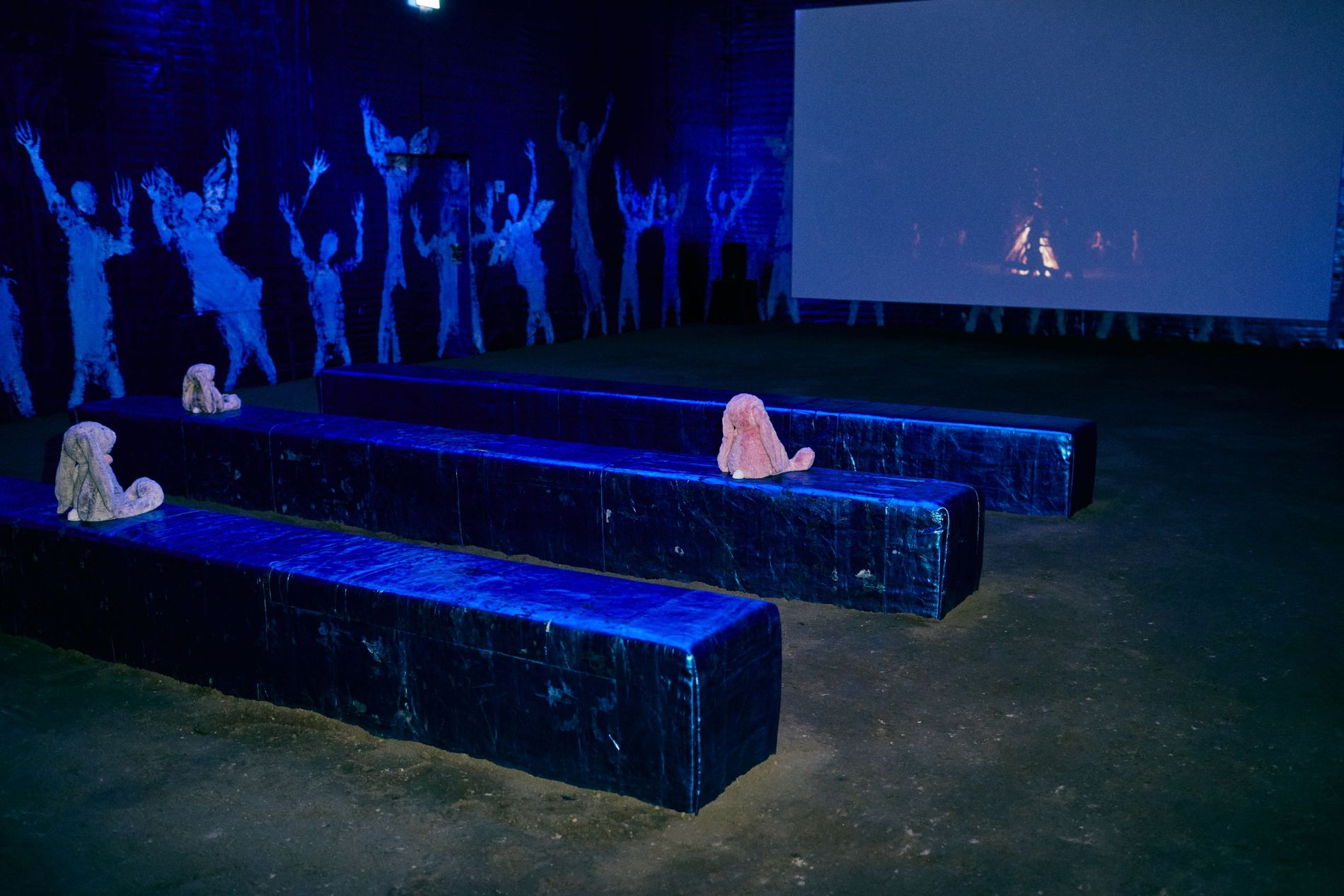 I'm sitting with the artist on a wooden bench just outside the exhibition. We are joined by Arunanondchai's frequent collaborator, filmmaker Alex Gvojic, who was instrumental in realising the works on display. Together they look like a musical duo from some hip dystopian future –
Arunanondchai in his Telfar jersey and braids, Gvojic in his sharp suit, his nails painted silver. Though we are indoors, they are both wearing sunglasses.
The duo have a nickname for the show that's a little bit ominous: "the ghost layer". It's the intangible network between all the different elements present in the exhibition – the videos of course, but also the pool of water on which "Songs for Living" reflects, the uncanny mechanical hand that dips its fingers in the pool, the paint-splattered wallpaper, the throbbing musical score. Then there's the ground, which, in one room, is made of tons and tons of compressed earth. Where did the soil come from? "Just somewhere local," says Gvojic, with a shrug. "There's a lot of regulations to even bring that amount of dirt into a museum with maybe a million dollars worth of art," Arunanondchai adds. One can guess the significance of dirt in a show that deals with death. "The ground is kind of a sure thing," the artist says.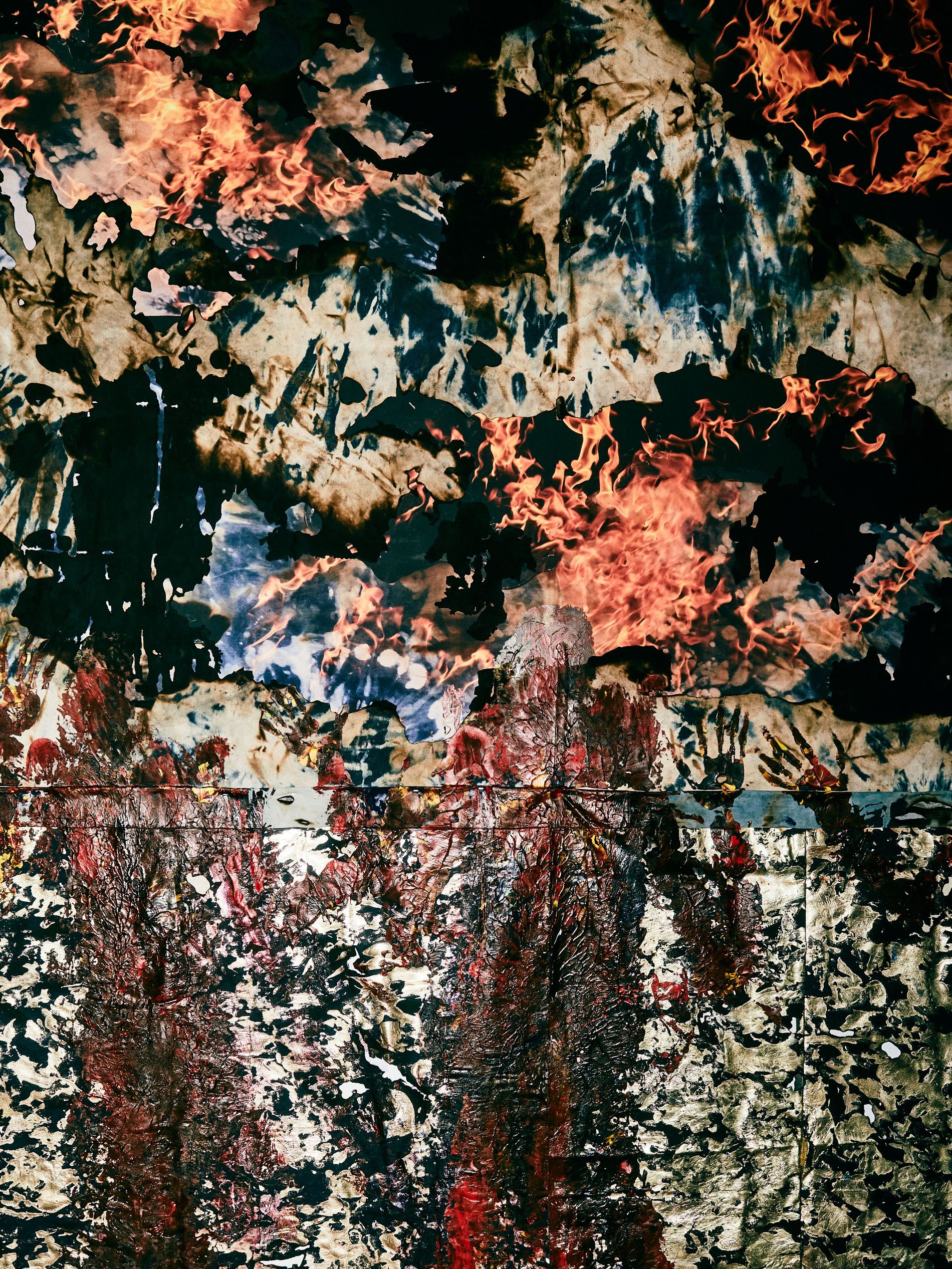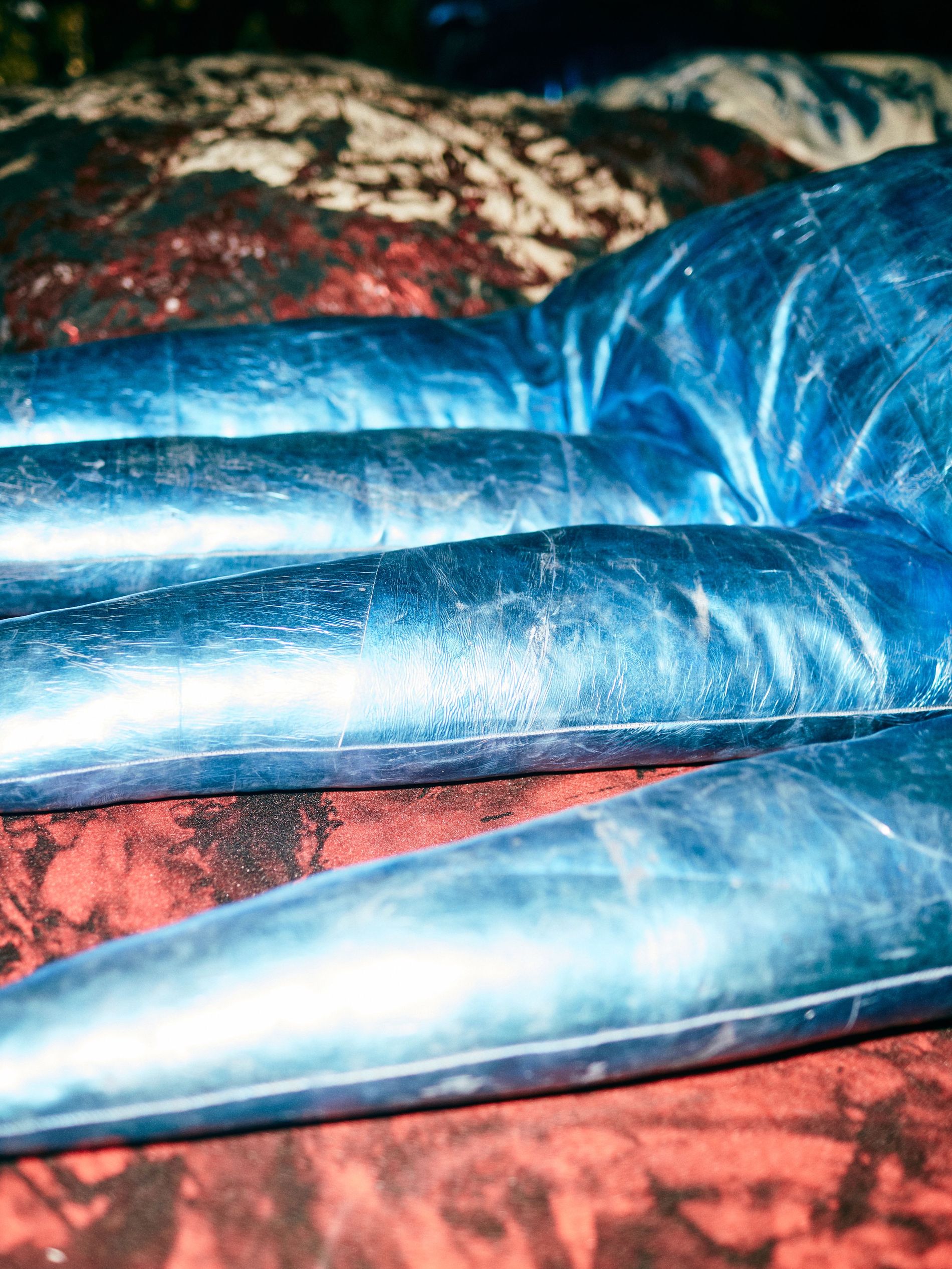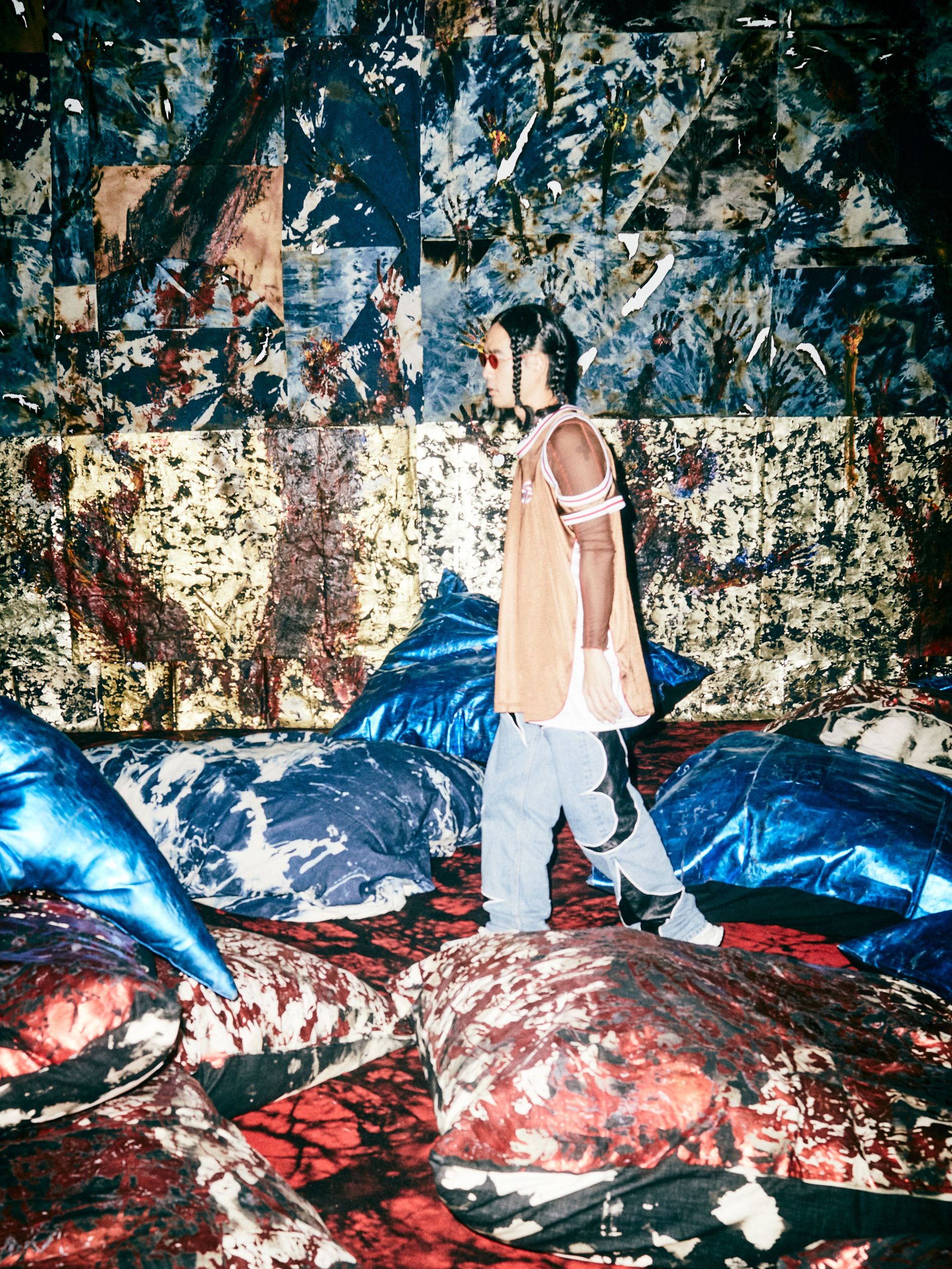 As for the subject matter of the films, "Songs for Dying" tackles Thailand's 2020 protests for democratic reform, conflating the oft-violent demonstrations with 1948 massacre in South Korea. Woven into the piece is an autobiographical element – namely the experience of the artist saying goodbye to his grandfather. "Songs for Living" deals with the mystical – our tendency to look towards a higher power. When I ask Arunanondchai if he believes in reincarnation, he responds, simply, "Yeah, I do".
Back to the pillows. Nestled among them is a familiar symbol – a monstrous, electric blue soft sculpture of the Mockingjay from the movie Hunger Games. "In Thailand, they adopted the three finger thing as their protest symbol," Gvojic explains, referencing the symbol Katniss Everdeen (Jennifer Lawrence) and her supporters popularised as a gesture against the film's fictional "capital". "These symbols are so reduced that they can really be applied to a lot of things. In order to overcome a symbol, you need to make a new symbol," Arunanondchai says. "It's also softened to be this dead, floppy thing that you can rest on. This super oversized, giant thing."