Washing your hair? Maybe just don't. The spring 2024 runways seemed to prefer chicly greased hair over clean lengths, leveraging product-touched texture to create sleek and grungy looks that made a case for making use of the nature of second- (or third, or fourth) day hair.
Though the fashion world's infatuation with mermaidcore shows no signs of drying up (see: Sandy Liang, Anna Sui, and Jason Wu), this guard of greasy detailing felt new, and a shade more edgy. Etro provided a middle ground between the trends, hair gelled at the crown, fluid waves shellacked to the forehead. At Prada, foreheads were finished in sprays of stylized strands (the work of Guido Palau) that snaked from beneath thick fabric headbands, while a greasy finish helped to create slicked-back styles at Andreadamo, Giada, and Tom Ford. At Miu Miu, the look changed all depending on your point of view: lengths were either shower-fresh or greased-up and raked. Hairstylist Jawara's take at Peter Do was perhaps the most based in reality: hair pushed off the face as if models had run a hand through the hair, and some natural oil had helped it to remain pushed sculpturally, organically back.
"Hairstyles that are deliberately finished to appear partially gelled, lightly oiled, or delicately wet command attention because they reflect shine effectively," says Vernon François, who favoured Atlein's interpretation of the trend, used to create a cadre of snatched and slick braids. "It's excellent for on the runway, and this new version of the aesthetic is clean, futuristic, and dramatic."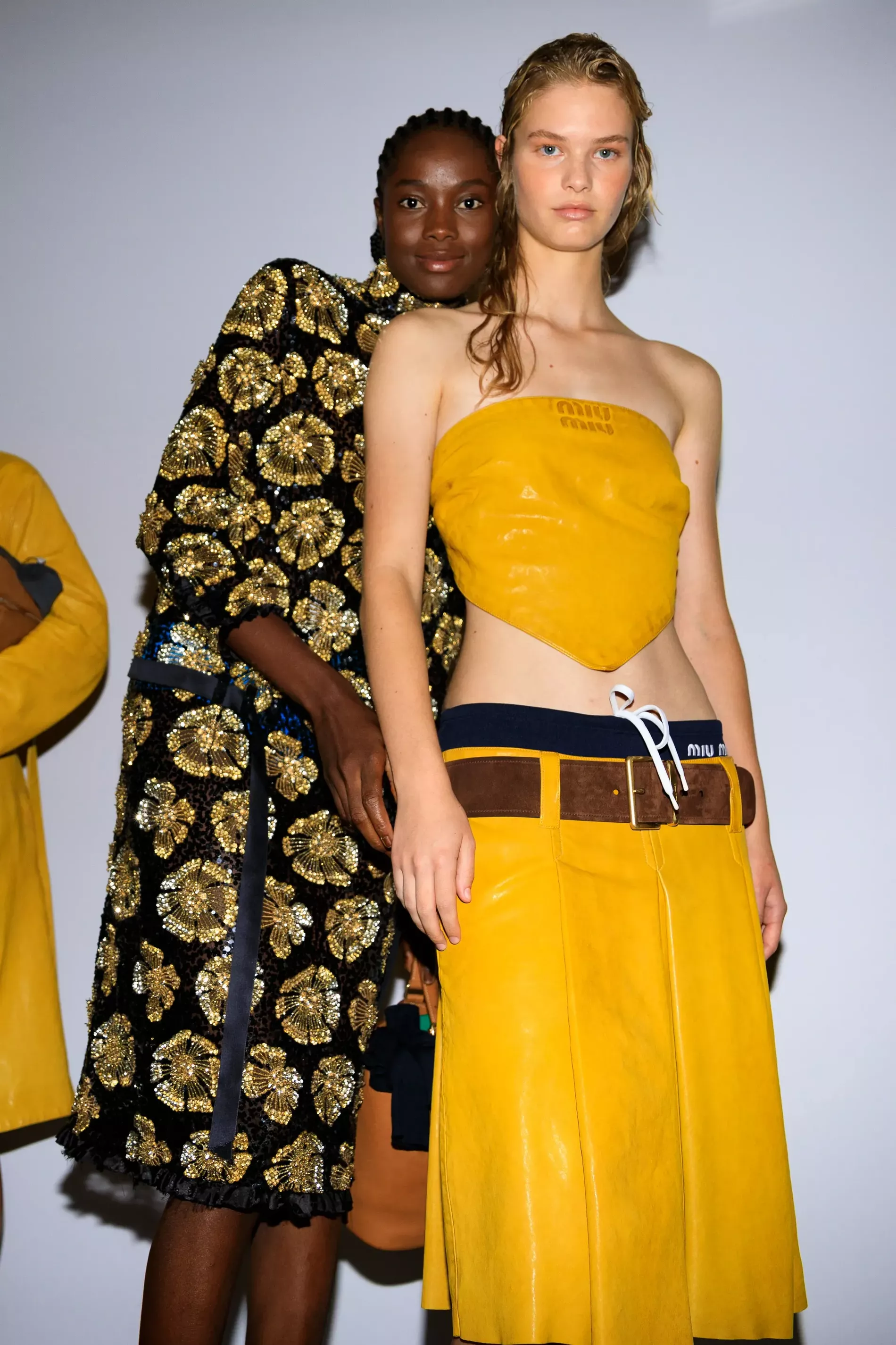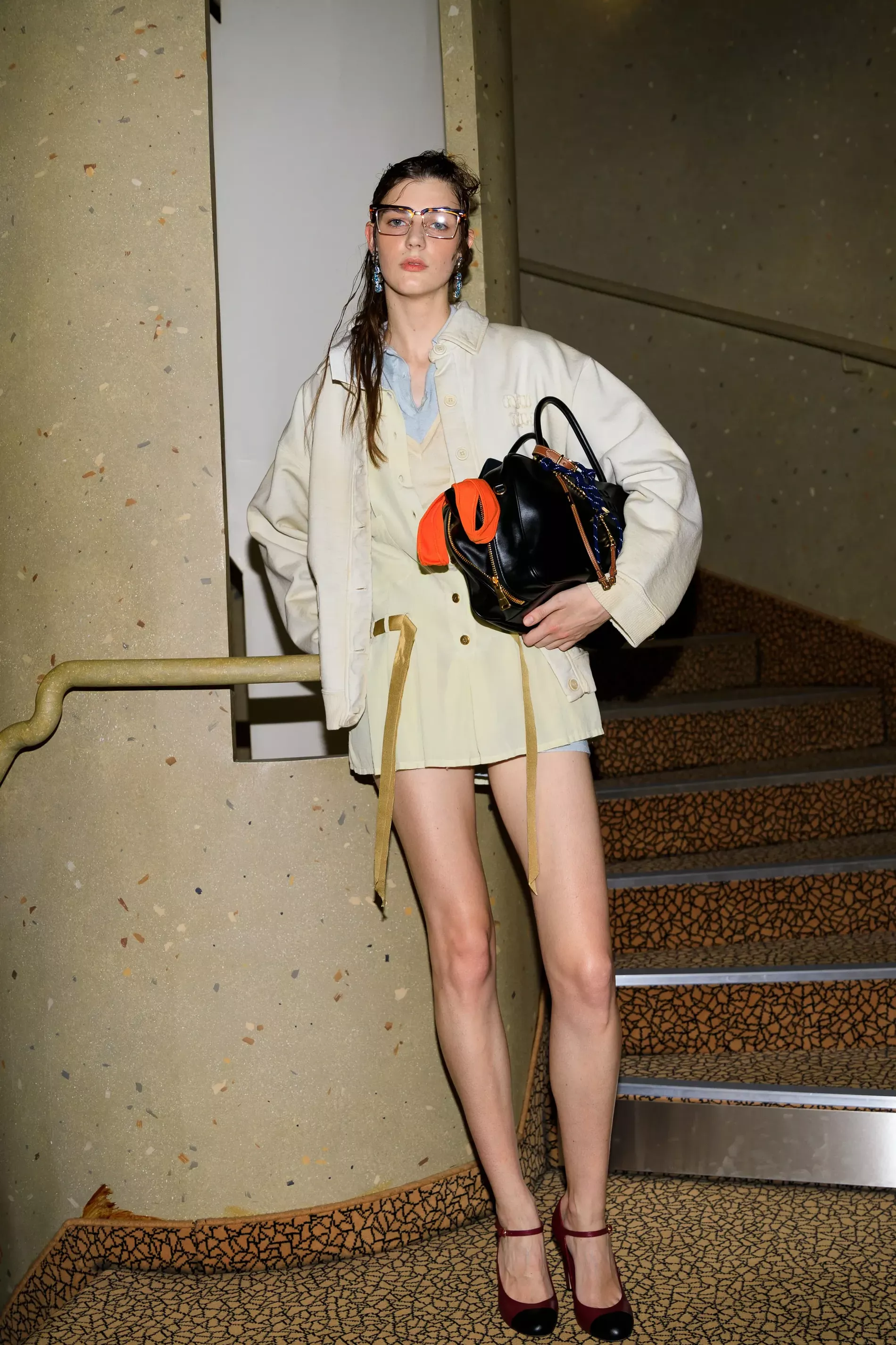 Hairstylist Mara Roszak agrees. "A style with high shine/greased is simply cool—it's pared back while still having a strong, modern point of view," she says. "It's flattering and versatile in terms of part, whether pulled back off the face, into a knot, or left down and tucked behind the ear." While the approach can indeed lean clean, it can also communicate a certain chic grit and grime—the excess product used to do-up or undo, respectively.
"I love the grunge-inspired appearance, which appeals to all the great '90s references that are currently happening," says hairstylist Adam Campbell. "Also, the ease of achieving this look is one of its most appealing aspects." If you're unwilling to adjust your usual hair washing schedule, a menu of products helps to create the illusion of a begrimed mane.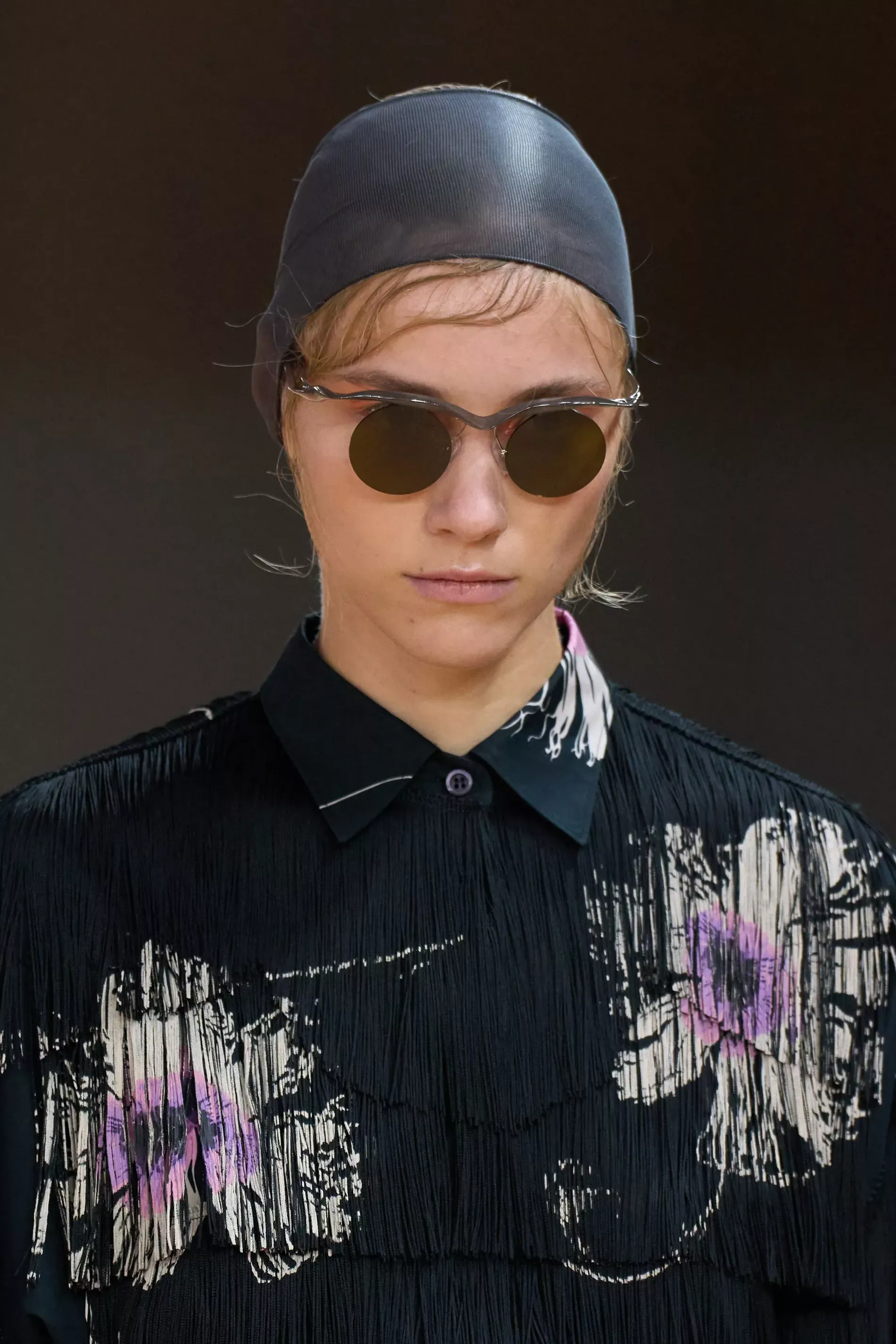 Prada spring/summer '24.
"Hairspray, mousse, and a water-based gel are your friends," says Francois of oily-looking lengths. "A gel wax around the hairline and through the roots would be my go-to with less product towards the mid-lengths and at the ends." Campbell recommends starting with Colorwow Pop & Lock Serum for a buildable, loose take on the trend, and reaching for a waxy pomade like Bed Head Wax Stick or a stronger gel like Sam McKnight's Self Control Styling Gel if you're looking for shape and hold.
For those who prefer oily to greasy, Roszak suggests her own RŌZ Willow Glen Treatment Oil followed by a Aveda Volumizing Hairspray for an in-place finish. Finally, one would do well to consider colour when going greased. "Solid hair colours will look best with the greased look, as the look itself will create depth and dimension from being slicked," says colourist Matt Rez. "Shadows form when that happens, and colour will reflect darker."
So whether you're in want of a high-shine style or one with an artistic (if mussed and tousled) shape, let your most longest shampoo-less stint be your inspiration for the season's most popular textural trend.
Originally published on vogue.com%20day%20hair.)
---
How to recreate Miu Miu's dirty hair for spring 2024