Set to hit screens this Sunday 19 November, new Viaplay release Börje - The Journey of a Legend captures the incredible story of hockey legend Börje Salming. In anticipation, we sit down with the series' stars – the youngest member of the Skarsgård dynasty, Valter, and his on-screen wife, Hedda Stiernstedt – to unravel the impact of capturing an icon
Five years ago, Valter Skarsgård was approached to portray hockey legend Börje Salming. His response? "I'm fat and I can't skate." "You weren't fat," interjects Hedda Stiernstedt.
We've only just sat down for lunch at a cosy back table at Soho House in Stockholm and already Skarsgård and Stiernstedt's familial energy is on full display. The Swedish actors play husband and wife in Börje, the anticipated Salming bio-series that arrives on Viaplay and TV3 November 19th, yet in real life they're more like siblings, with Skårsgard wont to put Stiernstedt, who portrays Salming's first love Margitta, in a playful headlock at a moment's notice. Stiernstedt, 35, is eight years her co-star's senior but with Skarsgård's impressive stature he could be mistaken for her big brother (as the youngest of six Skarsgård children including brothers Bill and Alexander, it's a role he isn't used to). There's a lot of poking fun, peppered with sweet sincerity.
Stiernstedt and Skarsgård first met in 2012 on the set of Portkod 1321, a Swedish high school drama series in which both actors played supporting characters. "I played a bitchy blogger," says Stiernstedt. In the intervening years, the two actors would cross paths at events around Stockholm – the sort of friend-of-a-friend, industry acquaintances that know each other but don't really know each other. "We had mutual friends, we hung out a couple times," says Skarsgård. "…But never fully hung out," says Stiernstedt. Their closeness was forged on the set of Börje, a very full-on hangout that has forever left its mark on both actors.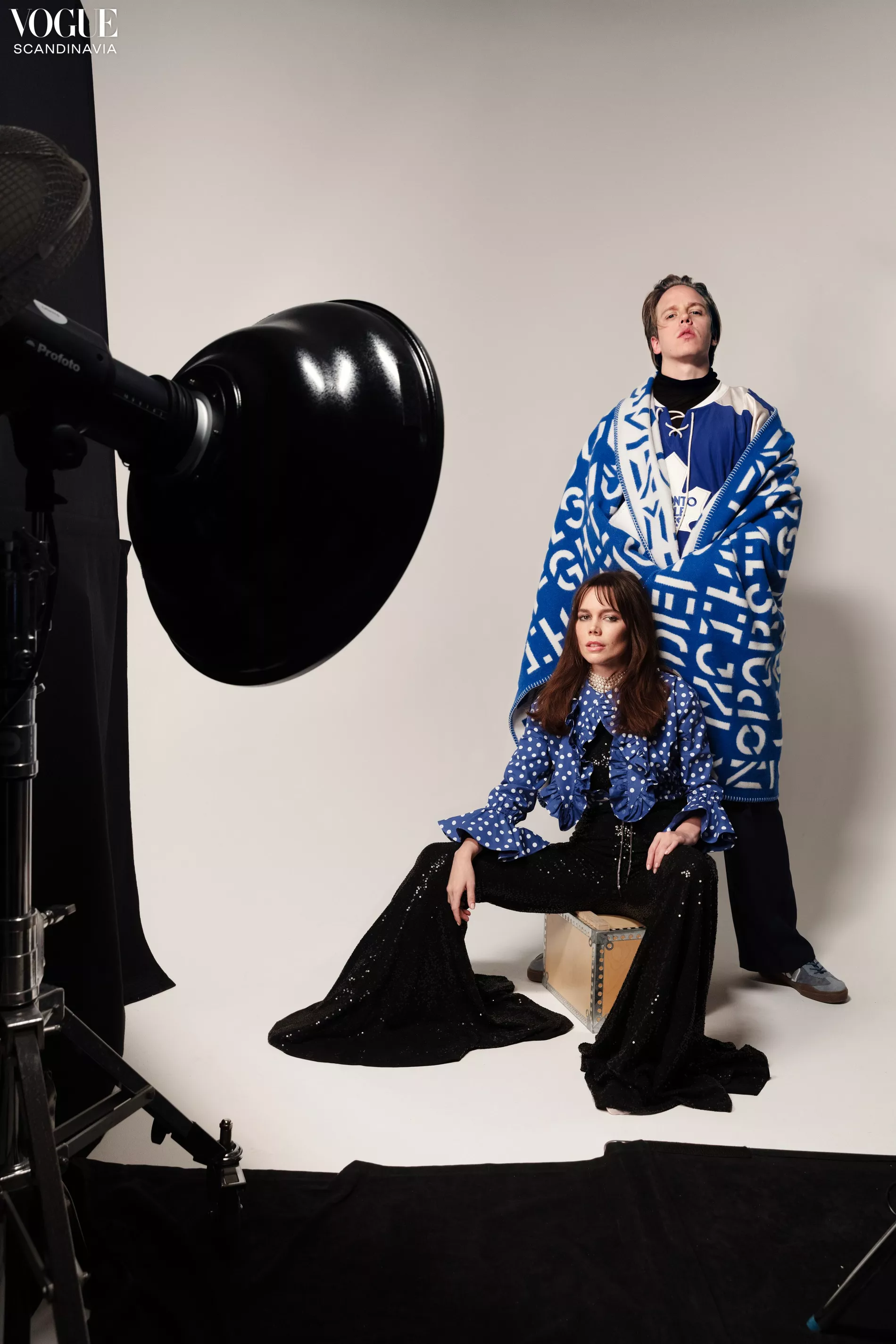 Valter wears: Blanket worn as a scarf, €490. Byredo. Costume made Toronto Maple Leafs 1973 match jersey shirt. Turtleneck sweater, €1,690. Balmain. Suede sneakers, €190. Eytys. Hedda wears: Blouse, €555. Vivienne Westwood. Sequin trousers, €6,170. Michael Kors Collection. Pearl choker, €1,380. Maria Nilsdotter . Photo: Elisabeth Toll
Börje Salming could see himself in Valter Skårsgard
Despite Skårsgard's lack of hockey experience or athletic prowess (throughout his adolescence he was more likely to be found gaming at a computer than on a rink or field), there was one man who believed he was perfect for the project: Börje Salming. The first Scandinavian hockey player to be inducted into the Hockey Hall of Fame, Salming, who is most closely associated with the Toronto Maple Leafs, is revered not only for his talent, but for literally changing the game. Through his unprecedented 17-season career, he blazed a trail for Europeans – Scandinavians, especially – to be accepted into the National Hockey League (NHL).
He texted me and said, 'Blood, sweat and hockey, let's go'
Valter Skarsgård
"He said that he could see himself in me," says Skarsgård, who met with Salming and director Amir Chamdin before a script had even been written. Two years later, with Viaplay and Warner Brothers on board, Chamdin hit up Skarsgård to tell him things were underway. "He texted me and said, 'blood, sweat and hockey, let's go'," Skarsgård recalls. "This is going to be the hardest ride of your life. This is going to suck, but it's going to be worth it."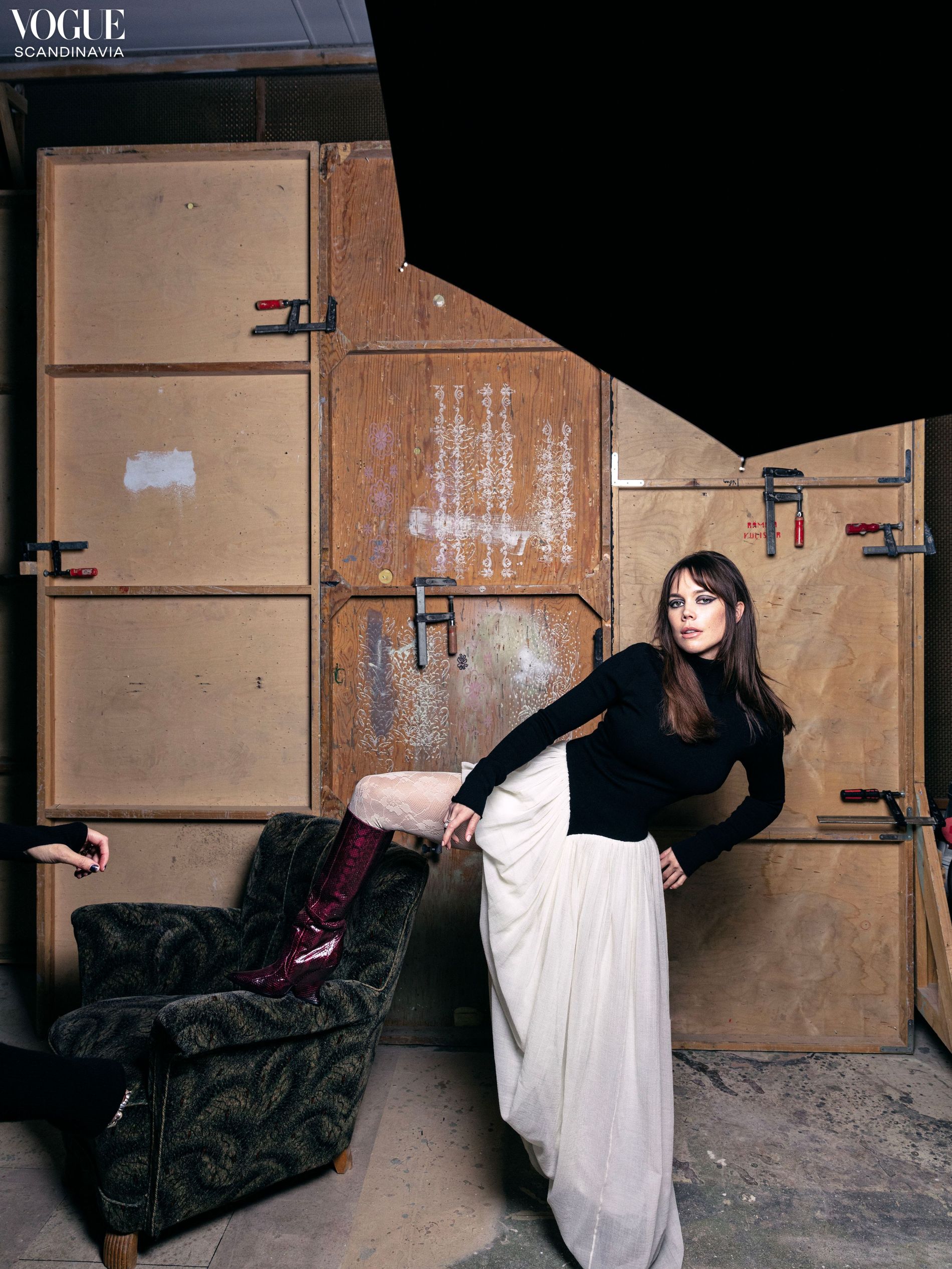 An extreme two-year transformation begins
That's when the two-year physical transformation began. "I was like, OK, get me a trainer and put me on a diet that Hedda is going to want to kill me over," Skarsgård says. "You'd think it would have been bad for Valter, but actually it was worse for me," Stiernstedt says, half-joking. "Sometimes, when his blood sugar was low…" Skarsgård finishes the thought: "I can get extremely hangry."
Overnight, Skargård went from being the guy who "sets records" for the amount of burgers consumed at Lily's Burger in Södermalm (a restaurant co-owned by fellow actor Joel Kinnaman), to an extreme diet and exercise regimen. It continued straight on to Toronto, where the bulk of the series was filmed over two demanding months. He skipped most cast and crew dinners and nights out (save for the occasional beer, which was always met with fanfare from Stiernstedt). If he was out and about, he'd cut the hang short to go home and eat a pre-planned meal. "We were at Niagara Falls and I was like, 'I'm not going home for your f***ing meal plan'," says Stiernstedt. She shifts to a more serious tone and adds, "I probably got a little bit madder than I should have, because it also triggered me a bit."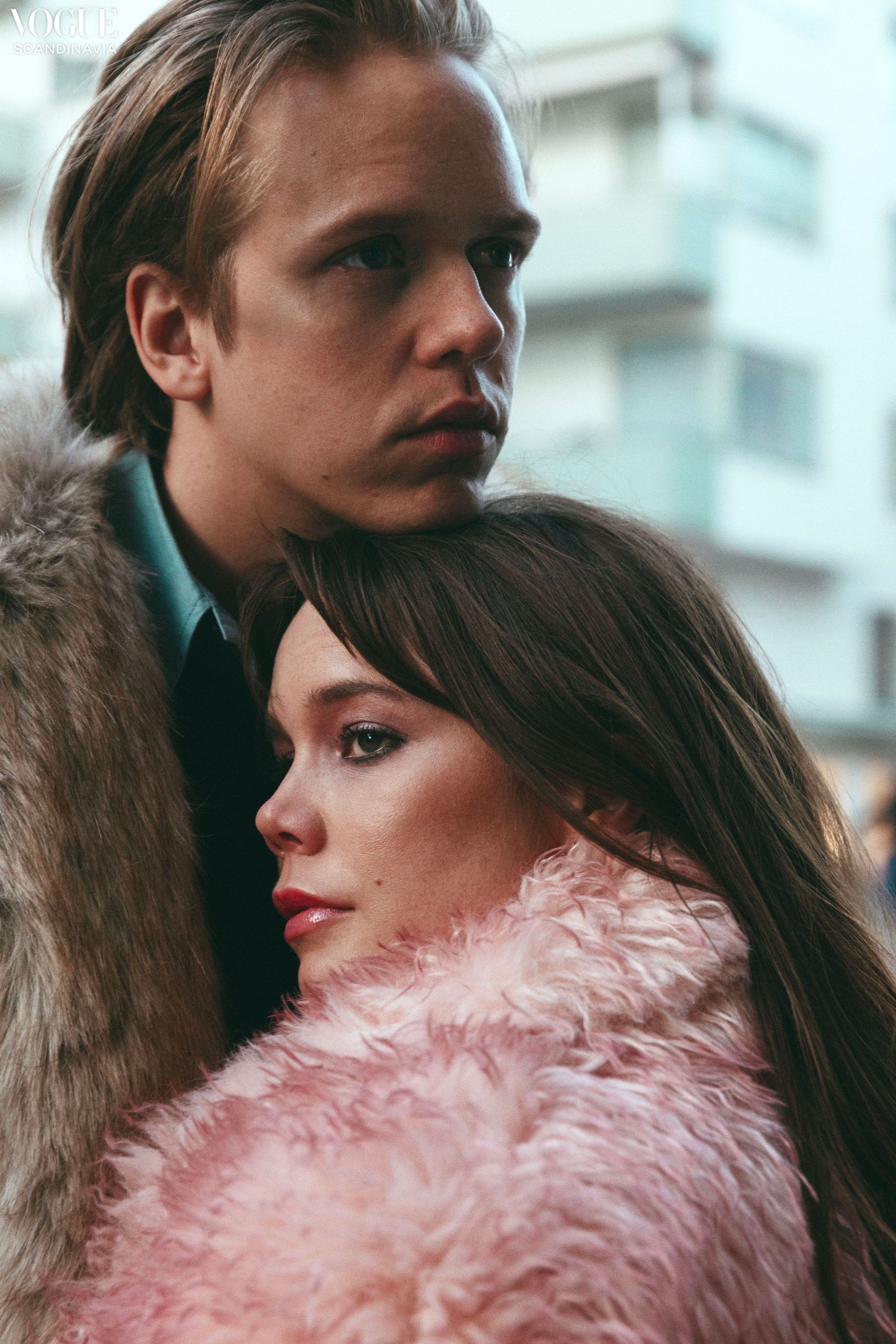 Valter wears: Faux fur coat, €1,400. Toteme. Suit blazer. Louis Vuitton. Knitted cardigan, €900. Prada. Hedda wears: Faux fur coat, €790. Rodebjer. Photo: Elisabeth Toll
Like many female actors – many women, really – Stiernstedt has struggled with disordered eating in the past and watching Skarsgård monitor his diet so meticulously was challenging. "Most females I know have struggled at one point or another," she says, noting that for female actors it's still an unspoken expectation that they maintain a certain body type. A couple of days later she texts me a clip of Tina Fey's opening monologue at the 2013 Oscars in which Fey says: "Matthew McConaughey is here. For his role in Dallas Buyers Club, he lost 45 pounds, or what actresses call 'being in a movie'."
It's really, really weird portraying somebody's life, having them come visit and then it all sort of… ends. It made me think a lot about… what is a life?
Hedda Stiernstedt
Hedda Stiernstedt tackles the 'sports wife' role
The role of Margitta appealed to Stiernstedt, who's best known for her role as Nina in Swedish period drama Vår tid är nu, because it subverted the long-held stereotype of the 'sports wife' – a character who sits at home, tending to babies and fretting about the safety and wellbeing of her husband (there is a bit of that in Börje, but the series can't re-write history). "I met her – she's a woman with a lot of integrity," says Stiernstedt, noting that it was important to Chamdin not to fall into cliches. The days Margitta came to set to watch Stiernstedt in action were "very emotional". "The days always ended with both of us crying," says Stiernstedt.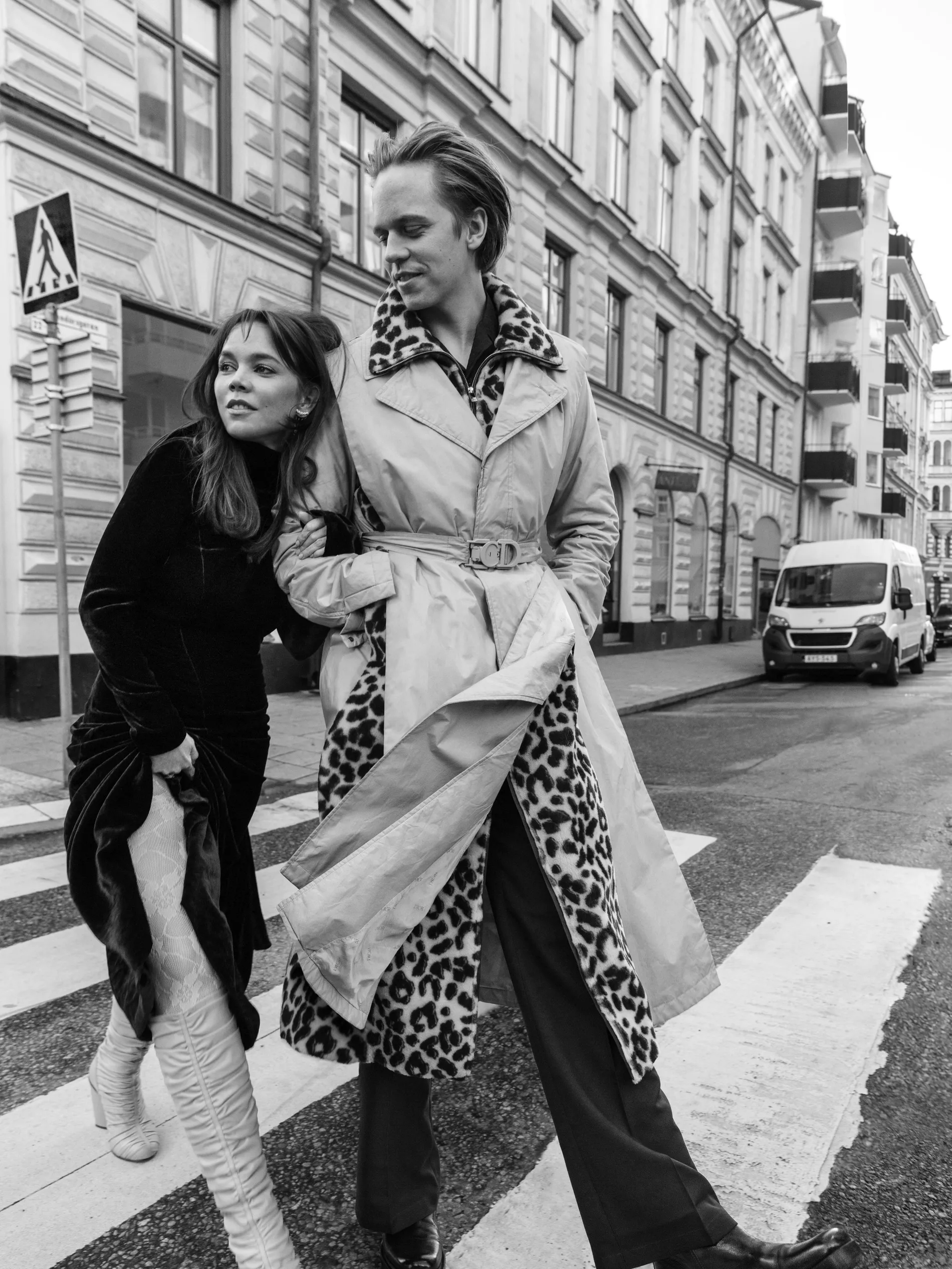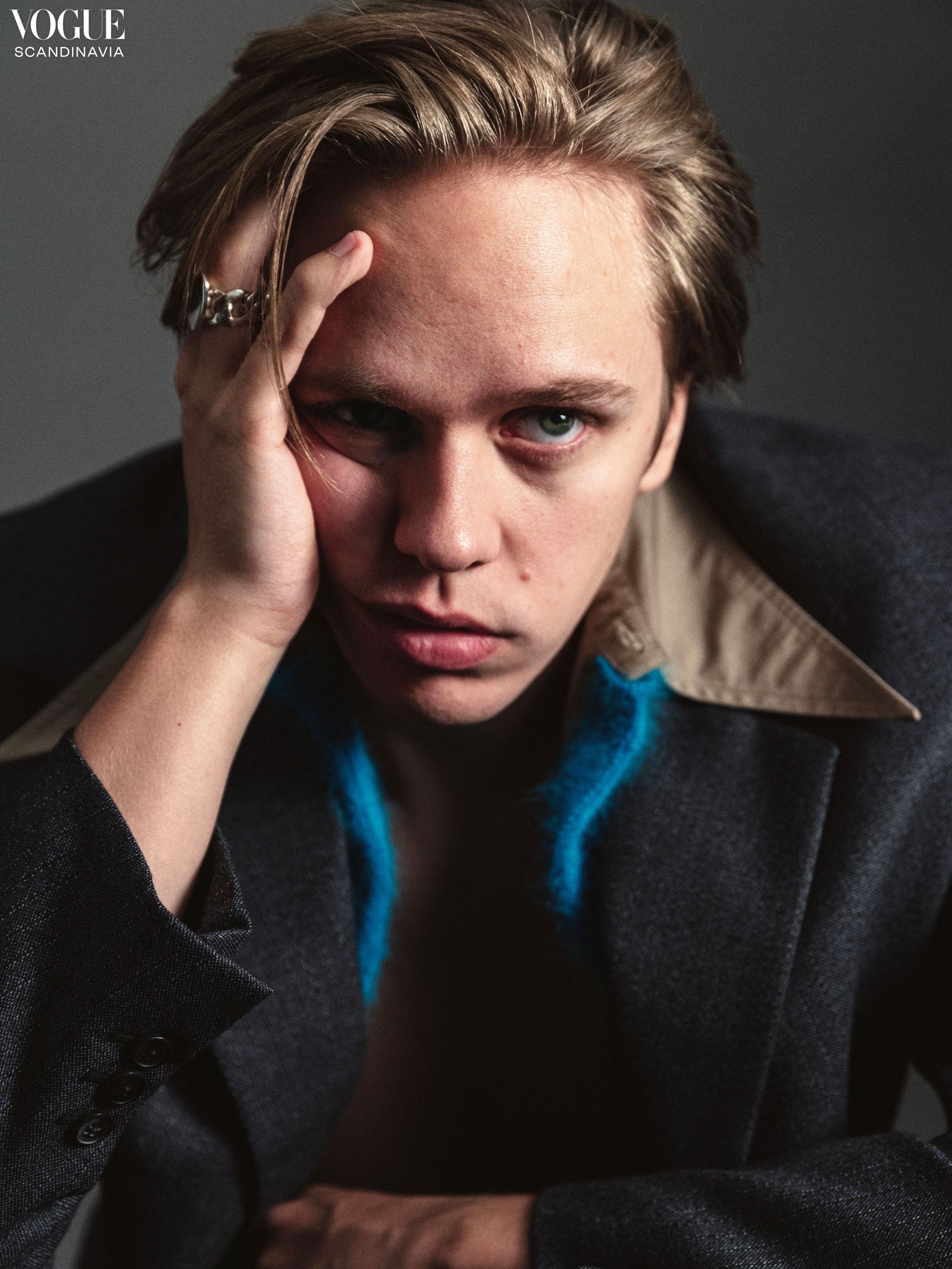 Days after visiting Toronto and being with the cast, Börje Salming passed away
Midway through shooting in Toronto, Salming, who had been diagnosed with amyotrophic lateral sclerosis (ALS) five months earlier, passed away at the age of 71. It was just days after he had visited Toronto to accept an award in front of Skarsgård, Stiernstedt and the hockey fans who loved him most. "It was… it was weird," says Skarsgård. "For the first four years, he was involved. He picked me out. I was doing this with and for him." When Salming got sick, production was well underway and Skarsgård was just heading off to start hockey practice in Norrköping.
I remember for the longest time, I was like, 'I wonder how sick he's going to be at the premiere. Is he going to be in a wheelchair at the premiere?' And then he dies before we even come back from Toronto.
Valter Skarsgård
While some can live with ALS for years, it was immediately apparent Salming didn't have that long. "I remember for the longest time, I was like, 'I wonder how sick he's going to be at the premiere. Is he going to be in a wheelchair at the premiere?'," Skarsgård says. "And then he dies before we even come back from Toronto." Stiernstedt recalls the cast and crew "dropping everything" when they received the news to meet up outside of the CN Tower, just steps from where Salming played his most legendary games at Maple Leaf Gardens. "We went up the CN Tower and had a toast," says Stiernstedt. "It was surreal, he had just been there." Two days after his death, they had no choice but to go back to set and finish what they'd started. "It's really, really weird portraying somebody's life, having them come visit and then it all sort of… ends," Stiernstedt says. "It made me think a lot about… what is a life? What do we leave behind?" Both Stiernstedt and Skarsgård get visibly emotional discussing it, forever bonded by the weight of the experience.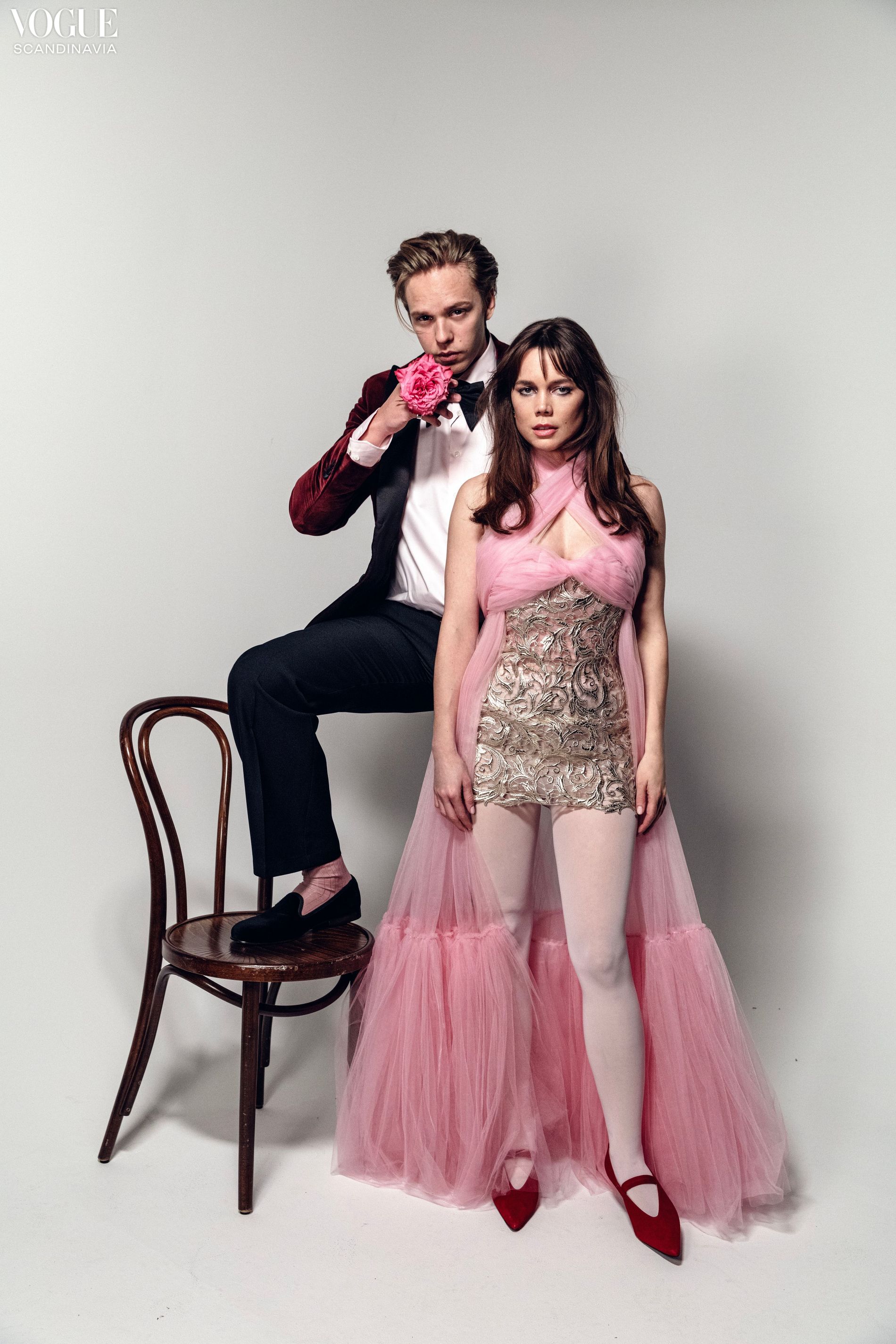 Valter wears: Velvet tuxedo blazer, €549. Oscar Jacobson. Button-up shirt, €160. Stenströms. Tailored trousers, €290. Stockholm Surfboard Club. Socks, €35. Falke. Tuxedo slippers, €199. Oscar Jacobson. Hedda wears: Mini dress with tulle trail, €9,000. Giambattista Valli. Tights, €40. Fogal. Suede pumps with strap, €530. Toteme. . Photo: Elisabeth Toll
Shooting wraps, but the experience stays
When shooting wrapped, Stiernstedt was waiting in Skarsgård's trailer with "a mountain of hamburgers". Shortly after, Skarsgård skipped the wrap party to head back to Stockholm. He went straight to his sister Eya's apartment to eat his favourite comfort food: falu sausage with macaroni and ketchup. "At that point it had gotten to me – how unhealthy the whole thing was and how much it was affecting my mental health," Skarsgård says. "I probably hit the wall two weeks before that but didn't have the time to stop and realise. I was not doing good. I just needed to get home, eat food and be with my family." Today he's working towards finding a healthier approach to diet and exercise, one that leaves plenty of room for hamburgers and nights out with friends.
This is the sort of project that stays with its actors – literally. Both Skarsgård and Stiernstedt got tattoos – stick-n-pokes courtesy of series makeup artist Märta Dahlberg – to commemorate the experience. Stiernstedt got a maple leaf on her inner bicep while Skarsgård got a Salming's number, 21, on the inside of his forearm. It's his first tattoo. "I was on the fence about it," he says. "But when he died, I said, 'On the last day, we do it'." At the time, he had that common concern – "A tattoo is forever". But then Stiernstedt said something that's stayed with him: "Forever isn't such a long time."
Photographer: Elisabeth Toll
Stylist: Sofie Krunegård
Talents: Hedda Stiernstedt, Valter Skarsgård
Hair Stylists: Daniela Mengarelli, Tony Lundström
Makeup Artist Kajsa Svanberg
Photographer Assistants: Matilda Hallander, Peter Hansen
Stylist Assistants: Alina Bendikova, Lisa Pyk