Vogue Scandinavia talks to Bolou founder Bolette Louise Sig Mathiasen about how a love of nature and a bracelet from her grandparents steered her into jewellery making
In collaboration with Bolou
Danish brand Bolou has mastered the art of storytelling through delicately crafted fine-jewellery. Founded by Bolette Louise Sig Mathiasen in 2006, the brand specialises in custom-made pieces as rich in quality as they are in character. Every design tells its own tale, with influence from among others Bolette's worldly travels, grand visions and meticulous gemological studies — all of which have manifested into a successful multi-platform business, spearheaded by a flagship store in Charlottenlund, a suburb north of Copenhagen.
Bolette bought the store in the autumn of 2005, six months after moving back to Denmark following 17 years abroad. She started her travels young: as a teenager, she went to boarding school in England and New Zealand before taking her higher education in Italy and continuing her studies in New York City, where she attended the prestigious GIA (Gemological Institute of America). These experiences all shaped Bolette's creative vision and cultural influences when it came to building her own brand. "I spent 10 years in Italy and five and a half years in New York, so much of our work is inspired by those places and the cultures there," Bolette tells Vogue Scandinavia.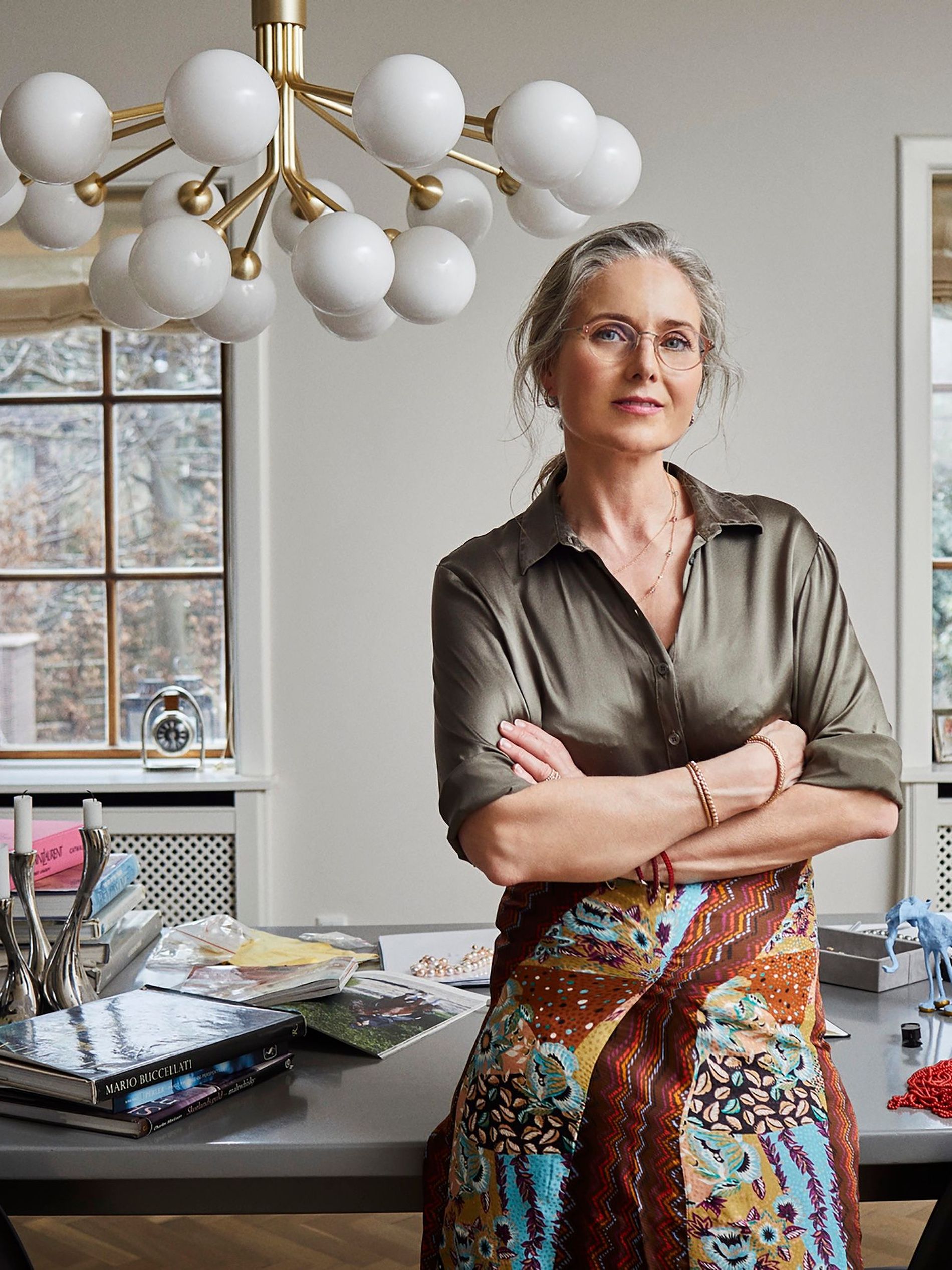 Founder Bolette Louise Sig Mathiasen. Photo: Bolou
The Italian ode is hard to miss throughout Bolou's stock list, with everything from the one-of-a-kind 'Gioia' earrings (a stunning 18 karat yellow gold set with brilliant cut diamonds and two fiery drops of red coral) to the best-selling 'Boloucino Rose' collection's Eternity Rings (a trilogy of rose- yellow and white gold rings with natural combinations of colourful gemstones, easily worn as a stack) oozing the flare of the European hotspot in not only their names but in design. "I love Italy and I speak Italian so I wanted to incorporate that into the brand. I spent so much of my life there."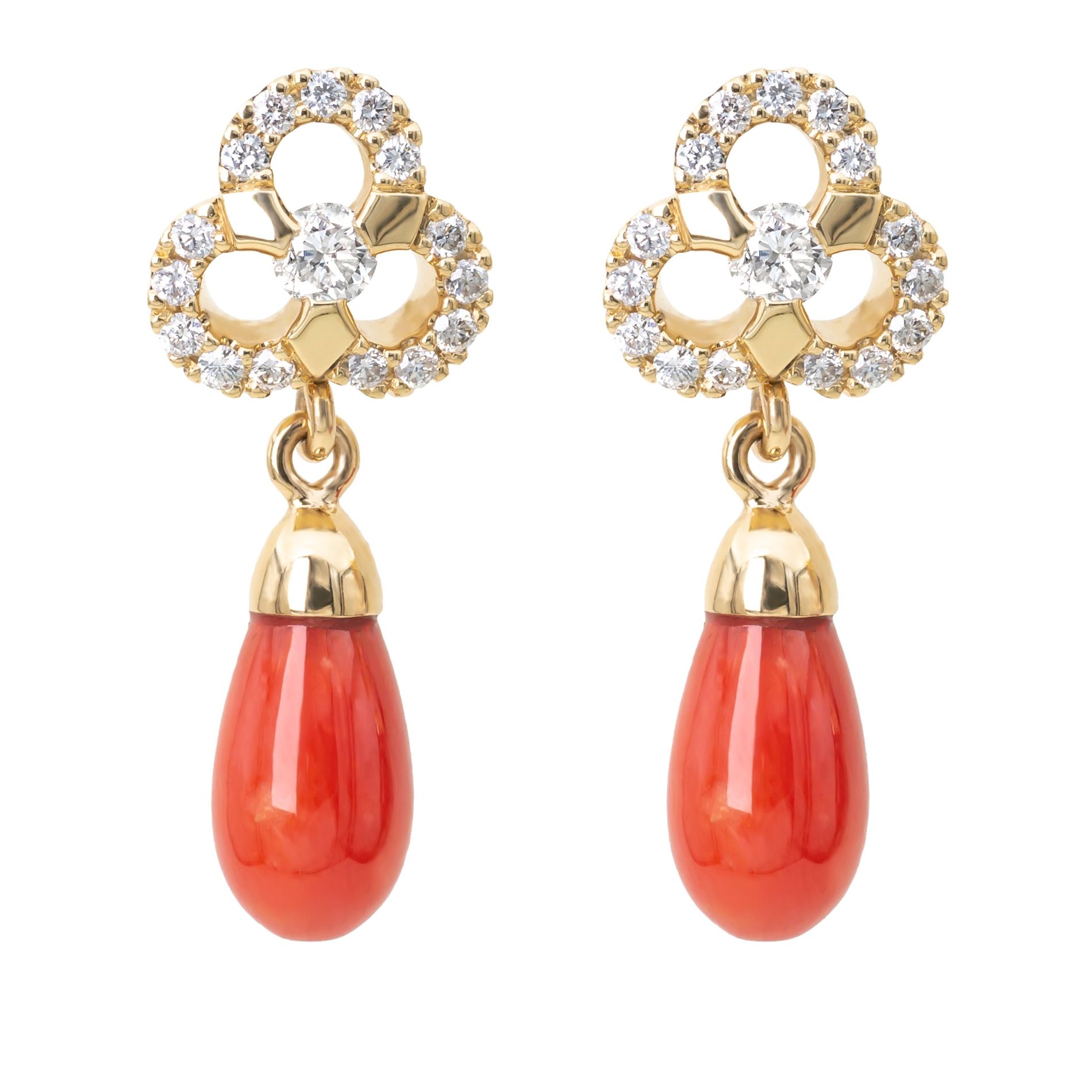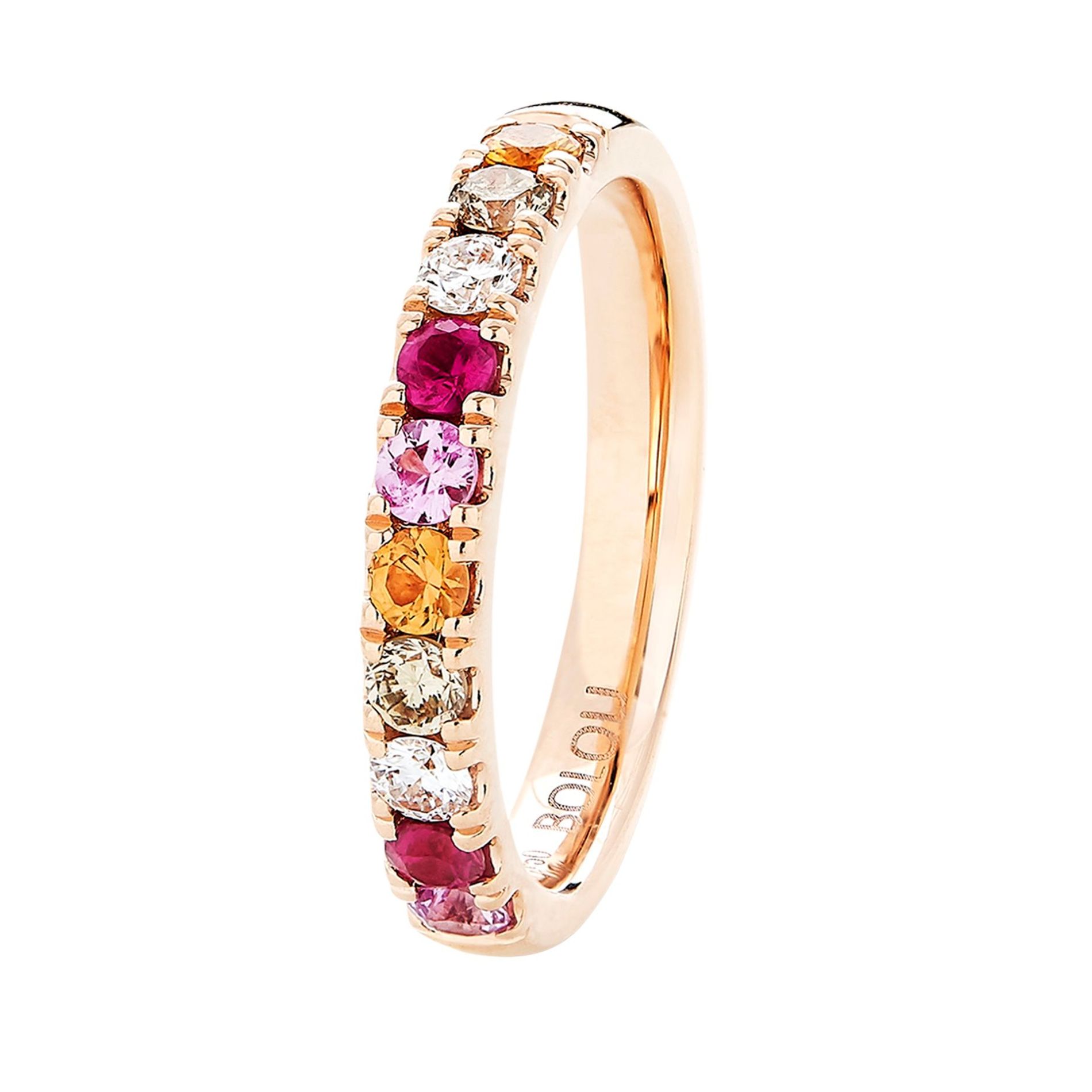 Bolette, who has now been based in Charlottenlund since launching her business, has been surrounded by an array of cultures and traditions in both her professional and personal life for as long as she can remember. "I take inspiration from all over the world," she says. "My very best friends are from Italy, Morocco, Lebanon, New York, all over the place. I have experienced many different ways of life." Though she's always been artistic, a career in jewellery wasn't the path she initially envisioned for herself. "I wanted to be an illustrator for children's books but I very quickly found out that I was too much of a perfectionist to do that. I was too slow in developing drawings that I felt satisfied with," she admits.
But this fastidious nature is exactly what stirred her into jewellery-making. The decision felt seamless for Bolette, whose family has treasured jewellery for generations. "My grandfather was always very fond of jewellery and my grandmother was always gifted with amazing pieces. So is my father, who also grew very fond of it," she recalls. "There's a lot of sentimental value there for us so it has always been a very big thing in my family." The first piece of jewellery she received was a bracelet from her grandparents. "Unfortunately, I lost it, but the memories are still there," she says.
Each piece has their own unique story and so much time and effort has gone into the creation
Bolette Louise Sig Mathiasen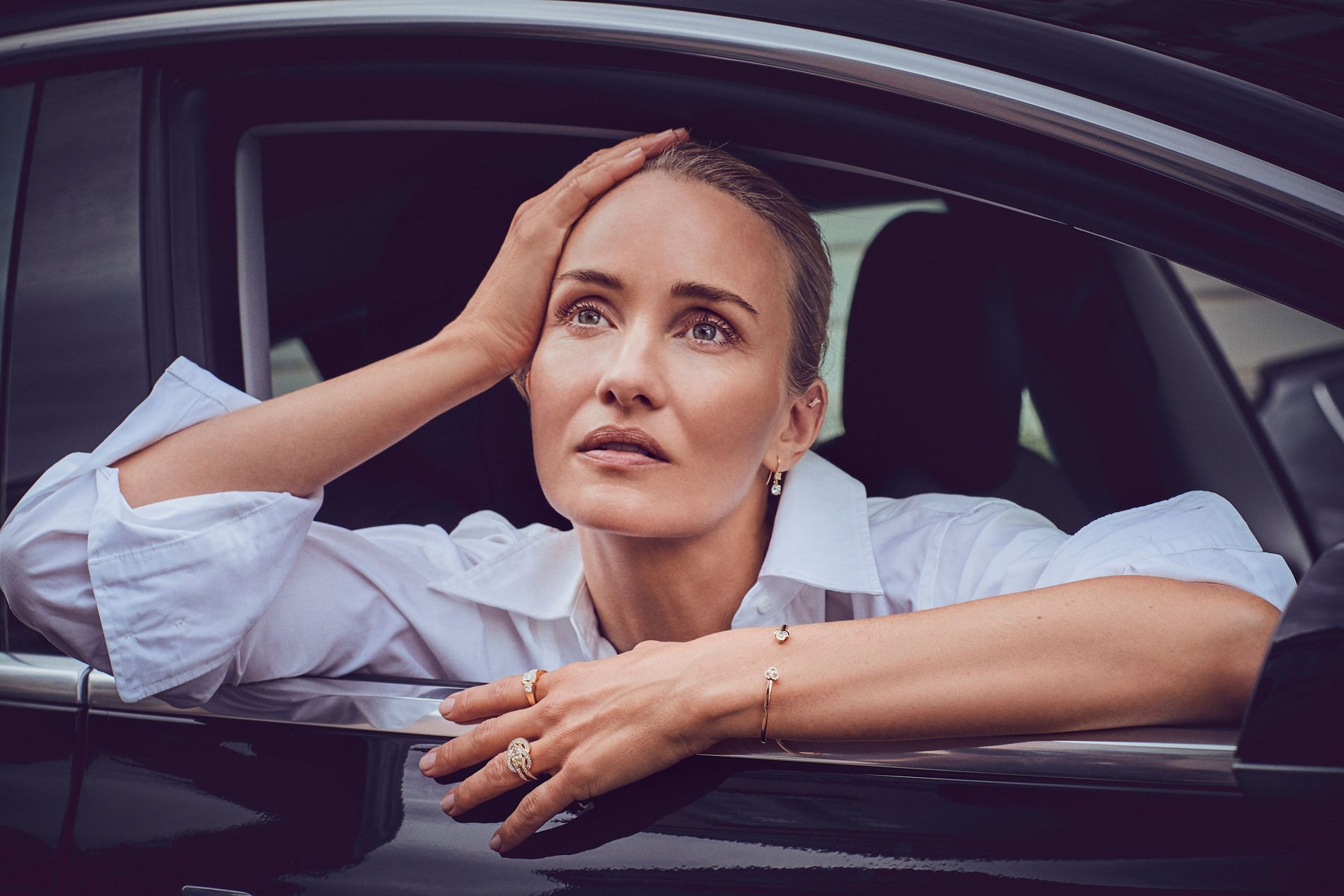 Craftsmanship is an integral part of Bolou. The past two decades have seen the brand grow from a tiny business with only Bolette and one goldsmith creating a smaller selection of custom-made and one-off pieces for the boutique, to today's staff body of 13 working together to design, mould and execute multiple seasonal collections as well as special bespoke pieces, in-store, online and as of late, via select retailers. "What's amazing is that together we make this high-end jewellery with a distinctive make and quality that is incredibly hard to find in Northern Europe. No one else around here do what we do," says Bolette. "It's a pleasure to sell each piece to our clients because we know that they are getting something really exclusive with both collection pieces and our one-of-kinds. Each piece has their own unique story and so much time and effort has gone into the creation."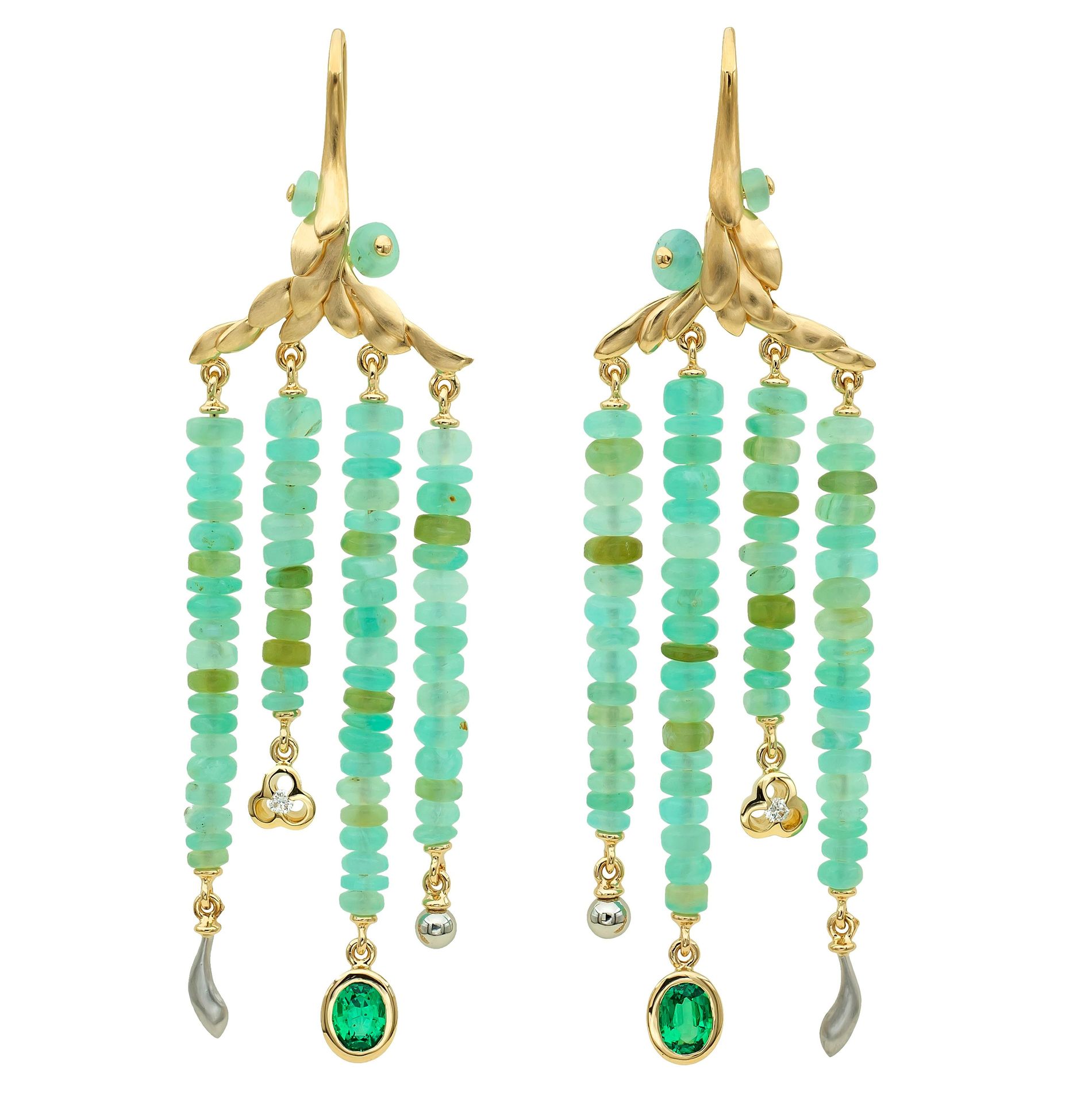 Gioia green chandelier earrings. Photo: Bolou
Speaking of the creative process, like most artists Bolette likes to work in solitude. "I always sit at home and draw. That's where I can really focus without any distractions and sketch out my ideas," she says. She then shares them with the rest of the design team and they make decisions collectively based on the messaging, storylines, trends, the design and the stones they can source. Sustainability is always at the forefront at Bolou, with Bolette committed to integrating the change into the jewellery business — an industry still slightly lagging behind in the matter. "We recycle all that we can when creating our products. We use minimal chemicals with hopes to cut it down even further. We're really passionate about making not only our business but the world as sustainable as possible."
Shop the latest collections and order bespoke custom-made pieces at Bolou.dk.