Vogue Scandinavia speaks to the newest addition of the Brilliant Minds foundation, and finds out what's in store for 2022, as well as how she landed her dream job
I'm sitting in the Stockholm headquarters of Brilliant Minds, surrounded by a flurry of flashes. I'm here to meet Annastasia Seebohm who is midway through her shoot with Vogue Scandinavia. When her appointment was made as their new CEO back in May 2020 the company called her, "A dynamic force, who is passionate about impact leadership and embodies our philosophies."
Annastasia is clearly excited about her new undertaking, "I was lucky enough to be invited as a guest to Brilliant Minds in 2018 and 2019. And I had the most amazing experience. I thought it was a really unique gathering of the most interesting people convening on the most important issues of our time." A force to be reckoned with herself, (Seebohm was acknowledged as one of the '50 Most Influential People in Britain' by GQ last year) the self-assured 34-year-old speaks with a confidence that is infectious - which is not surprising given her incredible career trajectory. She's already been appointed the CEO of two major companies - an impressive feat given her age.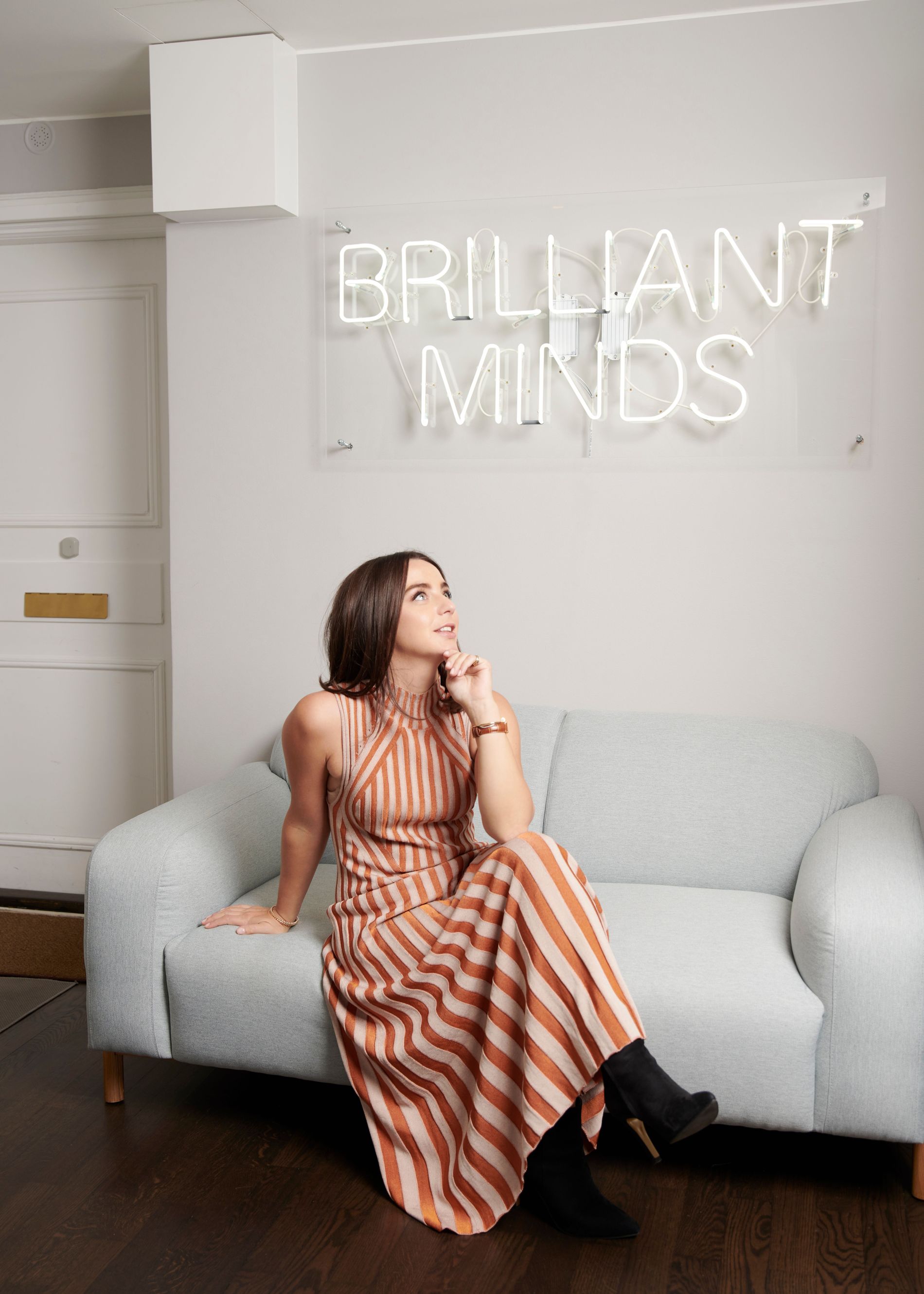 Knit dress, €465, House of Dagmar. Suede boots, €525, Stinaa J. Jewellery and watch, POA, Cartier. . Photo: Carolina Diaz
As expected of someone with Seebohm's CV, the job came looking for her, "They started looking for a new CEO and I was headhunted. It was a once in a lifetime opportunity and I knew I was excited by it as soon as I got to know the board. It just cemented that this is absolutely what I wanted to do," remarks Seebohm with palpable excitement.
The concept of Brilliant Minds was set up by Spotify co-founder Daniel Ek and serial entrepreneur Arash Pournouri in 2015. The board is made up of some of Sweden's most prominent philanthropic families, including the Olssons, Wallenbergs and the Schörlings to name but a few. "You just have the most amazing group of interesting people driving change and impact, and I feel so fortunate to get to learn from them every day," says Seebohm. So what is Ek like as a boss? "Encouraging and supportive," affirms Seebohm.
In essence the foundation brings together the world's most 'brilliant minds' and talented individuals to bring about positive change in a yearly conference. The entire mission is completely impact-led and has become one of the hottest tickets in the European tech scene. Brilliant Minds has three major goals according to its new CEO, "the first is to showcase Swedish values globally, the second is to bring together the most influential people to discuss world changing ideas, and then the third is to support European founders through our platform."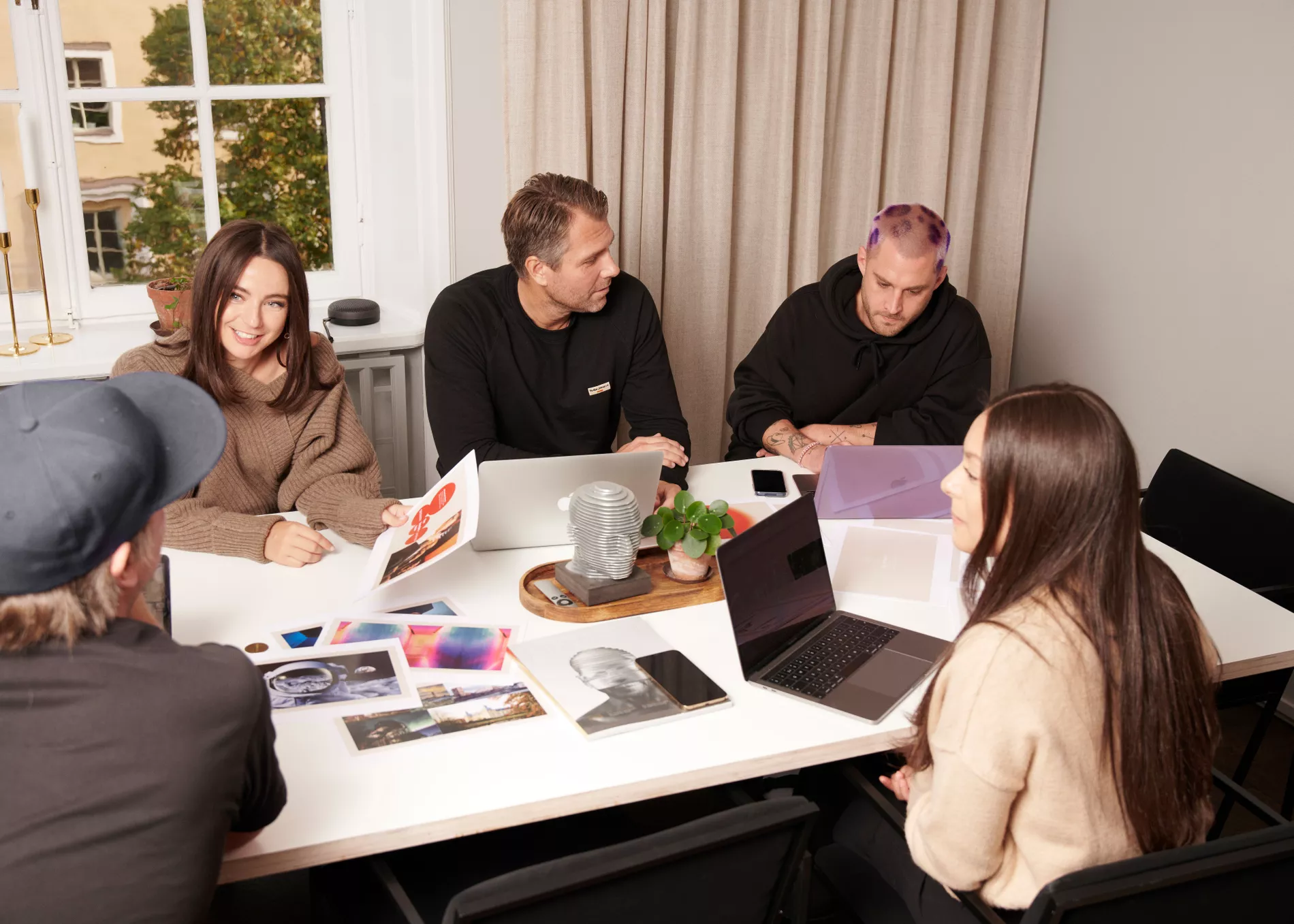 So far the Brilliant Minds has attracted the world's most powerful people from actors and politicians to musicians and everything in between. Past guests have included Barack Obama, Naomi Campbell, Gwyneth Paltrow and Pharrell. The event itself has taken a pandemic-induced hiatus since 2019 but with Seebohm taking the reins she is now fully focused on the task of bringing in the next roster of talent in 2022. "I absolutely adore Malala. I find her very inspiring. Equally, I find Emma Watson incredibly inspiring and as Angela Merkel is now finished in office I would love the opportunity to hear from her... and then I'm really inspired by the decisions that Alexandre Arnault makes, so I would love to be able to get him on stage too."
So of course I want to know exactly what Seebohm has up her sleeve now that she's in charge, "I'm not going to give away too much because it's a secret. What I will say is that we are going to have our core event with some really inspirational speakers from all around the world, people that are admired and respected and speak about what's important to us around sustainability and impact. We're also going to do a community programme so that people from outside of the core community can experience some of the content and programming. And here's a sneak preview that nobody knows about... we're also going to have both a start-up competition and a music competition as well." How does one enter? "Details coming," Seebohm says with a smile.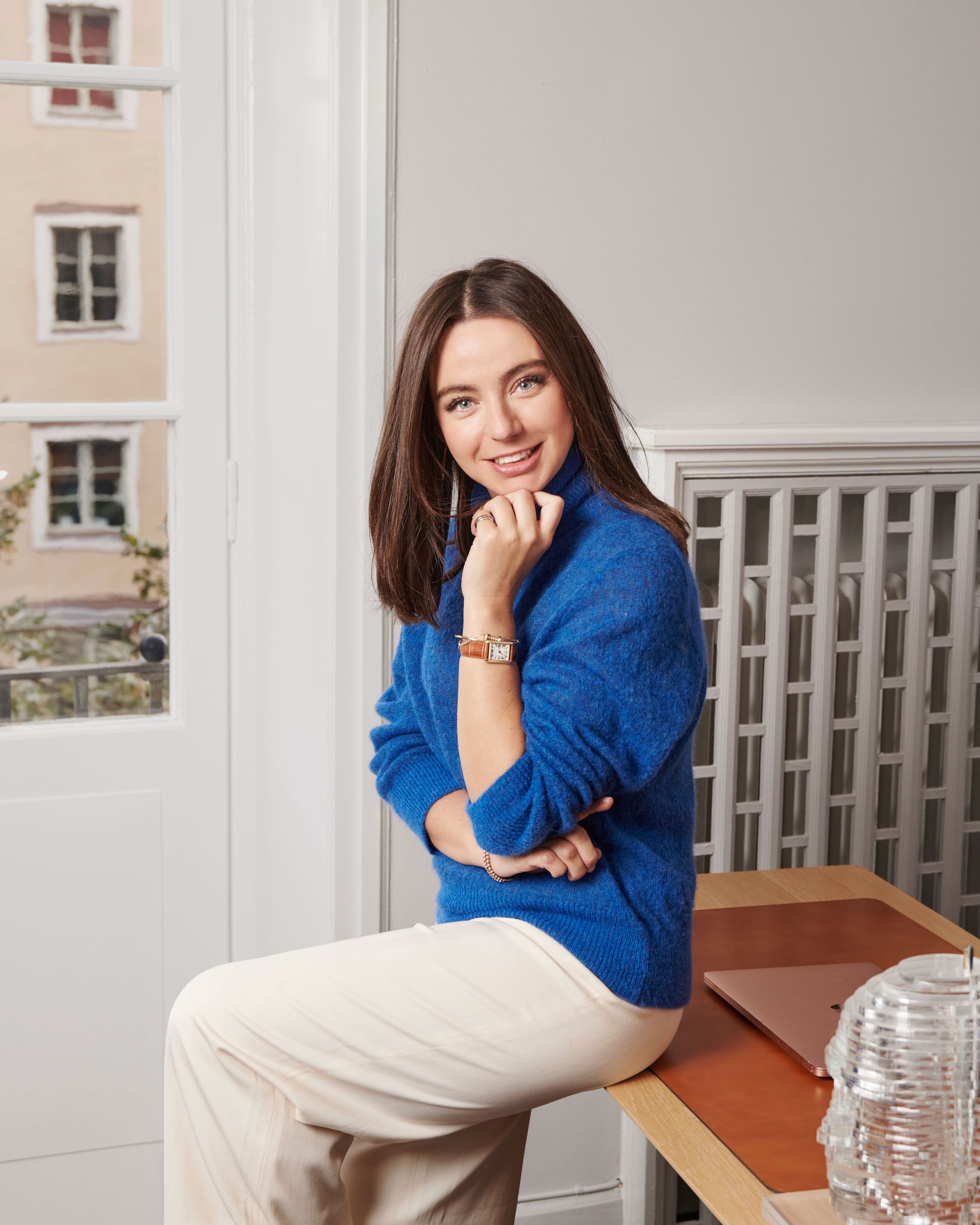 Xenia sweater, €245, House of Dagmar. Crepe wide-leg pants, €1,160, Oscar De La Renta. Jewellery and watch, POA, Cartier. . Photo: Carolina Diaz
Seebohm now divides her time between New York and Stockholm, but previously you would have found her feet planted firmly in the 'Big Apple.' Prior to joining Brilliant Minds Seebohm was the CEO of the world's leading lifestyle group, Quintessentially. "I started my career at Quintessentially, which is a lifestyle group and grew and developed within that business. I left for a little while, rejoined and later I got the call for the 'big job.' I took over as the Group CEO in February 2018 and I went from running just the Americas market to running a 100 million dollar company." It's worth noting that she was the first female as well as the first ever millennial to hold the position. The job involved leading a team of over 1,000 employees across 50 cities. "I was 31 at the time. It was an amazing learning experience and opportunity."
The change of pace from New York's infamously gruelling working culture - to which she's clearly accustomed - to Stockholm must feel like something of a reset, "It's much more relaxed, which is something I really enjoy." confirms Seebohm, "It's very transparent. It's a very non-hierarchical, relaxed working culture and creative and collaborative." Something that the British-born business woman has embraced alongside the relaxed working culture is the Scandinavian ethos around sustainability, "Sweden is so conscious in its impact and sustainability agenda, and businesses see that they have a responsibility to impact society positively in the long term. And that's something that I think is very unique to this market and I think the rest of the world needs to be educated on." The globally respected eco-conscious attitude is one that is clearly reflected in the brands that emerge from our region, so it's no surprise that Seebohm also has developed a penchant for Scandinavian designers, "I love Scandinavian design and I absolutely love the Swedish and Scandinavian brands that I've gotten to know. House of Dagmar I love, and also By Malene Birger and of course Stinaa J for shoes."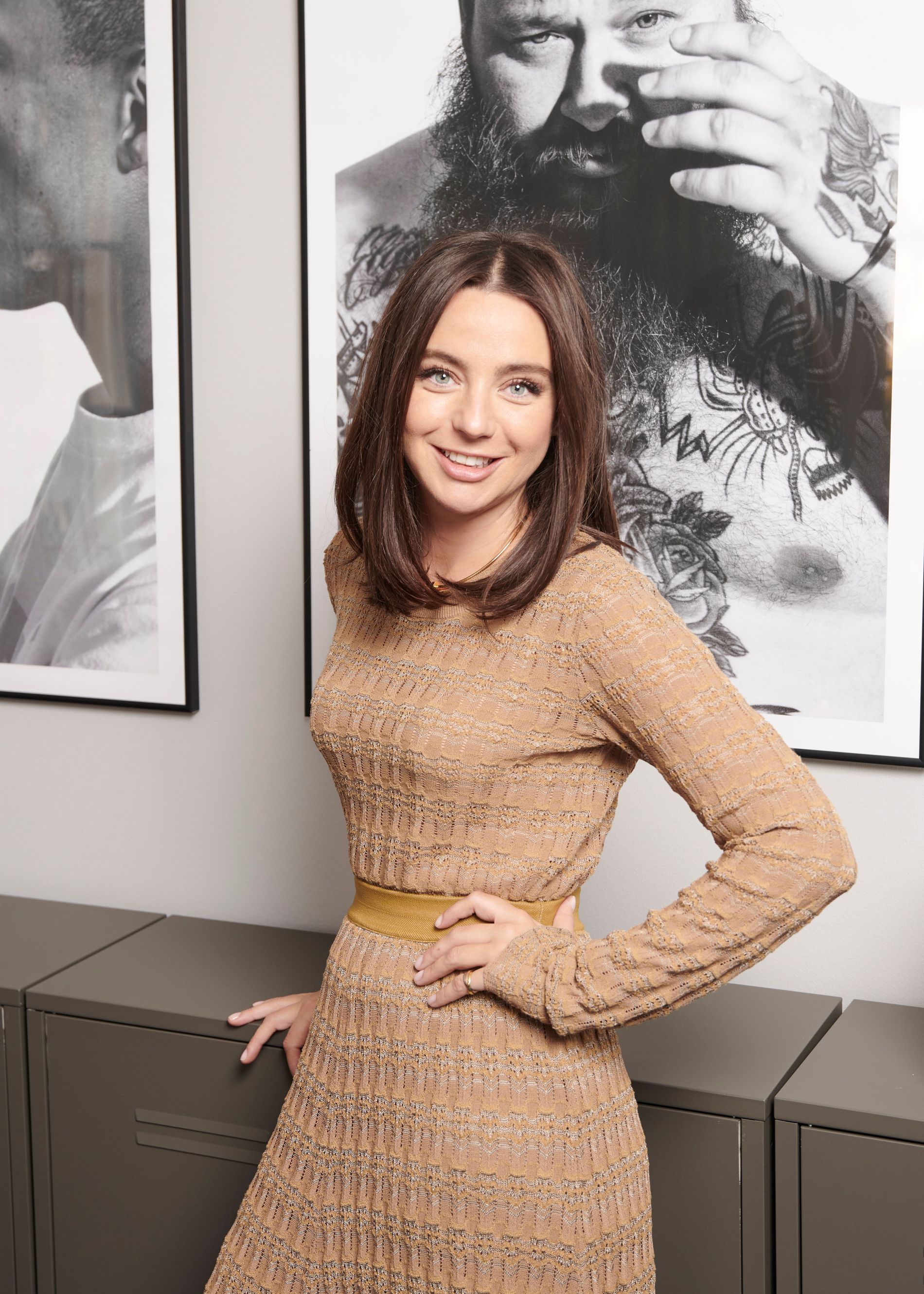 Lace knitted skirt, €308, sweater, €210, all By Malene Birger. Jewellery and watch, POA, Cartier. . Photo: Carolina Diaz
It's actually her appreciation for fashion in the first place that she says landed her with her career, "I was at university and I am an avid Vogue reader and I was reading Vogue and they had an interview - much like what you are doing with me now - with Ben Elliott, one of the co-founders of Quintessentially. And I read the interview and I thought, 'Gosh, I wish I thought of that.' And then I started chasing after the company to hire me. So actually, it all started with Vogue." (Reader, perhaps this article is all the encouragement you trailblaze your own career.) "Maybe I have my entire career to thank Vogue for," she pauses. As much as we want to… we won't take all the credit. We have a feeling Seebohm would have always been brilliant.
Photography by: Carolina Diaz
Hair and make-up by: Caroline Ljusterdal