For Gucci's Cosmogonie Fashion Show, creative director Alessandro Michele transported the fashion set to Castel del Monte where he presented a sparkling collection of 101 looks exploring the idea of past and present
Presenting a vast line-up of 101 looks, Alessandro Michele's ​​Cosmogonie collection is an exploration of connectivity. Rooted in writer Hannah Arendt's devoted essay on her friend and philosopher Walter Benjamin, Gucci's Cosmogonie considers the past and how it is reflected in the present.
Showing at the 13-century fortress of Castel del Monte in Puglia, northern Italy, the setting epitomised the sophisticated philosophical inspiration behind the collection. Built by emperor Frederick II, the Italian palace was a haven for the country's contemporary intellectuals, often playing host to astronomers, artists, and scholars. For Benjamin, history isn't just a collection of relics with no connection to the present. Instead, days gone by can help us better understand the present day.
Like Benjamin, Michele is a collector of references with a love of history too, accumulating a vast archive that shapes his work. Always referential in his designs, Michele's collection enveloped both romanticised mediaeval monikers with multi-layered pearls, starched ruffs, and heavy velvets, as well as modern fashion history – demonstrated in crimped hair and oversized sunglasses of the 80s.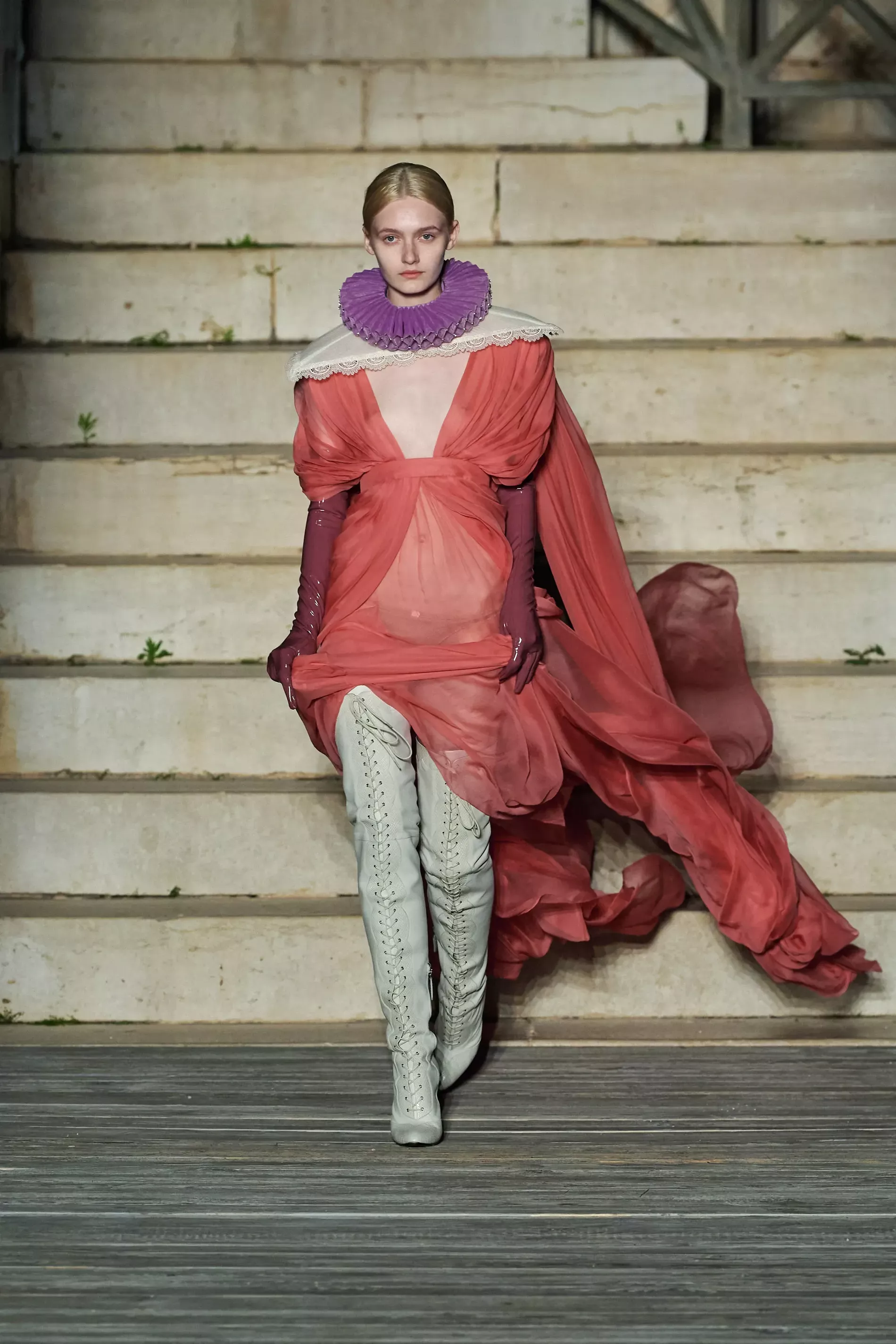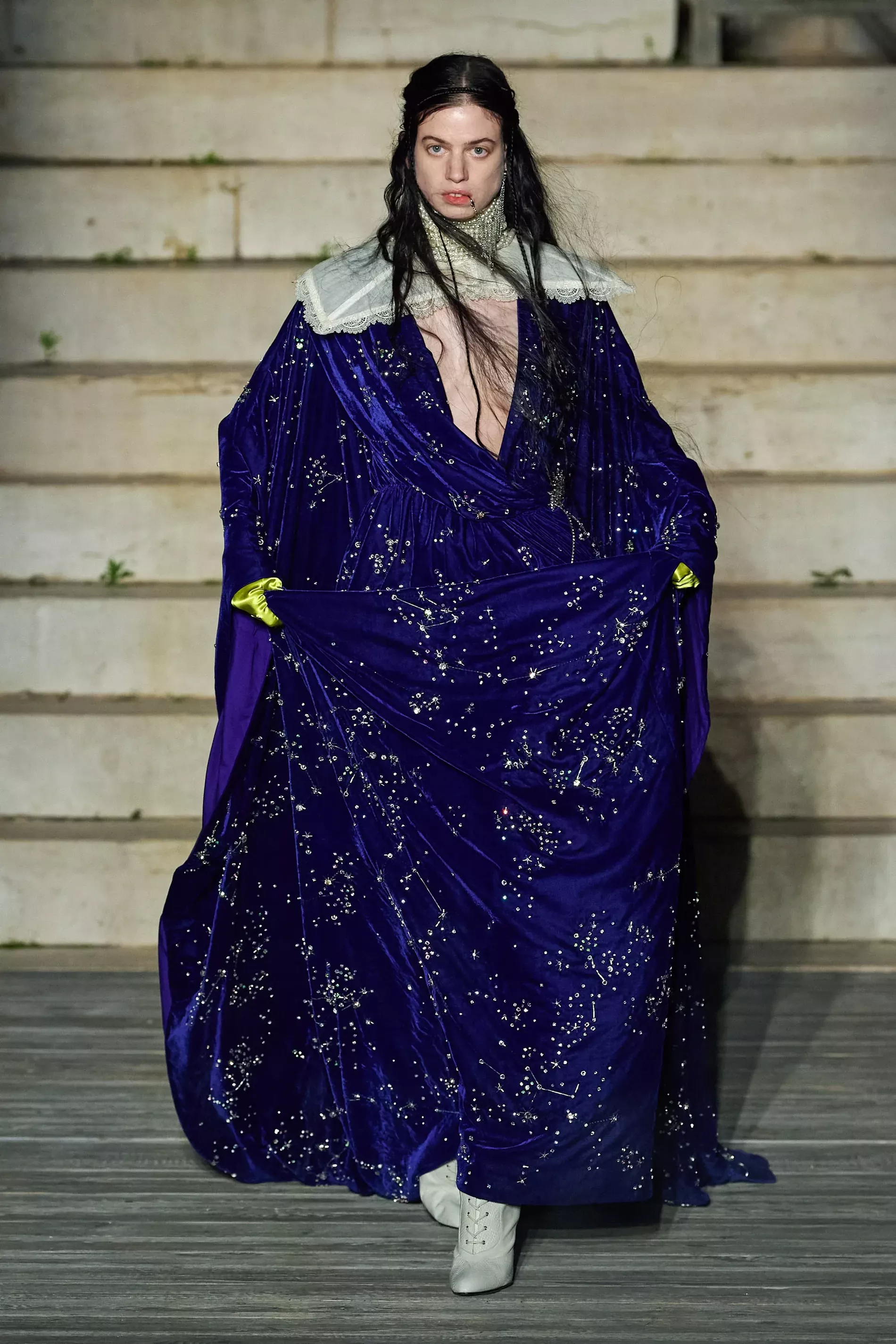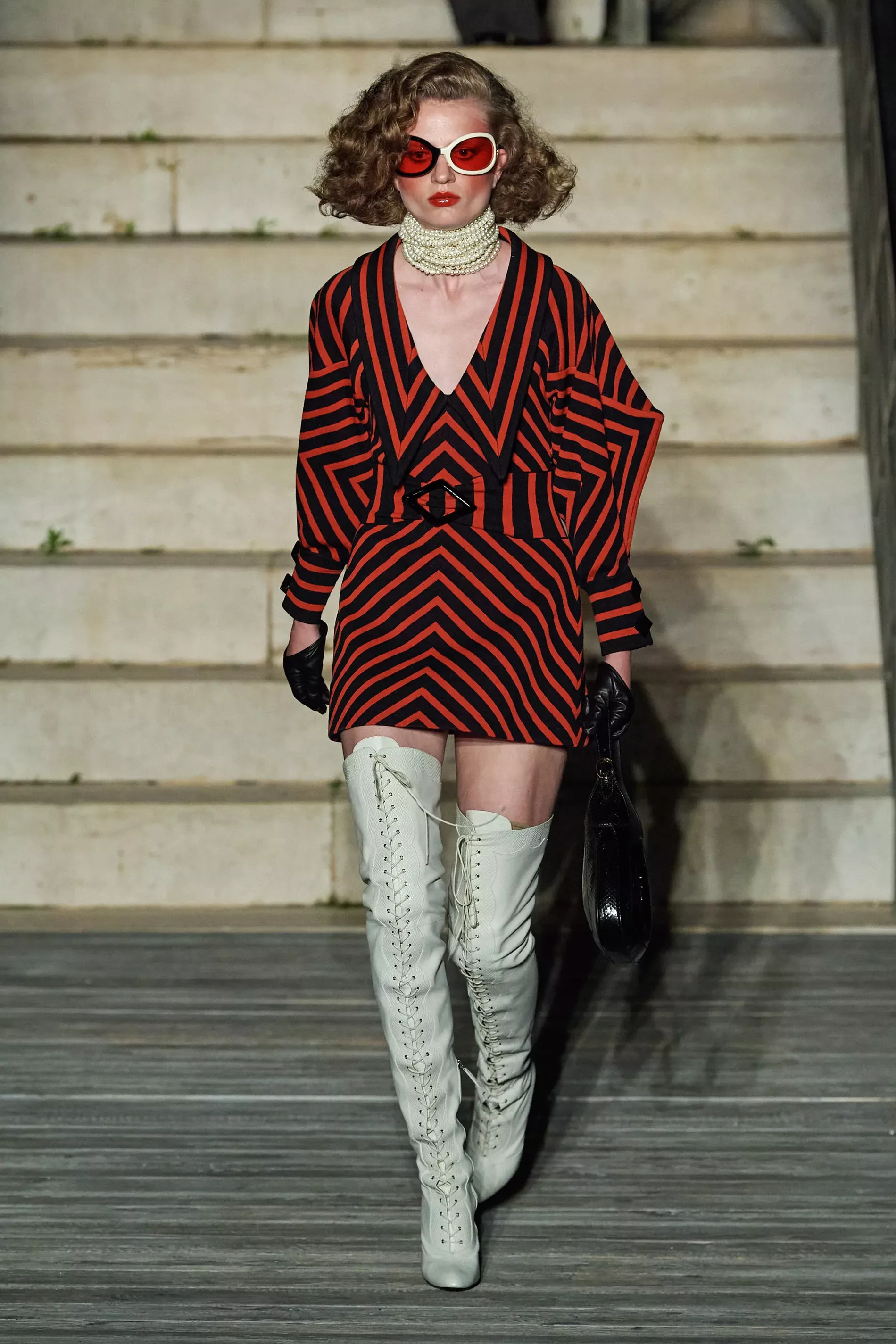 As a collector of quotes, manuscripts and books, Benjamin built his worldview on the thoughts of others – emphasising the importance of embracing individual ideas and adopting a multicultural outlook. The German-Jewish philosopher thought of moments, memories and mementoes as constellations, a term he turned into a philosophical concept of connectivity – just like how the stars combine to illuminate the sky, ideas can connect to illustrate human nature.
This idea of patterns also served as inspiration for Michele. However, while the constellations he built his designs on were of the cerebral kind, they were expressed in tangible and tactile smatterings of sequins and luminescent fabrics. And while Michele's collections are always prismatic and never straight-forward, Cosmogonie certifiably sparkled – just like the night sky.
Michele's Cosmogonie is a means to reflect on the past, while presenting his own version of the present. Just like how Benjamin would reflect upon the world through his constellations, quotations and references. No one summarises the relationship between designer and philosopher better than Michele himself: "If any thinker was able to keep together things that were so distant in time and space, rearticulating them into bursting constellations, it was Walter Benjamin. To this man, who couldn't survive without his quotations, my gratitude."
Below, explore all of the looks in Gucci's Cosmogonie collection: