As the design world takes over the Swedish capital, we roundup the names and pieces to have your eye on for the coming autumn
Curating a home you're comfortable and at ease in has been the main focus of Stockholm Design Week and Furniture Fair, taking place in the Swedish capital all this week. Launching for the first time in September with the NK Moving Forward exhibition, designers across Scandinavia – both up-and-coming as well as established – came together to unveil their fall collection. From the iconic Claesson Koivisto Rune and HEM to the Anna Herman collaboration with Johanson Design, fall is set to be functional, sustainable, and utterly well-designed.
Fresh from the event, we've rounded up all the Scandi interiors trends to take note of in order to make your home as alluring as possible this fall.
Comfort is key
With gentle rounded forms and snug fabric, lounge chairs are perfectly-designed for comfort. The moment you sit, you're embraced by delicious softness without having to compromise on sustainability. The Poodle chair by Anna Herman in collaboration with Alexander Lervik and Johanson design is a timeless piece that embodies the essence of Scandinavian warmth. Anna tells us "During the pandemic, Alexander and I exchanged inspiration and one day I stumbled upon a well-groomed poodle image which gave us the concept for our design. With the intention to create something very tactile, we used three different fabrics that cover bent steel tubes to create hugging curves. I wanted to use as little material as possible, including recycled foam, which makes the chair much lighter than you would think". With an inviting sit-on-me silhouette, this type of soft lounge chair will create a welcoming and beckoning corner in your interior nest.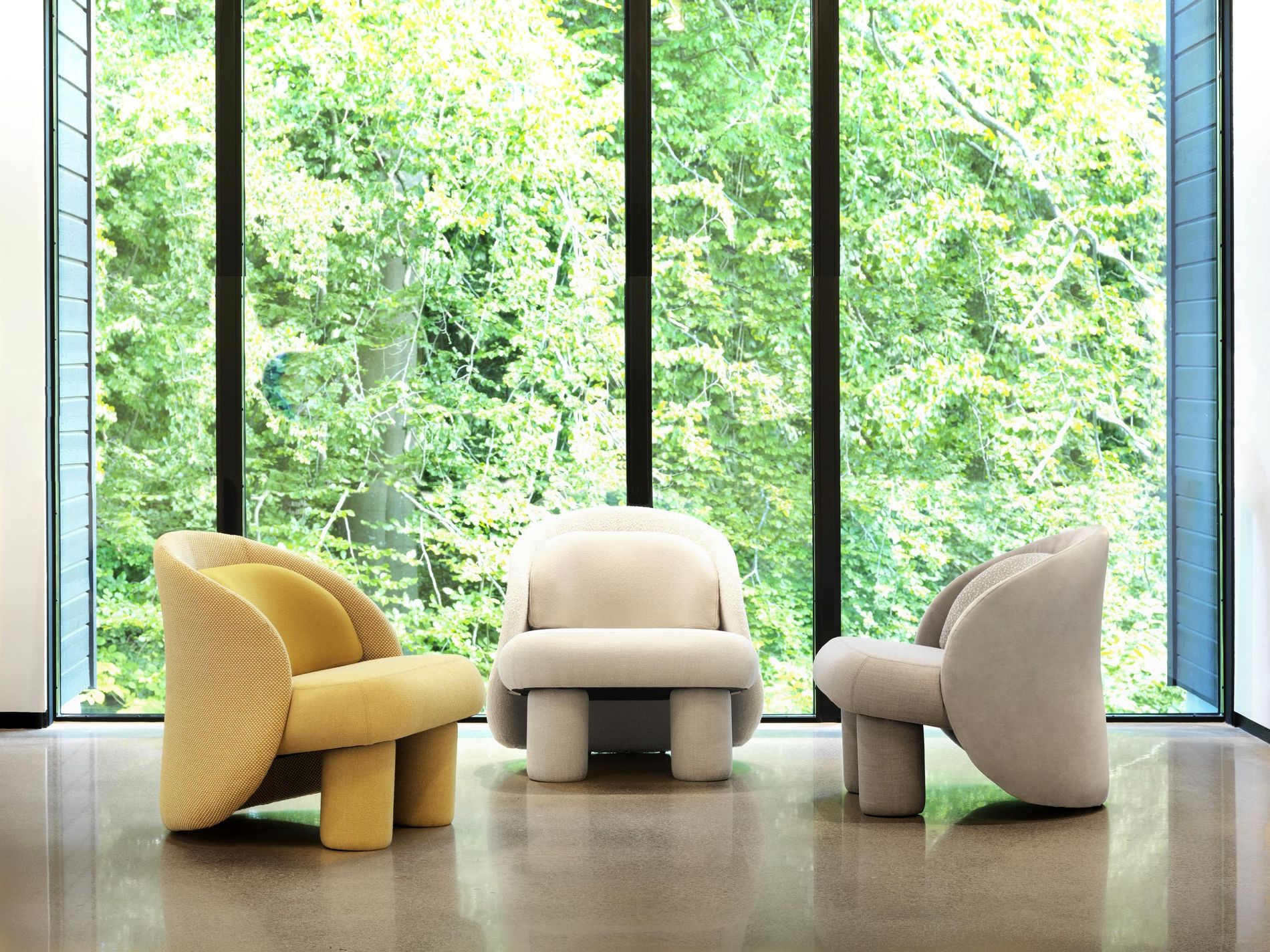 The rug which doubles as artwork
Colour is key this fall, so don't avoid it is our advice. Rather, easily integrate it into your space from the bottom up, via soft and artful rugs. Bolon's botanic collection of rugs is characterised by warm tones, such as rain, honey and chestnut, mixed together to add contrast and timelessness. Made from recyclable material, this made-in-Sweden collection by sisters Annica and Marie Eklund brings a classic and utterly Scandinavian finish to any room.
And if you are keen to push the boundaries between the art and interior design world's further, there's Layered's A walk in the park collection in collaboration with Swedish designer Evelina Kroon. "The collection was inspired from the impression of a park in transformation, whether that's beautiful flowers, spring rain, or shades of autumn," she explains. Impactful, but still soft, these rugs bring an eclectic update on traditional Scandinavian textile design.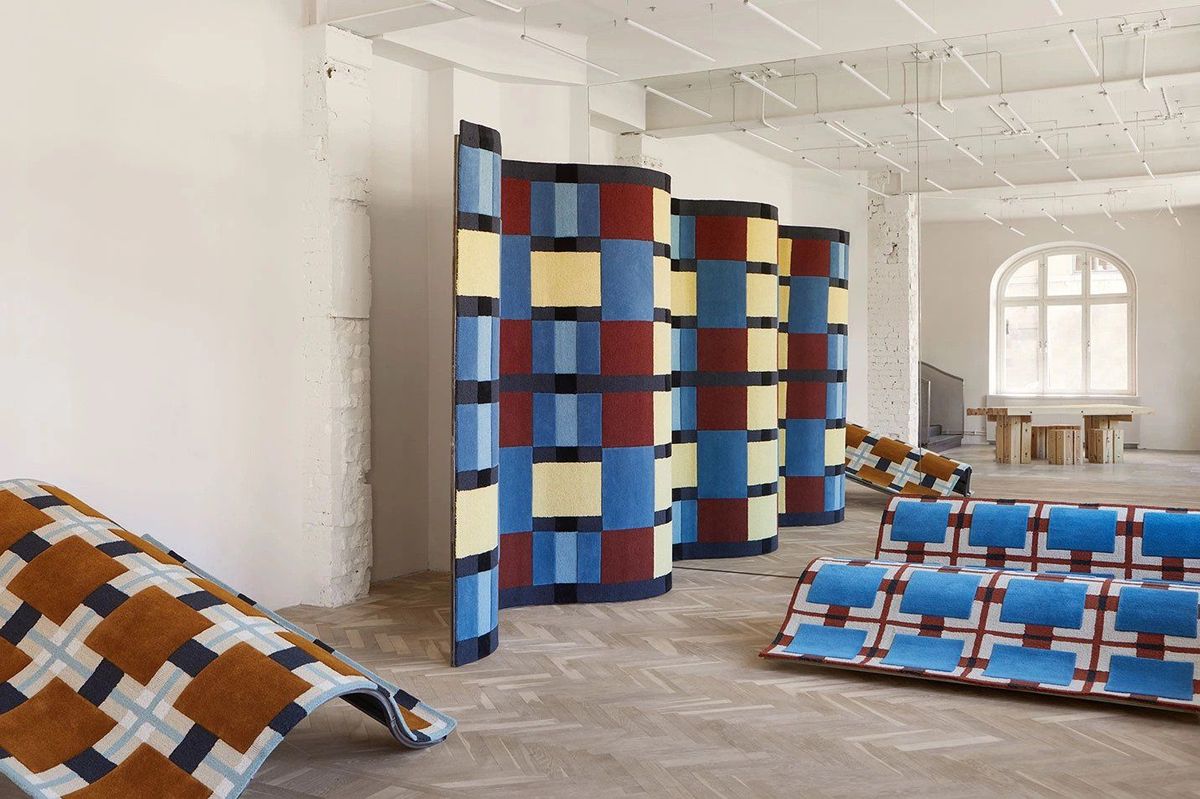 Natural material is back
Whether it is a stool or a side table, sculptural pieces can act as a central 'wow' piece in any room. And these natural and recyclable, statement wooden art works, the Ved collection, from up-and-coming designer Elsa Unnegard will certainly bring warmth and more natural texture into your space at home. The collection has its own unique story, as Unnegard explains: "I saw this old oak in the forest that had died due to the climate crisis. I took that wood and the ruptures around it to make six pieces." She adds: "As the wood was originally going to be burnt, I thought it would be poetic to make it look like firewood. This is why all of them are black, made of suit pigment, animal glue and water."
The table: Reimagined
A warm home isn't just defined by soft fabric. This fall it is also associated with tables finished with smooth and rounded edges, no hard lines here please. This is the case of the Stump Table, an atelier piece by designer Faye Toogood in collaboration with interior design studio HEM. Christina Poelk, HEM's creative director, tells us: "The table is made of MDF – we used it as a sheet of material that is bent and carved on the inside to create volume."
"Because of this material, most people fear that this piece may not be durable, however, we focused on tests and coating finishes to ensure that if you put a coffee cup on it for example it doesn't leave any marks." With an obsessive focus on quality, the Stump table is a full body, soft-toned, visual expression that will bring mellow and a sense of ease into your living room.
Lights with wow factor
Drawing the focus to a curated area of your home can be done with minimum fuss with one focal point and a dynamic lighting solution. Renowned design house Claesson Koivisto Rune, in collaboration with Wästberg, took this approach to create a collection of minimalist pendants crafted in spun aluminium, one of the most sustainable metals. "We conceptualised this design almost ten years ago and started with a small version of the collection, but we wanted to exaggerate the dimension to widely but also precisely cast light," explains founder Ola Rune. "We were inspired to make extraordinarily big cone lamps that were quite simple in design. In saying that, we believe that simplicity must be executed perfectly." Set the extra large cone over a lounge table or spread the series of tiny pendants around the home for contrasted and inviting pockets of light.