Having taken the Premier League by storm after just a handful of games, the Stockholm-born footballer, now set to return back to the pitch next month, talks the pressure of transfer fees, childhood in the Solna 'bubble' and why he is one of Dior's biggest fan
Alexander Isak, the English Premier League and Swedish football's newest mega star, is speaking to me from his family home in his native Stockholm. Casually sporting a classic black hoodie and just back from a physio appointment, it's difficult to compute that the 23-year-old, who this summer broke Newcastle United's transfer record when they bought him for a reported $70 million from Real Sociedad, could seem so unfazed by the burgeoning pressure of fame, media attention and most agonising of all, a thigh injury that saw him sidelined after just three appearances for the northern English side (he still managed two goals in that time).
He credits his calm aura to his "very supportive" family. Isak grew up in a small community in the Solna municipality, in Stockholm, with his football loving father and his mother, both of Eritrean origin. While he's since become a point of representation, a diverse role model for younger players and a symbol of Swedish multiculturalism, he was unsurprisingly unaware of such potential labels as he learned the game. "I was really in my bubble when I was young – we just played for fun," he says. "I grew up like a normal kid and played both at school and in my free time in the neighbourhood. It's not until later on you understand how football can provide kids with such an outlet as it's so accessible, you really just need a ball and some free space. I am now conscious that I have a global platform and am trying to be an example and use it in the best way possible."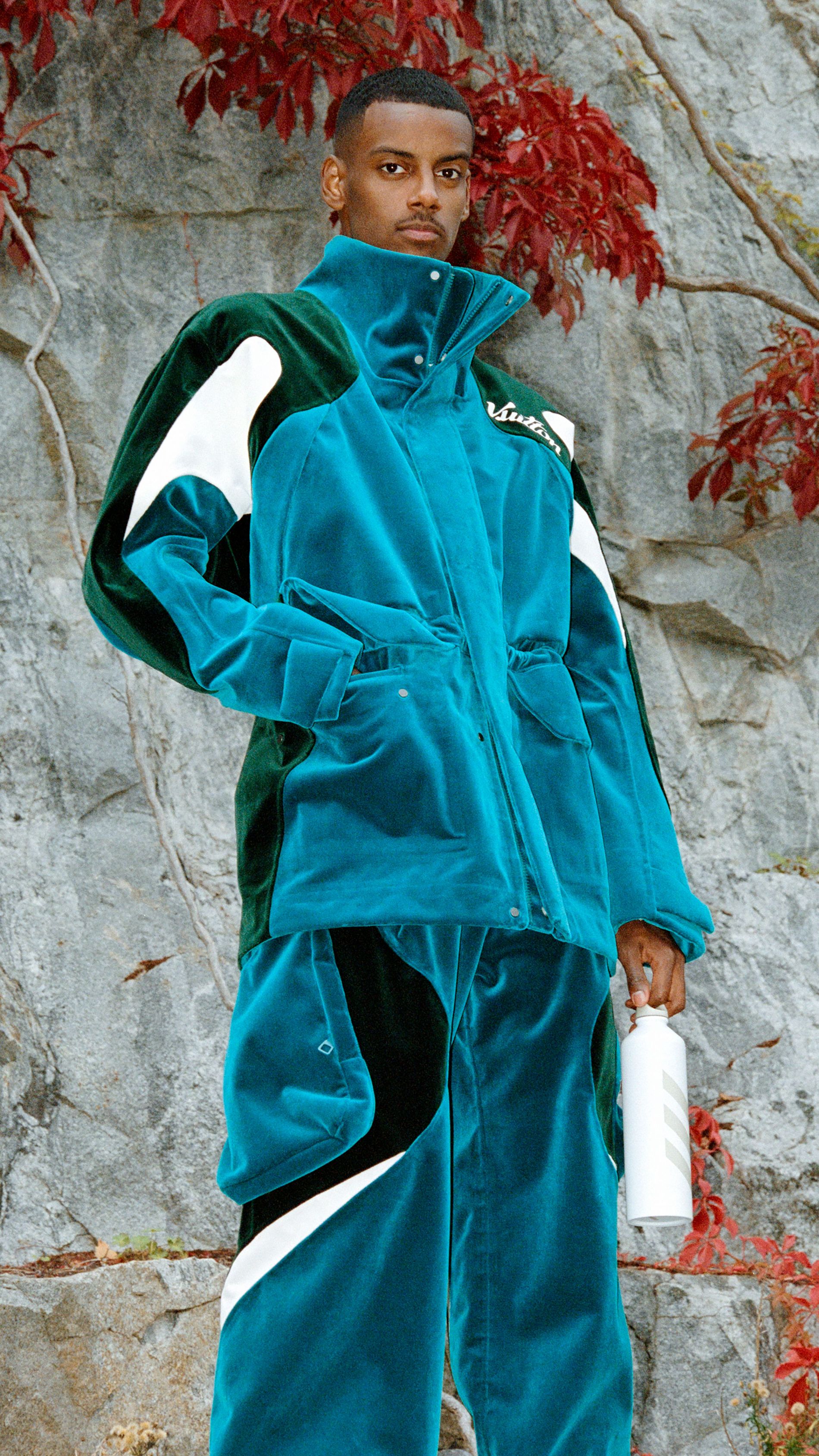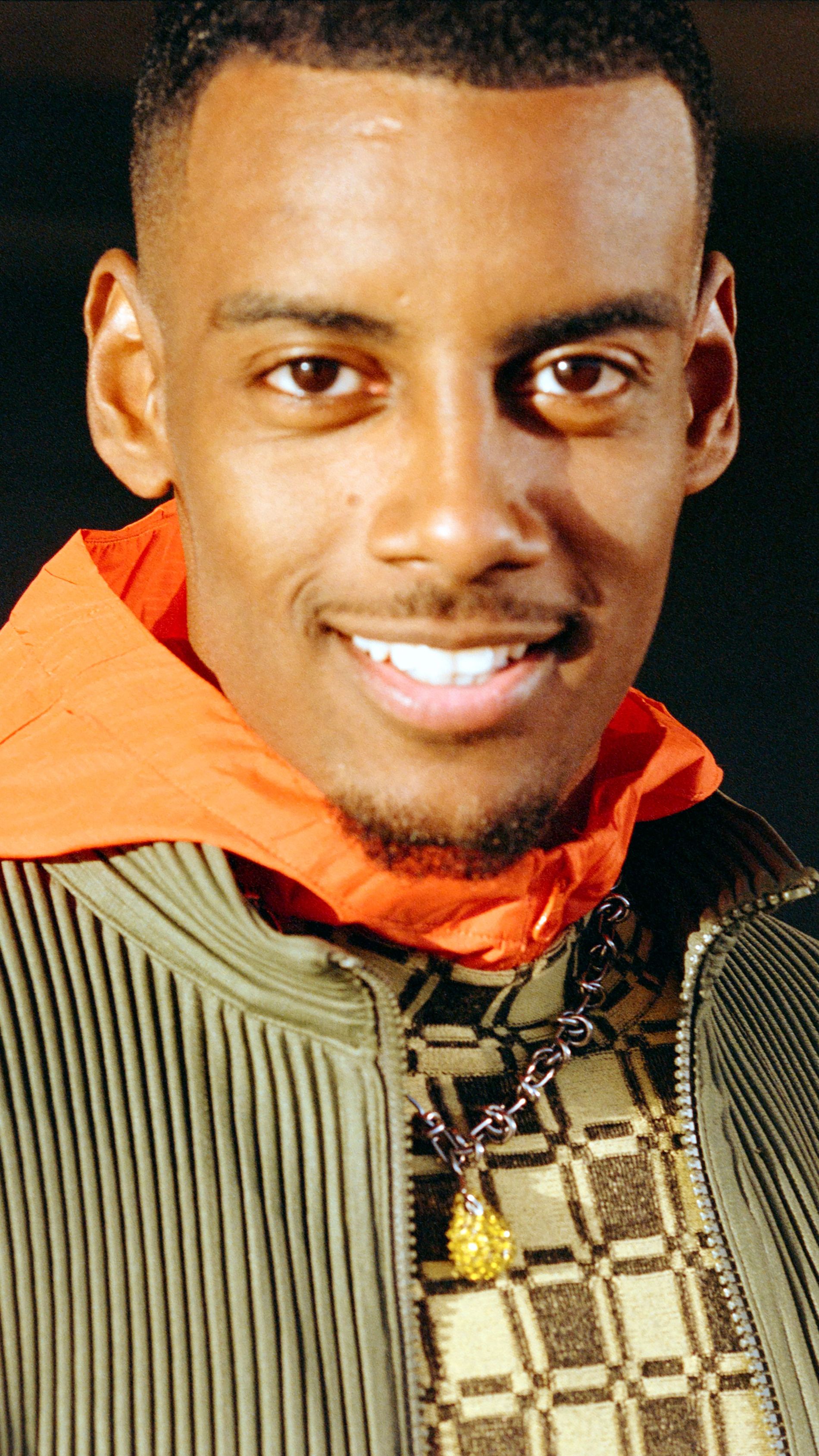 Isak's meteoric rise began aged six, "when football just really stuck as what I wanted to do." He played for the youth team of one of the largest clubs in the area, AIK, then made his first full team debut in 2016 as a substitute in a Swedish cup match. Despite only taking to the field in the 75th minute, he still found the net – something he's barely stopped doing ever since.
After signing his first professional contract signing with AIK, he soon caught the attention of German giants Borussia Dortmund. In 2018, the Bavarian side loaned him to Dutch club Willem II, where he became the first foreign-born player to get 12 goals in his first 12 Eredivisie league games. In 2019, he secured a move to Real Sociedad where he continued his scoring streak and became a regular in the Swedish national team, with the legendary Zlatan Ibrahimovic stating, "He has the heart of a lion - soon they won't talk about Zlatan and Henrik [Larsson] as the greatest [Swedes] but instead, Isak."
In August 2022, Newcastle came calling. "It's a dream come true as I have always wanted to play in the Premier League," he says. "It's fast, straightforward football here, so suits my game. Also, I really like the city as everyone who lives in Newcastle is a Newcastle fan so you can really feel the passion. It's a special feeling."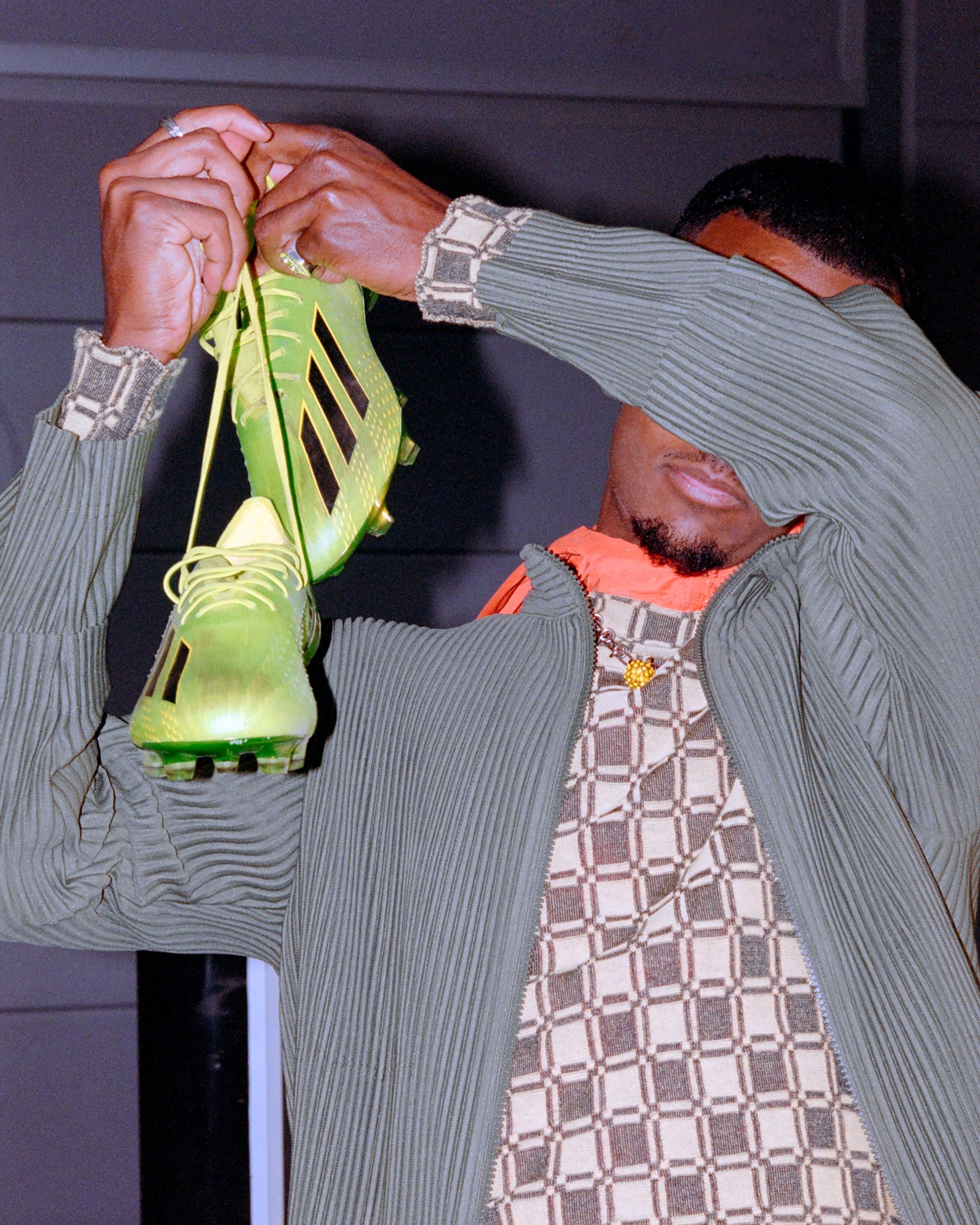 Pleated jacket, €660. Homme Plissé Issey Miyake. Jacquard fitted jumper, €320. Kenzo. Wind jacket in recycled polyester, €110. Adidas. Tailored trousers, €450. Kenzo. Brass necklace with pendant, €312. Acne Studios. Football boots, €248. Adidas. Photo: Kimberly Ihre
He may be enjoying the adoration of Newcastle's famously fervent fanbase, but playing in the Premier League, especially after such a big money move, also comes with a new level of scrutiny. Isak seemingly remains unflappable. "Well it's the reality now and I understand that with the amount of money in the industry today comes a lot of expectation," he says. "But I try and remember that the transfer fee had nothing to do with me, it was between the two clubs, so I just try and keep focused on what is under my control, that being the football and my game."
When he's not banging in goals on the pitch, Isak has the cool, street-smart demeanour of a typical member of his generation. Refreshingly, he doesn't seem to have considered luxury brand partnerships as a brand building exercise, even though he admits to being a fan of Dior. He identifies his standard look as "classic but casual." "On most days you will find me in a tracksuit, Adidas Essentials. Otherwise I am in a classic black tee, black jeans, over-shirt and black shoes. Always lots of black, I am a simple guy, I like high-end brands but you won't find me in anything too logo based or 'screamy.'"
For all his travels, Isak is still a Stockholm man at heart, enjoying the natural way of living, keeping things casual, grabbing dinner out with friends. He's also remained in touch with his parents' Eritrean roots. "I actually have found it quite easy to stay connected to my dual heritage as there are a lot of Eritreans in Sweden," he says.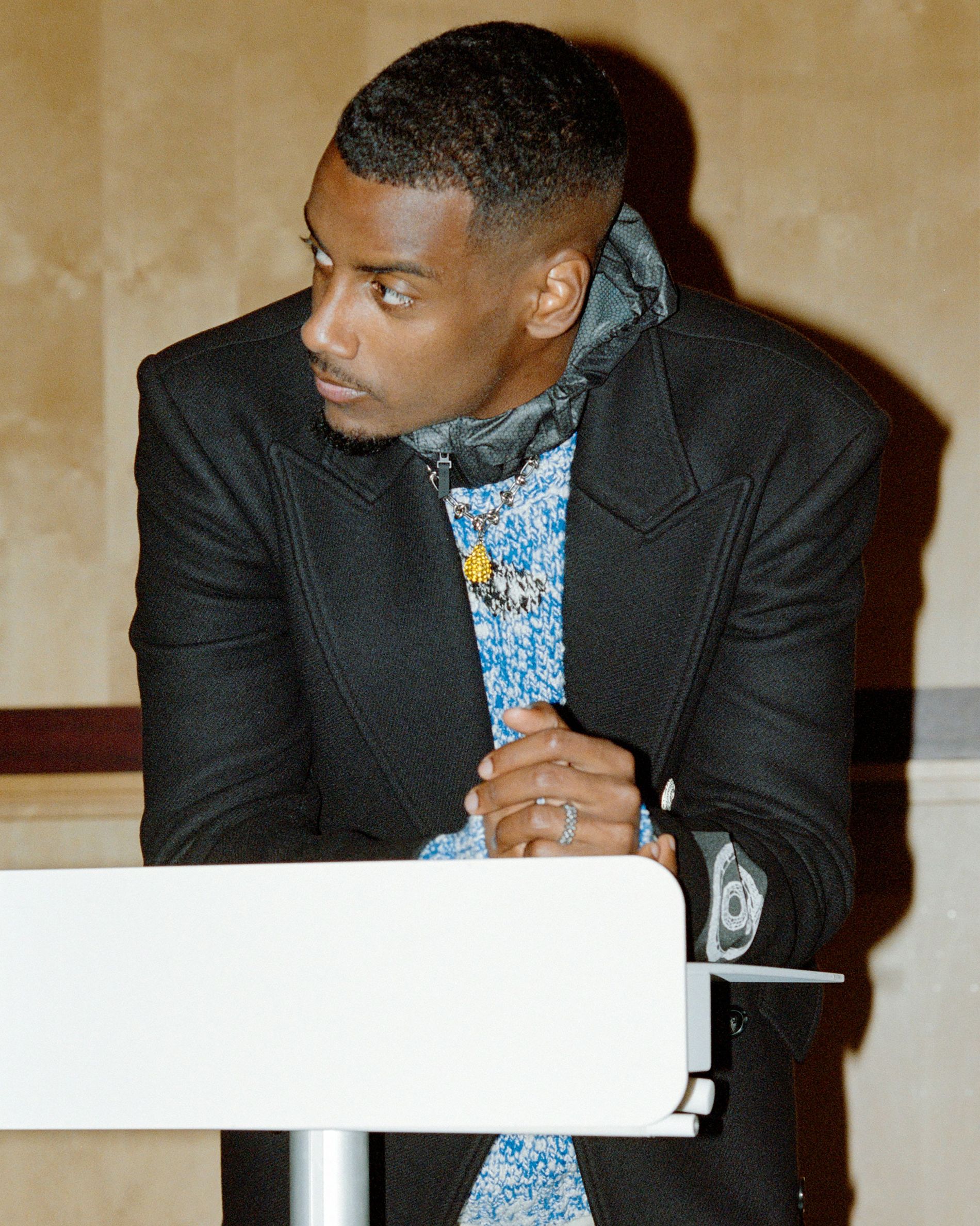 Double breasted tailored overcoat, €1,390. MM6 Maison Margiela. Wool sweater, €790. Loewe via Mytheresa. Waterproof jacket, worn underneath, €179. Adidas. Cargo trousers, €750. Loewe via Mytheresa. Sunglasses, €340. Bottega Veneta. Brass necklace with pendant, €312. Acne Studios. Sterling silver rings, sold separately, €157. All Blues. 18k white gold ring, price on request. Cartier. Striped leather sneakers, €110. Adidas. . Photo: Kimberly Ihre
So what advice would he give to upcoming players? "I think it is important for kids now to know there is no 'right' way. When you are young you should really just enjoy it, kick the ball, play at every opportunity you can and really love football, that is training. Ultimately passion is the key, without that, it would be difficult to put in the work needed to get to the top."
Isak is now reaping the rewards of such an approach himself. And while he may be temporarily limited by his injury, at just 23, he still has plenty of time to continue taking the world by storm and become, as Zlatan has predicted, one of Swedish football's true greats.
Photographer : Kimberly Ihre @ Xo Studio
Stylist : Sara Jeminen
Talent : Alexander Isak
Production : Linn Persson @ Xo Studio
Stylist assistants: Hermine Lycketorp, Wilma Berngarn