Artist Pontus Djanaieff teams up with Karlina's, the sustainable basics brand helmed by supermodel Karlina Caune, on a capsule of T-shirts and caps celebrating introverts
Artist Pontus Djanaieff revels in contrasts. His pop culture-heavy artworks are often a mashup of two disparate ideas – unlikely combinations of slogan and iconography – to create something humorous, unexpected and more than a little uncanny. Djanaieff's latest project, T-shirts made in collaboration with sustainable basics brand Karlina's is no different. Consisting of three T-shirts and caps, the capsule collection celebrates an unlikely hero: the introvert. The '80s-inspired lettering is juxtaposed with notably un-introverted characters, namely clowns. "The introverted clown, I like the contrast, but everyone is an introverted clown in one way or another," says Djanaieff. "It's a fun picture that might say something about how we feel."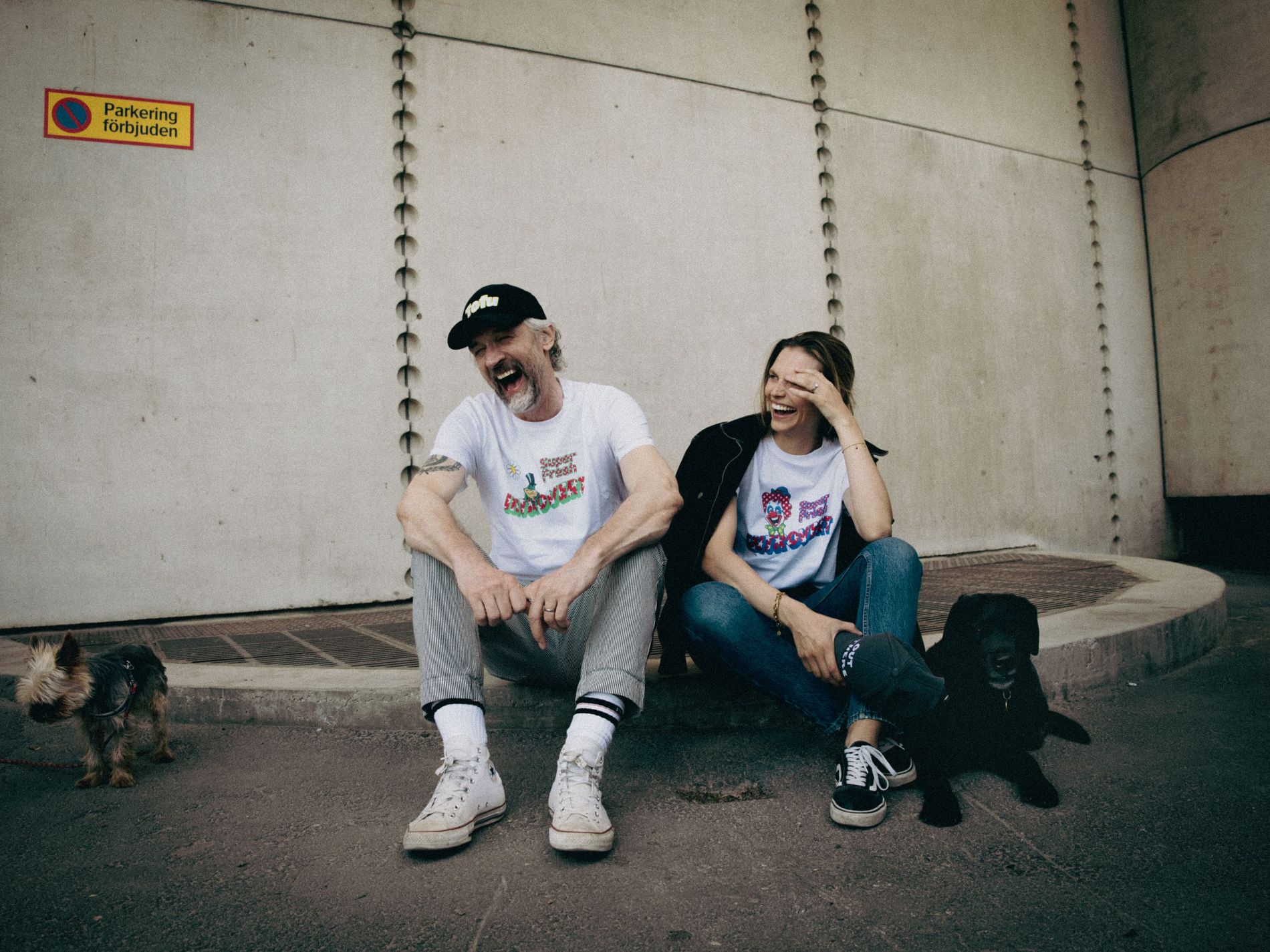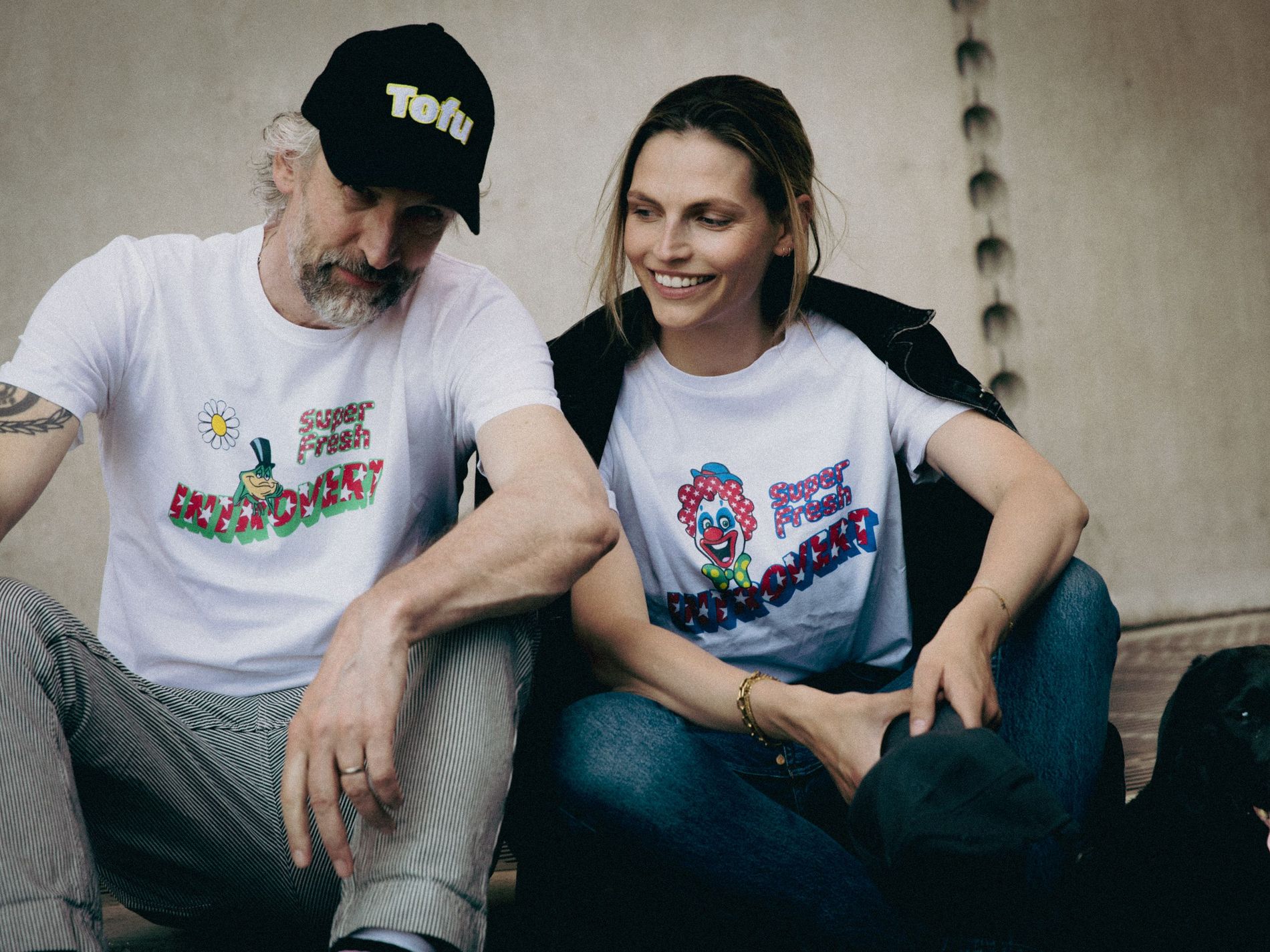 It was a fitting collaboration for Djanaieff, who has been living in Karlina's sustainable T-shirts and sweatshirts (they're made from 100% GOTS-certified organic cotton) for over a year now ("They are among my most comfortable clothes," he says). Meanwhile, brand founder and Stockholm-based Latvian supermodel Karlina Caune has been "a fan of Pontus' work for a while."
"I love the playfulness of the characters and the conceptual comedic nature they entwine," she says. "It has that feel-good element that I thought matched Karlina's values perfectly." Caune identifies as both an introvert and a clown, equally valuing quiet self-reflection and "letting the goofy side shine through."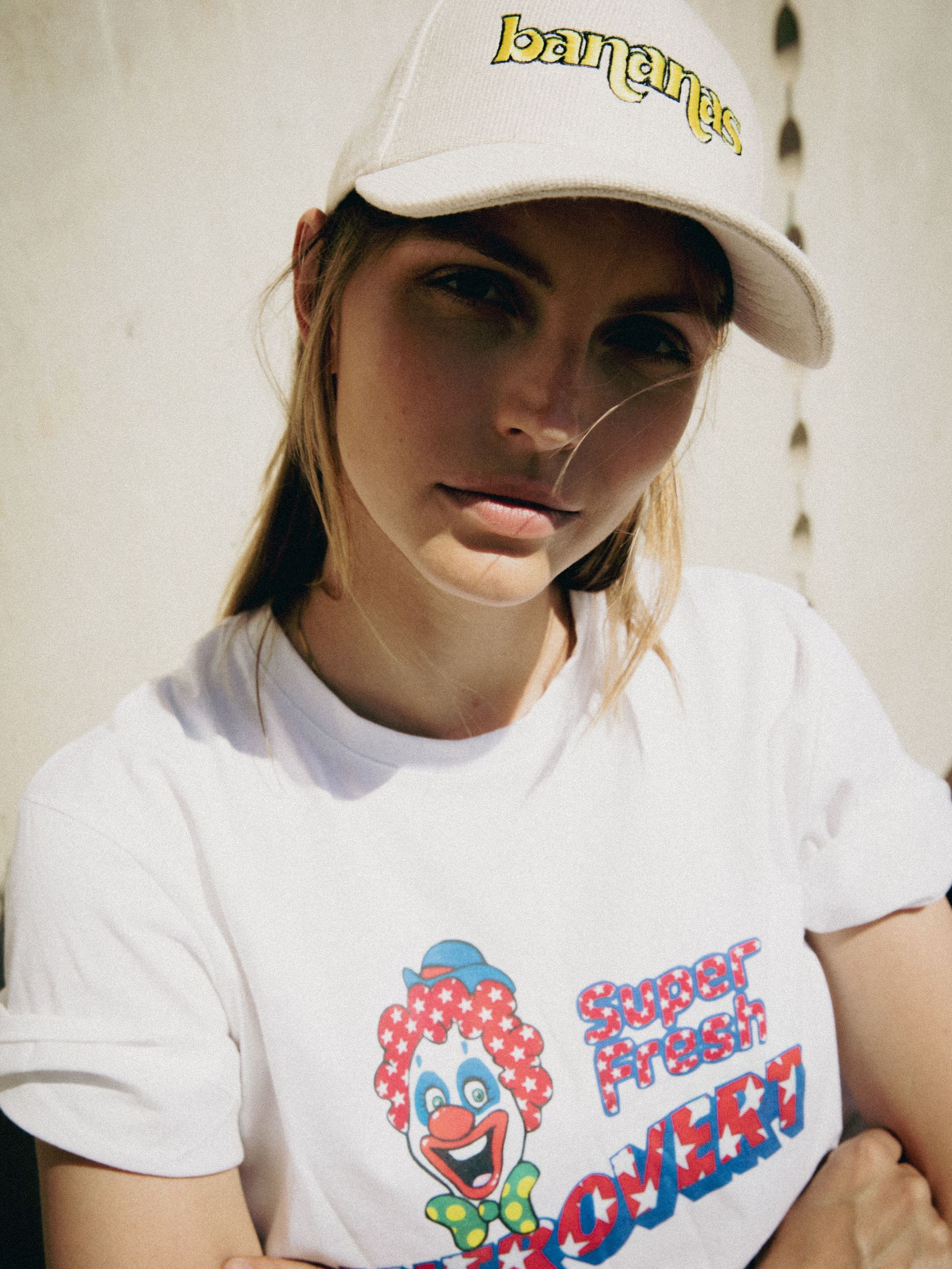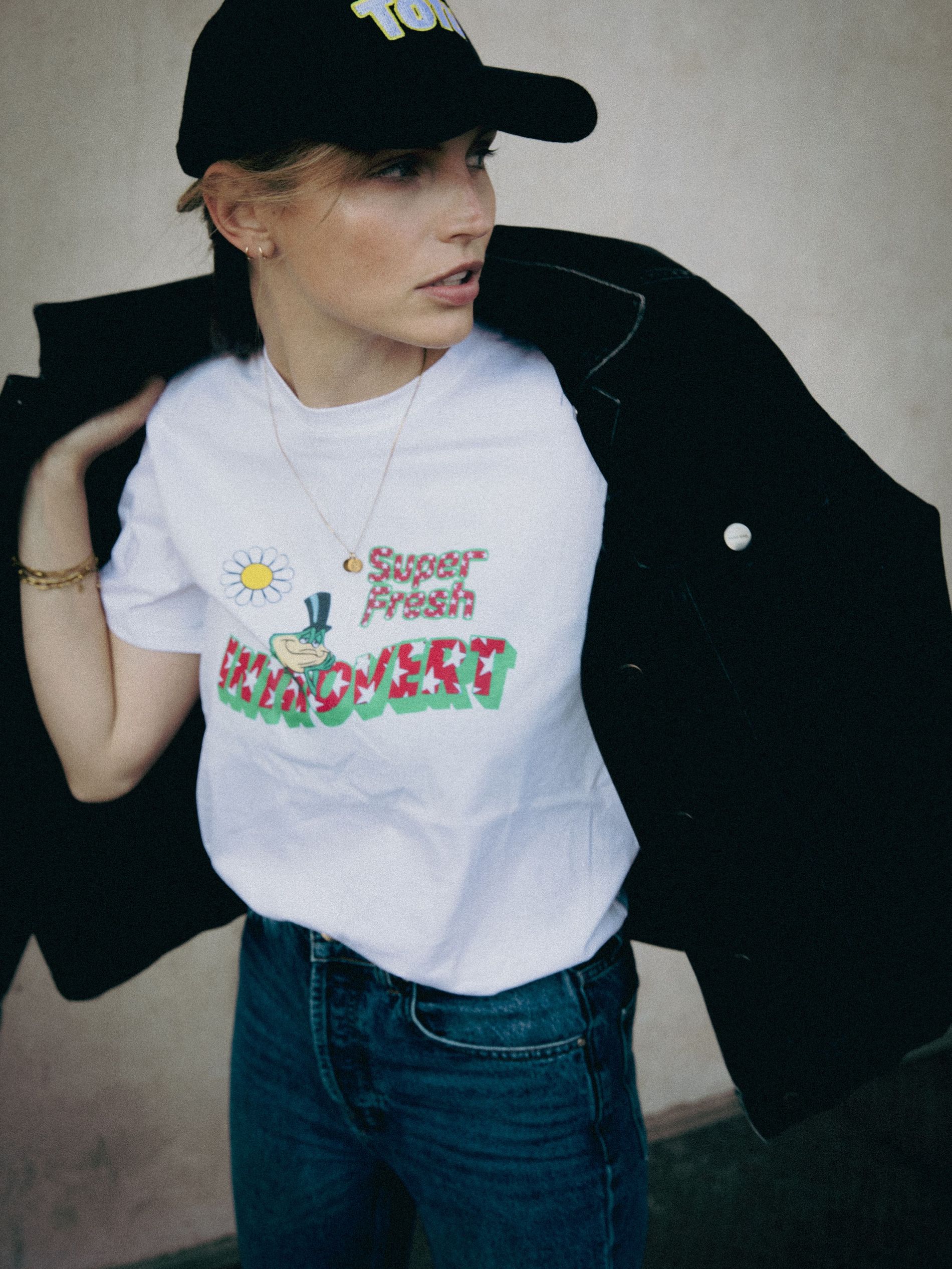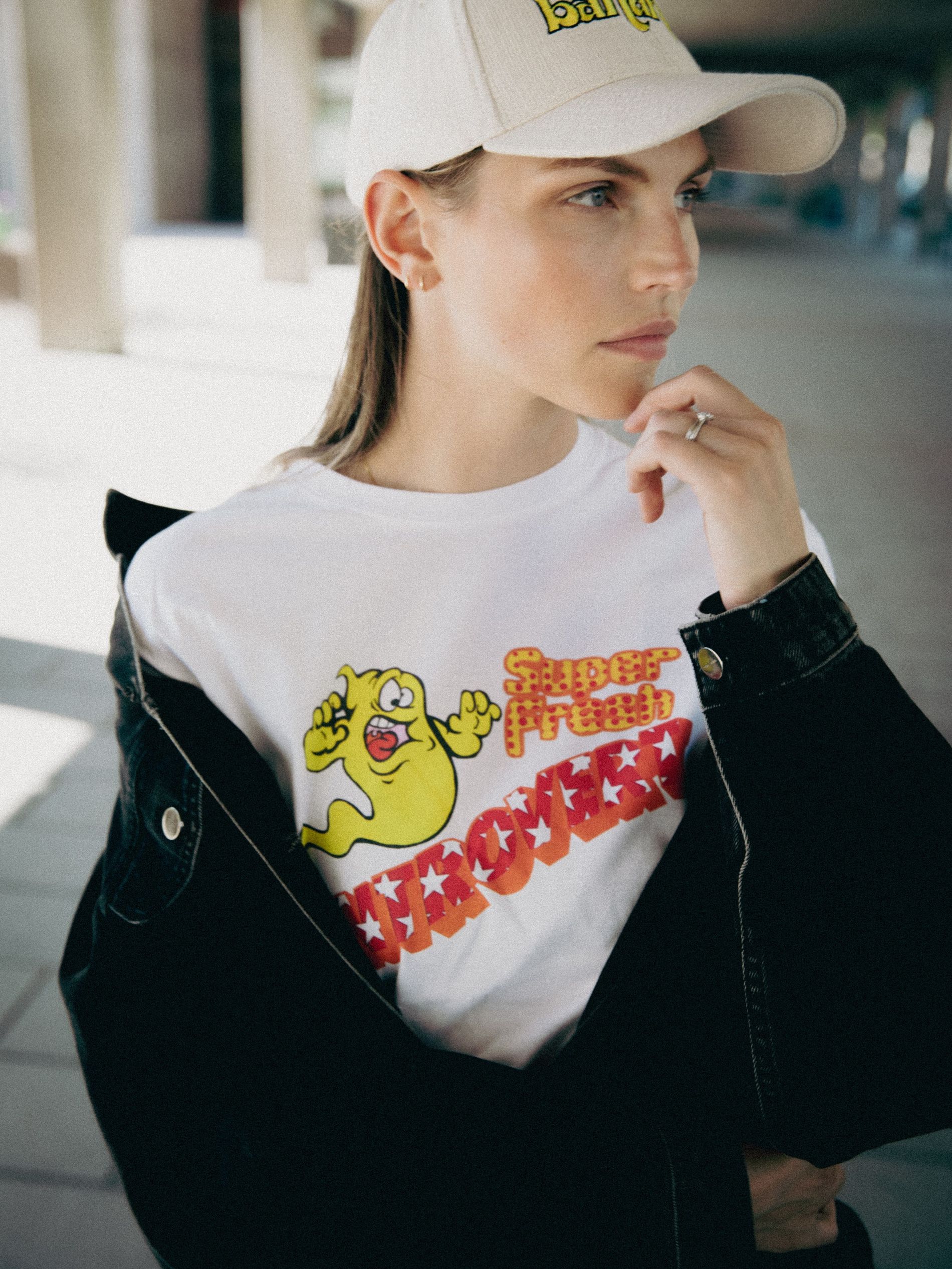 'Introvert' marks the first in an ongoing series of Karlina's artist collaborations. Released in small quantities, the capsule collections will drop twice annually, with proceeds donated to environmental organisations. This collection will launch via a pop-up at beloved Stockholm Italian restaurant Taverna Brillo on June 8th (the collection will also be available online via Karlina's from the 9th).
Meanwhile, there is one character who firmly sits in the extrovert category: Rufus the dog, who participated alongside his owner, Djanaieff, in the capsule's photoshoot. "He thinks you want to play when he gets attention in photo shoots, so he's really not good at being a model. Barking and running around," says the artist. "I love that dog."