The creative multi-hyphenate and all-round tastemaker lets us shadow her stylish pursuits during a typical day in the Swedish capital, and shares her signature preppy picks from Tommy Hilfiger's latest sought-out collection
It's not only Fanny Ekstrand's professional credentials that make us sit up and pay attention, which include – but are not limited to – creative director, content creator, writer and founder of her own magazine. She's also lived in Stockholm her entire life (except for a few years spent up north skiing), so she's well versed in the very best the city has to offer. Naturally, as Ekstrand orbits through the coolest places and faces around the Swedish capital, we asked for her personal low-down on what to do, where to go and how to master her easy, preppy style.
"For me, the day usually starts with me waking up and picking up breakfast at my local cafe in Södermalm, Pascal," Ekstrand says, describing a typical Saturday in spring for her. "I then go for a walk with my dog around Vitabergsparken. Later on, I love to ride my bike the 15 minutes it takes to get into the city and have a look at some of my favourite stores," she says.
"If the weather is good, I never miss a chance to have lunch at Stockholm classic Prinsen and their white tablecloth-covered outside tables. Usually, a few friends join and we later head to wine bar Schmaltz or Teaterbaren. Then, I walk home and order takeaway food from Le Neta, one of the best taco places in town, and have a quiet night in with my husband watching some corny '90s rom-com." When Ekstrand is based at her office in Östermalm, her routine is to have breakfast at Stora Bageriet, and to wind down in her Södermalm neighbourhood, she opts for a wine at local favourites Vina or Ninja.
As a creative, it's also high on the agenda for Ekstrand to always be seeking out inspiration across the city. 'I always pay visits to stores like The Modern Sthlm and Nordiska Galleriet, and even Public Service Gallery which I think is doing a great job curating more contemporary artists," says Ekstrand of her favourite inspiration sources around the city.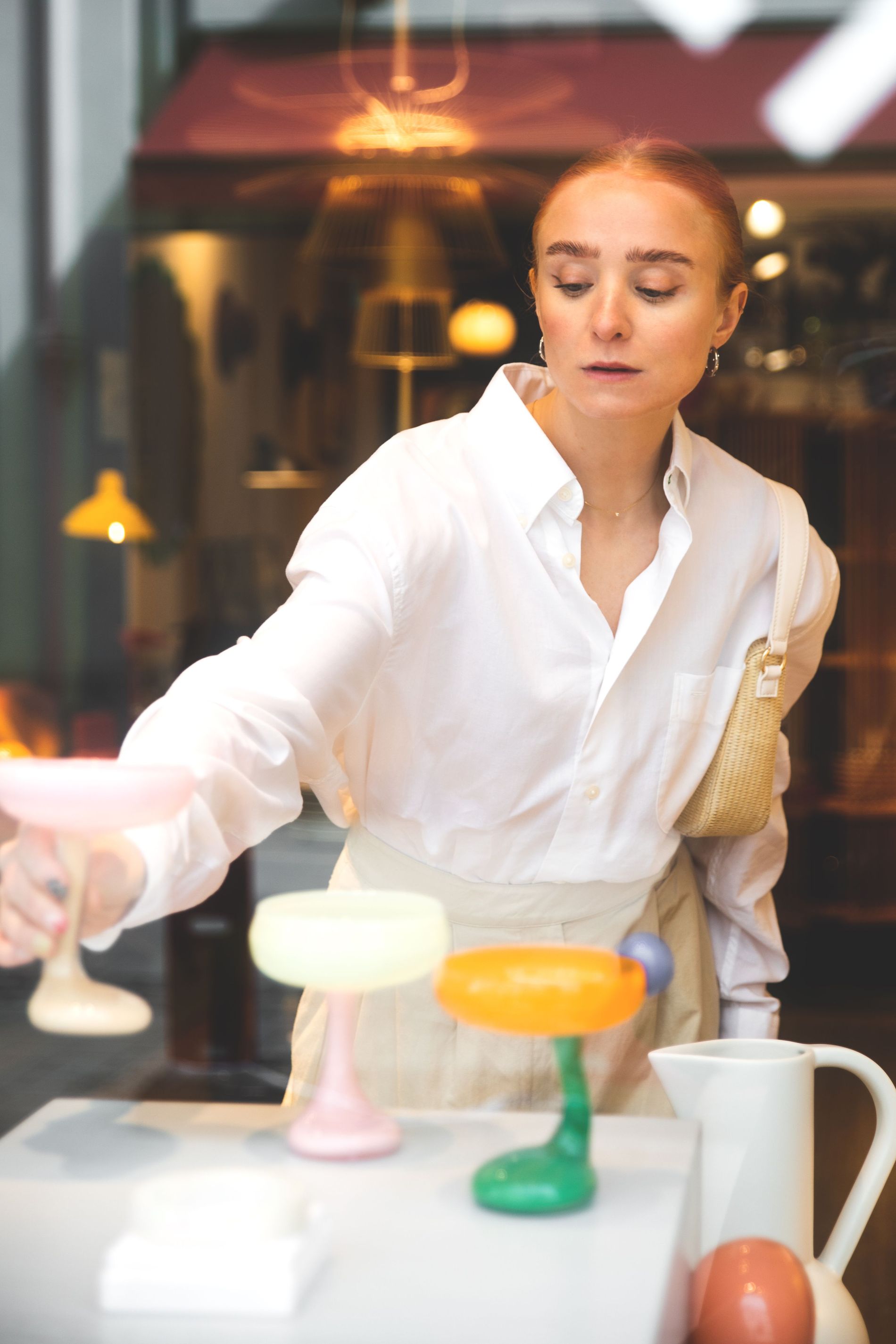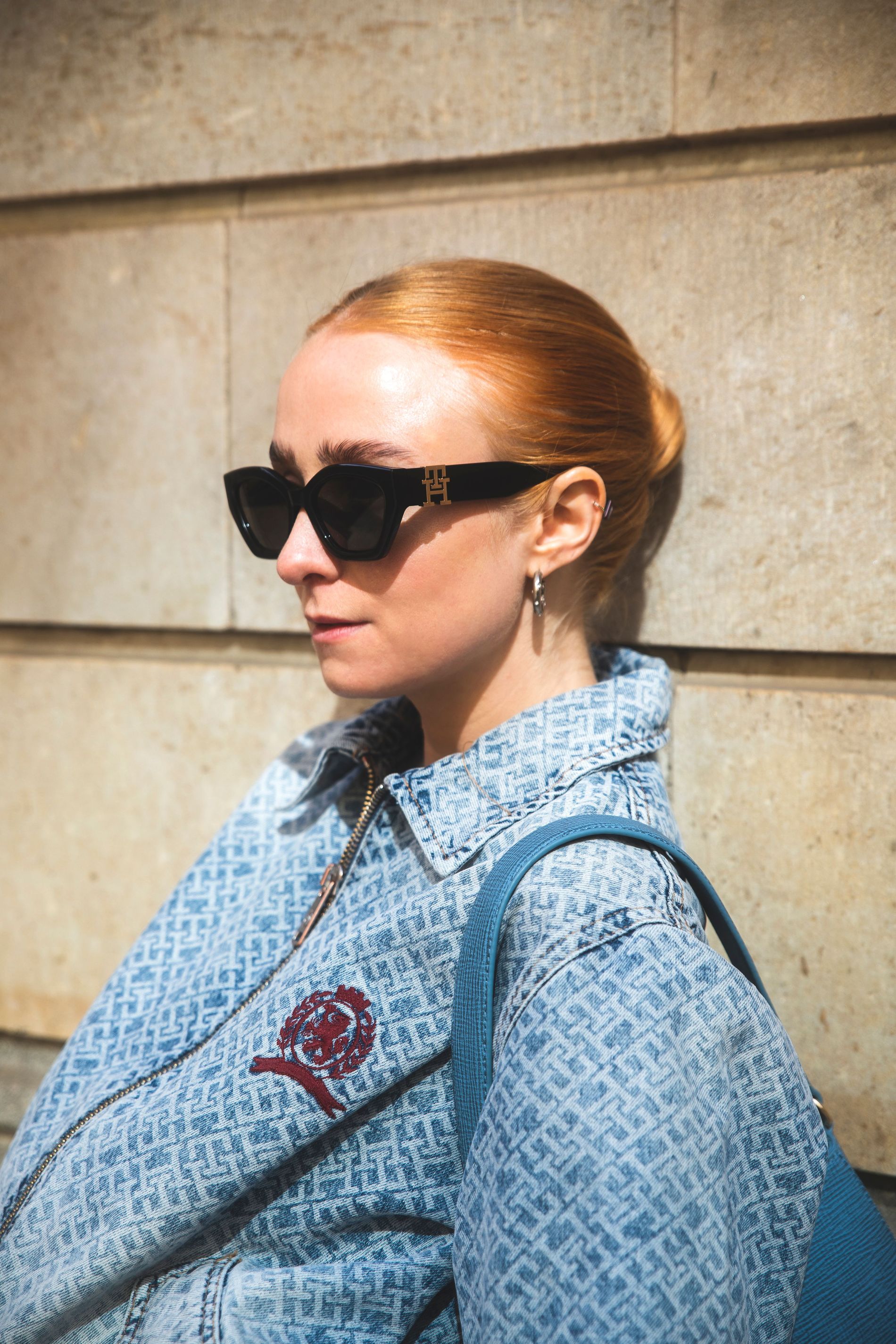 As a true Stockholmer, it's Ekstrand's belief that style in the city strays a little from what is perceived as classic Scandinavian dressing. "I would describe the Stockholm style as a bit divided," she reflects. "There is the classic feminine minimalistic monochrome style which people associate with Scandinavians, but there is also this style going on which is a tad more fun (to me at least) and which I feel like is easier to relate to," she says. "That style is bolder, plays around with gender and silhouettes, the '80s and '90s, and personal expression. It's definitely more fearless," Ekstrand concludes.
my goal is to look like a dad on the French Riviera during the '80s or '90s
Fanny Ekstrand
One brand that delivers that bolder, retro-tinged style is Tommy Hilfiger. "It's about classic American sportswear, in a way that never gets old to me," Ekstrand notes. It has sentimental value for the creative too. "I wore this second-hand grey melange half-zip sweat when I was younger that I loved, and I bet I still would if I hadn't worn it to pieces." And for those with a penchant for preppy style, like Ekstrand, the brand's 250-piece Classics Reborn collection for spring 2023 delivers in spades.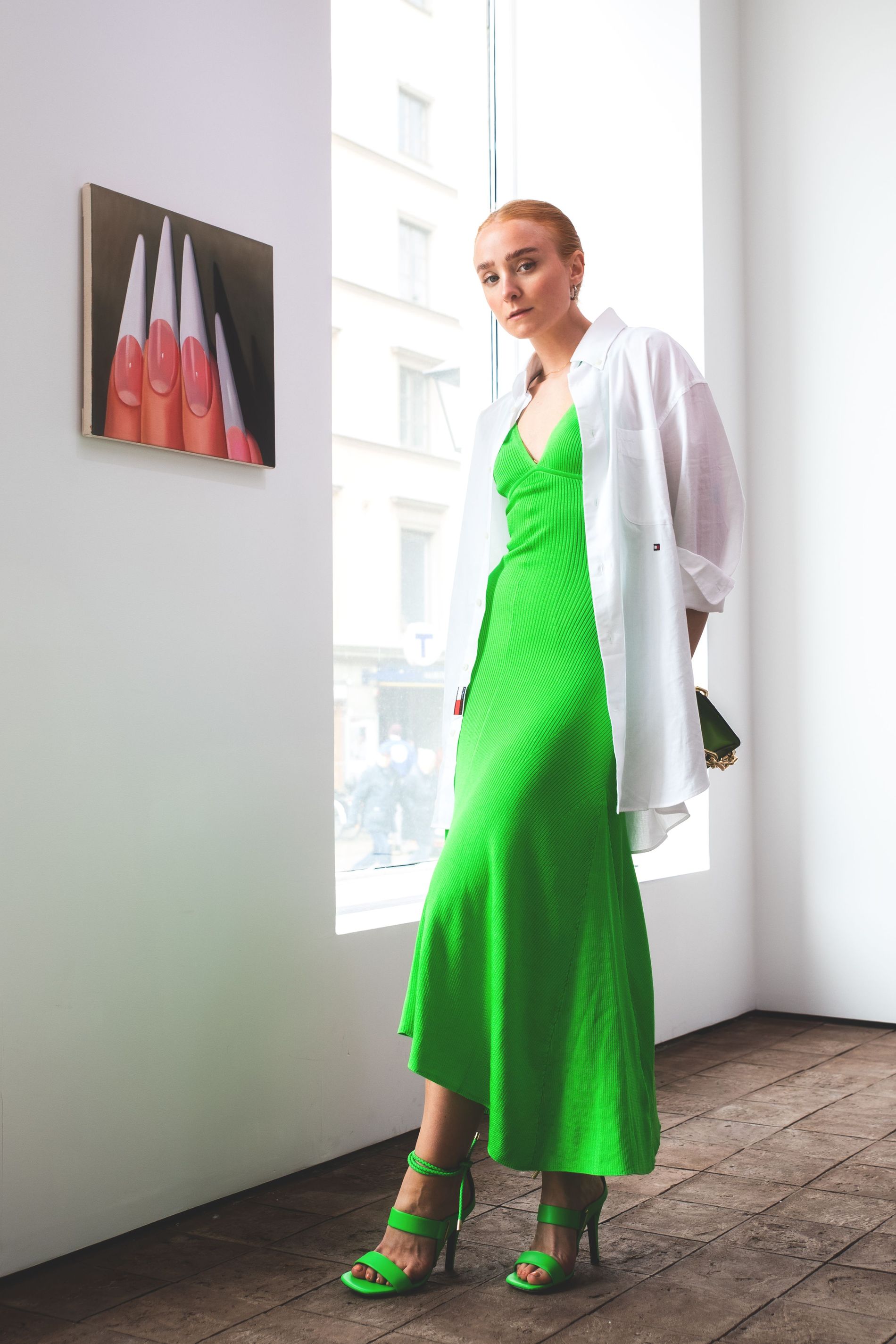 Photo: Sarah Liisborg
The brand's all-time prep classics, many of which are plucked from the '90s archives, and reinvented for the season ahead. The collection's Oxford shirt and shirt dress represent key pieces reborn for a new generation, while other timeless styles like a rugby shirt, blazer and matching chino sets make a welcome reappearance. Shots of lime green run through chunky crewnecks and sleek dresses, while blazers for men and women blur the lines between day and evening wear.
Commenting on the pieces from Tommy Hilfiger's Classics Reborn collection that are in her own wardrobe, Ekstrand says: "I mean, my goal is to look like a dad on the French Riviera during the '80s or '90s which I feel like I can definitely achieve with this season's white wide chinos, bright-coloured linen shirts, and the white logo half-zip sweater."
Photographer : Sarah Liisborg
Videographers : Kristian Bengtsson, Margarita Sheremet
Talent : Fanny Ekstrand
Makeup Artist and Hair Stylist : Caroline Ljusterdal
Stylist Assistant : Amelie Langenskiöld
Special thanks to : The Modern Sthlm, Teaterbaren, The Public Service Gallery, Schmaltz Bar & Delicatessen