The Stefan Cooke x Mulberry capsule features 27 pre-loved Mulberry bags, upcycled with Stefan Cooke's signature crafty flourishes
At this morning's Stefan Cooke runway show, a handful of models carried bags that looked rather familiar. Yes, the bags in question were adorned with Cooke's signature flat bows and slashed diamond patterns yet the silhouettes were undeniably Mulberry – most notably the iconic Bayswater, which celebrates its 20th anniversary this year.
This was, in fact, the surprise debut of the Mulberry x Stefan Cooke capsule, the latest collaboration in the Mulberry Editions series (previous collaborators included Priya Ahluwalia and Richard Malone). But rather than put Stefan Cooke's singular crafty spin on new handbags, for the first time Mulberry offered up pre-loved handbags to be upcycled and sold as one-offs – a flashy extension of the brand's circular 'Mulberry Exchange', which buys back used handbags, refurbishing them before selling them at a "pre-loved" price.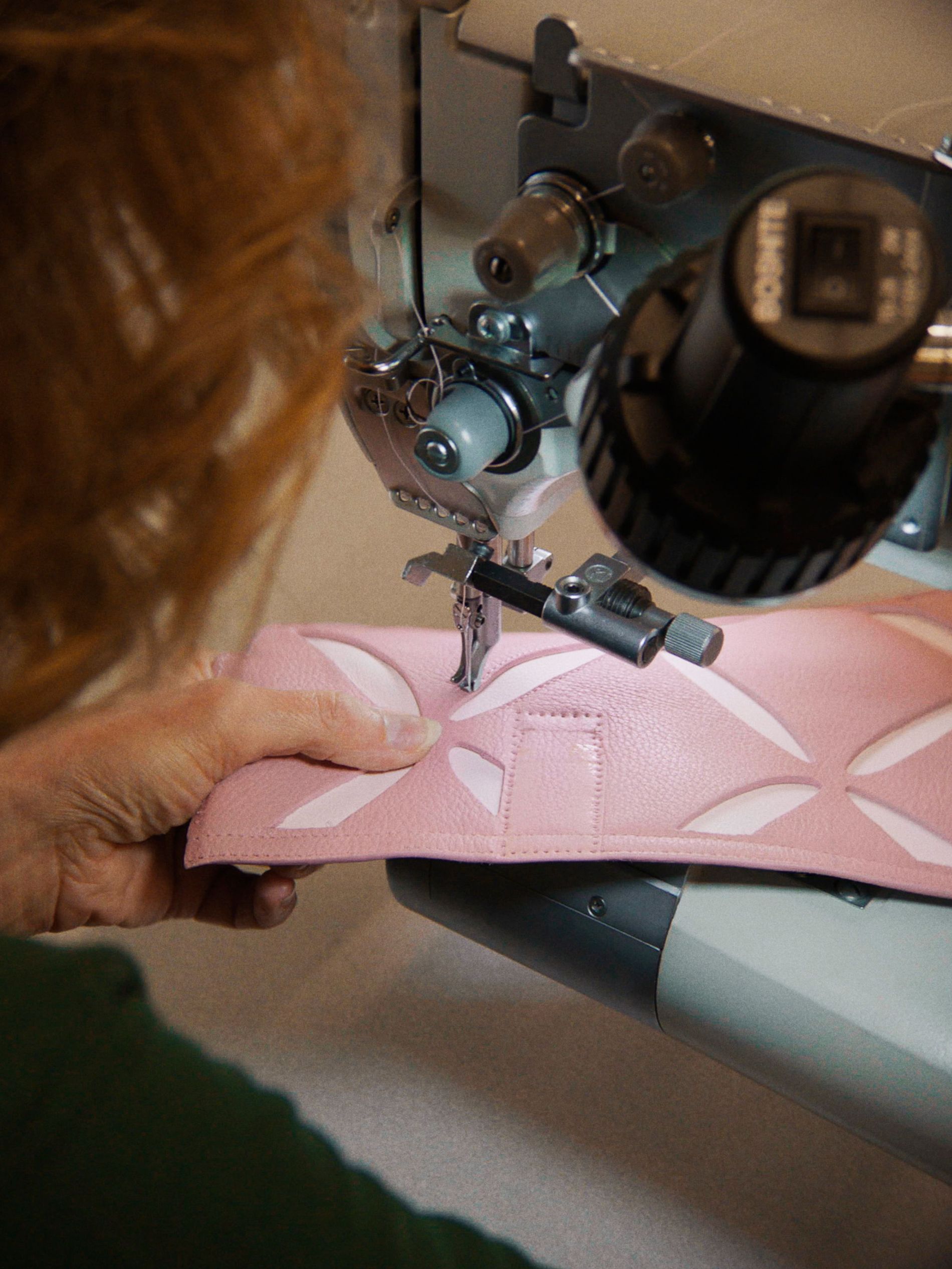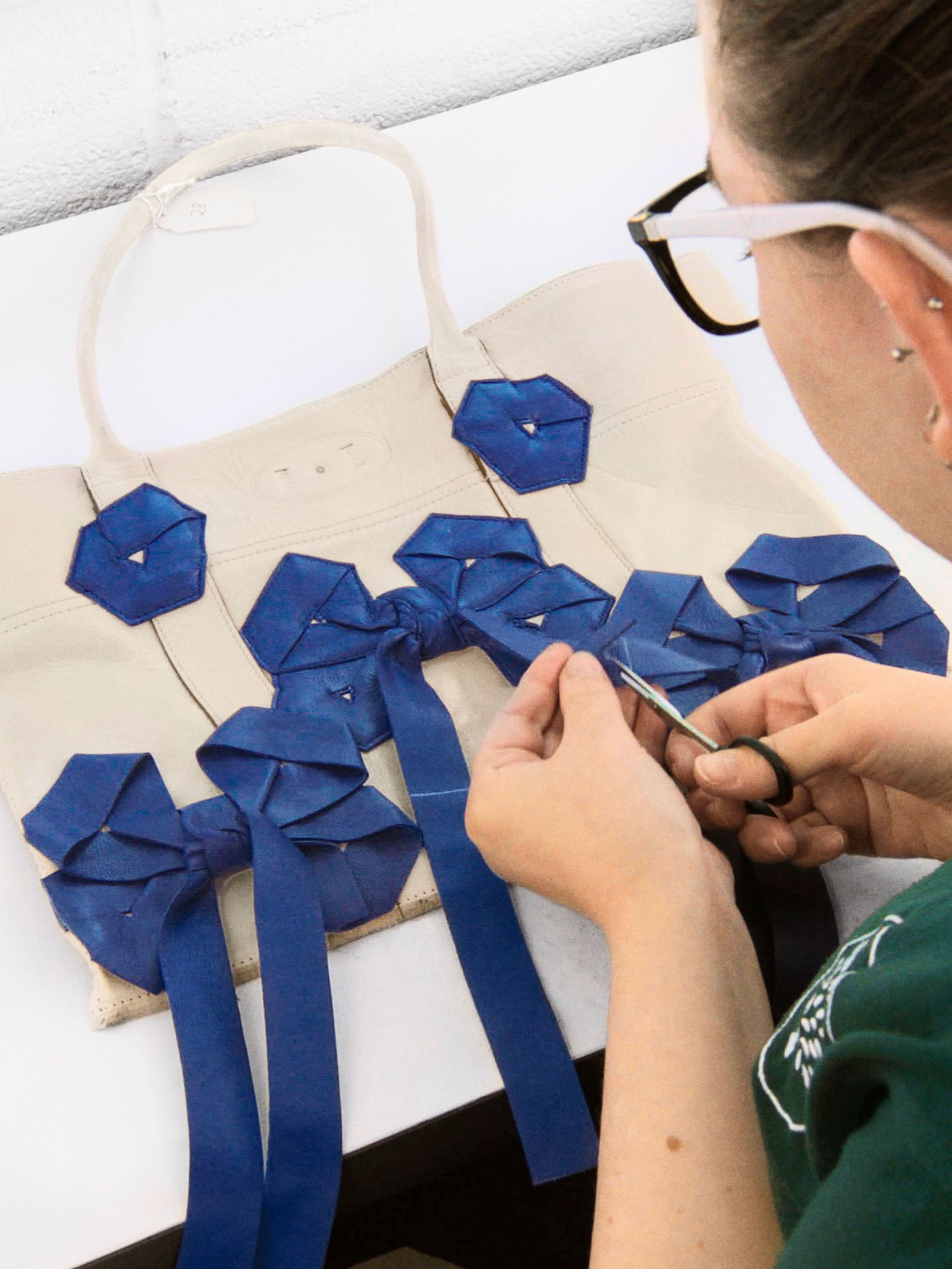 For Stefan Cooke and brand co-founder Jake Burt, Mulberry evokes feelings of home – both men have family "just a few miles" from Somerset, where the heritage brand was founded and still maintains its factories. "It feels like there has been a natural 'coming home' to a brand that is a part of Somerset and the UK," Cooke and Burt tell Vogue Scandinavia. "Mulberry itself makes us think of craft, quality and longevity."
Meanwhile, those three tenets – craft, quality, longevity – are steadily becoming synonymous with Stefan Cooke as well. Known for clever upcycling and a language in which the designers' hands are alway felt, the emerging British brand fashions wearable staples with tongue-in-cheek flourishes.
Mulberry reached out to the design duo after seeing Stefan Cooke's work with upcycled handbags. "From the first meeting, it was a natural pairing," say Cooke and Burt. Their first order of business? Visiting that aforementioned factory in Somerset to witness firsthand "how a bag is made from start to finish". Next, they handpicked – or, as they say, "interrupted" – 27 pre-loved bags (which, in addition to the Bayswater, include the buckle-heavy Roxanne and the Millie tote) in the process of being repaired. Finally, they worked closely with the artisans to bring their interpretation of each bag to life. "The collection grew from conversations in real time to keep the process succinct and engaged," say Cooke and Burt. "Working closely with the artisans was incredibly important to us."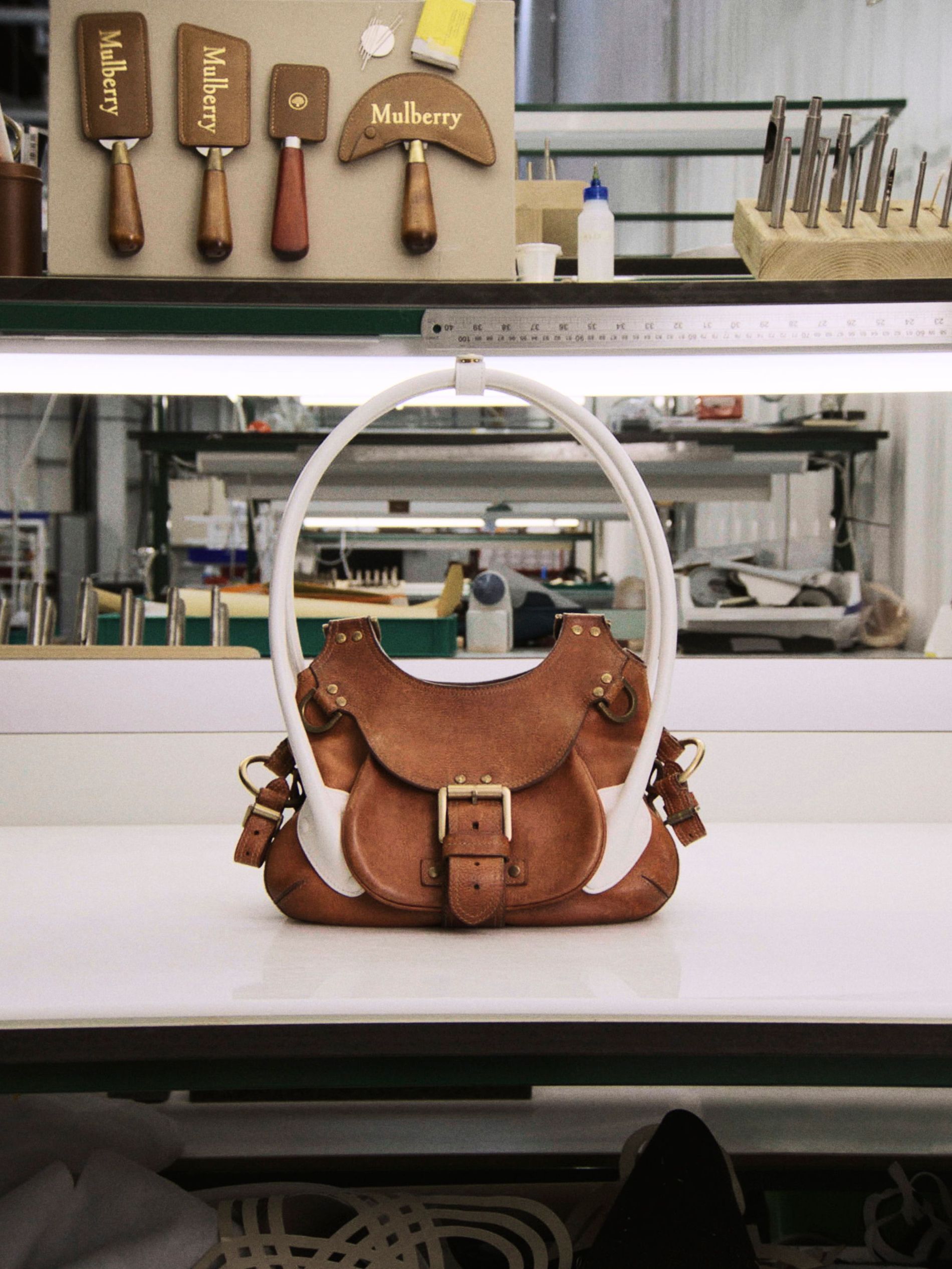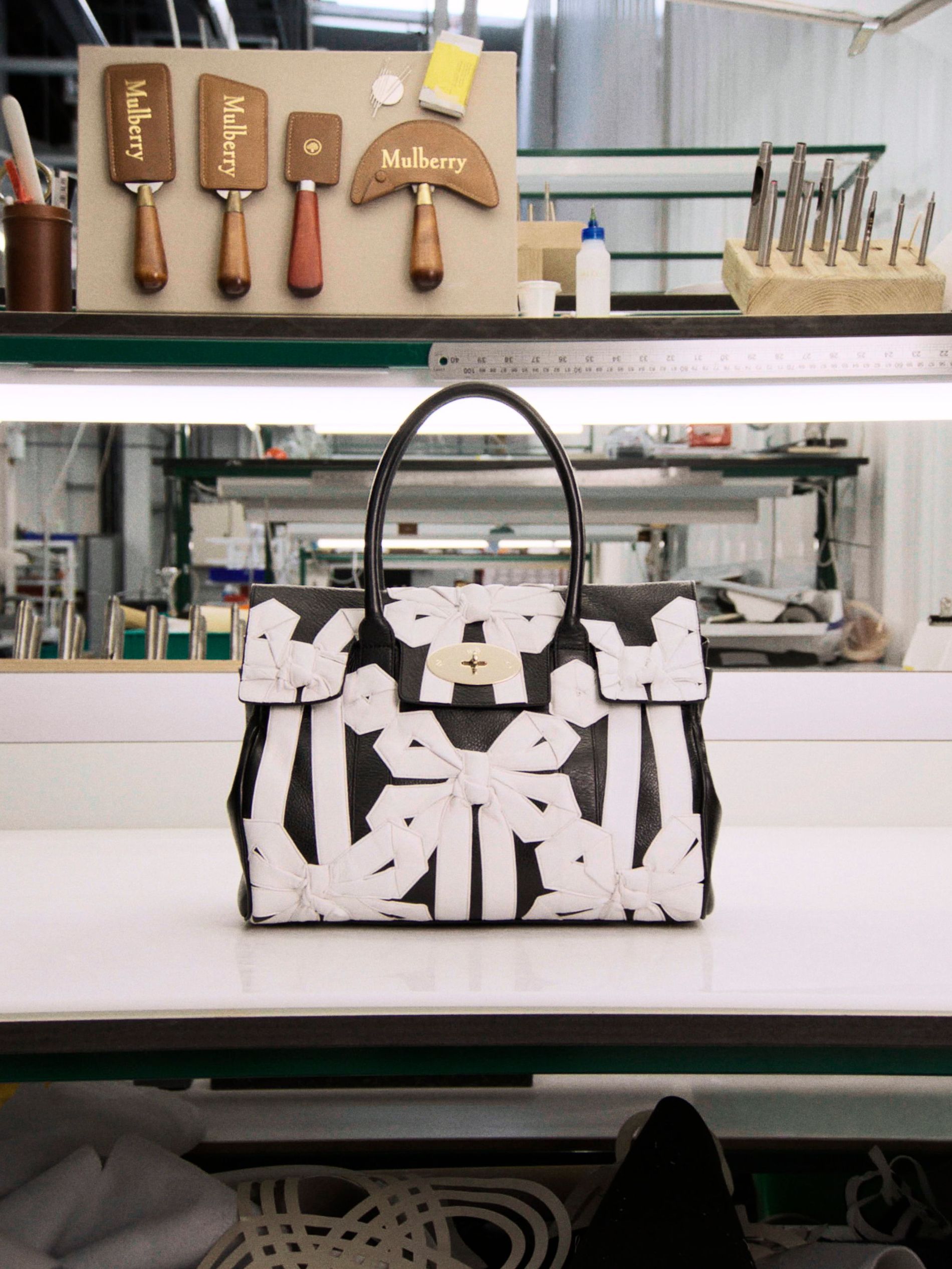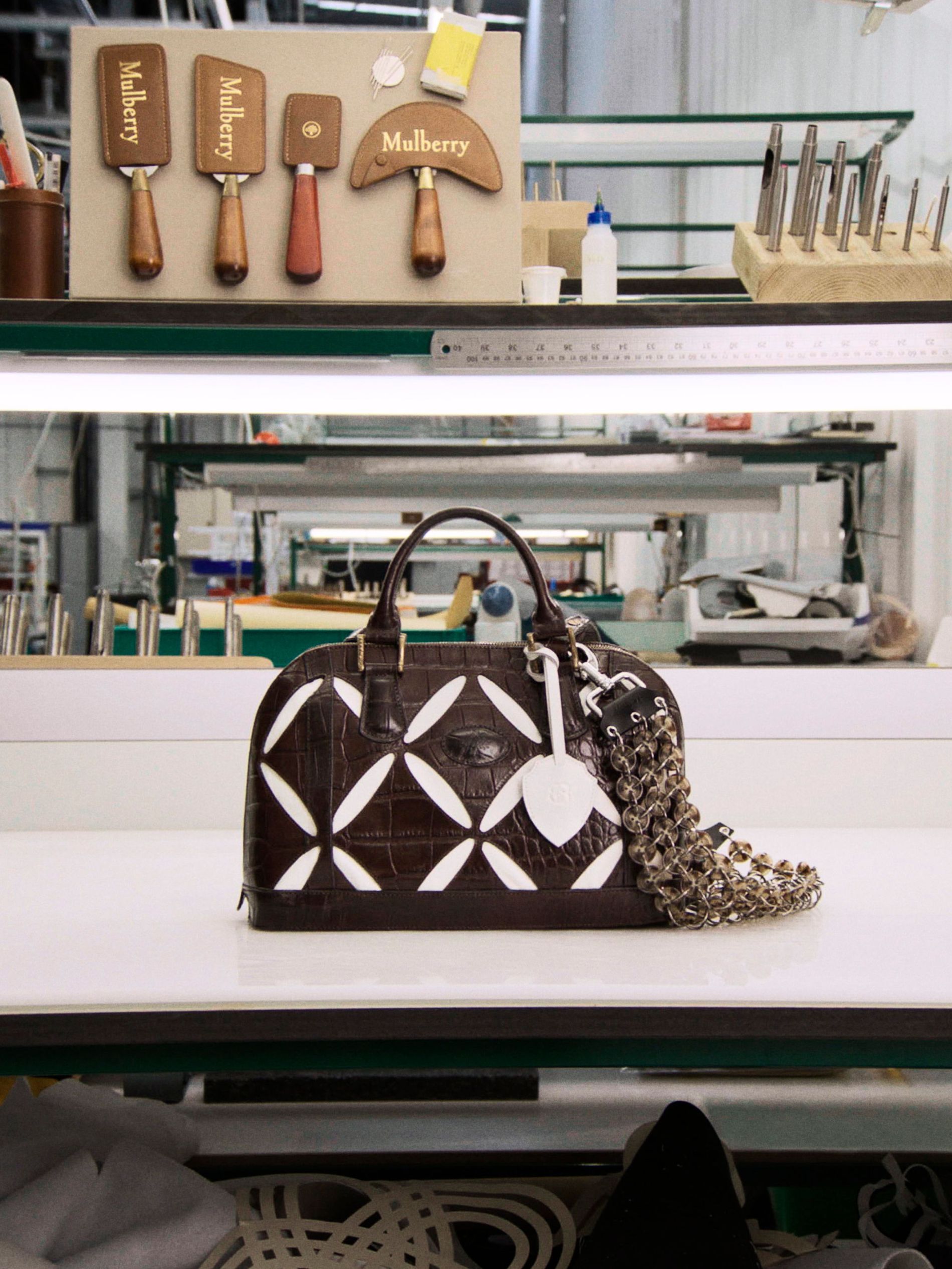 The pairing felt instantly "just right" to Mulberry as well. "Mulberry's circularity programme is fundamental to our Made to Last strategy, and Stefan and Jake's innovative approach to design and repurposing makes them a truly exciting partner," says Mulberry CEO Thierry Andretta. "Together we have crafted a collection which celebrates creativity and progressive British craftsmanship with circularity at its heart."
Those who fell in love with the bags at first sight needn't wait until Stefan Cooke's SS24 collection hits stores: the one-off bags are available to purchase at Mulberry's very first pre-loved pop-up shop tomorrow. And for those who can't wait that long, they're also available via Mulberry's web shop right now.