"Stella's Sustainable Marketplace", featuring her favourite eco-minded collaborators and her dad's vinyl collection, formed the backdrop for Stella McCartney's spring/summer 2024 show in Paris. Below, Vogue critic Anders Christian Madsen shares his key takeaways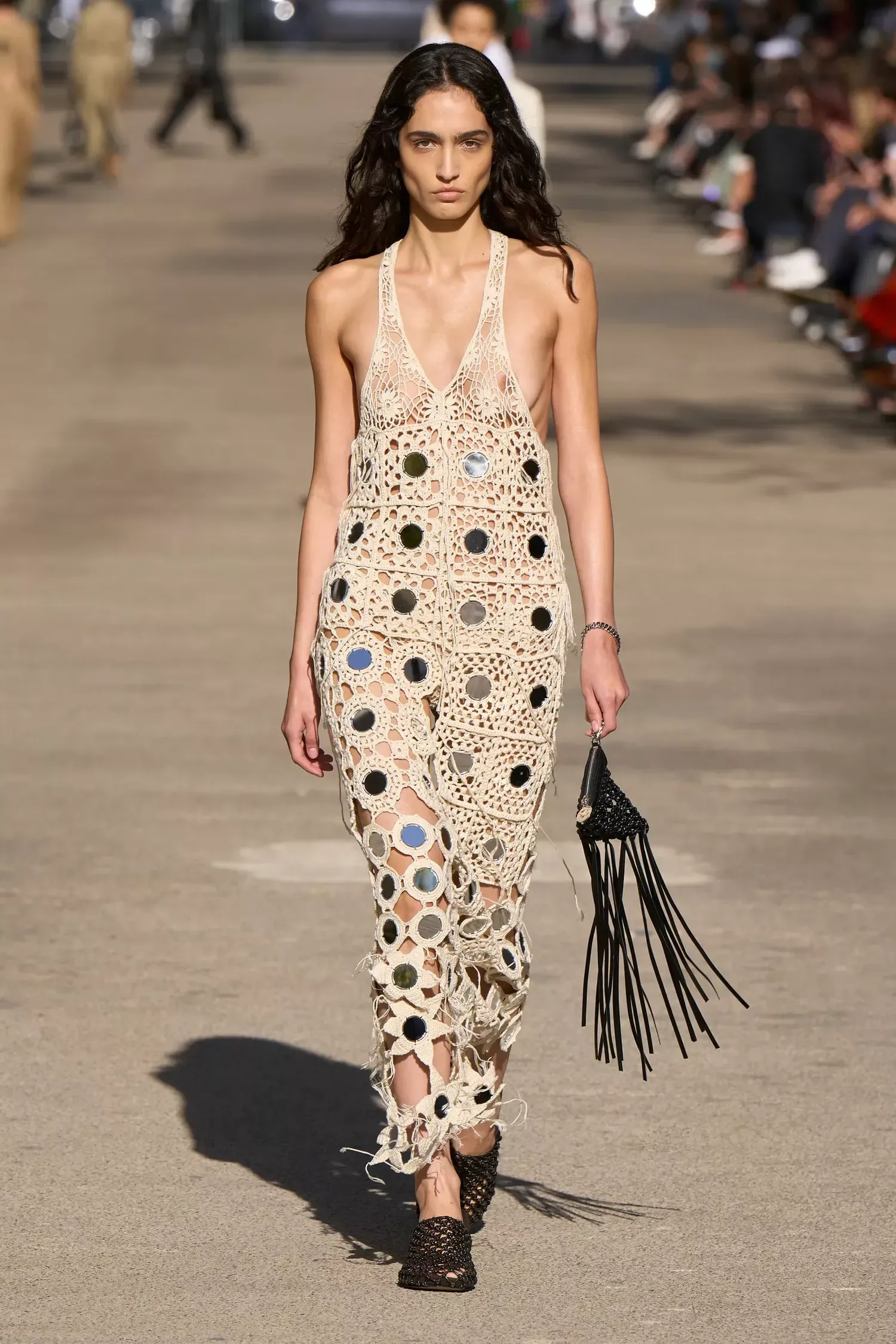 It was Stella's Sustainable Marketplace
Along the Avenue de Saxe in the 7th arrondissement, Stella McCartney set up temporary shop on the Monday morning of Paris Fashion Week. She created Stella's Sustainable Market: a classic Parisian marketplace lined with stalls featuring her favourite sustainable collaborators as well as nods to parents, Paul and Linda McCartney. "There's a music stall with some of my dad's music. My mum's vegetarian food company is here, too. Bringing families together is the most important thing." The collection featured 95 per cent conscious materials, the activist designer noted. "We've never gone that high before."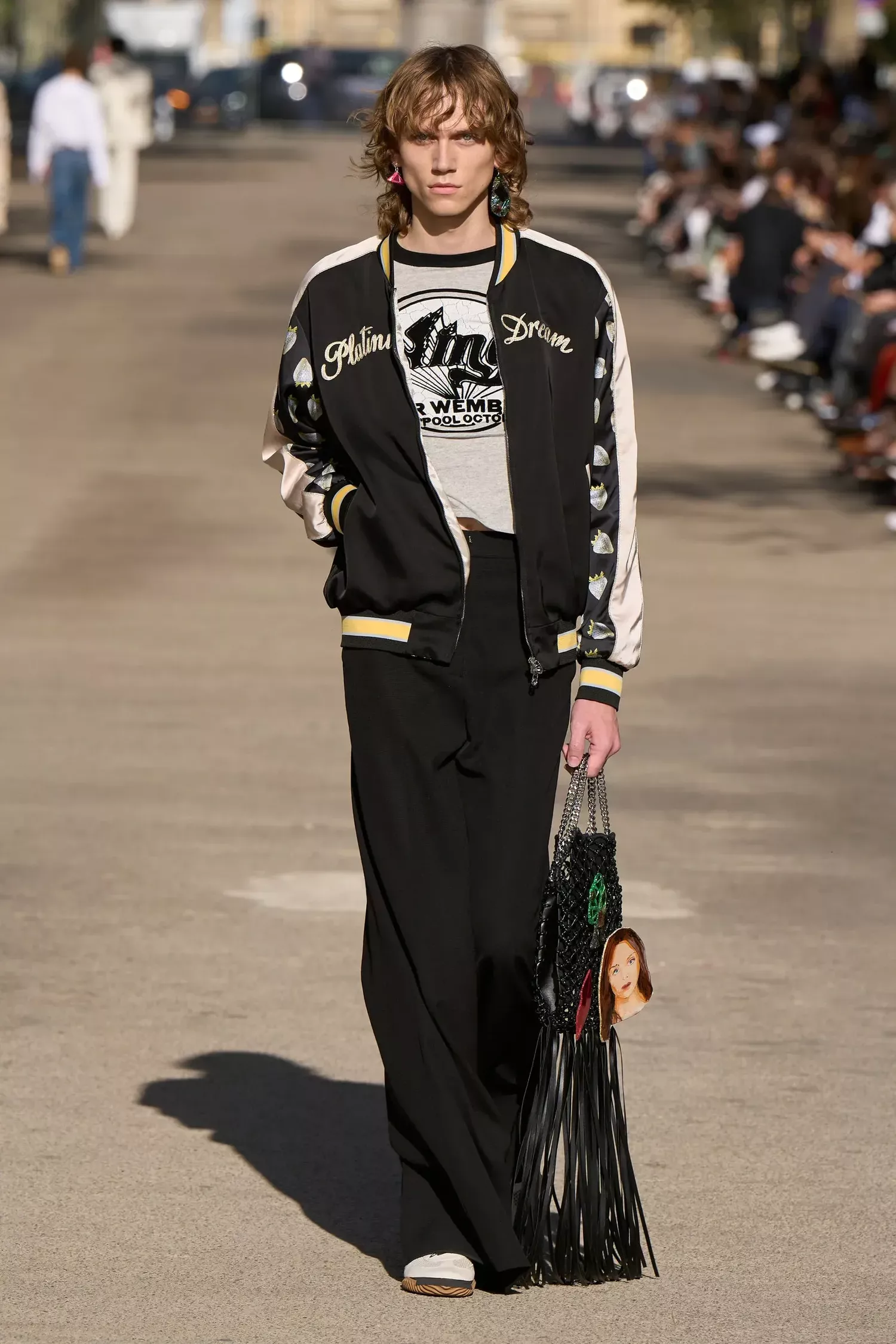 It was inspired by McCartney's family
McCartney's models walked the virtually mile-long marketplace runway in a shared wardrobe that represented the family feeling she wanted to convey. "This was one of the first shows we've ever had with women and men. It was about showing that everyone can wear it, and how you say what you are through what you wear. I think, if you're part of the Stella McCartney community, you're already in the now: you're part of the next generation and part of the future of fashion," she said. "It doesn't matter what gender you are. Our brand is open to everyone." That included Cate Blanchett, Robert Downey Jr and Chris Rock, who all came to support McCartney.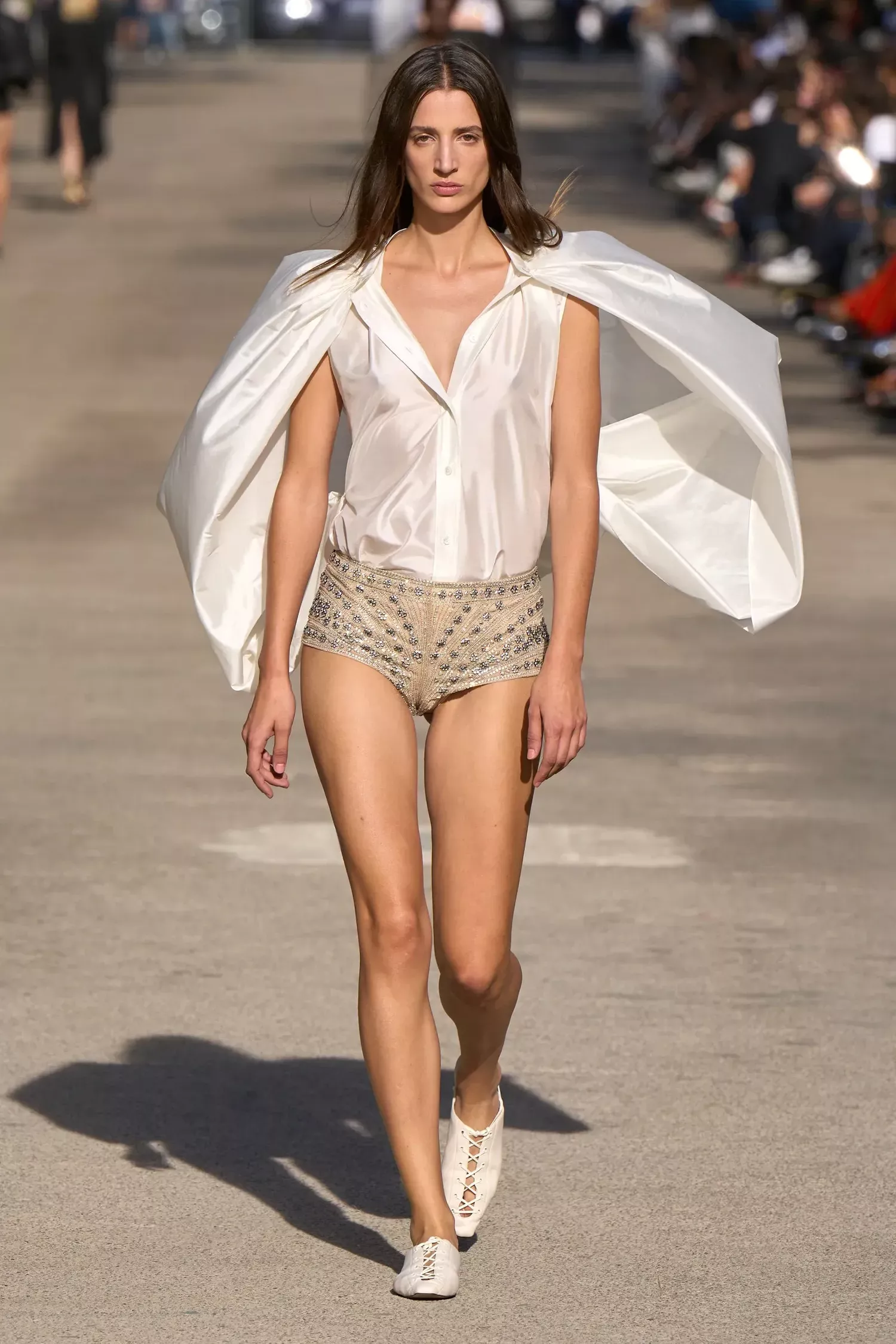 It featured a collaboration with Wings
In the spirit of the marketplace, the collection was a hotchpotch of the life and passions of Stella McCartney. She looked to her personal archives of clothes accumulated from her parents' wardrobes and her own, and reworked them into a look that often bore evidence of stage costumes. "My parents made their owns clothes, too," she said, explaining how she hadn't messed too much with the original points of inspiration. "I used to wear them all and now my daughter steals them off me." Wings materialised as couture-like gestures on dresses that billowed in the wind, but also in a formal merchandise collaboration with the band of the same name, formed by her parents in 1971.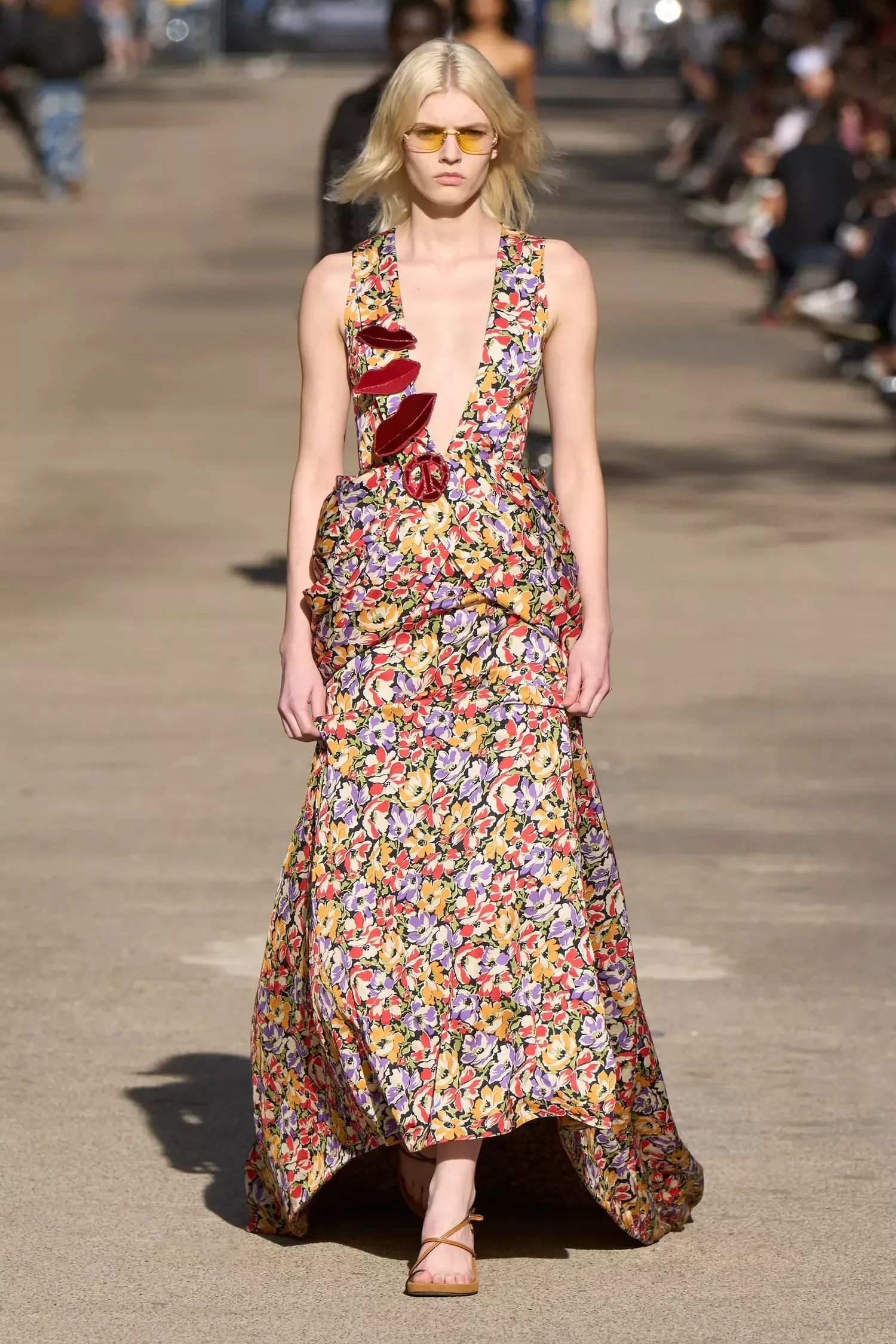 McCartney worked with the artist Andrew Logan
The show was largely defined by the couture-like shapes McCartney proposed in a wealth of flowy dresses with dramatic sleeves, but also in dresses adorned with "wearable art" by the English sculptor Andrew Logan. McCartney exercised her excellent tailoring in voluminous his-and-hers suits that echoed the shape of her denim trousers. Her boldest proposition was a cummerbund silhouette incorporated into trousers and jeans, which continued the hip-centric focus of her recent Y2K nostalgia and made for a pretty cool idea.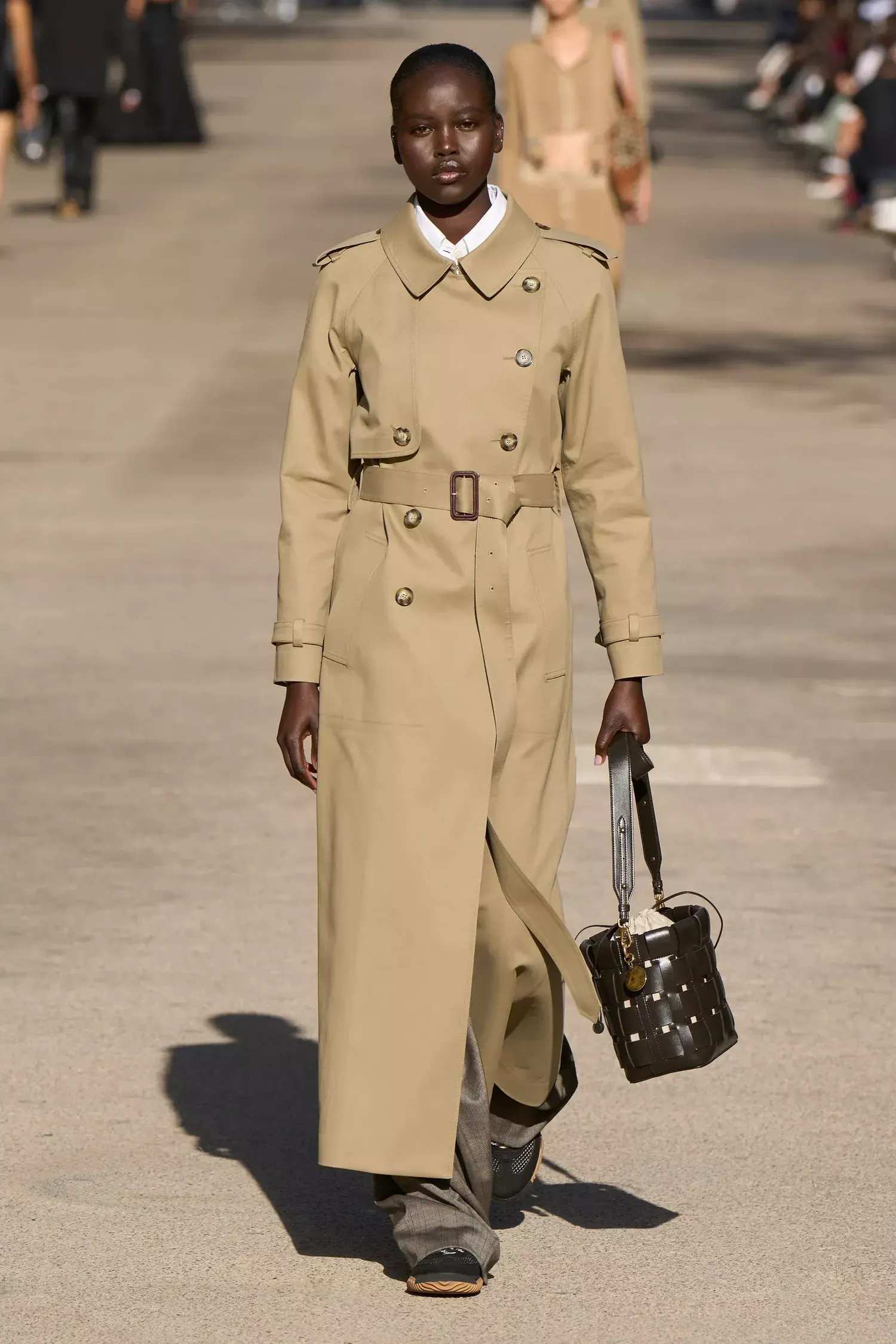 It was about giving people access to sustainability
After the show, guests were invited to peruse the market and learn about the sustainable partners McCartney works with. "I want to give people access to all this information. That's why I did it," she explained, reflecting on the impact the environmental cause in having in our daily lives. "I think the next generation of people do it. You're doing what you can. We're not here to make you feel guilty about not doing it a hundred per cent. Meet people, learn about things, and try not to consume quite so much fashion. Because we don't need it."