After 26 years at Alexander McQueen, including 13 years as creative director, Sarah Burton presented her final collection for the brand at Paris Fashion Week. Below, see Vogue critic Anders Christian Madsen's five takeaways from the emotional spring/summer '24 show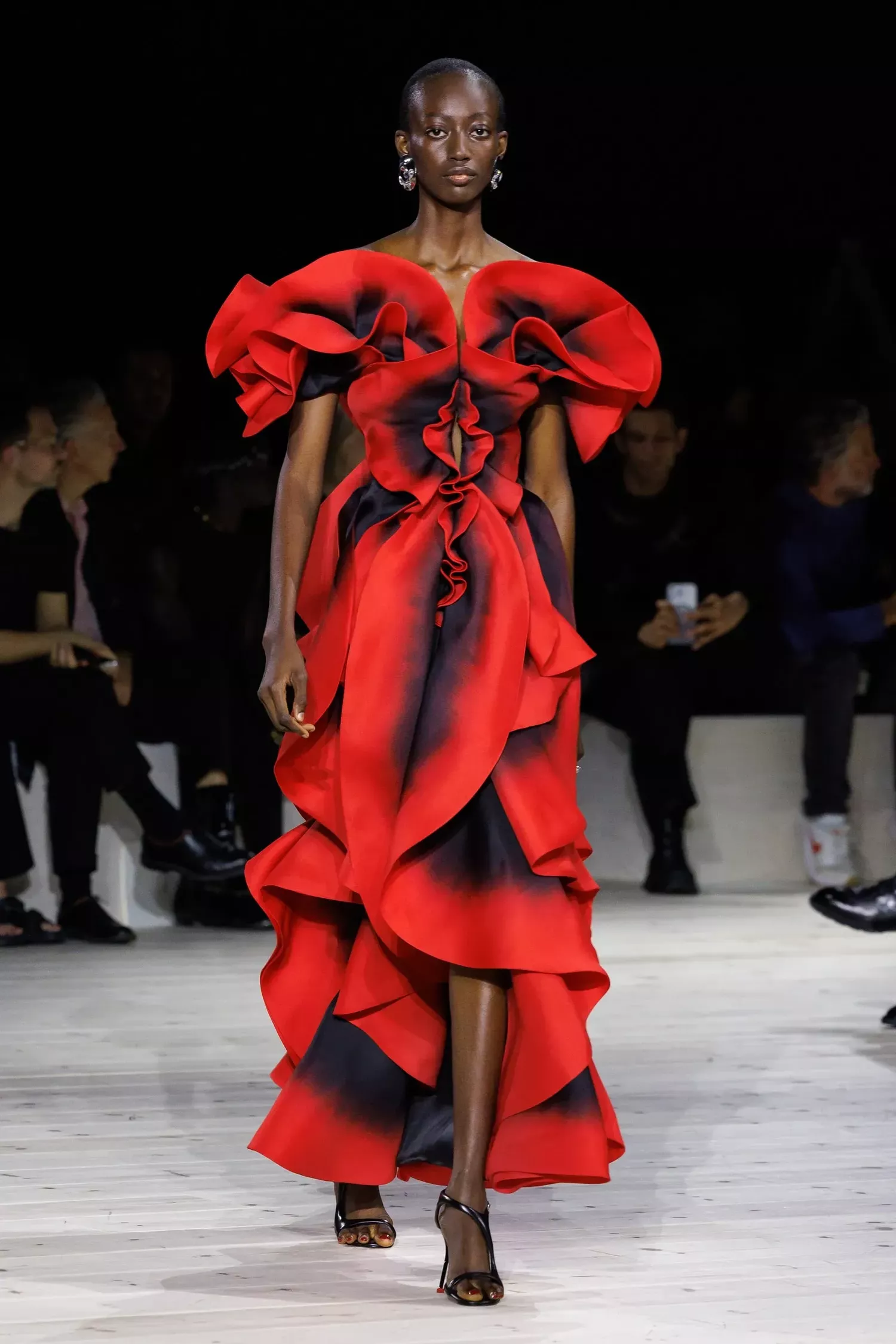 Sarah Burton left on a powerful note
Two weeks before the Alexander McQueen show, Sarah Burton announced her departure from the house she has served for 26 years. In 2010, after the death of Lee McQueen, she became its creative director. Burton staged her final show in Le Carreau du Temple, where she often set up her makeshift studio at Paris Fashion Week, and left a single departing note on every seat. "This collection is inspired by female anatomy, Queen Elizabeth I, the blood red rose and Magdalena Abakanowicz, a transgressive and powerfully creative artist who refused ever to compromise her vision. The show is dedicated to the memory of Lee Alexander McQueen, whose wish was always to empower women, and to the passion, talent and loyalty of my team."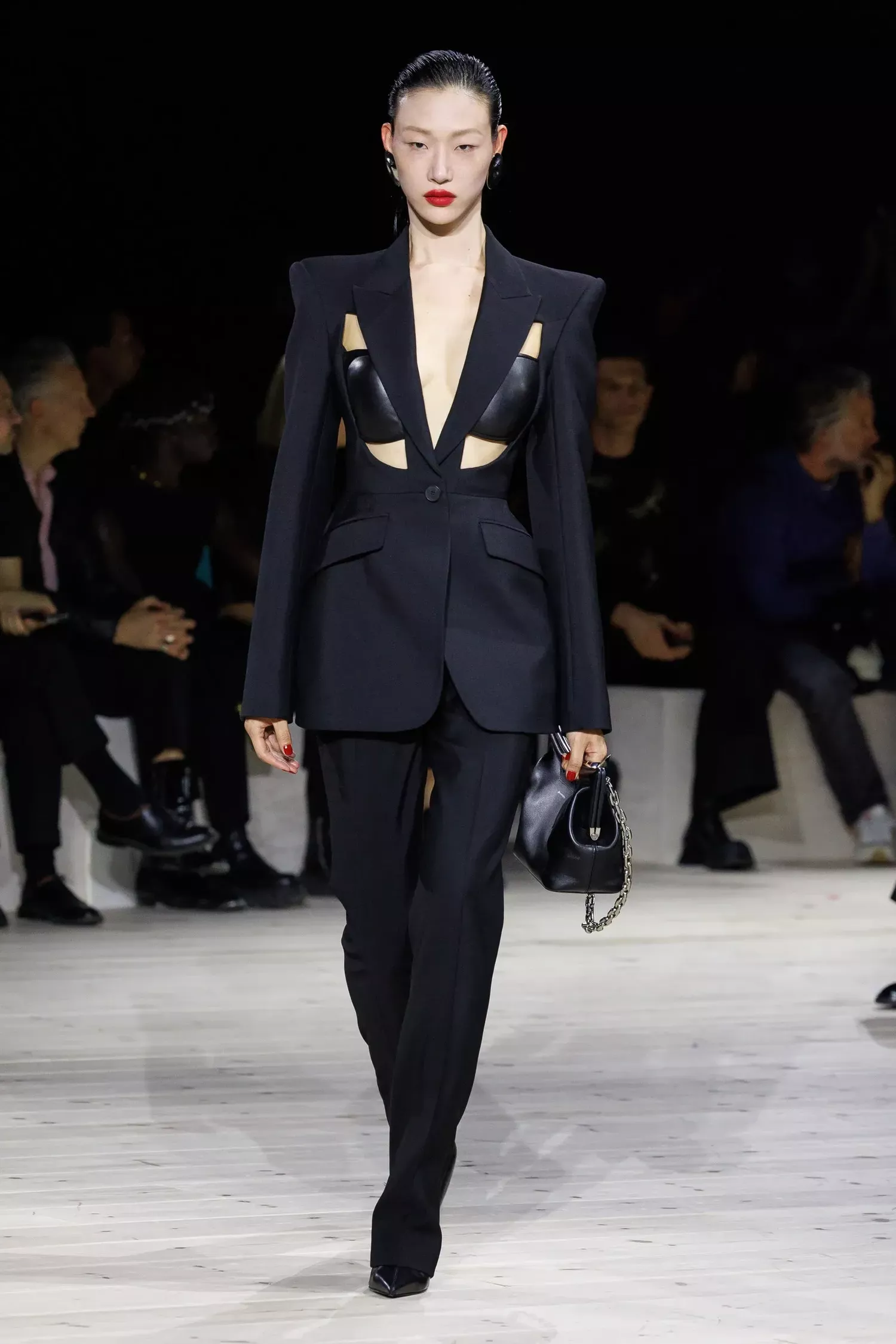 Her cuts were like surgery
Poignantly, the collection served as a sequel to last season's show, a proposal Burton – at the time – said was founded in the origins of the house: observing the virtues of Savile Row tailoring before tearing it apart and turning it on its head. In February, it felt like a re-energised expression: a return to the terrifyingly beautiful spirit of McQueen in its formative years. This time, the effect was heart-wrenching. Burton cut her tailoring like it was skin, flaying it open in slices along the ribs, shoulders and busts. With her reference to Elizabeth I lingering at the back of the mind, and her era's taste for torture, there was something fierce and vicious about Burton's incisions, aggressive and agonising all at once. Her theatre was awesome.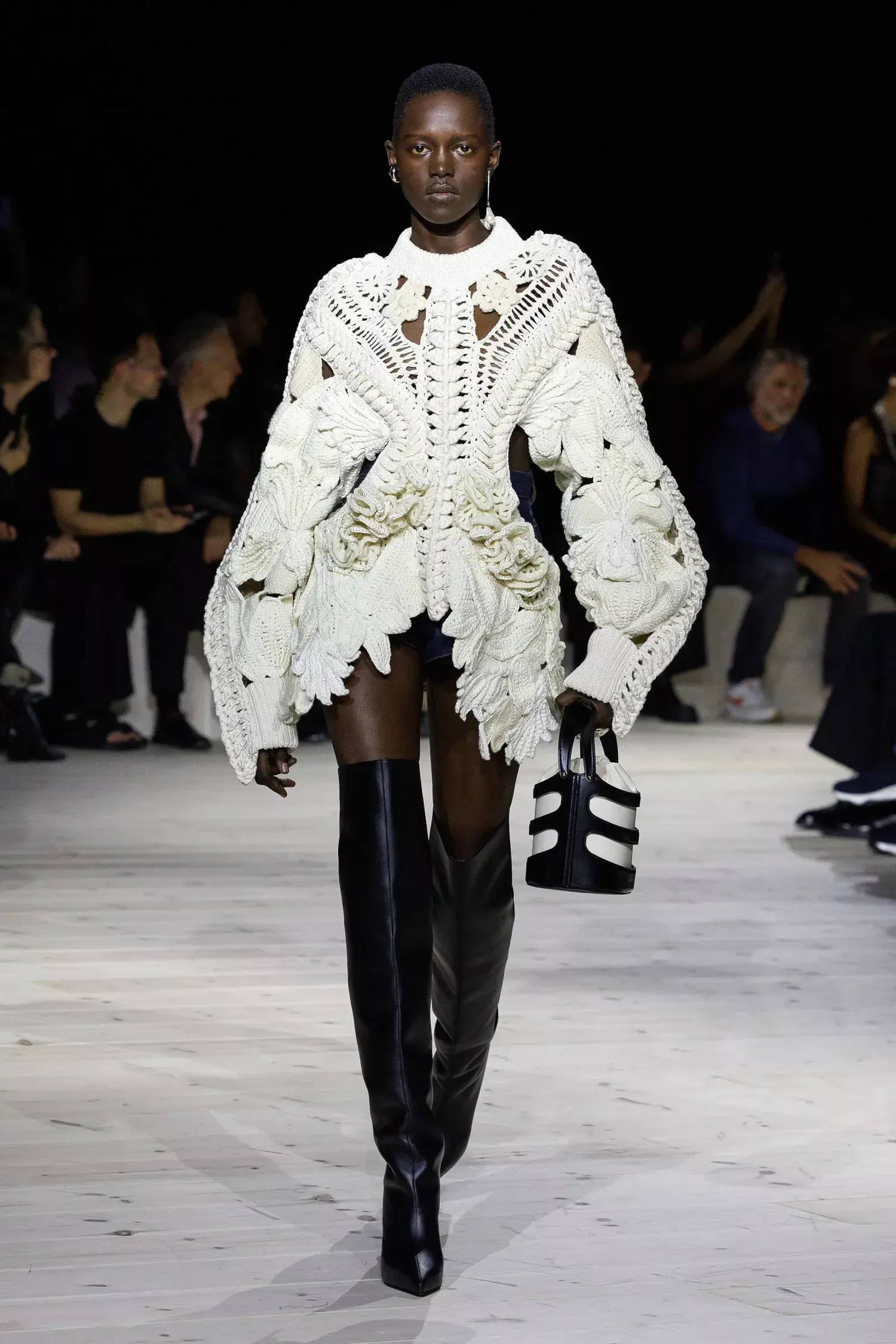 Knitwear morphed anatomy with flowers
To a soundtrack of digital and natural sounds that are difficult to describe in any other way than unnerving, Burton continued to explore her anatomical premise in mind-blowing knitwear. Like the Leonardo da Vinci of jumpers, she abstractly mapped out the bones and intestines of the human body through stitches and loops, turning the softness of yarns into the most gorgeously vicious formations. You could have looked at those two knits all day and still found new details. The flower-like anatomical compositions were reflected in the white moulures of a translucent bodysuit, which later re-materialised in all-over silver and pearl embellishments, and as adornments on tailoring and gowns.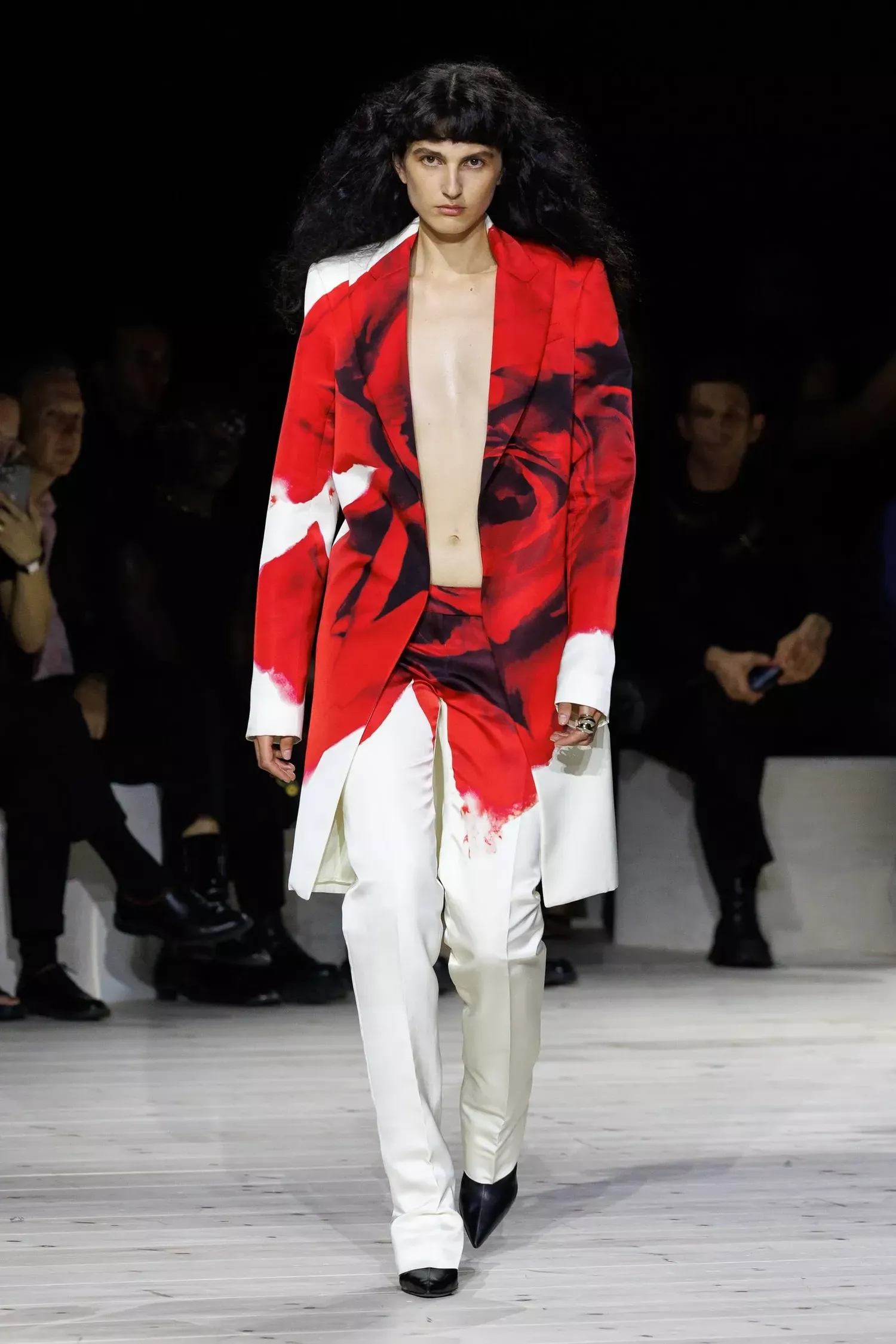 Roses became blood
Flowers have been a central component in the practice of Sarah Burton at McQueen. For her swan song, she interpreted her roses – the symbol of the House of Tudor – in dresses that morphed into three-dimensional floral form, in prints on tailoring and dresses, and the petal-like peplums of glossy leather bustiers. Throughout those garments, the blood red of the rose became the focal point. Burton's aquarelle prints looked like fresh blood stains, the necklines of those bustiers were cut like drops of blood, and frilly red embroideries on suits and coats looked like blood dripping off the garments. It was illustrative dressmaking to tear your heart out.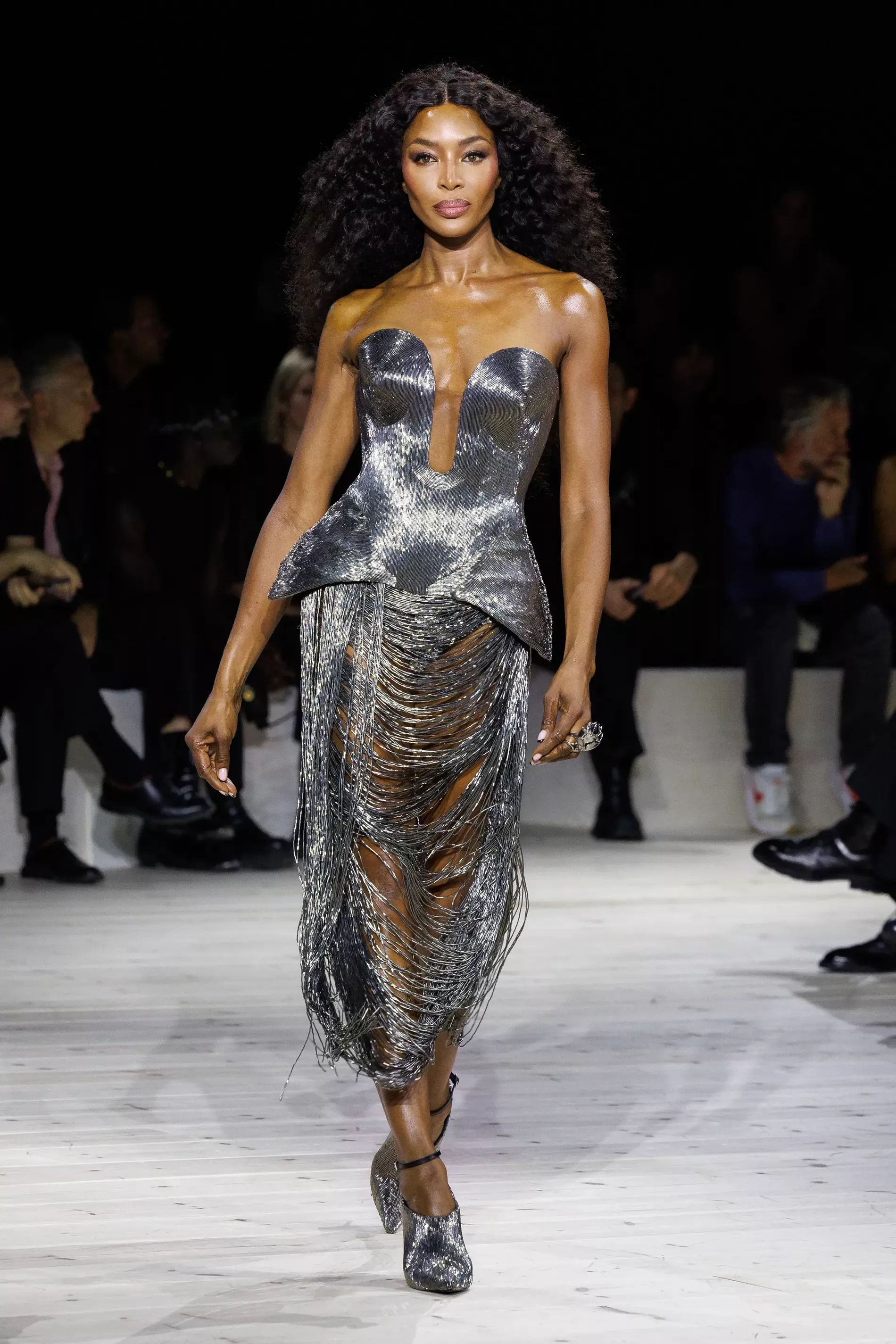 Burton made a triumphant bow
After long-time house model Naomi Campbell closed the show, David Bowie's "Heroes" filled the space in preparation for Burton's final bow. She came out in her modest jeans-and-shirt uniform, embracing the industry figures who have been by her side since her early years with Lee McQueen – starting with fashion journalists par excellence Susannah Frankel and Sarah Mower – before blowing kisses at an audience that will soon be back to welcome her next chapter. Leaving Le Carreau du Temple, the atmosphere was one of gratefulness rather than sadness. Whether you were there for 26 years of McQueen shows, 13 years of Burton shows, or simply watched from afar, you felt lucky to have experienced it.