Short shorts may be a recurring theme this fashion month, but Saint Laurent's Anthony Vaccarello is going against the grain. "Maybe I did too much mini-mini," he told Anders Christian Madsen of a spring/summer 2024 collection that festishised the essential wardrobe. "I don't find it chic anymore." Find five key takeaways from the collection, below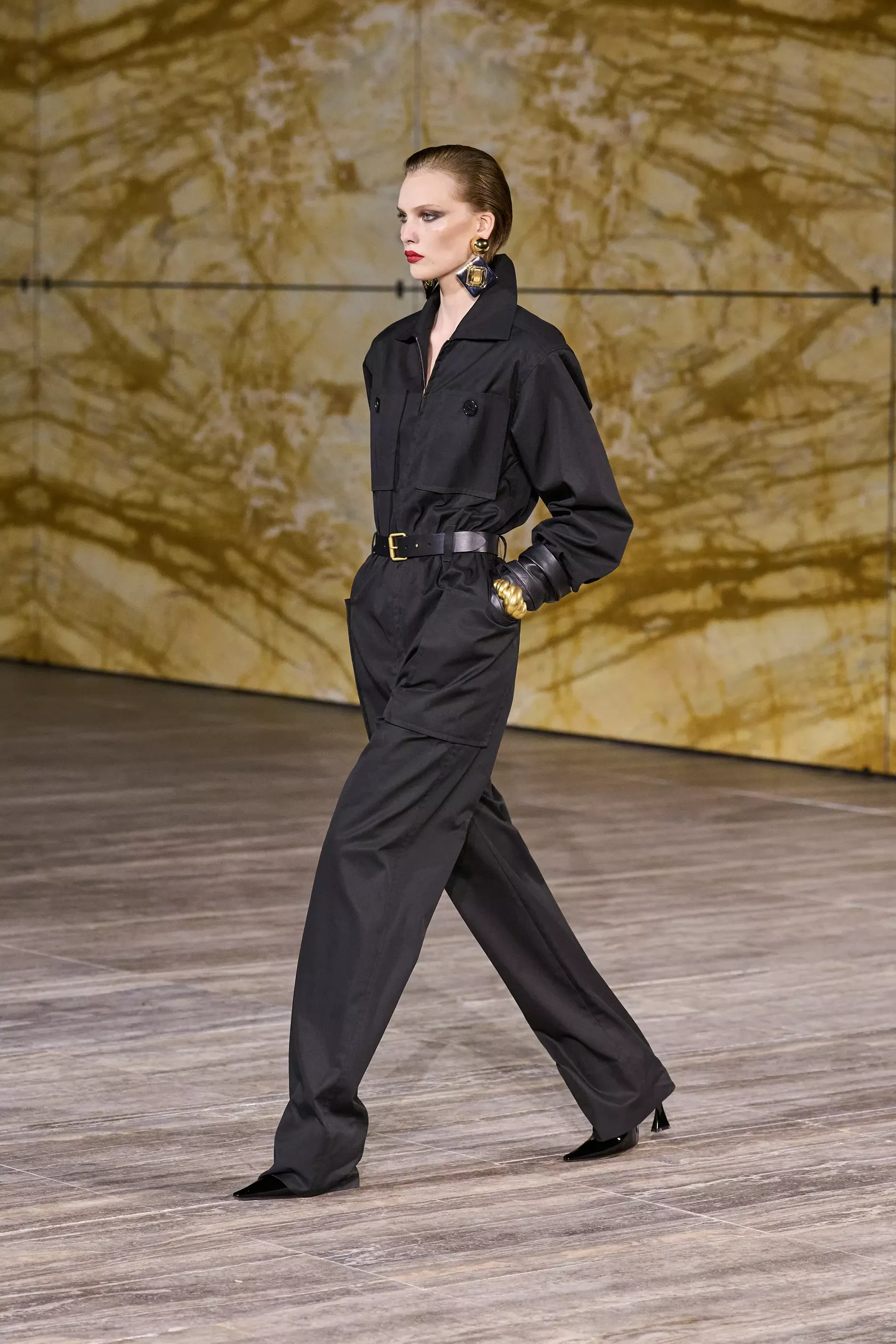 Anthony Vaccarello wanted to start over
Reduction, reduction, reduction. It was the radical statement made by Anthony Vaccarello in a Saint Laurent collection that went back to basics, quite literally. It fetishised the essential wardrobe: expertly-cut cotton separates, the perfect pencil skirt, an epitomic heel; et voilà. "In general, I think there's a lot of very busy things right now. I want for Saint Laurent to go back to something very clean and basic, and start a new chapter in a way," he said during a preview. "After last season – which was very tailored, very evening – I wanted a collection with no tailoring at all. It's almost, for me, like starting again."
It was quiet luxury through a megaphone
As part of his new direction, Vaccarello moved his show from its usual Eiffel Tower viewpoint at Place de Varsovie to the actual grounds of the monument. Here, he built an elevated open-air space decorated with marble structures similar to Mies van der Rohe's interiors at the Neue Nationalgalerie, where he presented his men's show in June. Everything was executed with millimetre-precision, from the space to the clothes that filled it. If this was Vaccarello's take on quiet luxury – the current buzzword in a fashion climate that's abandoning opulence – his silence spoke volumes. It wasn't so much back-to-basics as it was back-to-epics.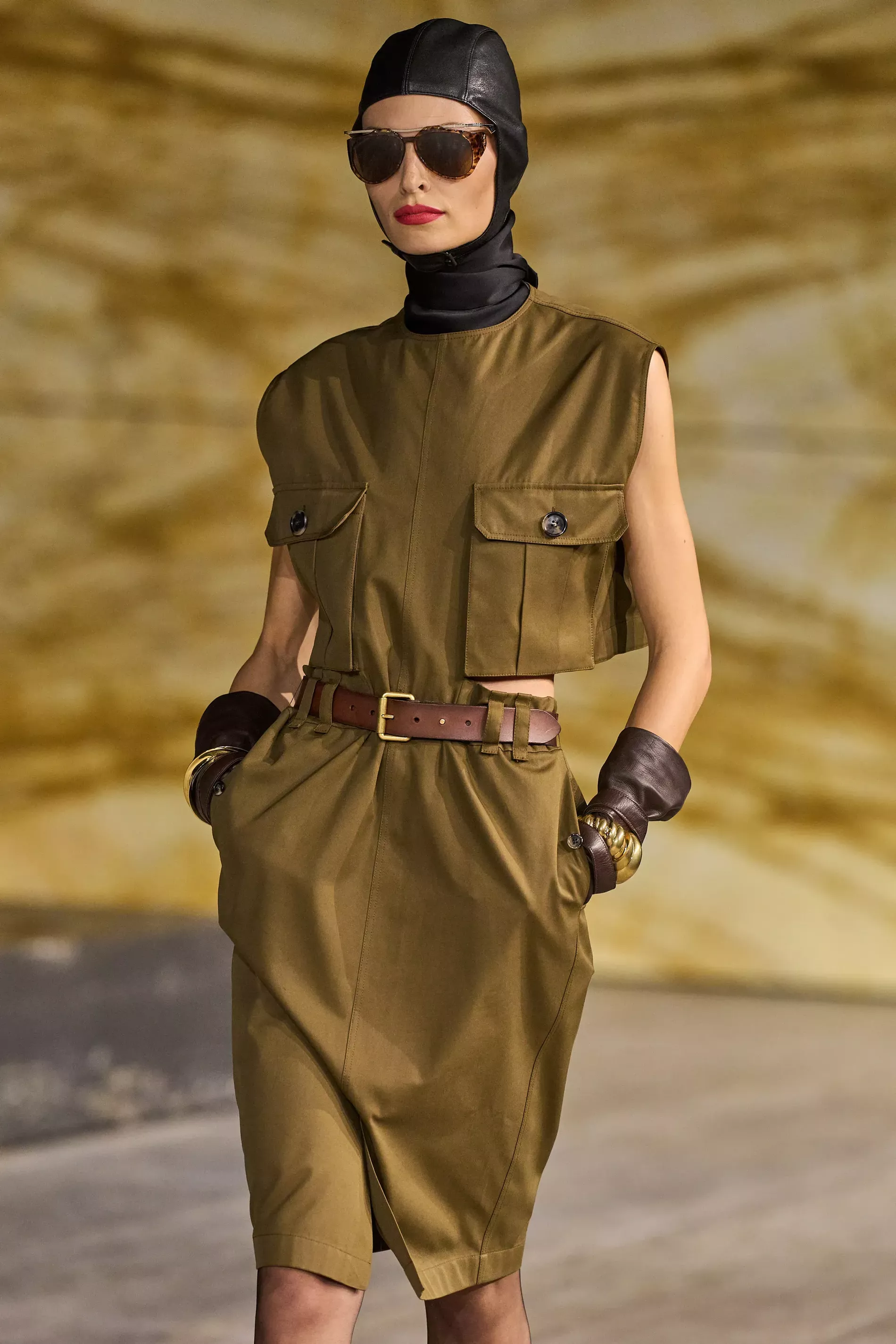 It was about going against the grain
In his show notes, Vaccarello name-checked the pioneering female aviators and interwar-period style icons Amelia Earhart and Adrienne Bolland. "It's not literal, but it's the idea of those women who were the first to do something that women hadn't been able to do," he explained. "Today, I see a lot of things that look like Saint Laurent. I want to skip that and propose something new for that woman: to be the first one to set a new trend, to be different to what is around you." The absence of the super-scanty hemlines that once defined Vaccarello's work cemented his new mindset. "I can't do that anymore. I did so many, and when I do them now, I feel that they're wrong for me. Maybe I did too much mini-mini. I don't find it chic anymore."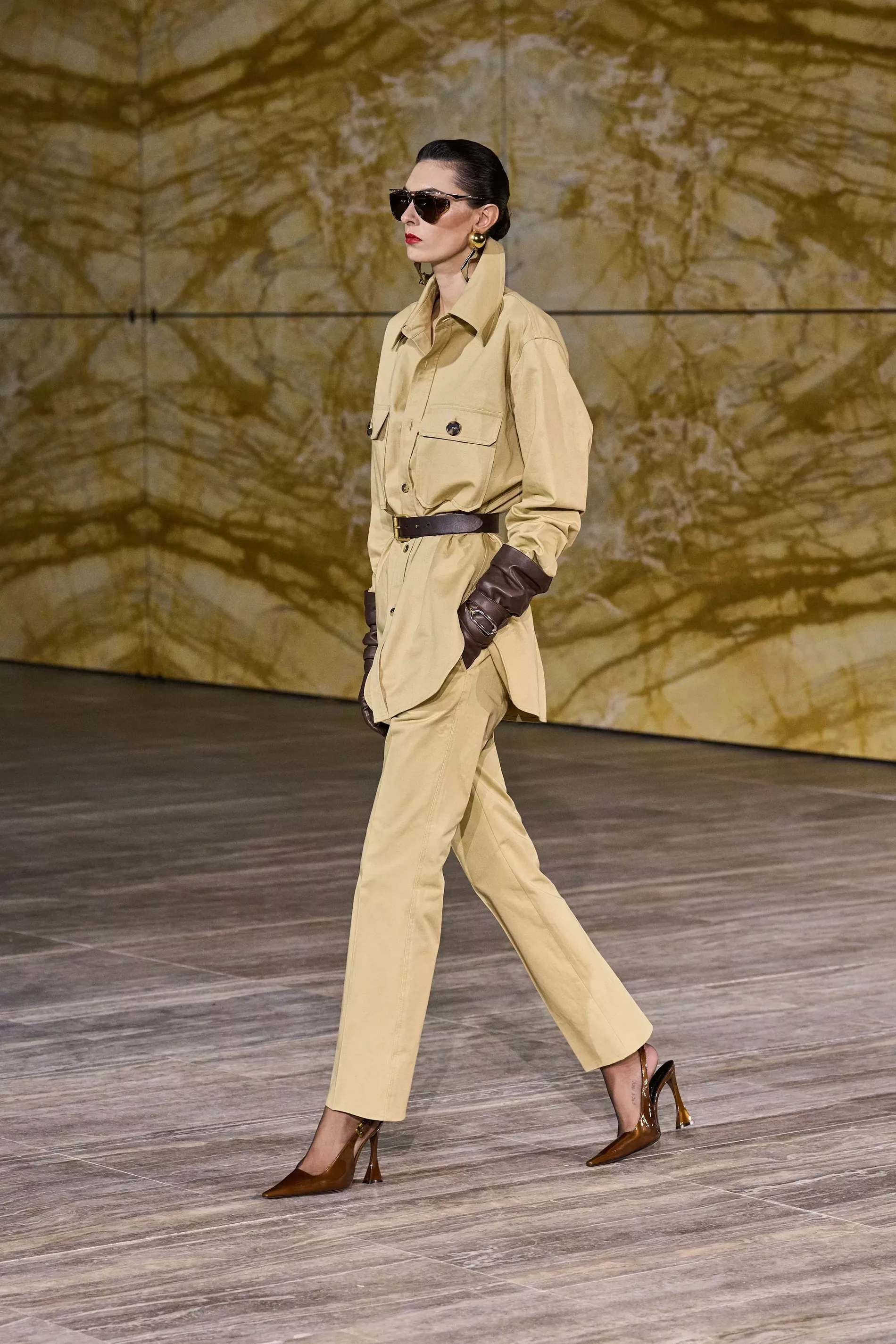 It paid homage to the saharienne
Just as Vaccarello's devoted fanbase has filled their wardrobes with broad-shouldered blouses and greatcoats, they'll have to make space for purified cargo trousers and relaxed overshirts. It sounds madder than it is. From the evolving phenomenon that is Vaccarello's Saint Laurent, an almost timeless wardrobe is emerging: something worth holding on to, much like the legacy of Yves himself. Within those cotton shirts and dresses was an homage to a garment that epitomises that timelessness: the founder's saharienne, a design that fused fashionability with pragmatism and ease in a way that was reflected through every look on Vaccarello's runway.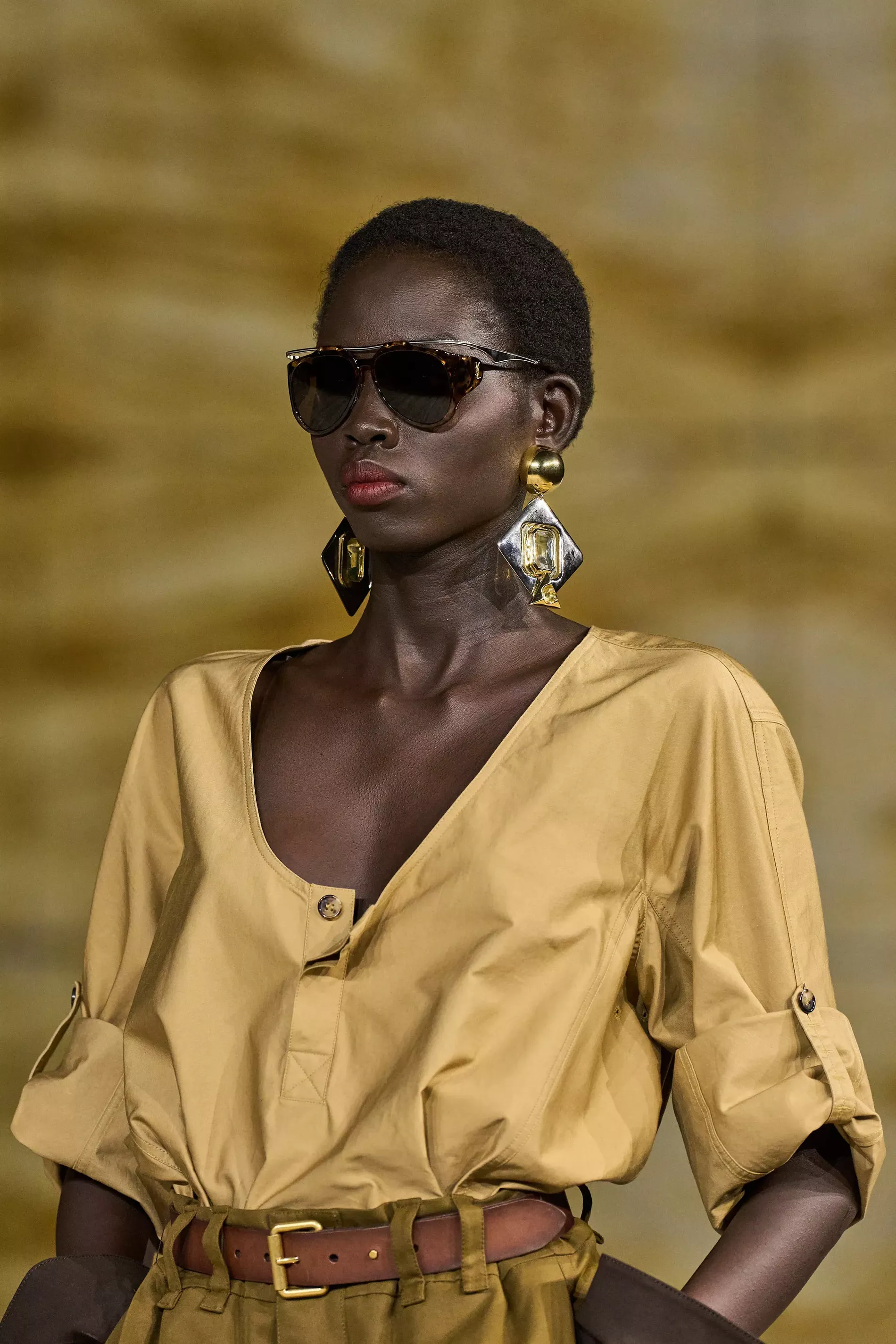 It came with '80s make-up and motorcycle jewellery
"Today, I see so many complicated things: so many embroideries, so many decorative things," Vaccarello said, referring to the fashion scene that surrounds him. "I want to take out these things that aren't necessary and build a canvas, and start something new." To counterbalance his reductivist proposal – something it requires guts to put on a runway as epic as his – Vaccarello turned up the volume on the elements that framed those clothes, not just on an emotive soundtrack that culminated in a kind of classical triumph waltz, but on the '80s make-up and sculptural metal motorcycle jewellery that adorned his looks.