Vogue's fashion critic Anders Christian Madsen was on the ground in Milan for Sabato De Sarno's much-anticipated first show for Gucci. From reinterpretation of the Florentine house's codes to lessons in reduction, here we present everything you need to know about the debut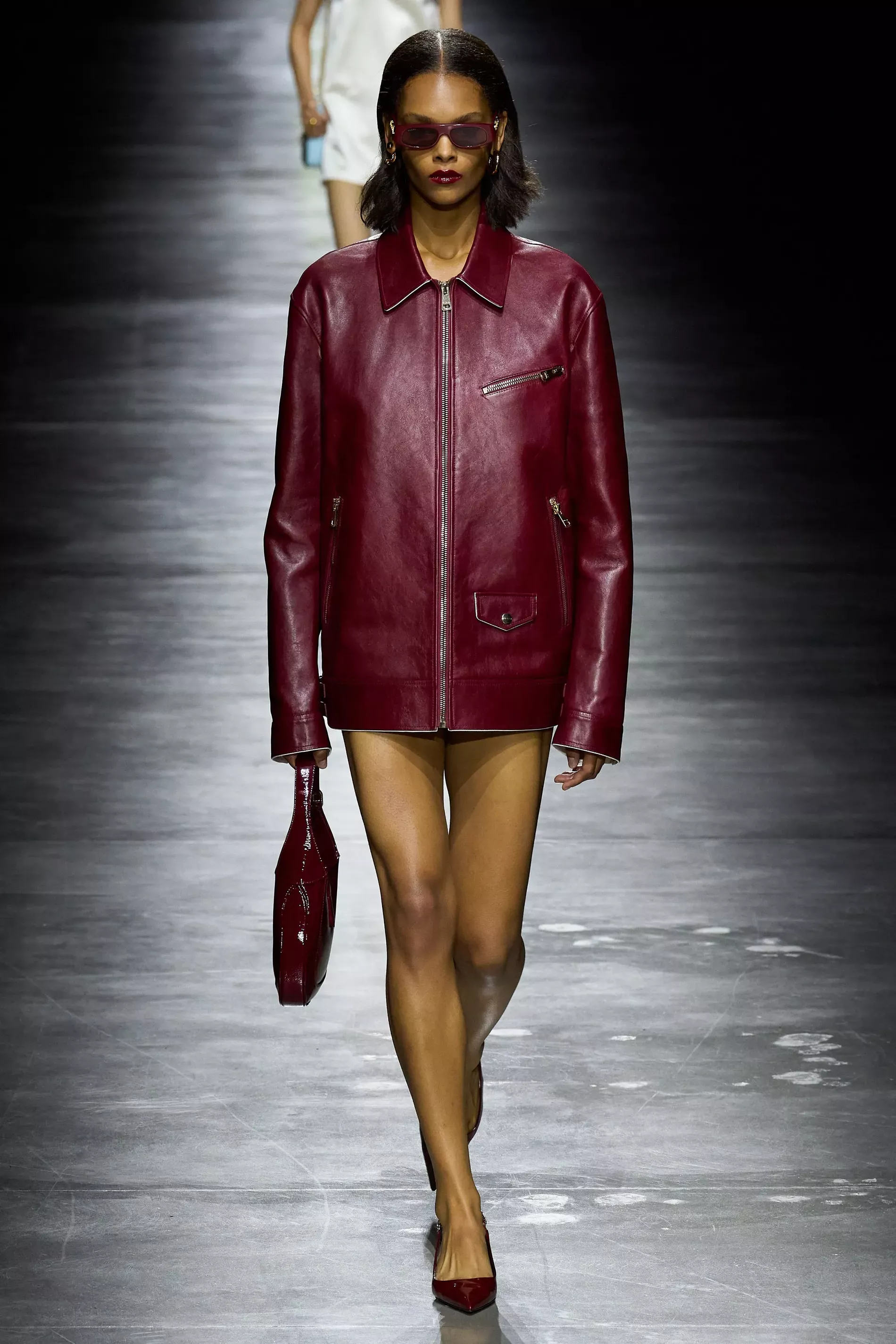 It's all about "ancora"
In the days leading up to Sabato De Sarno's debut show for Gucci, banners the colour of oxblood started appearing in urban hotspots. They were emblazoned with the word "ancora", meaning "again" or "still" in Italian. Its double-connotation set the philosophical foundation for the designer's new relationship with Gucci. De Sarno is a child of the '90s. His first forays into fashion were underpinned by Tom Ford's world domination at the brand in the latter part of the decade, and the era's approach to fashion shaped his early idea of style. At Gucci, he wants to bring that feeling back through a new forward-thinking vision. "I want to fall in love with fashion, ancora," he said during a preview. "Still and again."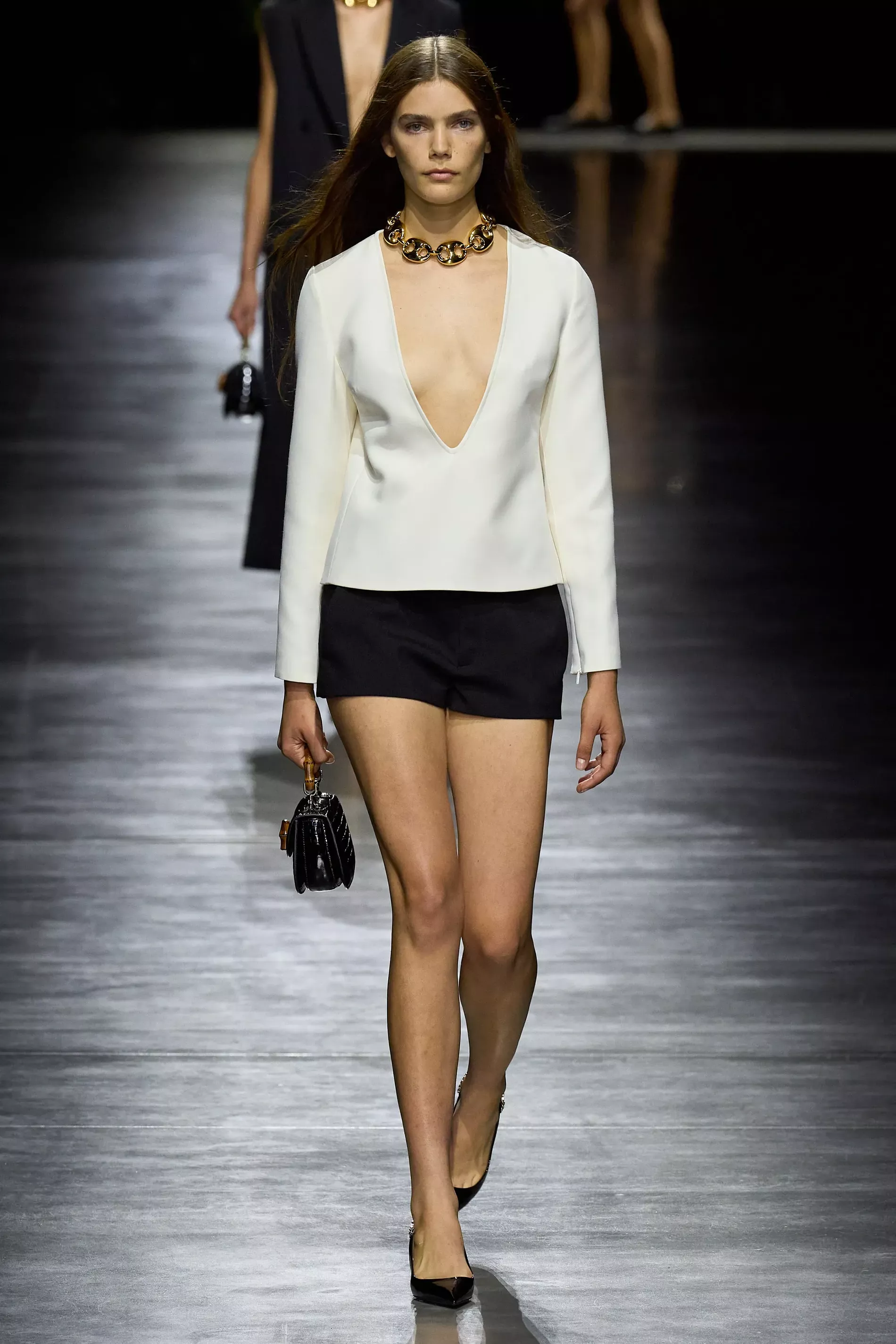 It was about reduction
The day before the show, amid a frightening weather forecast, Gucci made the decision to relocate it from its outdoor location in the charming area of Brera to the vast indoor show space at the brand's headquarters. On this massive stripped-down concrete floor, De Sarno debuted a new Gucci aesthetic reflective of its surroundings. It played with reduction in more than one sense of word: not only did it peel away the layers and decoration of the Gucci of his predecessor, Alessandro Michele, but it also minimised a silhouette defined by super-short rompers, micro shorts and mini dresses. "The attention is on materials, shape, silhouette. I want to set a new aesthetic for Gucci. It's the beginning of something new," De Sarno explained.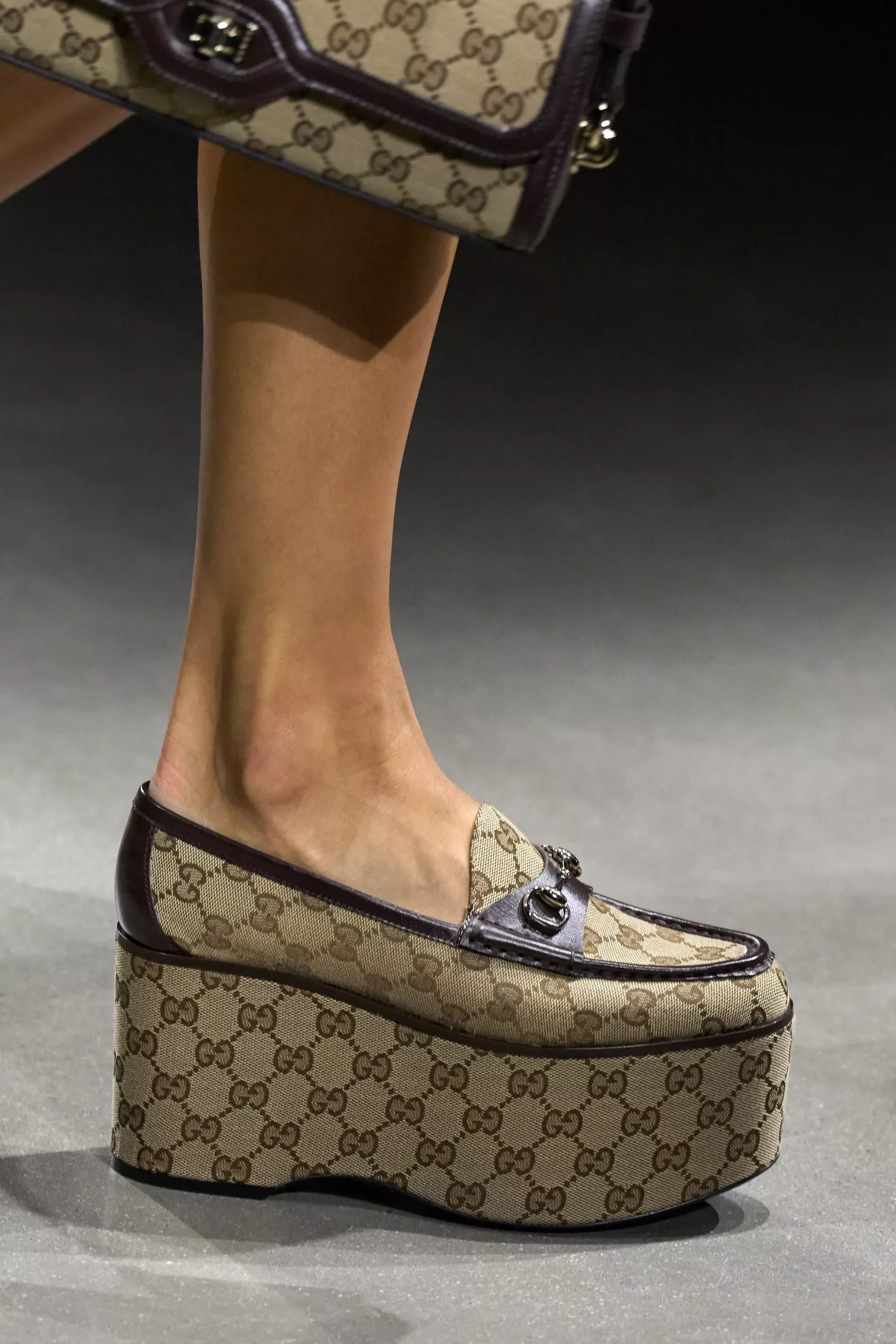 It transformed the icons of Gucci
The show opened with a composition of historical Gucci designs: the Jackie bag, the Horsebit loafer, the GG belt, and the men's overcoat, styled minimally over a white vest and little shorts. They looked familiar but each had been tweaked through the generational machine of De Sarno. The loafers were elevated on platforms like something out of Clueless, and the bag emerged in the Rosso Ancora as he calls his signature red, a nod to the walls of the lift in The Savoy where Guccio Gucci served as bellboy at the turn of the century (but also evocative of Tom Ford's Gucci Rush flacon from 1999). "When I first went to the archive, I went directly to the pieces that were important for the brand: the loafer, the Jackie bag, bamboo bag. For this show, I have all these pieces but with a new vibe."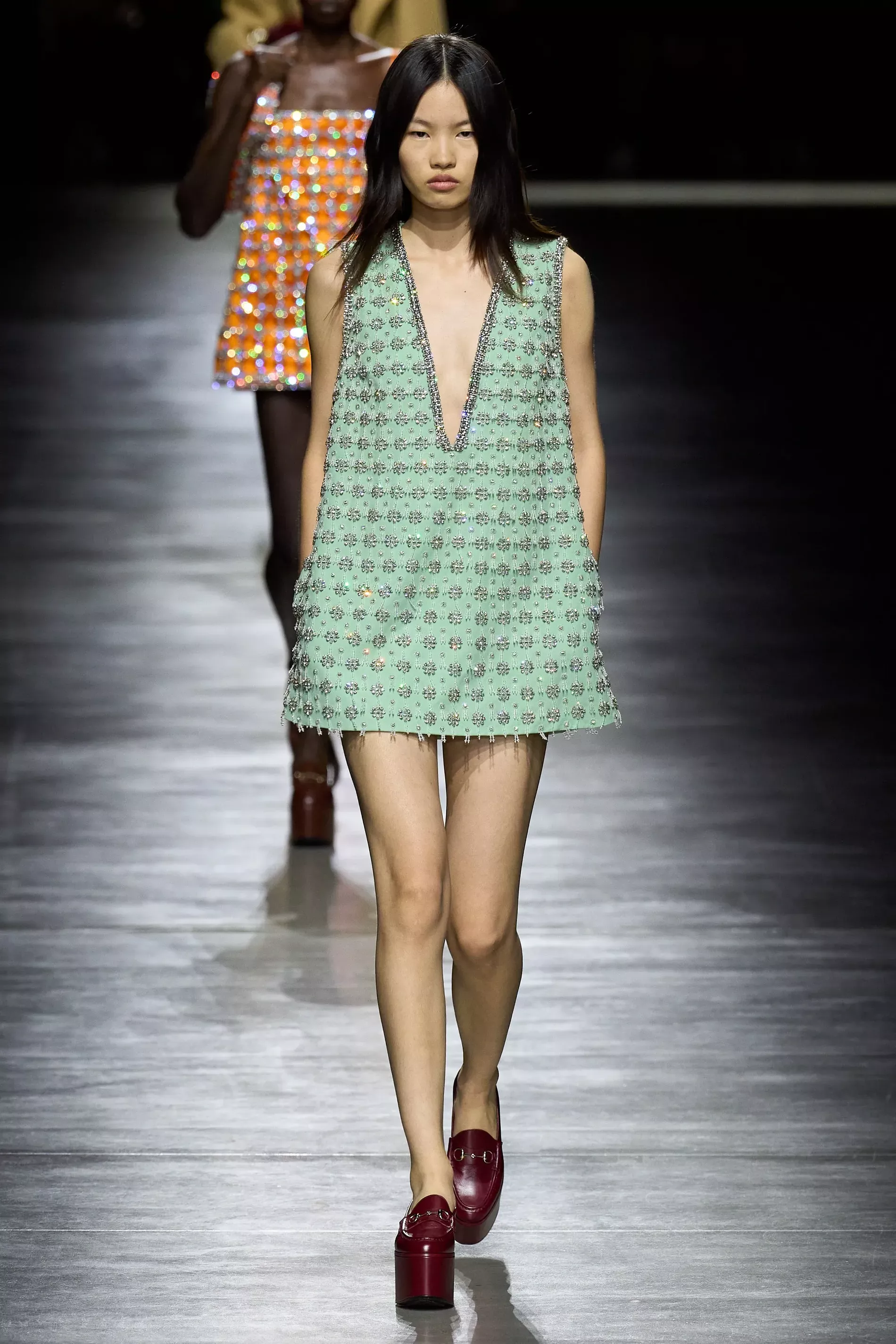 It was reflective of De Sarno's own experiences
"This is a story of things that I love, for the brand, from the fashion industry, in a sense of beauty," De Sarno said. "I want to put all these things together for my first show. That's why you'll see a '90s vibe for shoes, '70s jewellery, but modern and bold." The aesthetic he proposed for the brand came with many a nod to Tom Ford, but you could also see the impact De Sarno's work at other houses have had on his taste and vision. Born near Naples in 1983, he moved to Milan in 2002 where he worked for Prada for three years. After a brief stint at Dolce & Gabbana, he embarked on a fourteen-year career at Valentino where he worked until Gucci headhunted him early this year. Each of those experiences were present in his collection, true to that "ancora" philosophy of falling in love with fashion again.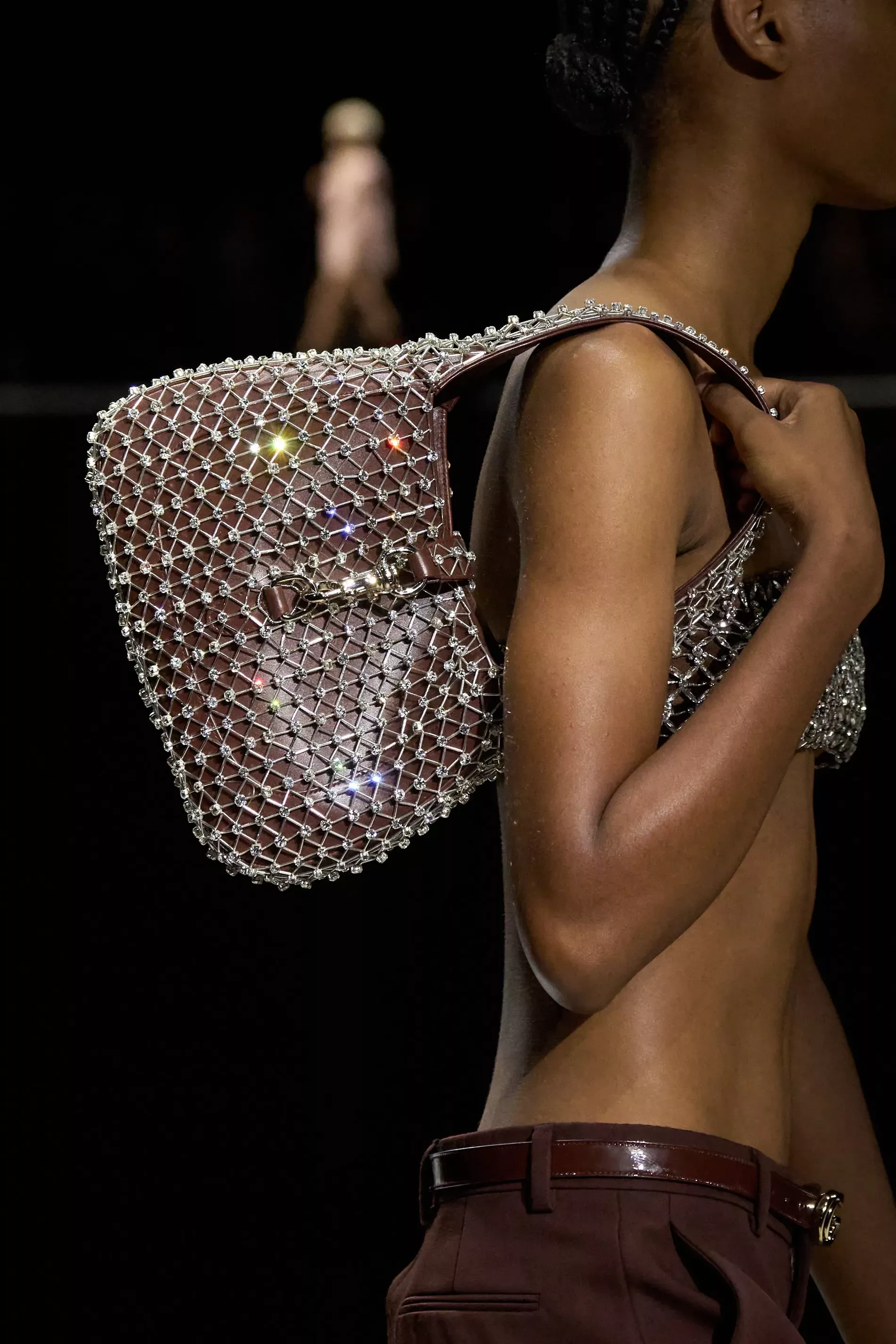 De Sarno wants to shine a light on fellow talent
As part of his debut, De Sarno commissioned a Gucci art book focused on a new generation of artists. Like his cast – which featured largely unknown models – he wanted it serve as gesture of sharing the spotlight he's been given at the super brand with other creatives. "Gucci is a big opportunity for me. I'm conscious of that and I want to give opportunities to other people," he said. "I want to discover people and help them to shine." His show culminated in a series of garments and accessories that did just that – shine – in delicate encrustations of jewels that enriched his purified lines and palette, and teased a more opulent approach we may see more of as De Sarno continues his exploration of a new Gucci.