"I love drama," Roksanda Ilinčić told Vogue ahead of her spring/summer 2024 show in the concrete central courtyard at the Barbican. Even in what was a relatively muted collection for London Fashion Week's queen of vivid colour, it showed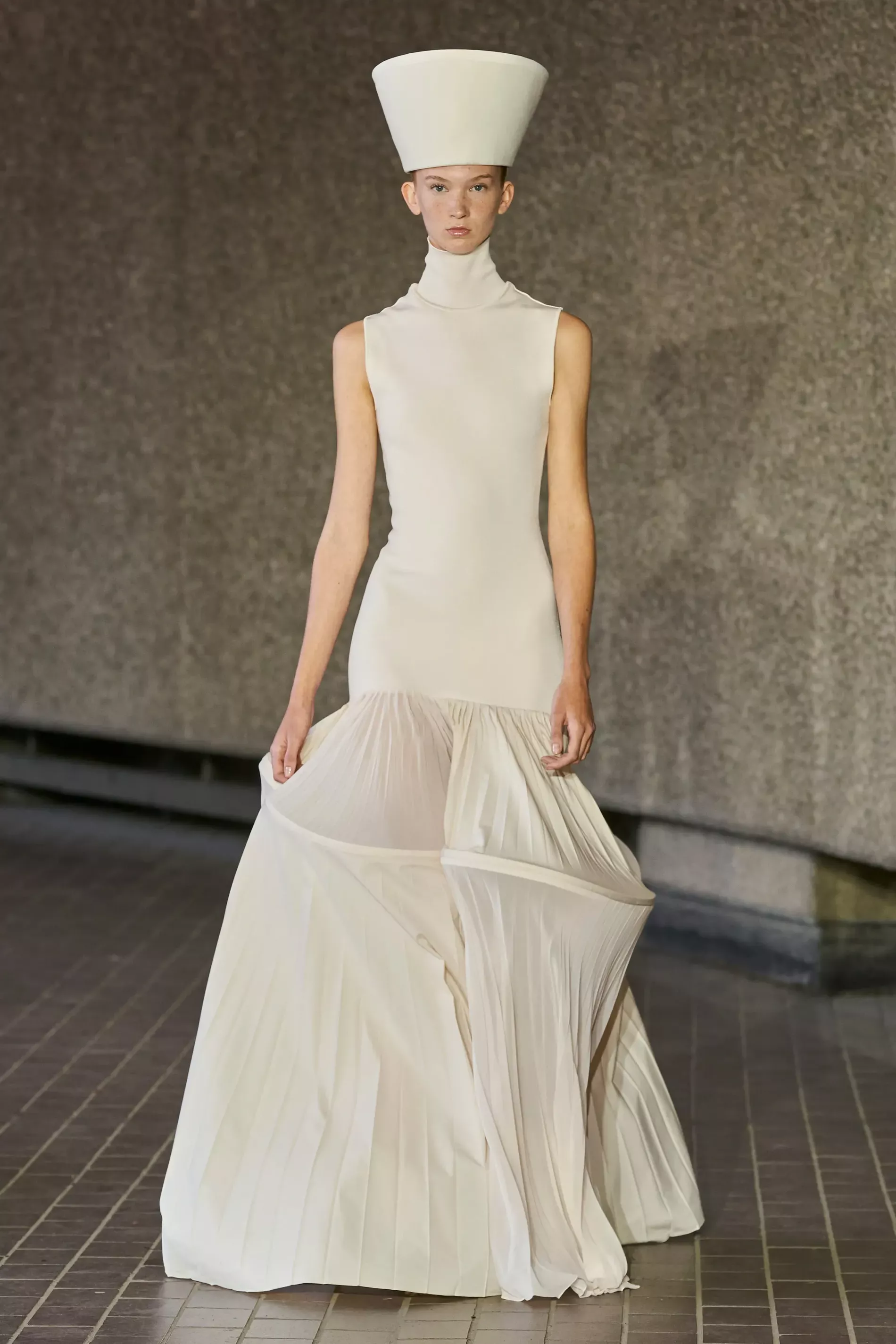 Roksanda went back to her roots
Ilinčić frequently draws inspiration from artists whose work she admires – her autumn/winter 2023 collection riffed on the mid-century Japanese artist Atsuko Tanaka's "Electric Dress" – but this season she found a broader focus in the extraordinary frescoes that decorate Orthodox monasteries in her native Serbia. "Serbia has the most incredible cultural heritage," said the designer, who honed in on the 14th-Century Gračanica Monastery as well as Studenica, built more than 100 years earlier in Brezova. "I was inspired by the serenity and otherworldliness of the paintings inside the monasteries."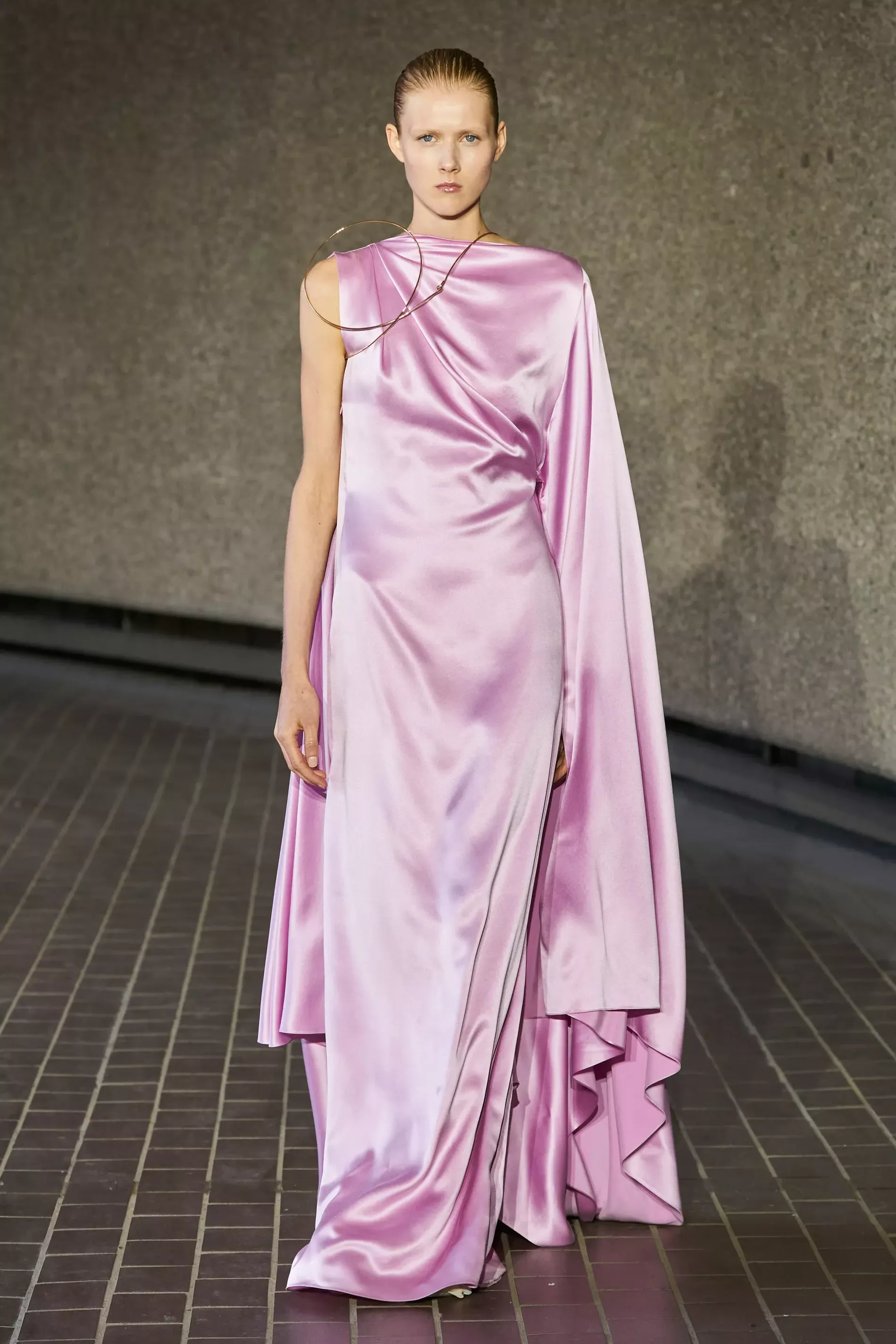 The venue spoke to the designer's other passion
The designer famously studied architecture as well as fashion, and chose to unveil her spring/summer 2024 collection at one of her favourite buildings in London: the remarkable example of Brutalist architecture that is the Barbican. Models wound their way around the bench seating – populated by friends of the house including 86-year-old Vanessa Redgrave and her daughter, Joely Richardson – in a concrete courtyard, a live opera solo creating an atmosphere of hushed reverence that chimed perfectly with the references on Roksanda's spring moodboard.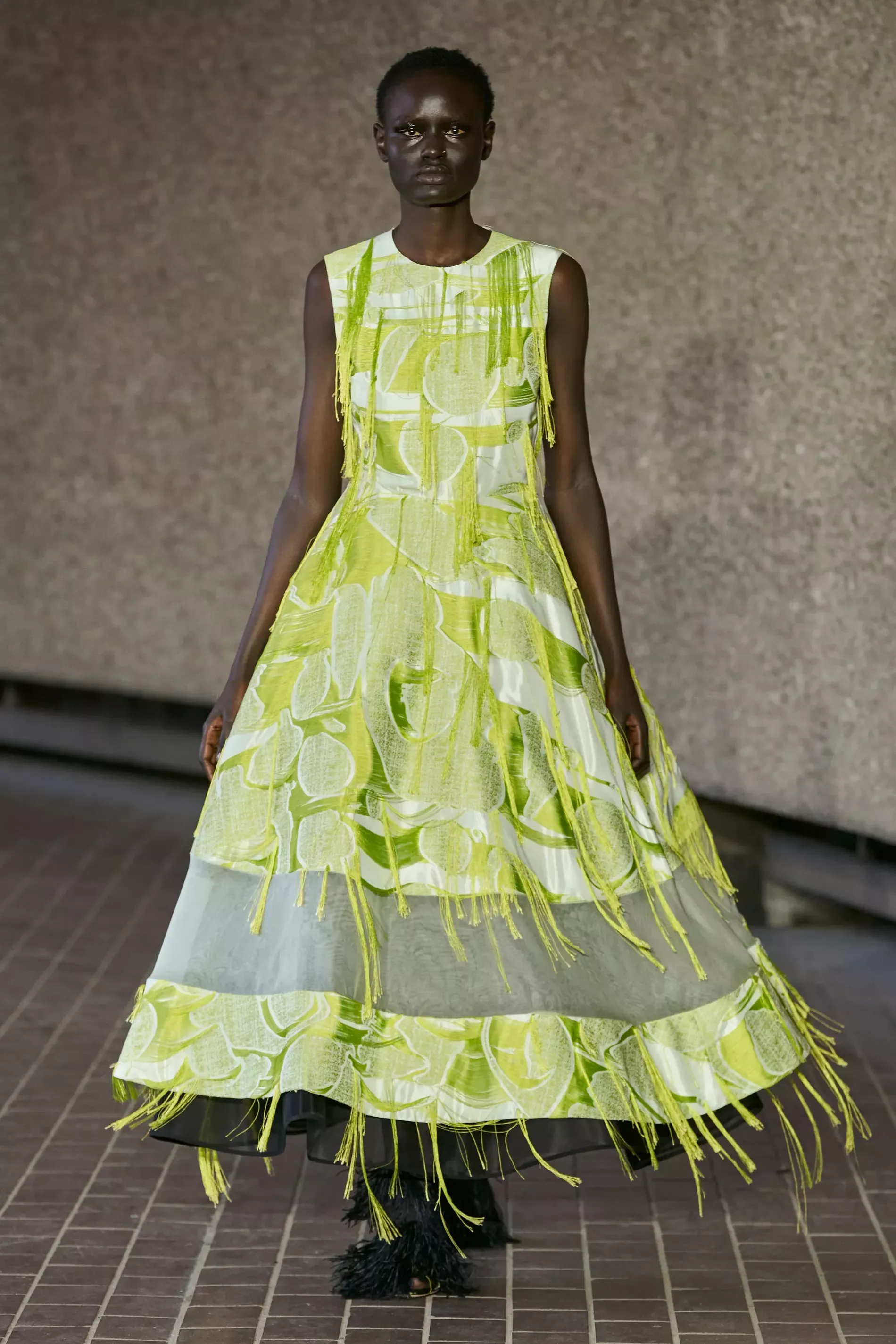 Religious costume was key
The collection also nodded to the clothing worn by the occupants of those Byzantine monasteries over the centuries. "Gračanica for a very long time was run solely by women," the designer explained. "The clothes they wore were also a big inspiration for me – those worn everyday, but also the costumes for religious celebrations like Easter and Christmas." Dramatic headpieces echoed those worn by Orthodox priests, while trailing neon yellow threads echoed the gold vestments traditionally worn on holy feast days.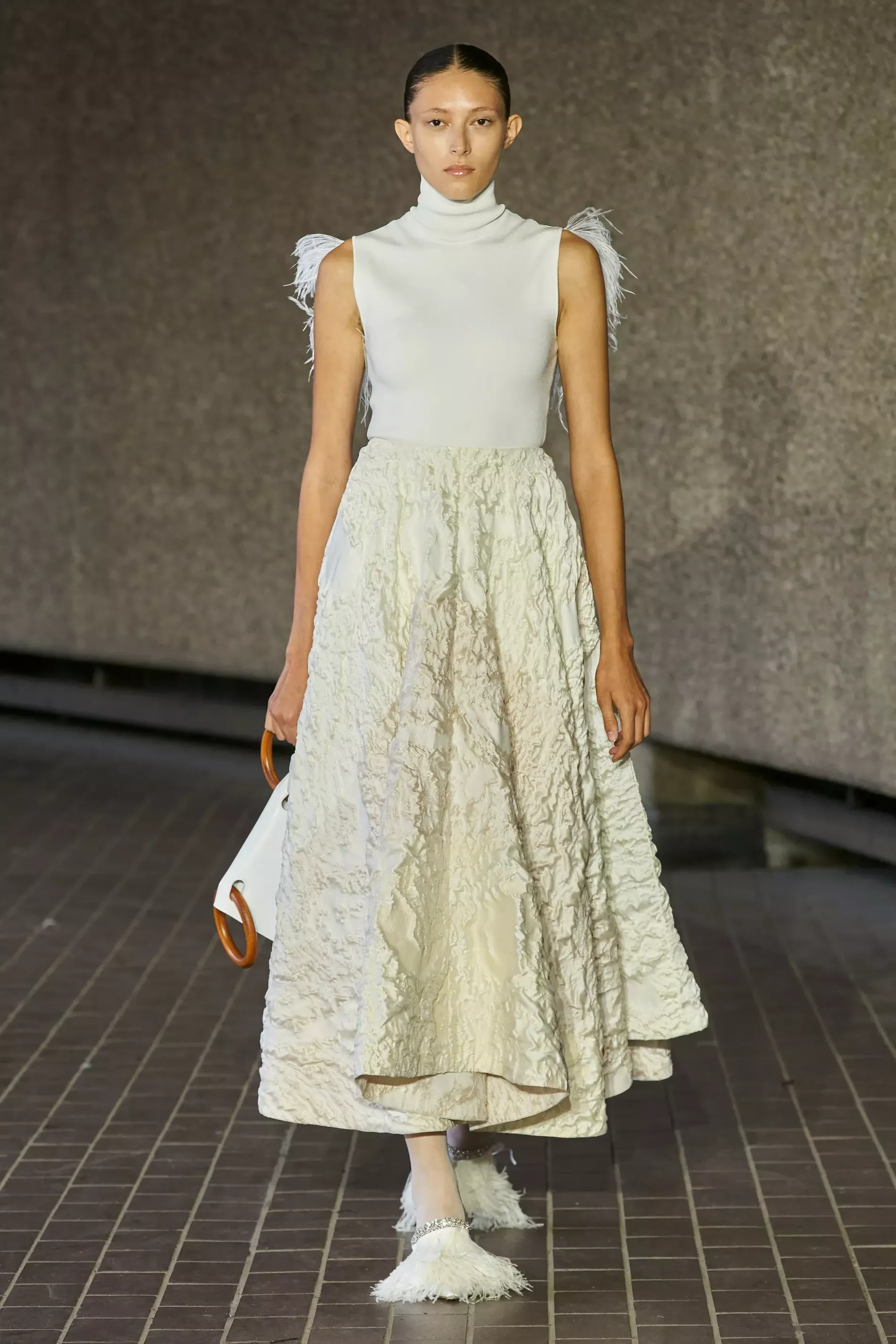 It was a collision of textures and techniques
Ilinčić had fun with texture, deploying a fil coupé technique to create those trailing threads, and working with one of her brand's mills to develop a bumpy fabrication that, when used in tactile ivory dresses, resembled a mountainous landscape as viewed from a satellite. For the tailoring section, voile was put through a press to apply colour but also to expose the fibres of the fabric and the internal structure of the garments. The jewellery, meanwhile, was less an accessory, more an integral part of the clothing: gold wire snaked over the lapels and under the sleeves of blazers, and around the necklines of flowing satin dresses.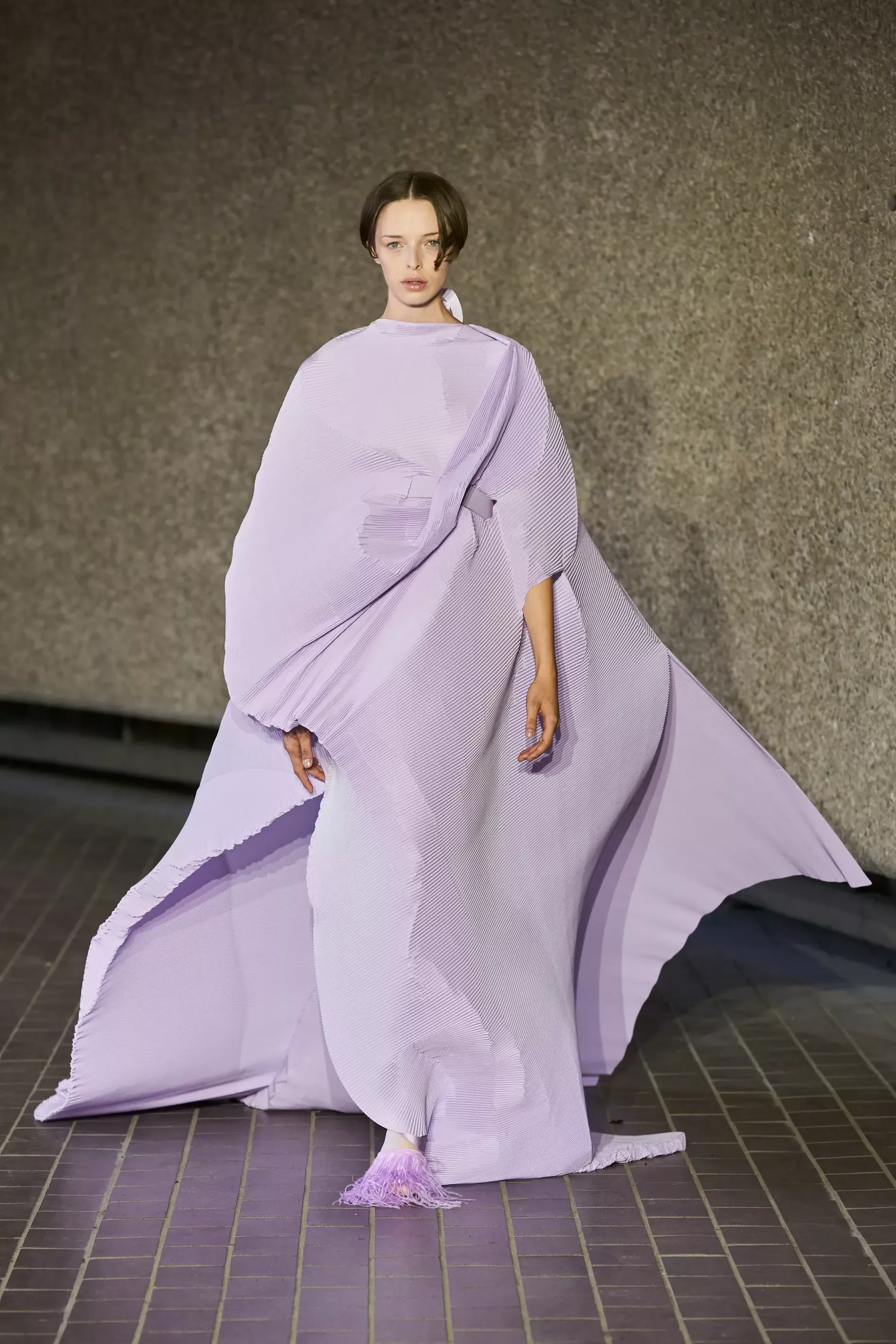 This was a (comparatively) quiet collection
Eagle-eyed observers will have noted that the show opened with a series of black and lapis looks – the same shades as the finale looks in Roksanda's autumn/winter 2023 collection. "I think that all my collections are an evolution rather than a revolution," the designer said, confirming this was no coincidence. "We're continuing to build a story." But despite those flashes of vivid blue, a smattering of lime and a single hot-pink midi, this was a relatively muted collection from a designer so defined by her use of bold colour. "This was something a little bit new for me," she told Vogue of the show, which incorporated draped satin gowns in softest apricot, blush and lilac. "It's very soft, very feminine, very pure in a way."