Julien Dossena raised a Rabanne army of sci-fi warriors for spring/summer 2024 that served as a riposte to the quiet luxury movement. Anders Christian Madsen reports from Paris Fashion Week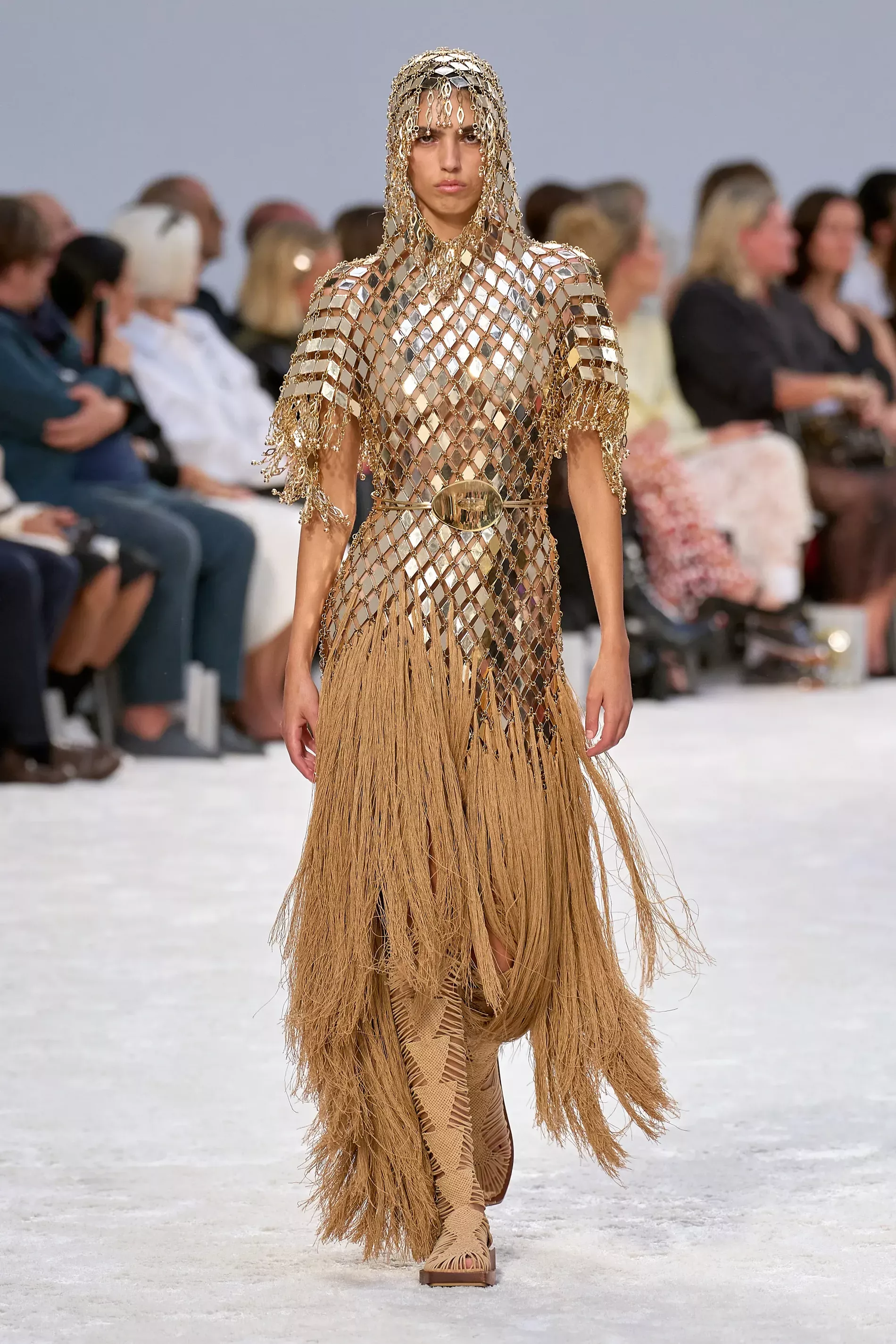 It was not quiet luxury
Present Julien Dossena with a season of purified palettes and simplified silhouettes, and he'll raise you a Rabanne army to defeat it. Staged in the Palais de Tokyo, his collection travelled through the warrior women of time and fantasy, weaving a chainmail armour of gilded textures that would make quiet luxury shake in its muted leather boots. "I've never been that interested in the bourgeoisie," he quipped backstage. "I can play on the codes but it's about exploration for me."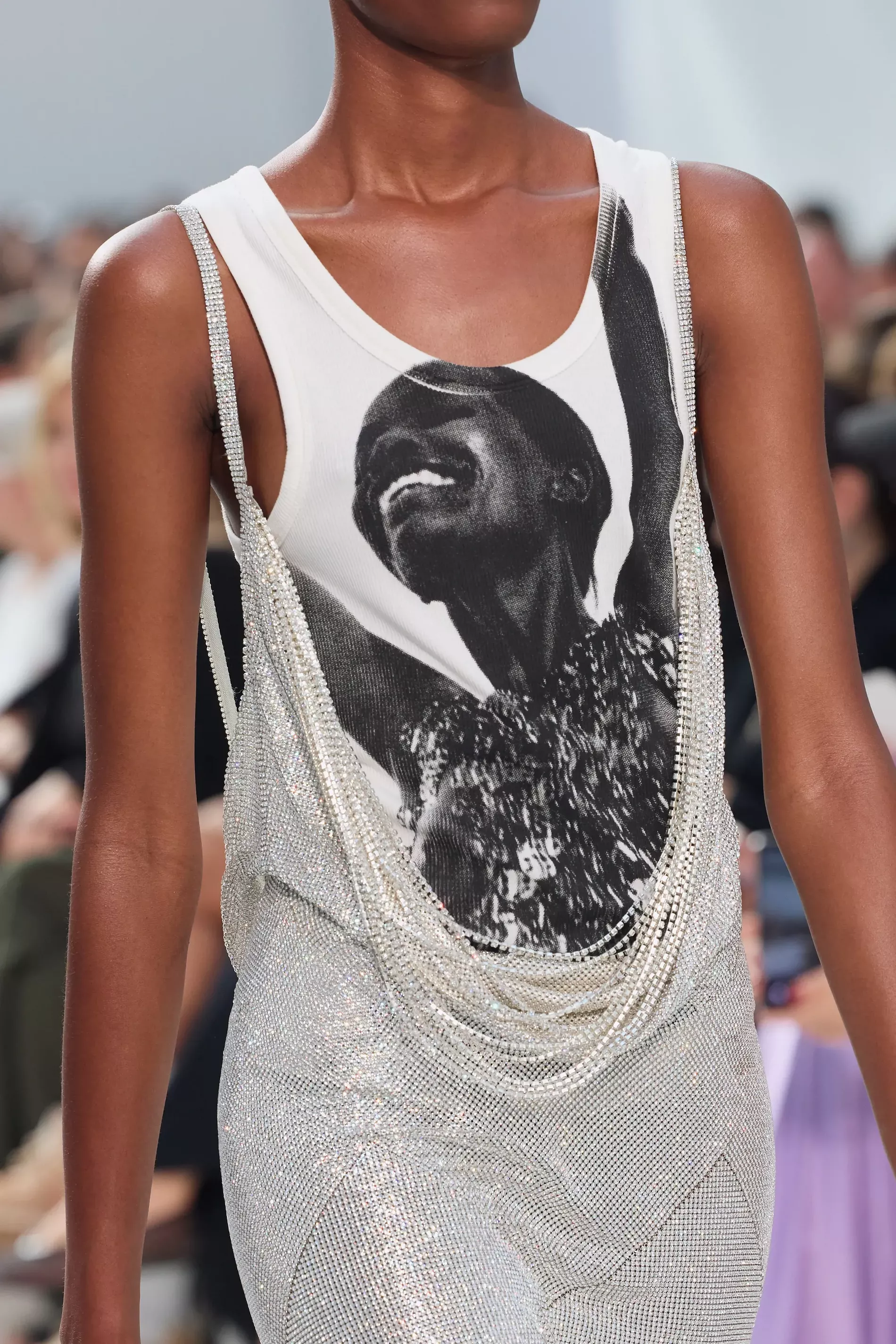 It was inspired by Jean Clemmer
Going by the pictures Jean Clemmer shot for Paco Rabanne in the 1970s, Dossena imagined a kind of warrior beach woman whose wardrobe was founded in ancient constructions. "It's a woman by the sea, black and white, in the sun with a little loincloth and a jewel. It's an exalting sensuality. It was a strength I wanted to work on," he explained. As a meta inspiration element, he printed the pictures on tank tops.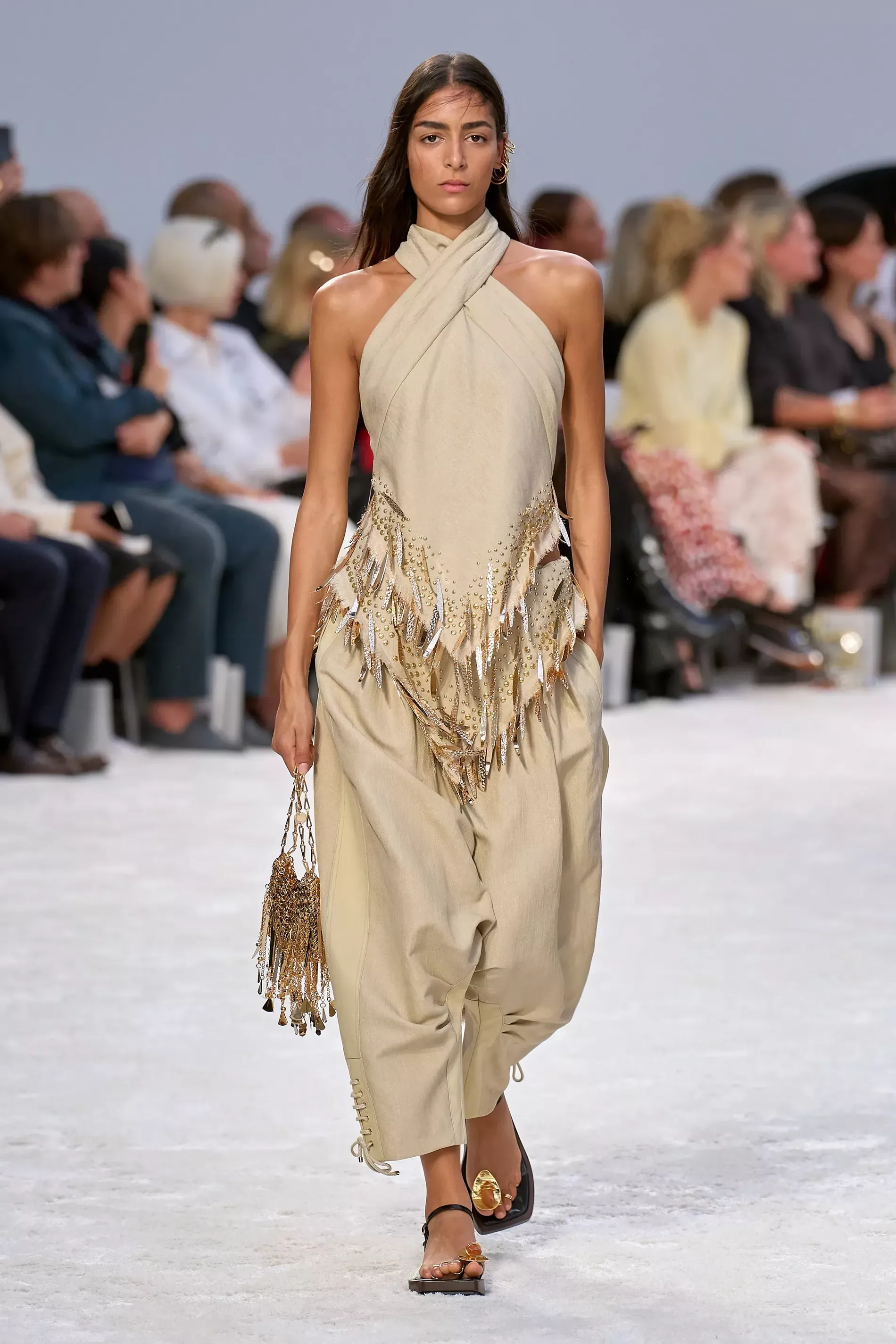 It went back to the future
The look materialised in hooded mini chainmail dresses, sarouel trousers – "the original first clothes we ever wore: a square with two tubes" – and rustic, organic textures Dossena attributed to the work of the artist Sheila Hicks. "Like a carpet you've made a dress [out] of," as he put it. "I wanted everything to be handcrafted: the feeling that someone touches it; sensual; destroying the fabric; threads." It made for an ancient sensibility that felt kind of sci-fi.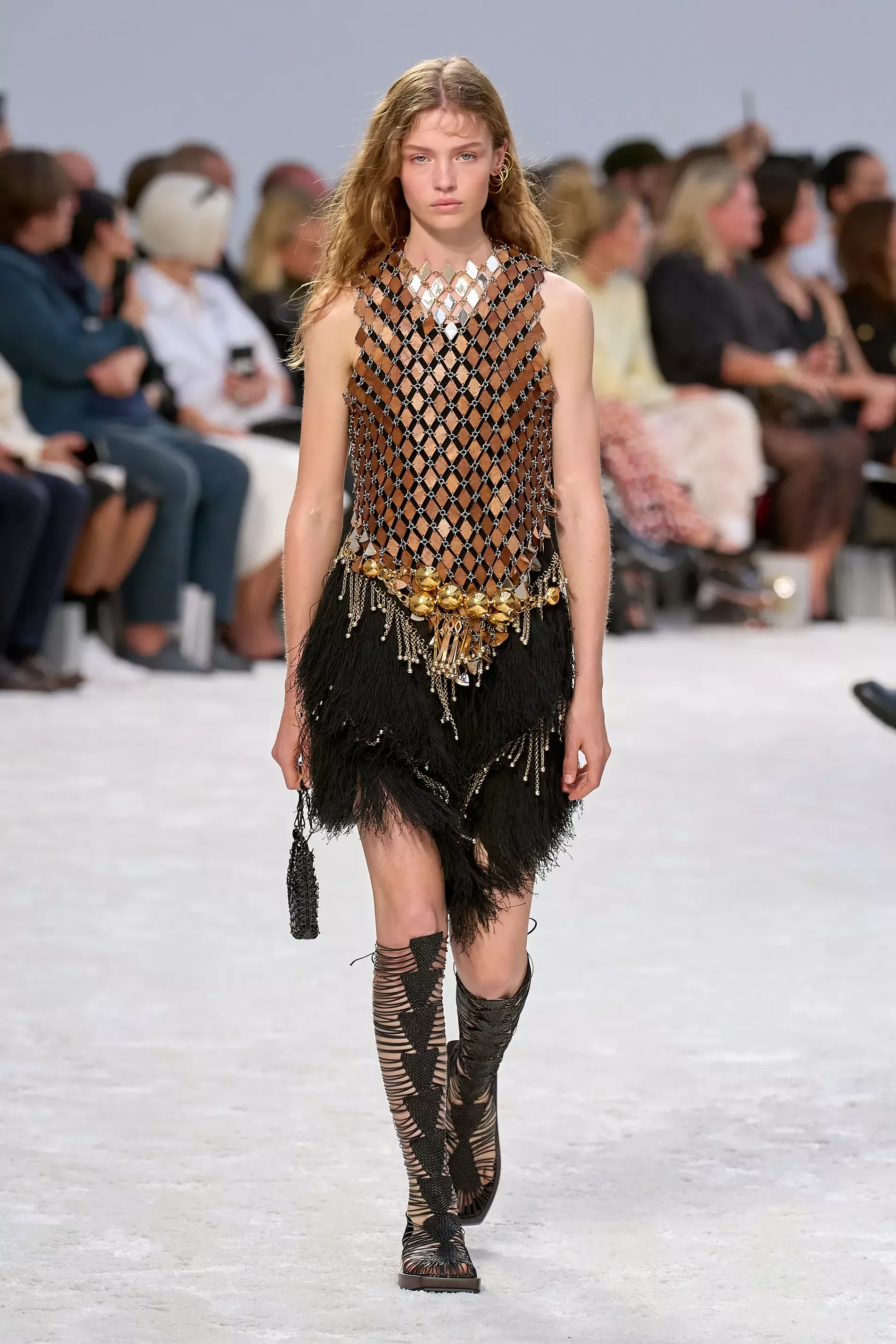 Dossena gave Rabanne's chainmail a rustic makeover
This exploration of raw, rustic fabrics also manifested in a particularly tactile take on Rabanne's signature shimmering chainmail, made up of burnished discs of wood. Part of a collection called Origins of the Future, Dossena's glossy "woodmail" was essentially Rabanne's classic space age disco dress – if the disco was frequented by early man.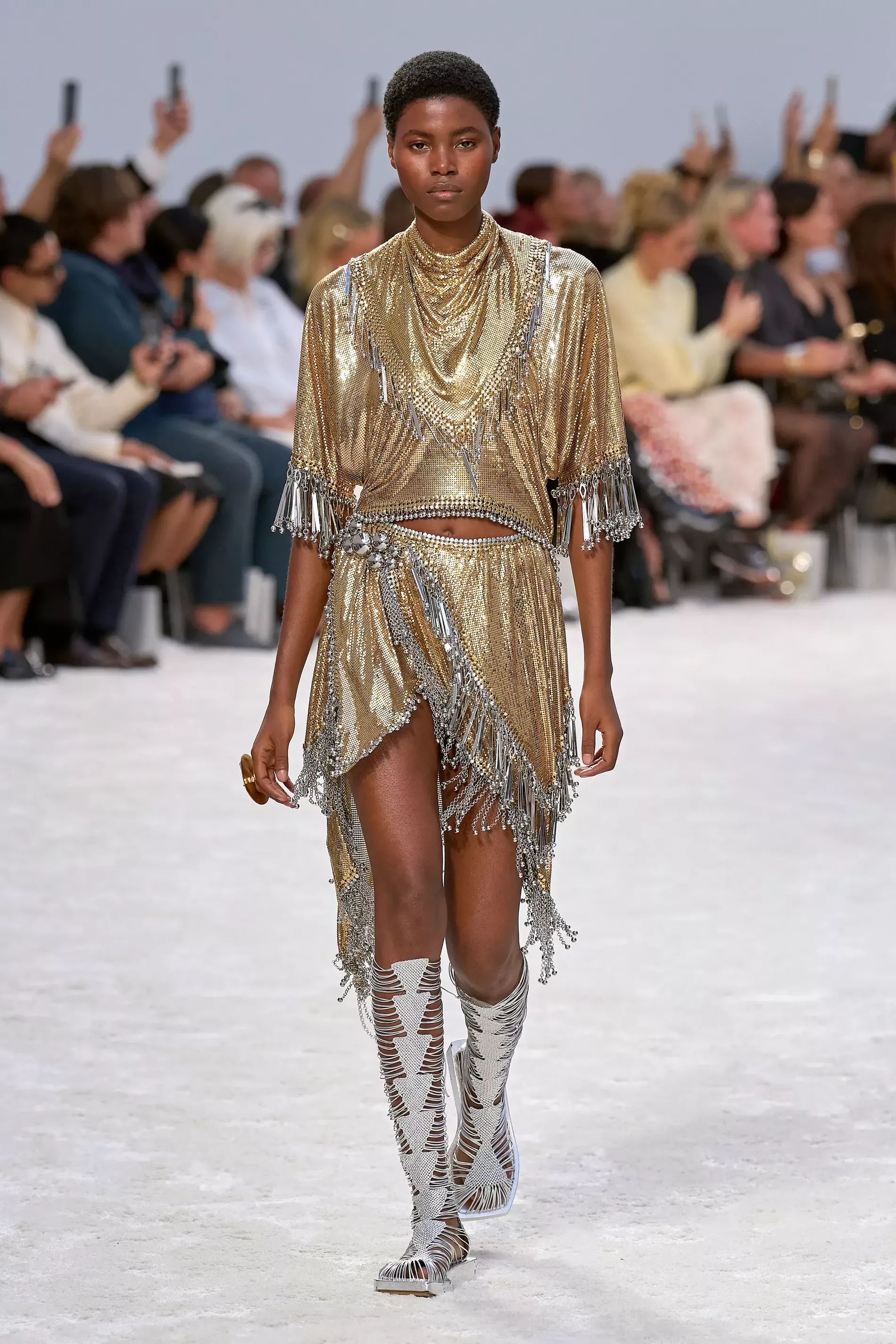 It looked like video game characters
Dossena's time-travelling looks gave off everything from Athena to Amazon to gladiator to Joan of Arc. Lined up on his look board backstage, they resembled the "choose-your-warrior" screens of video games – a fantasy feeling that persisted throughout the collection. "Tender and strong," he said. "It's a kind of community: a tribe, a gang of women who express their own sensibility and sensuality."