Miuccia Prada revived her grandfather Mario Prada's bag in a spring/summer '24 collection that was all about elevation, says Vogue's Anders Christian Madsen. Read on for five takeaways from the show at Milan Fashion Week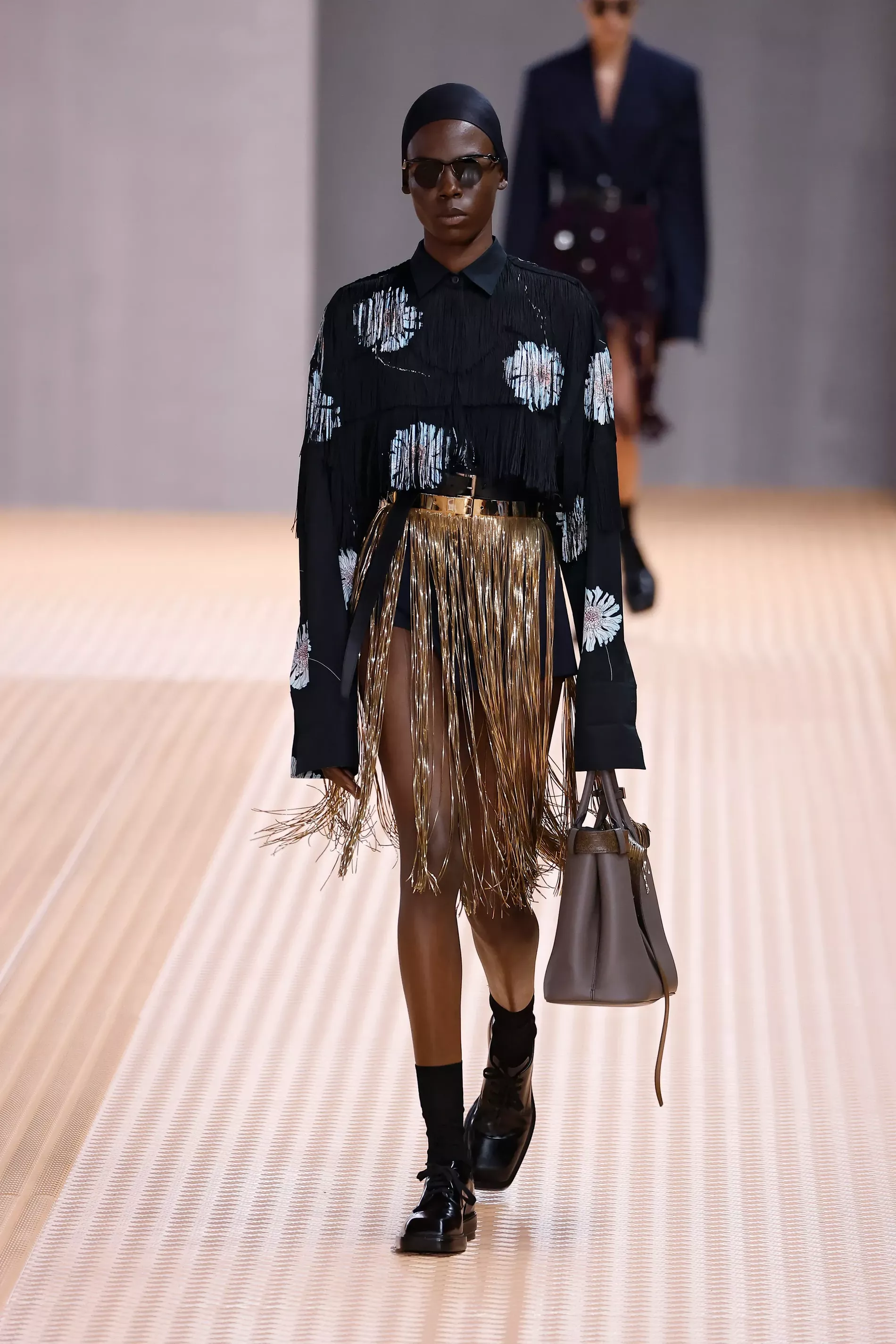 Photo: Estrop/Getty Images
It was all about elevation
As fashion's house of subversion, Prada's collections serve as mirrors of our own fixations. This season wasn't about our turning our material, emotional or sexual obsessions on their heads, but a reflection on fashion's preoccupation with "elevation". Look around the industry and you'll see it: haute couture collections are being launched left and right, "savoir-faire" has become an erogenous term, and a house's heritage is now its most precious gold vein, unearthed and re-imagined in exhibitions and coffee table books galore.
Miuccia Prada and Raf Simons subverted that tendency in a collection that showcased the brand's own artisanal and historical prowess whilst slyly rolling its eyes at that elusive idea of "elevation".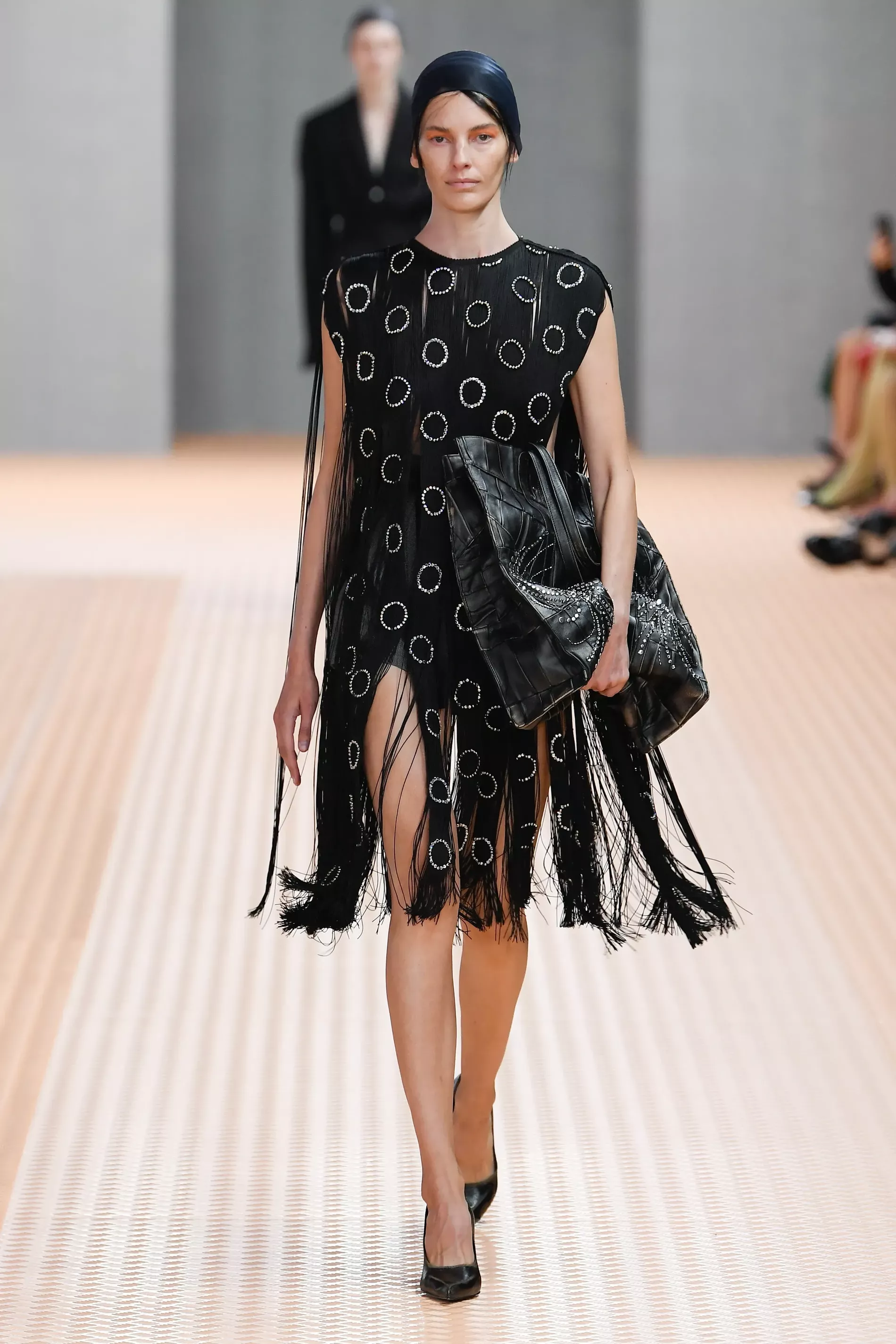 Photo: WWD/Getty Images
Prada wanted to talk about clothes
"We decided not even to do a press text, because I'm personally tired of talking about ideas and not about clothes," Prada cheekily said after the show, well aware that the tower of recorder-wielding reporters erected around her was hankering for her season musings. She was referring to the show notes that were e-mailed to journalists post-show, which simply contained a list of looks, garments and techniques in place of the more substantial reflections she and Simons normally put in writing.
Of course, in typical Prada fashion that was all a mirage. The designers talking about not talking about clothes was an idea in itself, and testament to the intelligence of fashion. We need to talk about fashion; document its ideas, and discuss its meaning.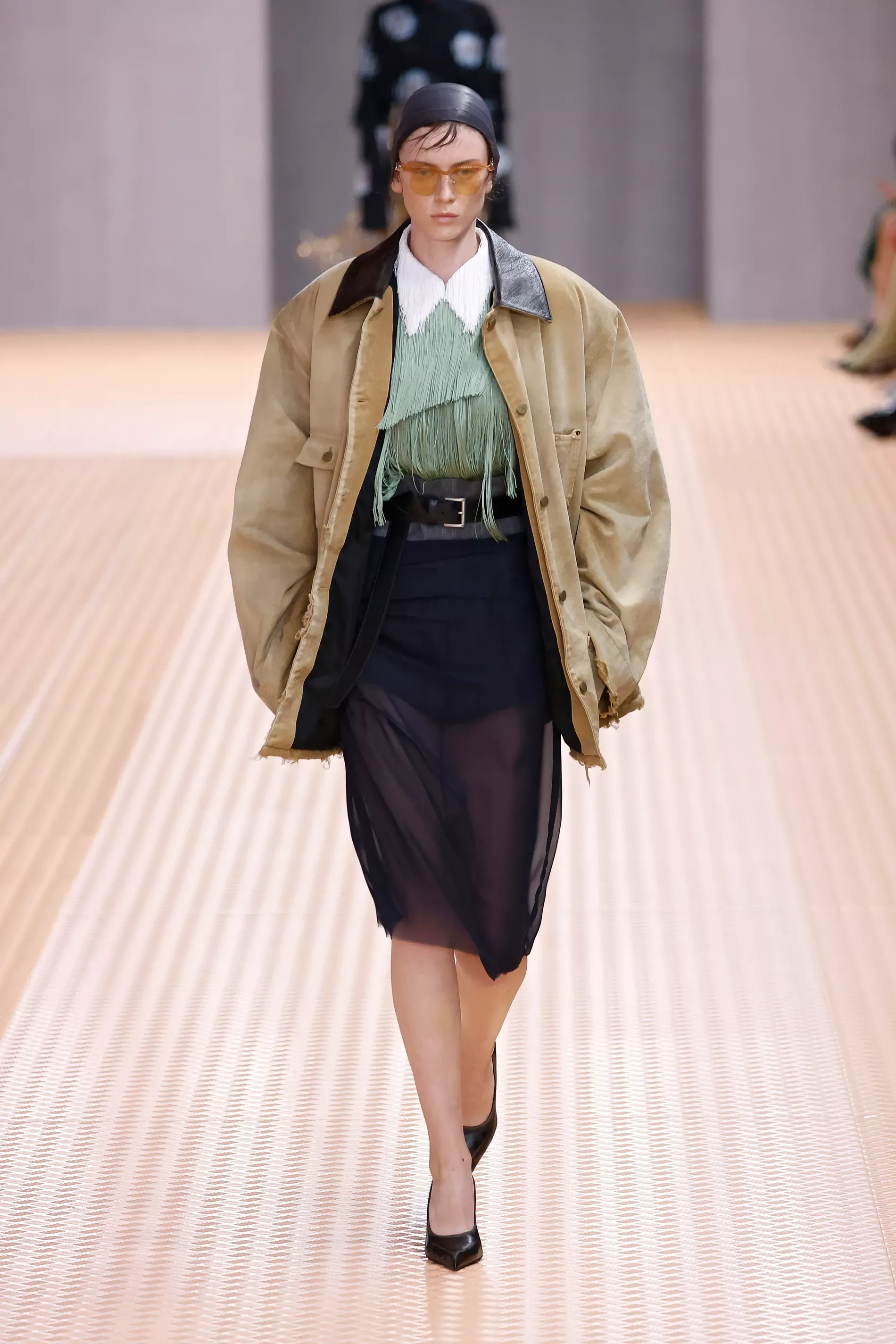 Photo: Estrop/Getty Images
There was slime and American heartland uniforms
After Prada made her point, she looked up and smiled: "Let's talk about clothes!" Centre-pieced by the same heaps of translucent slime that poured from the ceiling of the men's show set in June, the collection proposed a tattered American heartland aesthetic infused with riot girl attitude: rugged field jackets, rock 'n' roll fringe shirts, grommeted knitwear and dresses, and formidable workingman's tailored jumpsuits and skirt sets. Of course, the drabness of it all made for the perfect backdrop for Prada and Simons's reflections on elevation: it was down to earth, somewhat destroyed fashion created through the finest, most complex craftsmanship the Prada factories have to offer. The irony was palpable.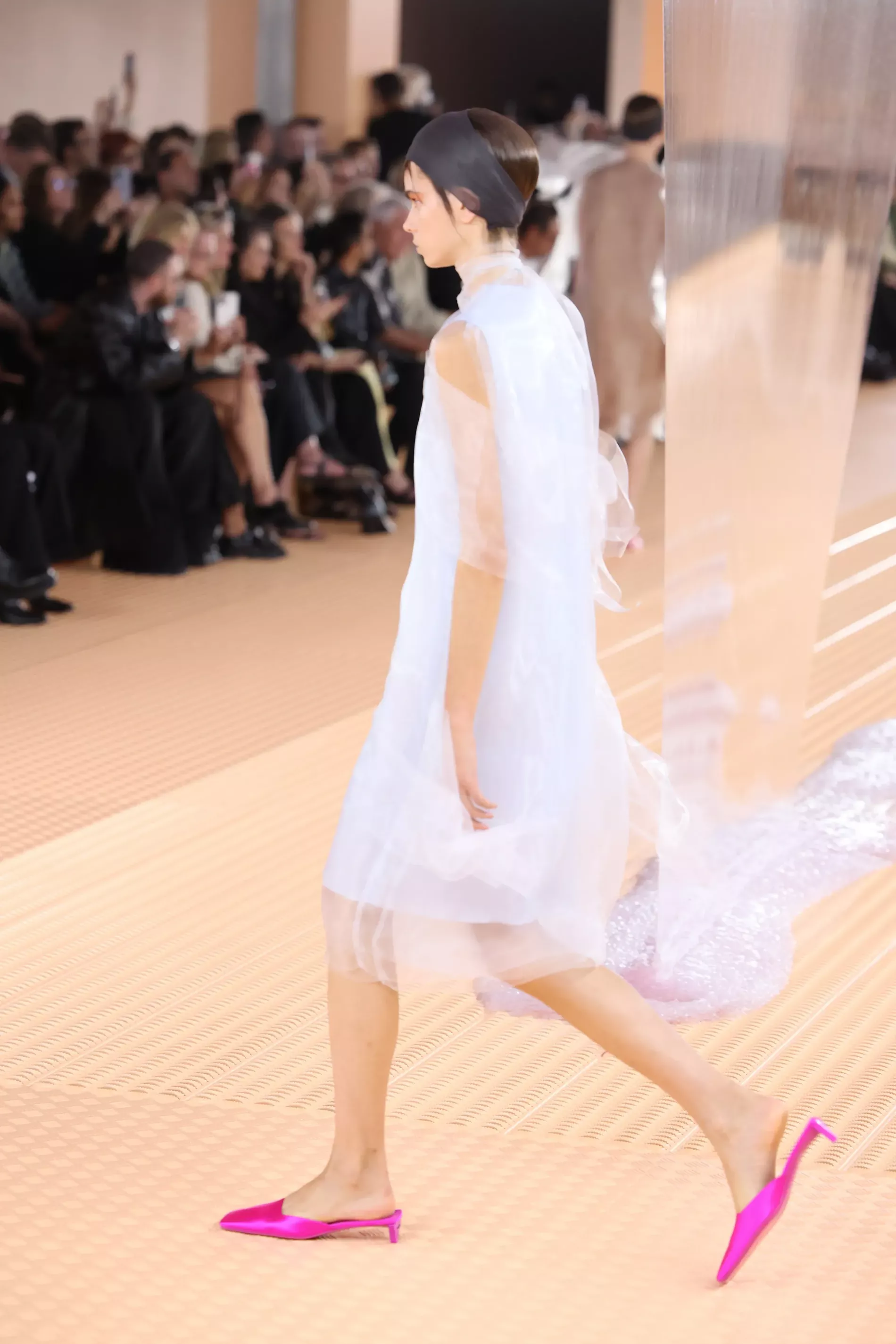 Photo: Daniele Venturelli/Getty
Prada and Simons amplified their savoir-faire
What was the nature of all this fine craftsmanship, then? For starters, the motifs in those fringe shirts were evoked through individually embroidered strands of fringe. The belted tinsel skirts were made of fringing created like jewellery. The outerwear that looked like mosaic leather was patch-worked leather hand-embroidered with crystals and studs. And all those super lightweight dresses that looked like the soft plastic you wrap around furniture were crafted from the most delicate organza and gazar.
"I always read '300 people for 700 days…'" Simons said, referring to the way fashion covers haute couture and the time and workmanship that goes into creating it. "That's not relevant. The point is that we realised it was actually possible. We liked the idea of challenging embroidery and material."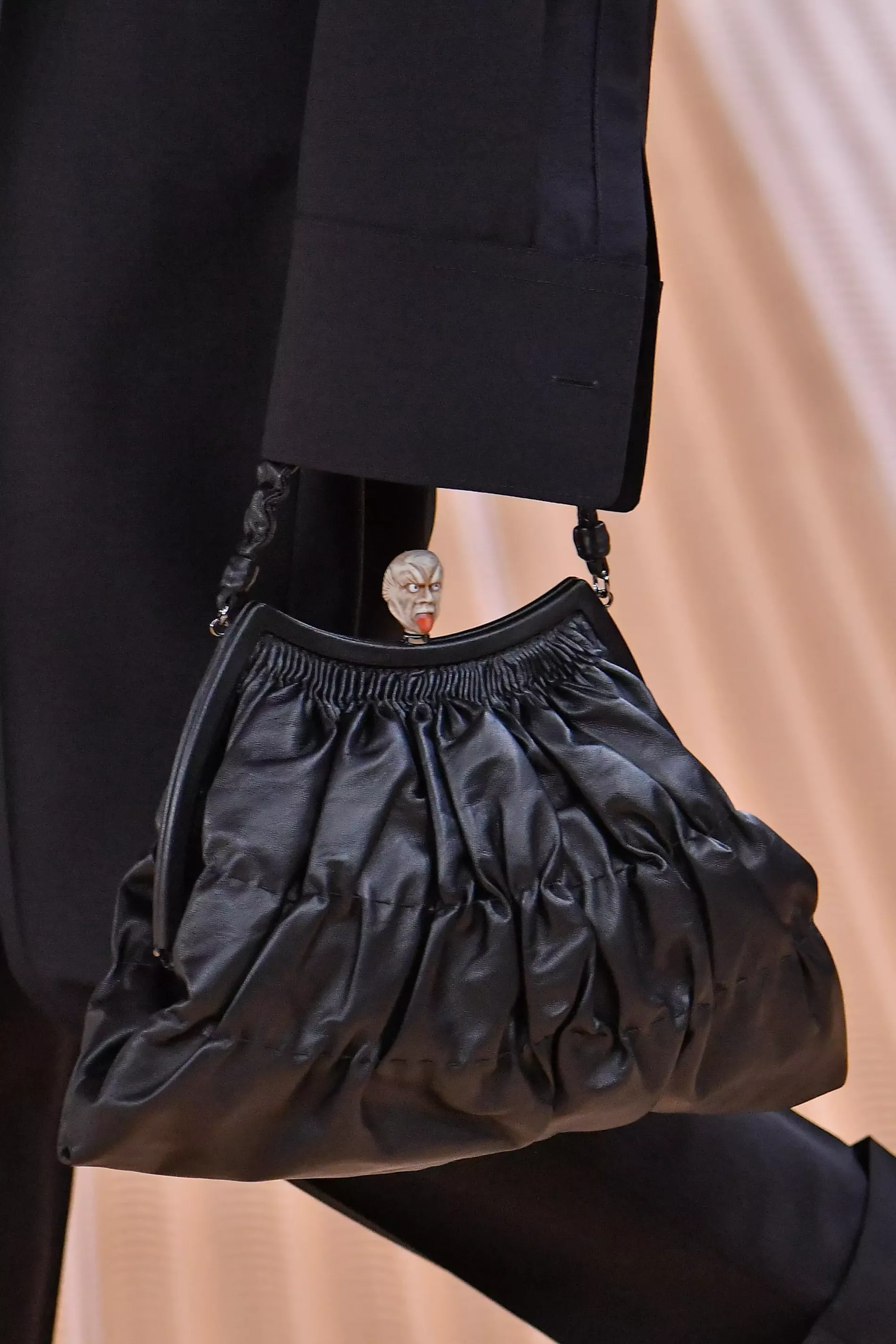 Photo: Victor VIRGILE/Getty Images
Prada revived her grandfather's bag
In the heritage department – an increasingly important tool for elevation for super brands, but not something Prada normally addresses – the collection revived a handbag originally created in 1913 by Mario Prada, the grandfather of Miuccia Prada and co-founder of the brand. "We replicated the bag identically and made it in nylon and leather," Simons explained of the evening bag adorned with a hand-carved fastening depicting a mythological figure.
Riffing on its roots was an interesting move for Prada, which holds such enormous contemporary cool factor it hardly needs to infuse its brand value with the romanticism of the past. Instead, the bag emerged like the emblem of a collection that captured our fascination with historical or artisanal elevation of this fashion moment in time.
Originally published on British Vogue