For spring/summer 2024, Molly Goddard wanted her collection to look more undone and exposed than in previous seasons, with a romantic take on the underwear-as-outerwear trend inspired by traditional lingerie techniques and vintage bedding. Below are Vogue's five key takeaways from the show, which was staged at Christie's auction house.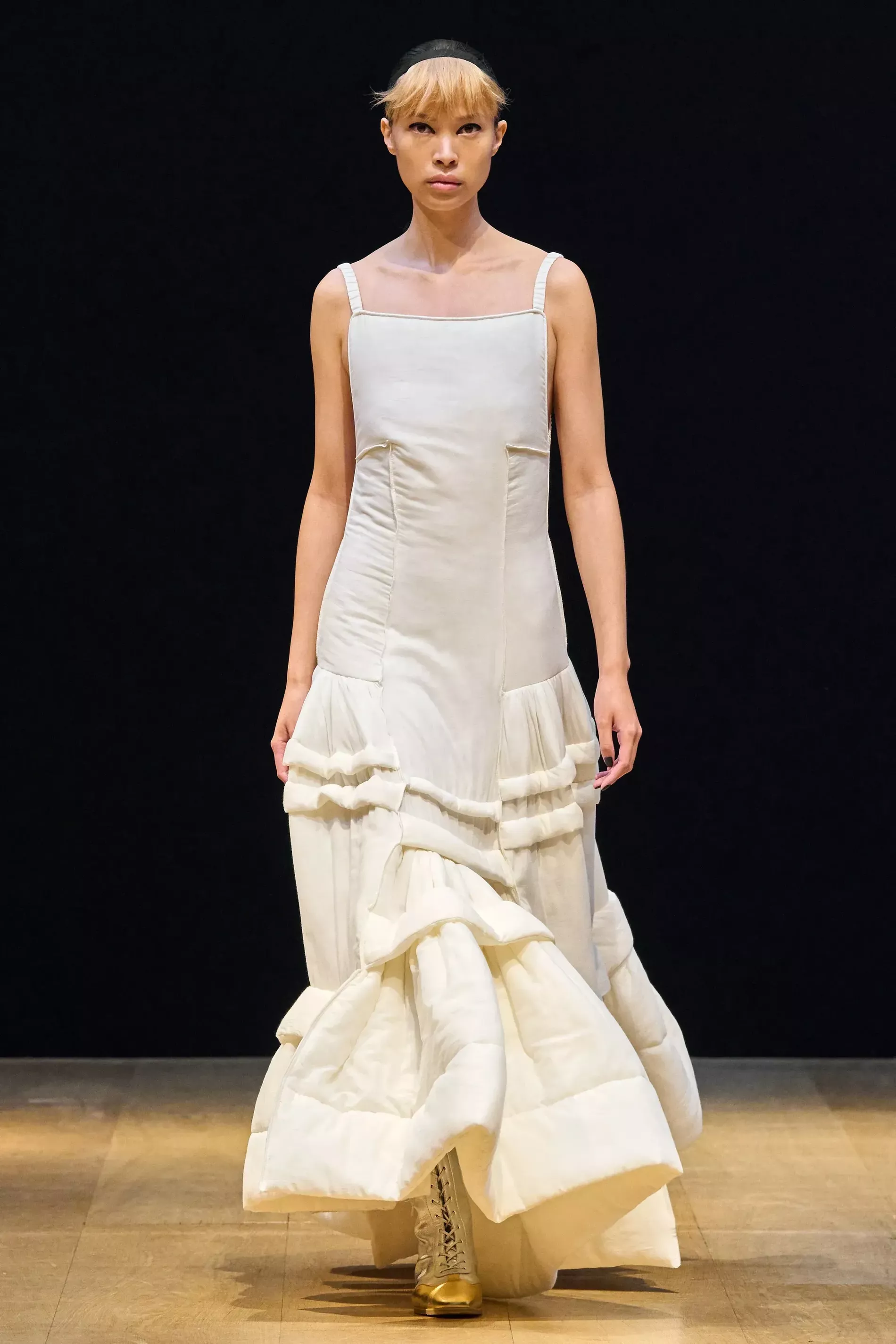 The silhouettes had a new, deconstructed feel
"The big dresses are the easiest in my mind, so I like the challenge of creating dresses that aren't that obvious big tulle," Molly Goddard tells British Vogue of her new silhouettes for SS24, which are all more undone than in previous seasons. The dresses look like they have quite literally been turned inside out, with Molly exposing the details that you would usually find concealed within a garment or inside a piece of underwear. The backs are all dangerously low, revealing built-in bra straps with cotton gathered over the elastic, and many of the dresses look almost unfinished with exposed metal zips and visible grosgrain on the bindings. She was also inspired by underskirts and traditional christening dresses, and so dense white frills poke out from everything, from blazers to short shorts.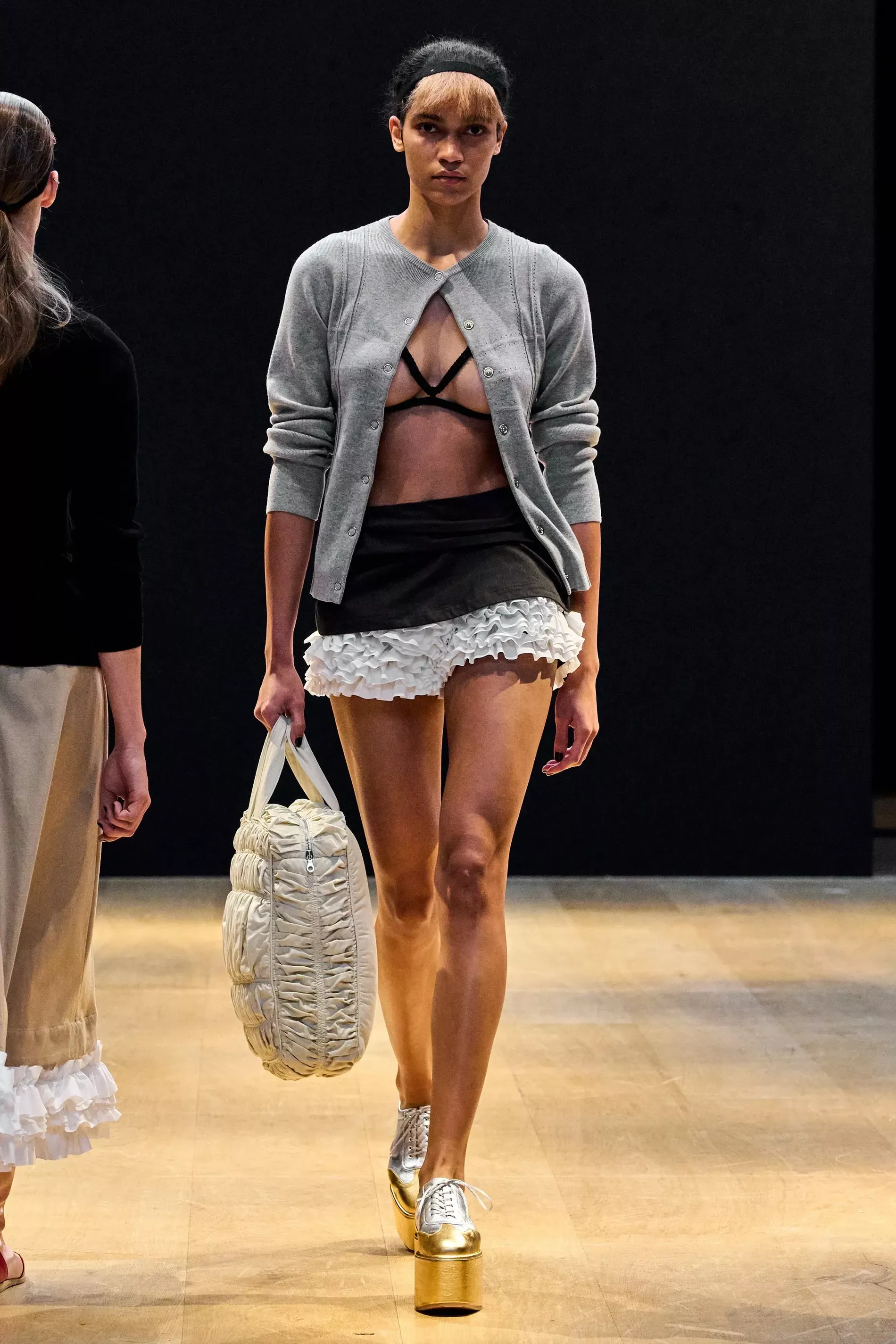 It's all about the bra
This year's prevailing underwear-as-outerwear trend gathered pace at Molly Goddard – the designer researched a whole range of undergarments, from Victorian nightwear to vintage '50s underwear to old fashioned bedding, however the gathered and ruched black and cream cotton bra tops in the first half of the collection were the most obvious take on lingerie dressing. Sheer triangular bra tops peeked out from under half-buttoned cardigans, while backless dresses exposed bra tops which were more romantic than sexy, with ruched cotton straps. "I had a big fitting with the National Theatre looking at the underwear collection and turned a lot of them inside out, as I'm really interested in the techniques used in traditional, handmade underwear," Goddard explains. "So even my cardigans have bra-like details in them, which up close are very special."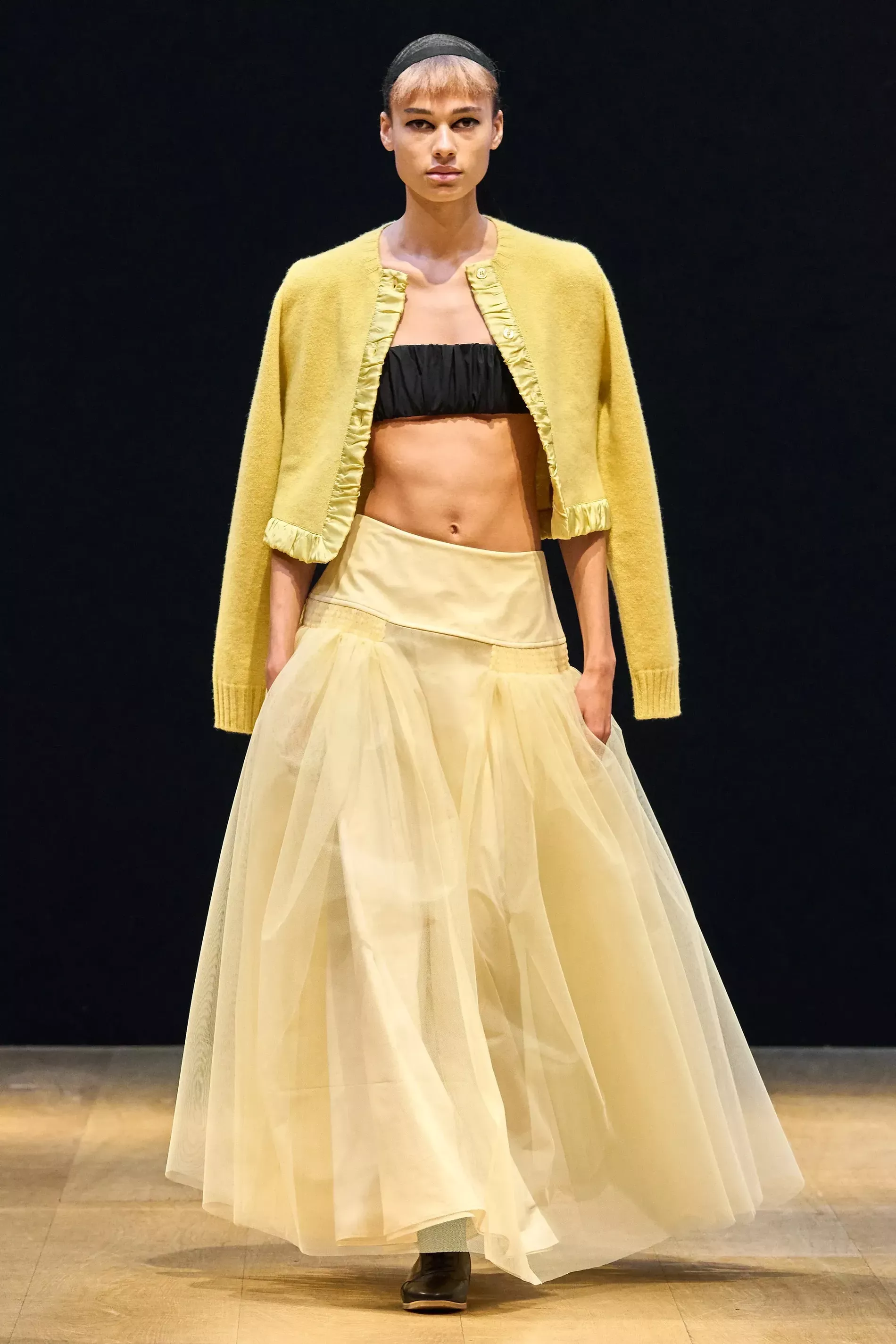 The cardigans were inspired by vintage blankets
If the lavender and lemon cardigans with satin trims look a little familiar, that is because they are inspired by vintage bedding you might remember from your grandparents' homes or antique shops. "I also looked at bedding and created knits made from a felted wool with a wobbly, satin trim, that look like the old-school vintage blankets that you can't really buy anymore," explains Goddard. This bedding theme is also mirrored with the quilted handbags which are made to look like pillows.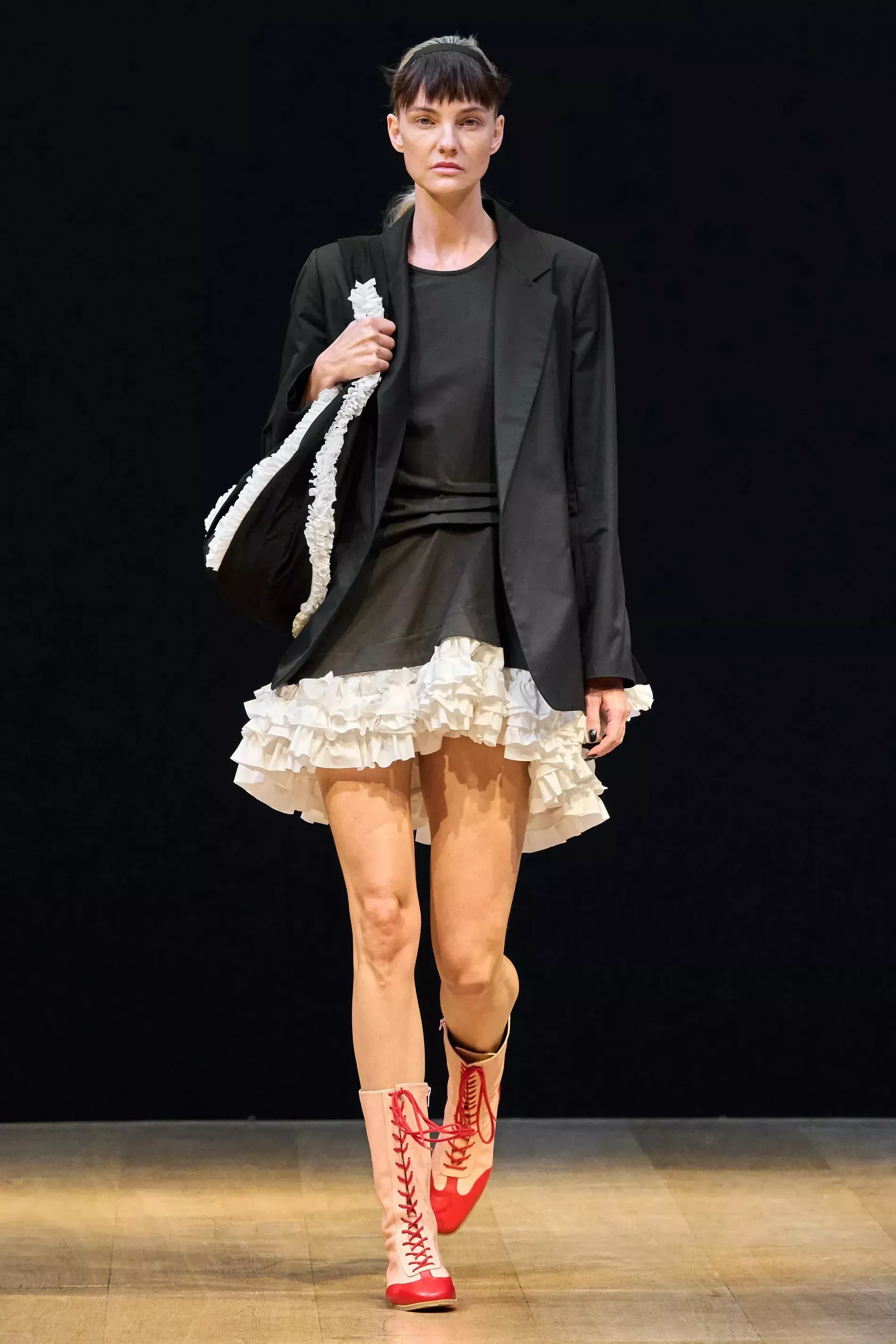 Ribboned "winges" (wig fringes) were used as an additional accessory
The hair and make-up was all uniform, with fresh, clean skin by Emma Lewisham and "winges" (wig fringes) that were used as an additional accessory to the pillow bags and lace-up shoes. "The hair is in keeping with the theme, in that it is quite revealed – the models all have tied-on fringes with black flowing ribbons, that are more of an accessory than your usual wig placement," explains Goddard.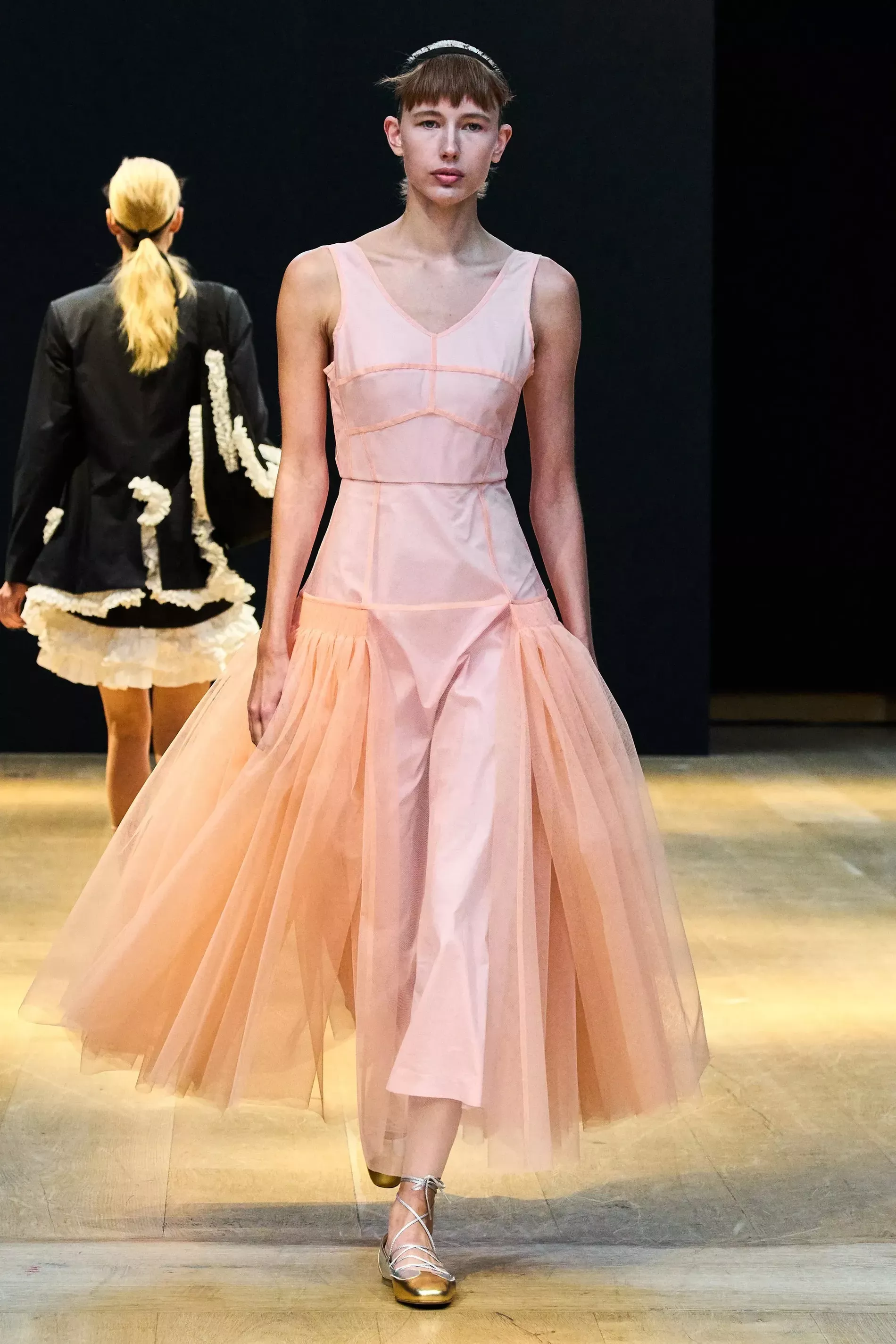 Ballet pump fever is going nowhere for spring
When it comes to styling, Molly Goddard is known for her very London sensibility, making even the biggest tulle dresses look like something you could feasibly wear with a cardi on the tube – so it's not surprising that she put her own spin on the commuter shoe of the moment. "I always like there to be a sporty element to the collection because that is the way I wear things," the designer says of her sneaker-fied ballet pumps. "We have taken the detail of trainers and taken them to ballet pumps, with trainer detailing on the leather and criss cross laces across the front."