Miuccia Prada's spring/summer 2024 Miu Miu show continued her exploration of reality-driven styling, with dishevelled layering, lived-in knitwear and short-shorts and colourful plasters fixed to the feet as an accessory. Below, Anders Christian Madsen reports from Paris Fashion Week.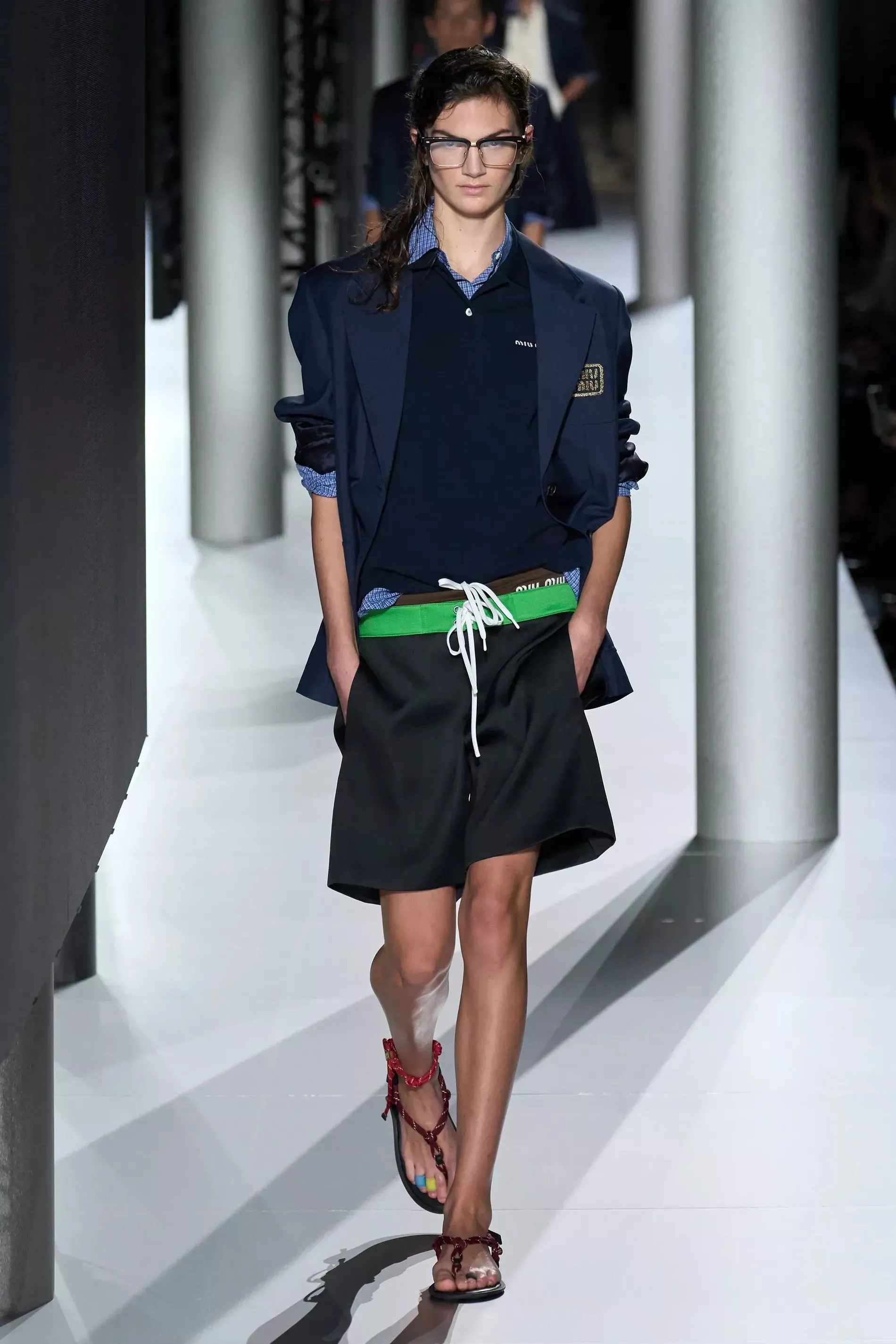 Things got real
Few brands are as present on the real pavements of the world's capitals these days as Miu Miu. The momentum Miuccia Prada has created with the real-girl look she started carving out some four seasons ago reflects and impacts a current desire for realness. Because when you talk about Miu Miu that word keeps popping up: real. On the final day of the show season, she amplified and almost fetishized that idea as real-life real-girl representatives Sydney Sweeney, Emma Chamberlain and Mia Goth looked on from the front row.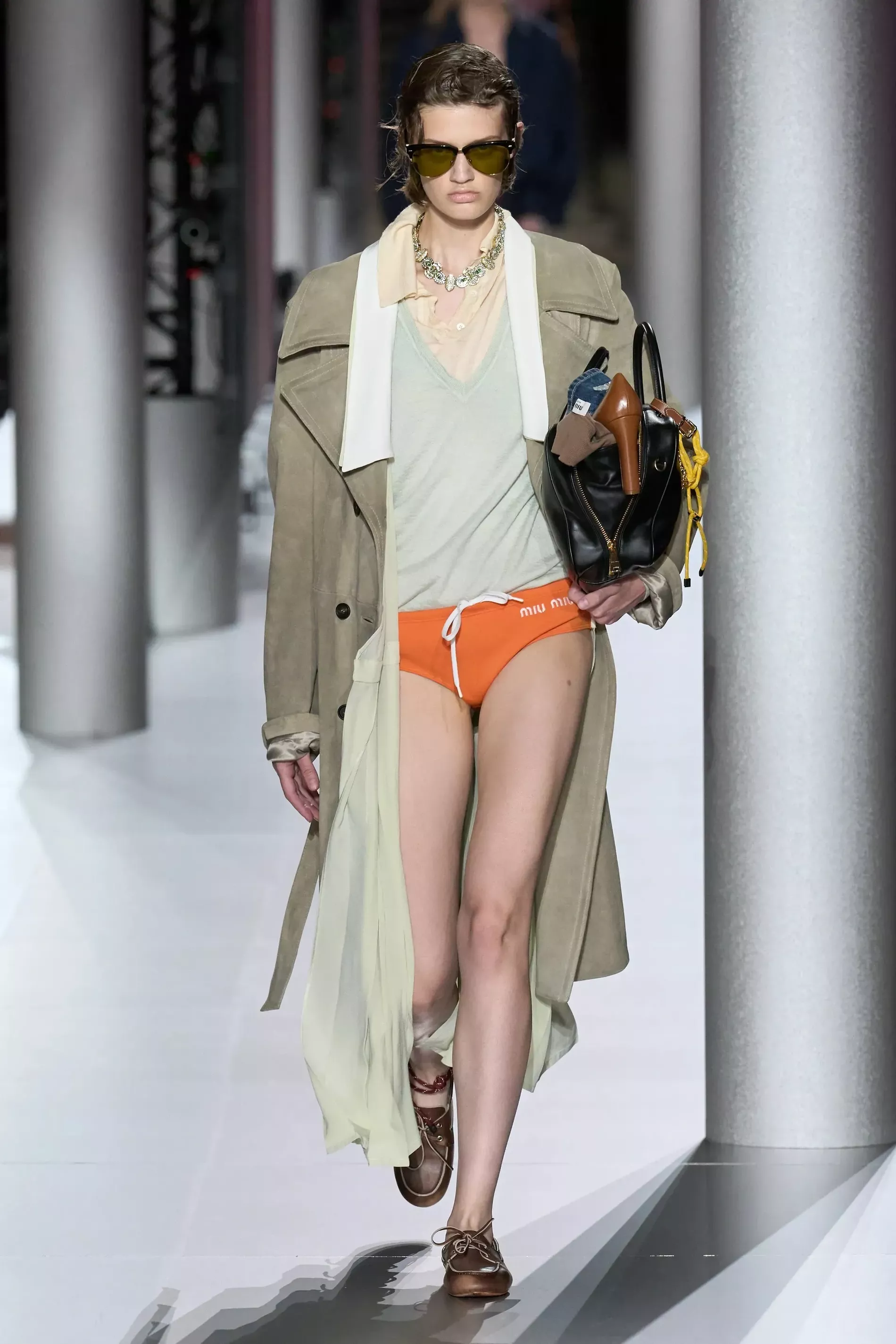 The Miu Miu look intensified
Prada re-established the Miu Miu silhouette that's seen recent collections fly off the shelves: skimpy hemlines expressed in knickers (worn as daywear), shorts and tiny tennis skirts paired with oversized blazers, bombers and coats. Triangular tops styled with low-slung tailored trousers continued the Y2K vibe beloved by a new generation of shoppers. The collection was underpinned by a decidedly preppy mood that riffed on an American idea of ease: crested jackets over polo shirts over shirts worn with Bermuda shorts.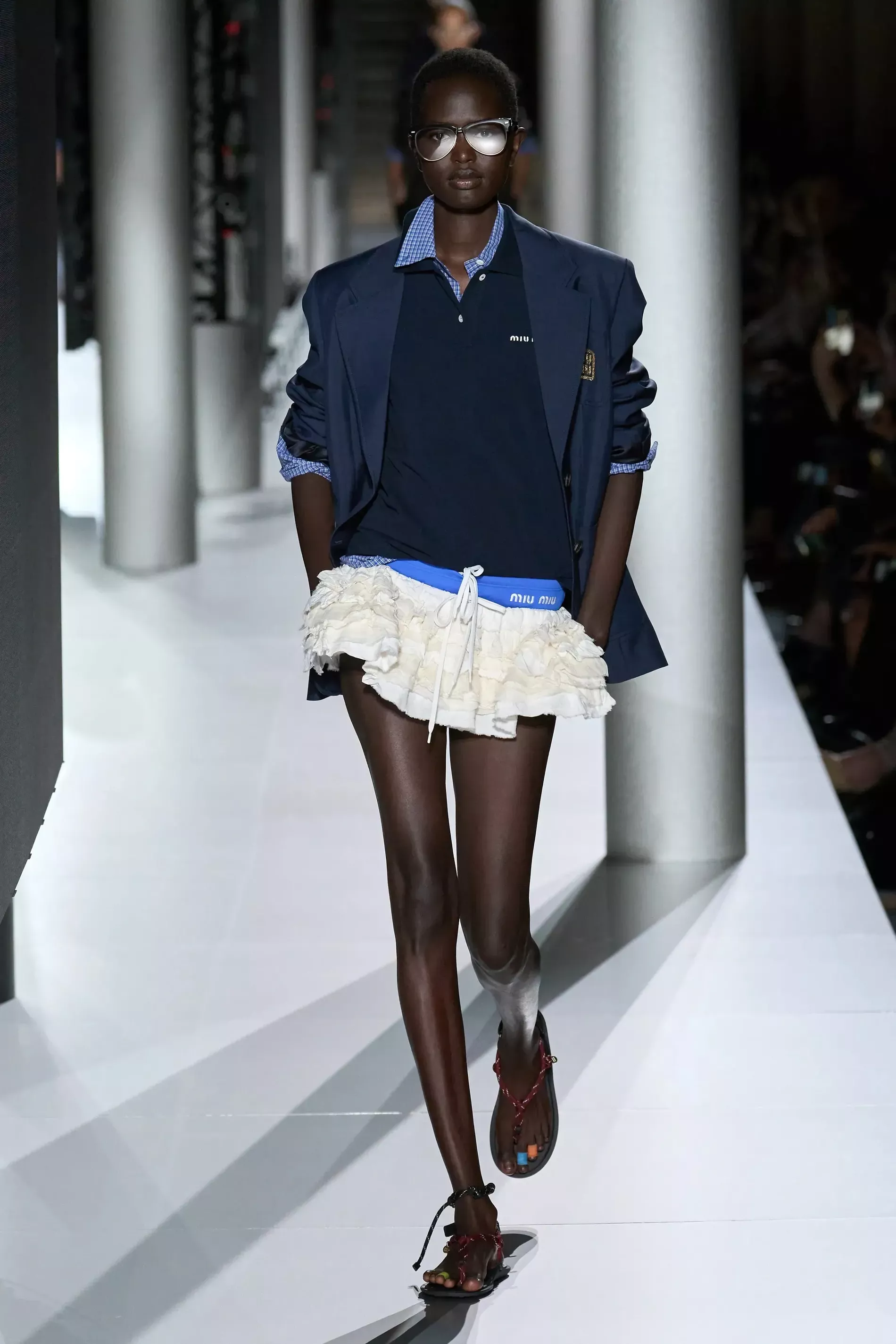 The wardrobe felt lived-in
Prada imbued her garments and accessories with what she called "traces of living": marks on leathers and suedes, and fabrics that faded as if they'd been washed too many times. She called the pre-worn sensibility an expression of "existing love" demonstrated by the repeated use of clothes. A similar sensibility was reflected in the "real" styling of the slightly dishevelled layering of dresses, jumpsuits, cardigans and T-shirts, which evolved the barely-got-out-bed look that characterised last season's collection. As a brilliant nod to real life, the toes of flip-flop-wearing models were adorned wore neon-coloured plasters.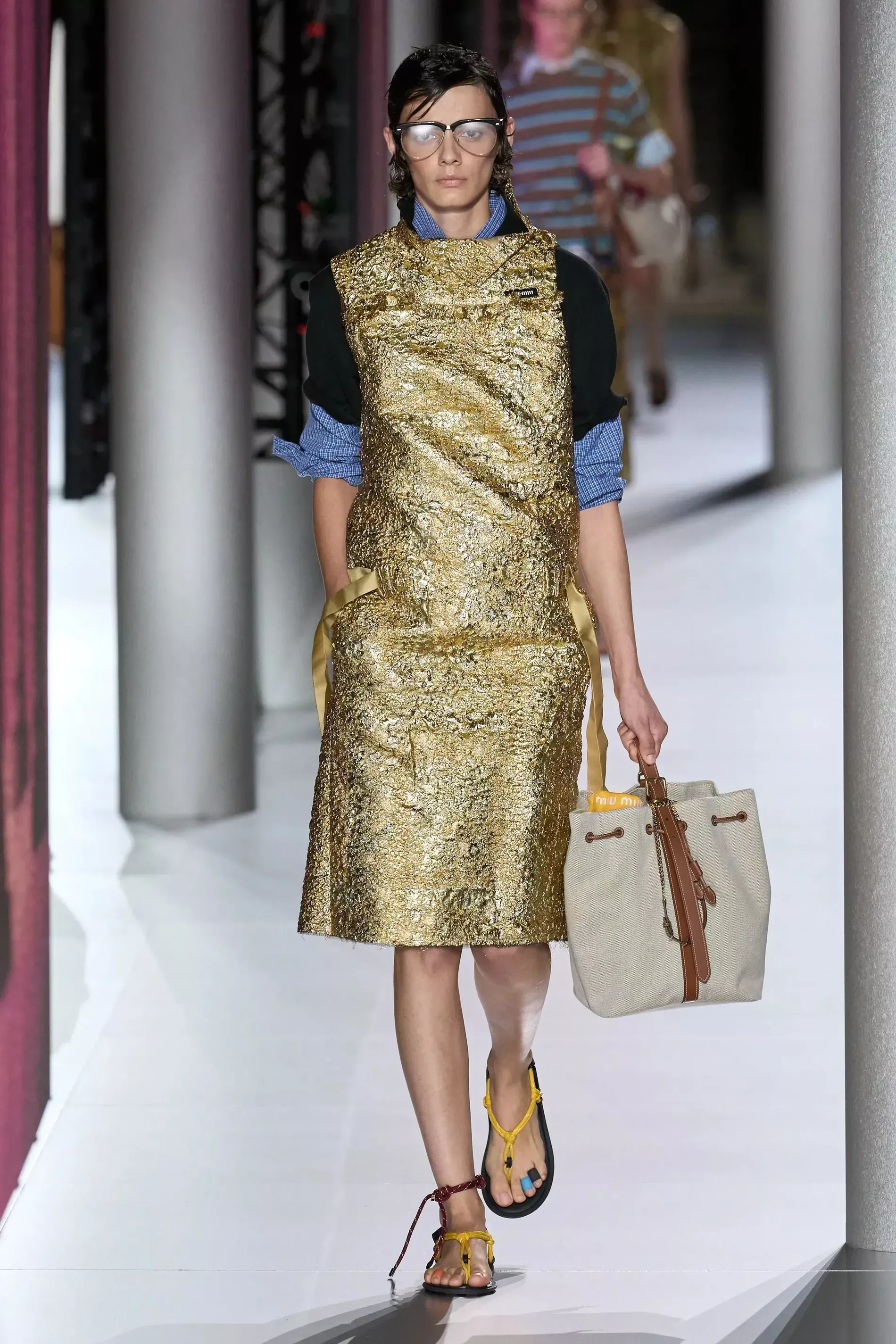 There were moments of gold
Fashion's current appetite for the anti-ostentatious may have been represented in the realness of the Miu Miu collection, but Miuccia Prada is also aware that this mentality isn't that real; that the young people who wear Miu Miu are driven by a desire to dress up. The gold-foiled dresses and skirt suits – not to mention the opera coat that closed the show – brought that element of fantasy to proceedings and served as a reminder that a real-girl mentality doesn't have to be dull.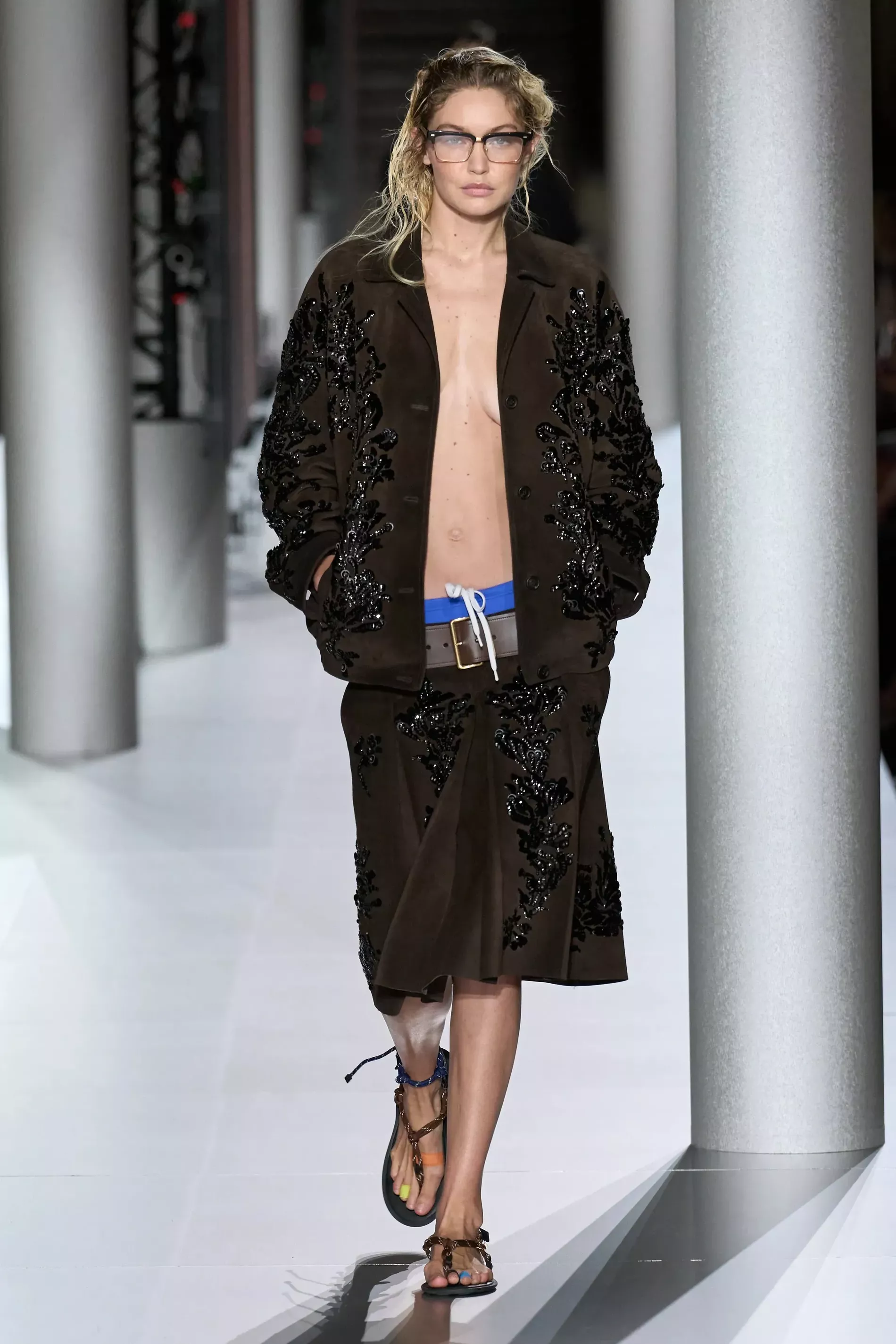 It was a Miu Miu hall of fame
As always, the Miu Miu show came with a stellar cast: singer Troye Sivan flew the flag for the Miu Miu boy, while actors Cailee Spaeny and Mame Bineta Sane were joined by the artist Petra Collins and the photographer Eddy Aldridge. New-era Miu Miu girls Gigi Hadid and Amelia Gray Hamlin were back to welcome the original models that paved the Miu Miu way: May Anderson, Rosemary Ferguson, Liu Wen, and Karolin Wolter.