Vogue's fashion critic, Anders Christian Madsen, details Julien Dossena's reinterpretation of Jean Paul Gaultier's legacy. Dossena's unique approach involves the creation of distinct characters that draw inspiration from Gaultier's own collections, while also subverting the brand's traditionally favoured materials.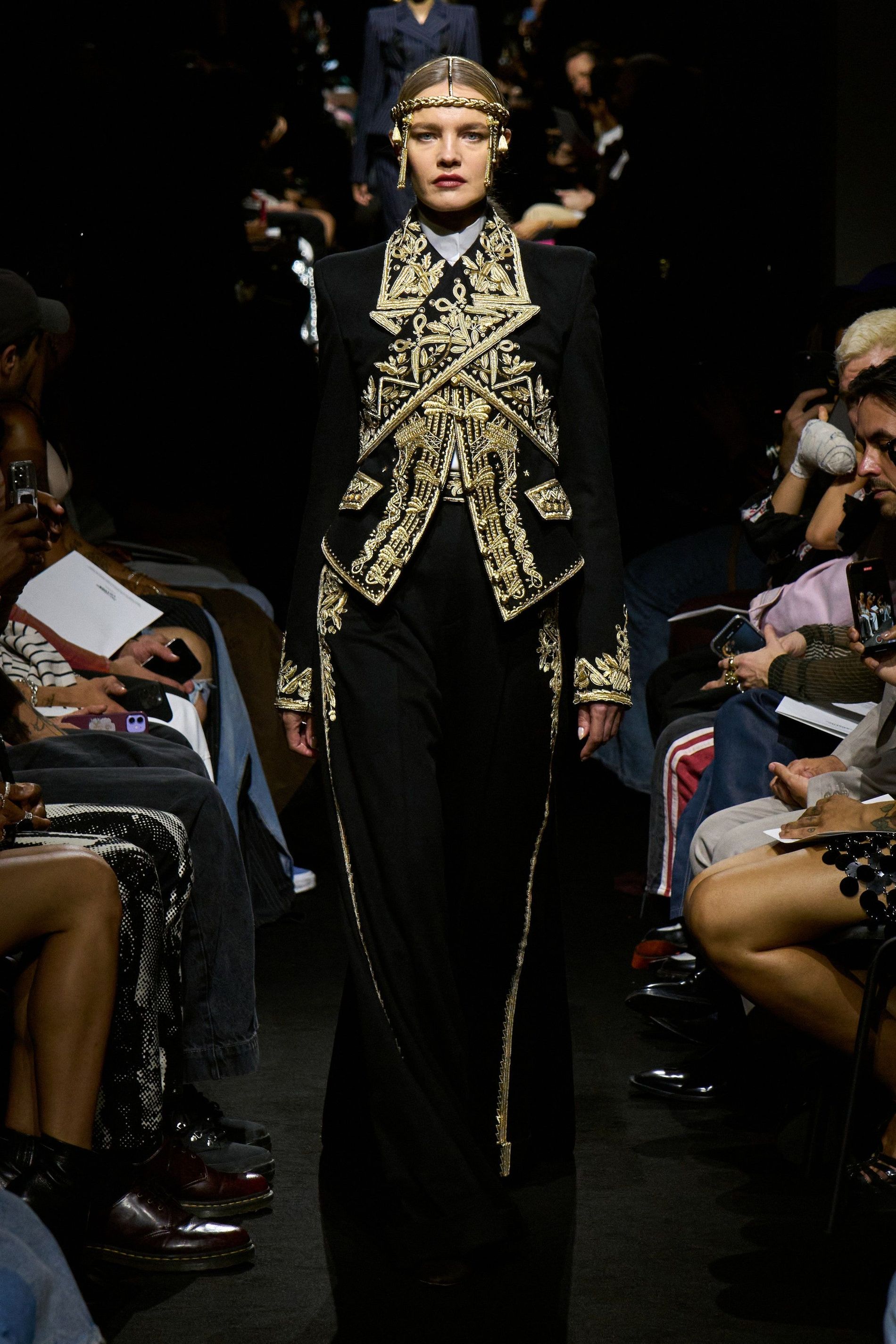 Photo: Courtesy of Daniele Oberrauch / Gorunway.com
It was all about materials
"As you know, I love to experiment with materials," Julien Dossena smiled backstage at Jean Paul Gaultier, gesturing at a line-up that looked like a texture-obsessive's wildest dreams. The artistic director of Paco Rabanne – which changed its name to just Rabanne last week – was the latest designer to be handed the seasonal keys to Gaultier's haute couture ateliers with no limitations other than his own imagination. Dossena took the opportunity and ran with it in an exuberant and engrossing collection that spliced Gaultier's archives with his own love of materials and tributes to the signature metalwork of Rabanne (who died in February this year).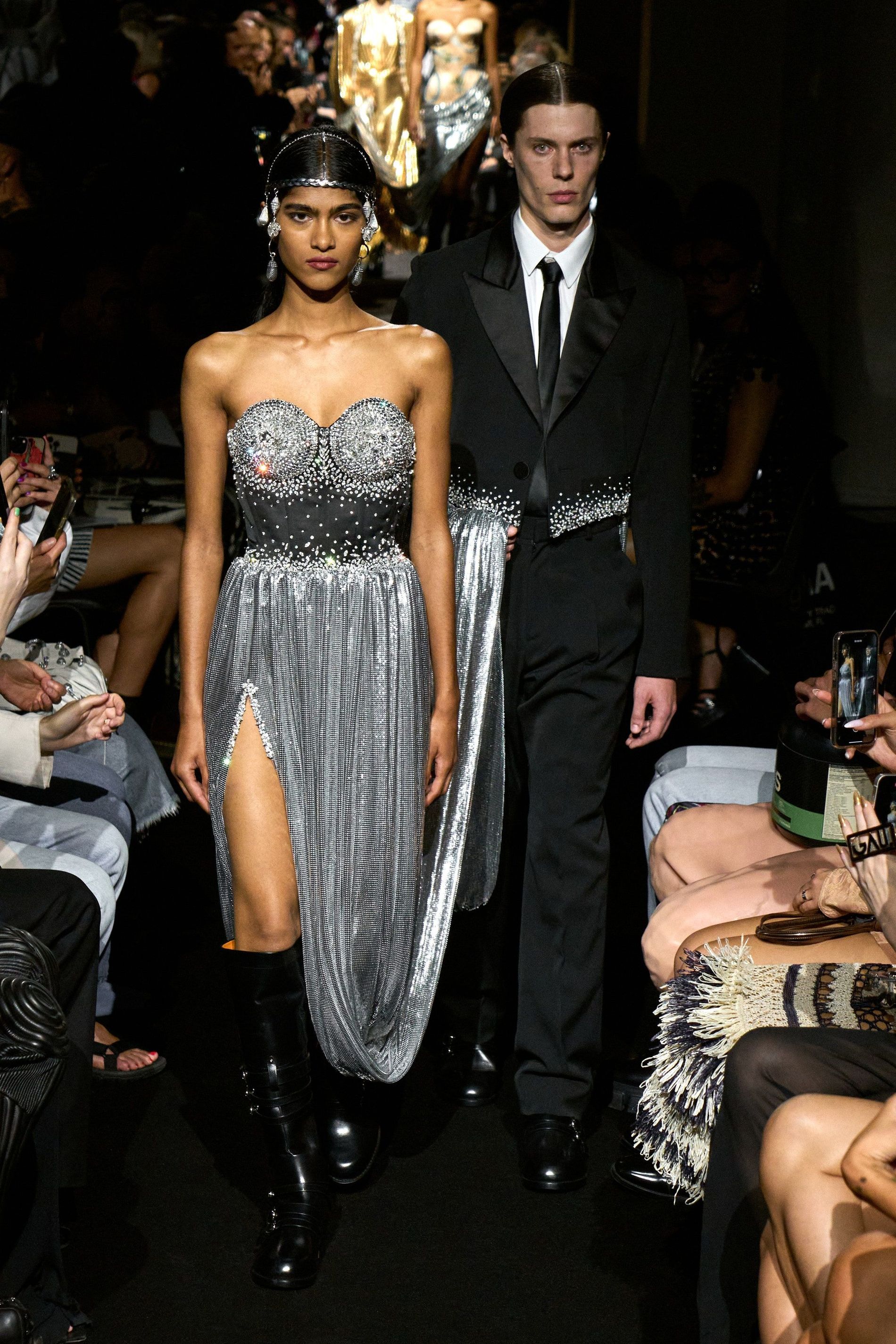 Photo: Courtesy of Daniele Oberrauch / Gorunway.com
The collection was based on characters
"What I wanted to express was everything that touched me as a kid and as a grown-up designer: his generosity of exploration – always observing the people around him – and always trying to sublimate their attitude and their way of dressing," Dossena explained. He brought that philosophy to life in a show structured like a series of characters, each of them based on one of Gaultier's own collections. In the blackened-out runway room of JPG HQ on Rue Saint-Martin, Natalia Vodianova led a cast of models through narrow runways to the sound of footsteps and street atmospheres. In the show program, each look was named after an area of Paris.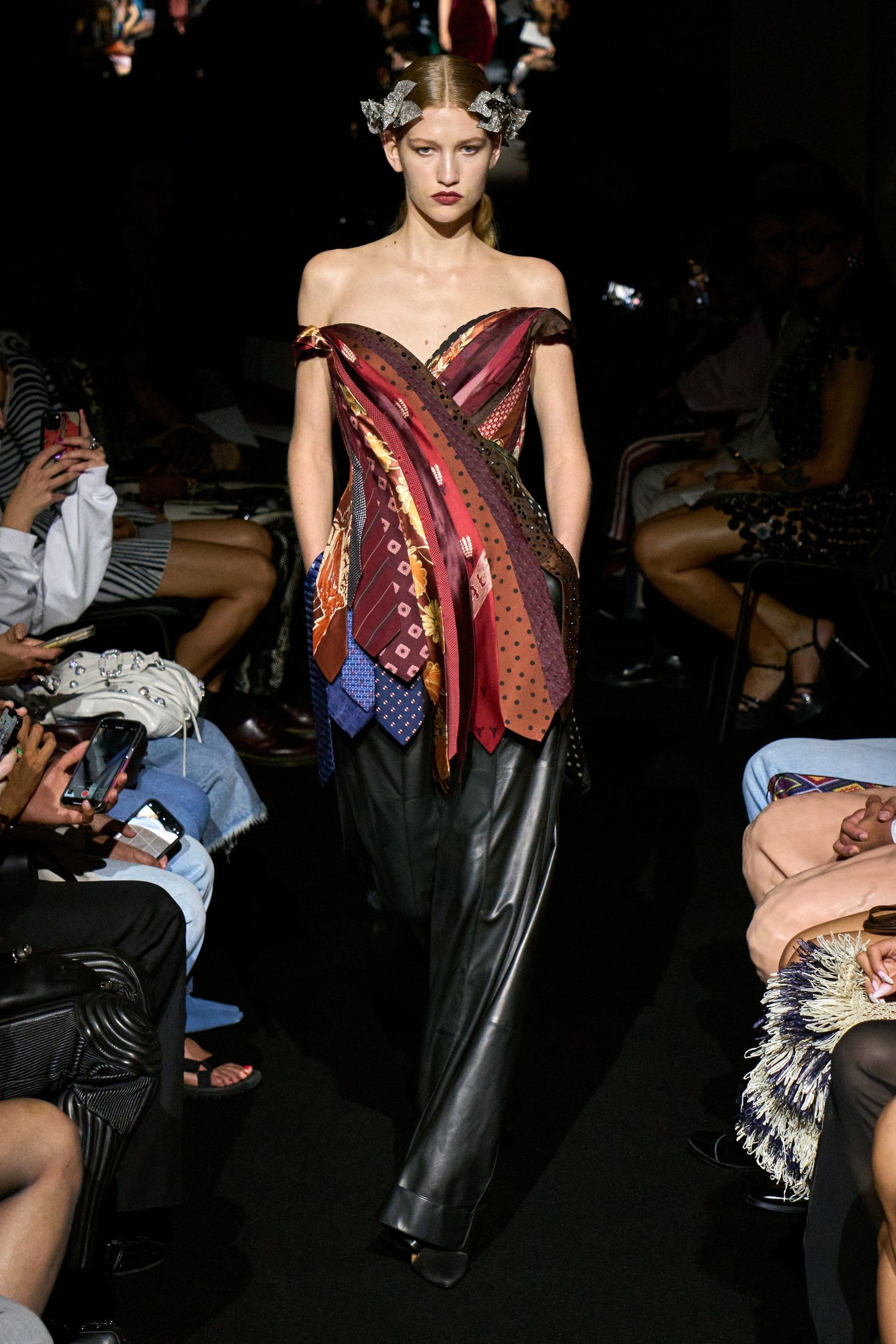 Photo: Courtesy of Daniele Oberrauch / Gorunway.com
It was an instinctive marriage between Dossena and Gaultier
If Gaultier's guest-designer scheme started as an exercise in pinpointing which JPG collection or famous image had inspired each garment, Dossena's show illustrated how fluid and instinctive the process has now become, both for the guest designer and the spectator. His collection became an exercise in employing haute couture to amplify the materiality that defines his work at Rabanne, from patterns three-dimensionalised through embellishments to trompe l'oeil denim embroidery and novel constructions like a chainmail train woven into to another model's jacket or a top made of ties.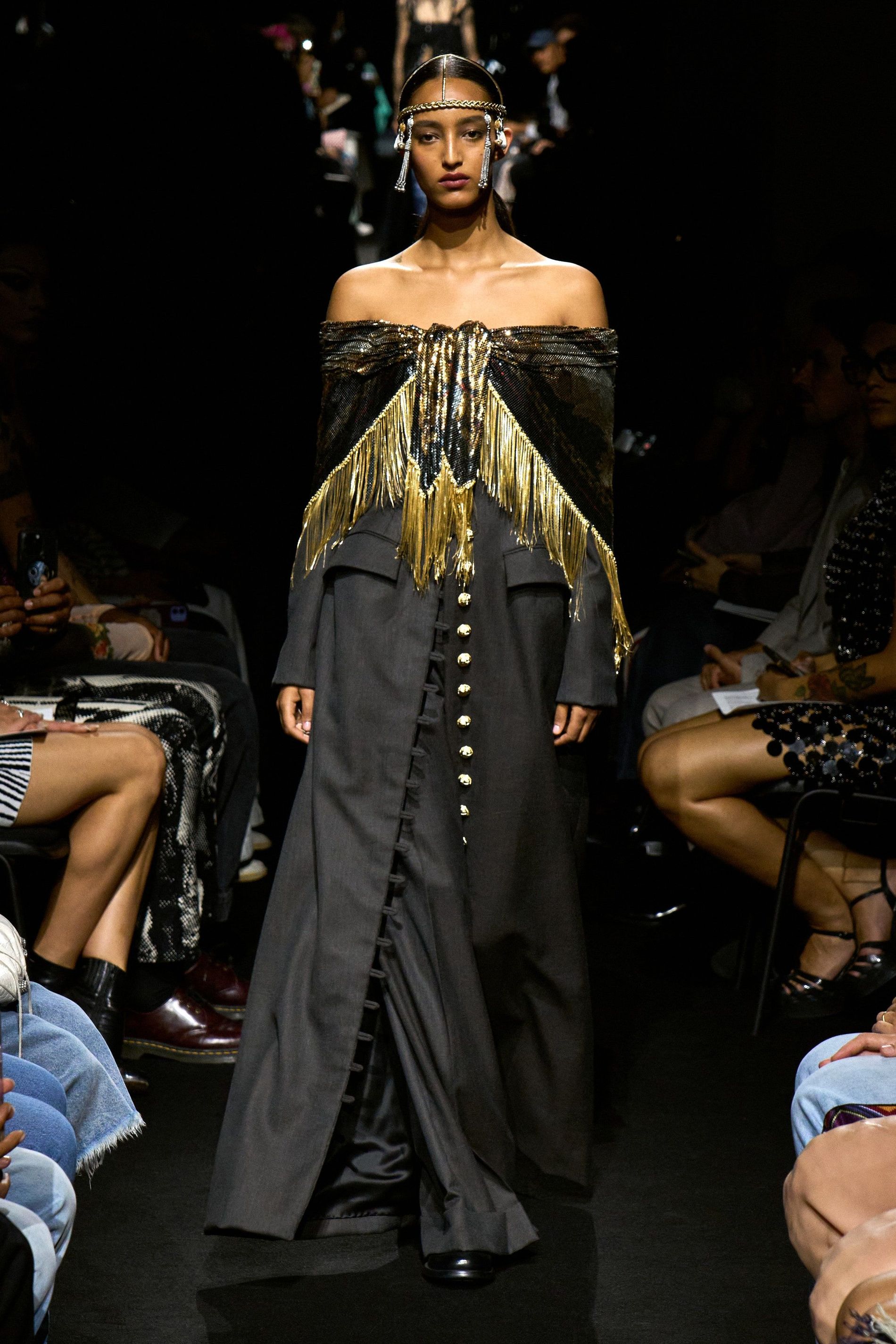 Photo: Courtesy of Daniele Oberrauch / Gorunway.com
It was about self-expression
"We tried to balance this feeling of self-expression and characters: these different expressions of identities; high and low mix-and-match; and at the same time elevating the novel aspect of the craftsmanship of the haute couture to make those characters as couture-y as possible," Dossena explained. From uniforms to apron dresses, shapkas and cone bras, his proposal reflected the cultural institution that is the JPG aesthetic, and how it can evolve through the eyes of new designers – and inspire their own work in return. Seated on a front row that counted Dossena's friend Nicolas Ghesquière as well as Haider Ackermann, who designed last season's collection, Gaultier looked thrilled with what he was seeing.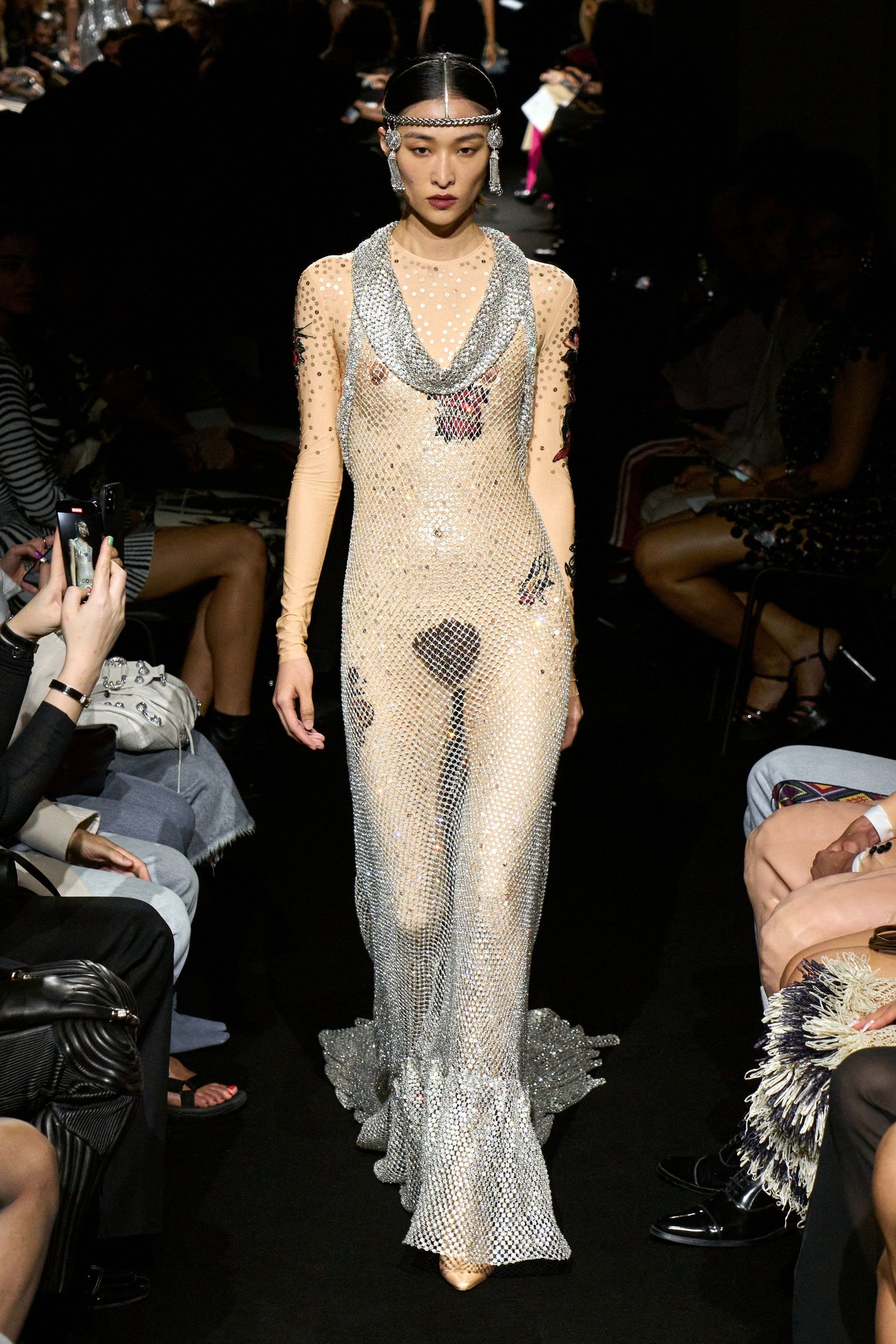 Photo: Courtesy of Daniele Oberrauch / Gorunway.com
Dossena said Gaultier played a huge part in his upbringing
Asked what the opportunity meant to him, Dossena said Gaultier shaped his childhood view of designers and self-expression. "I saw him on TV one day explaining his work and I was like, 'Oh, that's a job?' All the people that were around him, his friends and muses and musicians… and also the first idea of queer people I had in front of my eyes. It seemed like a really amazing job. It seemed like so much fun. It seemed really free. To do what they wanted to do and be who they were… it's fundamental. I'm super lucky and it's really emotional for me to meet him and be at the heart of his creativity with his team."
Originally published on vogue.co.uk