Vogue fashion critic Anders Christian Madsen delivers five things to know about the Givenchy spring/summer 2024 show in Paris, which saw Matthew M. Williams deliver a romantic take on Givenchy, with elegant skirt suits and floral motif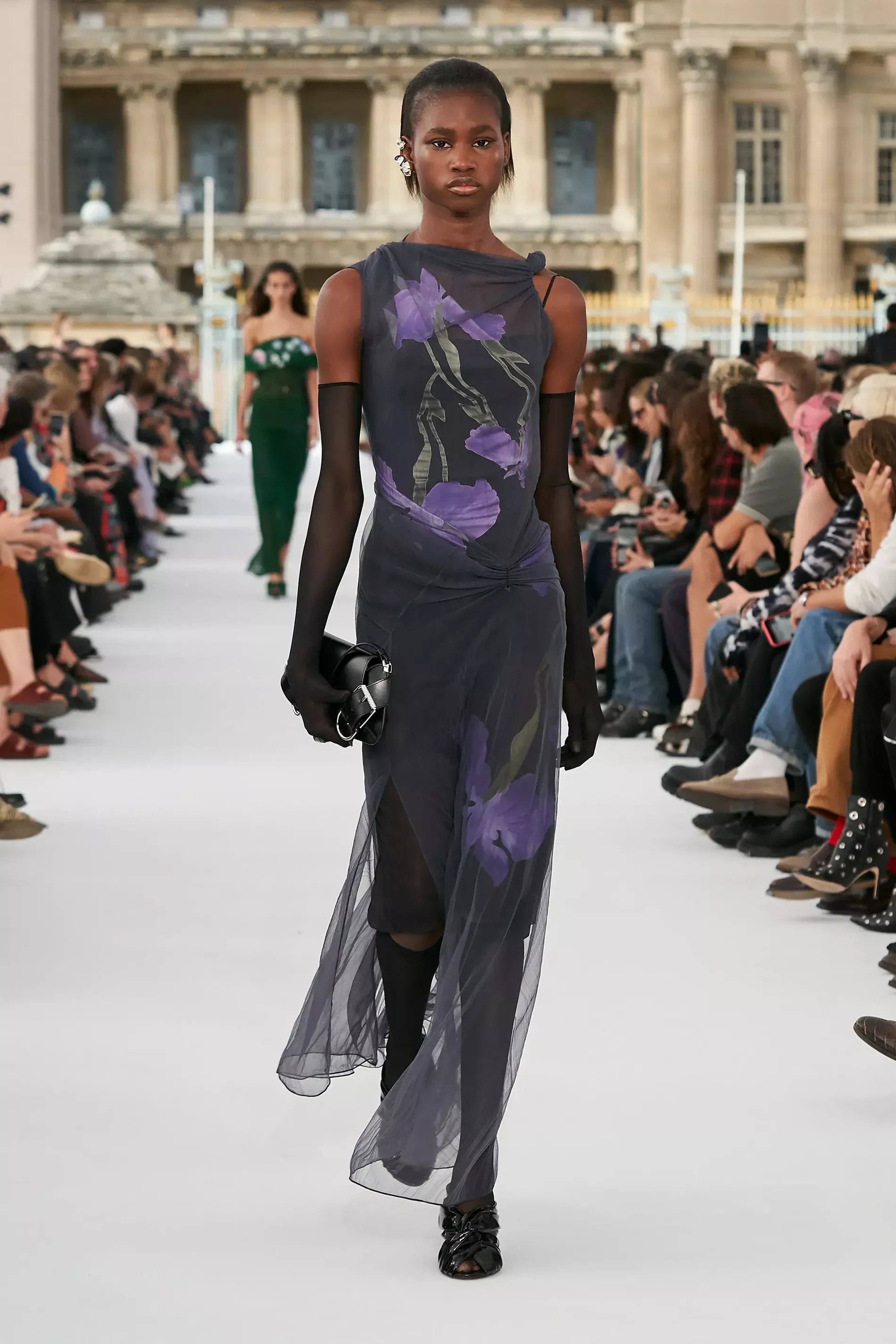 Matthew M. Williams tackled the flower
As an aesthetic in its own right, the historical codes of Givenchy are tailor-made for fashion's current appetite for restrained elegance. Matthew M. Williams saw that wave approaching seasons ago and has steadily been reducing and refining his proposition at the house. This season, he infused his "new elegance" – as he calls it – with a sense of romanticism we haven't previously associated with the designer, who became known for his way with industrial hardware and hardcore fabric treatments. Enter: flowers! "It may come as a surprise, but it's actually something that's super natural to me. I spend much of my free time gardening. I'm super obsessed with flowers. It's literally my number one hobby," he said, referring to the garden he keeps atop his Parisian penthouse amongst other pursuits.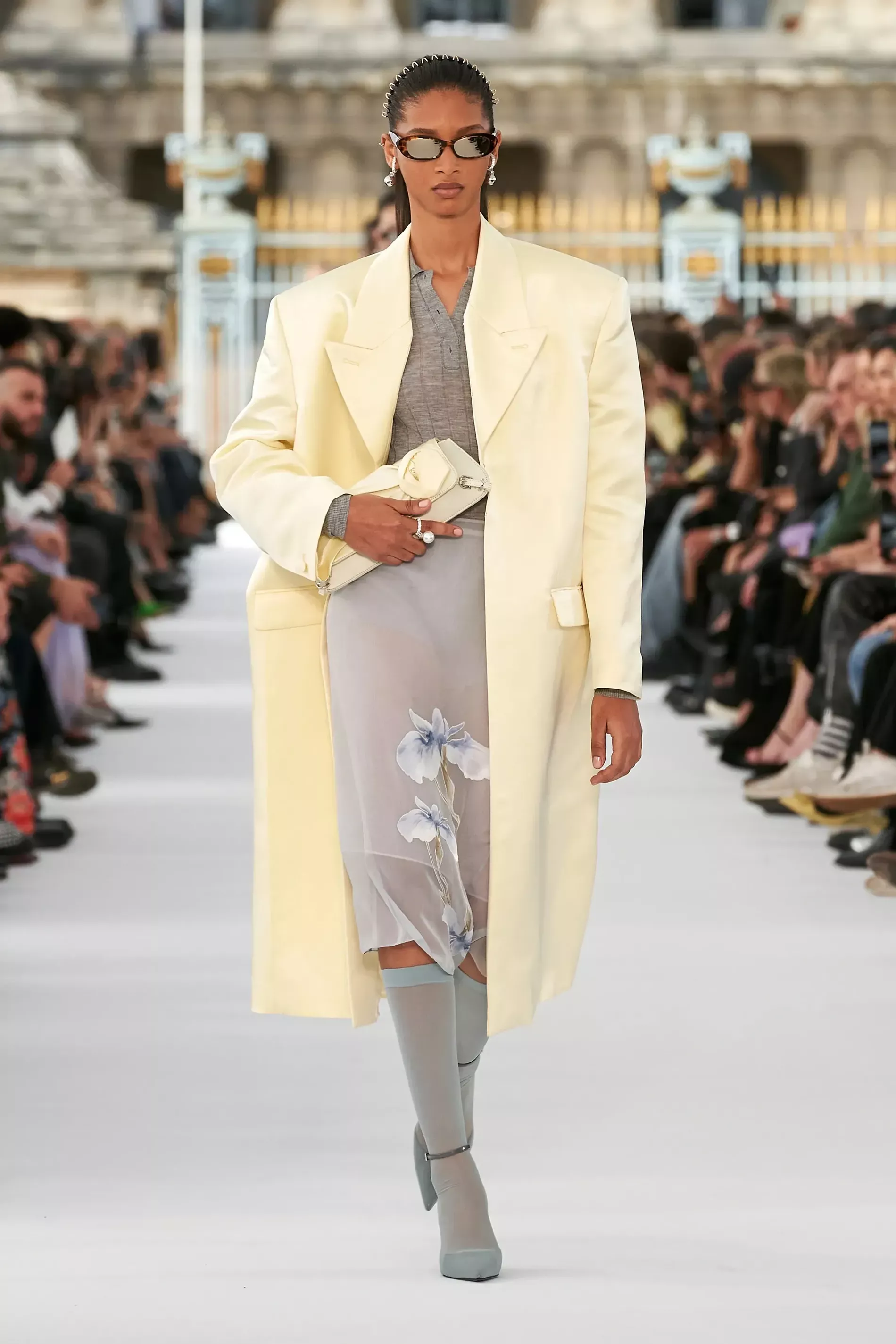 It was a romantic take on Givenchy
"When you look at the common denominators of elegance, the flower is inescapable. I thought it was interesting to develop a floral language in a way that reflected both the Maison's archives and myself," Williams explained. He mined the floral archives of fellow keen gardener Hubert de Givenchy and re-worked and adapted them in hand-painted motifs and embroideries on dresses, porcelain-like prints on super fine fabrics and accessories, and in the metals of jewellery. The flowers brought a sense of lightness and buoyancy to the stark, dark sophistication that defines Williams's wardrobe mentality at Givenchy – a spirit also in tune with the house's genetics – and testified to the designer's ongoing creative evolution at the house.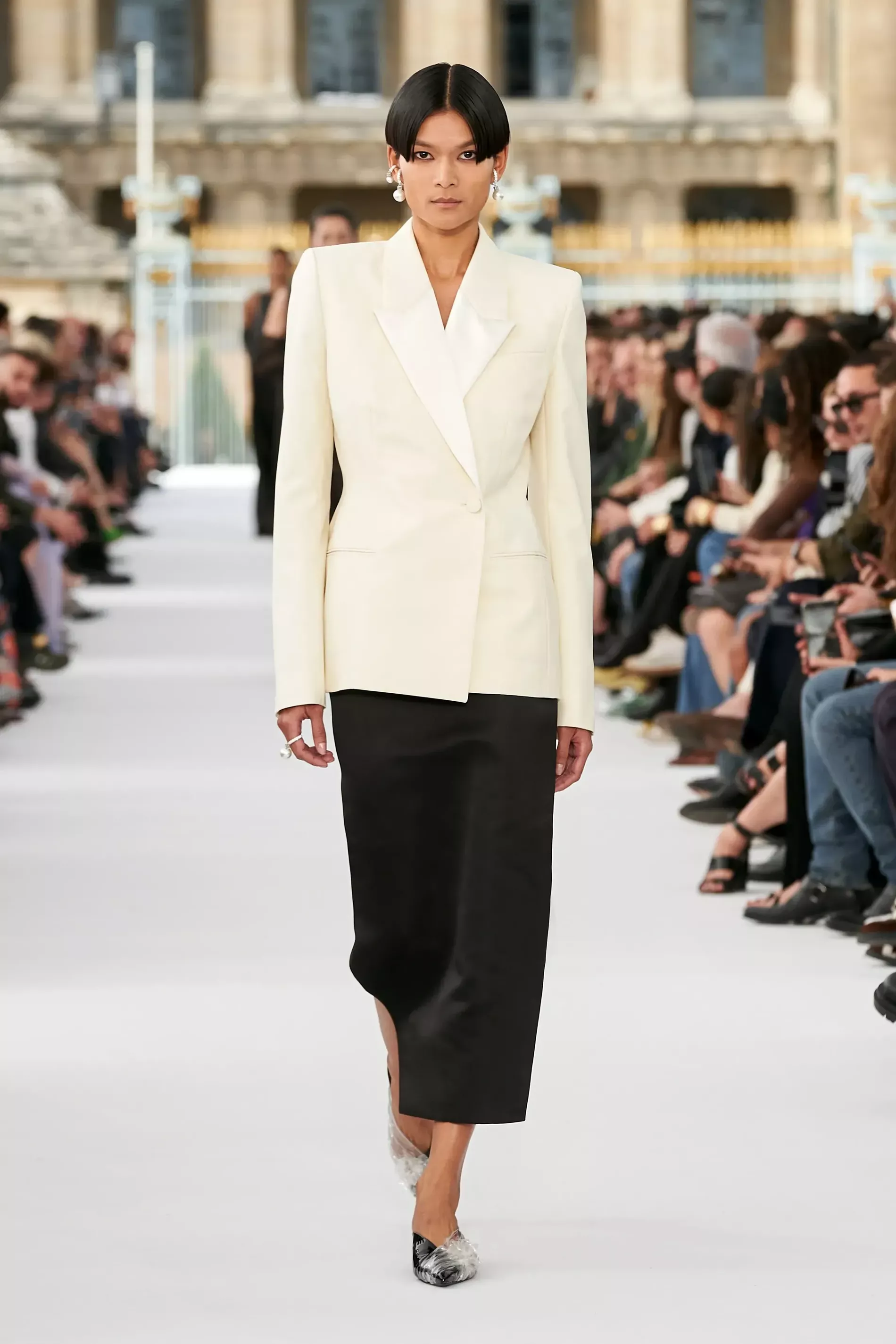 It proposed a contemporary take on the skirt suit
Within Williams's exploration of romanticism, other tropes appeared: lace volants strutting out of the necklines of dresses, sculpted sashes swept around busts, and latticed pearl, glass and crystal dresses and skirts that brought the sparkle factor. Those elements entered into a conversation with the reality-driven pieces that created the frame for the collection. Tailoring took centre stage in either sharp and sculpted silhouettes, or oversized and soft double-breasted jackets that underlined William's contemporary, comfortable approach to the Givenchy wardrobe. He made a case for the skirt suit in long silhouettes cut with a flattering curve at the back, a line echoed in the décolletages of dresses. Satin opera coats in the colours of flowers fused the tailored strictness with a romantic ease.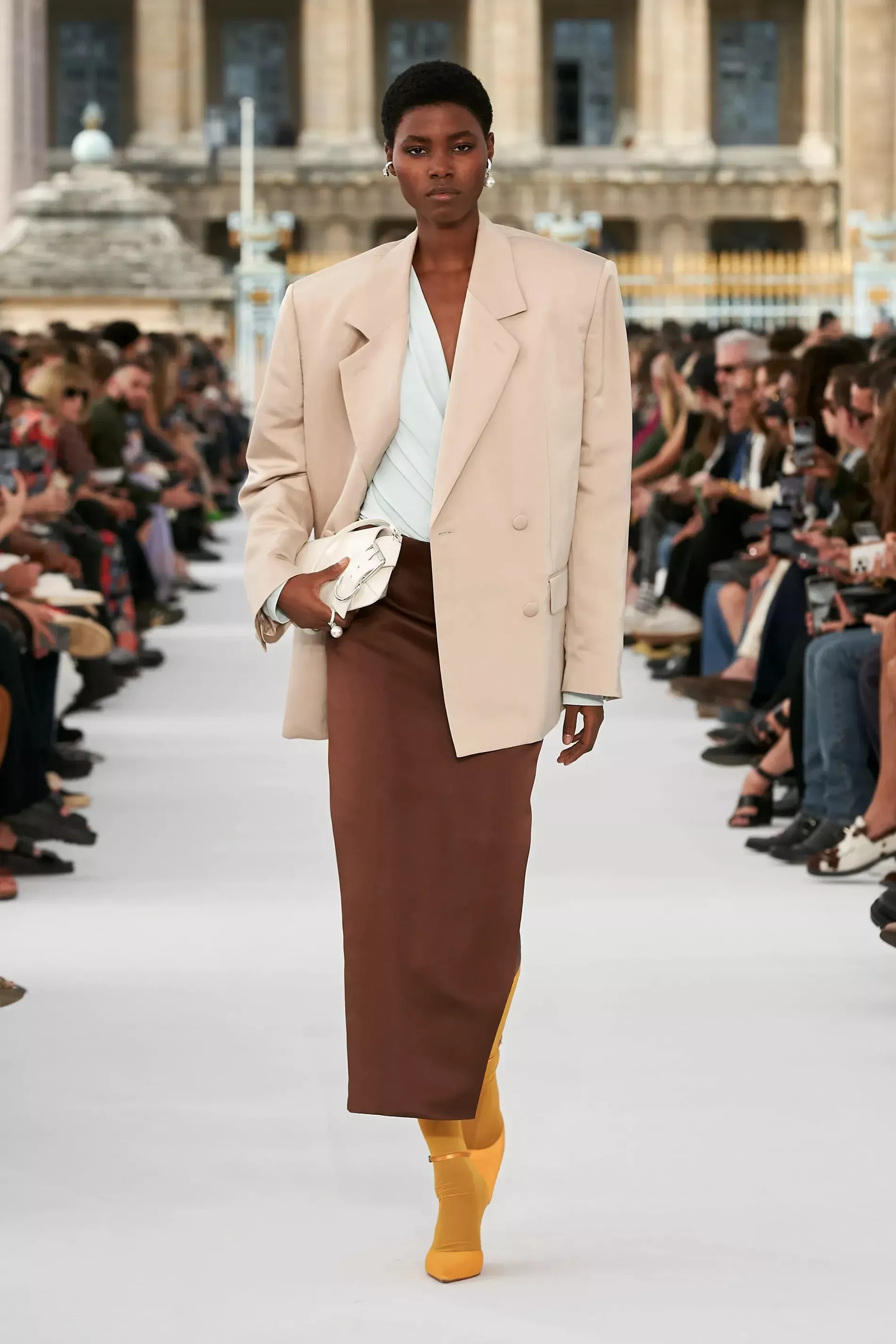 It was a reality-driven take on elegance
"It's a dialogue between contemporary manifestations of elegance and the heritage of Givenchy, which in many ways helped to define our understanding of what that words means. In that sense, there's something very instinctive about elegance when it comes to Givenchy. I want to apply that instinct to today," Williams said. His collection reflected a present-day elegance that was essentially founded in a realness: one that the Givenchy woman can project herself into; a direct and simple desirability. Williams is increasingly showing himself as a designer in service of the house of Givenchy and what its clientele wants.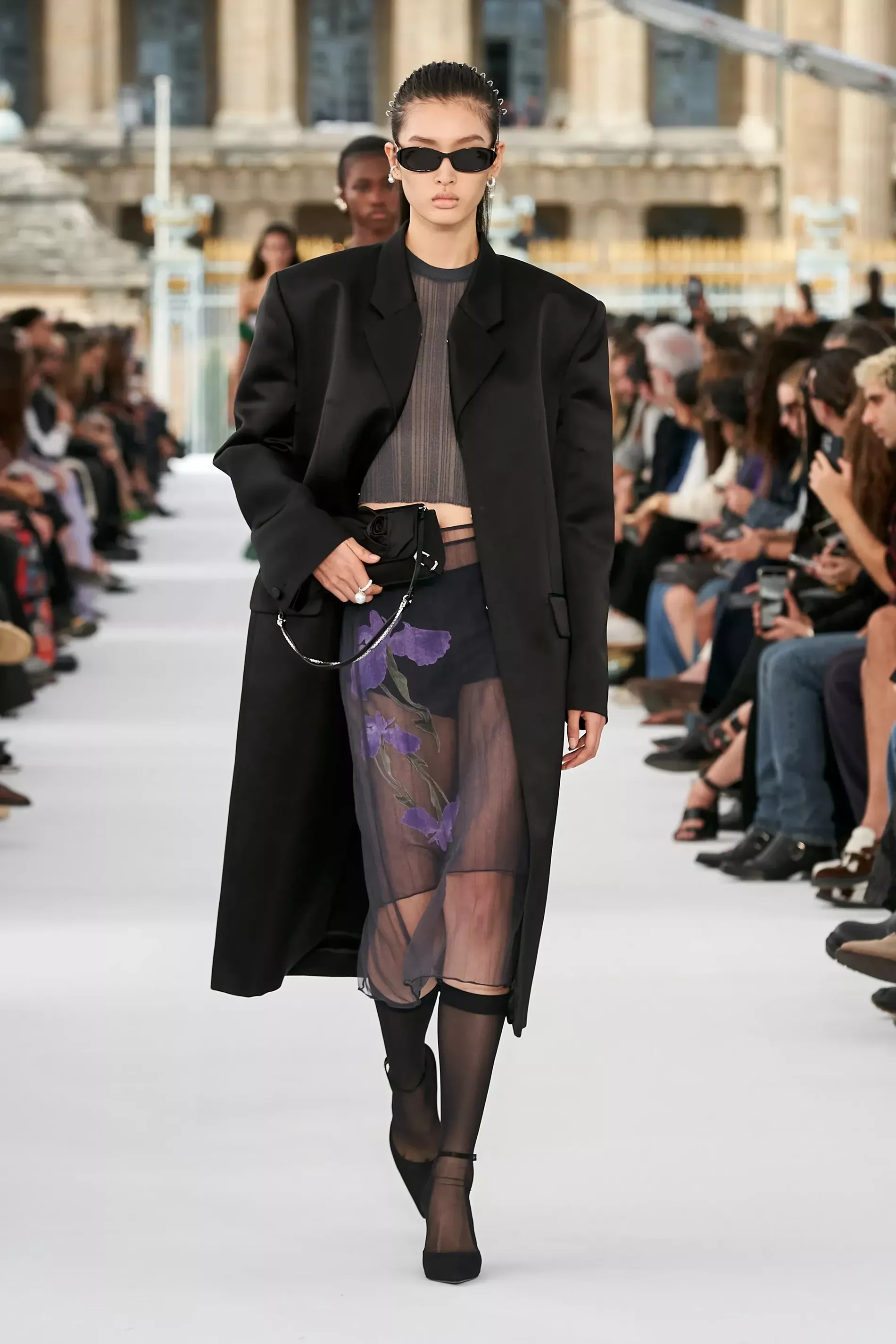 Williams reinvented the runway tent
Designed by the architect Gabriel Calatrava, the show set – erected within the grounds of the École Militaire – played with the runway tent familiar to anyone who's attended a fashion show in the past four decades. Instead of building a classic square tent, Calatrava inverted the structure and created space by suspending fabric across skeletal wires. It made for a highly sculptural environment that also drew parallels to the collection itself. Williams showed stilettos similarly encased in fabric suspended around the heel, and bags mounted with architectural buckles and hardware that simulated the idea of structure and framing.