Giorgio Armani's spring/summer 2024 runway was infused with an infectious cheerfulness and was entitled "Vibrations". Vogue's fashion critic Anders Christian Madsen brings you five things to know about the show straight from Milan Fashion Week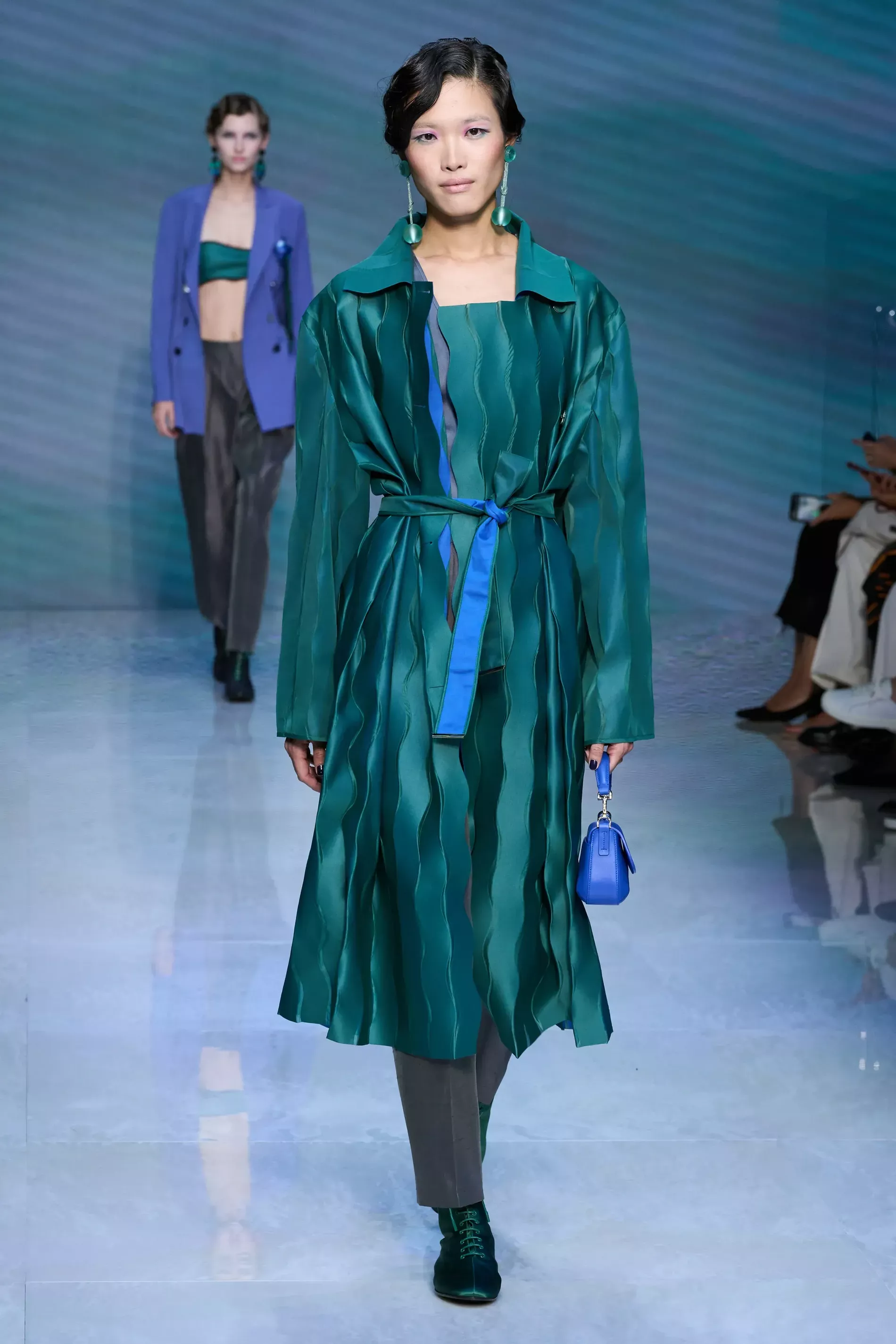 The collection was about vibrations
On Sunday afternoon, in the subterranean runway room of his personal residence on Via Borgonuovo, Giorgio Armani set himself a challenge: to create a collection where every weave, every drape and every decoration felt as if they were vibrating. "I am more interested than ever in techniques and in what can make even the simplest garment special. This collection plays with undulations," he said after the show. "The finished collection is the result of our overcoming a considerable technical challenge with typically Italian savoir-faire." It was a vibe.
Vibrations were interpreted in every garment
Armani embellished surfaces with embossing and inlay to make them move, mirroring the idea in accessories. He created vibrations through the irregular lines of piping, surface decorations and belts. He chose oscillating fabrics like shantung silk and chiffon to conjure constant movement within garments. In prints and jacquards, he evoked his vibe through geometric trompe l'oeil patterns. Prints on shimmering jackets looked like vector art. All-over sequins made of fabric added a similar intrigue as surface decoration. And Armani's beloved filtrage of sheer overlays brought the vibrations, too.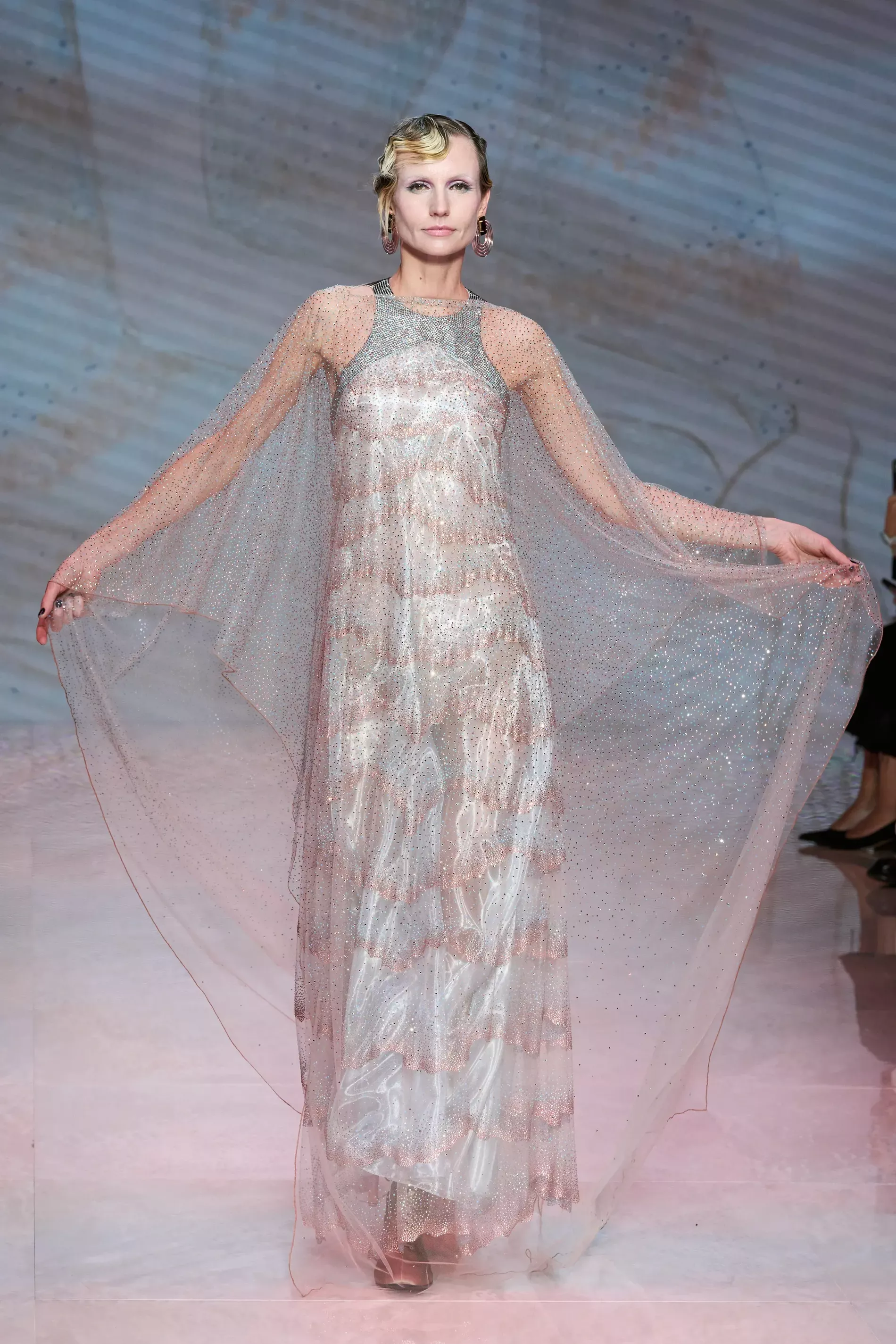 It closed with a show-stopping gown
With the gusto of a 1990 Harlem ballroom scene – and much to the delight of Cate Blanchett and Juliette Binoche on the front row – the show concluded in a theatrical exit: a multi-layered transparent dress sheathed in a sparkly sheer overlay was given a show-stopping moment by one of Armani's in-house models. It was a moment – a vibe – but when it comes to looks, Armani doesn't pick favourites. "It is difficult for me to choose a favourite piece: I try to convey the mood of the season in all the garments I show. In this collection, I am particularly fond of the coats with undulating surfaces, as well as the jackets, trousers and the bags with vibrant patterns," he said.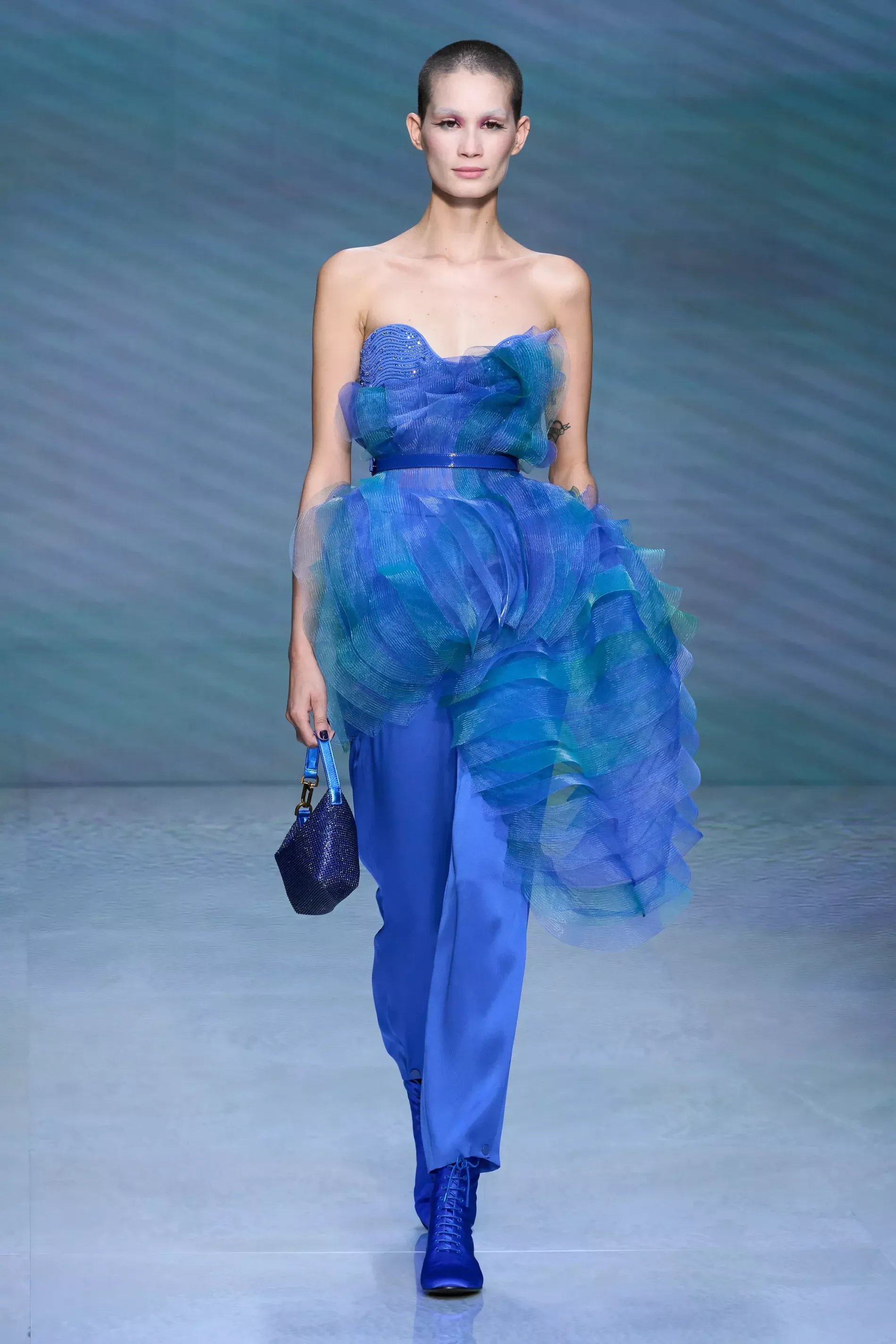 It was optimistic
Maybe it was the title of the show – Armani called it simply "Vibrations" – or perhaps it was the intimacy of the show, but it felt like a more optimistic outing that normal. Armani talked about the collection as a re-interpretation of his own aesthetic through a new prism. "I would say that this new approach is lighter and more joyful. I have been a little severe at times in the past, but this collection is extremely fresh, carefree and summery in every way," he said. Was that the same as optimism? "Yes, this collection is optimistic, alive and abounding in good vibes. Never excessive but with the discretion that has always defined me."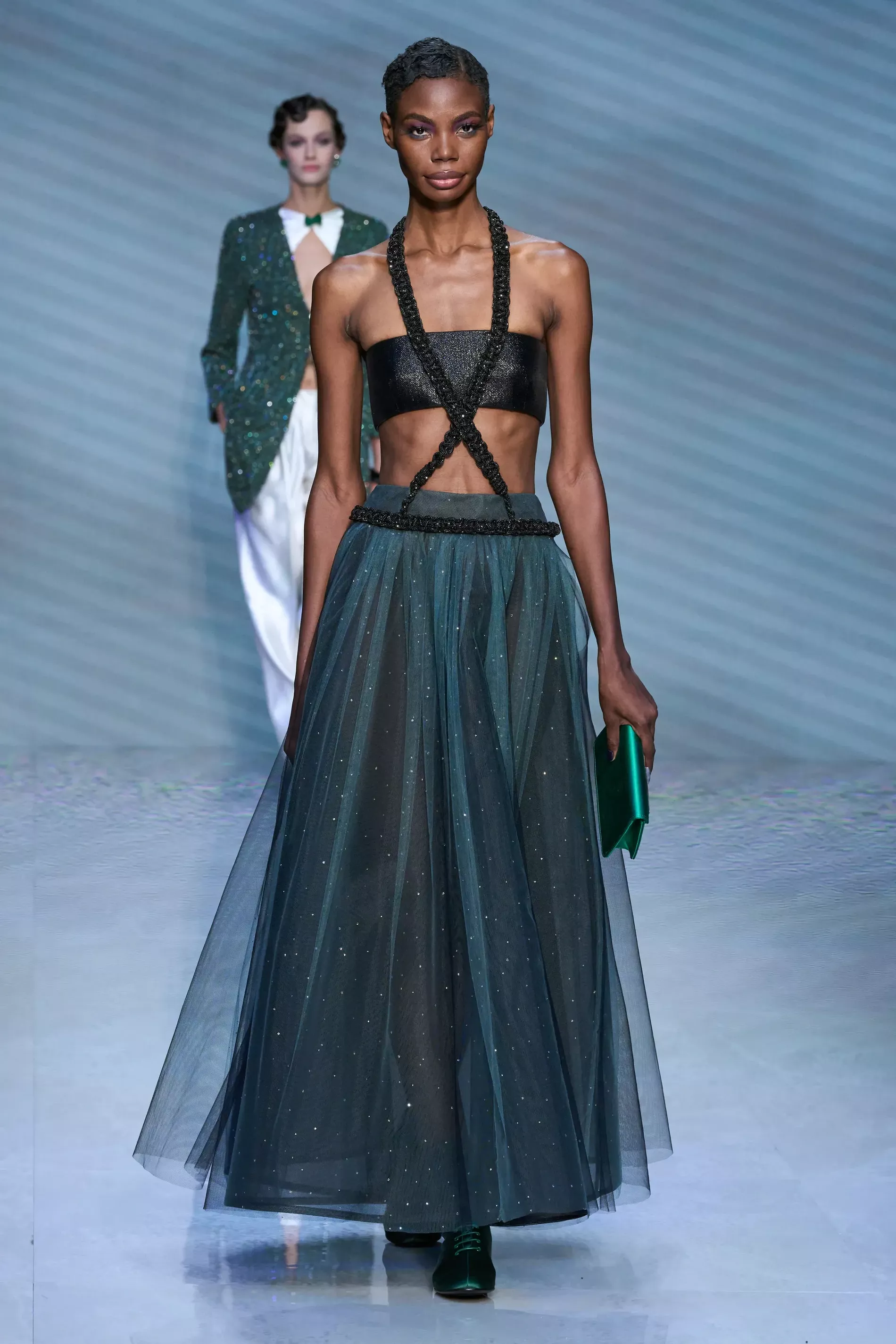 Armani gave us the excitations
When you're the last appointment on a brutal Milan Fashion Week schedule and you title your show "Vibrations", expect the congregated fashion crowd to be signing 'Good Vibrations' as they're walking down Via Borgonuovo. Is Armani a Beach Boys fan? "I don't know if I would call myself a fan, but I do like their songs," the 89-year-old designer confessed. "That infectious cheerfulness takes me back to the carefree times of my youth."