Giambattista Valli's autumn/winter 2023 haute couture show, held at the couturier's new building on Paris's Boulevard des Capucines, featured a guest appearance from Princess Olympia of Greece. Below, see Vogue critic Anders Christian Madsen's five key takeaways from the ground.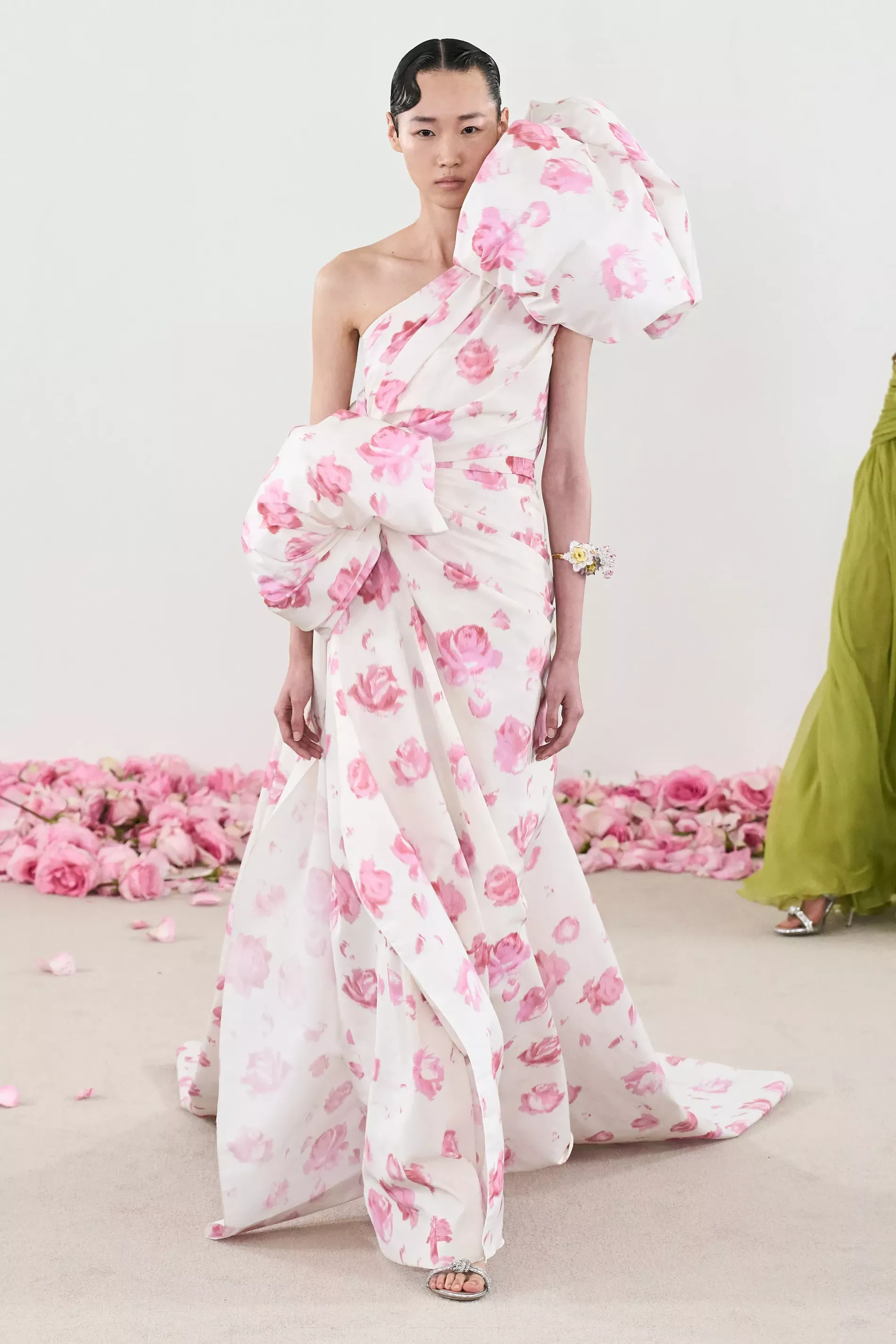 Photo: Filippo Fior / Gorunway.com
The show consecrated Valli's new building
Leave it to Giambattista Valli to throw the most glamorous open house in Paris. The Roman couturier recently moved into a new building on Boulevard des Capucines – an optical white palais with cherubs basking around sky-blue oval ceilings – and thought he'd consecrate it with an haute couture show and a few of the maison's closest friends. Crown Princess Marie-Chantal of Greece was in attendance with her mother Mrs Miller, followed by Nicky Hilton Rothschild and her mother Kathy Hilton, and Camila Cabello. "Haute couture is one-of-a-kind. It's not about luxury. It's about excellence. It has to be private, so I love the idea of having something in-house. A bit hidden. Intimate," Valli said before the show.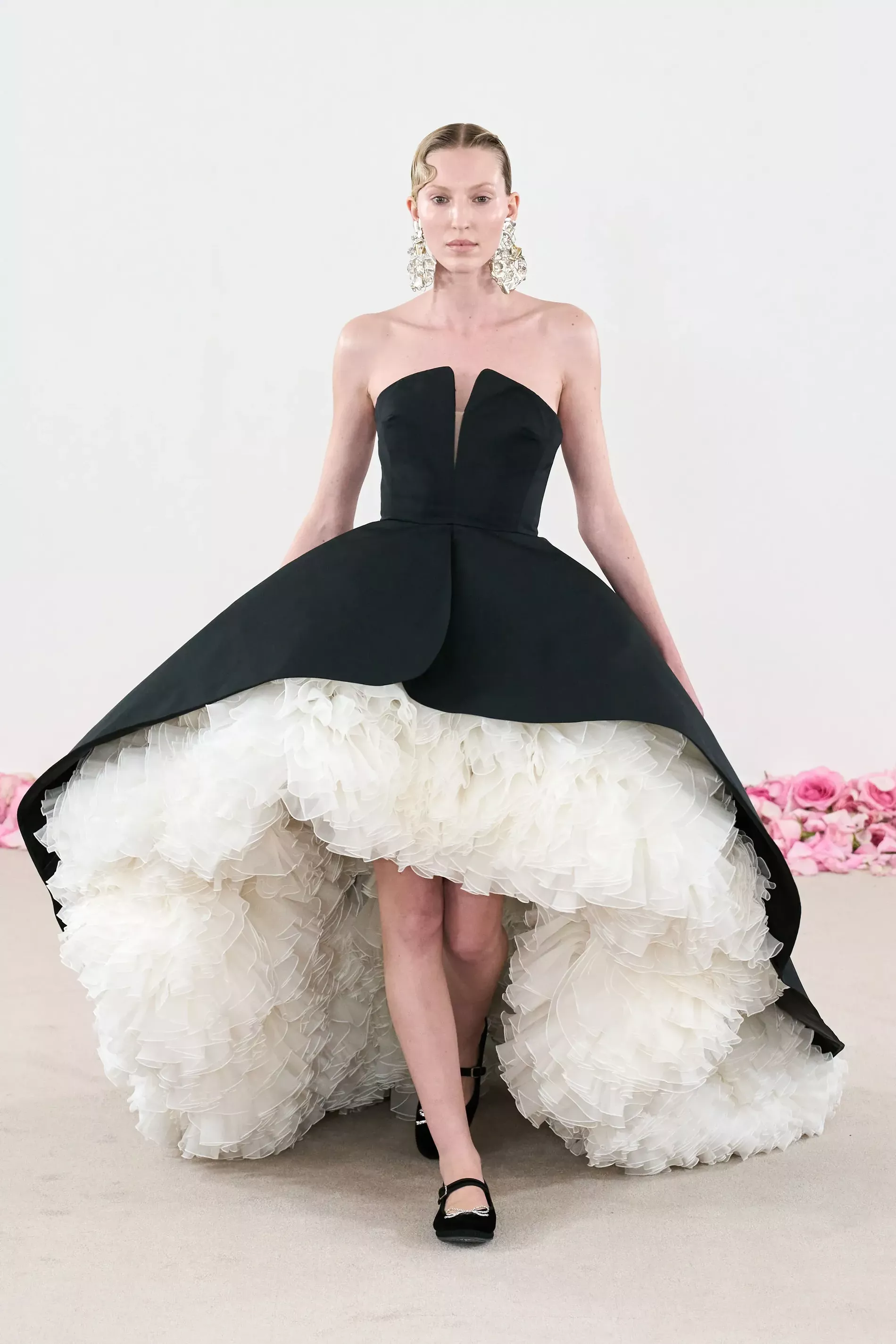 Photo: Filippo Fior / Gorunway.com
It was about The Modernity of Classics
Ella Richards – of Rolling Stones royalty – opened the show in a sharp black bustier dress with a cascading white silk organza ruffle skirt. "It represents the contrasts of the house," Valli said, explaining how he wanted the collection to embody the individuality and timelessness at the heart of haute couture. On his mood board backstage were recent pictures taken in his atelier juxtaposed with historical images of couture presentation. He called the show The Modernity of Classics: "A trompe l'oeil between the past, present and future. In haute couture, it goes to zero. It floats. You don't know where you are in time." The idea generated a collection of highly individual creations, each of them perfected to the umpteenth degree.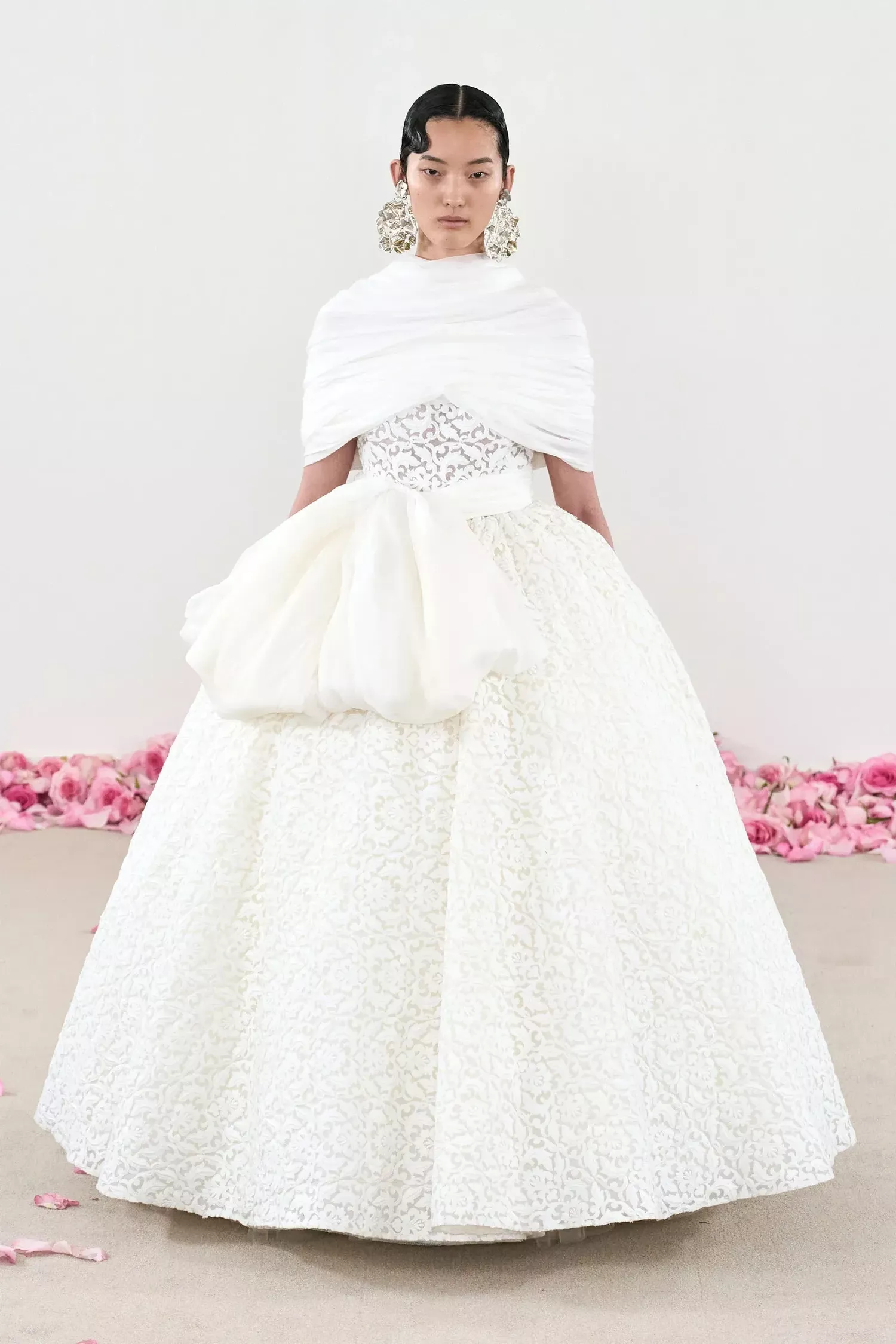 Photo: Filippo Fior / Gorunway.com
It honoured the virtues of haute couture
"It's a moment of making a point to myself: the reason I wanted to have an haute couture house," Valli reflected, prompted no doubt by his swanky new digs. "Haute couture is going a little bit everywhere right now. There's couture and demi-couture and semi-couture and whatever, all under the week of haute couture. So, I wanted to bring together the obsessions I have in my mind of what haute couture is for me. All these silhouettes and attitudes belong to something cultural, and something very modern at the same time." The show had all the taffeta, embroidery and plume you'd expect from Valli, but everything felt even more pristine, more worked, more immaculate.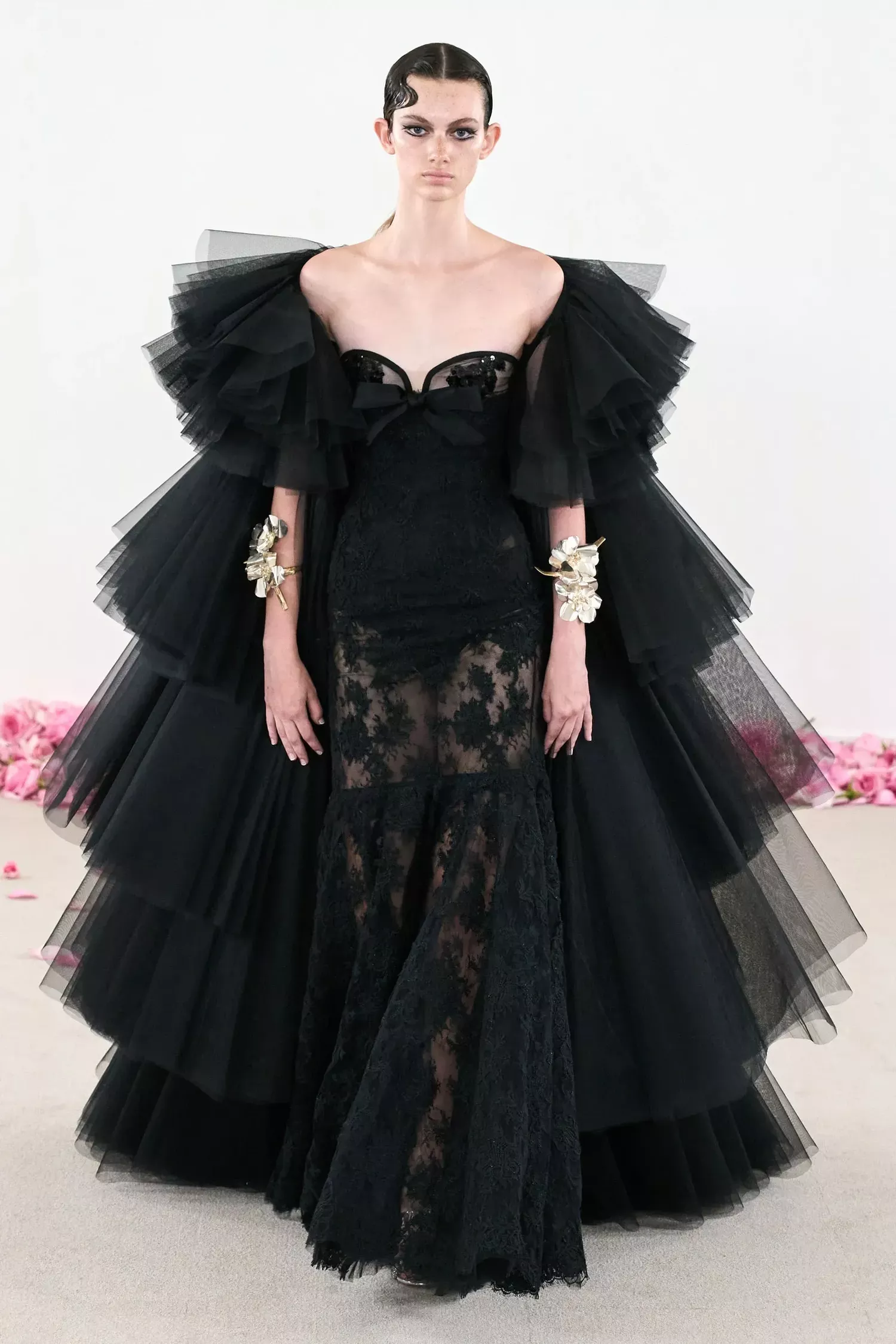 Photo: Filippo Fior / Gorunway.com
Each look was its own individual story
Each look in the collection was a perfected exercise in a different discipline of high dressmaking, from muslin draping to sculpted organza and faille, chiffon bouquet constructions, and ballroom silhouettes sheathed in Chantilly lace. "Every single piece is something I've learned. Every single piece is a collection. It's not one collection from beginning to end," Valli explained. "Every look is a different Valli woman: all the facets of the women of the house." His front row may have been graced by royalty and socialites, but in Giambattista's house, the feeling is never exclusionary or esoteric. Rather, it's all quite dreamy on a level in which all his clients – actual ones as well as aspirational – are invited to take part.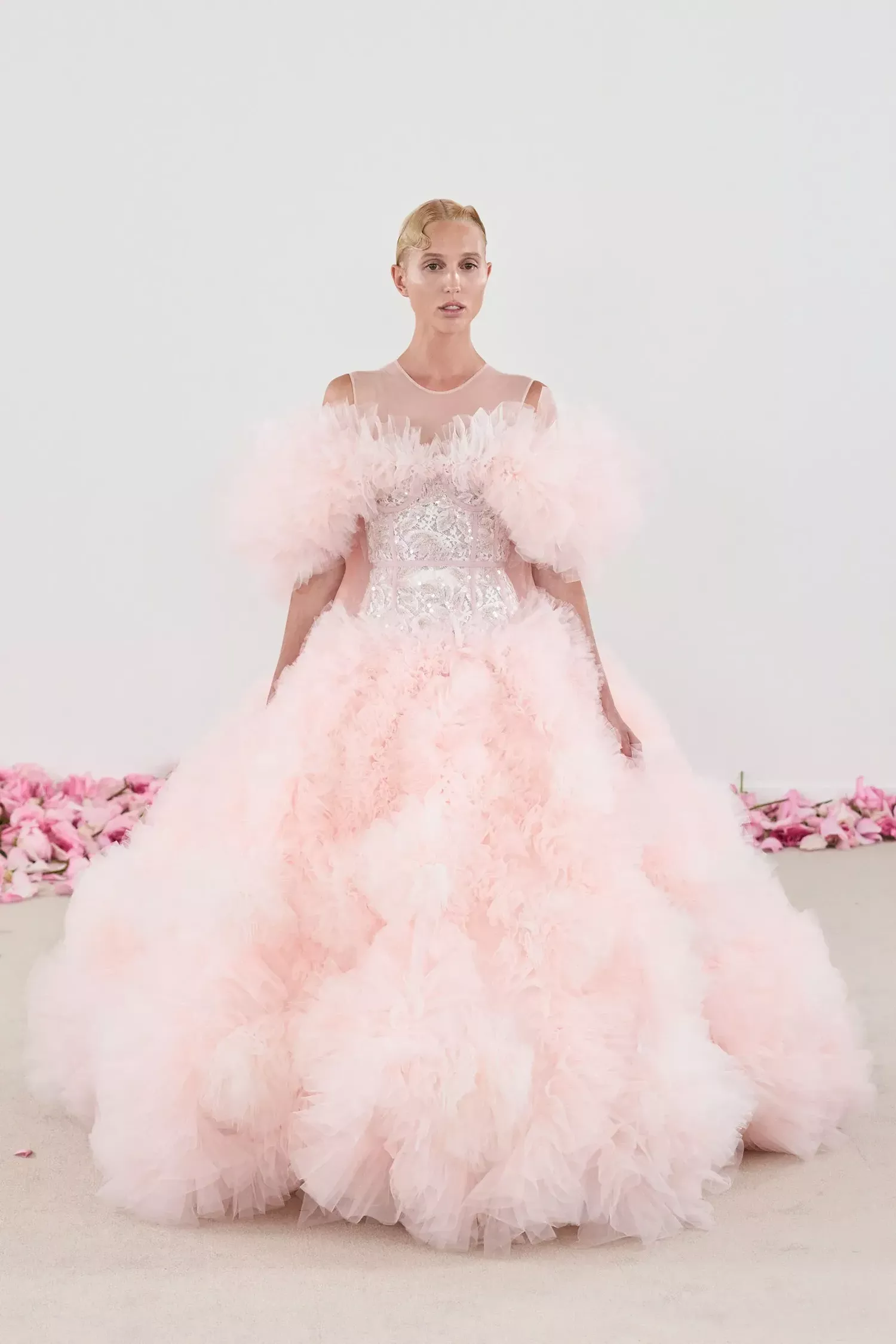 Photo: Filippo Fior / Gorunway.com
Princess Olympia of Greece closed the show
With big smiles from her mother and grandmother on the front row, Princess Olympia of Greece ceremoniously closed the show in a frothy pink ruffled tulle gown with a matching sequined bustier. It was, appropriately, the perfect princess dream, and completely classically Valli. "Everything is becoming too fast and creating so many frustrations on all levels," he said, reflecting on fashion and its surrounding world. "I think it's nice to keep things for longer and not have seasonal pieces, and not throw things away, whether it's a telephone or a garment or a pair of sneakers. Today, you have to keep your cool because all the time it's about 'the new'. It's not."
Originally published on vogue.co.uk