Maximilan Davis injected Ferragamo's Italian-ness with elements from his own Caribbean background in a confident third show at Milan Fashion Week, says Anders Christian Madsen. Read on for five things to know about the new collection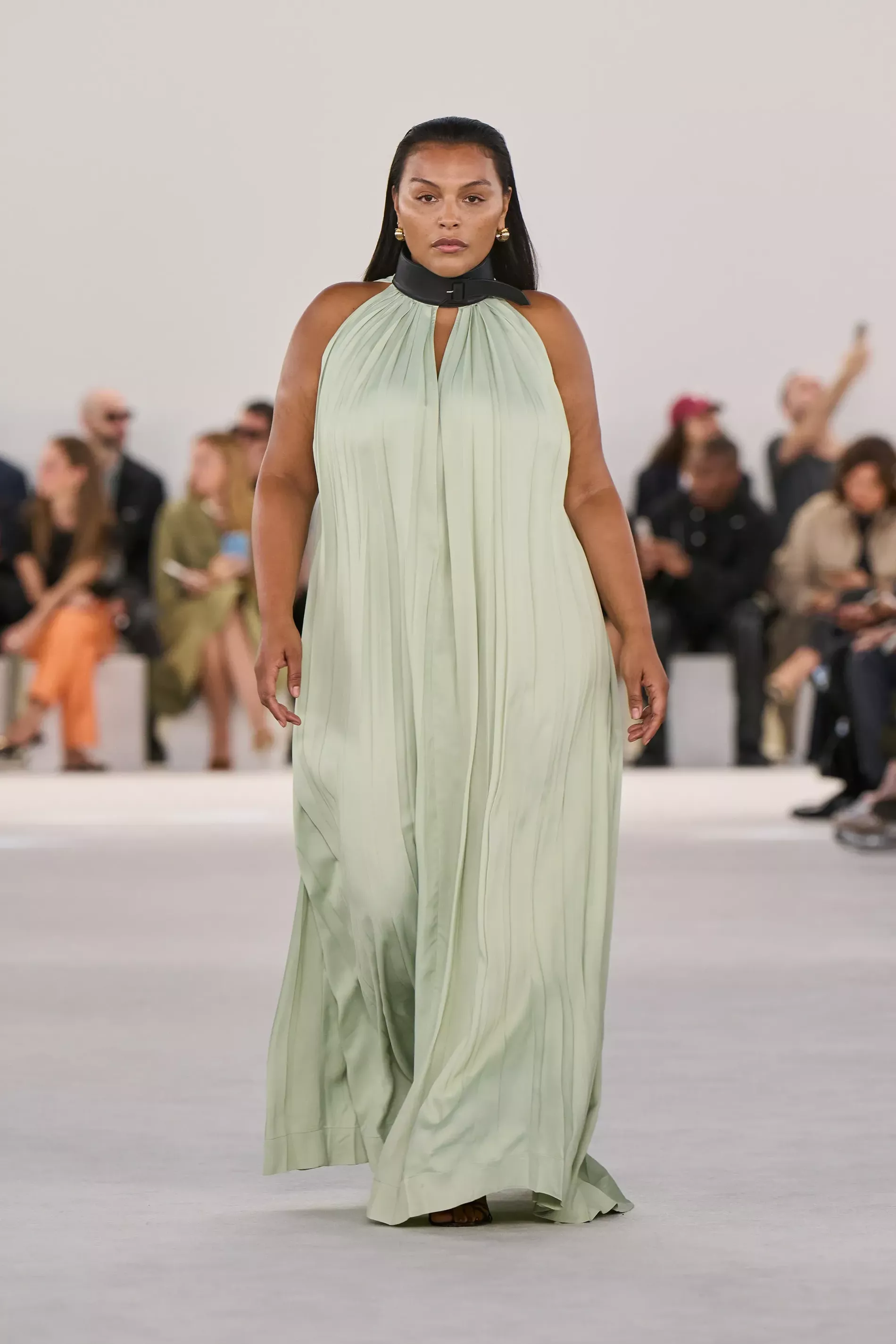 It was sci-fi earthiness
There was a confidence to Maximilian Davis's third show for Ferragamo. Staged in a brightly lit space with an optical white carpet, the surroundings drew on the same spaceship-y sensibility of last season. It's a continuity that makes sense for his work: a kind of ancient futurism that feels part earthy, part clinical. "The elements all came together," he said backstage. "Something very hard and something very fluid and romantic, all very effortless and easy."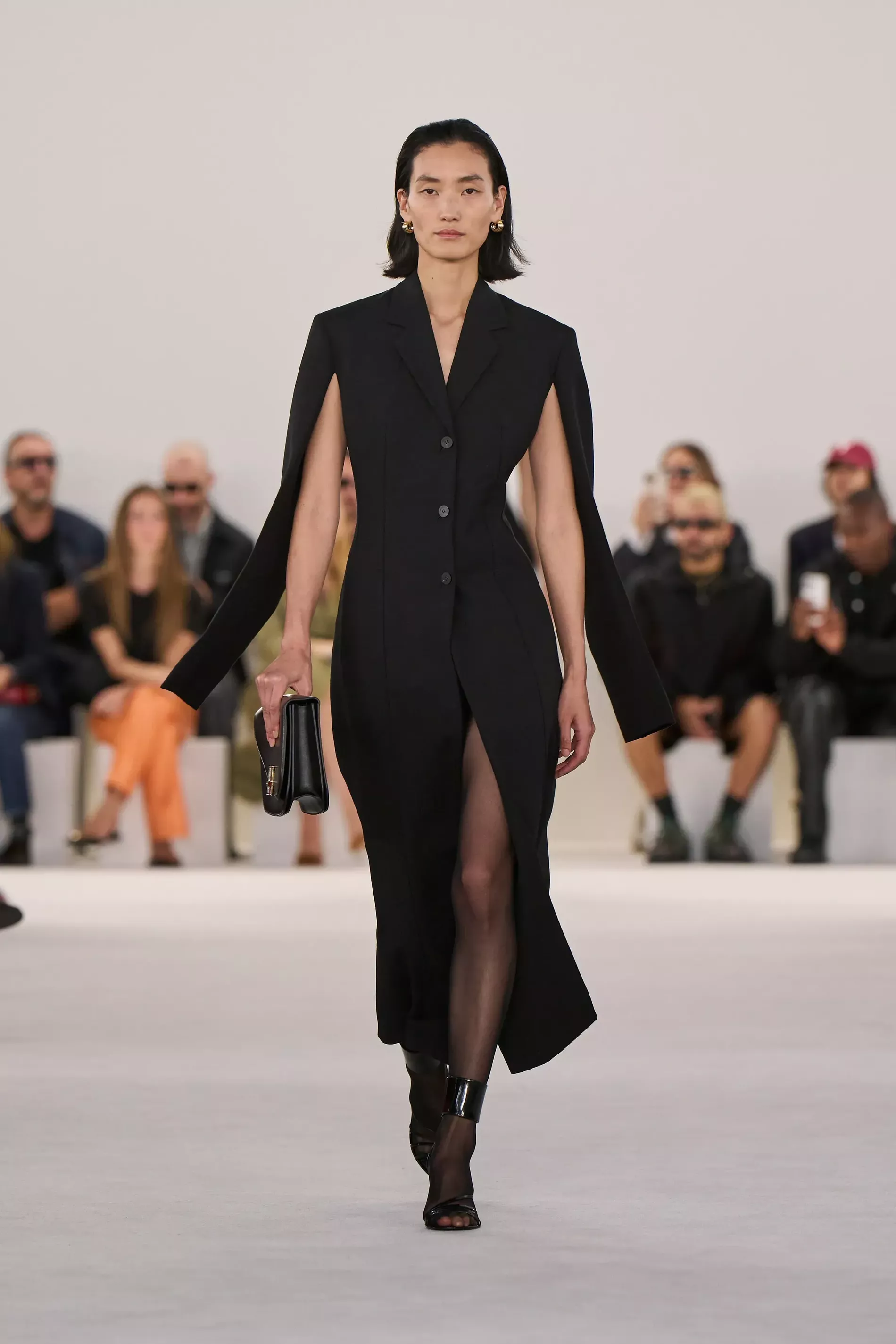 It was about ease within structure
The show opened with string of cape-sleeved dresses and jackets power-sculpted to the body in a silhouette that set the tone for the collection. Whether lines clung to the body or magnified into big tents, there was a continuous devotion to organic shapes, interpreted in draping, layering or motifs that accentuated the waist. For all the linear elements to Davis's work, it didn't feel too hard or aggressive. "I wanted things to feel a lot lighter, both in terms of fabric and construction but also in terms of how people want to dress," he explained.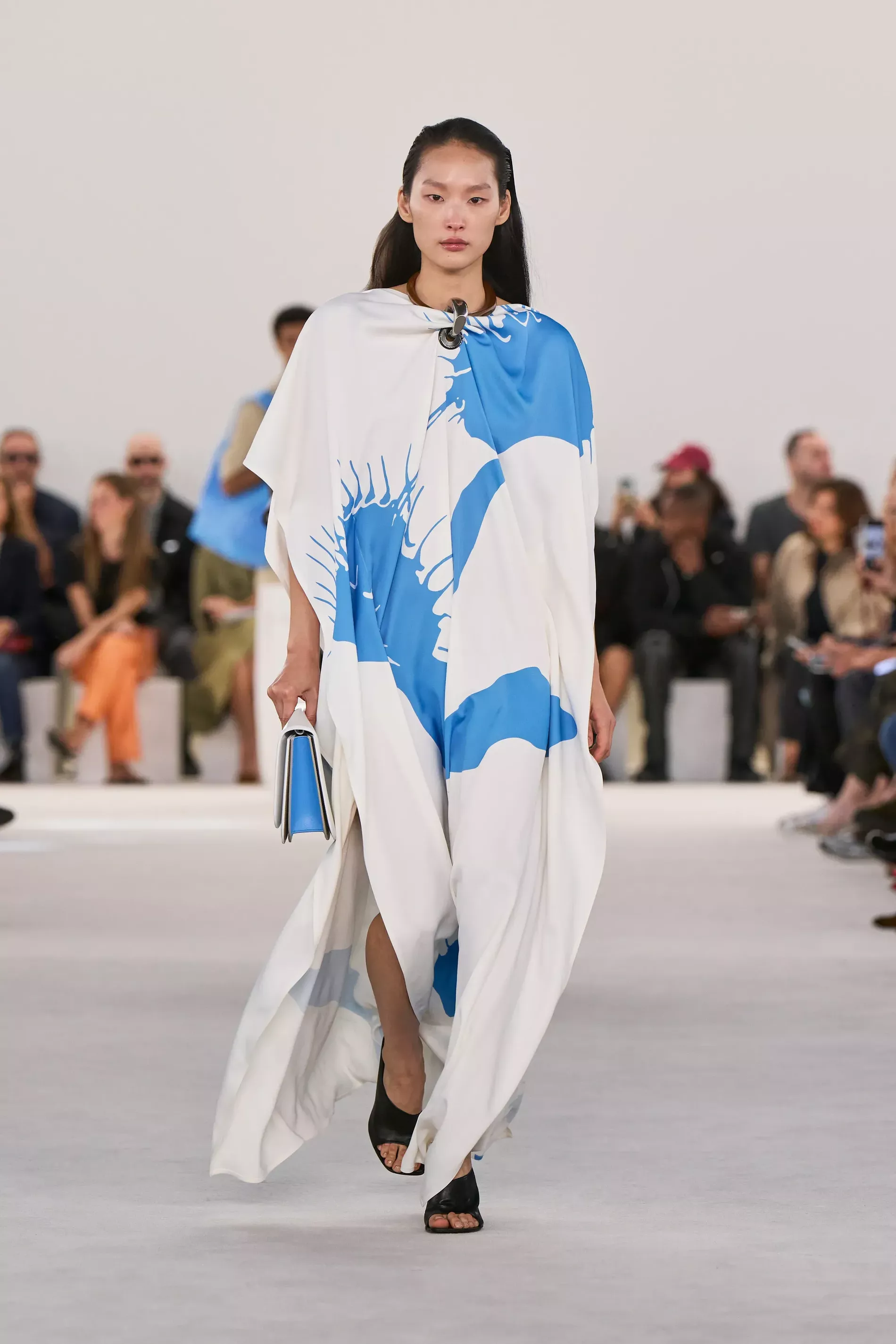 It came with wood, stone and flytraps
Backstage, Davis talked about the importance of the Ferragamo heritage. "It's about giving it a new energy," he said. He did that by injecting its Italian-ness with elements from his own Caribbean background and, by proxy, the cultures reflected in Caribbean art and craftsmanship. Garments were crafted from stones and wooden beads, and a Venus flytrap motif graced billowing dresses. "Me and the team always have a joke about the Venus flytrap, so we thought it was nice to have something very playful and very unexpected," he smiled.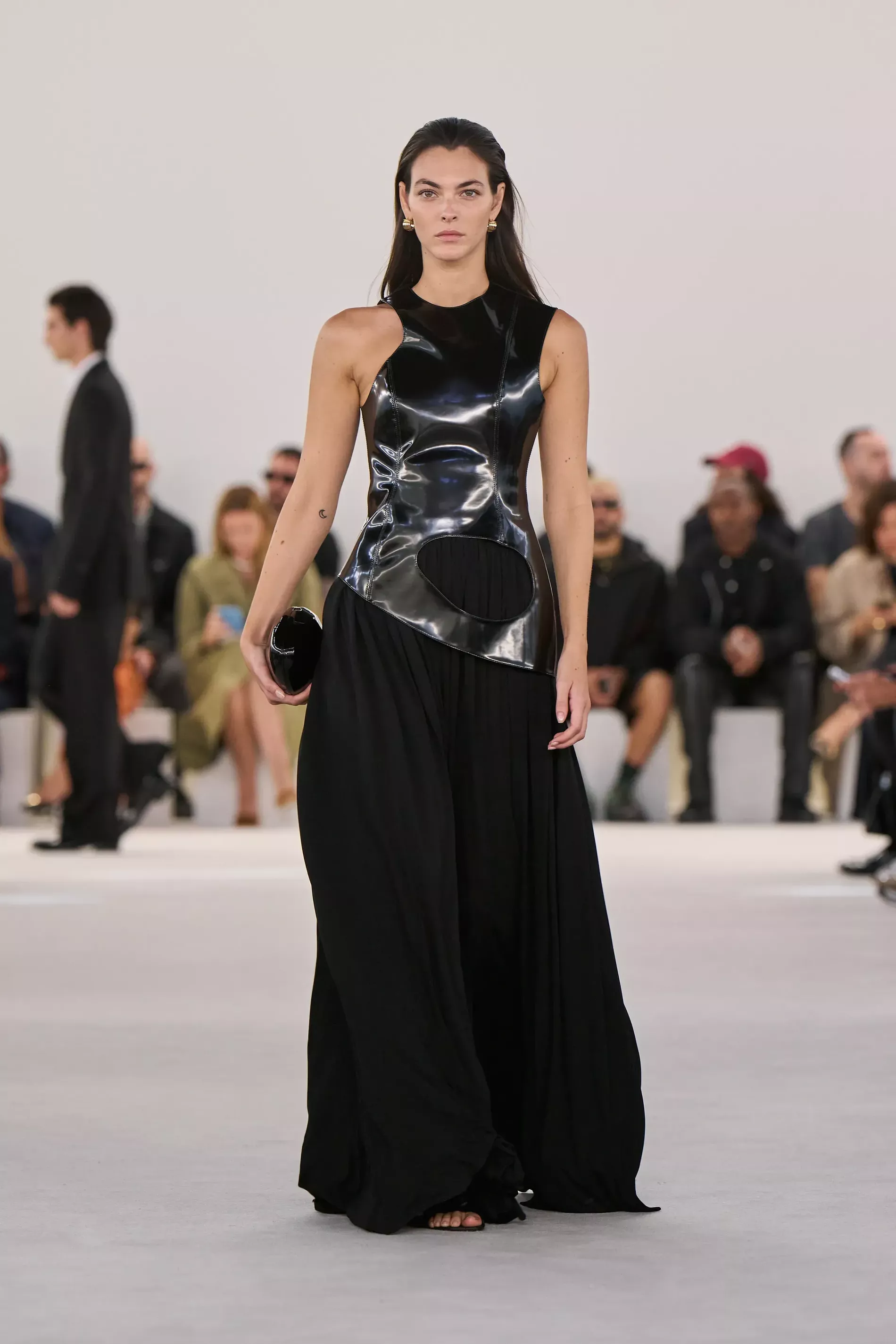 It premiered the spazzolato leather bodice
"There's a familiarity I have found in the Italian way of dressing and living: an effortlessness which feels very Caribbean. The idea of doing everything at your own pace, on your own time," Davis said. The meeting of worlds materialised in the bold proposition of moulded spazzolato leather bodices that fused the Renaissance armour of Florence – Ferragamo's birthplace – with 18th century Caribbean elements. "We bonded it onto a jersey to give a bit more freedom and bit more flexibility. It looks like latex," he said.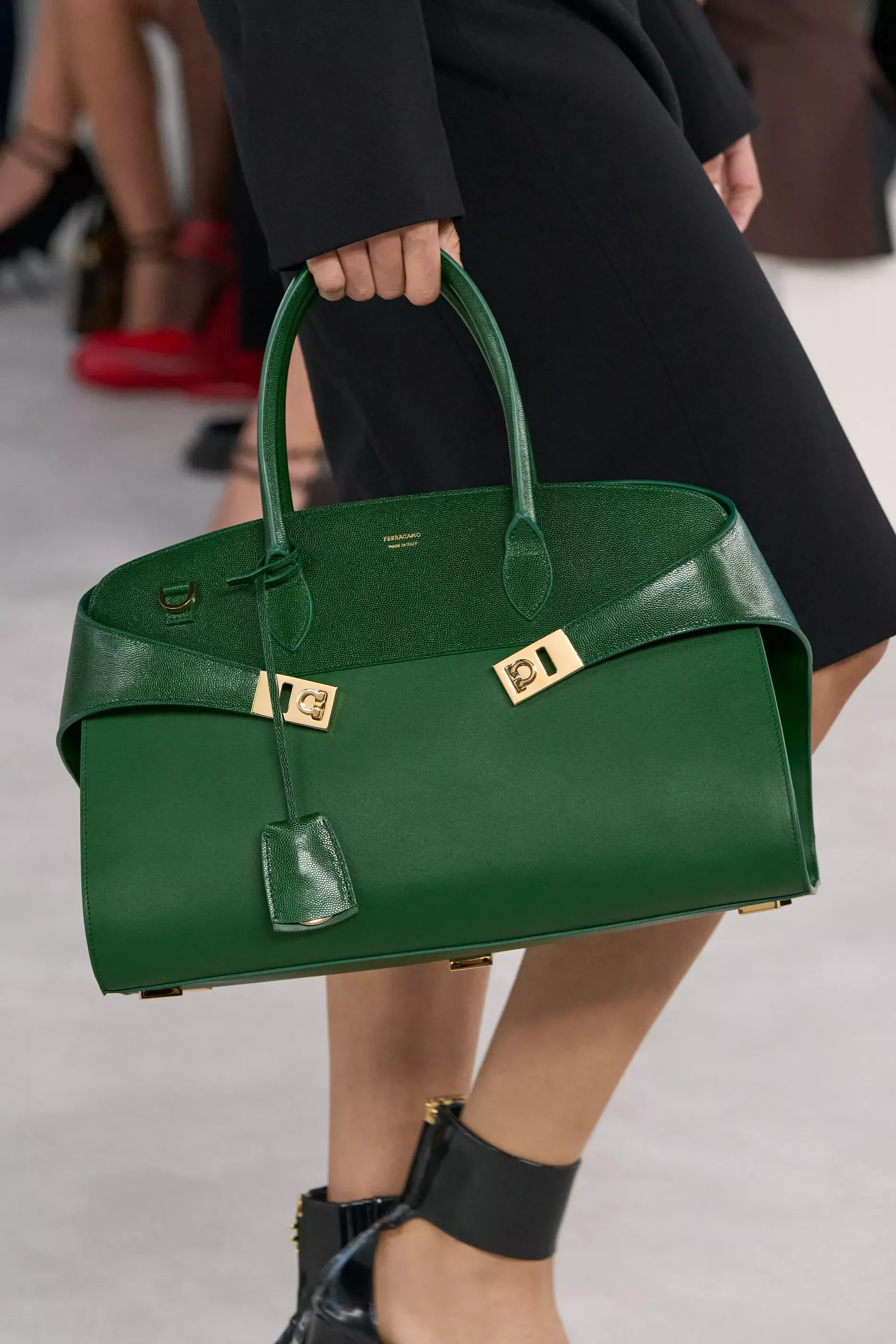 Shoes had banana cage heels and horn wedges
In the shoe department central to Ferragamo's heritage and business, Davis dreamed up a 3D-printed banana cage heel inspired by the Calypso shoe from 1955. A wedge heel was crafted in horn. "This season we wanted things to go a lot more organic, a lot more natural," he said. "So, working with different materials like horn and mixing stones and wooden beads made it feel a lot more organic and with a sense of ease."