When designing his spring/summer 2024 collection for Fendi, Kim Jones turned to the Italian capital's ancient ruins and architecture for inspiration. Anders Christian Madsen reports from the front row at Milan Fashion Week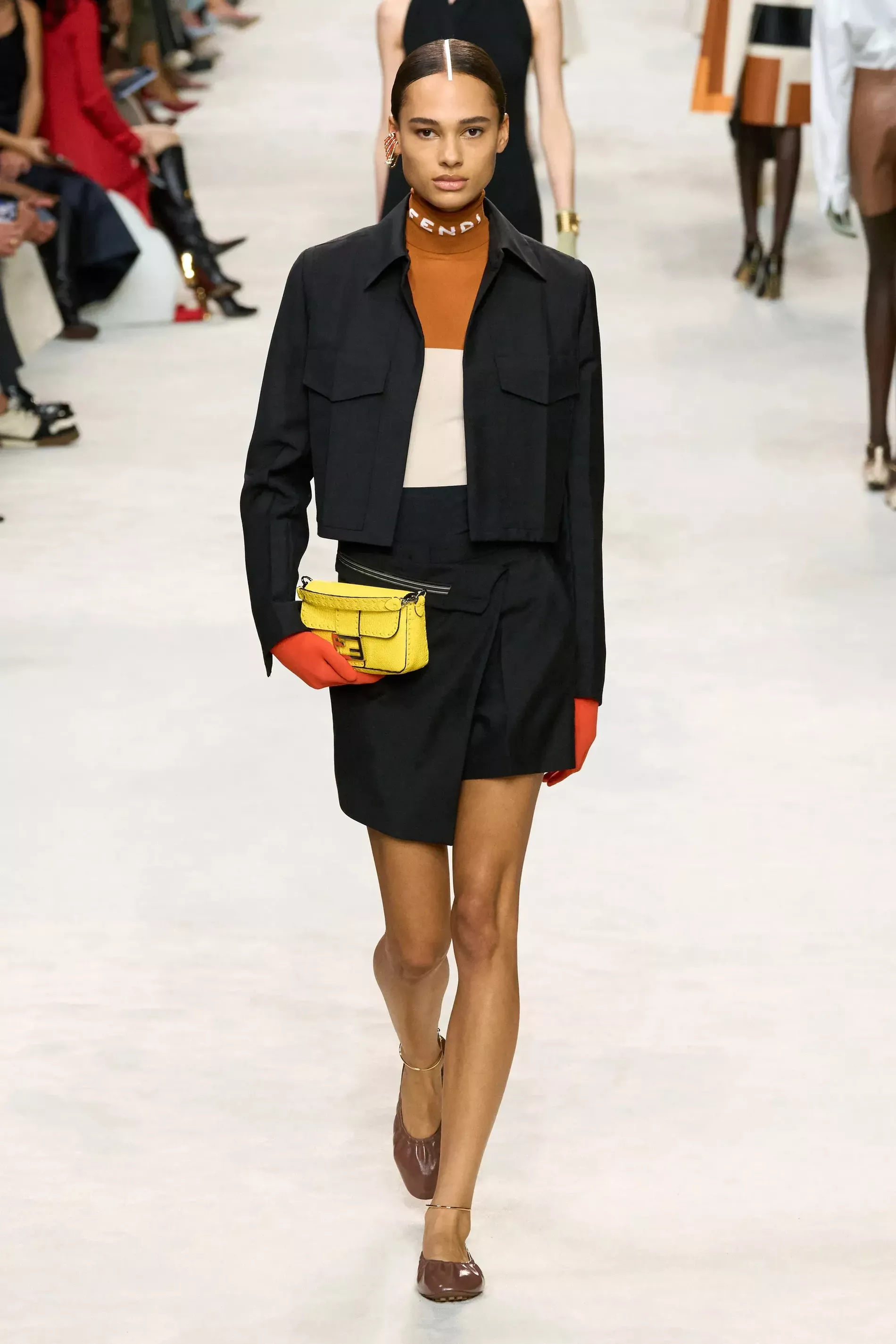 Photo: Daniele Oberrauch / Gorunway.com
The collection was inspired by Kim Jones's walks through Rome
"It started with a walk through Rome," Kim Jones said before his Fendi show, just as the music from the rehearsal filled the backstage area. "And this is the music I listen to when I walk through Rome in the morning to get myself in the mood to go to work."
It was a new mix of Max Richter's moving 'On the Nature of Daylight' – a fashion show favourite – layered with Dinah Washington's melancholy vocals from her 1960 song 'This Bitter Earth'. "I find it very relaxing," Jones said. "I listen to it constantly."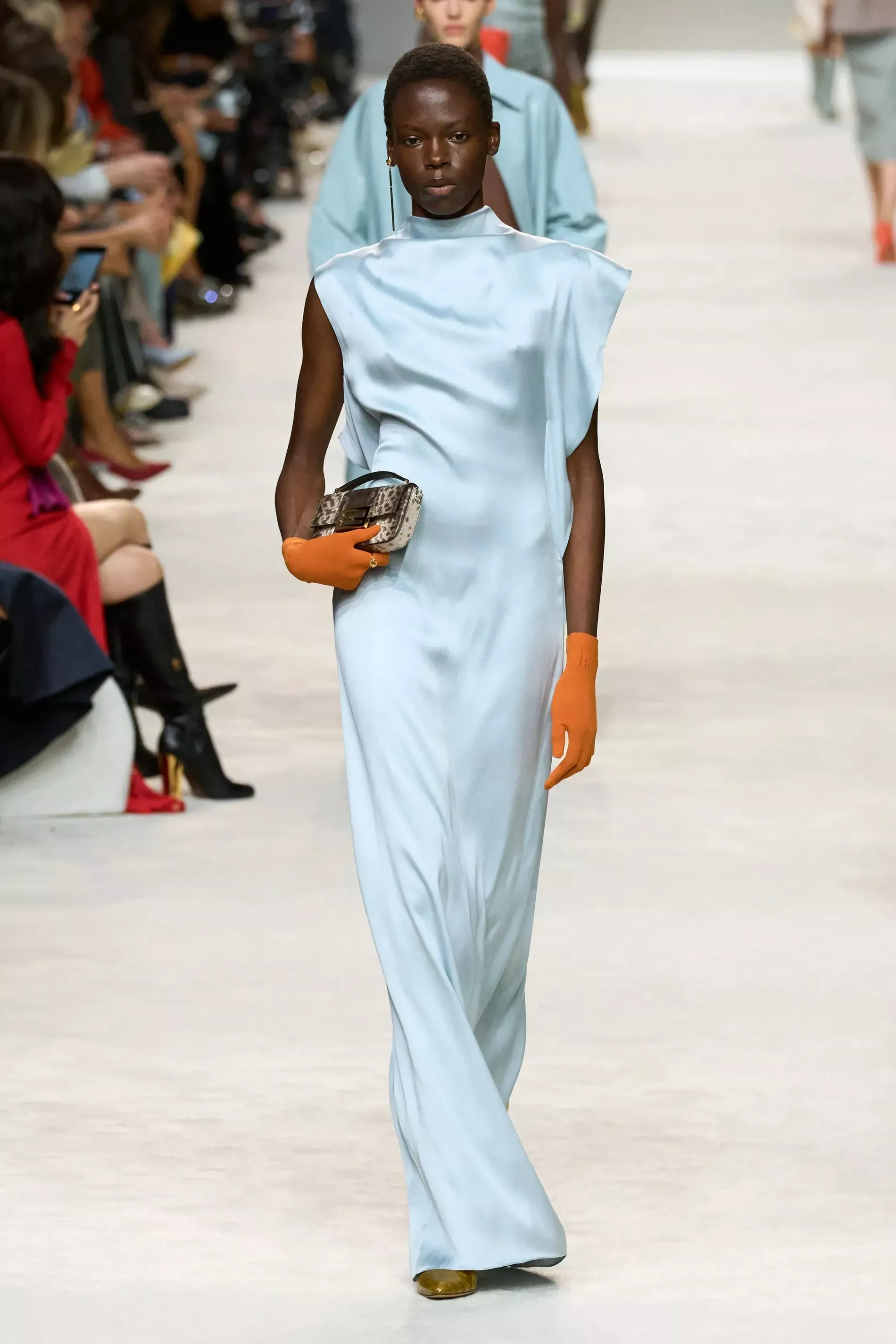 Photo: Daniele Oberrauch / Gorunway.com
The silhouettes evoked the structures of Rome
Scored by the emotive violins and existential lyrics of the Fendi soundtrack, you could imagine how a promenade through the ghostly grandeur of Rome could inspire a collection like this. Statuesque in shape, it was rendered in icy blues and greys occasionally warmed by a muted orange, yellow or brown.
But like its soundtrack, the silhouette retained a gracefulness within its chilly exterior. Dresses were structured in tactile knitwear or sheathed the body in silk. Tailoring was generous, its edges rounded for a soft curve.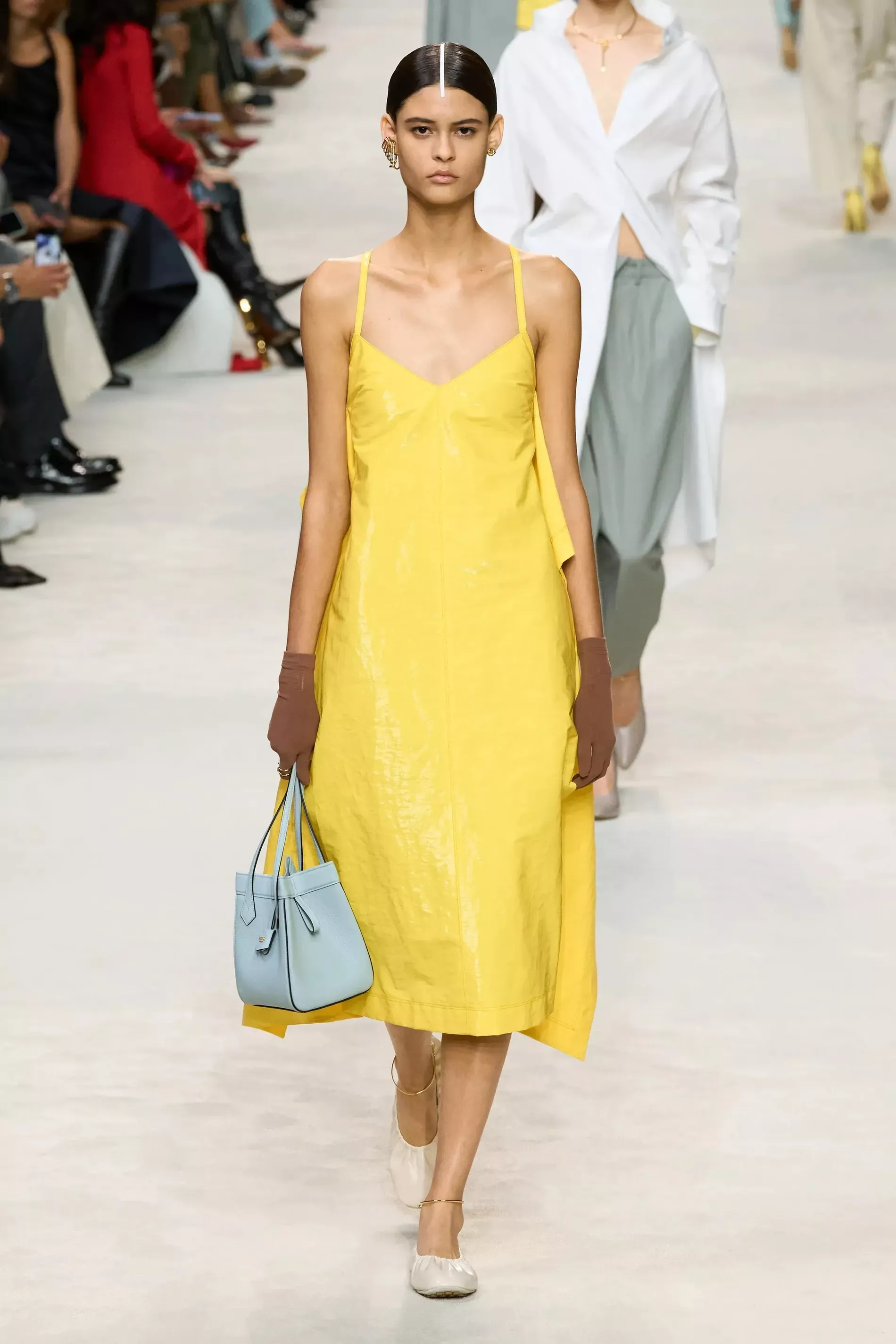 Photo: Daniele Oberrauch / Gorunway.com
The knitted cinchers were back
As a couture carry-over, Jones revisited his knitted cinchers from July's haute couture show. "The clients go crazy for them," he said, so he integrated them into dresses and employed their graphicness as a way to enhance the geometry and colour-blocking embodied within the collection. In this case, they looked a bit like cummerbunds, which added to an overall feeling of elegance that evoked Jones's work at Dior.
"I was thinking about the Dior man and what I do with him, and applying some of those codes to women, because we sell lots to women there," he said. Many of those women had come to support, from Kate Moss to Linda Evangelista and Christina Ricci.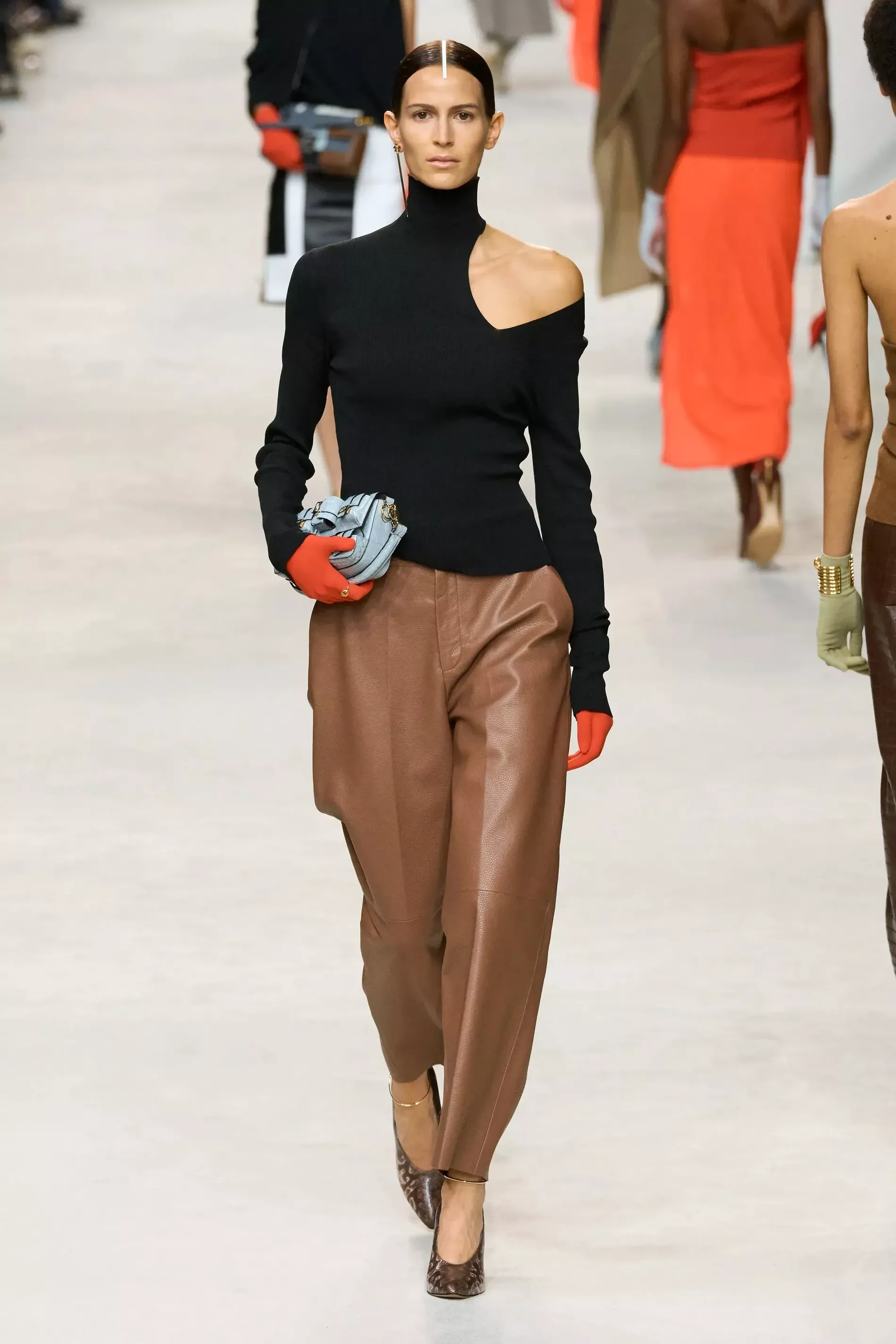 Photo: Daniele Oberrauch / Gorunway.com
There were mega bags and mini bags
Along the Fendi runway room – covered in super-soft white carpeting – Jones had blown up massive handbags to resemble the statues of Rome. "They're like the ancient things you see around Rome. It's a bit tongue-in-cheek. A bit like the old Kim Jones, big inflatables and stuff. I wanted to do maxi bags along the runway and mini bags on it," he said, referring to Silvia Venturini Fendi's accessories creations, which included the slightest of evening bags suspended from a delicate gold chain.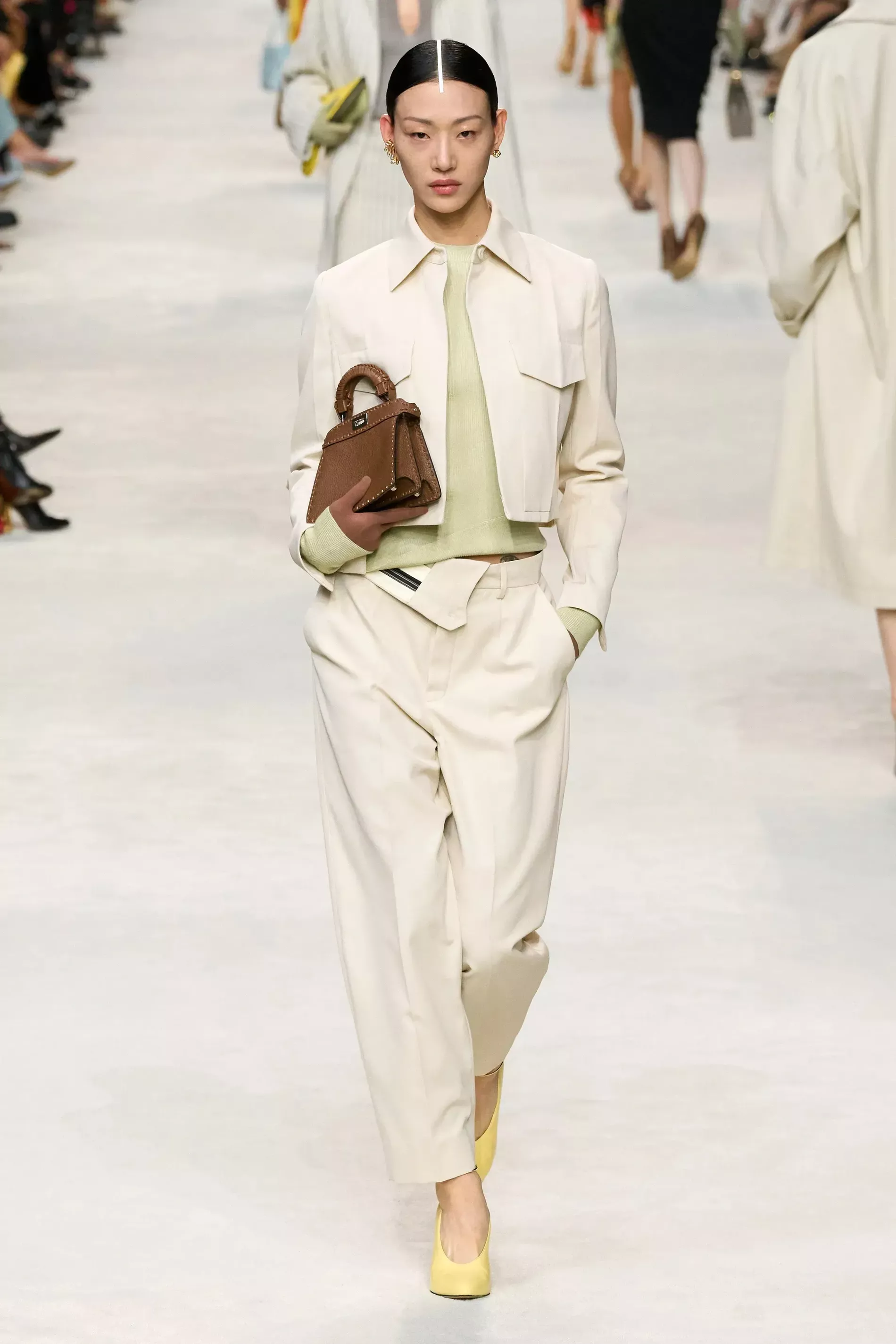 Photo: Daniele Oberrauch / Gorunway.com
It debuted the new Fendi Flip bag
Backstage, Leonetta Fendi was wearing her mother's new creation: the Fendi Flip bag, a flat asymmetrically foldable bag, which did what it said on the tin. On the runway, it was styled – alongside new versions of the house's icons – with gloves worn "to highlight the bags", as Jones put it. "They're technical gloves, so you can use your phone," he explained. They cemented a certain austere formality, expressed through the lens of casualwear. "They're not meant as eveningwear," Jones pointed out. "It's daywear."
Originally published on British Vogue