Vogue's fashion critic, Anders Christian Madsen, brings you the key highlights from Fendi's jewellery-centric AW23 haute couture show, straight from Paris, including details of the launch of Fendi's high jewellery collection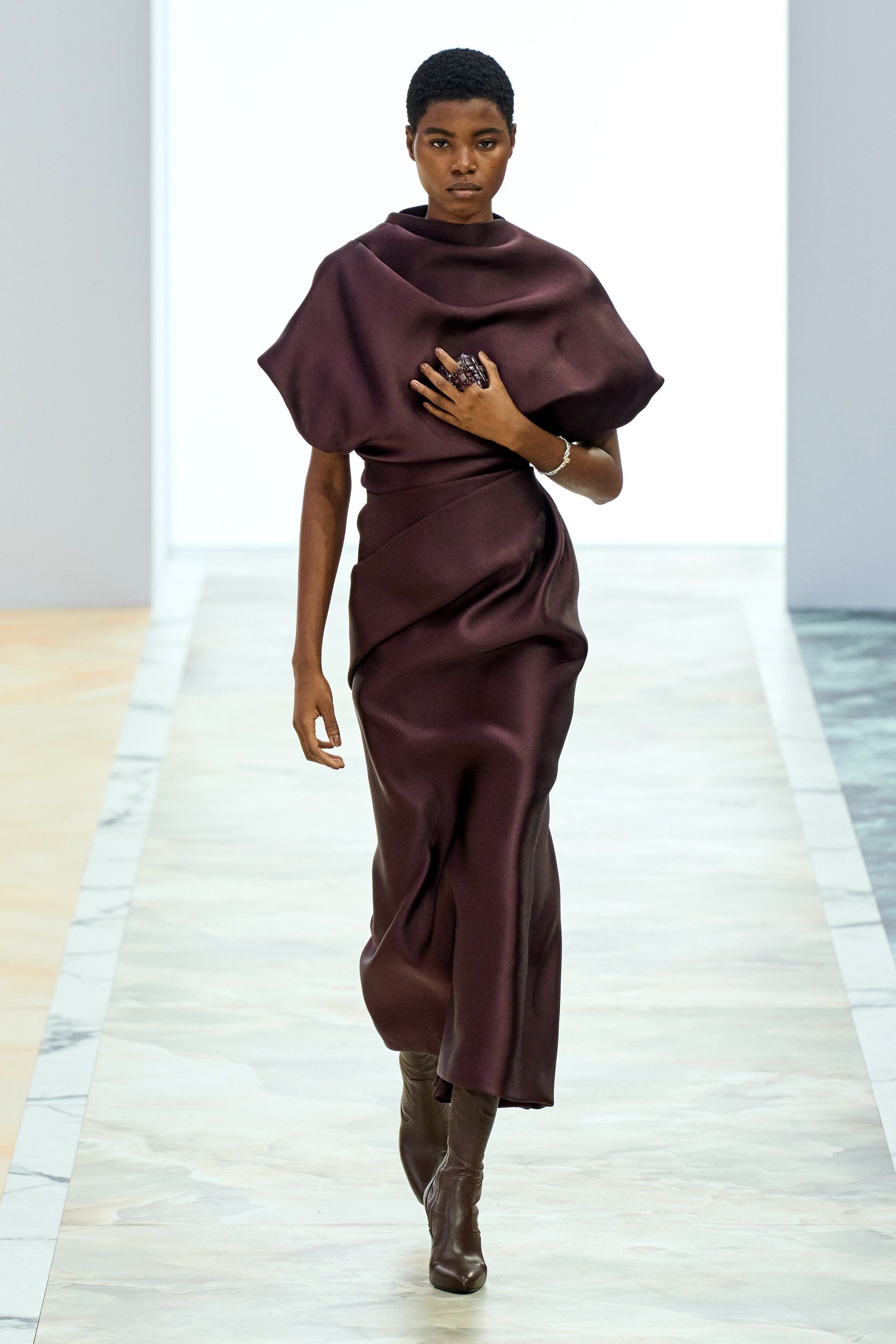 Photo: Daniele Oberrauch / Gorunway.com
It marked the launch of Fendi's high jewellery
With her talent and effortless elegance, Delfina Delettrez Fendi is an invaluable source of inspiration for Kim Jones on many levels. At Fendi, she serves as his muse, daily wardrobe inspiration, and creative director of jewellery, but her involvement in her LVMH-owned family business is becoming more pronounced than that. This season, Jones based his haute couture proposal not only on her ever-present aura but on the first high jewellery collection designed by Delettrez for the house. In a jewellery preview with the Fendi heiress, you could see why Jones let her lead the way. In a time of quiet luxury, finding the balance between sophistication and the generously diamond-encrusted logo colliers and bracelets the assignment called for was no small feat.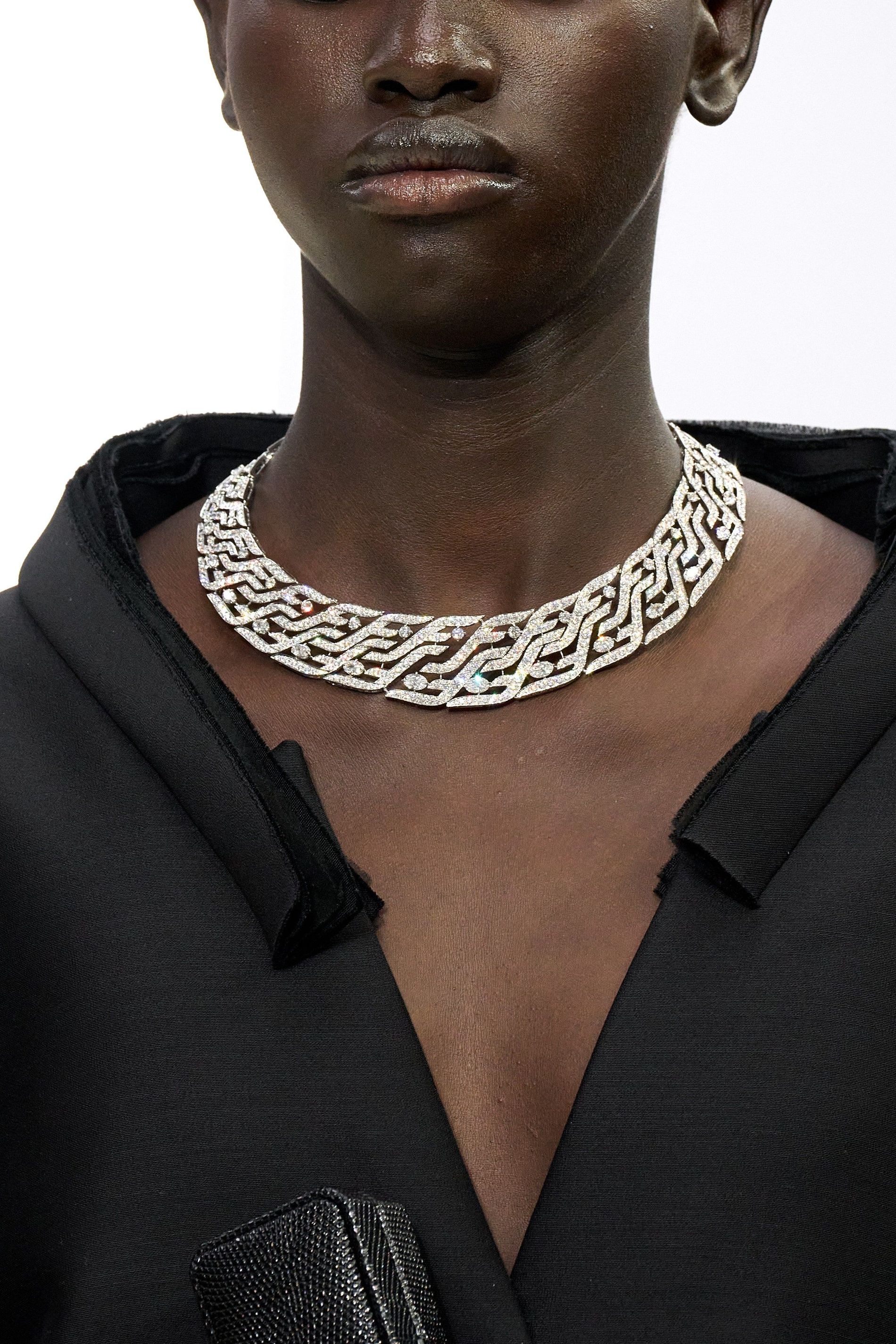 Photo: Armando Grillo / Gorunway.com
Delettrez made jewellery you'd never seen before
"The logo is my main source of inspiration, playing with these geometrical but also emotional ways. I'm emotionally attached to this double F, as if my alphabet was composed of only one letter," Delettrez said. Because the logo is essentially her family crest - she is the daughter of Silvia Venturini Fendi - Delettrez has an instinctive and unafraid approach to it. It was expressed in pieces structured from discreet, interlocking diamond-covered Fs as well as necklaces in the organic industrial form language at the heart of Delettrez' taste. Some of her diamond compositions felt almost sci-fi, as if you were looking at a digital screen. Despite their innate opulence, there was a lightness and subtlety to the designs perfectly attuned to a time when getting that balance right is a puzzle every designer is trying to solve. Delettrez may have the dynasty name in her favour, but this kind of talent is all her own.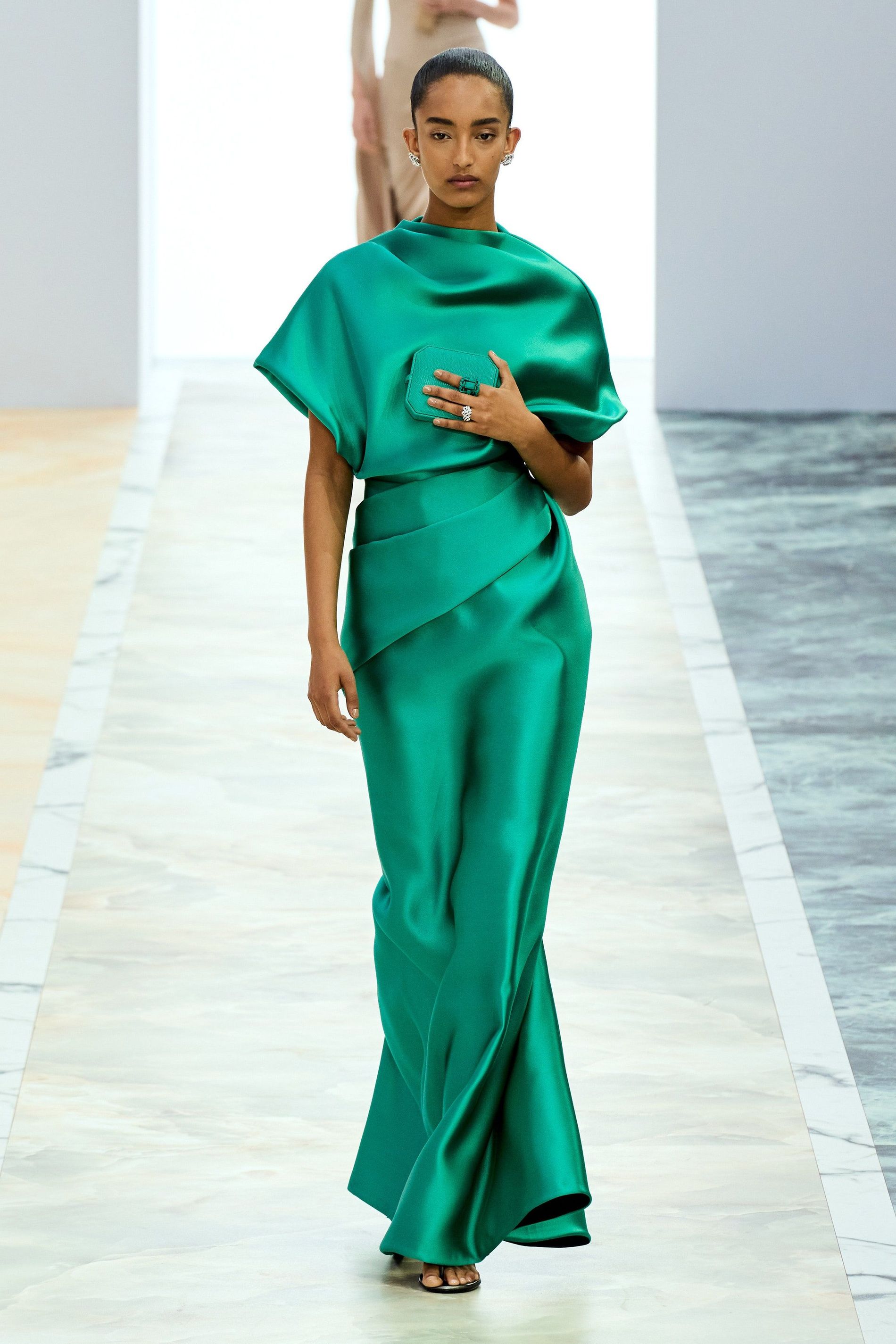 Photo: Daniele Oberrauch / Gorunway.com
The collection put the jewels on a pedestal
Jones made Delettrez' diamonds his focal point in a show that opened with a series of purified, slinky silhouettes rendered in skin colours and the greens and reds of gems. Draped and wrapped in bold gestures, they evoked the carvings of the Roman statues Jones often references in his work for Fendi. "It's the idea of the silhouette being nothing but everything at the same time," he said. In their simplicity, the garments served - intentionally, no doubt - as the ideal foundation for the presentation of Delettrez' jewellery, showcased on fingers clutching jewellery-box evening bags at the chest so bracelets glided elegantly down models' wrists. The colliers made their debut on a short black dress and a sculptural daytime proposals that made for a nice addition to Jones' evening-centric couture.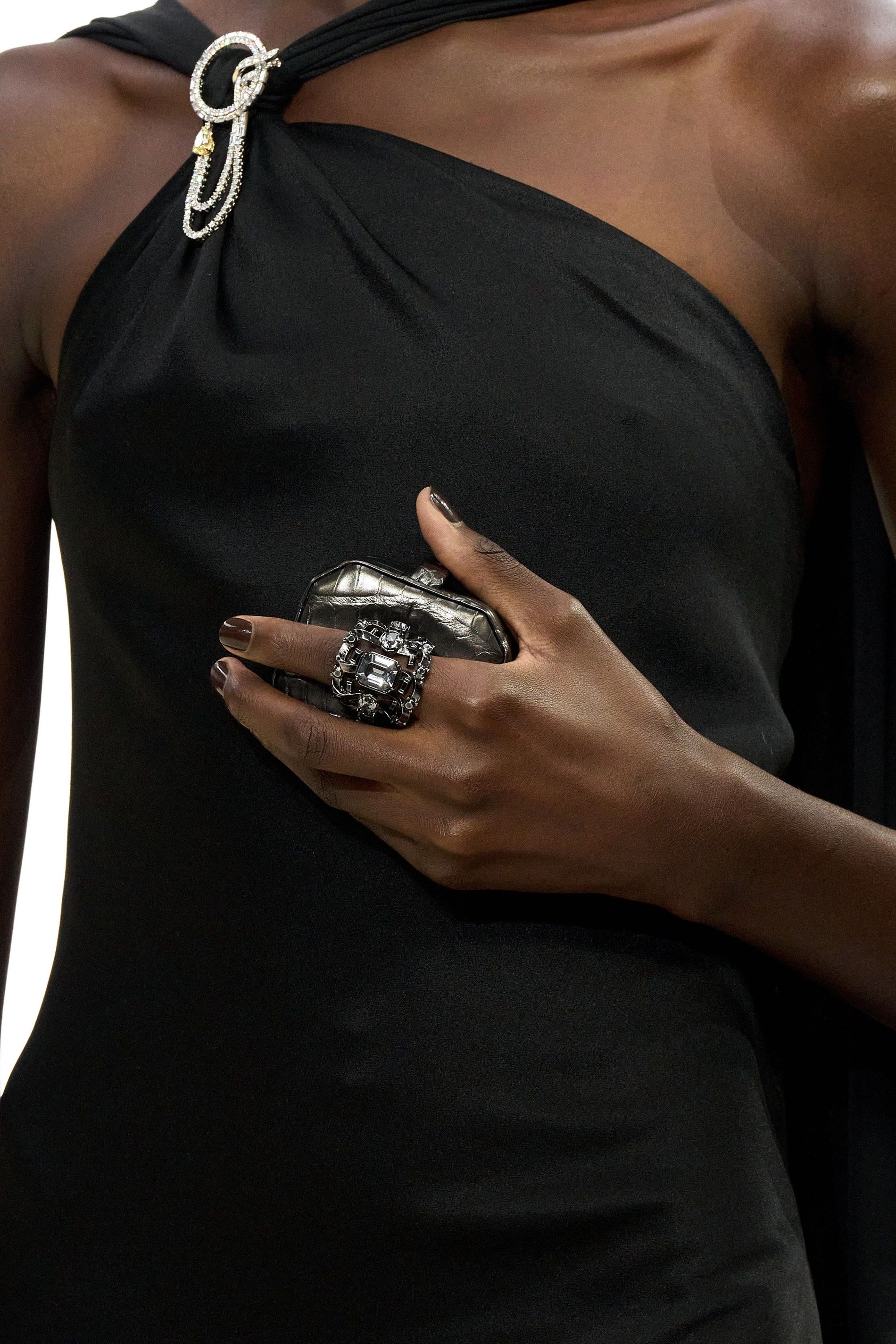 Photo: Armando Grillo / Gorunway.com
The jewels travelled into the garments
As the show progressed, the sparkle of Delettrez' diamonds dispersed into the garments themselves. Dresses embellished in sequins, beads and crystals emerged like jewellery pieces in their own right, wrapped in knitted cinchers that looked like medical girdles as if these jewelled dresses needed protection. It was a feeling of intimacy that carried into dresses and coats crafted in tactile materials that conjured spa dressing, an impression fortified by the blush, powdery pastels Jones favours. Here, the garments became a contrast to Delettrez' more industrial lines before a finale of heavily embellished gowns in candy colours and silver re-increased the sparkle levels to a max.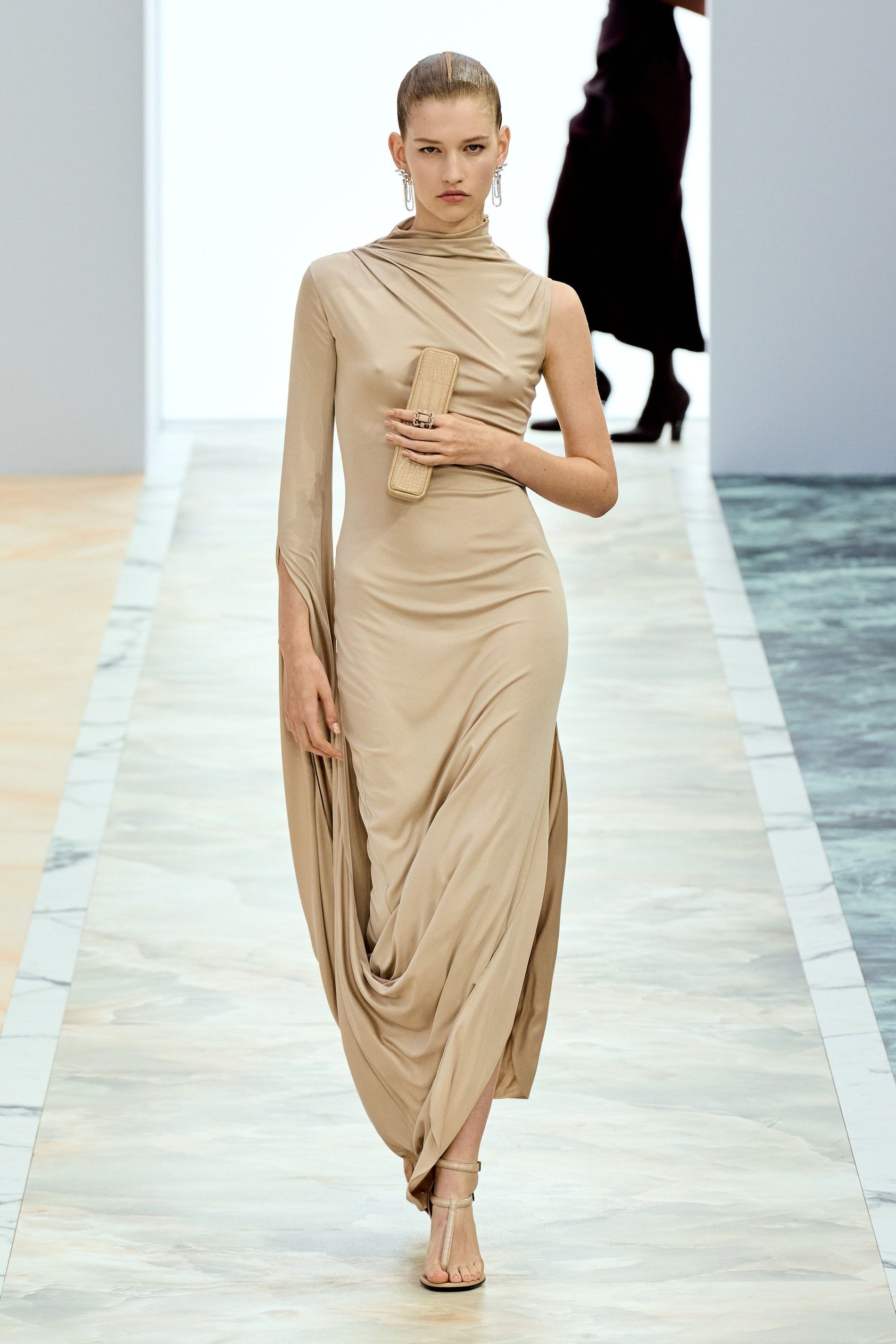 Photo: Daniele Oberrauch / Gorunway.com
Jones said he's found his Fendi look
"It's taking a bit of me, a lot of Delfina, and a bit of Fendi history. We've been selling a lot of couture through this collection, so I want to continue with the drapes and the folding," Jones explained, referring to the silhouette he has established at Fendi. "I know what I like to do and it's working for me here. When girls go out, they want to feel as comfortable and gorgeous as possible."
Originally published on vogue.co.uk