For Dior's autumn/winter 2023 couture collection, creative director Maria Grazia Chiuri was thinking about "apparent simplicity", as well as the clothes of antiquity. Below, see Vogue critic Anders Christian Madsen's key takeaways from the show, held in the gardens of Paris's Musée Rodin.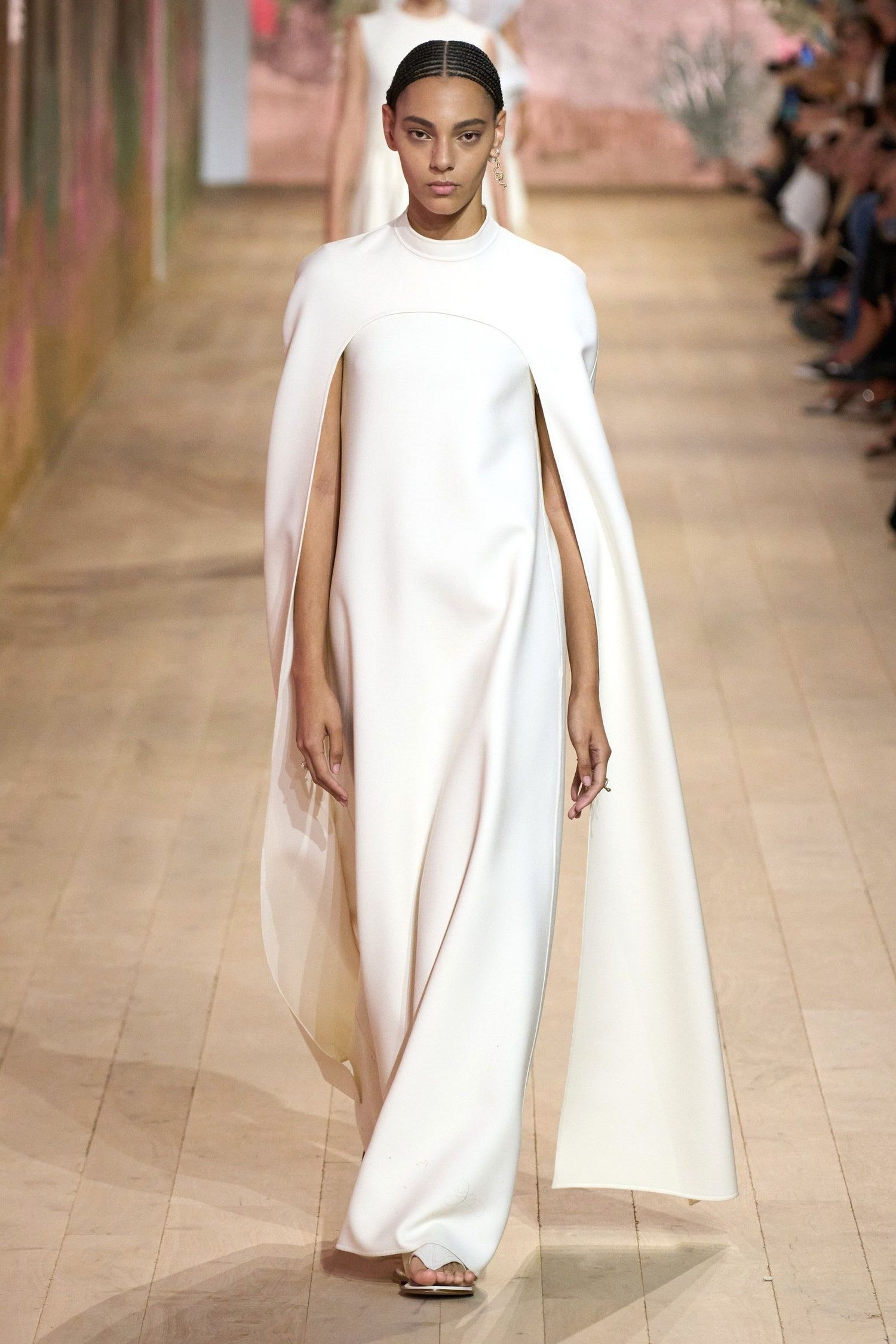 Photo: Daniele Oberrauch / Gorunway.com
It was inspired by a Christian Dior quote
On Maria Grazia Chiuri's mood board was a quote from Christian Dior: "My dresses are connected to the idea of the clothes of the antiquity. I keep an apparent simplicity." What he meant by "apparent simplicity" could be translated into the buzzword of the season: "quiet luxury" – something that appears simple in expression but is created from the finest materials and craftsmanship.
Applied to the mind-blowingly handmade one-off creations that define haute couture, quiet luxury takes on new meaning. That term naturally wasn't on Chiuri's mood board, but her focus for this season's Dior haute couture collection spoke of a zeitgeist drawn by discreet glamour. "This is what I like personally. I appreciate other designers who are closer to a sense of effect, but for me, 'apparent simplicity' is the best result I can have," she said during a preview.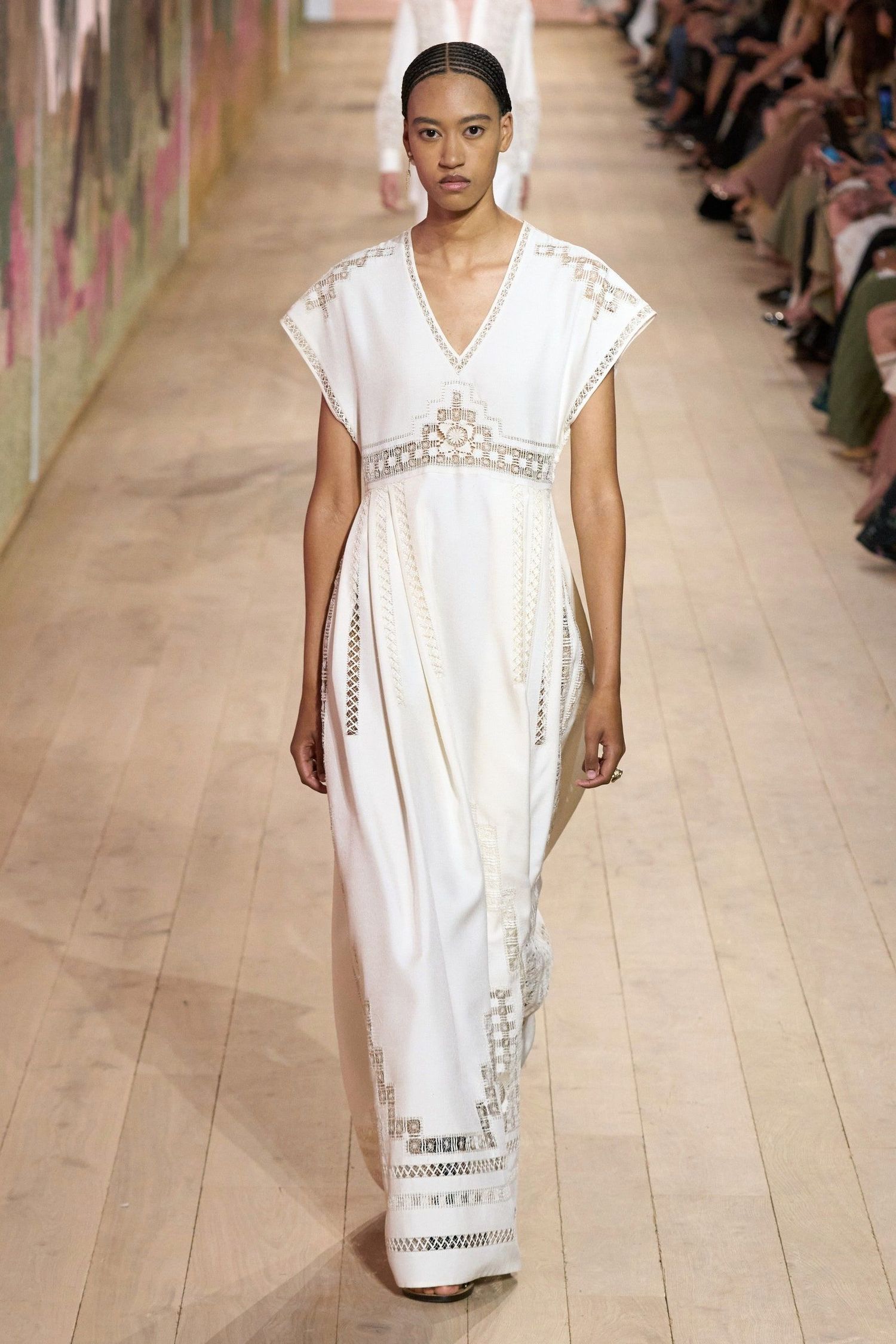 Photo: Daniele Oberrauch / Gorunway.com
The silhouette was founded in antiquity
Inspired by Christian Dior's link between simplicity and the clothes of antiquity, Chiuri decided to investigate the relationship between simple ancient garments like the peplos and the tunic versus a modernist idea of simplicity. "I have a different background to Mr Dior, so I give the antiquity an interpretation which is probably closer to my own background," she said, referring to her Roman roots. She expressed it in a collection that transformed the oldest, most essential clothing language in world history into extremely elaborate haute couture, the microscopic and state-of-the-art techniques and fabrications of which neither a fashion show nor runway pictures could do justice. You'd basically need to buy it (or do a preview) to get the full effect.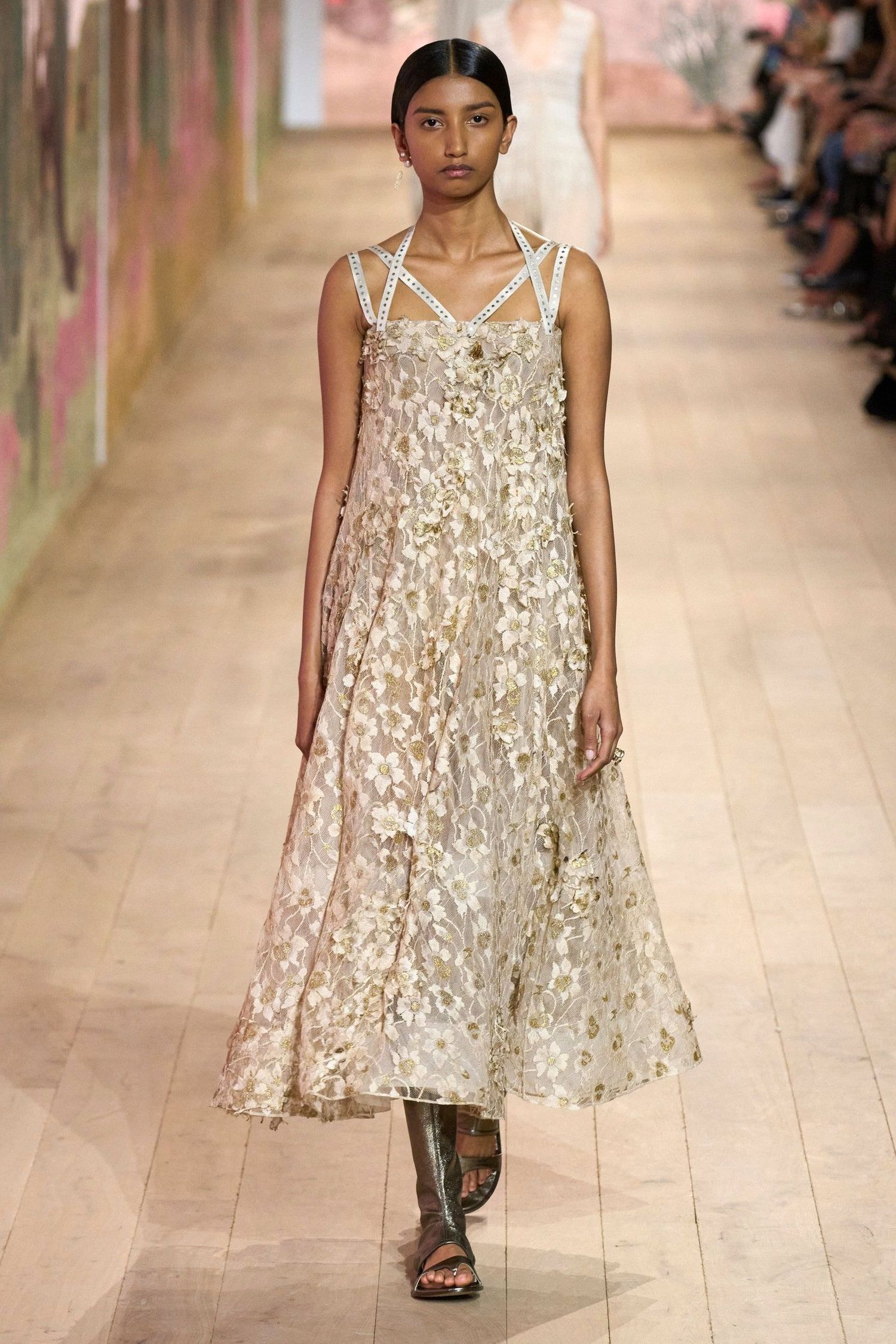 Photo: Daniele Oberrauch / Gorunway.com
The devil was in the detail
Chiuri approached her "apparent simplicity" with a kind of intricacy that takes the time only haute couture can afford. "For me, couture is a territory where you can take your time. And the client who comes for couture knows that it's a different kind of clothes. It's more timeless," she said. Sticking to an antique silhouette with infusions of modernism, she created capes and dresses constructed in the finest double-faced ecru wool, fringe dresses in ecru silk so luxe it looked like leather, and silk shantung lace-like dresses crafted with needlepoint embroidery or guipure of braids and beaded silk. More decoration-focused exercises included a chalk georgette crepe gown covered in pearl embroidery. "It's an idea of something natural. It doesn't feel like big embroidery."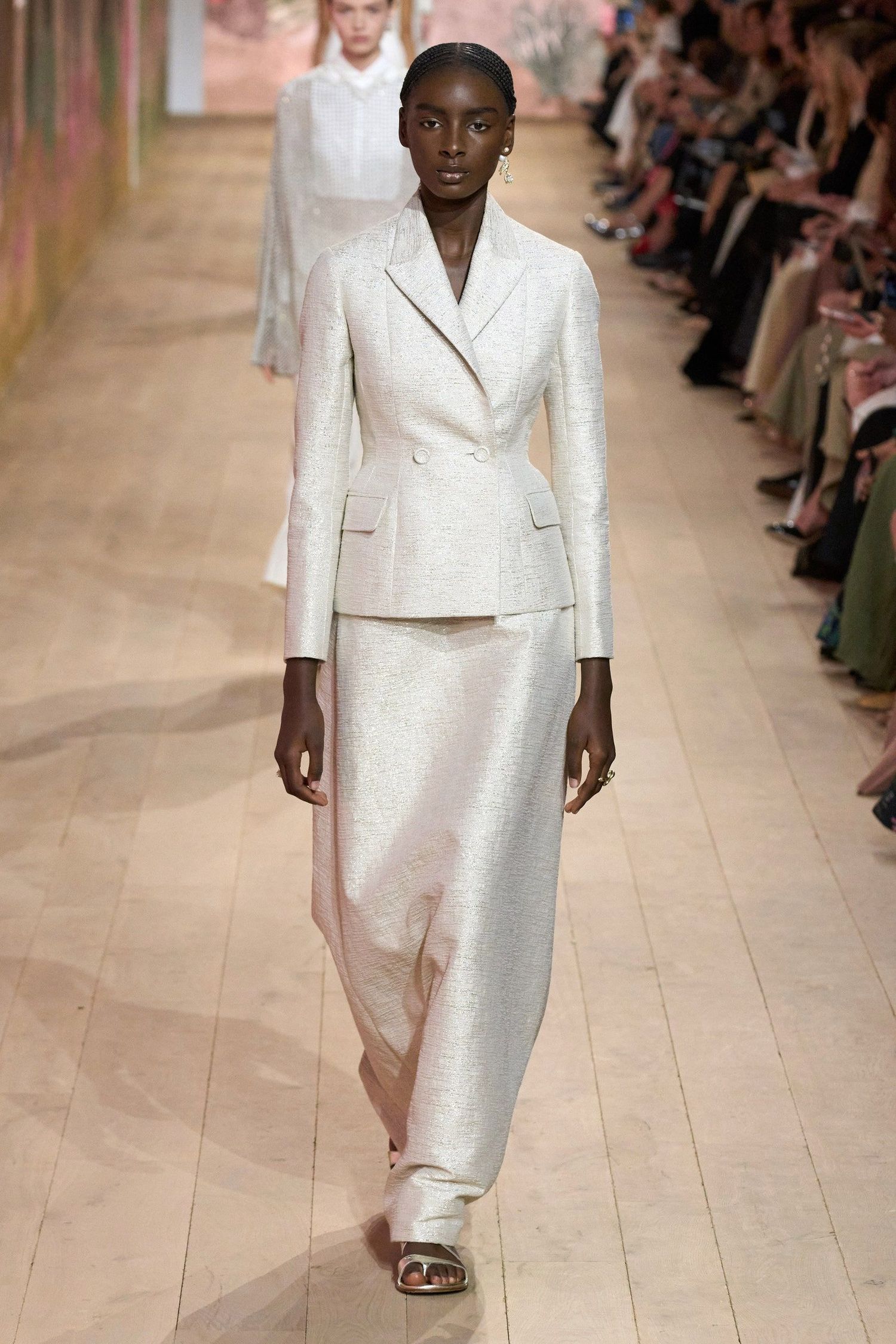 Photo: Daniele Oberrauch / Gorunway.com
Chiuri made a case for wardrobe permanence
Whether we call it "apparent simplicity" or "quiet luxury", it's no new phenomenon for Chiuri. Since day one at Dior, she has stuck to a realistic vision of haute couture, which is less about experimentation and theatrics and more about creating a viable proposal for the client. As for the industry turning discretion into a trend? "Fashion went very fast because the world went very fast. There's a big problem with fast fashion and what we consume, so it's believable that people have become more sensible. It means thinking about what you buy – quality – and maintaining it for a long time. I've always thought like this. I really like having a wardrobe that's mine. I don't change. It's my style. And it's my way of seeing fashion. But that's different for everybody. I don't think we can find only one way. We are all different."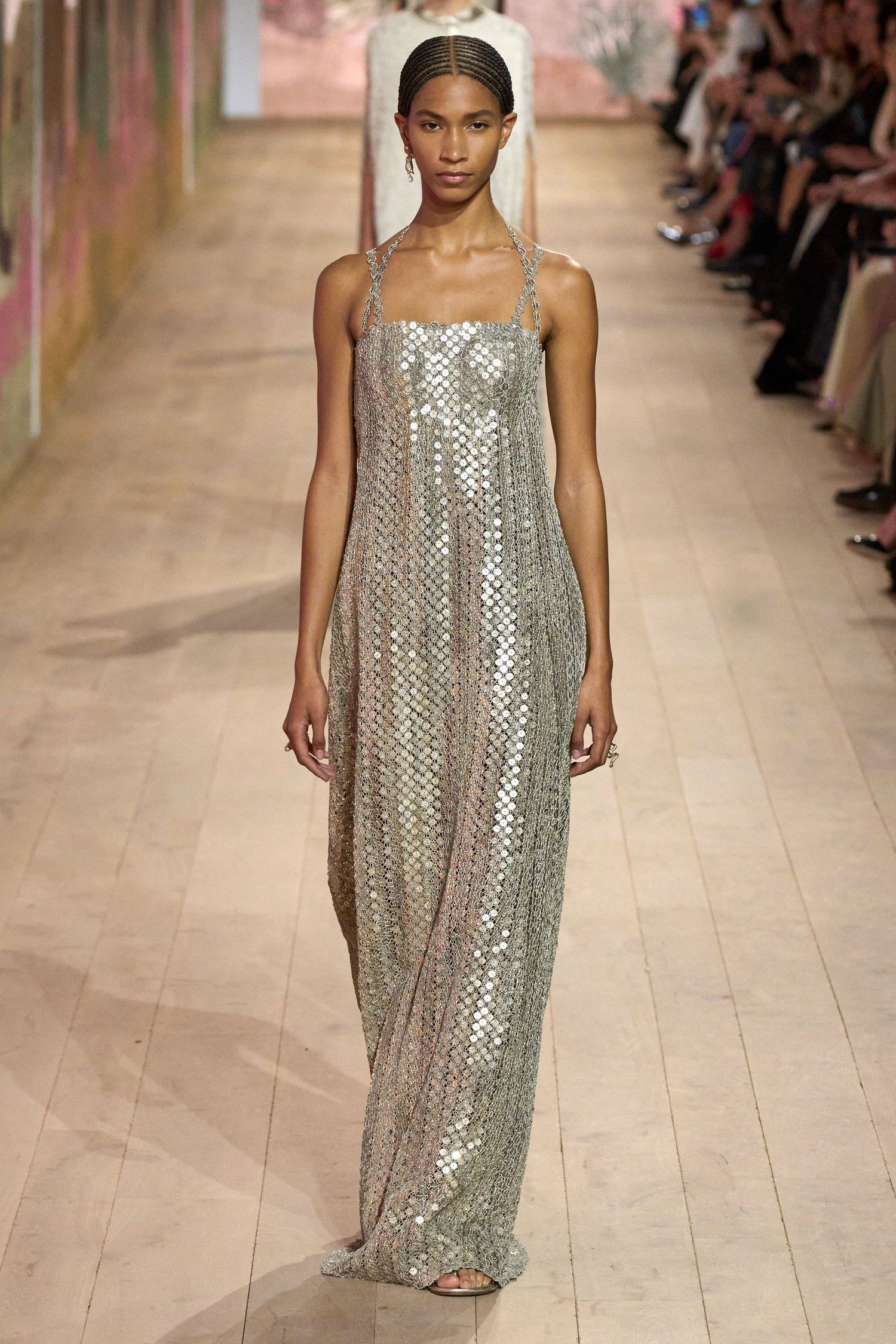 Photo: Daniele Oberrauch / Gorunway.com
Chiuri collaborated with the artist Marta Roberti
True to tradition, the Dior show was framed by an art collaboration. This season, the walls of the tent in the garden of Musée Rodin, which houses Chiuri's couture shows, were clad in new works by the Italian sketch artist Marta Roberti. Her primordial drawings of goddesses that morphed into animals underlined the ancient connections of the collection, and nodded at Chiuri's philosophy of couture as an expression that ties together garments and the human physique. "With couture, the goal is to create clothes that become a print of your body. Every time, for each client, you have to start again. And it's important that you maintain these clothes for a long time," she said.
Originally published on vogue.co.uk