For Dior's spring/summer 2024 collection, creative director Maria Grazia Chiuri looked to female stereotypes in history, from witches to the Parisiennes of 19th-century France. Below, see Vogue critic Anders Christian Madsen's key takeaways from the show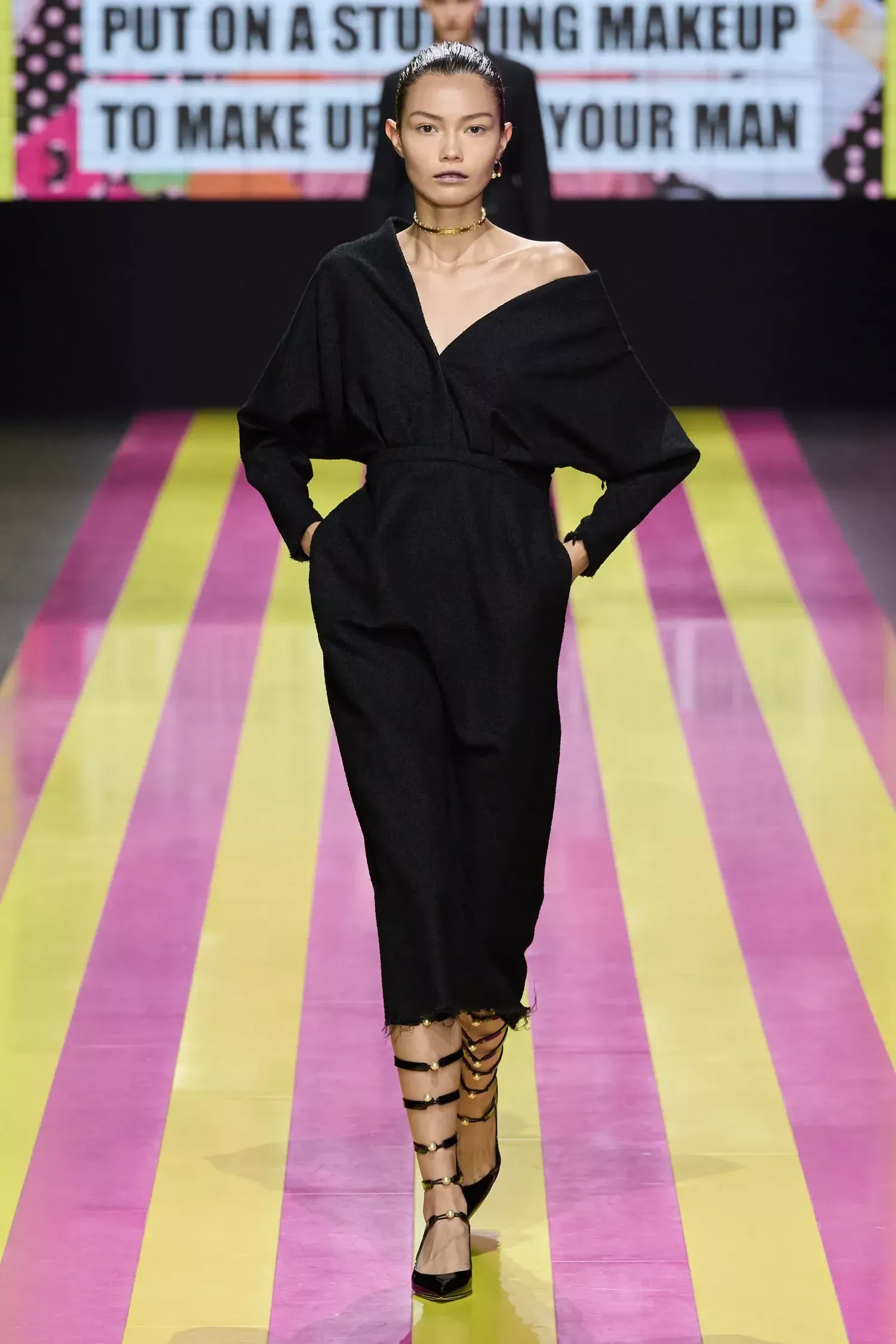 It was the first show since Dior dressed Queen Camilla
There is always an air of ceremony to a pre-show audience in the salons of Christian Dior, but never did it feel as appropriate as the week after Maria Grazia Chiuri dressed Queen Camilla. For the state banquet at Versailles, Her Majesty wore a ravishing royal blue gown framed by a formidable regal cape that made headlines around the world. "It was cool, eh?" Chiuri smiled. "So majestic. I was very happy. The colour was perfect. I was obsessed with giving her this kind of colour." The deep blue – a darker version of the colour created for Queen Charlotte in the 18th century – was inimitably Chiuri (in 2017, she designed an all-blue collection) and perhaps a departure from the more vivid blues favoured by present-day royals. In that sense, Queen Camilla's Dior moment made for the perfect fanfare to a show founded in the idea of de-coding stereotypes.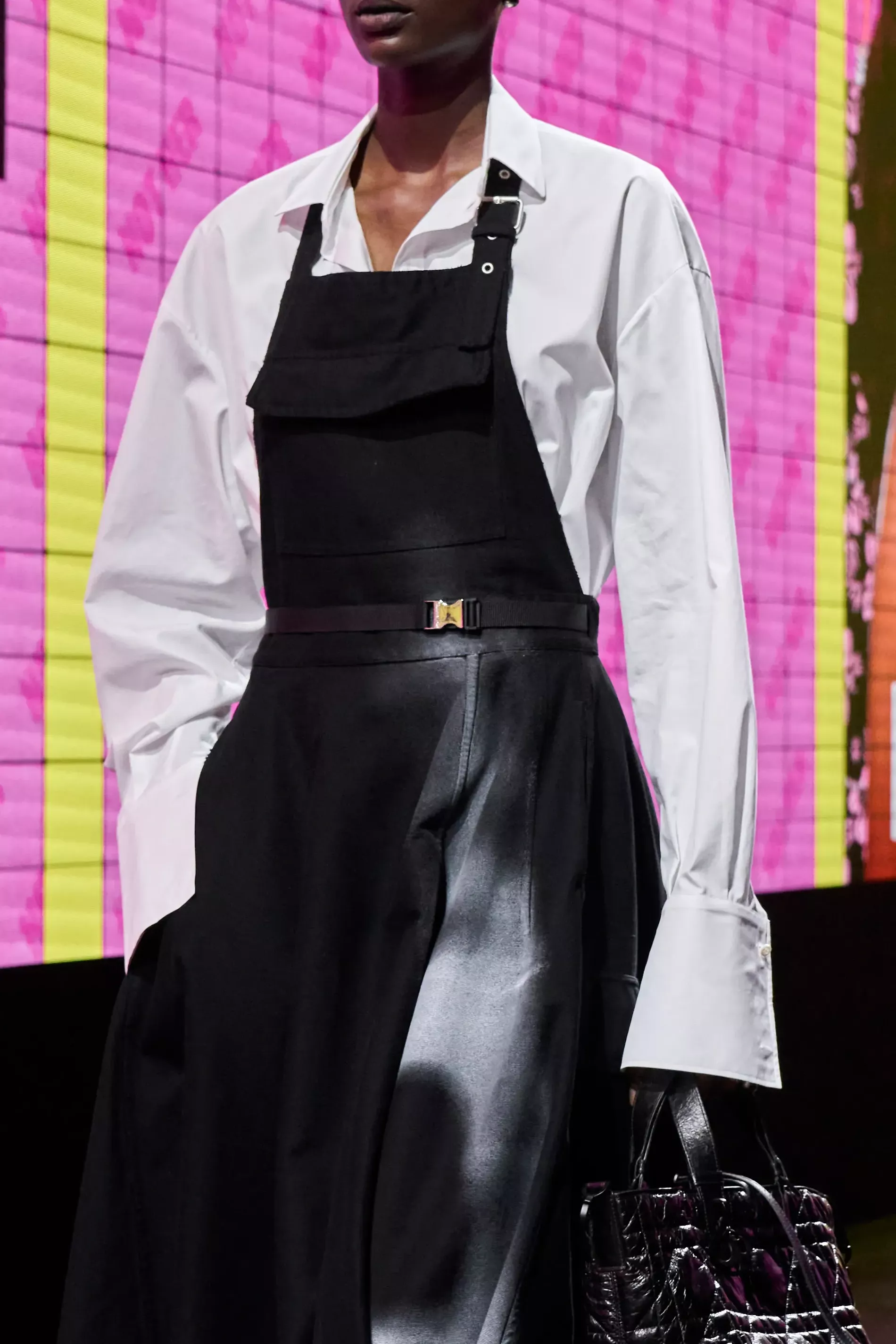 The collection dealt with historical female stereotypes
Seven years into her own reign at Dior, Chiuri has looked at every picture held in the house's archive. "When I look at the images of Mr Dior's work, I remind myself that they were done probably with a male gaze. I want to translate this with a view that's more contemporary," she said, explaining the thought-process that underpinned this season's collection. "It's a reflection upon imagery and how much it affects our ideas of things." Exploring that notion, she looked to female stereotypes of history: unconventional women, who were deemed dark or dangerous, from the witches of the Middle Ages to the Parisiennes of 19th-century France. "It's the idea of transformation," she said, not of the collection but the nature of her work at Dior. "Not to reproduce another stereotypical idea."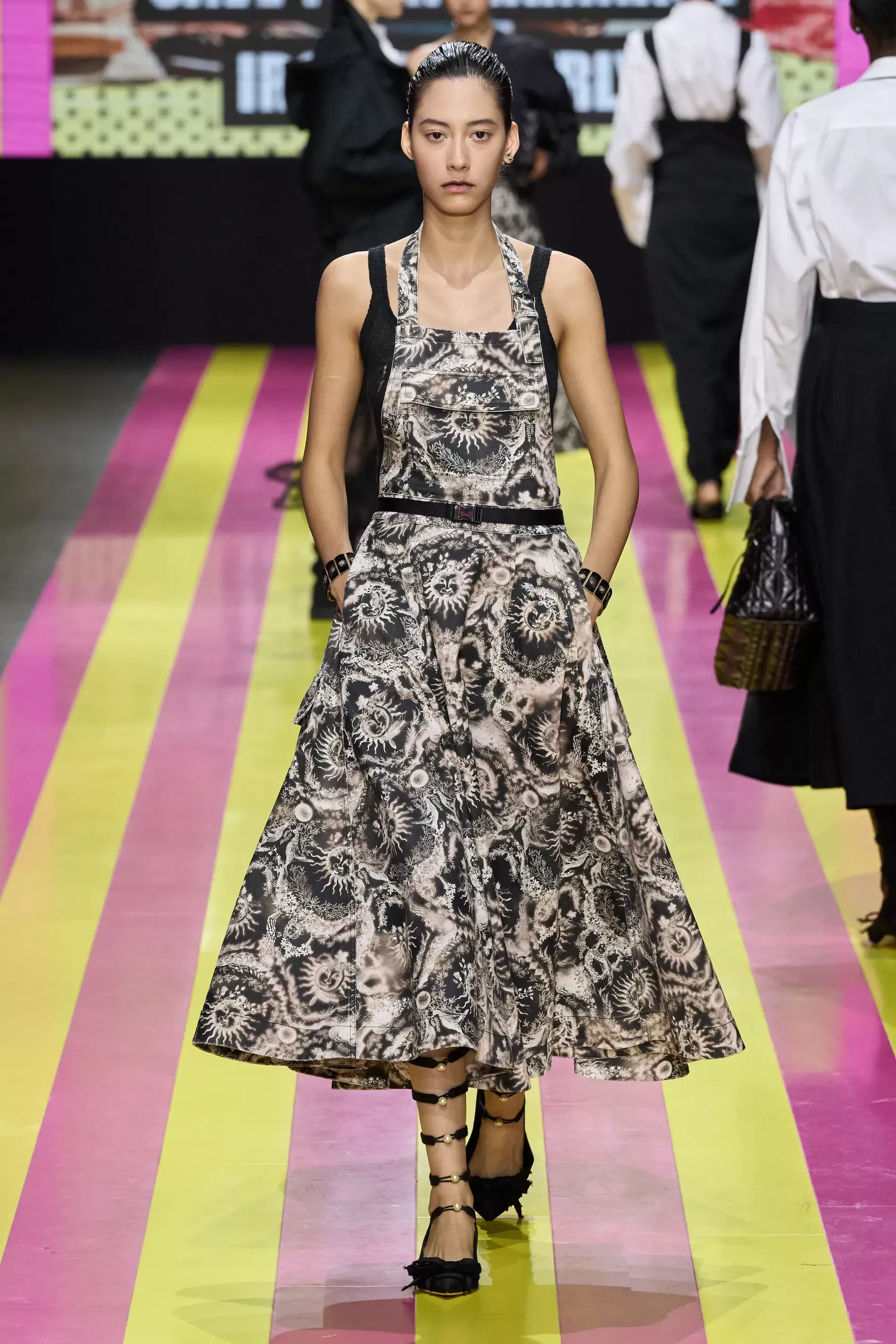 Things were abstracted and obscured
Applying her anti-stereotypical gaze to clothes, Chiuri created a collection where everything purposely felt a little off, a bit abstracted, and kind of obscure. As a wake-up call of the associations engrained in our minds from imagery, decadent lace dresses, frayed-edge tailoring, tattered knitwear, and fleurs de nuit motifs – interpreted in prints and ribbon embroideries – evoked a perhaps classic idea of the witch. They appeared alongside shirts and dresses inspired by Christian Dior's witchy Abandon dress from 1948, its skewed collar adapted in asymmetric tops half cold-shoulder and half construction. There were tea-stained denim pieces and ripped burlap coats and dresses, a bewitching silhouette continued in utilitarian takes on capes and aprons perfect for cooking up some drama. Chiuri tied it up in strap sandals spliced together from pumps and gladiator boots, which cemented her plays on perception.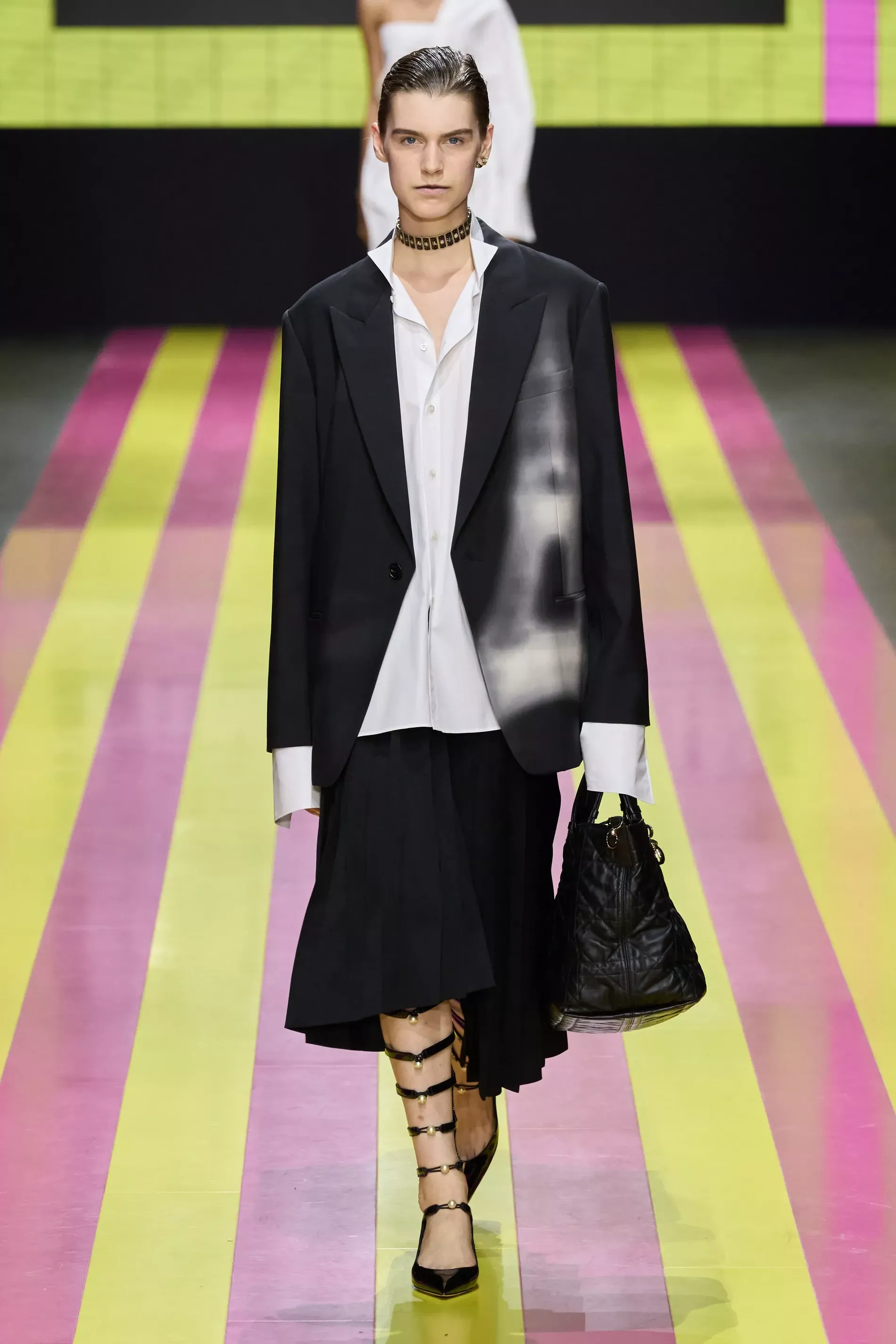 The Eiffel Tower made a cameo
"It's abstract but at the same time it's the idea of changing an approach for the women who wear it. It's about the attitude of the women who wear it. That's what changes it. Because at the end of the day, it's about the woman who wears the dress," Chiuri said. As a figurative image of the message she wanted to convey – and as a nod to the Parisiennes of the 19th century, independent thinkers who were seen as femme fatales – she adorned garments with blurry photographs of the Eiffel Tower by Brigitte Niedermair, who has shot many of her Dior campaigns. A map of Paris was emblazoned all over a coat, making it look like witchy cobweb, once again illustrating the power of image-related association. "It's the dark side of Dior!" Chiuri said with a perfectly witchy smile.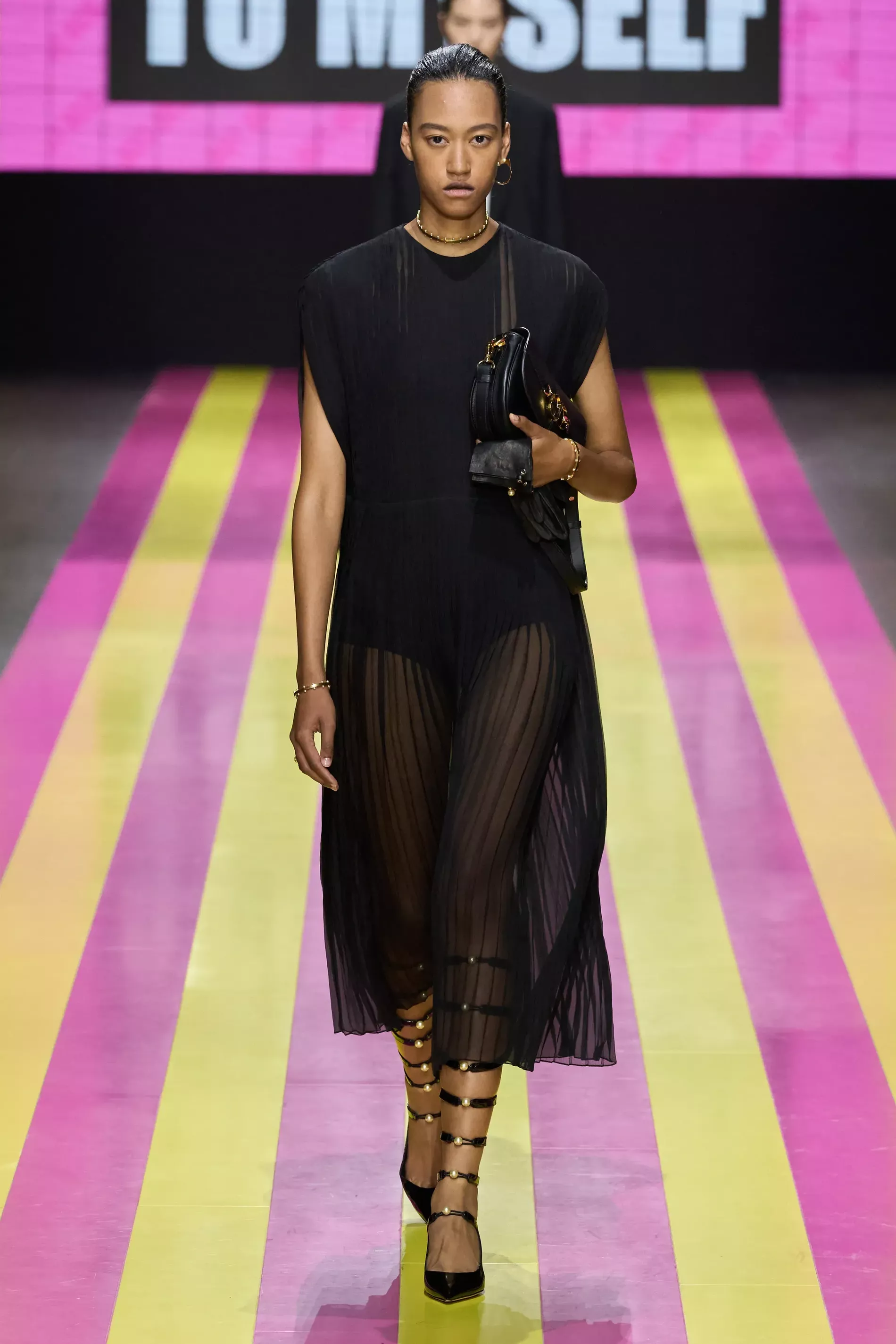 It featured a set created by Elena Bellantoni
Chiuri decked out her tent in the Tuileries with screens displaying artworks by the Italian artist Elena Bellantoni. Created for the show, they juxtaposed mock-advertising images of women seen through a macho gaze with feminist slogans that were often of a sarcastic nature. It made for a colourful backdrop to a largely black collection that underlined the seriousness of Chiuri's eternal message of female empowerment, now even more urgent than when she joined Dior. "I'm very, very worried," she said, reflecting on the political situations across America, Italy, Iran and elsewhere. "Artists help me. Without their voices, this would be impossible for me. It's important to have a strong community of artists around you." For the finale of her show, she played an upbeat version of Nothing Compares 2 U in memoriam of her fellow activist Sinead O'Connor, who died in July.