Coach kick-started New York Fashion Week with a starry runway show that celebrated American craft and counterculture. J Lo, Lil Nas X, and Dove Cameron were all in attendance at New York's ornate Public Library to toast Stuart Vevers's 10th anniversary as creative director – here's your rundown of the night.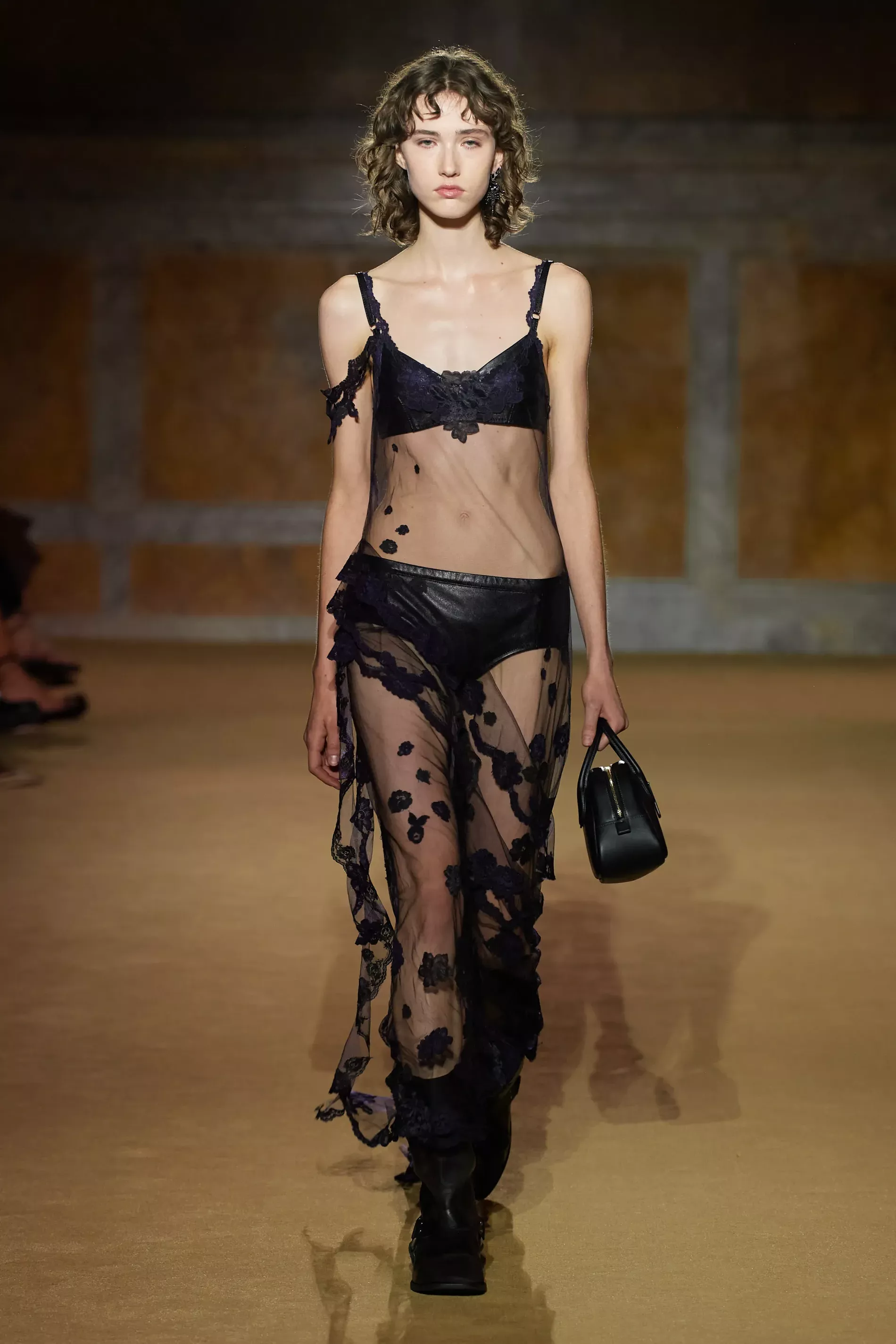 This collection was all about "forever style"
Imagine the love-worn pieces you never let go of, or a wardrobe wish list of heavyweight classics that we all want to own, and you have Coach's spring/summer 2024 show. I'm talking specifically about that gorgeous oversized biker jacket, the fringed suede coat which J Lo also wore for the occasion, and those butter-soft leather slip dresses. This was a collection that embraced the laissez-faire attitude of 1990s style, yet had its sights set firmly on a brighter fashion future. Behind each look was a myriad of mindful designs that Doncaster-born Stuart Vevers has come to represent as a creative director. The worn-and-repaired cobweb knit dresses had been darned and mended by hand; elsewhere there was repurposed leatherware and denim crafted of deadstock fabric left over from previous Coach productions, as well as pre-loved pieces sourced by the Coach design team.
Take note of the trouserless styling
Spring/summer 2024 is already shaping up to be a "trousers optional" season. Yep, the intrepid styling phenomenon that's sweeping the red carpet (let's take another minute for Emma Corrin's Venice Film Festival look) and the Vogue office, isn't going anywhere. Not ready to step out in your knickers? Take a cue from Coach stylist Olivier Rizzo, and wear an oversized biker jacket with nothing underneath.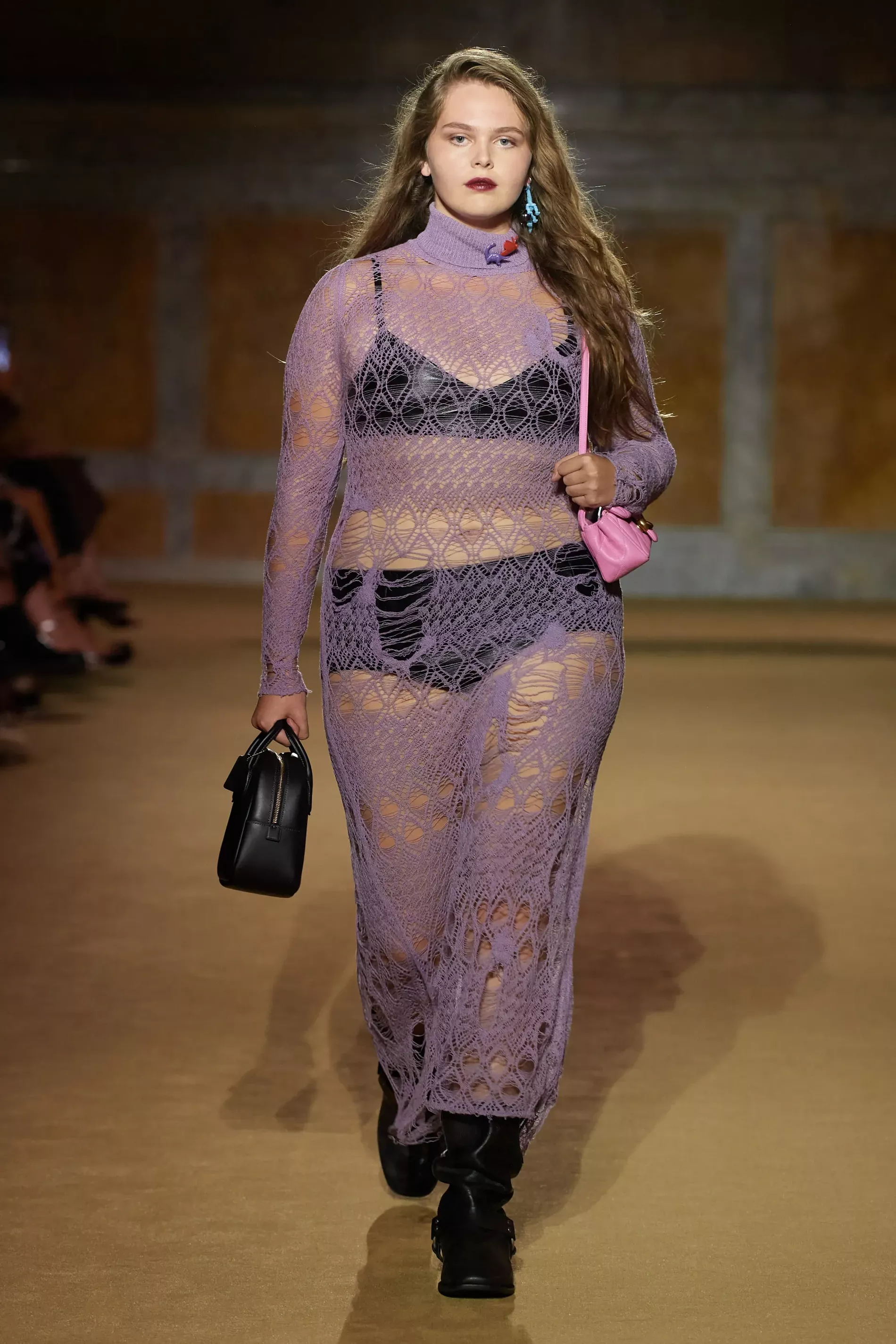 Did you spot the love letter to a legendary New York restaurant?
Fashion editors seeking to go off-grid for an hour during NYFW received a timely reminder to dine at Upper East Side institution Donohue's thanks to Coach's honorary spring/summer 2024 restaurant merch. It looks like New York's classic eateries are next season's answer to the Euro Summer trend for wearing your holiday itinerary on your chest…
Even the steeliest members of the frow were moved by this show of family
Back in 2020, Stuart Vevers spoke candidly to Vogue on how becoming a parent to twins – named River and Vivienne – had fuelled a new perspective on his career and fostered a deeper admiration for his Coach team. "I'm now a husband, and a father, and New York is where I created my family, and my home," the designer said at the post-show dinner inside the city's hallowed Public Library, before pausing for a moment to accommodate a wave of emotion, and a round of applause. "[They are] the main characters in this most important chapter." What a joy it was to see Vevers take his runway bow with his child on his hip, and to toast his own father who had flown in especially for the occasion.
Ten years at the helm is a big deal
Or, as Coach CEO Todd Kahn put it in his mid-dinner speech: "A few lifetimes in fashion" – an industry that's become notorious for ever-shorter designer tenures. The rise of Coach as a ready-to-wear label (it's one of parent company Tapestry's MVPs on their roadmap to hitting an $8 billion revenue target by 2025) is a testament to the Vevers vision that's taken the accessories brand all the way to the Met Gala red carpet. The state of play in 2013: "When I joined Coach, we didn't make clothes… I am proud of how much we have grown away from industry norms and its closed culture of ten years ago."