Armani Privé's autumn/winter 2023 haute couture show, held at a show space within the Gare des Invalides, was a beautiful exploration of Far Eastern Art Deco design and was centred around the designer's love of the red rose. Below, see Vogue critic Anders Christian Madsen's five key takeaways from the show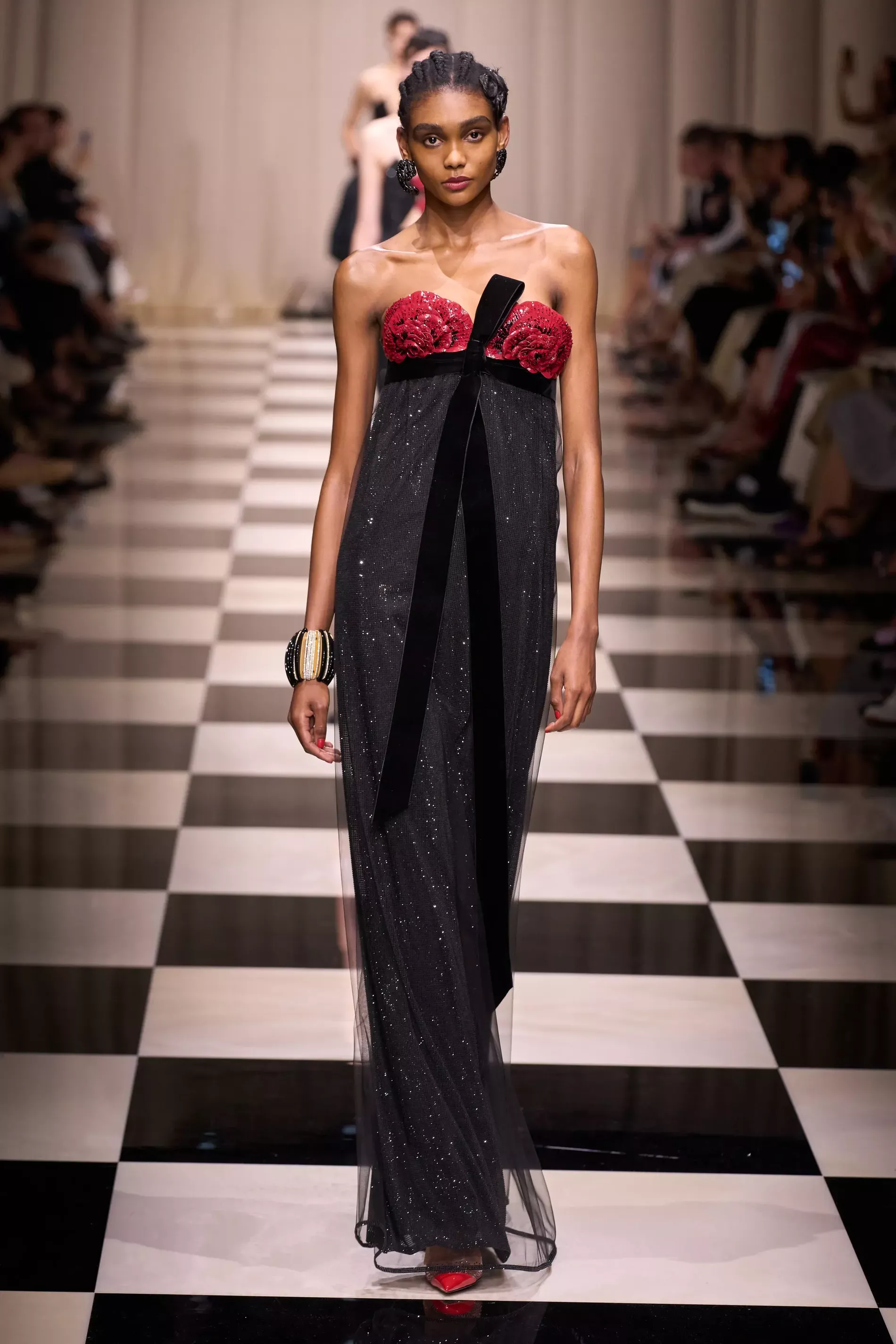 Photo: Daniele Oberrauch / Gorunway.com
It was full of subliminal messages
When the riots were still raging in the Parisian suburbs this weekend, there were rumours Giorgio Armani might cancel his Armani Privé show. He was the first designer to do so when the pandemic set in, and one of the last to return to the runway. In the end, the show went ahead on Tuesday evening. "I'm acutely aware – and worried – of what is happening around us, but I think it is not my job to make political statements, and I always steered away from using the runway with that purpose," he said before the show, asked not just about the situation in France but the political climates in Italy and America. As fashion's voice of sense and sensibility, Armani's haute couture theatre was, however, rich in subliminal messages about the world that surrounds him.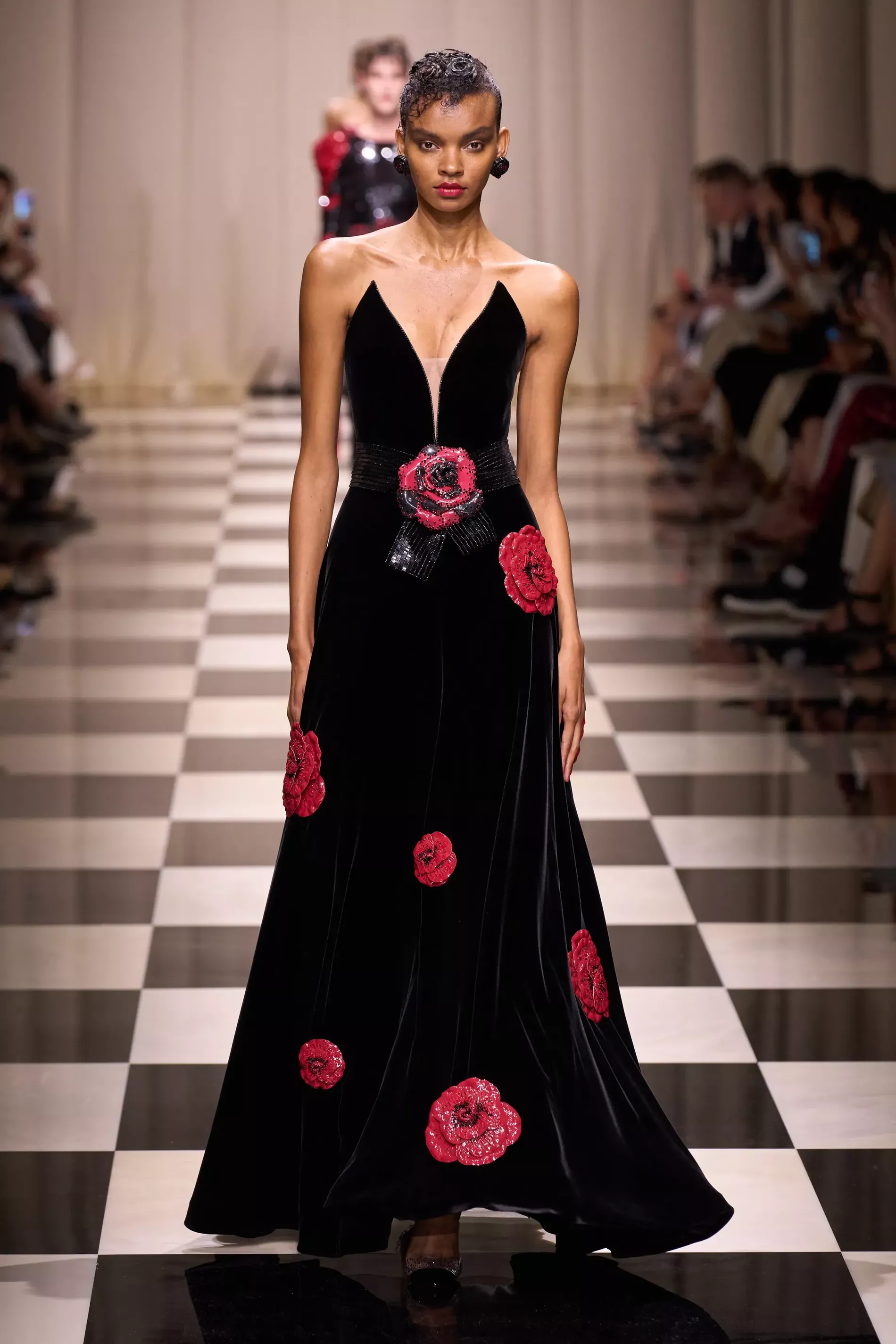 Photo: Daniele Oberrauch / Gorunway.com
It was all about roses
As his motif for the collection, Armani chose one of the most elementary and multi-faceted symbols: the rose. They graced virtually every look in every haute couture technique under the sun, from appliqué to embroidery and weaves. "Now more than ever, roses are a timely symbol because they stand for elegance and grace and bring beauty into the world we're living in," he said. "Also, roses have thorns, therefore they are delicate as much as they are sturdy. That's why I think they are the perfect flower for the moment we're living: beauty can save us, but we also need to be strong." That idea pervaded a hyper-elegant silhouette crafted in delicate, ultra-feminine fabrics, but structured in rigid, resilient lines.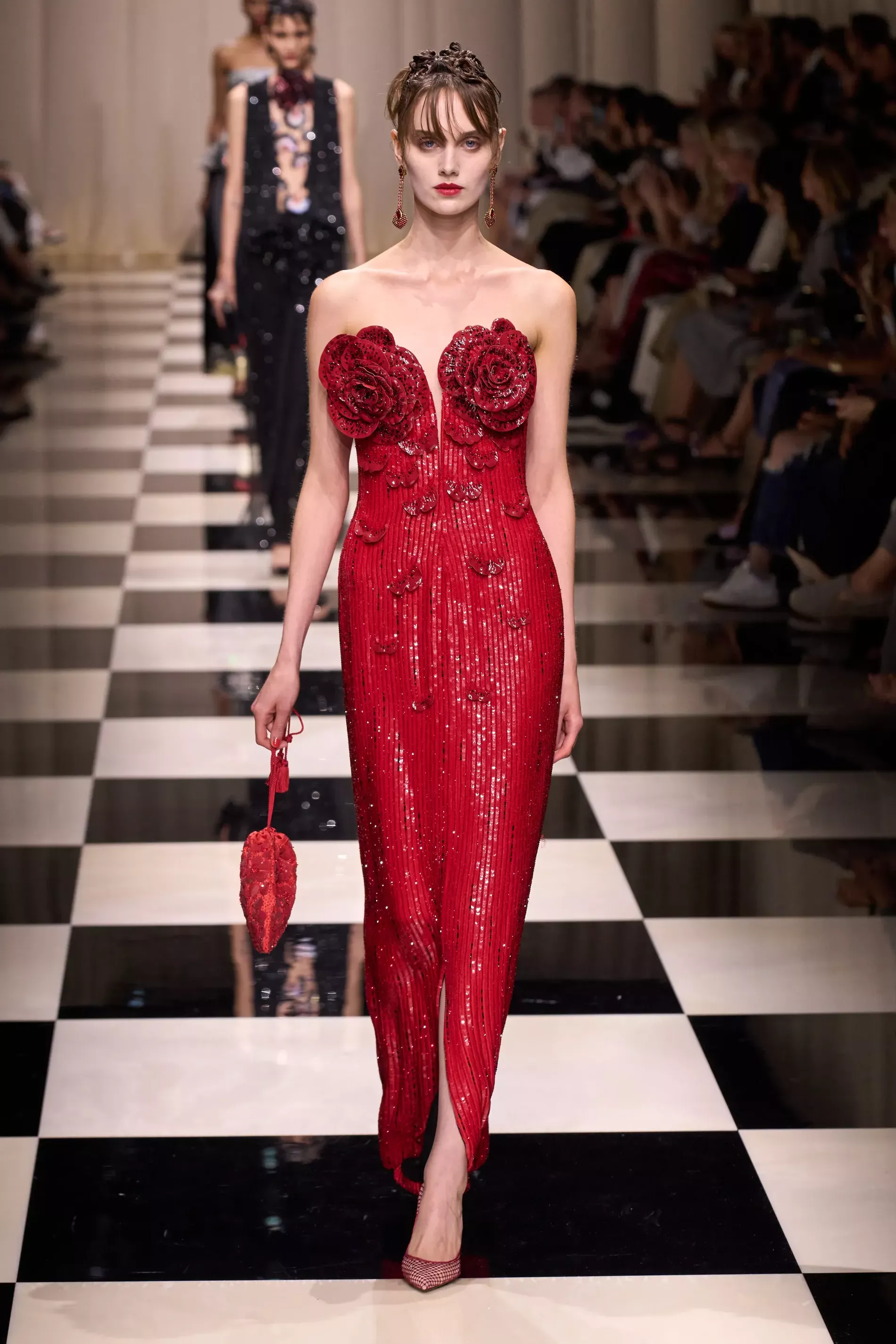 Photo: Daniele Oberrauch / Gorunway.com
It was highly seductive
The red of Armani's roses eventually morphed into entire looks: ladies in red, curvaceous evening dresses with bold rose embellishments dramatically blossoming from their bustiers and shoulder-lines. It was Armani's take on the amplified seduction we're seeing around the fashion landscape, so often delivered with overt fetishised sexualisation. Not chez Giorgio. "A woman in a red dress always makes an entrance and an impression," he said. "I did reinterpret seduction in my own way, with a certain restraint and grace, avoiding any excess. I think a woman can be far more seductive without showing too much, always with elegance and sophistication."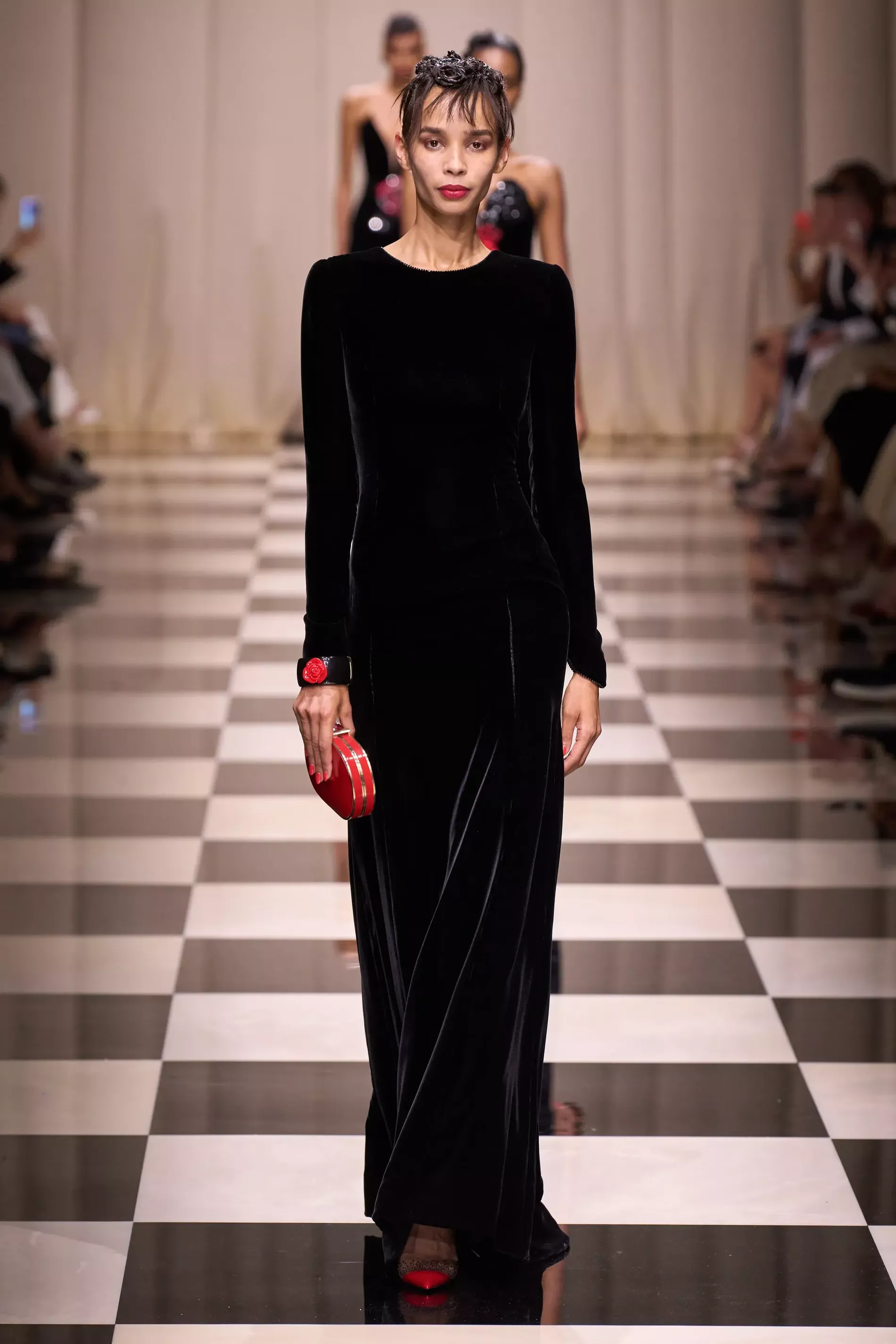 Photo: Daniele Oberrauch / Gorunway.com
Armani gave his verdict on quiet luxury
As fashion's stronghold of elegance and discretion, it would be a missed opportunity not to ask Armani about the waves of 'quiet luxury' currently washing over couture as well as our humbler wardrobes. "I think quiet luxury is simply a different way to say 'understatement', which is a term that has always been associated with my collections. I like the quiet elegance exuded by an understated style. That is what I strive to achieve as a designer," he said. "Today, more than ever, I am convinced that we have to move away from exaggeration, not only in the way we dress but in everyday life in general. I have always believed in understatement, and that is the most radical choice one can make."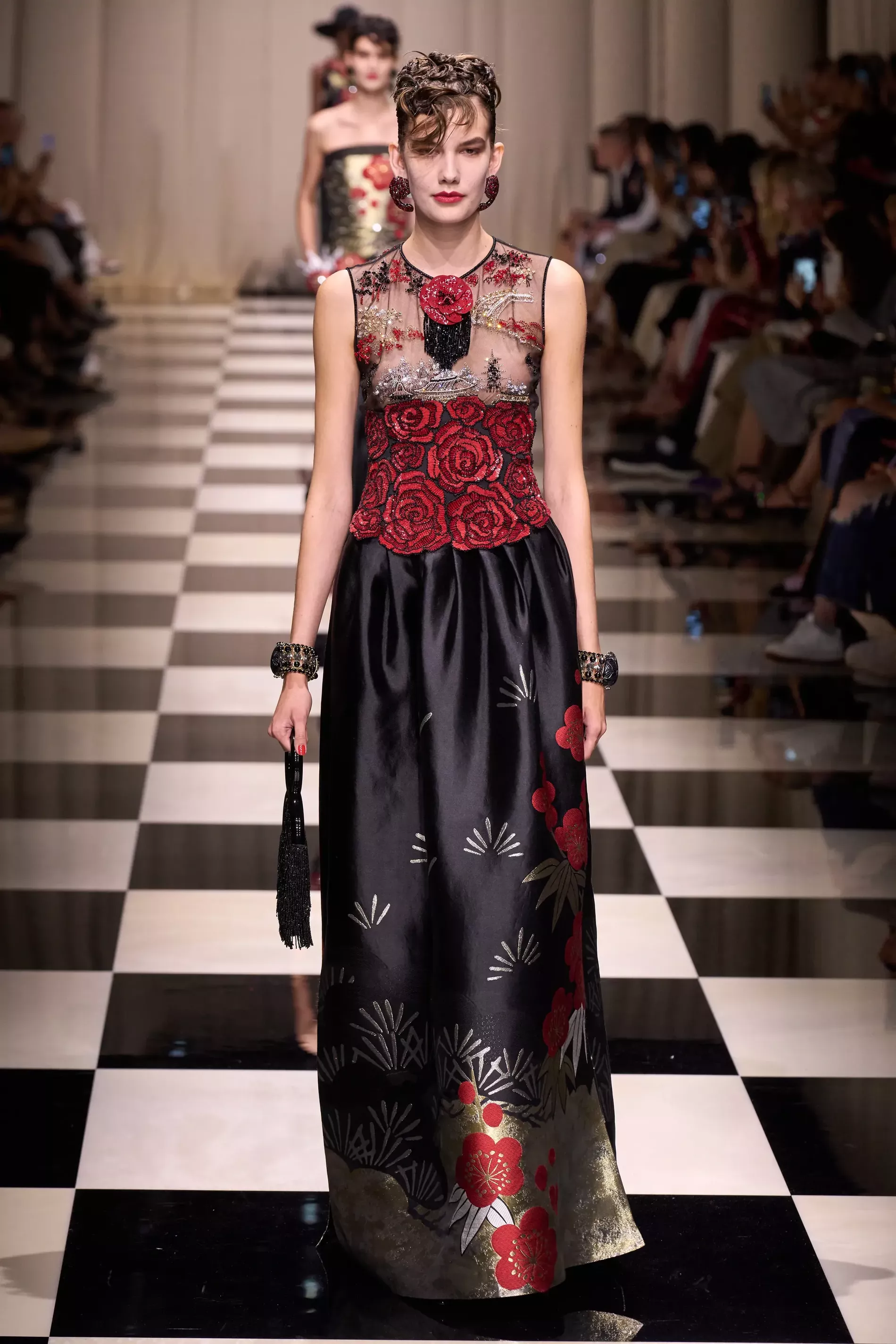 Photo: Daniele Oberrauch / Gorunway.com
The collection referenced Far Eastern Art Deco
In a time when the fashion industry is tying bonds between East and West like never before – from recent cruise shows to men's shows and beyond – Armani revisited his own connections with the Far East in evocative silhouettes and surface decoration. "A period in history that holds a particular fascination for me is the moment when oriental Art Deco flourished in the East. But, as someone who looks forward, the question I ask myself constantly is, what do my customers want today?" he said. "What I did was choose elements from that period and place, and blend them with my signature style." The result was an elusive global attitude reflected in an audience of couture clients who had flown in from around the world.
Originally published on vogue.co.uk