Alberta Ferretti followed her resort offering at Castel Sismondo in Rimini with another castle-based showcase for spring/summer '24. Anders Christian Madsen breaks down the highlights from the collection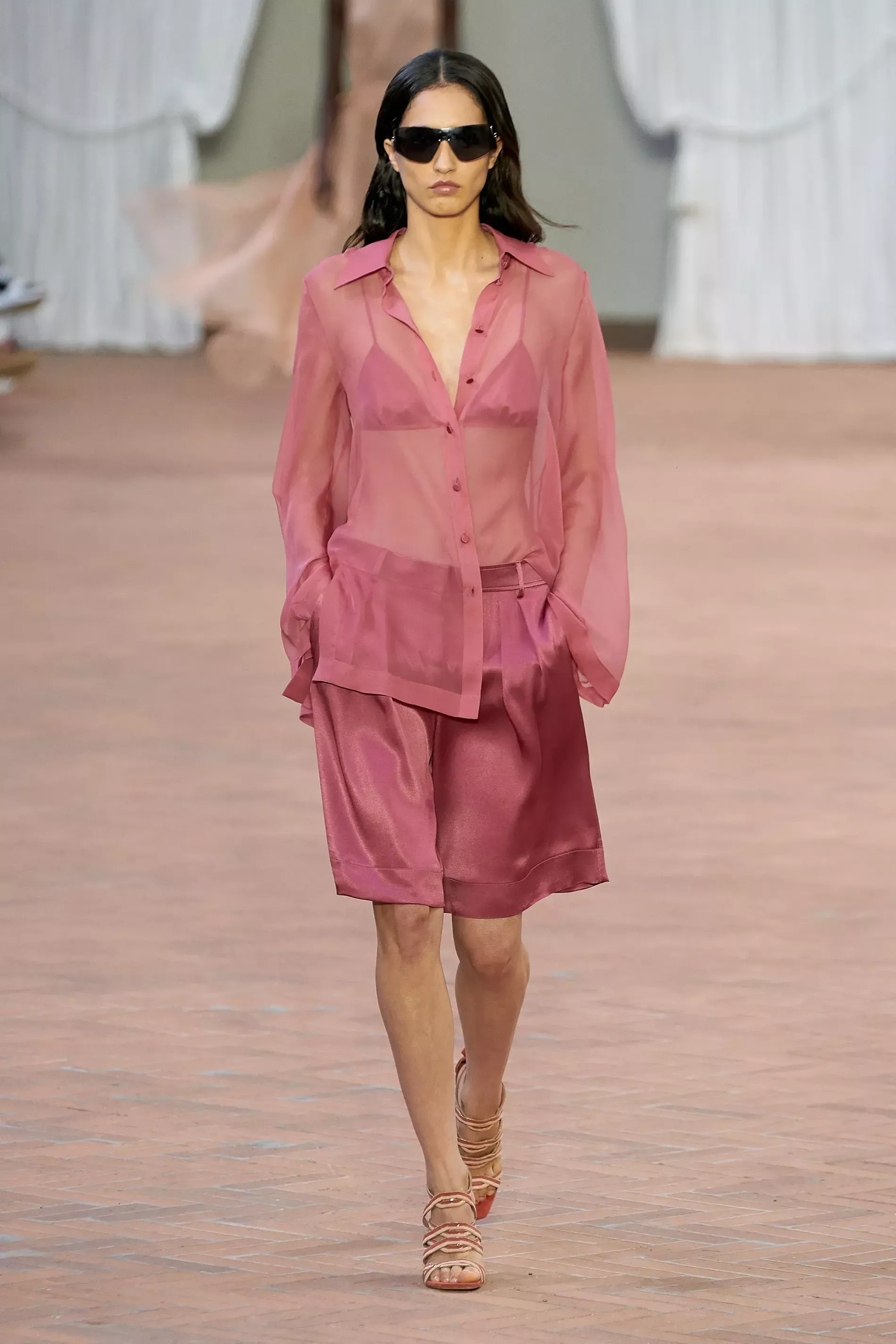 Photo: Go Runway
The show took place in Castello Sforzesco
Three months ago, Alberta Ferretti staged her first destination cruise show in the Castel Sismondo in Rimini. Not one for a downgrade, she went a little bit bigger for her main season showcase in Milan. Her presentation took place under the panoramic cloisters of the magnificent 15th-century Castello Sforzesco in the centre of Milan. "We did one castle," she smiled cheekily backstage. "And now we do another."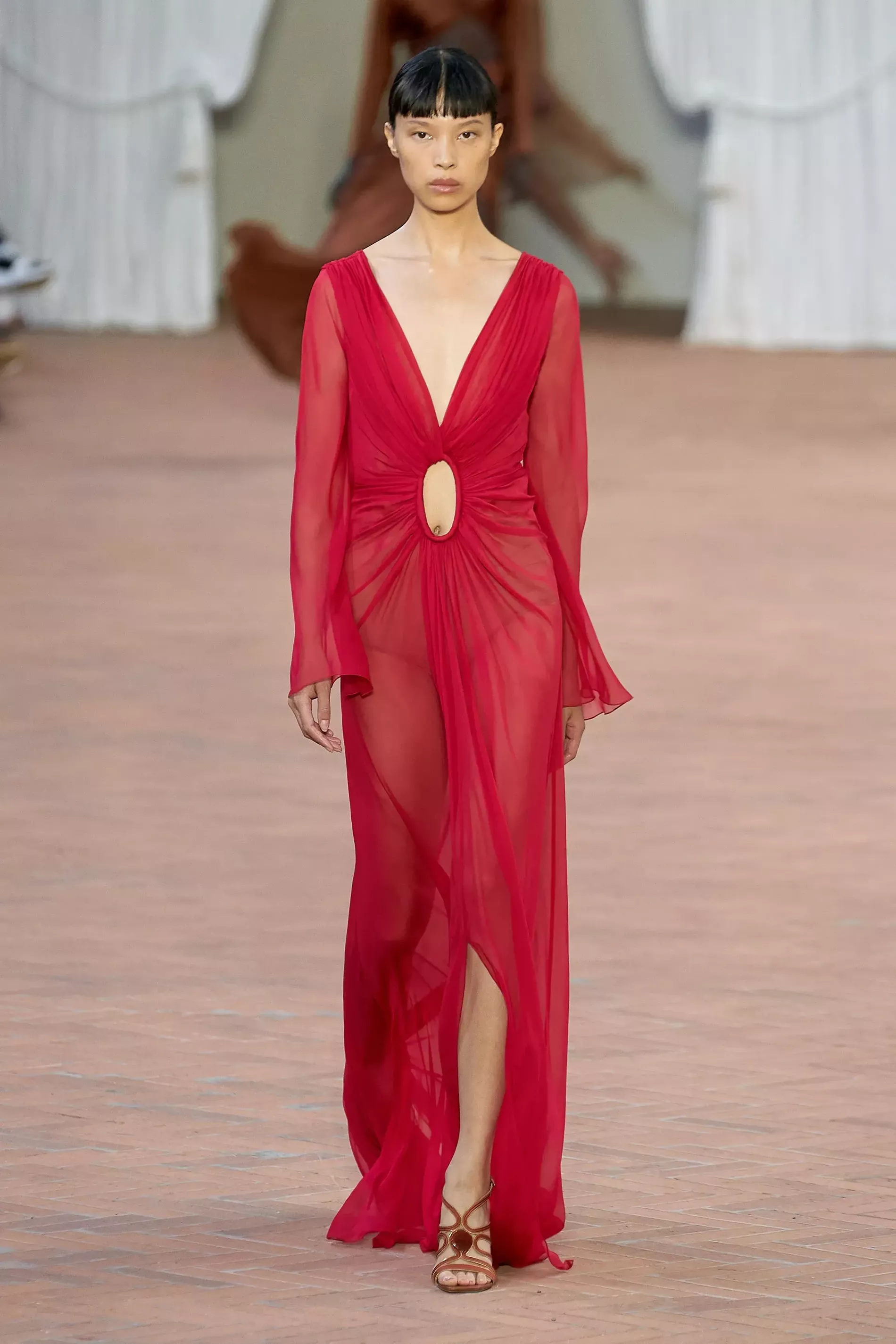 Photo: Go Runway
It focused on the shirt
For all the imposing grandeur of her venue, there was nothing over-the-top about Ferretti's collection. "It's a relaxed type of fashion for women. It's long, it's fluid, and I used a lot of light cotton, but the finishing is very special," she said, gesturing at the shirt dresses that set the premise for her practical elegance. She abstracted the shirt in a string of adaptations, each of which reflected her message of ease with individuality.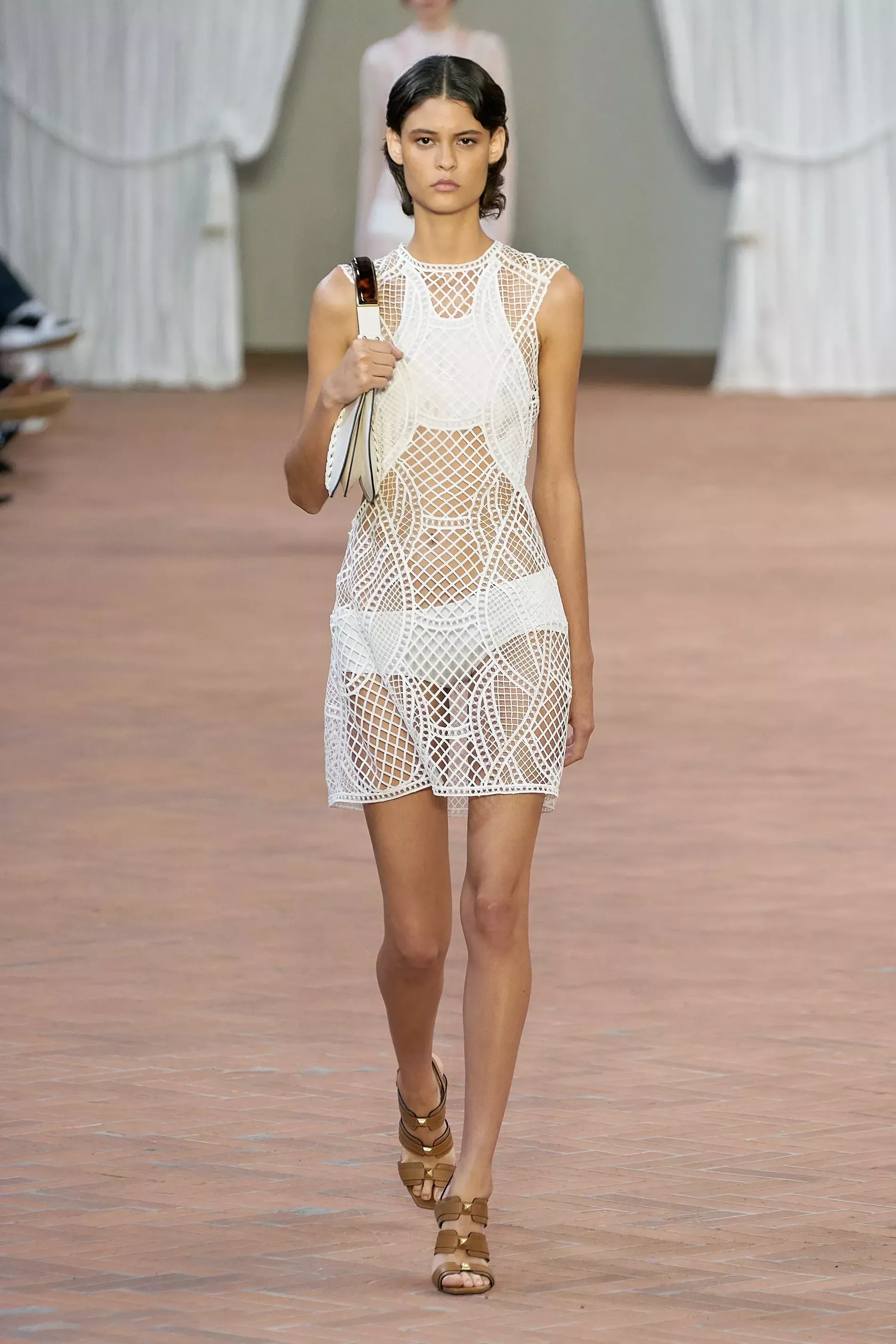 Photo: Go Runway
It was all about abstracted wardrobe staples
"I want an easy woman for today, because today life is very dynamic and fast. But I want identity: things that are not so normal," Ferretti said. She approached that methodology by twisting the traditions of "normal" garments: a stripy men's shirt became a crop top, a silk blouse was skewed into a halter-neck top, a pink utility trouser transformed into an evening jumpsuit, and a chemise became a pleated corset.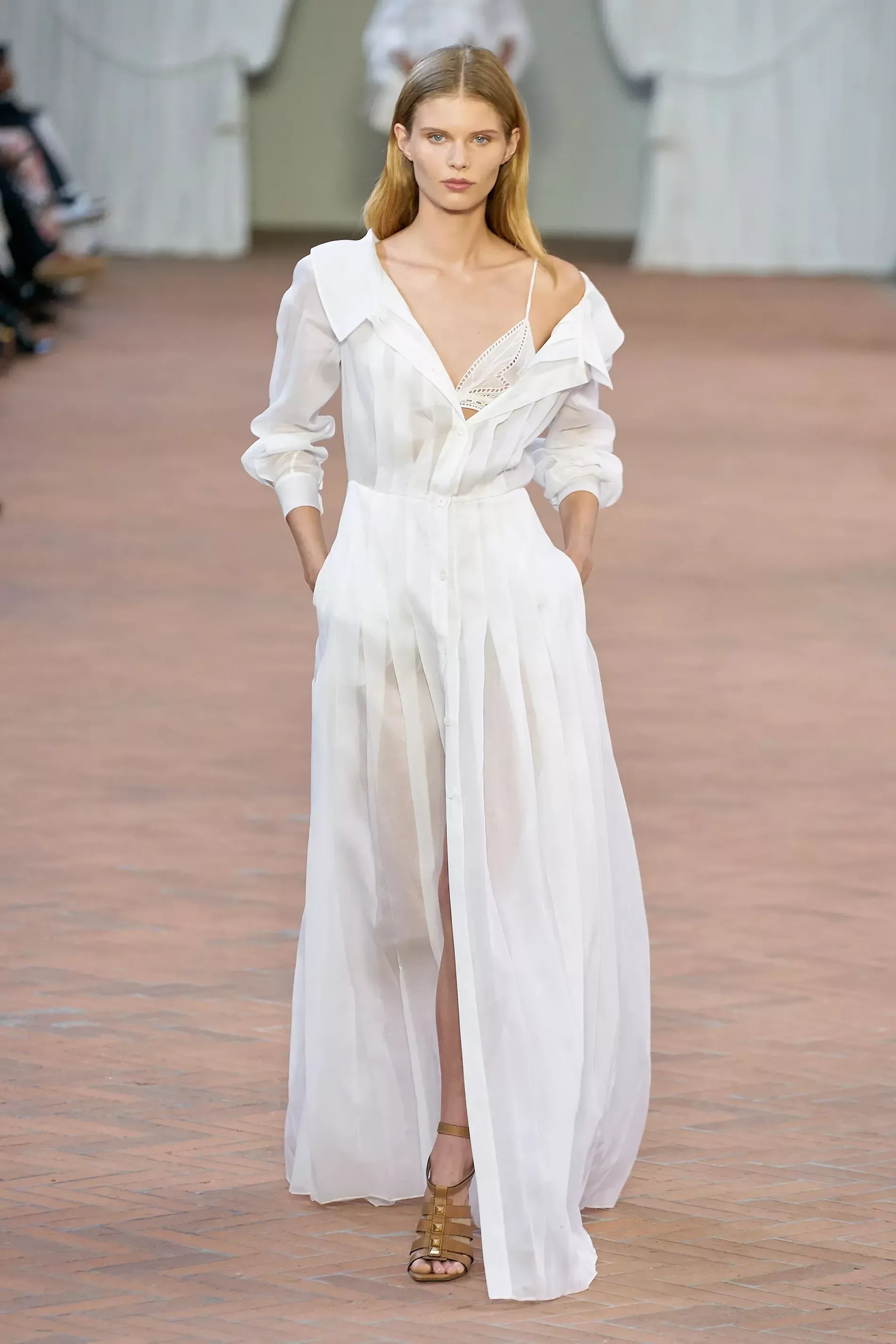 Photo: Go Runway
Dresses were adaptable according to occasion
When it came to a series of revealing net dresses, Ferretti had been thinking about fantasy versus reality. "They're for the beach holidays we dream of," she said, "but I also make it as a slip dress. It depends on the occasion." The latter appeared just after, before the show segued into a delectable string of Grecian silk dresses slit open at the midriff, shoulder or neckline. "They can be worn open or closed," Ferretti explained, cementing her focus on the adaptability our present-day lives call for.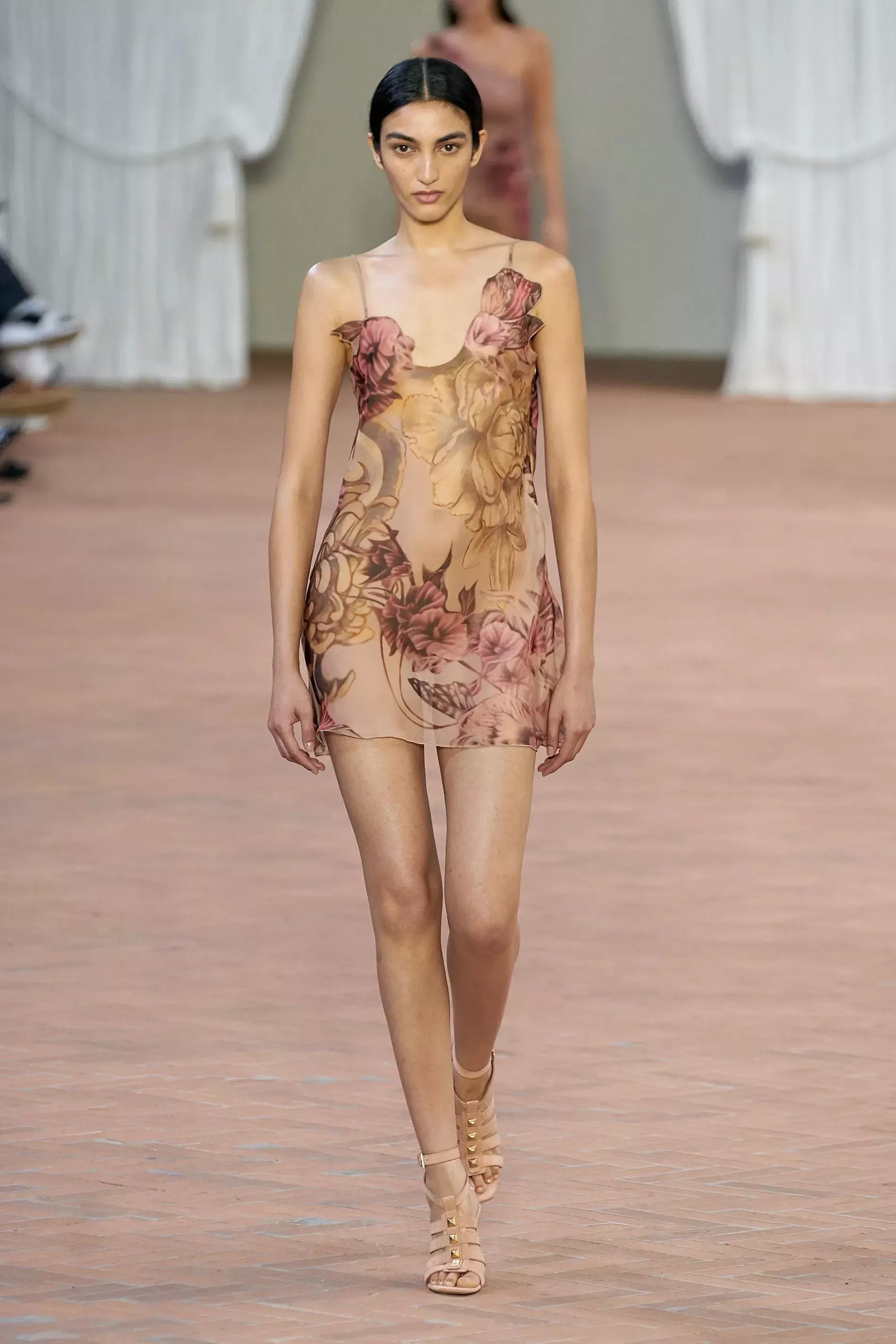 Photo: Go Runway
The finale dresses were made entirely of ribbons
The show closed with a cavalcade of gowns crafted through amplified savoir-faire. "The finale dresses are very special because they're all created from ribbons," Ferretti explained. "They're sculpted on the body. They're very artisanal pieces." Testament not only to their impressive craftsmanship but to the connection between Ferretti and her customers, the dresses lit up the faces of her illustrious private clients seated around the courtyard of the Castello Sforzesco.
Originally published on British Vogue