Alaïa staged its spring/summer 2024 show on the eve of haute couture fashion week in Paris, with models walking over a bridge across the Seine wearing a collection that romanticised – and fetishised – Pieter Mulier's memory of Parisian fashion shows. Below, see Anders Christian Madsen's key takeaways from the show in which models Irina Shayk, Adwoa Aboah, Mona Tougaard, Amelia Gray and Vittoria Ceretti walked.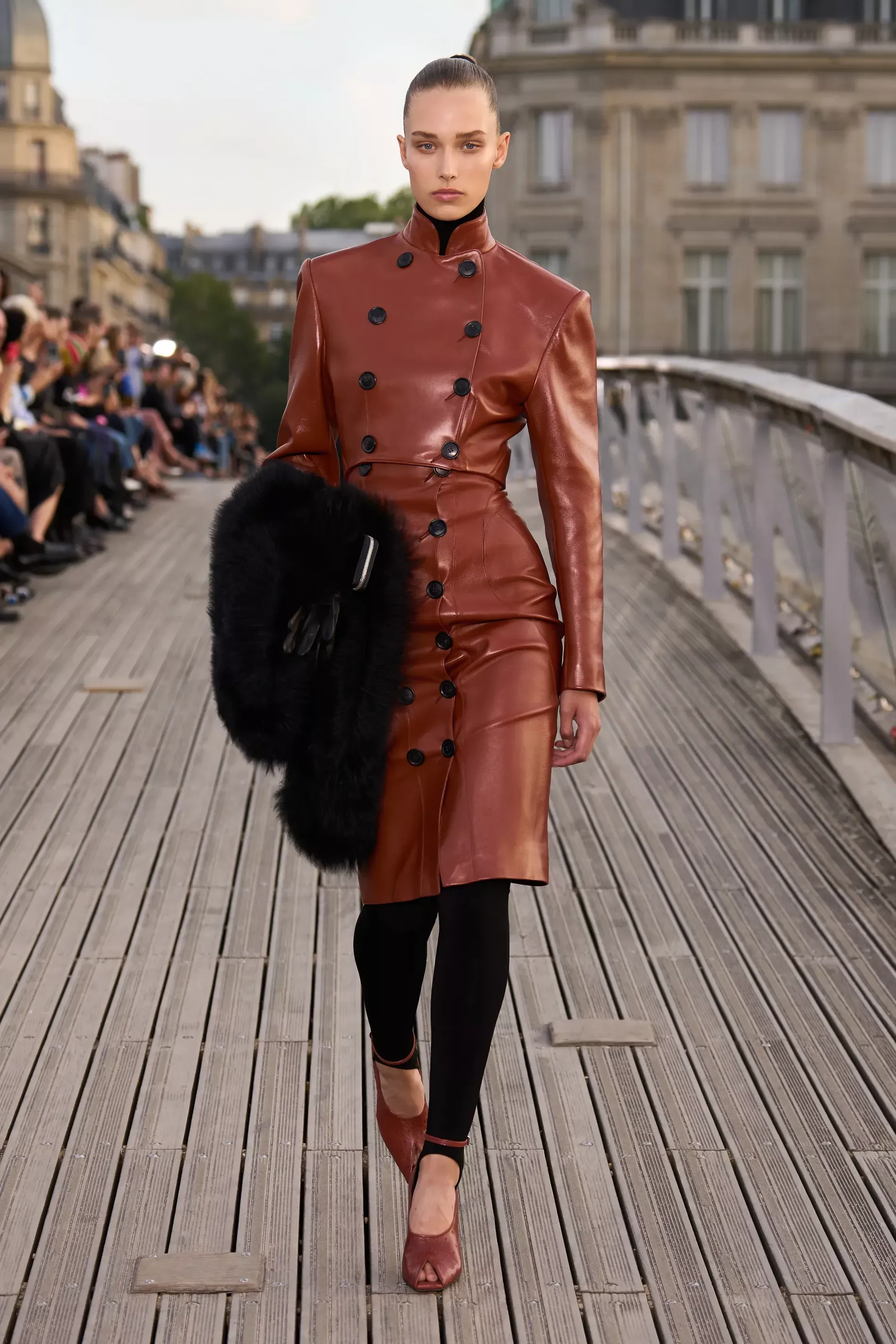 Photo: Courtesy of Alaïa
The show took place on a bridge
On the eve of the haute couture shows in Paris, Alaïa became the latest brand to cement the season of the bridge. In May, Nicolas Ghesquière staged a Louis Vuitton show over the Han River in Seoul. Two weeks ago, Pharrell Williams made his menswear debut for the same house on the Pont Neuf in Paris, and three days later, his friend Nigo presented his Kenzo collection on the Passerelle Debilly. For those designers, it was a metaphor of building bridges between geographic cultures or different domains of creativity. For Pieter Mulier, whose Alaïa models wandered across the Passerelle Léopold-Sédar-Senghor in the early sunset, the gesture was rooted in romance. "I wanted this bridge because I have personal memories on this bridge," he smiled. "I can't tell you, it's very personal, but I always found it the most beautiful view of Paris."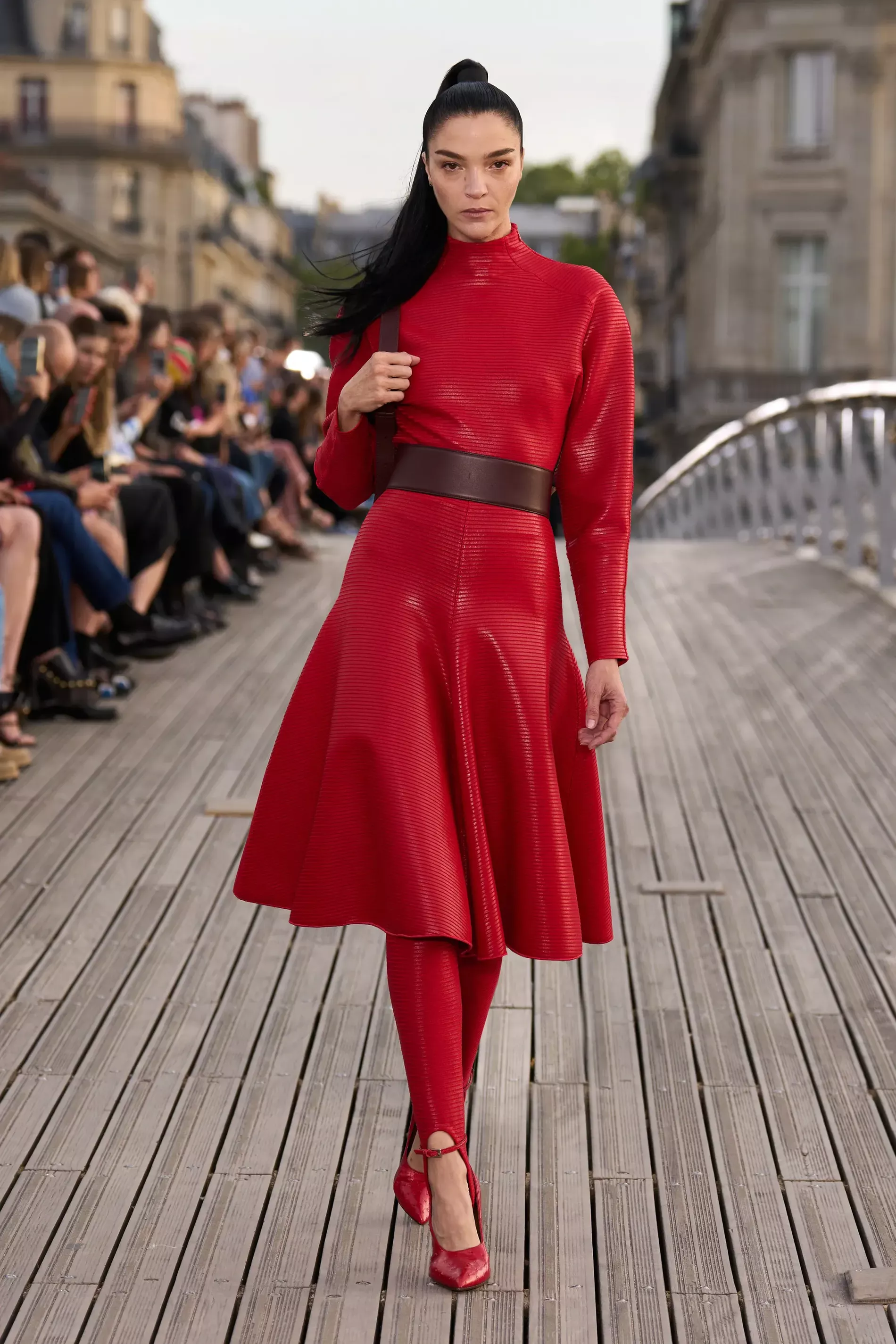 Photo: Courtesy of Alaïa
It was a Paris fashion postcard
This summer's three bridge shows in the French capital have shared a Paris-centric, postcard-like premise. Elevated over the Seine, with a view of all of the monuments, these shows become love letters to the culture of Paris itself. Mulier reflected that in a collection that romanticised – and fetishised – the memory of Parisian fashion shows: the 1980s fabulosity of snatched silhouettes, pillbox hats and sky-high heels, played out with struts and poses in every gay childhood bedroom from that decade on. The Alaïa show captured that sensibility in an un-ironic evocation of the glamour of fashion nostalgia, with all the corseted waists, bursting decolletés and 1940s tailoring the category calls for. When Mulier added his star-studded cast – Irina Shayk, Adwoa Aboah, Mona Tougaard, Amelia Gray, Vittoria Ceretti – the childlike fashion dream came full circle.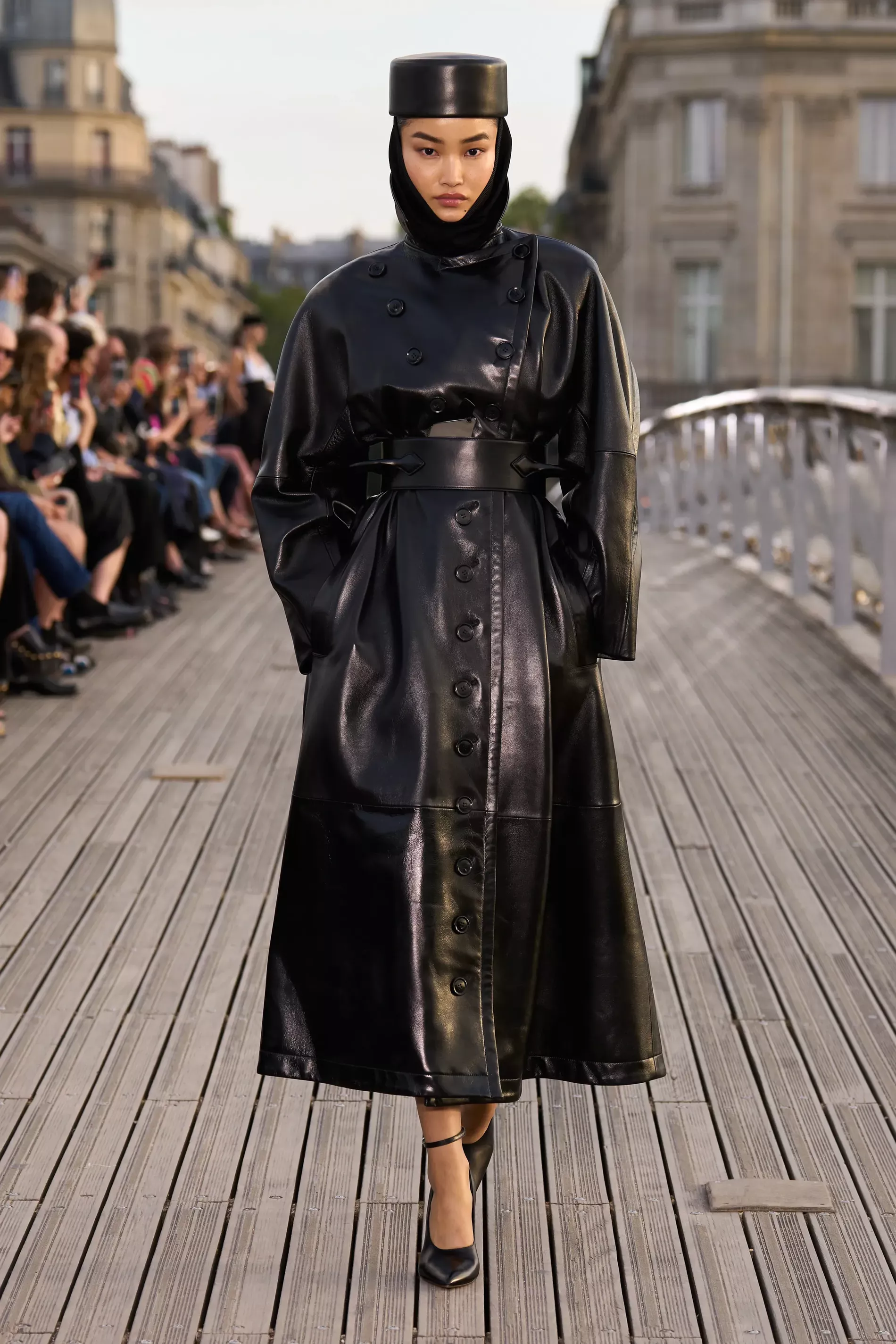 Photo: Courtesy of Alaïa
It was a tease for Mulier's next plans for Alaïa
"It's about the next step in what I want to say about Alaïa," Mulier explained backstage. "It's not about a fetish, because that's not a good word, but about personal obsessions I want to do in another way than other people did it before, using latex and leather in a different way, and creating a silhouette that is very feminine yet quite different to what we see today. It's sexuality without vulgarity. It's quite '40s. It's quite cultural." The rubbery coats and dresses that walked over the Passerelle Léopold-Sédar-Senghor – the material lasciviously slapping against itself in the breeze – definitely conveyed a feeling of fetish in the more biblical sense. But employing these materials in an expression that felt like a fetishisation of fashion itself was ever so meta. It wasn't sex-positive as much as it was purely fashion-positive.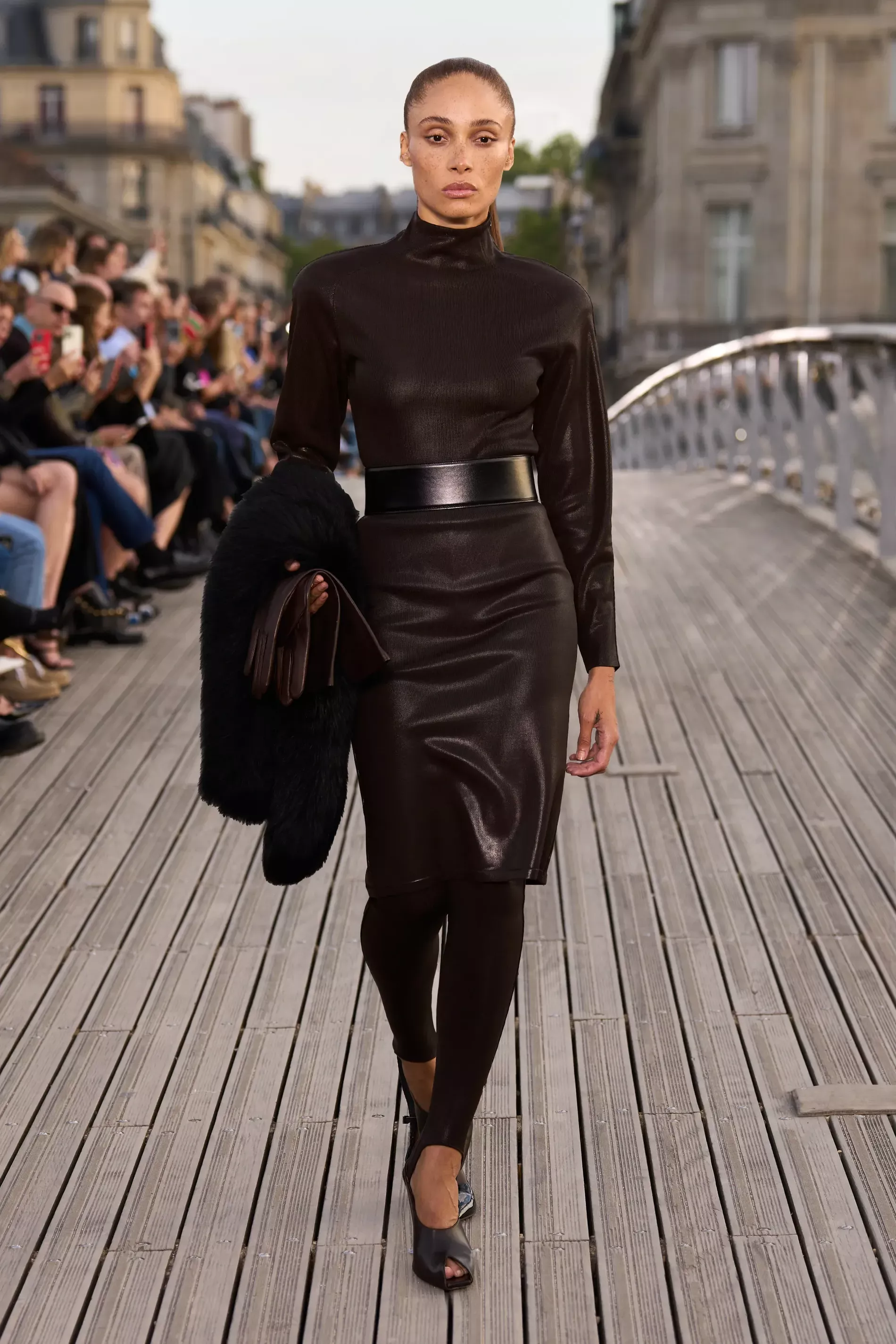 Photo: Courtesy of Alaïa
It was about padding and enhanced silhouettes
What makes an Alaïa show – and this one in particular – trigger fashion nostalgia is the power-construction that underpins its every garment. This season, Mulier amplified that effect with padding and corsetry details that very visibly enhanced the body. "I said to the teams in the ateliers, I would love to go from masculine to feminine. I want a padded, straight shoulder and in the end, I want everything padded like corsets on the hips. Because for a man, power comes from the shoulder and for a woman it's more from the female curve. It's done by corset people," he explained. The same went for the pillbox hats. "I always thought it was very Alaïa. It's round and it creates a silhouette. And we are all about silhouette!"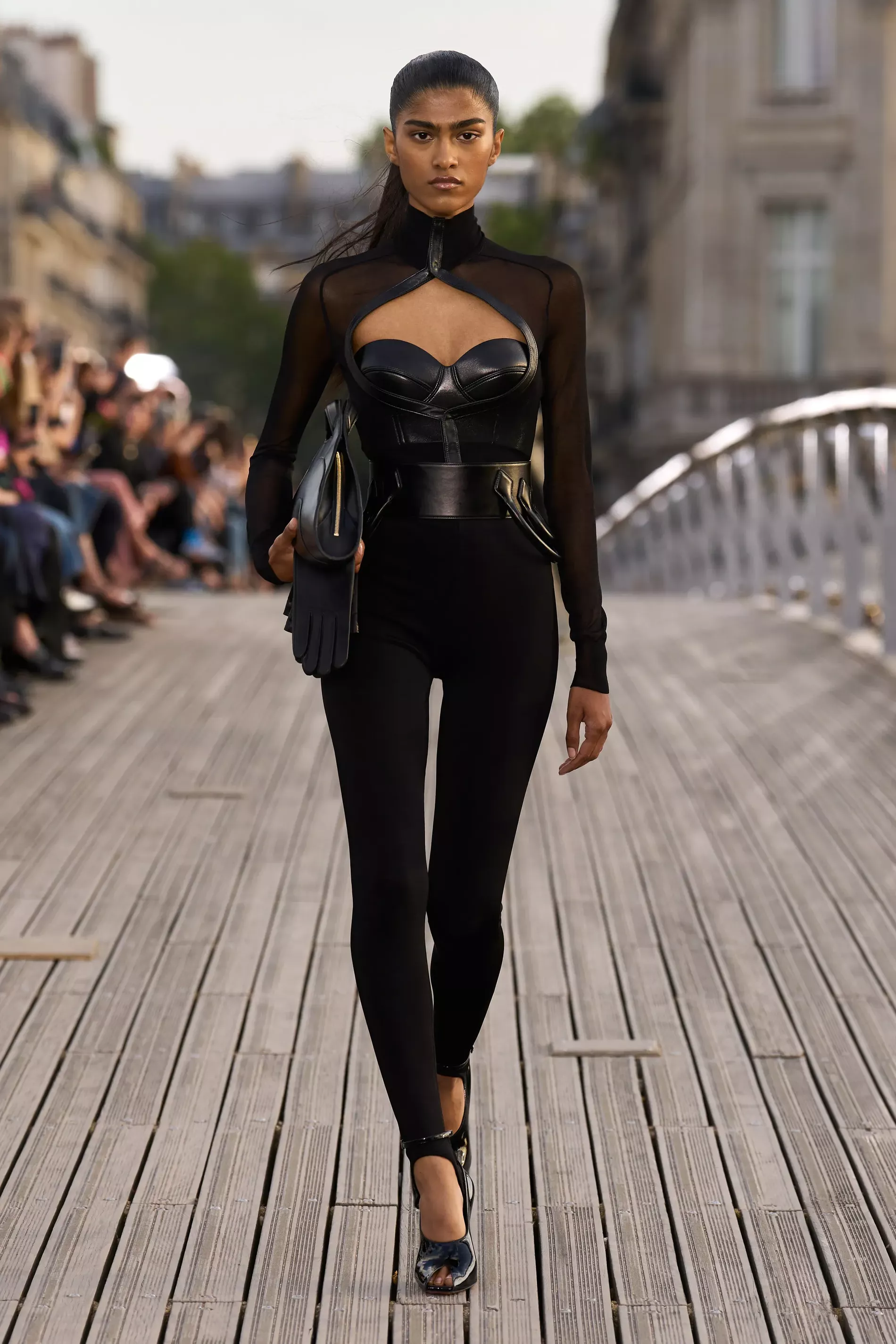 Photo: Courtesy of Alaïa
Mulier gave us handbag belts
There is nothing more fashion-positive than a strange and instantly covetable accessory, and Mulier's collection delivered. His looks were cinched in with cummerbund-like belts fitted with handbag handles that raised his fetish undertones to overtones. "It comes from surreal imagery from the '30s. A famous designer once said, 'I don't need bags, I only needs belts.' It's a belt constructed like a bag," he explained. "For us, a belt is as important as a bag."
Originally published on vogue.co.uk