One of Europe's leading online platforms for fashion and lifestyle, Zalando, launches its campaign "Limitless Fashion" to introduce a new inclusive capsule collection curated by iconic Nordic brands Han Kjøbenhavn, Martin Asbjørn, Makia and Double A by Wood Wood
The multibrand gender-free capsule collection contains 32 pieces in total, ranging from outerwear and knitwear to crop tops, shorts, blazers and dresses. The unique collaboration features the creative vision of all four brands that each interpret what "Limitless Fashion" collection means to them.
Having noticed a growing demand for gender-free clothing and cross-category shopping, Zalando informed me that they want to offer their customers the best experience through their wide assortment, no matter what they're looking for, which is part of the reason why they have joined forces with the iconic brands to create a gender-free capsule collection. These developments have sparked interest and curiosity at Zalando which is why the online retailer started a conversation on social media, inviting myself and other creatives to participate in "24 voices in 24 hours", asking the question: Is gender out of fashion?
"We want to continue to inspire our customers, as well as support local brands. It is our ambition that our customers feel respected, included, and celebrated through the communications we create," Johanna Hummel, General Manager Nordics at Zalando, elaborated. "We seek to become a role model in making the fashion industry more inclusive by celebrating customers in an unaltered way with authentic stories."
Fashion should be a playground for creativity and experimentation without any limitations – it was important for Zalando to partner with brands which also encompass this ethos. "Collaboration is part of Zalando's DNA and with this initiative, Zalando wanted to facilitate a collection that is relevant for the Nordics by connecting with inspiring locally relevant brand partners who equally understand the importance of embracing diversity, inclusion and freedom of expression," Hummel highlights.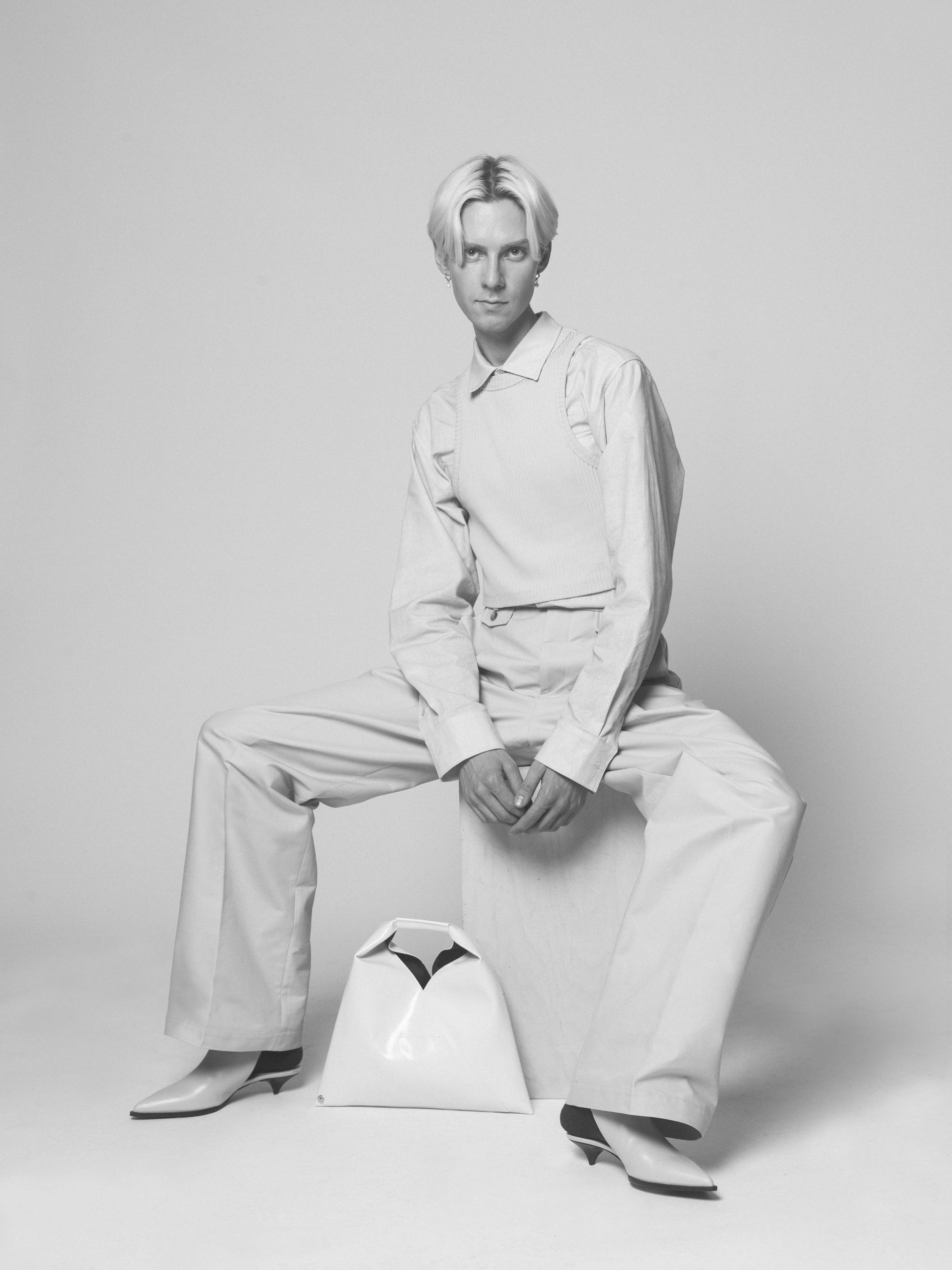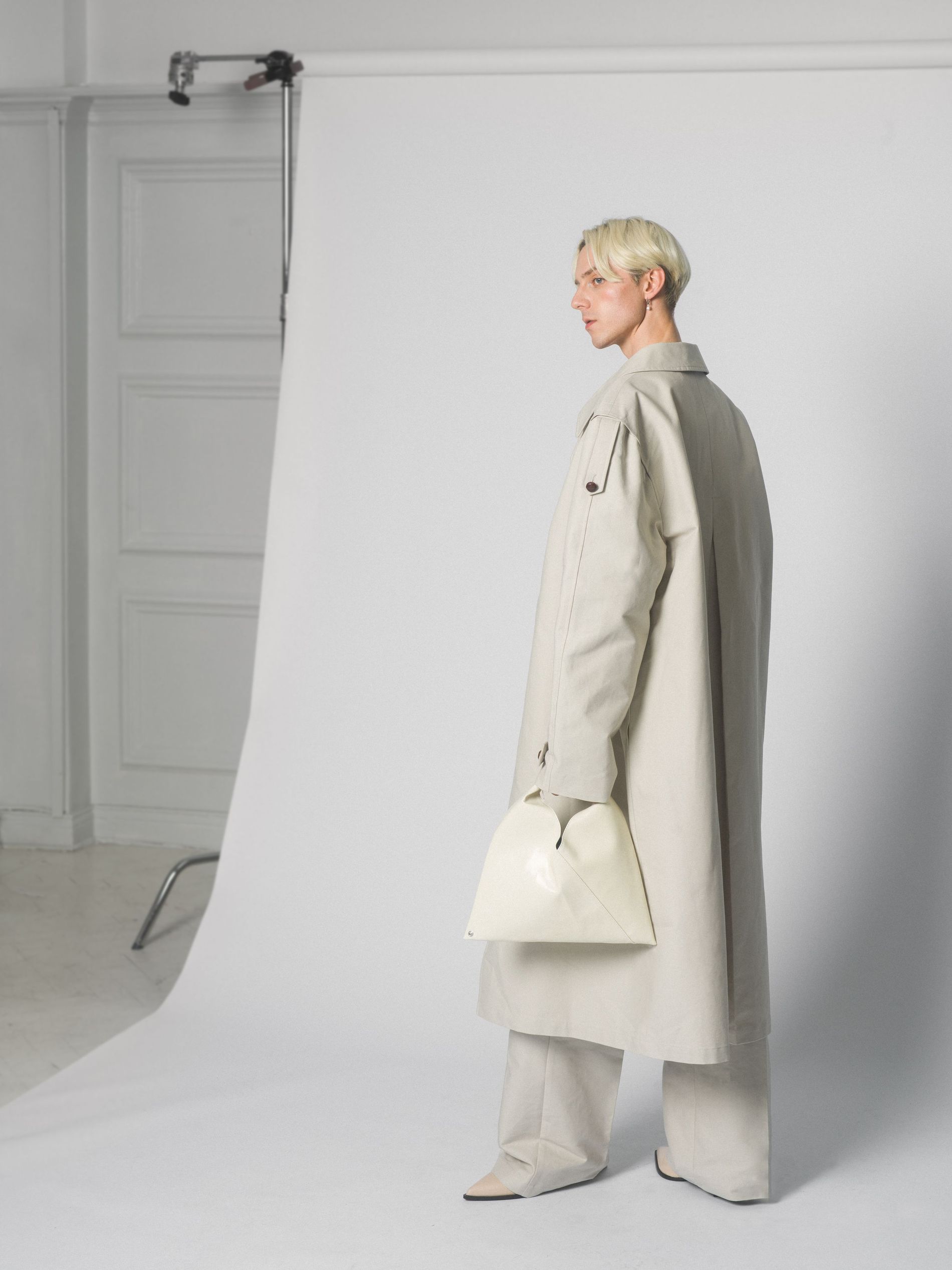 When I was styling the collection for the shoot in a studio in Stockholm, I wanted to play with the balance of femininity and masculinity. In my opinion, you don't have to choose just one, you can do it all – your personal style might change and vary during your life, and can even depend on the day of week or your mood. This collection is a great tool to appreciate every layer of yourself and explore the different sides of your personality. I mixed and matched the collections with Zalando's range of accessories, added some chunky boots, heels, purses, and pearl jewellery as the finishing touch to the looks.
Han Kjøbenhavn
The contemporary Danish brand Han Kjøbenhavn was born on the streets of Copenhagen in 2008. They offer design within eyewear, menswear and womenswear with roots in Danish design culture. The vision of Han Kjøbenhavn has been to create an uncompromising and unconventional universe which has, over the years, gained a cult following based on creativity, storytelling, and craftsmanship. "Our creative vision is to create innovative and spectacular designs that eliminates distance and becomes emotionally inclusive to people," says Creative Director and founder Jannik Wikkelsø Davidsen. "This has also been the anchor point of the Zalando collaboration." Han Kjøbenhavn designed two full looks for this collection - the first one is a black tailored pinstripe suit made of wool, and a see-through turtleneck with the brand's signature monogram. The second look consists of a boxy cropped black bomber jacket, faux leather pants and ribbed beige crop top.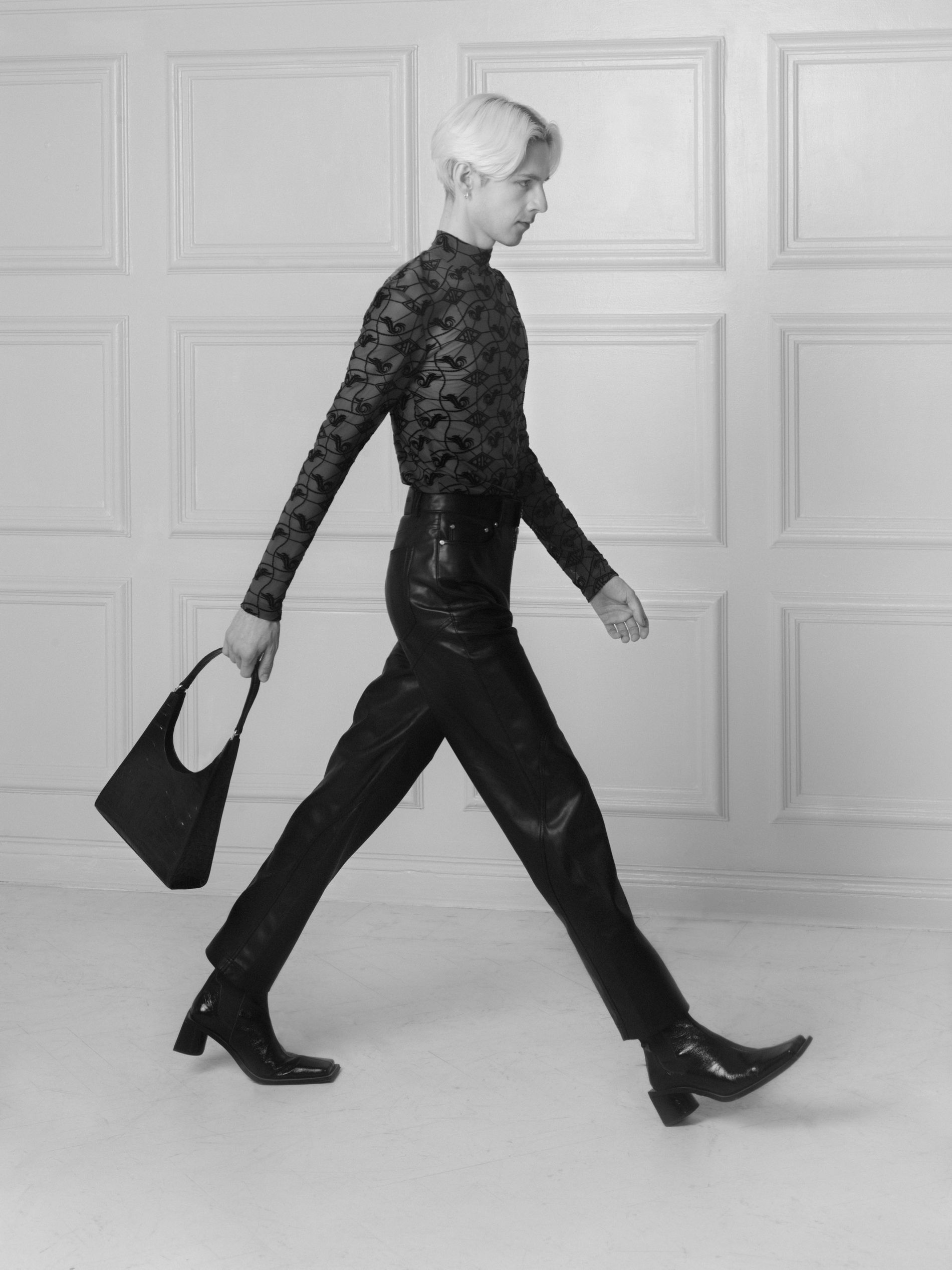 Photo: Benjamin Tarp
The collection is a commitment to give those who wear the clothes the space to be themselves and a recognition of the expressive need for individuality. "I think focus will shift to the shape of the human body and then it is up to the individual's preferences in how they want the clothes to fit them." Wikkelsø Davidsen doesn't believe that gendered fashion will exist the way we know it today in the future, saying "I think the younger generation has started a revolution where inclusiveness, individuality, diversity, and a deeper respect for all people and perspectives, is now something that really makes impact and real changes," he says.
Martin Asbjørn
Martin Asbjørn's vision behind his completely monochrome collection was to create pieces that work with other existing garments found in a wardrobe. "The silhouette is easy and wearable with workwear and uniform-inspired details to give a little edge to simple shapes," says Asbjørn. The Danish designer launched his label in 2014 after graduating, and has been known to balance masculinity, androgyny, and self-expression without ever compromising wearability.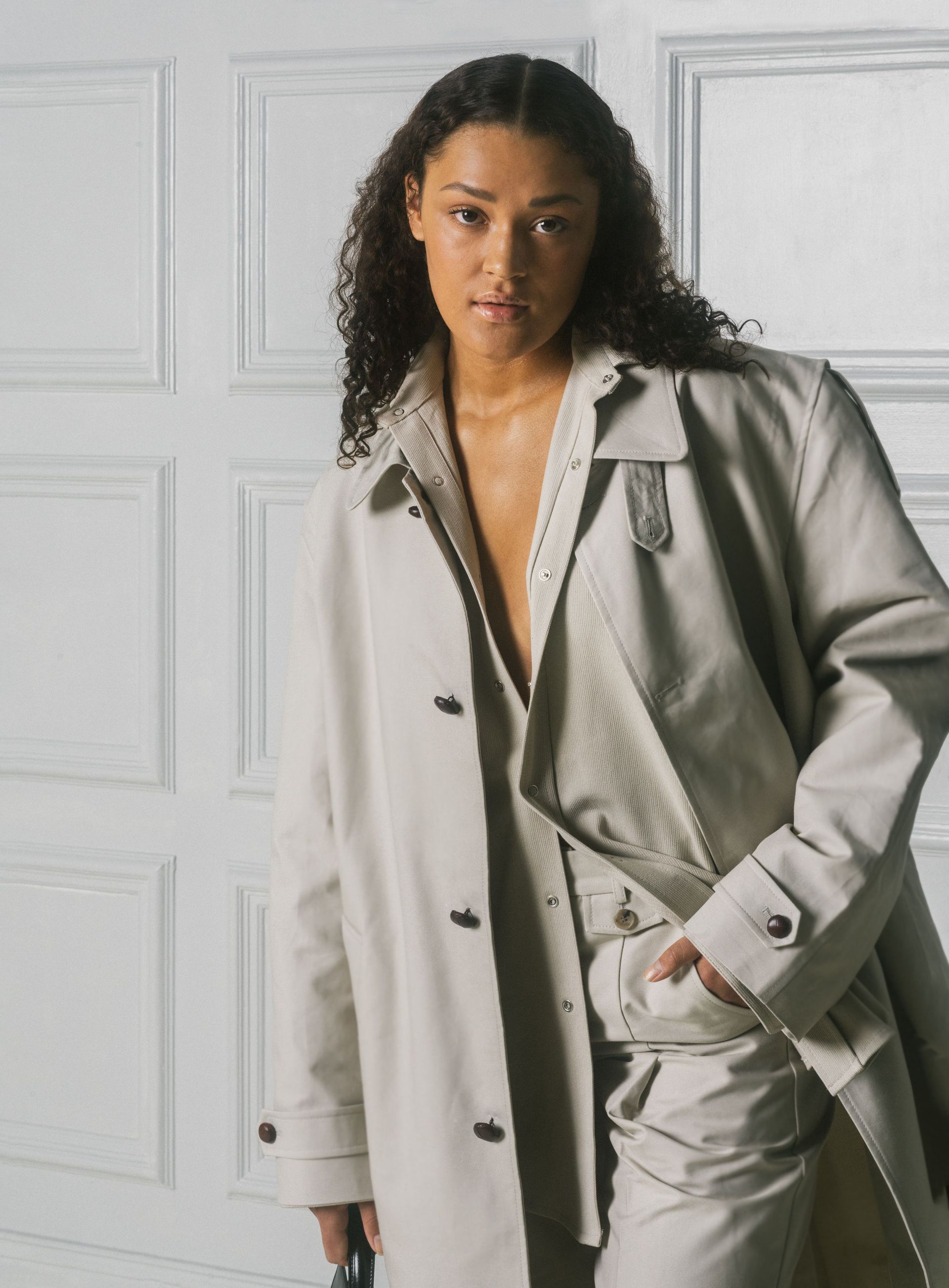 Photo: Benjamin Tarp
Asbjørn is a self-confessed dreamer; his clothes make the perfect wardrobe for the dreamer in all of us. Teaming up with Zalando for this project was a no-brainer for the designer. "My collections have always been about individuality," he says. "It's entirely up to the customer what they buy and how they wear my designs; putting the clothes in a genderfree environment is totally aligned with our DNA."
Double A by Wood Wood
Double A by Wood Wood is best known for streetwear staples composed of responsibly sourced fabrics. Founded in 2017 in Copenhagen, Double A by Wood Wood is not restricted by seasons or any notions of gender. Double A by Wood Wood believes in timelessness and traditional silhouettes as a part of an active lifestyle. For this collaboration, they created a sportswear-inspired capsule, capturing the essence of sports as a communal activity for everyone. They see this collection as the direction of the brand's future.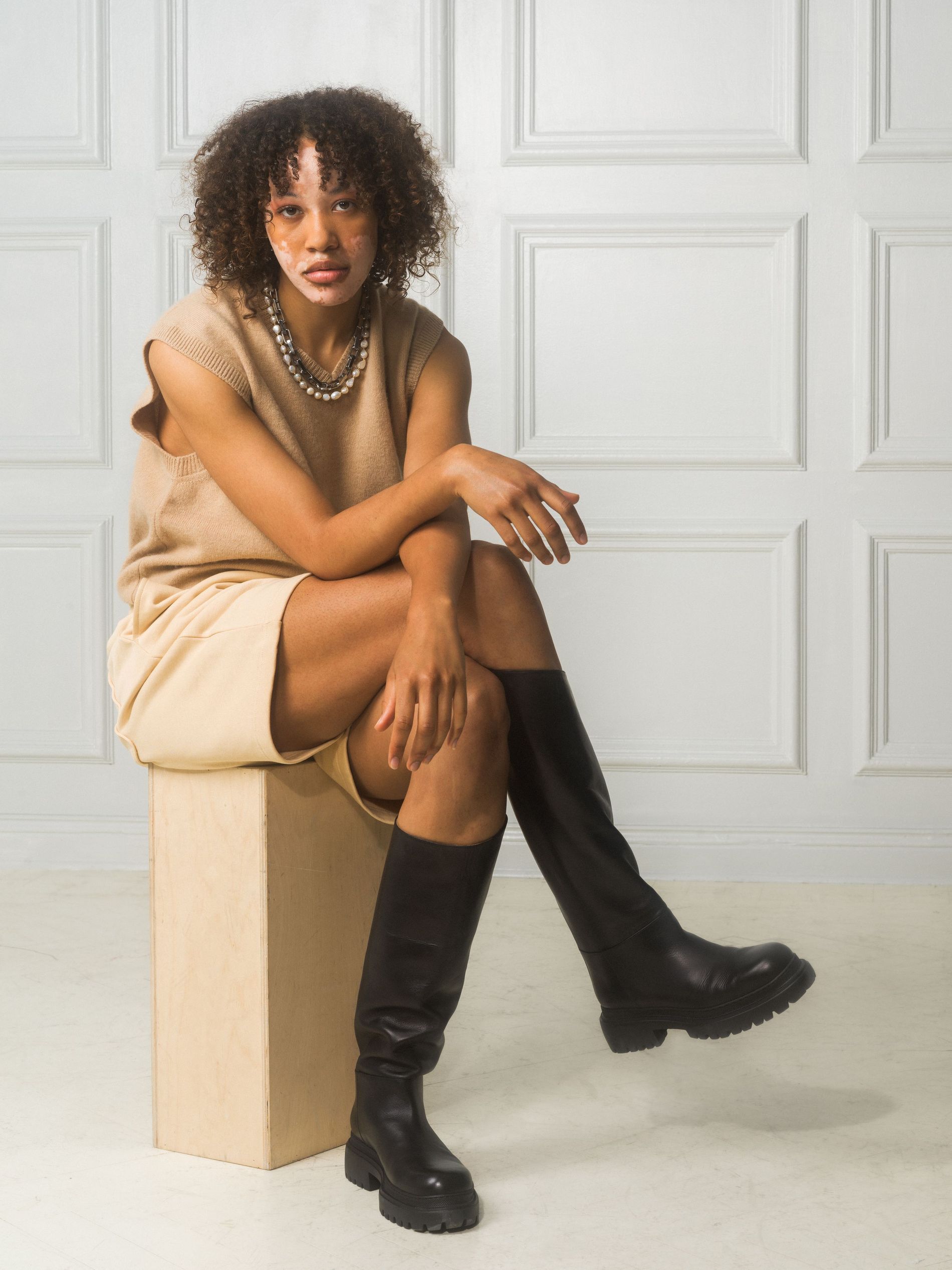 Photo: Benjamin Tarp
"We aspire to work more intuitively, and this is a natural progression for us – creating a collection that is not restricted by the 'normative' gender perceptions," says Mikkel Kristensen, the brand's PR and communications manager. "Double A by Wood Wood is community-driven, and foremost, we aim to promote creativity and expressiveness." An important component of the collection was including pops of colour – bright yellow, lime green and pink t-shirts and sweaters.
"The reworked graphic created for this collection questions the earliest meaning of the yin-yang emblem, asserting a more colourful and playful attitude" says Kristensen. For Double A by Wood Wood freedom means the acceptance and appreciation of differences, all of which should never be oppressed. "Without it, we wouldn't be able to express ourselves or speak our minds. It is the ability to fight for others to feel free."
Makia
Makia is a Helsinki-based clothing company founded in 2001. The brand is known for easily approachable clothing with a Nordic contemporary twist without compromising on quality. "We look to offer the world quality for an affordable price and an easy way to get dressed stylishly," says Elina Lappalainen and Aleksi Helisten, lead designers at Makia.
For this collection, Makia wanted to create something for all sizes and shapes and opted for relaxed and fluid cuts using more sustainable materials such as organic cotton, linen and recycled fibres. "We feel like Zalando is a forward-thinking partner with modern values that we appreciate. We think that our job is to also better the world little by little, by our decisions and by example. This fits right into that program."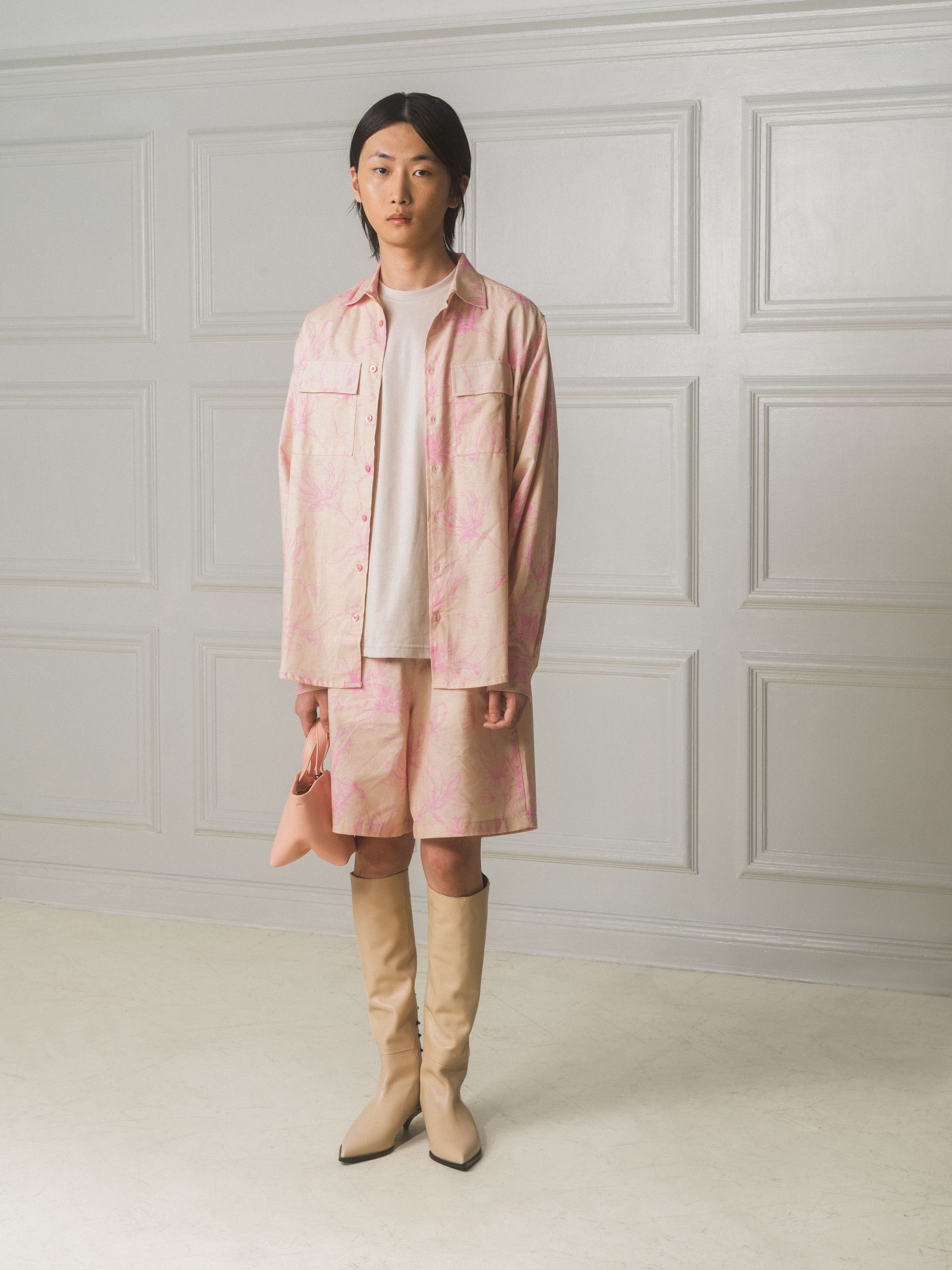 Photo: Benjamin Tarp
According to the brand's designers, these pieces aim to embrace differences, inspire respect for one another and for the world we live in. "We hope that it would make it easier for people to keep an open mind and embrace our uniqueness, and ultimately the fact that we all live on the same planet where we need to get along, be treated equal, and make our environment last for future generations," says Lappalainen and Helisten. Makia has used geometric Infinity graphics and a playful magnolia print pattern which is a symbol of life force, love of nature and self-respect. "This became the base for the story behind the collection and the artworks we created and used."
The new multi-brand capsule collection is accompanied by a social first, digital campaign "Limitless Fashion" starring local talents and entertainers, Freja Kirk, Ursula Wångander, Jonas Bahri and Isaac Sene, as they reflect on gender related topics in the fashion world.
''Limitless Fashion' is exclusively available at Zalando. See the full editorial and get an exclusive peek behind the scenes below:
---
The 'Limitless Fashion' collection