Bear in mind I had no idea what I was getting myself into
Being one of the only non-Swedes working in the Vogue Scandinavia HQ in Stockholm I've been hustling to get a hold of the local culture and submerge myself as much as I can in the Nordic scenario. Besides still not being able to fully pronounce where I live, I think I've done quite a good job at understanding social politics and getting ahold of some of the locals' most favoured traditions — I'm looking at you crayfish parties. Another milestone in my Scandification had to be watching the series Threesome, which everybody has been raving about.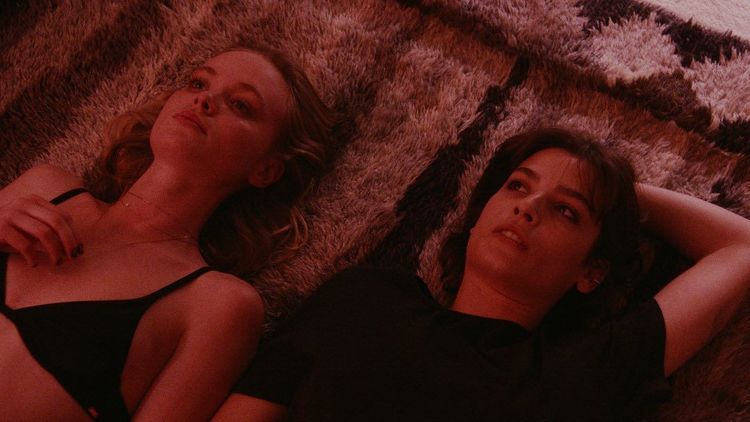 Photo: Viaplay
Created by Lisa Linnertorp, Threesome is a series that follows the story of Swedish couple David and Siri who have been together since high school. Everything was going well until they met French art student Camille on a rainy night out. Be aware this is all I knew before sitting down and exposing myself to the first episode, the thoughts sparked by this very first experience very kindly document below:
Sex in the very first scene, nice. Mom, please stop reading here.
Consent, we love that.
Oh right, Swedish, god bless subtitles.
Those are not silk pillowcases, that explains the pimples.
Did they really just ignore someone knocking on the door to keep doing it? My anxiety could never.
OMG the person in the door just barged in. Is she their landlady? Note to self: get an extra lock.
Wait, they're speaking English with the landlady? Isn't this in Swedish?
Oh no, we're back to Swedish.
Ok, David is mad that she just barged in, agree with him.
As a renter myself I am now worried there might be cameras in my apartment, how does one check for that?
My man could do with a good lower back tanning.
Showering together to save water, we love taking care of the environment.
Her name is Siri, like Siri. Hey Siri.
The friend on the phone said to choose something spicy to wear and she chose a black shirt, groundbreaking.
How old are these people?
She's working on the computer with the lights out, terrible for the eyesight. Hope she's at least wearing SPF. Blue-light is harmful.
Where in the world are we? It looks too dark outside to be in Sweden.
I think the 'gay friend' has been introduced to the narrative, must confirm this later. He's wearing a single pearl earring, cool.
Ok ok, we're not in Sweden. They just spoke to the bartender in English and someone just asked them where they're from.
Oh I think we just met Camille.
Ok the Gothenburg vs Stockholm feud has been referenced, have heard about this a couple of times now in the office.
Camille is giving me Emily in Paris flashbacks, the name at least.
Oh they're in London, nice.
A Parisian hating London, again, groundbreaking.,
"Sometimes in life you're supposed to lay down", not computing.
Watch the Trailer for Viaplay's Threesome here:
Camille has gorgeous brows, bet she read my tutorial on fluffy brows.
Ok we in a club now, I think they lost their jackets.
This is a very non-Covid-friendly scenario.
It's called Threesome but there are four people going into Camille's apartment. Someone is gonna end up really sad.
Oh no, they're more people inside.
So the gay character is not gay, bubble burst.
They're out now, Camille's skin looks stunning for just being back from partying and smoking all night.
Camille falls in love constantly but has never actually loved someone, I am fighting myself not to fall in this rabbit-hole of clichés.
Now they're doubting Swedish food; same Camille, same.
Ok, they're laying down high under a red light philosophising about eating vegetables, this can't end well.
David has entered the scene, is this where the threesome happens?
Wait no, he looks kinda pissed.
First he wanted to leave but now they're making out. Very realistic.
I would be SO uncomfortable being Camille right now.
Ok she likes the way they kiss, casual.
WAIT, SIRI KISSED CAMILLE.
Wait, she's doing it again.
Omg they're full blown out making out and David is just watching there like if nothing is happening.
This is too much tension.
David is kissing Siri while looking at Camille.
I feel like a sports narrator. This is invigorating.
They're all at it together now, we've reached Title status.
Ok now they're really at it. Like, fully doing it together.
I'm all about sexual liberation, but I feel this will unravel so many issues between them.
Oh nice, it's over. First and last scene where sex scenes, is this something to look into?
Ok so I'm officially hooked. Guess I will have to see the next episode to find out what happens next.